Tim Uppal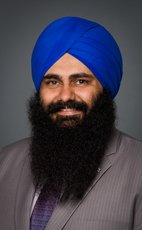 House of Commons photo
Track Tim
Your Say
Elsewhere
Crucial Fact
His

favourite word

is ndp.
Conservative
MP for Edmonton—Sherwood Park (Alberta)
Won his last election, in 2011, with 44.70% of the vote.
Statements in the House
Rise in anti-Semitism February 24th, 2015
Mr. Chairman, absolutely these incidents do happen. However, the important thing is that they need to be condemned in the strongest way possible, not just by the government but also by other community leaders.
We also have to ensure that there is no grey area, that what is wrong is wrong. If it is happening in an institution or an organization by those community leaders, then we do not go to that institution anymore. We have to draw the line and say that what they are doing is wrong, that we will not stand for it anymore, and that we will speak out against them. What is important is that we take this as a right or wrong issue, and we have to always be on the right side of this.
Rise in anti-Semitism February 24th, 2015
Mr. Chairman, I think it is important that we educate Canadians and future generations of Canadians with respect to this kind of hatred and of the Holocaust. Canada has taken a very strong stand in educating against anti-Semitism with a number of the projects that have been before it, and a couple more that have been mentioned, but especially with respect to the Holocaust itself, to ensure that the stories of those who survived the Holocaust are remembered.
I remember the first time I had the opportunity to speak to a Holocaust survivor, it was something that shaped me with respect to the work that I do going into the future and one of the reasons why I was able to present the bill for a national Holocaust monument. My wife was the first non-Jewish person to go on a trip called the March of the Living. For her to be able to be part of that as a young person is something that she remembers and has talked to me about. Therefore, at the end of the day, it really is about education and different forms of education.
The reason I wanted to bring forward the national Holocaust monument was that it goes beyond the textbooks. We can learn a lot from a textbook, but it is nothing like actually being somewhere and being able to see something. I have been to Yad Vashem and the Museum of the History of Polish Jews in Poland, and I know there are other monuments around the world that can teach us so much more than just a textbook can. That is what we need to do.
Rise in anti-Semitism February 24th, 2015
Mr. Chairman, I will be splitting my time with the member for Ancaster—Dundas—Flamborough—Westdale.
As the Minister of State for Multiculturalism I am honoured to speak this evening on this very important and timely debate. I commend the Minister of National Defence and Minister for Multiculturalism and the member for Mount Royal for proposing this debate.
Anti-Semitic incidences and Holocaust denial are on the rise around the world. Whether it is the streets of Paris, the highest political offices in Tehran, or the dark corners of the Internet, we are deeply concerned about the alarming increase in anti-Semitism worldwide, because we know that history has shown that the enemies of freedom and democratic rights often target the Jews first.
We are also seeing anti-Semitism under the guise of human rights in an attempt to de-legitimize Israel.
As once Jewish businesses were boycotted, some civil society leaders today call for a boycott of Israel, the Jewish homeland. This new anti-Semitism targets the Jewish people by targeting Israel and attempts to make the old bigotry acceptable to a new generation. That is why I am proud that, for our government, Israel has an absolute and non-negotiable right to exist as a Jewish state.
As the Prime Minister said in his historic address to the Knesset:
In the democratic family of nations, Israel represents values which our Government takes as articles of faith and principles to drive our own national life. And therefore, through fire and water, Canada will stand with you.
As freedom-loving people, we have an obligation to remember the poisonous effects of anti-Semitism, the disregard for human rights and human dignity, which led to the horrors of the Holocaust. We have an obligation to learn lessons from the Holocaust and apply them to the present. We also have an obligation to recognize that the same threats exist today.
It is for this reason that our government has invested in a number of educational and remembrance projects in recent years, including the national Holocaust monument right here in Ottawa. It was an honour for me to help create this monument by bringing forward the act in this House, which was supported by all parties. The national Holocaust monument will serve as a powerful reminder about what can happen when we fail to take a stand against social injustice, xenophobia, and discrimination.
Just last month I was greatly privileged to join four Canadian Holocaust survivors, Mordechai Ronen, Miriam Ziegler Friedman, Howard Chandler, and Martin Baranek, as they bravely returned to Auschwitz as some of the 100 survivors from around the world who attended the 70th anniversary of the liberation of the Nazi death camp.
As I stood with them at the gate of Auschwitz, I was profoundly moved. The endless courage, the incredible spirit they demonstrated to go back to that place of such evil, their own hell on earth, to remember and to ensure that future generations will never forget.
I would like to share the story of one of the Canadian Holocaust survivors, Mr. Mordechai Ronen, who returned to Auschwitz with his son Moshe Ronen and granddaughter Sari for the commemoration.
Mordechai grew up in a Jewish orthodox home in a part of Hungary that now belongs to Romania. He was only 11 years old when he was seized by the Nazis at the end of 1943 along with his parents and four siblings. The family was transported to the Nazi concentration and death camp, Auschwitz, where he, his father, and his brother were separated from his mother and sisters, never to see them again.
It was many years before Mordechai shared the horrific and traumatizing experience of the Holocaust with his family. The loss, as well as the constant terror and suffering that he endured while in the camp, are beyond comprehension to most people, but in spite of this, upon his return to the camp, he demonstrated the remarkable spirit of survivors when he stated, "I am not a victim; I am a victor. I have survived and returned to tell the world these awful things happened, and we must never allow them to happen again".
Citizenship and Immigration September 29th, 2014
Mr. Speaker, the tragic events of the Komagata Maru truly are a regrettable chapter in Canada's immigration history. Our Prime Minister is the first prime minister in Canadian history to apologize on behalf of Canadians for that tragedy.
Further to that, Canada Post released an historic stamp earlier this year. We funded multimedia education materials. We funded a permanent monument in Vancouver, a museum to further educate Canadians, and a great exhibit, called "Lions of the Sea", which will be going right across the country. I encourage Canadians to visit it when it is in their part of the country.
While the opposition plays politics with this issue, we are working to educate Canadians.
Global Centre for Pluralism September 15th, 2014
Mr. Speaker, pursuant to Standing Order 32(2) I have the honour to table, in both official languages, the Global Centre for Pluralism's annual report for 2013.
Citizenship and Immigration May 15th, 2014
Mr. Speaker, the tragic events of the Komagata Maru were a regrettable chapter in Canada's history. That is why the Prime Minister was the first prime minister to officially apologize for what happened to the passengers of the Komagata Maru on behalf of all Canadians.
Our Conservative government worked with the Khalsa Diwan Society to build the Komagata Maru monument in Vancouver, and we have funded other projects to educate Canadians about what happened to the Komagata Maru; and thanks to the member for Brampton—Springdale, there was a stamp released to commemorate the Komagata Maru just last week.
Multiculturalism May 12th, 2014
Mr. Speaker, today I was honoured to join with the Minister of Foreign Affairs and the Minister of Canadian Heritage and Official Languages to help announce the winning design for the national Holocaust monument, which will be unveiled in the fall of 2015. Congratulations to the design-winning team led by Gail Dexter-Lord, creators of Landscape of Loss, Memory and Survival.
The national Holocaust monument will serve as a constant reminder to reflect on the millions of lives lost due to hate and intolerance, and to educate our children so that such atrocities should never happen again.
Multiculturalism May 6th, 2014
Mr. Speaker, May is Asian Heritage Month, and as part of this, today our Conservative government is celebrating Vaisakhi on the Hill.
For over 100 years, Sikh Canadians have contributed significantly to Canada in all areas of endeavour, whether it is business, as professionals, in the public service, or in our Canadian Armed Forces. Sikh Canadians have played a large part in building and strengthening our country's economy, heritage, and our rich diversity.
On behalf of the Government of Canada, I extend my best wishes to everyone celebrating Vaisakhi.
Vaisakhi diyan lakh lakh Vadhaiyan.
Global Centre for Pluralism April 9th, 2014
Mr. Speaker, pursuant to Standing Order 32(2), I have the honour to table, in both official languages, the summary of the Global Centre for Pluralism's corporate plan for 2014.
Multiculturalism March 4th, 2014
Mr. Speaker, I thank the member for his question and his hard work in this place. We stand in solidarity with the Jewish students and others on campus who are being forced to endure this travesty. We condemn this one-sided resolution that singles out Israel alone with boycott, divestment, and sanctions.
As the Prime Minister has said, Israel's right to exist as a Jewish state is absolute and non-negotiable. This new type of anti-Semitism is despicable and does not belong in Canada.