Tim Uppal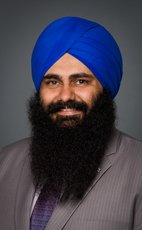 House of Commons photo
Track Tim
Your Say
Elsewhere
Crucial Fact
Conservative
MP for Edmonton—Sherwood Park (Alberta)
Won his last election, in 2011, with 44.70% of the vote.
Statements in the House
Global Centre for Pluralism April 9th, 2014
Mr. Speaker, pursuant to Standing Order 32(2), I have the honour to table, in both official languages, the summary of the Global Centre for Pluralism's corporate plan for 2014.
Multiculturalism March 4th, 2014
Mr. Speaker, I thank the member for his question and his hard work in this place. We stand in solidarity with the Jewish students and others on campus who are being forced to endure this travesty. We condemn this one-sided resolution that singles out Israel alone with boycott, divestment, and sanctions.
As the Prime Minister has said, Israel's right to exist as a Jewish state is absolute and non-negotiable. This new type of anti-Semitism is despicable and does not belong in Canada.
Canadian Multiculturalism Act February 3rd, 2014
Mr. Speaker, pursuant to Standing Order 34(1), I am pleased to present, in both official languages, the annual report of the operations of the Canadian Multiculturalism Act for 2012 and 2013.
Multiculturalism December 6th, 2013
Mr. Speaker, this was, indeed, a disgraceful act, and we are pleased that the Vancouver police are investigating it further.
The tragic events of the Komagata Maru were a regrettable chapter in Canada's history. That is why we worked with the Khalsa Diwan Society to build this important monument and fund other projects to educate Canadians, and thanks to the member for Brampton—Springdale, Canada Post will issue a commemorative stamp to commemorate it. That is why this Prime Minister was the first to officially apologize for what happened to the passengers of the Komagata Maru on behalf of all Canadians.
Multiculturalism November 29th, 2013
Mr. Speaker, as a non-Christian myself, I do not find this offensive at all.
Canada has a long tradition of pluralism and it is truly wonderful that people of all faiths are able to practice and celebrate their traditions openly in Canada.
During this season of Hanukkah, we wish our Jewish friends, Chag Hanukkah Sameach.
During Vaisakhi, we wish Sikhs, Vaisakhi diyan lakh lakh Vadhaiyan.
True diversity means respecting the traditions of all Canadians, including those of Christian Canadians. I ask all members during this Christmas season to wish our Christian friends a very merry Christmas.
Ways and Means November 22nd, 2013
Mr. Speaker, pursuant to Standing Order 83(1) I have the honour to table a notice of a ways and means motion to amend the Customs Tariff Act. Pursuant to Standing Order 83(2) I ask that an order of the day be designated for consideration of the motion.
Multiculturalism November 22nd, 2013
Mr. Speaker, on the fourth Saturday of November we join Ukrainian communities across Canada in commemorating Holodomor Memorial Day. Holodomor was a horrific act of genocide carried out by Joseph Stalin's soviet regime through the deliberate starvation of millions of Ukrainians.
Our government has been committed to raising awareness of Holodomor through the establishment of a monument to the victims of communism in Ottawa. We have an obligation to ensure future generations of Canadians learn about and remember the Holodomor. We will always remember them.
Government Priorities November 8th, 2013
Mr. Speaker, the comments made by the leader of the Liberal Party are an insult to the many Canadians who have fought for the basic values and freedoms we enjoy today. His answer demonstrates again the long-standing position of our party that he is in over his head.
Having met so many Canadians who have faced persecution abroad, I assure them that we will always stand up to promote and defend the values Canadians cherish, including democracy and freedom, not dictatorships.
Yet again, the Liberal leader's comments demonstrate that he is not fit to lead the greatest democracy in the world.
Intergovernmental Affairs November 8th, 2013
Mr. Speaker, my parents were welcomed when they immigrated to Canada, and now I have three beautiful Canada-born children. We are a proud Canadian family.
A Canadian is no less a Canadian because they wear a cross, a kippa, Star of David or a turban.
The Prime Minister has been clear that nobody should be denied a job on the basis of criteria that is unrelated to the performance of that job. The Government of Canada will not hesitate to protect the constitutional rights that are given to all Canadians if the bill were to pass in its current form.