Tom Lukiwski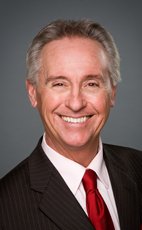 House of Commons photo
Track Tom
Your Say
Elsewhere
Crucial Fact
His

favourite word

is questions.
Conservative
MP for Regina—Lumsden—Lake Centre (Saskatchewan)
Won his last election, in 2011, with 53.20% of the vote.
Statements in the House
Business of the House November 27th, 2014
Mr. Speaker, notwithstanding the fact that the comments on our commitment to veterans made by all of my colleagues opposite are completely untrue, our commitment to our veterans in this country in terms of the level of funding we have given them has been unprecedented. Frankly, there has not been one nickel that we have clawed back from veterans. In fact, we have spent over $5 billion more on veterans since taking office than the previous government.
I would like to take this opportunity to remind all members, once again, on the eve of this year's Grey Cup, that the Saskatchewan Roughriders are the defending Grey Cup champions. They are known not only as Saskatchewan's team but also Canada's team. I ask all members to once again applaud the efforts of the Saskatchewan Roughriders, as they are the backbone of the CFL, our great football institution in this country. I see that my colleagues share my enthusiasm.
It is a pleasure to rise this afternoon on behalf of the government House leader to give the weekly business statement to my colleague opposite. This afternoon, we will continue with the NDP opposition day debate. Tomorrow, we will return to second reading debate on Bill C-35, the justice for animals in service act, also known as Quanto's law.
On Monday, before question period, we will start the second reading debate on Bill S-6, the Yukon and Nunavut regulatory improvement act. This bill is the final step toward completing the legislative portion of Canada's action plan to improve northern regulatory regimes. After question period, we will start the report stage of Bill C-2, the respect for communities act, which was recently reported back from the public safety committee. This bill will ensure that our communities, and especially parents, will have a say before drug injection sites are opened.
On Tuesday, we will start the report stage debate on Bill C-43, the economic action plan 2014 act, No. 2, which has been considered by the hardworking finance committee and several other committees this autumn. Bill C-43 would implement measures from this year's federal budget and other newer measures that would support jobs, economic growth, families, and communities, as well as improve the fairness and integrity of the tax system as the government returns to a balanced budget in 2015.
On Wednesday, we will have yet another NDP opposition day, as confirmed yesterday by the government House leader. That will be our last supply day of the autumn, so we will consider the supplementary estimates and an appropriations bill that evening.
Thursday will see us resume debate on Bill C-40, the Rouge national urban park act, at third reading. My colleagues from the greater Toronto area will be keen to see progress on this legislation, which would create Canada's first urban national park.
Government Response to Petitions November 27th, 2014
Mr. Speaker, pursuant to Standing Order 36(8), I have the honour to table, in both official languages, the government's response to eight petitions.