Alexandre Boulerice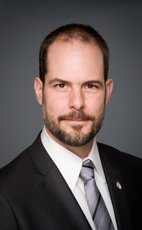 House of Commons photo
Track Alexandre
Your Say
Elsewhere
Crucial Fact
NDP
MP for Rosemont—La Petite-Patrie (Québec)
Won his last election, in 2011, with 51.00% of the vote.
Statements in the House
Port of Montreal April 9th, 2014
Mr. Speaker, Robert Abdallah was the Prime Minister's choice for taking the helm of the Montreal Port Authority. Telephone recordings have revealed that the Prime Minister's Office and the "boss in Quebec" at the time, Dimitri Soudas, were involved in dealings that would have benefited Tony Accurso.
Coincidentally, several firms were also involved in the plan to give him the top job at the Montreal Port Authority, so that they would have an advantage when it came to getting federal contracts. This morning, nine officers from the anti-corruption squad raided Robert Abdallah's home in Quebec.
Why did the Prime Minister pushed so hard to have Robert Abdallah as the head of the Montreal Port Authority?
Library and Archives Canada April 2nd, 2014
Mr. Speaker, Library and Archives Canada awarded a contract to an American company to create its new catalogue. Instead of looking at how things are done here and consulting the archives community and Canadian experts, the Conservatives decided to sub-contract the job—without a bidding process—to an American company.
Thank goodness we won the War of 1812. That decision was ridiculous. Library and Archives Canada is the keeper of our collective memory, and now the Americans are being asked to manage it? Can the minister explain why this contract is going to the United States?
Canada Post March 31st, 2014
Mr. Speaker, the Conservatives are so incompetent that they are not even capable of delivering the mail to people anymore. That makes no sense. People want the government to improve services, not cut them.
With the increased cost of a stamp, we will now be paying 35% to 59% more to send a letter. Once again, this measure will hurt the least fortunate and small businesses. Meanwhile, the 23 Canada Post executives are pocketing $20 million a year.
Instead of letting their buddies gut our postal service and take money from taxpayers' pockets, why do the Conservatives not try to find new revenue streams for this public service to secure its future?
Democratic Reform March 28th, 2014
Mr. Speaker, let us look at the facts. When there were problems with the vouching system, it was because of administrative errors. No voter fraud was reported. The minister has to stop treating honest citizens like criminals. He is using false pretenses to try to disenfranchise 120,000 people, including aboriginal people, homeless people, students, seniors and the poor.
Why are the Conservatives afraid of voters? Why do they want to take the right to vote away from society's most vulnerable people?
Offshore Health and Safety Act March 27th, 2014
Mr. Speaker, I want to thank my colleague from Brome—Missisquoi for his question. Indeed, the previous and current governments are like two peas in a pod. For many years now, the Conservatives have been serving the interests of the same groups, who do not happen to be families and workers. However, the NDP is here to stand up for them.
The Conservatives would rather subsidize oil companies and give tax cuts to the banks, although banks made around 34 billion dollars in profits last year. Since the population of Canada is 34 million people, this means that every single one of them—every person, every citizen, every senior citizen, every baby—gives $1,000 a year to the Royal Bank of Canada, CIBC and Scotiabank. This is unacceptable.
An NDP government would definitely have other priorities. An NDP government would work for the people.
Offshore Health and Safety Act March 27th, 2014
It seems we are past 60, Mr. Speaker. Maybe we will reach 100. We, in the NDP, believe that it is useful to discuss, to analyze and to amend bills in order to improve them.
Offshore Health and Safety Act March 27th, 2014
Mr. Speaker, my colleague from Gatineau raises an excellent point.
Just because the government dragged its feet and introduced a bill way too late in the game does not mean we should not debate it with care and diligence. We must do things properly. The bill is almost 300 pages long. It is quite complex. We need to take the time to weed out its flaws and improve the bill. That is our job as parliamentarians.
I do understand, however, why our Conservative colleagues would not want to debate it; they are loath to debate anything. The Conservatives have now imposed 58 gag orders since 2011, and perhaps they are fantasizing about issuing one more. Who knows how many more gag orders we will have before the next elections.
Offshore Health and Safety Act March 27th, 2014
Blame the NDP, Mr. Speaker.
I thank my colleague for her question. However, the Conservative government has been in power since 2006, and this is 2014. I do not believe it is really the NDP's fault that this bill has not previously been brought forward and introduced in the House.
If the Conservative government had been serious about this issue, it would have worked much faster to actually help workers. That unfortunately is not one of the Conservative Party's priorities, and this is not the first time this government has attacked the bargaining rights of the federal public service, for example. It also attacks labour organizations, thus attacking the middle class.
The NDP therefore has no lessons to learn from the Conservative government regarding worker health and safety.
Offshore Health and Safety Act March 27th, 2014
Mr. Speaker, I have the very great pleasure of rising to speak to Bill C-5, which does have weaknesses—some of my colleagues have already pointed out some of them—but which seems to have drawn a consensus on the part of the labour unions and the provincial governments of Nova Scotia and Newfoundland and Labrador.
This is an extremely important issue. I have a union background myself, and as the official opposition labour critic, I believe that any progress that is made to help workers stay healthy and offer them protection and a safe work environment should be embraced and encouraged.
That is why in the NDP, we recognize that despite its weaknesses, Bill C-5 is a step in the right direction in an issue that should be above partisanship. I would like to point out that today is March 27. In one month and one day it will be the National Day of Mourning. Each year on April 28, we remember those who have lost their lives at work. It is an important day, the symbol of which is the canary, once used in the mines to indicate when the oxygen supply was failing. When the canary died, it was time to get out of the mine, and quickly.
Last summer, I had an opportunity to visit the mine in Springhill, Nova Scotia, and I have to admit that there was a good reason why the first union in Canada was founded in the mines of Nova Scotia, where people wielded their picks on their knees in the dark. If they were not killed in an explosion, they died of black lung, because their lungs were full of coal dust. Things are different now. Unions have been legal in Canada since 1872, but before that, they were not. It has only been a little more than a century. We must continue to see to it that conditions for those working on offshore oil and gas projects are as safe as they can be.
On April 28, we commemorate all those who have lost their lives at work. It has to be said that there are many more deaths than commonly thought. In 1993, there were 758 recorded deaths in the workplace. In 2004, there were 928. In 2005, there were 1,097. That is 1,097 individuals, nearly 1,100 people in a single year who left for work one morning and never came home. This is intolerable and unacceptable. As legislators, we should do everything in our power to put in place regulatory frameworks so that these terrible things never happen again.
Nearly 1,100 people losing their lives in the workplace. Given that the average worker in Canada or Quebec works 230 days a year, this means five deaths every working day. Five people dead from trying to earn a living. People should never lose their lives from trying to earn a living and support a family.
Offshore workers deserve our support, and our support at this stage for Bill C-5. It is based on three major principles that the NDP shares and wishes to promote. Workplace health and safety legislation should protect workers—in this case, offshore workers—at least as well as it protects onshore workers. It is a simple question of fairness.
We understand that resources have to be more substantial. My colleague has already pointed out that it is much more difficult to help someone at sea than someone in Rosemont—La Petite-Patrie, who is within a 10-minute drive of three hospitals. Being far away at sea is no reason for a person not to receive the necessary emergency assistance and care in such situations.
Workers' rights must be protected. This is extremely important. A workplace health and safety culture that recognizes a shared responsibility should be supported. Workers themselves obviously have a responsibility to take care. The employer has a responsibility to take every measure necessary to ensure that workers' lives and safety are not placed in jeopardy.
The government is responsible for putting legislation in place that will compel all parties to act responsibly so that when people leave for work in the morning, there is every chance that they will come home that evening. This is extremely important.
Unfortunately, this bill has taken a long time. It has been under discussion for 12 years. We are happy that it is moving forward, but it is moving at a snail's pace. The Conservative Party, and the Liberal Party before it, could have done their due diligence much sooner.
Today, the government has placed this bill before us. Better late than never, but it has been rather a long time coming. Moreover, while the government is working with two provincial governments and the unions to improve workplace health and safety for offshore oil and gas workers, it is at the same time undermining health and safety rights in its own legislation, with Bill C-4. It is changing the definition of workplace danger that employees working for organizations under federal jurisdiction can use in order to exercise their right of refusal to work.
A worker's right of refusal means being able to say that it seems to him dangerous to go where his employer is asking him to go, because he believes that he could have something fall on his head, say, or slip and fall, or step on a live wire.
In a budget implementation act, the Canada Labour Code was amended to change the definition of the word "danger", which must now be a significant and immediate threat. For example, if the employee is working with asbestos and he risks having cancer in 20 years, this is not immediate. So there may be some argument about this.
Furthermore, the threat must be significant, without any definition of what a significant threat is, or consultation with business, industry, trades or unions. This has all suddenly been presented to us like a rabbit out of a hat.
In parliamentary committee, questions were asked about what constitutes a significant threat. If I lose a finger, is this significant or not? If I lose a leg, is it significant? What piece of the body has to be lost or damaged before it is considered significant?
We asked about the studies the Conservatives relied on for changing the definition and whether there was a problem with the current definition. The answer was that 80% of cases of refusals to work for health and safety reasons were not justified. We asked to see the documents, and there were not any. Their estimates were based on internal discussions. This is what we learned in committee. That is really something.
In those discussions, apparently, they heard talk of situations where the claims were not justified or where there was some abuse of the system. They told themselves they would have to get tough.
In getting tough, they are likely to endanger the health or the lives of employees who work for an organization under federal jurisdiction, and, for us in the NDP, this is unacceptable.
We think it is a shame that, on the one hand, the government is working to improve the health and safety of some workers, which is a good thing and something we are supporting, and on the other hand, it is complicating the right to refuse work for tens of thousands of people.
Even if it were true that 80% of cases were not justified, that means that 20% of cases were indeed justified, and this is what counts. This is what is important for us. The job will perhaps have to wait an hour longer. That is not important. An inspector will come and look into the problem. The important thing is that no one is hurt and no one dies on the job.
We in the NDP are going to support Bill C-5. However, I think that we should have brought in recommendation 29 made by Robert Wells, who said, "I believe that the recommendation which follows this explanatory note will be the most important in this entire report".
Recommendation 29 is the only recommendation that is not included in the bill.
Recommendation 29 calls for a new, independent and stand-alone organization to be established to regulate health and safety matters in the offshore areas of Newfoundland and Labrador and Nova Scotia. If that is not possible, Justice Wells recommended, in the alternative, that the government create a separate and autonomous safety division in that department with a separate budget, separate leadership and an organizational structure designed to deal only with health and safety matters, and that an advisory board be established, composed of mature and experienced persons who are fully representative of the community and unconnected with the oil industry.
That is very important indeed.
This is a bill that brings regulatory progress. For once, the government has worked in co-operation with the provinces, but once is not a habit.
However, one piece is missing, and that is a genuinely independent organization that would help us monitor the measures that are put in place and that is not connected to the industry or the government. In our minds, that is an essential recommendation, and we very much deplore the fact that it is not addressed in Bill C-5.
That will not prevent us from voting for the bill at this time, but we believe the government should make consequential amendments to it.
Canada Revenue Agency March 27th, 2014
Mr. Speaker, it has been reported that the personal information of 600,000 Canadians has been lost, and there have been 2,983 privacy breaches at the Canada Revenue Agency alone.
What are the Conservatives doing about it? Absolutely nothing.
A laptop containing medical and legal files was stolen in 2012, which is another very disturbing case. The thief is now trying to blackmail a lawyer at the Indian Residential Schools Adjudication Secretariat. However, the Privacy Commissioner was just informed this week, two years after the fact.
What is the blackmailer asking for, and what are the Conservatives going to do? We want to know.