Alexandre Boulerice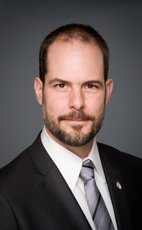 House of Commons photo
Track Alexandre
Your Say
Elsewhere
Crucial Fact
NDP
MP for Rosemont—La Petite-Patrie (Québec)
Won his last election, in 2011, with 51.00% of the vote.
Statements in the House
Ethics March 6th, 2014
Mr. Speaker, if I understand correctly, we have just heard a new story that Nigel Wright hid things from the Prime Minister. We are starting to see a pattern here.
It is hard to believe that Nigel Wright forgot to tell his boss that the man working for him, who advised him and was part of his transition team, had just happened to stop by the office. However, he never said that.
It seems as though a lot of ministers in the current government, including the member for Mégantic—L'Érable, have tried the so-called secret sauce. It is fantastic.
Why does the Prime Minister always surround himself with people who break the law?
Ethics March 6th, 2014
Mr. Speaker, I would like to remind members that Bruce Carson was one of the Prime Minister's key advisors. He is best known for devising a scheme for making money on the backs of first nations.
Doug Black, who was appointed to the Senate by this Prime Minister, called his illegal lobbying the "secret sauce". As a public office-holder, Bruce Carson was not allowed to engage in lobbying activities.
The question is simple. Is the Prime Minister aware of Bruce Carson's illegal lobbying of Daniel Gagnier of the Energy Policy Institute of Canada, who is also the next co-chair of the 2015 election campaign?
Privilege March 4th, 2014
Mr. Speaker, I thank the opposition House leader for his question.
That question is the reason for the debate we have been having for two days. In fact, the member for Mississauga—Streetsville rose in the House and said:
I made a statement in the House during the debate that is not accurate. I just want to reflect the fact that I have not personally witnessed individuals retrieving voter notification cards from the garbage cans or from the mailbox areas...
Eighteen days earlier, he stated the opposite four times. We want to know what happened. Unfortunately, my Conservative colleague is not present. The Speaker of the House of Commons said that, with this contempt of Parliament, there was a clear intention to mislead the House of Commons.
At the very least, the member could be here to explain. If he cannot be here to explain and he insists on hiding, then a committee should look at this in order to determine exactly what happened.
Privilege March 4th, 2014
Mr. Speaker, I want to thank my colleague from Gatineau for her excellent question. Obviously, this says a lot about and is symptomatic of the Conservatives' attitude: they are entitled to their entitlements, they do not need to listen to anyone, anything goes, and the ends justify the means.
They have a bill that will change the Elections Act to their advantage. They are prepared to spout utter nonsense to justify it even if the facts are not on their side. Why? It is because the Conservatives are not usually interested in reality and facts. We have seen that in other sectors as well. Statistics Canada is now prohibited from using a mandatory long form census, which makes the data it collects inaccurate and hard to use. The fact that the government is muzzling scientists follows the same pattern and is part of the same arrogant attitude of a tired old government.
Privilege March 4th, 2014
It is true, Mr. Speaker, my grandma would never have done that kind of thing. She had more intellectual honesty than that.
I am trying to understand what happened between February 6th and 24th.
If someone tells the House that he saw people commit illegal acts, why did it take him 18 days to realize he saw nothing of the kind?
No apology will erase the contempt of Parliament committed on February 6. What happened during those 18 days? How is it that the member for Mississauga—Streetsville appears to have suffered hallucinations on February 6 and suddenly had to set the record straight on February 24? We would like to understand.
Basically, this sham, this preposterous story, is supposed to justify the Conservative minister's electoral reform bill. Constructing public policy and major reforms on baseless statements, smoke and mirrors, is very serious and utterly unacceptable.
We in the official opposition act in a responsible and honest manner. We want to know exactly what happened. Was the member influenced in a way that made him make such statements? Was he subsequently influenced again when he said he had seen no one commit an illegal act? If that is true, how is it that he, as an honest politician, did not notify Elections Canada?
This has nothing at all to do with misspeaking. I might be mistaken about the name of a constituency or a person and then have to apologize, but that is not at all the case here. The member stated on two occasions that he had personally seen such actions.
This brings us back to all the defects in the electoral reform bill. We are told, in an entirely Orwellian tone, that this bill will protect us from the influence of big money, whereas maximum contributions are being raised from $1,200 to $1,500. How can anyone have these two ideas in mind at the same time? This is absolutely inconsistent.
If you want to reduce the influence of big money on elections and political parties, you increase public funding and cut individual contributions. However, the Conservatives are doing the opposite. They probably have more friends than we do who are able to write cheques for $1,500. They are not being serious at all. They are cheating by creating a legal framework that will benefit them in the next election.
This is extremely serious in a representative democracy such as ours, in which people must be able to trust the laws that govern them. Not only do the Conservatives risk preventing tens of thousands of people from voting, but they are raising the limit on individual contributions to a political party to $1,500 and preventing Elections Canada from investigating by stripping it of that power and conferring it on a third party.
What enrages me most about Bill C-23 is that the Conservatives want to prohibit Elections Canada from promoting the right to vote. This is quite disturbing when voter turnout has been declining for years now.
The main body that organizes elections in our country will not be able to tell people that it would be good for them to go and vote, that their votes count and that we need them. No, the only thing it will be able to tell them is the location of their polling station. Elections Canada will no longer be allowed to encourage people to exercise their right to vote and to have a voice in the representation and governance of their country. That must suit somebody. That must benefit people who are not counting on citizen engagement or people's desire for real change in this country.
It is particularly odious to make false statements in the House to justify an electoral reform bill that has undergone no public consultation, either with the opposition parties or with the Chief Electoral Officer, and even less with the people of our country.
For the NDP, that is unacceptable. We will stand against it.
Privilege March 4th, 2014
Mr. Speaker, I would like to inform you that I will be sharing my time with the extraordinary member for Notre-Dame-de-Grâce—Lachine. I would like to congratulate her. It is important that we listen to what she has to say. It will be very interesting, more interesting than what we just heard.
I would like to take a moment to quote the member for Mississauga—Streetsville. I think it will give us some insight into what the word "misspeak" means to the Conservatives, or what it means to them to have misspoken.
On February 6, the member in question said the following:
Mr. Speaker, I want to talk a bit about this vouching system again. I know the minister represents an urban city. I am from a semi-urban area of Mississauga, where there are many high-rise apartment buildings. On mail delivery day when the voter cards are delivered to community mailboxes in apartment buildings, many of them are discarded in the garbage can or the blue box. I have actually witnessed other people picking up the voter cards, going to the campaign office [I suppose he is following them] of whatever candidate they support and handing out these voter cards to other individuals [he saw three things there], who then walk into voting stations with friends who vouch for them with no ID.
He personally saw at least four things happen. He witnessed them.
Later that same day, he said this:
Earlier this afternoon I asked the Minister of State for Western Economic Diversification a question. I think my friend from York South—Weston will appreciate this because, just like the riding I represent, there are a lot of apartment buildings in his riding. I will relate to him something I have actually seen.
That same day, he repeated and reiterated his previous statement, and I quote:
On the mail delivery day when voter cards are put in mailboxes, residents come home, pick them out of their boxes, and throw them in the garbage can. I [first person singular] have seen campaign workers follow, pick up a dozen of them afterward, and walk out. Why are they doing that? They are doing it so they can hand those cards to other people, who will then be vouched for at a voting booth and vote illegally. That is going to stop.
Then, 18 days later, the member Mississauga—Streetsville had an epiphany. He suddenly realized that his story was completely fabricated and that he was gravely mistaken when he said that he had seen, with his own eyes, people using voter information cards to commit election fraud. It took him 18 days. I would like to know what went through his mind on February 6. Did he have a psychotic episode? Was he under the influence of drugs? Was he following instructions from his own party to make a dismal and fraudulent attempt to justify Bill C-23, which would prevent people from voting by using the voter information card they receive from Elections Canada and having someone vouch for their identity?
The Conservatives have a problem: they consistently give us public policies based on stuff they make up. Good public policy is usually based on good research and objectivity, on an analysis of a situation supported by facts to back up statements and proposals.
Bill C-23, which would implement voter suppression tactics worthy of the Republican Party, challenges a fundamental right of Canadian citizens—exercising the right to vote—based on arguments that are basically tall tales that misled Parliament.
Privilege March 4th, 2014
Mr. Speaker, I thank my colleague for his comments, even though we have fundamentally different views.
We believe that what happened is much more serious and that a committee should examine the issue in order to shed light on what really happened. How can an honourable colleague say that he saw people doing something with his own eyes, and then 18 days later, say that he is sorry but that he actually did not see anything.
Can my hon. colleague try to explain to us, without telling us again that the member has apologized, that we should forget about this and that the case is closed, how someone can be an eyewitness to an event one day and then, 18 days later, claim that he did not see anything?
Privilege March 4th, 2014
Mr. Speaker, I would like to thank the hon. member for his excellent speech on such a key issue.
In theory, we should all agree that good public policy must be based on sound research and verifiable facts. The government is amending the Canada Elections Act, the bedrock of our democracy, not just without facts, but with incomplete facts that are being presented as the rationale for amending the Canada Elections Act. Now we are seeing that it was not true, that it was all made up.
The Conservative member invented a story to try and justify the bill introduced by his colleague, the Minister of State for Democratic Reform. They are trying to mislead parliamentarians and the public by making us think that fraud has been committed when, in fact, it has not.
The Conservatives are unable to clearly show what exactly is the problem they are trying to fix. Instead, they are using backbenchers to try and convince us that a problem exists where there is none. I would like to hear what my colleague has to say about that.
Privacy March 4th, 2014
Mr. Speaker, the Conservatives have made drastic cuts to public services such as employment insurance and Canada Post, they have made partisan changes to the Canada Elections Act, and they used a diplomatic visit to boost the Conservative Party's database. Let us not forget the Wright and Duffy scheme, which was orchestrated in the Prime Minister's very own boardroom.
Are the Conservatives trying to recreate the glory days of the Liberal sponsorship scandal? When will they stop governing for the Conservative Party and start governing for everyone?
Privacy March 4th, 2014
Mr. Speaker, the Aga Khan came to Canada to share a message of tolerance and openness that is strikingly similar to the NDP's "Working together" slogan.
Apparently, the message went way over the heads of the Conservatives. They put the Aga Khan's speech up on the Prime Minister's website, but in order to listen to it, people had to submit their email address. Where did all of those email addresses go? To the Conservative Party.
Do the Conservatives think that it is ethical to use diplomatic visits to add to their database, yes or no?