Alexandre Boulerice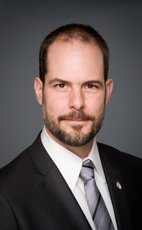 House of Commons photo
Track Alexandre
Your Say
Elsewhere
Crucial Fact
His

favourite word

is conservatives.
NDP
MP for Rosemont—La Petite-Patrie (Québec)
Won his last election, in 2011, with 51.00% of the vote.
Statements in the House
The Economy February 3rd, 2015
Mr. Speaker, not so long ago, the Conservatives were constantly claiming that the economy was their top priority.
For some time, the development of the oil economy concealed their incompetence and their inability to diversify our economy. However, now that the price of oil has plummeted, we can see that the emperor has no clothes.
They would like us to forget that there are 200,000 more people out of work than before the recession. They would like us to forget that 400,000 good jobs have been lost in the manufacturing sector in the past 10 years. I have news for the Conservatives: families are not fools. They know who is responsible for the current economic mess.
There is hope, however. Families also know that they can count on Tom Mulcair's NDP, which has concrete solutions to help people make ends meet, including public day care, increasing the minimum wage and implementing a plan to create jobs in SMEs.
We in the NDP have a dynamic team and a strong leader, a man of principle and experience who is capable of replacing the Conservative government this year.
Access to Information January 29th, 2015
Mr. Speaker, unlike the Conservatives, the NDP believes that it is a right to have a roof over one's head.
The Conservatives are so incompetent that even when they throw $60 million at private consultants, they are unable to answer access to information requests. If they would only respond instead of dragging their feet, there would be no problem.
If only the PMO would answer questions instead of wanting to control and check everything, like a small gang of busybodies, there would be no problem.
When will the Conservatives realize that their lack of transparency and culture of secrecy makes it impossible to respond to access to information requests?
Business of Supply January 27th, 2015
Mr. Speaker, I would like to thank my colleague and congratulate him on his excellent speech, his proposals, his presentations and his analysis.
I would like to talk about the fact that the Conservative government is in a very difficult position now. It was forced to postpone tabling its budget because it gambled everything on black gold. It gambled everything on oil. Now the price of oil, which was supposed to be $80 or $85 a barrel, is below $50.
How can it be that a Conservative government bet everything on fossil fuel development and abandoned the manufacturing sector, which creates jobs in Canada? I would like my colleague to comment on that.
Canada Post December 11th, 2014
Mr. Speaker, last year, one hour after the Canada Post announcement, the Minister of Transport announced in a press release that she agreed with the decision. Thus, it is not true that the corporation is at arm's length.
It has been one year since the Conservatives decided to disregard the well-being of Canadians by eliminating home mail delivery. While other countries such as Germany are retooling their postal services by adding banking services, Canada and the Conservatives are attacking a service that Canadians appreciate.
One year after this tragic announcement, have the Conservatives finally heard the people's justifiable anger?
Do they understand that this has a direct impact on municipalities and people with reduced mobility?
Do they understand that Canada Post is profitable?
Will they keep home mail delivery?
Veterans Affairs December 10th, 2014
Mr. Speaker, that takes the cake.
The Conservatives are firing one-quarter of Veterans Affairs Canada employees, those who really take care of veterans when it comes to health care services, pensions and benefits. The Conservatives are insulting public servants by saying that they are just pencil-pushers.
Nevertheless, we have learned that the number of political staffers in ministers' offices has increased by over 20%. That just emphasizes how foolish the Conservatives are being. There is no money to take care of people, but there is money for political staffers.
Why are the Conservatives investing more in spin doctors than in people who take care of our veterans?
Liberal Party of Canada December 9th, 2014
Mr. Speaker, when the hon. member for Papineau became leader of the Liberal Party, he made a lot of promises, a pile of promises. He said that it was the rebirth of an honest, transparent and open Liberal Party. Yeah, right.
The NDP has had democratic nomination processes for a long time now. We were pleased to hear the member for Papineau say that he wanted to follow our example, but apparently, once red, always red.
Just recently, the coronation of Andrew Leslie in Orléans caused quite the kerfuffle. A number of Liberals were furious at their leader for blocking the candidacy of David Bertschi in favour of his buddy Andrew. As hon. members no doubt recall, he was the guy who billed taxpayers $72,000 to move from Ottawa to Ottawa. Things got ugly and a number of Liberal supporters feel betrayed and cheated.
Having been part of a number of NDP nominations, I can say that unlike the Liberals, we have a dynamic team and a strong leader and we are ready to replace the Conservatives next year.
Petitions December 4th, 2014
Mr. Speaker, I rise today to present a petition from people in my riding, Rosemont—La Petite-Patrie, who are concerned about agriculture, specifically, the freedom to use seeds to grow any variety of grain or vegetable now that more and more of those seeds are being patented and controlled by the agri-food industry. These people are concerned about the fact that in some countries, using, saving and exchanging seeds may now be considered illegal and punishable by law.
I am presenting this petition in the name of biodiversity and small farmers' ability to do their work.
Petitions November 28th, 2014
Mr. Speaker, I am rising in the House today to present a petition signed by hundreds of people from Montreal's south shore. They are extremely worried about the end of home mail delivery. They want to hang on to this public service and these good jobs for our mail carriers. They are worried about what is in store for seniors and people with reduced mobility. They do not accept that Canada is becoming the only country in the G7 that is unable to provide home mail delivery.
Port of Montreal November 28th, 2014
Well, that was reassuring, Mr. Speaker.
A former vice-president at SNC-Lavalin admitted to the anti-corruption unit that he was at the heart of a system that secretly sent funding to the Quebec Liberal Party.
Thanks to its dummy system, SNC-Lavalin illegally funnelled hundreds of thousands of dollars to the party. Despite those revelations, Normand Morin remained on the board of the Port of Montreal for another 18 months.
Why did the Conservatives turn a blind eye to the illegal actions of the vice-president of SNC-Lavalin, who was a board member at the Port of Montreal, for all that time?
Port of Montreal November 28th, 2014
Mr. Speaker, Normand Morin's unofficial job at SNC-Lavalin was to give illegal donations to political parties. It is not just an accusation; he admits it.
Conservatives have known about it for 18 months. What did they do? Nothing. Morin remained in his Conservative patronage position at the Port of Montreal, getting $25,000 a year until CTV revealed the scam. Only now is he out. Why did it take so long?