Alexandre Boulerice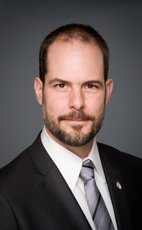 House of Commons photo
Track Alexandre
Your Say
Elsewhere
Crucial Fact
NDP
MP for Rosemont—La Petite-Patrie (Québec)
Won his last election, in 2011, with 51.00% of the vote.
Statements in the House
Labour May 1st, 2013
Mr. Speaker, the President of the Treasury Board has lost track of $3 billion and now wants to stick his nose into the negotiations of crown corporations. He cannot even do his own job. He should mind his own business.
The Conservatives' track record with VIA Rail is a disaster, and they continue to go after the CBC. Now we have to trust them to conduct negotiations with the employees of crown corporations. Really? Unionized employees are not the only ones who will have their hands tied. The Conservatives are now giving themselves the right to impose working conditions on non-unionized employees.
Why are the Conservatives meddling in these negotiations? Why do they not respect the independence of crown corporations?
Privacy April 30th, 2013
Mr. Speaker, we are on the side of taxpayers. We are on the side of freedom of negotiation, and we are on the side of good public services.
Speaking of unacceptable, the Privacy Commissioner made very clear recommendations in order to protect the privacy of Canadians.
If the Conservatives were really serious about this issue, they would have implemented these recommendations a long time ago.
The Minister said that he was in the process of preparing for a meeting. Someone stop him. While he is wasting his time, Canadians' privacy is being breached every 48 hours.
When will he take this seriously? When will he protect people?
The Budget April 30th, 2013
Mr. Speaker, oddly, the Parliamentary Budget Officer said that budget 2013 would result in the loss of 14,000 jobs for Canadians, not temporary jobs for foreign workers.
Not only does omnibus bill 3.0 contain tax hikes, but it also gives excessive power to Treasury Board, allowing it to interfere in the negotiation of collective agreements. Treasury Board will also be able to impose hiring conditions on new employees of crown corporations, whether or not they are unionized.
Why are the Conservatives attacking free bargaining? Why are they meddling in the affairs of crown corporations?
Privacy April 29th, 2013
Mr. Speaker, the Conservatives want to control everything, but the one thing they cannot control is privacy breaches.
Thousands of Canadians have had their confidential information compromised by the Conservatives. It took more than 3,000 data breaches before the Privacy Commissioner was informed. She did not know about them. That is serious.
What did the Conservatives do when they found out? Nothing.
The commissioner has made it clear that these breaches are very disturbing.
Will the government commit to systematically informing the commissioner of all breaches? And when, for heaven's sake, will they take real steps to keep these breaches from happening?
Ethics April 25th, 2013
Mr. Speaker, at least things are crystal clear: the Conservatives always side with big oil, while the NDP supports workers, fishers and families.
The former Conservative minister from Newfoundland and Labrador Peter Penashue boasted about having held up a project in Newfoundland, and not just any project: the replacement of an outdated and dangerous bridge. He tried to create divisions that would serve him, while putting the safety of motorists in danger. The people of Newfoundland and Labrador deserve better. They deserve a change and that change is coming.
Do the Conservatives think it is okay for a minister to use a crucial, priority project to engage in political blackmail?
National Day of Mourning April 25th, 2013
Mr. Speaker, April 28, 2013, will mark the 29th National Day of Mourning. Every year, hundreds of workers lose their lives as a result of workplace accidents or occupational diseases. There were 919 work-related deaths in Canada in 2011, including 204 in Quebec. There have been over 12,000 deaths in the past decade.
While we cannot imagine the pain and suffering of the hundreds of families that have lost a loved one, we can keep in mind that these accidents could have been and should have been prevented. Unions have done a great deal to advance this cause, but there is still much to be done to ensure workplace safety.
We must not wait until tragedies like the Westray mine explosion happen again before taking action. The recent assault of a Montreal bus driver reminds us that worker safety is still a valid demand. Workers need to be protected. Let us keep up the fight, remember those who have been unjustly taken from us and know that no one should lose their life while earning a living.
Business of Supply April 25th, 2013
Mr. Speaker, I would like to thank and congratulate the hon. member for Halifax. Her speech got to the heart of the matter, which is how incapable this government is of managing climate change and taking effective action to prevent global warming and its effects.
The government is always bragging about defending the sovereignty of northern Canada. Yet, we know that climate change will affect the Arctic and northern Canada in particular.
I would like the hon. member for Halifax to tell the House what the real impact of the Conservative government's inaction is on northern Canada's ecosystems and habitats.
Foreign Affairs April 24th, 2013
Mr. Speaker, there is a never-ending list of bad Conservative decisions that could cost us dearly. It includes Canada's decision to pull out of the Kyoto protocol and the Prime Minister's decision to deliberately skip a meeting of the United Nations General Assembly.
In its sales pitch, Qatar offered to construct a new building, cited the difficulty delegates have obtaining Canadian visas and mentioned that diplomats are very unhappy with the services provided. We have a problem.
I will ask again. What is the Conservative government's strategy for keeping ICAO in Montreal and attracting new international institutions?
Foreign Affairs April 24th, 2013
Mr. Speaker, it was a lockout in 2011. All the Conservatives had to do was make a phone call and the labour dispute would have ended.
On Monday, Qatar announced a proposal to move the International Civil Aviation Organization from Montreal to Doha. ICAO is a powerful international organization that is vital to the city of Montreal.
After the fiasco with the UN Security Council seat and the ludicrous decision to pull out of the UN convention to combat desertification, will Montreal pay the price for the Conservatives' indifference?
How are the Conservatives planning on keeping ICAO in Montreal, in Quebec, in Canada?