Alexandre Boulerice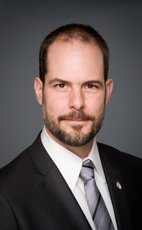 House of Commons photo
Track Alexandre
Your Say
Elsewhere
Crucial Fact
His

favourite word

is conservatives.
NDP
MP for Rosemont—La Petite-Patrie (Québec)
Won his last election, in 2011, with 51.00% of the vote.
Statements in the House
Business of Supply September 16th, 2014
moved:
That, in the opinion of the House, the government should reinstate the federal minimum wage and increase it incrementally to $15 per hour over five years.
Mr. Speaker, I would like to begin by saying that I will have the genuine honour of sharing my time with my colleague from Hamilton East—Stoney Creek. I would also like to say hello to all of the British Columbians who have woken up to listen to this memorable speech.
I am honoured to rise in the House as the first to speak in favour of raising the federal minimum wage. Actually, we are talking about restoring the federal minimum wage, which, sadly, was abolished by the Liberals in 1996. That was one of the factors that led to increasing inequality in Canada and Quebec over the past 20 years.
There is currently no federal minimum wage. All we have is a mechanism to ensure that people working in federally regulated jobs get paid the provincial minimum wage, which is now between $9 and $11 per hour. The highest minimum wage is in Ontario.
This explains the absurd and tragic situation we find ourselves in, where some Canadians can get up every morning and work 40 hours a week, yet still live below the poverty line. This is unbelievable and unacceptable in a society as rich as ours, in a G7 country. For people to have to work full time and still live below the poverty line is an affront to human dignity and to the efforts made by these men and women every day in going to work.
We in the NDP have come up with this concrete proposal to help people get out of poverty and ensure that no one who works full time ever has to live in poverty or be forced to go to a food bank to put food on the table. Under the LIberals and Conservatives, the number of people forced to turn to food banks to put food on the table has skyrocketed.
The unemployed are not the only ones turning to social assistance; people who work are also doing so. In fact, working full time no longer automatically means being able to feed your family and your children. We have people in Canada who work and still go without food themselves in order to feed their children so they do not go to school in the morning on an empty stomach.
There are pockets of poverty in some areas of our cities and towns that need to be addressed. Those people deserve our help.
We are seeing, in the last couple of years in Canada, a downward spiral of wages and revenues. We in the NDP believe that we should lift up everybody, lift up our communities and make better lives for everybody in Canada.
We have to put an end to the continuing downward spiral of people's purchasing power and salaries. The Conservative government has pushed hard to reduce the salaries and incomes of Canadians and Quebeckers.
Consider the temporary foreign worker program, which allows employers to import cheap labour year after year. Under the Conservatives, the number of temporary foreign workers has increased from some 100,000 per year to approximately 400,000. These people are working at Tim Hortons and McDonald's.
Then there are the cuts to employment insurance. People are being forced to accept lower and lower salaries, perhaps 90% or 80% of their former salary. According to the Conservatives, if people have received too much help from this program, they must accept 70% of their former salary. We feel that is unacceptable.
The measure we are proposing today is reasonable. The majority of studies demonstrate that a gradual, reasonable and moderate increase in the minimum wage would not result in job losses. The studies and documentation are clear on this. It will help the fight against inequality but will not adversely impact job creation. This course of action is fully justified.
Of course, it will be said that this will affect only federally regulated employees. There are nearly 820,000 federally regulated workers in the private sector, and approximately 100,000 of them earn less than $15 an hour.
This measure will therefore provide tangible help to 100,000 families in Canada. That is not insignificant. It will have a considerable impact on our communities. It will set the bar and send a message to the provinces that they must increase their minimum wages and follow the federal government's lead so that workers can live in dignity.
That is very important to us. A total of 80% of the poorest Canadians have seen their incomes stagnate. Take away the richest 20%, and the remaining 80% of the poorest Canadians have seen their incomes stagnate over the past 35 years. If we compare the average minimum wages from 1975 and 2013, there was a 1¢ real increase in the average minimum wage, and that is in constant dollars, not current dollars. We find that unacceptable. We need to take action to correct the situation.
One thing is not well known: Canada is perceived as having a more egalitarian society than our neighbours to the south, the Americans, who live in a society fraught with rampant, unbridled capitalism. In Canada we are proud of our social safety net. Our system is different from the American system. We have a public health system—which was created by the NDP, and we are very proud of it-—that means there is less inequality in Canada than in the United States. However, we are noticing that the gap is now growing faster here than in the United States.
Ethics September 15th, 2014
Mr. Speaker, I can assure you that I have never given a cheque to a senator.
The Conservatives say that they are tough on crime, but not when their friends are involved. I should point out that they just let Mike Tyson into the country, even though he is a convicted rapist. But I digress.
Former Conservative Senator Mike Duffy is now before the courts, but the Conservative staff who were up to their necks in this scandal are doing extraordinarily well. Corruption is like doing the tango—it takes two.
When are the Conservatives going to clean house? When are they going to stop protecting their friends? When are they going to ask the Director of Public Prosecutions to launch an investigation into Nigel Wright?
Ethics September 15th, 2014
Mr. Speaker, this infamous $90,000 cheque issued by the Prime Minister's former chief of staff is at the heart of Mike Duffy's trial for fraud and corruption, which gets under way tomorrow. The question on everyone's mind is quite simple. How is it that the guy who received the cheque gets charged, but the one who signed it gets away with it? That makes no sense. Where there is corruption, there has to be a corrupter.
Does the Prime Minister think that the Director of Public Prosecutions should launch an investigation to determine whether charges should also be laid against Nigel Wright?
Employment June 20th, 2014
Mr. Speaker, the government is promising us for the 136th time that it is going to solve the problem. The temporary foreign worker program was irresponsibly managed by the Liberals and the Conservatives. The Conservatives have no idea what the local needs are because they gutted Statistics Canada. The department's database is unreliable, much like this government. Despite all their fine promises, the Conservatives did not send inspectors to visit the companies that hire temporary foreign workers.
As a result, some employers took advantage of temporary foreign workers while the Minister of Employment and Social Development turned a blind eye to the problem. How are we supposed to trust the government to find ways to fix the temporary foreign worker program now?
Combating Counterfeit Products Act June 19th, 2014
Mr. Speaker, I would like to congratulate the hon. member for Saint-Jean for his speech.
I would also like to point out one part of his speech that may have gone unnoticed. He reminded the House of a famous quote from an animated film: "No stones, no construction. No construction, no palace. No palace...no palace." What lessons should we be learning from that grandiose plan to build a fictitious Egyptian palace that we could apply to Bill C-8?
I would also like to give him the opportunity to tell us about the dangers related to counterfeit products and children's toys in particular. For example, I am thinking about cases where there is too much lead in the paint or it does not meet Health Canada's health and safety standards.
What are the potential consequence for our children, for Madeleine, for example, if Bill C-8 is not backed with enough resources?
Combating Counterfeit Products Act June 19th, 2014
Mr. Speaker, I would like to thank my colleague from Saint-Hyacinthe—Bagot for her fine speech and for so kindly agreeing to share her time with me.
I would like to come back to my concern about the resources that are not made available to the government to enable it to concretely apply the measures set out in Bill C-8. I would also like to remind honourable members that money supposedly allocated for the border infrastructure fund two or three years ago ended up being used to build arenas and gazebos. Once again, the government did not allocate the resources needed to secure our borders.
Now the government is saying that it will make an additional effort to fight contraband and counterfeiting and will cut $143 million and 549 jobs. I would like to know what the hon. member for Saint-Hyacinthe—Bagot has to say about that and whether she shares my concerns.
Combating Counterfeit Products Act June 19th, 2014
Mr. Speaker, I thank my colleague from Trois-Rivières for his question.
One may legitimately ask that question since 549 jobs will be cut from the Border Services Agency by 2015 and Canada Post will lose 9,000 jobs over the next five years, according to what my colleague from Alfred-Pellan tells me. I am satisfied that her figures are absolutely reliable.
When public services and monitoring are cut to that degree, we open the door to potential criminals, fraudsters and smugglers, who will cheerfully go about their business. This shows the full extent of the carelessness and inconsistency of the Conservatives, who would have us believe they will be tougher, whereas they remind us of the anti-doping agencies that are always two or three steps behind because they do not invest enough to determine exactly what future fraud artists will be doing. That is extremely harmful.
If we equipped ourselves with the resources we need to act, I am convinced we could not only enforce copyright and intellectual property rights, but also protect the safety of Canadians. Many of these counterfeit and smuggled products pose health and safety risks for the people who buy them. This is a concern that we in the NDP have.
Combating Counterfeit Products Act June 19th, 2014
Mr. Speaker, I do not really feel very good about it.
The Conservatives do not put their resources where their mouths are. This is a kind of betrayal or pointless political game. They make people believe they will act, but they do not act. That will have very bad consequences for the Conservatives.
According to Ken Hansen, Superintendent of the RCMP and former co-chair of the Interpol Intellectual property crime action group, the RCMP can investigate only 25% of the goods that the Toronto office of the Border Services Agency flags as being fake.
Consequently, even when the goods are reported as potentially fake, the RCMP, which has also undergone cuts, can investigate only 25% of the cases reported to it. We can very well thump our chests and say we are going to make sure the law is enforced and the bad guys go to prison, but, when cuts are made to the Border Services Agency, 55 jobs are cut, and the RCMP then tells us only 25% of cases reported as potentially dangerous will be investigated, there is a major problem.
The Conservative government cannot be serious.
Combating Counterfeit Products Act June 19th, 2014
Mr. Speaker, I am pleased to continue working in the House and to continue talking about the NDP's proposals and vision on a variety of subjects. In this case, it is about copyright, counterfeiting, smuggling and intellectual property rights.
Since the Conservatives asked all parliamentarians to sit in the House later, that is, to debate and work until midnight every night, they have set a record of 157 or 160 missed turns to speak, if not more, because they refuse to rise in the House and debate and speak. However, we in the opposition are doing the work. They ask us to sit but they refuse to speak, to debate or even to ask us questions. They sit speechless and silent, kind of like the 21 members from British Columbia who for two days now have refused to give interviews about the approval of the northern gateway pipeline project. That is rather significant. I think we can talk about a deafening silence. Blaise Pascal himself would be a little terrified if he were aware of the silence of these infinite spaces. It has been very revealing.
I have the pleasure of rising to speak to Bill C-8, which, it must be acknowledged, contains some good provisions and good intentions. Some parts of it are on the right track, which does not happen often. There are quite a few problems that are going to cause us concern, in particular a certain inconsistency. First, they are going to impose more measures to reduce smuggling and counterfeiting at the borders, but at the same time they are going to eliminate hundreds of positions for employees who enforce those measures. I will try to come back to this a little later.
We are talking here about intellectual property and trade law. My father is a writer and my brother is a musician; consequently, coming from a family of artists, I am very aware of copyright, smuggling and counterfeit issues. Artistic creation is the bread and butter that brings in income every day. People work and the fruit of their work brings them an income and results. If the fruit of their labour, their inventiveness, their artistic genius, their innovation, or their creativity is stolen, this represents money that is not coming in to pay their mortgages, send their children to school, travel or buy clothes. When I think of them, I tell myself it is important to have measures that will curb and fight against smuggling and counterfeiting, because this has an impact on the people who create, think, innovate and bring new products and new ideas to the marketplace, whether we are talking about artistic works or commercial products. These two elements are not incompatible.
The NDP and I are pleased to note that Bill C-8 also establishes a balance between the rights of creators and respect for consumers, so that we do not have a police state that will interfere in private life. When the trade considerations in the massive transfer of goods are not involved, but it is rather a matter of individual consumption, the bill will ensure that there is also some balance and some moderation.
My wife and I have two daughters, Marianne and Aurélie, and they have iPods that they use to listen to music. I do not always know where their music comes from, or which Internet site they visited to get it, because they listen to a lot of music. It is even difficult to talk to them because they always have their earphones in their ears. I would not want them to be punished because they are music lovers. The Internet today allows you to access files for which the creator has not received compensation, unfortunately. We must think about this balance and have an Internet that is accessible and free.
That being said, we must look at how Bill C-8 responds to the issue of copyright and to the issue of contraband and counterfeiting. My colleague from Trois-Rivières spoke earlier about products that can sometimes be found on the sidewalk or in public markets. It is very difficult to know how many of these products are legitimate and whether they have come from the real company that invented the product or whether it is a really exciting cheap copy.
I once was a young student in New York and I was shown a lot of different things. Today I am quite sure that those were not real Guccis for $10. However, it is extremely difficult to assess the scale of counterfeiting and copies in Canada, whether for digital files or real objects such as a tie, a jacket or a shirt.
It is difficult to understand how we are going to be able to fight against counterfeiting if we do not have a real idea of the scale of the phenomenon and exactly what it is we are fighting against. Industry Canada states that the retail value of counterfeit goods seized by the RCMP increased from $7.6 million in 2005 to $38 million in 2012.
My colleague from Saint-Jean—and I must point out that Saint-Jean is my home riding, where I spent my childhood and my teenage years—said earlier that this is a somewhat simplistic view that we must be careful about, because these are only the goods that were seized by the RCMP. There has been an explosion in the number of goods that have been seized. However, what percentage of all the contraband or counterfeit items on the marketplace do the goods that were seized represent? There is no way of knowing.
I am seeing some frantic waving. I have a confession to make, Mr. Speaker. I am going to share my time with my eminent colleague from Saint-Hyacinthe—Bagot, who has just come to my rescue in an extremely professional way.
We cannot rely solely on the number of goods that were seized by the RCMP when determining the full extent of trade in contraband or counterfeit good in 2009. However, we can say that, in 2009, the OECD estimated that international trade in counterfeit and pirated goods could account for up to $250 billion. That is huge. What methods has this government implemented to address this problem?
We see that Bill C-8 is a step in the right direction, but we do not know how the enforcement scheme it proposes will be financed. This is a small problem. There are a lot of bills that have good intentions, which could even be called wishful thinking. I am referring, for example, to the Victims Bill of Rights, which contains no budget for training, compensation or support for families who might need it. It is good that some political progress has been made over the past eight years on victims' rights and on the fact that opposition members are bad guys who control and always defend the criminals, but sometimes it is necessary to put some money into the proposals that are made.
In the 2012 budget, the Conservatives cut $143 million from the Canada Border Services Agency. Border officials are the ones who are going to be enforcing the rules set out in Bill C-8. The Conservatives say that they are going to crack down on smugglers and counterfeit goods, but then they make budget cuts of $143 million over three years, which includes a loss of 549 jobs by 2015.
I would like to hear my Conservative friends and colleagues say again that they are tough on crime and tell us how they are going to be able to limit contraband and counterfeit items at our borders—as the United States has asked us to do, by the way—with 549 fewer jobs by 2015. It means squaring the circle. They have increased the responsibilities and set even higher objectives and, at the same time, they have slashed the resources available in the field to do the work. Unfortunately, this is the Conservatives' trademark.
If they do not walk the talk, or vice versa, there is a problem.
Lobbying June 19th, 2014
Mr. Speaker, it looks like the Minister of Justice is an extra on the TV show Father Knows Best.
The hon. member for York Centre, who is a member of the Standing Committee on Finance, holds a partisan fundraiser and invites bankers and lobbyists who are looking for favours from the Department of Finance.
To entice them, he uses the Leader of the Government in the House of Commons and the Minister of Industry. Personally, I do not see the appeal.
It is not surprising to later see the Conservatives support projects like northern gateway in order to help their lobbyist friends and make them happy, instead of standing up for the public interest.
When will the Conservatives stop making backroom deals with lobbyists?