Alexandre Boulerice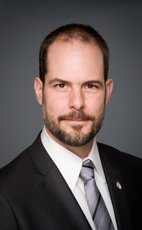 House of Commons photo
Track Alexandre
Your Say
Elsewhere
Crucial Fact
NDP
MP for Rosemont—La Petite-Patrie (Québec)
Won his last election, in 2011, with 51.00% of the vote.
Statements in the House
Ethics February 27th, 2014
Mr. Speaker, I have been stabbed in the back before, which is why I no longer believe the stories the Conservatives are telling.
We already knew that Michel Fournier, a good friend of the Liberals who was also known as Zorro, awarded a contract to repair and renovate the Jacques Cartier Bridge to SNC-Lavalin. Then, miraculously, as though this happens every day, he suddenly had a Swiss bank account with $1.5 million in it. The contract awarded to SNC was worth an estimated $110 million. However, we now know that this contract cost an extra $17 million.
Can the government tell us the status of the Zorro investigation and what happened to the additional $17 million?
Government Advertising February 26th, 2014
Mr. Speaker, perhaps the Conservatives thought that no one would notice that they spent $2.5 million to advertise a program that exists only in the Minister of Employment and Social Development's overactive imagination, but people did notice.
That is why the Conservatives were the big winners at the gala put on by the Canadian Taxpayers Federation, an organization that not so long ago was headed by the Minister of Employment and Social Development. What a blow. Are the Conservatives beginning to understand that receiving booby prizes from the Canadian Taxpayers Federation means that their transformation to Liberals is now complete?
Prime Minister's Office February 26th, 2014
Mr. Speaker, while staff of the Prime Minister's Office stuff their faces with pizza at the taxpayers' expense, every day over 18,000 children in Quebec have to rely on breakfast clubs so they do not start the day on an empty stomach.
In his bubble, the President of the Treasury Board thinks that the rules do not apply to the Conservatives and that it is completely normal to spend $130,000 on lunches for the Prime Minister's staff. However, Canadians expect a government that will not throw their money out the window. How many awards do the Conservatives have to get from the pig in a tux before they stop wasting taxpayers' money?
Prime Minister's Office February 25th, 2014
Mr. Speaker, the members opposite rode into Parliament on their trusty steed, the white horse of reform, promising to defend taxpayers at any price.
Today, they have to defend expensive lunches for PMO staffers, people with more ambition than principles who seem incapable of taking two pieces of bread, spreading them with mayonnaise and adding ham, cheese and lettuce—it is important to eat healthy—especially when taxpayers are footing the bill. Eight thousand dollars at Boston Pizza? Seriously? Where is that spirit of reform now? On lunch, too?
We want to know why the Prime Minister's Office is not following the rules set by the President of the Treasury Board.
Rosemont Community Development Corporation February 25th, 2014
Mr. Speaker, today I would like to mark the 25th anniversary of the Corporation de développement communautaire de Rosemont, or the CDC. For 25 years, this organization has rallied the people of Rosemont around promising community building projects that improve community life. The CDC brings together various stakeholders in the Rosemont community in order to fight poverty and improve social conditions.
With such projects as "Décider Rosemont ensemble", the entire community has democratically established neighbourhood priorities such as access to social housing, food security or the environment. The CDC oversees more than 50 active organizations, hundreds of motivated volunteers and innovative projects. The CDC fosters social justice, solidarity and democracy. Indeed, for the past 25 years, CDC has had success in all areas, even those where the Conservatives have failed miserably since 2006.
Once again, kudos and thank you to all those who work together, day after day, to make Rosemont a better place to live.
Canada Post February 24th, 2014
Mr. Speaker, whether it is in the language of Shakespeare or Molière, the important thing is for it to make sense.
Last week, the people of Rosemère, Lorraine, Bois-des-Filion, Repentigny and Charlemagne learned that they would be the first in the G7 to lose their home delivery service. That makes no sense. It will make life difficult for our seniors and hurt small businesses.
The Conservatives claimed that the lockout in 2011 was terrible and would destroy our economy. Now, in 2014, they are the ones who want to destroy the economy.
Could the minister explain to us why she wants to cut services from people in the suburbs north of Montreal, while the 23 Canada Post executives are pocketing $10 million a year?
The Budget February 13th, 2014
Mr. Speaker, Mr. Pétain, a citizen concerned by the state of our economy, said, "In times like these, it is hard to establish a proper finance system. The minister is certainly not the right person for the job".
Well, he was right. This budget attacks the provinces and workers. Otherwise, there is nothing, nada: nothing for rail safety despite the Lac-Mégantic tragedy that occurred while this government was twiddling its thumbs instead of issuing fines to a delinquent company; nothing for creating jobs for our young people even though their unemployment rate is twice the national average; nothing for climate change; nothing for health; nothing for our seniors; and baseless attacks against workers who organize to improve their living conditions.
Yesterday, during question period, the Minister of Finance did the same thing as his budget: absolutely nothing. He remained seated, on automatic pilot, while his boss ate away at his credibility, question after question. Today they would have us believe that they are pals. I do not think so. Canadians deserve better than a government that takes a year off. Canadians deserve an NDP government.
Canada Post February 10th, 2014
Mr. Speaker, the Conservatives have a report detailing options that could ensure Canada Post's survival.
However, that report was never made public. What is worse, the crown corporation and its 23 executives—who are paid $10 million—have even denied ever having done this research. In addition, 701 of the 811 pages of the report have been redacted, hidden, blacked out.
Does the minister not think that all that research should be made public so that we can assess every option together in order to avoid cutting 8,000 jobs and eliminating home delivery?
Fair Elections Act February 6th, 2014
Mr. Speaker, I thank my hon. colleague for his comments, although his introduction seemed a little far off topic. There was a lot of speculation.
More seriously, we in the NDP believe that people should have the maximum opportunity to vote, to participate in civic matters, to take part in an election campaign and perhaps even to donate to the political party they support. These are all things that we would like to see further action on. We want voter turnout to go back up. We do not believe that this bill takes us in the right direction.
However, one of the good points in Bill C-23 is to create a registry that would contain all the information on robocalls. Perhaps that would prevent the Conservative Party and the Liberal Party from misusing such calls in the future.
Fair Elections Act February 6th, 2014
Mr. Speaker, I would like to thank my colleague for his advice and his comments. On the subject of the people of Rosemont—La Petite-Patrie, I would like to provide him with immediate reassurance.
I am very pleased to have received the support of 51% of them, while the Conservative Party received just 3.8% of the votes. My relationship with my constituents is excellent.
Let us talk more about how the Conservative Party is trying to suppress votes. The voting system was working well. It enabled people who might not have had their ID on them to go vote. Now the Conservatives want to change things so that those people will not be able to vote in the next election even though the option to take an oath and have someone vouch worked well and was not causing a problem.
Unfortunately, the Conservatives do not understand the concept of "If it ain't broke, don't fix it".