Alexandre Boulerice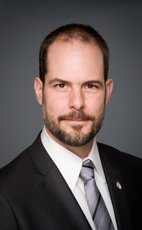 House of Commons photo
Track Alexandre
Your Say
Elsewhere
Crucial Fact
His

favourite word

is conservatives.
NDP
MP for Rosemont—La Petite-Patrie (Québec)
Won his last election, in 2011, with 51.00% of the vote.
Statements in the House
Canada Post November 27th, 2014
Mr. Speaker, the Conservatives went on and on about how they had to put an end to home delivery because Canada Post was in the hole.
That is funny, because the corporation just posted a $13 million profit in its third consecutive profitable quarter. Not bad for a company that, according to the Conference Board of Canada and the Conservatives, was supposed to lose $274 million this year.
Will the Conservatives admit that their decision to put an end to home delivery has nothing to do with the crown corporation's finances and everything to do with their ideological attack on our public services?
Privacy November 25th, 2014
Mr. Speaker, every time it is so serious, but it happens again and again.
Privacy breaches have become business as usual under the Conservatives.
This time, the breaches targeted public figures who generously donated works to art galleries or museums, as though they deserved to have their addresses disclosed simply because they donated a part of their legacy for the public good.
When will the Conservatives stop taking these problems lightly and when will they treat privacy as a fundamental issue?
Access to Information November 19th, 2014
Mr. Speaker, the Conservatives cut the budget of the Information Commissioner as a way of muzzling her. As of last year she had already spent 99.8% of her budget, and there are more and more requests. They are piling up.
The Conservatives probably like hiding the truth, but the public has a right to obtain information without having to wait an eternity.
Will the minister keep his word and respect the wishes of Parliament? Will he stop stifling the Office of the Information Commissioner of Canada and will he give the office the tools it needs to serve the public?
Committees of the House November 6th, 2014
Mr. Speaker, it is really important to have the right number here when we talk about an issue such as veterans. It is really sad to see the federal government is cutting services for veterans, even as it ramps up spending on the publicity program to honour them.
It is really important to honour them, but when the government increases the remember program by 21% at the same time that it cuts disability and death compensation, health care programs and re-establishment service by 4%, it is a shame. It is not the way we can congratulate and honour the soldiers, the men and women, who put their lives on the line. They wanted to do so even at the sacrifice of their health and their life.
It is hypocritical of the government to spend so much money on publicity and less and less money on taking care of our veterans.
Rail Transportation October 31st, 2014
Mr. Speaker, the mayor of Lac-Mégantic is in a good position to attest to the disastrous and catastrophic consequences of self-regulation in rail transportation.
Today she is disappointed by the lack of commitment shown by the minister and this government. The recommendations made by the Transportation Safety Board should have been adopted a long time ago. The people and the mayor of that town want more and deserve more.
Will the minister finally commit to seriously inspecting rail companies and putting more inspectors and investigators on the ground, where it counts?
Economic Action Plan 2014 Act, No. 2 October 31st, 2014
Mr. Speaker, in a way, I did appreciate the speech by my colleague from Manitoba, but I have to say that he was stepping a little out of line with his party.
He talked about the Liberal Party, its values and the importance of taking care of people and giving power and money to the provinces so that we can have effective health care services in this country. He also said a lot about former prime minister Paul Martin. I would just like to remind him that it was the Liberal government that slashed provincial health transfers.
The Liberals saved money at the expense of the people of this country by downloading their deficit onto the provinces. That is exactly what the Liberal Party did when it was in power.
I think that the member is in no position to talk because his own party did not do what he is talking about today.
Economic Action Plan 2014 Act, No. 2 October 31st, 2014
Why, hello sir.
Mr. Speaker, since it is a non-refundable tax credit, how will it help families? I would like to hear his thoughts.
Economic Action Plan 2014 Act, No. 2 October 31st, 2014
Mr. Speaker, in some ways, I appreciated my Conservative colleague's speech. I would like to ask him a very simple question, since he brought up the children's fitness tax credit. I encourage the idea of children participating in sports. I have children, and I am very happy that they can play sports. However, it needs to be made clear that this is a non-refundable tax credit. It will help only the families who already have the means to sign their children up for sports.
I would like to know what his party or the member himself is proposing for people who do not earn enough money to pay taxes and therefore do not have access to this non-refundable tax credit. It is available only to some Canadians. However, for all the other families that would like to see their children do sports—
Canada Post October 29th, 2014
Mr. Speaker, we already knew that the Conservatives were too incompetent to deliver people's mail to their homes. Now we know that they cannot even install secure mailboxes. We used to have boxes made in Saint-Jean-Port-Joli, but now we have boxes made in the United States, and it turns out that one key can open several boxes. This is happening from Repentigny to Nova Scotia. It looks like the idea of keeping mail confidential has gone out the window along with home mail delivery.
Why are the Conservatives in such a hurry to gut Canada Post, and why are they putting the privacy of Canadian citizens at risk?
Canada Post October 23rd, 2014
Mr. Speaker, I want to clarify that 60% of Canadians currently receive their mail at home and that the decision to eliminate home mail delivery will affect five million homes. Naturally, seniors and people with reduced mobility will be among the hardest hit, but this decision will also affect businesses in my riding, including businesses in Saint-Jean-Port-Joli, and employees who do not have access to the contract to manufacture new community mailboxes.
Can the minister explain why American companies are building the new community mailboxes?