Blaine Calkins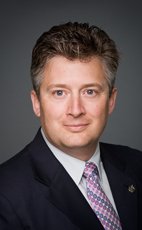 House of Commons photo
Track Blaine
Your Say
Elsewhere
Crucial Fact
His

favourite word

is union.
Conservative
MP for Wetaskiwin (Alberta)
Won his last election, in 2011, with 81.40% of the vote.
Statements in the House
Energy Safety and Security Act September 15th, 2014
Mr. Speaker, rare is the day when I have a colleague in the Liberal Party asking me to help him beat up colleagues in the NDP. However, I will take the bait, because here is what the NDP is proposing.
The NDP and the Green Party simply do not want nuclear facilities in Canada. I will answer my colleague's question directly. My understanding is that raising liability to $1 billion would cost the average household a couple of dollars a year on its utility bills to cover it. However, if we were to move to unlimited liability and the vast amount of liability being proposed by other parties, it would result in a hefty increase to those premiums. Ultimately, as we all know, regulated utility industries are regulated to the point where they will make a profit. That is the way those systems are set up, and those costs will be passed on through those energy utility boards in the various jurisdictions to those consumers. That much we do know.
It is a responsible approach to go to $1 billion of unlimited liability for the offshore sector for oil and gas and for nuclear liability. We have seen from various countries around the world that we are in line with what everyone else is doing. We are going to protect our environment but also not place an unreasonable burden. We will strike that right balance not only to protect taxpayers but to ensure that there is money left over on the kitchen table at the end of the month.
Energy Safety and Security Act September 15th, 2014
Mr. Speaker, the member is asking me a question in regard to changes made to the Fisheries Act, and the House is currently debating Bill C-22, which is nuclear and offshore liability changes we are proposing.
The reality is that everything under the absolute liability regime would be covered when it comes to the polluter pays principle. That would mean damages to people, damages to property, and damages to the environment. All of it would be covered under absolute liability. That is what the word "absolute" means. It is unfortunate that the hon. member does not understand that word.
Energy Safety and Security Act September 15th, 2014
Mr. Speaker, I hope you had a great summer. It is nice to be back and to see all my colleagues here in the House. I trust that everyone had a great break. It is nice to see that we picked up right where we left off, in the spirit of co-operation here in the House.
I am pleased to participate in this important debate on Bill C-22. While it is not a topic around the barbecue circuit in my riding, be assured that it is very important that we discuss this. The bill is important, because it seeks to increase safety and accountability in Canada's offshore and nuclear liability regimes.
Most hon. members would know that Canadians are very fortunate. Canada has an extraordinary wealth of natural resources that other nations can only envy. In an increasingly energy-hungry world, we are among the world's leading energy producers of crude oil, natural gas, and uranium. With our vast energy resources, Canada is well positioned to play a leading role in meeting the world's future energy needs.
As the International Energy Agency has told us, traditional energy sources like oil and gas will continue to be the dominant energy source for many years to come. However, the world energy map is changing dramatically. In fact, global energy demand is expected to increase by about 40% from 2010 to 2035, with much of that new demand coming from Asia.
World energy demands are on the rise, and Canada has an enormous supply of energy to meet these demands. Growing energy demands in the Asia-Pacific and the developing world are ushering in a new era of energy use and opportunity for our great country. There are hundreds of major resource projects currently under way in Canada or planned over the next 10 years. They are worth approximately $675 billion in investment. That means hundreds of thousands of jobs for Canadian families, jobs in every sector of our economy and in every corner of our country.
With these opportunities on the horizon, our government is working to increase Canadian trade and investment and to expand Canada's energy infrastructure. That is why I would like to talk about the government's responsible resource development plan.
Our government's plan for responsible resource development is helping to ensure that Canada can seize these new opportunities and others to come. Our plan is sending a strong message that Canada is open for business and has a modern, efficient regulatory system. We have set firm beginning-to-end timelines for project reviews. Where provincial review processes meet federal requirements, we can get projects moving faster by eliminating the unnecessary duplication that has weighed down project reviews in the past. Our streamlined approach is providing clarity and predictability for project proposals. It is making international investments in Canada's natural resource sectors much more attractive. In a nutshell, it means that new projects and proposed infrastructure will be reviewed and approved to come on stream in a timely manner so that Canada can sharpen its competitive edge.
However, our plan is not just about developing resources efficiently. It is about developing them responsibly. Simply put, we will not approve any project unless it can be done safely. Let me assure members that we are committed to developing Canada's natural resources while strengthening our environmental protection. We firmly reject the notion that we cannot do both. Through our actions, we are proving that we definitely can.
Over the past year, our government has initiated a series of new measures to ensure the safe development of our natural resources. Through our plan for responsible resource development, we have introduced new enforcement mechanisms, including monetary penalties for non-compliance with environmental requirements. Oil and gas pipeline inspections have increased by 50% a year, and comprehensive audits of pipelines have been doubled.
While our government focused on increasing safety measures for our energy sector, what did the opposition do? They voted against more pipeline inspections, against implementing fines for companies that break the law, and against doubling the number of pipeline audits. That is truly a record of shame.
As part of our commitment to responsible resource development, our government promised Canadians that we would take action to maintain a world-class liability regime in Canada's nuclear and offshore energy industries. We have been clear: projects will only be approved if they are safe for Canadians and safe for the environment.
One of the key features of Bill C-22 is that it would raise the absolute liability limits in the offshore and nuclear sectors to $1 billion, bringing Canada's offshore and nuclear liability limits in line with similar regulatory regimes, such as in the United Kingdom, Norway, and Denmark.
As hon. members are aware, Canada's liability regime was founded on the polluter pay principle. With Bill C-22, we are fulfilling our commitment in the Speech from the Throne to enshrine this principle in law. This means that Canadian taxpayers would be protected in the unlikely event of a spill or accident. With the passage of this legislation, companies operating in Canada's Atlantic and Arctic offshore areas would be subject to one of the highest absolute liability standards in the world.
Canada's nuclear safety record is outstanding. In fact, there has never been a claim under Canada's Nuclear Liability Act. We have robust technology, a well-trained workforce, and stringent regulatory requirements. However, as a responsible government we must ensure that our security systems are always up-to-date and able to respond to any incident. That is why we are demonstrating our commitment by introducing legislation to strengthen Canada's nuclear liability regime.
Ultimately these measures are all about the same thing: acting responsibly by protecting Canadians and protecting our environment. This legislation would provide a solid framework to regulate the offshore and nuclear liability regimes in Canada to make them truly world-class. It would send a strong signal to the world that Canada is a safe and responsible supplier of energy resources and that Canada is also open for business.
Unfortunately, the NDP wants to shut down Canadian businesses by opposing the nuclear industry. As the leader of the NDP said, "I want to be very clear. The NDP is opposed to any new nuclear infrastructure in Canada". That is not a responsible position.
The bottom line is that our government will not take any lessons from the opposition. We will focus on what matters to Canadians: ensuring that resource development is done responsibly and creating jobs, growth, and long-term prosperity for all Canadians.
I urge the NDP to abandon its reckless position and encourage all members to support this important legislation.
Natural Resources June 11th, 2014
Mr. Speaker, Canadians know the importance of our natural resources in providing jobs and economic prosperity. Canada is a secure and responsible supplier of energy and is well-positioned to contribute to global energy security, whether it be by utilizing our robust infrastructure or by deploying our world-class energy expertise and know-how.
Can the Parliamentary Secretary to the Minister of Natural Resources update this House on what our government is doing to reinforce Canada's commitment to global energy security?
Economic Action Plan 2014 Act, No. 1 June 5th, 2014
Mr. Speaker, may I just say thank you very much for your intervention earlier today while you were in the chair, explaining the process for voting to members. I really did appreciate the wisdom you gave us from the chair.
I want to ask my hon. colleague who gave a very eloquent, very articulate, and very accurate speech on the economic action plan what he thinks about the investments in the job grant and the apprenticeship loans.
I want to ask him this specifically because in my province, particularly in my area of central Alberta, we have almost a 4% job vacancy rate. We have more jobs available than we have people to fill them. This is common in Alberta. It is common in places to the east of us like Saskatchewan.
I came here as a member of Parliament in 2006 straight from being a faculty member at Red Deer College. It completely reorganized the college for training and educating people insofar as the trades. When it comes to deadlines for applications, there are cars lined up around the entire college with people trying to get in to take advantage of these programs.
Can my colleague tell us how important it is that we train the workforce of tomorrow, to have that Red Seal certification so that Canadians from all across Canada can go to those areas where those great paying jobs are available?
Energy Safety and Security Act May 29th, 2014
Mr. Speaker, I appreciate the reasoned and logical question from my colleague. We used to sit on the natural resources committee together for a number of years when he was the parliamentary secretary to the minister of Natural Resources. I certainly appreciate his wisdom and guidance and his knowledge and expertise on this file. We should not be surprised that an intelligent question comes from him.
Let me compare Canada's current position in the bill, which is $1 billion. It is in line with international standards. It is significantly higher than the limits set by many of our nuclear peers. In the U.K., the operator liability is currently capped at approximately $260 million, which is basically one-quarter of what we are proposing in the legislation. South Africa is $240 million. Spain is $227 million, and France is even lower, at $140 million.
My finding is that $1 billion is a reasoned approach. We met extensively with many stakeholders who are involved in this. We are protecting the Canadian public and at the same time are not setting such a burdensome insurance or liability regime in place that we would drive business completely out of Canada, especially a clean business like nuclear energy. One would think the Liberals and the NDP would be in favour of non-GHG electrical generation. I am surprised that they would impose caps on these Canadian businesses that would basically drive the businesses out of business, and goodness knows where we would get our clean electricity then.
Energy Safety and Security Act May 29th, 2014
Mr. Speaker, the hon. member who asked me the question left a lot of facts out of that question. For example, she failed to mention that not only is Canada's proposed set target of $1 billion not the highest, but it is also by far not the lowest. There are a number of other countries around the world that have much lower limits.
She also failed to mention that in the United States, for example, which has over five times as many nuclear installations, they have a pooled plan whereby they have individual liabilities for their companies, which when combined form a pooled amount that is far greater than Canada's. We simply do not have that capacity.
The hon. member should have brought up the fact that Japan, before the Fukushima incident, had unlimited liability for its companies. However, no company has the fiscal capacity to deal with a disaster like Fukushima, and the Government of Japan had to step in and deal with it at any rate.
The $1 billion is the right amount. Everyone in the industry who knows what they are talking about accepts it. The only people who do not accept it are the ones who do not know what they are talking about.
Energy Safety and Security Act May 29th, 2014
Mr. Speaker, I am thankful for the opportunity to speak in support of our government's proposed new legislation to increase accountability in Canada's nuclear and offshore industries.
Before I continue, I would like to announce to all present that I will be splitting my time with the valued and intellectual member for Yukon, who sits with me on the natural resources committee and does an absolutely amazing job standing up for Yukoners and their natural resource sector and does a much better job than the previous member of Parliament for that region certainly did.
As the Minister of Foreign Affairs has responsibility for Canada's international treaties as well as nuclear non-proliferation policy, he has stressed the importance of bringing Canada into an international nuclear liability convention. This convention would facilitate trade among nuclear power manufacturers while providing for streamlined compensation in the event of a nuclear accident in a country that is a party to the treaty. This is important to Canada, where 15% of electricity is generated by nuclear power. The mix of nuclear, hydro, wind, and solar-powered generation means that 77% of the electricity produced in Canada emits no greenhouse gases. We are number one in the G7 in this regard.
To advance Canada's intention to join an international nuclear liability and compensation regime, the Minister of State for Foreign Affairs and Consular, the hon. member for Blackstrap, signed the convention on supplementary compensation for nuclear damage, or the CSC, in Vienna, in December 2013. I would like to talk about some of those benefits.
With Canada's having achieved that important milestone, let me emphasize that the passage of Bill C-22, the energy safety and security act, would allow Canada to ratify and fully join the convention on supplementary compensation for nuclear damage. I should note that Canada's signature on the treaty has encouraged Japan and South Korea to accelerate their approval processes for joining.
Once one of those countries joins the convention, the combined nuclear power capacity of treaty members will, according to the requirements set by the convention's drafters, be sufficient for the treaty to enter or come into force. This would allow Canada's nuclear trade with the U.S.A. and other treaty member states to flourish. It would establish absolute certainty that liability lies with the operator in the event of a nuclear incident. This clarity would allow manufacturers of nuclear power components and systems in member states to export without the worry of liability that may otherwise impede trade.
Ratification of the convention on supplementary compensation for nuclear damage would offer Canadians two additional pools of international funds for compensation up to $1.45 billion in the event of a nuclear incident. Ratification would also provide exclusive jurisdiction of the Canadian court in the case of a nuclear accident in Canada causing damage internationally. As noted, the convention on supplementary compensation would also channel liability exclusively to the nuclear operator of the site where a nuclear accident occurs, thereby providing business certainty to the many nuclear supply chain companies that add value to the Canadian economy domestically and abroad.
As a treaty member, in the event of a nuclear accident outside Canada, Canada would have its liability limited to $23 million per event, and it would be recovered from nuclear operators in Canada. Taxpayers would be fully protected from any expense. The method of reimbursement to the federal government by the nuclear industry for any amount paid out would be established by regulation prior to Canadian ratification of the convention. This has international importance and consequence.
The convention is aimed at a worldwide liability regime in which all states may participate, regardless of whether they are members of any existing civil nuclear liability conventions or have nuclear installations in their territories.
While the convention is open to all states, those with nuclear installations must also be party to the International Atomic Energy Agency's nuclear safety convention. Canada ratified that convention in 1995 and since then has been a leader in nuclear safety, transparency, accountability, and best practices at the triennial review meetings.
Canada's ratification of the convention on supplementary compensation for nuclear damage would be a favourable response to international calls, led by the U.S. government and the IAEA, for countries to establish a global liability regime. As the world continues to recognize the clean energy advantages of nuclear power, the importance of such an instrument as this only increases, and of course, there are domestic benefits as well.
The convention would also facilitate nuclear development for Canadian provinces, especially Ontario and New Brunswick, which have nuclear power generating programs already.
Within the G7, Canada and Japan are the only members that do not belong to a major international civil nuclear liability regime. This would also be addressed through Bill C-22, and we are confident that Canada's example will help move other countries in the same direction.
This legislation brings Canada up to date with international standards and best practices in the nuclear sector. Our government has made a number of attempts to modernize our nuclear safety system. This is my third Parliament, and I remember the previous iterations of this legislation, and every time, only the NDP opposed improved safety measures.
We on this side of the House support a strong and safe nuclear industry that generates non-emitting electricity. Allow me to quote the Leader of the Opposition. These are the words of the NDP. They are not mine. He stated:
I want to be very clear. The NDP is opposed to any new nuclear infrastructure in Canada.
Canadians know that nuclear energy can be generated safely while supporting jobs for thousands of Canadians. While the NDP will continue to oppose our efforts to improve the safety of this important industry, we will focus on the safety of Canadians and a safe environment. It is time to move this very important initiative to its conclusion.