Blaine Calkins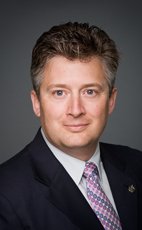 House of Commons photo
Track Blaine
Your Say
Elsewhere
Crucial Fact
Conservative
MP for Wetaskiwin (Alberta)
Won his last election, in 2011, with 81.40% of the vote.
Statements in the House
Business of Supply April 10th, 2014
Mr. Speaker, would my hon. colleague over here say that his words were "every member of Parliament should have an opportunity to speak"?
The Parliament of Canada sits about 33.5 hours a week. It sits for 27 weeks a year. Out of those 33.5 hours a week, 10 hours are taken out for question period and for private members' business. That leaves us 23.5 hours a week to talk about this. If we multiply that by 27 weeks, that gives us 634 hours a year to debate things in the House of Commons. If we divide that by 308 MPs, that is two hours. If we divide that by 15-minute sections for questions and comments, that means every member of Parliament in the House would have an opportunity to speak to eight pieces of legislation per year.
Does the hon. member over here honestly think that the motion he is presenting today is logical in getting the business of the Government of Canada done, speaking to eight bills a year?
Kraft Hockeyville 2014 April 9th, 2014
Mr. Speaker,
There are great things done under Albertan sun
When people stand together
In support of a town whose arena came down
in the worst of winter's weather.

The Sylvan Lake lights have seen queer sites
But the queerest they ever did see
Was that night on the street when Lakers did meet
For a photo in minus 40 degrees.

Now this tale that I weave, most wouldn't believe
If you'd asked them a few weeks ago
But opportunity knocked, Sylvan volunteers rocked
When Kraft provided some hope.

Those who played in this game, I'll call them by name
For victory belongs to them
They gave it their all, no task was too small
And if I've missed any, please forgive.

Here is to Parsons and Rosie, who worked for the trophy,
Along his lovely wife, Kim
Brenda Dale, Jared Waldo were easy to follow
What was started by Kevin Putnam.

Jas, Kelly and Kris also took part in this
Dale and Crystal, well they never tired
Nor Diane, Megan, Steve, and the one in the lead
Inexhaustible Mayor McIntyre.

For those who work in the news, and give us their views
I give credit where credit is due
You provided air time, never charging a dime
unto you goes a worthy salute.

The Sylvan Lake lights have seen many great sights
But the greatest that they ever will
Was that Saturday night amidst cheer and delight
Sylvan Lake won Kraft Hockeyville.

Employees' Voting Rights Act April 8th, 2014
Mr. Speaker, this is my last opportunity to speak to my bill. I want to acknowledge all the support I have received for my bill, not only from my caucus colleagues but from across the country where workers have reached out to me and expressed their appreciation for this.
I want to use my time to bust the myths that some of the people on the other side of the House have put forward insofar as claiming that my bill is not doing any service to the country.
I would first like to highlight that I will be talking about the claims that the employees' voting rights act is undemocratic, according to the New Democratic Party. Its members are saying that the rights of employees to vote in a secret ballot is somehow undemocratic. I will address that. There are claims that the employees' voting rights act is unfair, even though it has the exact same process for certification and decertification, whereas in the current legislation it is skewed heavily one way.
Some have complained about the process of using private members' bills to address these kinds of issues, which I would be happy to address, as well as the so-called lack of consultation. Even though we all know that it is a private member's bill, we consult with our constituents all the time. I will discuss that and some of the allegations that the legislative changes I am proposing are unconstitutional. I am more than happy to address some of these concerns.
Let us talk about the allegations that my bill on employees' voting rights is somehow undemocratic. I ask how it can be undemocratic to provide workers with a secret ballot vote. We know PSAC stated at committee that it uses secret ballot votes for internal elections and for collective bargaining agreement ratifications. Every member in this House was elected by a secret ballot vote. Members have not provided an answer to me as to why they think such a process would be considered undemocratic.
If we look at Justice Richards' ruling in the Saskatchewan Court of Appeal, where the same type of legislation was brought forward, on page 38 he stated:
...a secret ballot regime does no more than ensure that employees are able to make the choices they see as being best for themselves.
Apparently, in NDP logic, that is undemocratic.
He further stated that, "The secret ballot, after all, is a hallmark of modern democracy".
I would argue that if it is good enough to serve in this House for members of Parliament to be elected by a secret ballot vote, would anybody not want the same kind of backup in his or her arguments and legitimacy to claim that he or she was put in place through a truly democratic process?
The member for Rosemont—La Petite-Patrie has mentioned in his comments on March 26 that employers engage in bullying, threats, and blackmail tactics. Anyone who operates under the belief that bullying, threats, or even blackmail is a mutually exclusive act operates under complete and wilful blindness.
If I were to shove a ballot in the face of a voter while I am campaigning, while I am out on the hustings during an election campaign, and say to him or her, "I think it's in your best interest to vote right here, right now, in front of me, and sign this ballot", the NDP and the Liberal Party of Canada would be absolutely outraged, and the Canadian public would be outraged at that kind of intimidation and electoral process. Yet that is exactly what they are defending on the other side of the House when it comes to union certification.
This process results in the creation of collective bargaining units whereby the union is able to collect union dues, a massive taxation power on the backs of workers. That is how it gets its funds to conduct its business. It is no different from any other process whereby we have taxation and representation. The difference is that there is no mandatory secret ballot. Therefore, it is absolutely ridiculous that the NDP thinks that a card-check system and the power of taxation, of union dues, is completely fine without any check or balance in the interests of workers.
My friend from Rosemont—La Petite-Patrie also mentioned that signing a card was an important gesture. I submit that marking an x on a ballot is a more important gesture. I think of Castro, Stalin, and these kinds of people who would say that having one option on a ballot is an important gesture for democracy. I disagree. I think that a yes or no answer in a referendum question as to whether or not one wants to have a collective bargaining agent is a more important gesture than what is being proposed over there.
I would like to move on and talk about the allegations that it is unfair. What I proposed was 50% plus one. It is the same as what is currently there in the card check process, but has been amended at committee. I appreciate the committee's hard work on this, the thoughtful amendments being brought forward by Conservative members of Parliament, amending the bill and amending the current laws so that it will be the same process to enter as to exit a union.
Right now, under the current legislation, a 35% threshold is all that is needed to create a union in the federal jurisdiction. Yet a 50% threshold is what is needed to decertify a collective bargaining regime. Somehow the other side thinks that is fair, 35% to get in and 50% to get out, whereas my legislation would actually make it 45%. I proposed 45%. It has been amended to 40%, so it is 40% to trigger a vote either way, in the certification process and in the decertification process.
That seems fair to me. It is the same way in and out. I do not understand how that could possibly be construed as unfair.
I should note that it is not the job of any government to ensure that union certification is as easy as possible. The Supreme Court of Canada has said that paragraph 2(d) does not mandate any particular model of labour relations. This has been referred to by Justice Richards on page 37 of his ruling.
Currently in Canada, five provinces employ a secret ballot regime and the entire federal jurisdiction in the United States uses secret ballot voting. I am not convinced that using a secret ballot vote makes things unfair; in fact, I believe it solidifies the message of the employee group and actually provides a mandate for the collective bargaining agent, one that is unquestionable.
I would like now to move on to talk about some of the complaints about the process. Some members have complained about the labour laws being changed by private members' bills and that extensive consultation is required with stakeholders.
We are all members of Parliament and our stakeholders are the constituents we represent. What is being proposed by the member for Cape Breton—Canso is apparently to have Unifor and PSAC and FETCO and other big organizations coming to the table, completely bypassing the workers whose fate is actually determined in those kinds of negotiations.
I think it is completely acceptable that private members be able to use their private members' hour. There are already great restrictions on what private members can do. I am hoping that the member for Cape Breton—Canso is not suggesting that somehow private members' business be further restricted from areas of federal jurisdiction or federal legislation. We are all elected as legislators to come here to change, amend, put forth or remove laws that affect Canadians. To suggest somehow that we cannot use the private members' process is simply ridiculous.
When the member for Cape Breton—Canso was at committee, he went after me in his remarks for that process, and quoted FETCO to that effect, as FETCO did suggest that it did not like the process. However, what the member for Cape Breton—Canso conveniently left out was that when Mr. Farrell from FETCO was at committee, he stated his and FETCO's support for a secret ballot vote, and that FETCO would prefer to see a threshold to trigger a vote between 40% and 45%, which is exactly where the amendments are, conveniently left out in the other members' remarks.
There are limited opportunities for a member to bring forward legislation, and I would hope that the member across the way is not advocating limiting the scope of private members' legislation any further than it already is.
I can assure the House that virtually every one of us has received a complaint at some point in time from a constituent regarding labour issues. It is not unreasonable to think that a private member would bring forward these kinds of issues, using their private member's time.
I would like to talk about consultation. The member for Newton—North Delta spoke about the lack of consultation. My private member's bill was tabled on June 5 last year.
A number of unions came to the Hill. They had their lobby days. We did not even start debating my bill until later into the fall. After I tabled my bill, not one of these organizations picked up the phone, knocked on my door, or made any effort to contact me whatsoever. In fact, even during their lobby time here on the Hill, none of them even bothered to come to make their case to me.
I have not been able to address all concerns, but I would like to say before closing that the members of the House ought to know or should know that their task here is to represent their constituents. Poll after poll indicates that since 2003, support across Canada for secret ballot voting has rated between 83% and 89%, with some of the highest results coming from unionized or formerly unionized employees.
The bill is good legislation. It is good public policy. The other side should stand up for democracy and vote in favour of it.
Firearms April 3rd, 2014
Mr. Speaker, we all know where the Liberal Party stands on firearms. After all, it was former Liberal attorney general Allan Rock who said that he came to Ottawa firmly of the view that only the police and military should have firearms. This attitude was a slap in the face to hunters, farmers, and sport shooters.
However, the Liberals have now topped that out-of-touch statement. Michael Bryant, former Liberal attorney general in Ontario, said that only police have the skill set to determine if a gun should be prohibited and that members of Parliament are the least qualified to make these decisions. This Liberal then went on to say that the thousands of gun owners who were upset by the arbitrary and unfair reclassification of firearms by the Canadian firearms program was simply a "tantrum".
Conservatives disagree. Canadians sent members of Parliament to Ottawa to make decisions, not hide behind unelected and unaccountable bureaucrats. The Liberals cannot hide their deep-seated resentment of law-abiding gun owners. Only Conservatives will stand up and defend the interests of farmers, hunters, and sport shooters.
Economic Action Plan 2014 Act, No. 1 April 3rd, 2014
Mr. Speaker, I would like to thank my colleague for his great speech.
I would like to thank our previous finance minister, the Hon. Jim Flaherty, for the excellent position he has put our country in, and for this budget. I wish my new colleague all the best as well.
I would like to ask my colleague a question. He talked about the debt to GDP ratio. I would like him to establish how that affects debt servicing payments and how returning to a balanced budget will affect debt-servicing payments and leave more of our taxpayers' money to provide services. Could the member expand on how positive that would be as well?
Business of Supply March 5th, 2014
Mr. Speaker, I would like to thank my colleague, the hon. Chief Government Whip, for his excellent presentation in the House of Commons today. I would also like to thank him for his invaluable service, not only as the whip of the great Conservative caucus that we have, but also for the yeoman work he has done at the Board of Internal Economy. I would like to thank him for not only making sure that Canadians can rest assured that honest, hard-working members of Parliament have their expenses go through a rigorous process when it comes to their duties, but also for his leadership in making sure that the Conservative caucus posts its expenses.
I wonder if the Chief Government Whip could further edify something for the folks at home. I know he alluded to it in his previous answer, but I wonder if he could expand a bit more on the audit that was done by the Auditor General in regard to the House of Commons financial services.
Could he also explain why, in his opinion, Conservative members of Parliament and Conservative senators, along with some of the Liberal members, are the only ones who seem to be willing to publicly display items above and beyond what is currently required? Why does he think that the NDP seems to be afraid to do what most Canadians would deem to be appropriate, which is to proactively disclose?
The Budget February 25th, 2014
Mr. Speaker, there was some great news today from Statistics Canada. It released its survey of financial security, which confirmed that Canadian families are better off today under our Conservative government than under the previous Liberal government. StatsCan found that the net worth of Canadian families was up 44.5% from 2005 and was almost 80% higher than in 1999. In fact, the largest increase in net worth between 2005 and 2012 occurred for families in the middle-income bracket. Therefore, I wonder if my colleague would like to expound on some of the other things in this budget and previous budgets that are doing great things for families across Canada.
Firearms February 13th, 2014
Mr. Speaker, earlier this week I rose in this House to point out the shameful scheme that the Liberal leader was cooking up to confiscate rifles and shotguns from law-abiding Canadian hunters.
The media party and other Liberal elites seem to have taken issue with the fact that on this side of the House, we always stand up for law-abiding hunters, farmers, and sport shooters.
While the media party looks down their noses at us common folk who enjoy hunting and sport shooting, we can see that the Liberals are feeling the pressure. The Liberals removed public references to their Canada-wide gun grab, but law-abiding gun owners will not be fooled by the "now you see it, now you don't" Liberal convention website cover-up. They know Liberals are trying to bring back the wasteful and ineffective long gun registry. It becomes clearer and clearer every day that only the Conservative Party will stand up for the rights of Canadian gun owners.
In a rush to cover up his party's attempt to run roughshod over law-abiding firearms owners, the Liberal leader, like Quick Draw McGraw, has just shot himself in the foot.
Petitions February 10th, 2014
Mr. Speaker, I have a petition here signed by a number of my constituents and people from all over Alberta. They call upon our Parliament to do the following: whereas Canada is the only nation in the western world and in the company of China and North Korea without any laws restricting abortion, and whereas Canada's Supreme Court has said it is Parliament's responsibility to enact abortion legislation, the petitioners are calling upon Parliament to change that as quickly as possible.
Firearms February 10th, 2014
Mr. Speaker, Canadian firearms owners know that only the Conservative Party will stand up for their rights.
The leader of the Liberal Party has already mused that he would bring back the wasteful and ineffective long gun registry should he ever get the chance.
Shockingly, we have now learned that the Liberal Party has a plan to confiscate rifles and shotguns from law-abiding Canadian firearms owners. At its next convention, the Liberal Party will be discussing the best way of "reducing the number of firearms in Canada". This shows that the Liberal Party has not moved beyond the days when former Liberal justice minister Allan Rock said only the police and military should possess firearms.
Let me assure the House and all Canadians that, unlike the Liberals, a Conservative government will never engage in a scheme to confiscate firearms from law-abiding Canadians. We will always work to develop common-sense firearms policies that benefit hunters, farmers, and sport shooters. If the Liberal leader wants my guns, he can pry them from my cold dead hands.