Blaine Calkins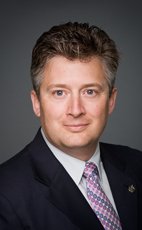 House of Commons photo
Track Blaine
Your Say
Elsewhere
Crucial Fact
Conservative
MP for Wetaskiwin (Alberta)
Won his last election, in 2011, with 81.40% of the vote.
Statements in the House
Veterans Affairs May 9th, 2013
Mr. Speaker, Canadians know and expect that we will always do our utmost to serve and help veterans, especially when they are affected by mental health issues.
Our government is keen to work with valued partners, like Steve Critchley and Jim Marland who run Can Praxis based out of Rocky Mountain House in my riding, who are helping to take our service one step further.
As we move toward the end of mental health week, could the Minister of Veterans Affairs tell the House about how our government is listening to veterans and launching exciting new partnerships to help veterans with mental health issues?
National Defence May 8th, 2013
Mr. Speaker, as a country, we are committed to fighting terrorism.
Accordingly, our Canadian Armed Forces have played a significant role in any international fight against terrorism in places like Afghanistan and on the oceans around the world.
HMCS Toronto is part of the international coalition to prevent terrorist activity in the Arabian Sea and the Indian Ocean. Last March, HMCS Toronto disrupted a massive narcotics shipment on the Indian Ocean, preventing illegal drugs from reaching our shores.
Can the Minister of National Defence update the House on Canada's contributions to the international efforts on the Arabian Sea and on the Indian Ocean?
Bentley Generals May 8th, 2013
Mr. Speaker,
I stand in this House, feeling just a bit cocky,
To pay homage to the Bentley Generals of hockey.
A group of great men armed with sticks and a puck,
Playing to win the famed Allan Cup.
They went undefeated in round robin play,
Earned a bye to the semis, which they played that Friday.
'Twas a close semi-final against the Kenora Thistles,
But it was the Generals still standing after all of the whistles.
The tournament finals were the very next day,
No rest for our boys as they geared up to play.
The Caribous from Clarenville would be their rival,
All were anxious to see who would win in the final.
The stands were jam-packed on that Saturday night,
Generals fans were a'cheering with all of their might.
The Generals, too, did not disappoint,
Allowing no goals and scoring three points.
The buzzer rang and chaos ensued,
Our proud boys from Bentley at centre ice stood.
Alberta has never seen champs times two,
The first team to repeat and undefeated to boot.
We are so very proud of our little town team,
Representing so well in 2013.
Amid all the cheering, applause and foot stamps,
The Bentley Generals, again, are Allan Cup champs.

Korean War Veterans Day Act May 7th, 2013
Mr. Speaker, obviously the personal link for me to the Korean War is a matter of public record. It is something that I am passionate about simply because I do not think it has been well documented. It is called the forgotten war. I made comments on that in my speech. However, I can say that for those who served in Korea and for the family members of those who served in Korea, it is not a forgotten war. For too long Canada brushed it aside as a United Nations action. I think it was called a policing action at the time, when the reality is that it was an all-out war on the Korean Peninsula.
One only has to read a book about the Korean War, for example, Triumph at Kapyong by Daniel Bjarnason, which is a fantastic read if anybody has an opportunity to do that. We had our Thermopylae in Korea and it is called the Battle of Kapyong. I did a statement about it here a little while ago. Seven hundred Canadians of 2PPCLI, the same regiment that my great-uncle was a member of, stood in the face of thousands where all others had failed. Seven hundred stood in the face of an onslaught of aggression by thousands and thousands of enemy soldiers, and they held their position for several days. They were only a few kilometres north of the current place where Seoul, Korea is.
It is an absolute travesty that we have not actually learned of the tremendous heroic measures. These guys were all volunteers who went over there. They all volunteered to sign up for this. They went over there and did yeoman service.
Nowhere else in the world today is there a more distinct delineation between triumph in a battle and what happens when we fail to preserve liberty, peace and freedom for individuals. The stark contrast is no better displayed anywhere in the world today than the Korean Peninsula.
Korean War Veterans Day Act May 7th, 2013
Mr. Speaker, the Korean War in the 1950s, with the United Nations action, was a different time. It was a different era. It took a lot of leadership from all of our allies that were over there.
I want to thank my colleague for his personal input into this. It is a difficult thing for families and descendants to deal with. I am several generations down and it still affects me to this day. They are family members whom I have never met and never will have the opportunity to meet. I wonder how many other family members I would have had, had they survived. It is with great pleasure that I accept his comments.
Moving forward, we have to do everything we can as a nation to remind current and future generations of the tremendous sacrifices that were made by those who came before them. This bill would help to do that. I thank the member for his support.
Korean War Veterans Day Act May 7th, 2013
moved that Bill S-213, An Act respecting a national day of remembrance to honour Canadian veterans of the Korean War, be read the second time and referred to a committee.
Mr. Speaker, I am pleased to rise today and join my colleagues in support of Bill S-213, an act to establish Korean War veterans day.
I would like to offer a special thanks to my colleague the hon. Senator Yonah Martin, who proposed this legislation, and thank her for her tireless work on this initiative and for bringing Bill S-213 forward. I share her desire to recognize the thousands of Canadian men and women who have served our country and made a significant contribution to international peace and security.
I would also like to thank our Minister of Veterans Affairs for declaring 2013 the Year of the Korean War Veteran. I was encouraged to hear that the minister recently travelled with 36 veterans to South Korea on a commemorative trip. The minister's work ensures that the Korean War will never be thought of again as the forgotten war. I stand alongside the minister as he continues to stand up for Korean War veterans and all veterans.
I would like to thank the representatives of the Korean War Veterans Association for their support of this legislation.
I can assure all members of the House that this government, more than any in recent history, is committed to giving every possible support to the members of the Canadian Armed Forces. We are also committed to ensuring Canadian veterans are treated with the dignity and respect that they deserve. They have brought honour to Canada and we in turn will honour them.
On November 11, Canadians pause to remember their brave countrymen and women who have given their all in the service of Canada. Through this national act of remembrance, we honour all veterans. We honour those who served in war and those who served in peace. We honour those who served in all theatres of war. We honour those who have served in Canada helping our communities respond to and recover from natural disasters. We honour those who continue to stand for peace and freedom and operations all over the world, most recently in Afghanistan and Libya.
This legislation constitutes a specific recognition of those who served in the Korean War and who selflessly contributed to the peace and security of the Republic of Korea in the years following the armistice.
The timing of this legislation is equally significant and appropriate. The year 2013 marks the 60th anniversary of the Korean War Armistice, a milestone worthy of recognition and reflection. In fact, the Prime Minister has declared 2013 as the Year of Korea in Canada in part to commemorate the 60th anniversary of the Korean War Armistice, as well as 50 years of formal diplomatic relations between our two great countries.
The Minister of Veterans Affairs, as members know, followed the Prime Minister's lead by also declaring 2013 the Year of the Korean War Veteran in his department.
We are proud to honour Canada's veterans for what they have accomplished on land, at sea and in the air during the Korean War. That is why our government has presented certificates of recognition this year to Canadian Korean war veterans. We worked in partnership with the Republic of Korea last month to have 36 Canadian veterans of the Korean War revisit the battlefields where they had served. This trip was very important to these veterans. I will highlight Mr. Harry Marshall, a veteran of the Korean War who said, "It is with many mixed emotions that I take this journey, but it is important to honour all of those who served in this war 60 years ago."
It is for these important reasons that the Minister of Veterans Affairs has promoted a full weekend to commemorate the 60th anniversary of the Korean War Armistice in Ottawa at the end of June.
The Korean War will always be an important chapter, a defining moment, in our country's proud military history. It deserves special recognition, which is why I urge all members to support this proposed legislation to create a national day in honour of Korean War veterans.
With my remaining time I would like to talk about the extraordinary service and sacrifice of Canada's veterans during the Korean War and begin by placing their efforts within a wider context.
As we all know, the First and Second World Wars touched Canadians in every community across this great country, from the largest cities to the smallest towns. Everyone knew someone who had served overseas. Too many had lost a loved one. Against the backdrop of those two great wars, the Korean War seemed a bit different. It was obviously shorter and smaller in scale with far fewer casualties, so how could it possibly compare with the two global conflicts? How could it command Canadians' attention the way the First and Second World Wars had? The hindsight of historians has helped us to understand the importance of the Korean War as well as its tragic impact on so many Canadian heroes and their families.
We now understand how critical it was for Canada and 15 other nations to provide combat troops and halt the spread of tyranny and oppression. I do not think there is anywhere other than the Korean Peninsula where that halt of oppression and tyranny is better shown in the world today.
Bill S-213 would ensure we forever remember the courage and sacrifice of the more than 26,000 brave Canadians who served during the Korean War and the approximately 7,000 who continued to serve after the armistice was signed in 1953.
Through Bill S-213 we can guarantee that future generations of Canadians never make the same mistake of treating the Korean War as anything less than the devastating war that it actually was.
Of course, Canada's veterans of the Korean War have never forgotten the 516 Canadians who gave their lives in service during the Korean War; the 516 Canadians who made the ultimate sacrifice defending the right of all people to live in peace and freedom. They have never forgotten their comrades who were wounded in battle or the families forever changed by war. They have never forgotten what they witnessed and endured, from the terrible human suffering to the terrifying violence and unending hardships. They remember the overwhelming odds they faced as they were greatly outnumbered on rugged and foreign terrain. They remember the local families fleeing from their homes with only what they could carry on their backs; young children following, hungry and scared. They remember the atrocities, the executions, the purges and massacres that also left countless civilians dead.
In short, Canada's veterans know the brutal truth about the Korean War. They are our clearest window into a great tragedy and, sadly, the passage of time is taking its toll on these Canadian heroes. Only about 10,600 of Canada's Korean veterans remain, most in their eighties or at least very close.
We have an urgent duty as a nation to preserve their stories and to ensure future generations actively remember. The Minister of Veterans Affairs has taken a very active role in ensuring that Canadians are educated about the sacrifices and stories of Korean War veterans. A national day to honour these veterans will help us do that. Korean War veterans day would inspire Canadians to explore our proud past and learn more about the contributions and sacrifices of such a remarkable group of men and women.
When support came to the Republic of Korea in 1950, Canada responded in numbers exceeding what the world might have expected from our country with its relatively small population. What is equally amazing is that many of the Canadians who served in Korea had already served in the Second World War. They had already witnessed unspeakable horrors and experienced great personal loss. They already knew the terrible cost of freedom and they were still willing to pay the price again. That is what made these seemingly ordinary Canadians so truly extraordinary.
They willingly travelled halfway around the world to serve in a foreign land; a land unlike anything most of them had ever seen. I am sure each one of them had his or her personal reasons for going, but I also believe they were united in their sense of purpose, and I am sure they would have echoed the words of statesman Edmund Burke who once said, "The only thing necessary for the triumph of evil is for good men to do nothing."
I can only guess at how the course of history may have been different if Canada and her allies had done nothing, if we had stood by and let evil triumph.
We can paint many different pictures of what life in Canada would be like today if the United Nations had not stepped in and if North Korea had not been stopped in its tracks. Quite frankly, it is possible we would not even be here in this chamber today as elected officials in a free and democratic country, if not for the courage of men and women who answered the world's call so many years ago.
That is the legacy we have inherited from our soldiers, sailors, flyers, nurses, doctors and aboriginal veterans who distinguished themselves in a far-off war. We are the direct beneficiaries of their service and bravery. We are only able to serve here today because they served when Canada called upon them. We understand our debt in a very intuitive way, which is why I am so proud to support this bill.
I want to talk briefly about my own personal experience.
I had the privilege last fall of going to Korea with a number of Canadian Korean War veterans and seeing the cemetery in Busan, the United Nations cemetery. I participated in the service with those veterans and from the stories they told me, I could see how much that experience meant to them.
The Government of Korea and the people of Korea have certainly never forgotten. In fact, when I went to the national war museum in Korea, I could hear children laughing because it was required for so many young people to come through that museum and see what Canada and other countries had done. The names of every soldier who died in the Korean War are on placards outside adorning the entranceway and on various columns and pillars. There are some 40,000 U.S. soldiers and, of course, the 516 Canadians who died or were killed in action, and some 50 who died in service after the armistice was actually signed.
I am very grateful to my colleague, Senator Yonah Martin, for giving me this opportunity.
What I have in my hand is not a prop, and I do not want anybody to get the notion that is. It is an obituary that has been on the wall of my house that I have had the opportunity to read many times as a youngster growing up. I am doing this right now for my grandpa Don and my Calkins family. It will be tough for me read this, but I will do my best.
It states:
Corporal James Alvin Calkins, 25, formerly of Rocky Mountain House, is the second Albertan to die in the Korean War. His parents, Mr. and Mrs. Arthur Calkins, received word from the defence department that he had died of wounds received in the battle. He served with the Lord Strathcona's Horse in the second great war and for a time in the reserve army. On November 20th, 1950, he was sent with the 2nd battalion of the Princess Patricias to train at Fort Lewis, Washington. He was a member of C Company. Surviving besides his parents are his two sisters, Miss Bertie Lloyd of Nordegg and Miss Jo Fredine of Rocky, two brothers, Joe of Rocky and Donald of Lacombe. Another brother, Robert, was killed in action in the Italian campaign.
There were many families touched by the Korean War, and the Calkins family was one of them. I am really glad to have the opportunity to present this bill in the House today. I hope it has the unanimous support of all my colleagues.
Korean War Veterans April 24th, 2013
Mr. Speaker, I rise today to pay tribute to an event that happened 62 years ago to the day.
Approximately 700 soldiers from 2 PPCLI were dug into a hill north of Seoul. The name of the hill is Kapyong. For two long days and nights, these brave 700 held where all others had previously failed. Wave after wave of attackers broke against the defences of the Canadians. In one battle, D company called artillery on its own position as the attack was so fierce. This is but one story of many acts of heroism and courage that some 26,000 Canadians took part in, during the Korean War, with 516 paying the ultimate sacrifice.
In recognition of Canada's involvement, 2013 has been marked as the Year of the Korean War Veteran by the Minister of Veterans Affairs. This week, the minister was joined by 36 Canadian Korean War veterans as they travelled to Korea to participate in commemorative events marking the 60th anniversary of the Korean War armistice.
One of the veterans, Mr. William Harrison, said that the commemoration in this way "helps us to know that our story will never be forgotten". He could not be more right. I call on all members of the House and all Canadians to join me in thanking our Korean War veterans.
Business of Supply April 16th, 2013
Mr. Speaker, the hon. member should know that owing to the backlog created through years and years of neglect by the previous Liberal government, there was no other way to deal with that issue. The absolute hypocrisy of that member and his party is unbelievable. In fact, I am shocked that this motion has been brought forward by a Liberal.
Minor consequential amendments to the employment insurance program to encourage Canadians to get a job brought frustration and yelping and whining from the other side, a 45 day work year proposed by the NDP and now, all of a sudden, those members are wondering why we need temporary foreign workers in Canada. It is a ridiculous juxtaposition. It is hypocrisy at its highest.
Business of Supply April 16th, 2013
Mr. Speaker, it does not matter if it is Nexen or any particular employer, and it does not matter if it is in the energy sector.
What the NDP fails to understand is that Alberta is an economic engine. I believe it remained the only have-province throughout the economic downturn we had in Canada, and it is continuing to grow. In my riding the most common sign we see is "help wanted". I have employers, virtually in every sector, whether it is agricultural, oil and gas or service, coming to me and saying that they cannot get Canadians to do the job. They go through the LMO process, a process that vets, verifies and substantiates the fact that qualified Canadians are not able to do the job. They then go and seek temporary foreign workers to help fill that particular void.
Whether it is Nexen or any other oil sands company, there will be tens of thousands of new jobs created in Alberta and across this country. The entire supply chain for the oil sands and all of the energy activity that happens in Alberta is shared across this country, as are all of the economic benefits. We are going to need skilled workers.
I would just like to highlight to my hon. colleague that is not just the folks who have welding certificates or who are engineers or technologists. For every one of those jobs that is created there is an unskilled or semi-skilled job created in the service industry, whether it is serving coffee, cleaning a hotel or doing any of those other kinds of jobs, and there are not enough people in Alberta to currently fill those jobs.
Business of Supply April 16th, 2013
Mr. Speaker, I will advise you at the start of my remarks that I will be splitting my time with the hon. member for St. Catharines, who does an excellent job with this file as parliamentary secretary.
I am pleased to take this opportunity to address the motion put forward by the member for Cape Breton—Canso regarding the temporary foreign worker program. First, let me very clear. The original intent of this program was to help employers find temporary help in cases where there are absolute and acute labour shortages. As a member of Parliament from Alberta, I know all too well about labour shortages.
The media reports regarding the program of late are concerning, and we are investigating to ensure that the program is working to fulfill its original purpose. We have committed in the budget to fixing the program to ensure that Canadians always have the first crack at available jobs. On the subject of the budget, I would like to speak to the current state of our economy because this has always been and continues to be, of course, this party's top priority.
Canada has fared well despite the current global economic challenges. We have the strongest job creation record in the G7. Thanks to the strong leadership of our Prime Minister and the Minister of Finance, Canada has seen the creation of more than 900,000 net new jobs since the darkest days of the recession, most of which are full time private-sector jobs.
As the economy continues to grow, the demand for workers whose skills are in demand will also increase. In some regions, the demand for certain skills has skyrocketed, which results in labour shortages in key occupations that are important to our economy and to our future prosperity. This mismatch oftentimes presents a challenge for employers, workers and, of course, government. That is why I was very pleased to read the human resource committee's report on skill and labour shortages. This work has already been concluded. The report that involved the committee travelling across the country to engage directly with Canadian businesses contained some excellent testimony on the challenges these employers face.
In fact, the member for Cape Breton—Canso was a member of the committee during the study and participated in the hearings, where businesses communicated precisely the ways in which the temporary foreign worker program is helping them address these challenges. I raise this because the motion today proposes to set up a special committee to examine an issue that the human resources committee is already empowered to study and has already heard the concerns of Canadian businesses and workers alike about the growing skills mismatch. This study, as well as other pre-budget consultations, was part of the reason we focused so heavily on skills and training in the recent budget. Through economic action plan 2013, we are taking a multifaceted approach to addressing labour market shortages and mismatches.
To start with, economic action plan 2013 invests significantly in skills and training to ensure that all Canadian workers, especially those currently sitting on the sidelines, are qualified to play an active part in Canada's economic growth. We are also increasing support to groups that are currently under-represented in the job market. These include youth, Canadians with disabilities, aboriginals and newcomers to Canada. We want to ensure that every Canadian can find a place in the job market, because Canadian employers need every last one of them.
Most notably, budget 2013 includes a new Canada jobs grant that would provide up to 130,000 Canadians a year with $15,000 to retrain, $5,000 of which would come from the federal government. Provinces and employers would also be expected to match that contribution. As the Minister of Finance said, for the first time the Canada job grant would take the skills training choices out of the hands of government and put them where they belong: in the hands of job creators and Canadians who want to work. Most importantly, the new grant should lead to one essential thing for unemployed or underemployed Canadians: a new or better job.
We are continuing to invest in reducing barriers to accreditation for apprentices. We will also reform procurement practices to encourage contractors to employ apprentices on federal construction and maintenance projects. Lastly, to make maximum use of the education and talents of recent graduates, we will invest $70 million over three years to support 5,000 more paid internships for recent post-secondary graduates.
However, we recognize that in some parts of the country there are skills and labour that are needed and cannot be found by local businesses. This is very true in my riding and this is why temporary foreign worker programs exist: to help employers find temporary help in cases where there are absolute and acute labour shortages.
Indeed, the member for Cape Breton—Canso himself acknowledges the importance of this program as he has previously penned letters in support of bringing in temporary foreign workers. The member is joined by members of the Liberal Party, such as his colleagues from Sydney—Victoria, Winnipeg North, Random—Burin—St. George's and Mount Royal. Even the NDP, despite its rhetoric, has had an impressive number of members write in support of this program, including their House leader and even one of their deputy leaders.
It is quite clear that this is a program that has broad support from across party lines. This program allows employers to hire foreign workers on a temporary basis to fill immediate skills and labour shortages when Canadian citizens and permanent residents are not available to do the job.
The program plays a critical role in meeting the short-term needs of business in dire need of workers, and I would like to emphasize the notion of dire need. The temporary foreign worker program was designed and should only be used by employers as a last resort.
As I mentioned in my opening remarks, the media reports concerning the program of late have been very concerning and the government is investigating to ensure it is running as it should.
Our government has committed to ensuring that Canadians always have the first crack at available jobs. Canada's economic action plan 2013 has emphasized that going forward we will work with employers to ensure that temporary foreign workers are only called on when Canadians genuinely cannot fill those jobs.
We will expect companies to increase their recruitment efforts to hire Canadian workers before they will be eligible to apply for temporary foreign workers. For instance, they will need to increase the length and reach of advertising about job openings, and we will restrict the identification of non-official languages as job requirements for hiring through the temporary foreign worker process.
I would like the House to take note that CIBC World Markets reported in December 2012 that 30% of businesses in this country are facing a skilled labour shortage. The Canadian Federation of Independent Business stated in its business barometer report that 34% of small and medium-sized companies identified skills shortages as a constraint on their growth.
To meet these demands and to further our economic recovery, our government is increasing support for skills training and apprentices. At the same time we are focusing on creating job opportunities for those facing greater barriers to the labour force, such as youth, aboriginal peoples and people with disabilities.
We recognize the need to make sure every Canadian has the opportunity to fully contribute to the Canadian economy. Our economic action plan is continuing to improve Canada's economic growth and long-term prosperity.
Throughout this time of economic growth, we will ensure Canadians get the first crack at all available jobs here at home. Instead of voting against investing in skills for Canadians, the opposition should support our economic action plan. I would encourage all members of this House to recognize that the time for talk is done, and to support concrete actions to improve the temporary foreign worker program.
For these reasons, I will not be voting in favour of this motion. The work has already begun. I thank the House for taking this time to hear me. I would be happy to answer any questions.