Blaine Calkins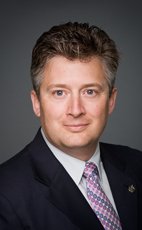 House of Commons photo
Track Blaine
Your Say
Elsewhere
Crucial Fact
His

favourite word

is alberta.
Conservative
MP for Wetaskiwin (Alberta)
Won his last election, in 2011, with 81.40% of the vote.
Statements in the House
Business of Supply February 24th, 2015
Mr. Speaker, I listened intently to my hon. colleague's comments. One of the things I have learned from being here as long as I have, is to be a little bit cynical. The reality is that the motion could have been brought forward by anybody at any particular point in time in order to study this. Committees are the masters of their own destiny. Virtually every Parliament could could be looking at this issue and creating its reports.
We have had reports out of the Senate. We have had reports done before. We have seen legislation in the form of private members' bills that are before the House. We have private members' bills that are before the Senate. This is simply one more venue or opportunity for somebody to play politics with an issue, which I think is unfortunate. This is an issue with which we should not be playing politics at all. This is an issue that is deeply divisive among many Canadians and their deeply held values.
As a member of Parliament, rather than spend my time debating something like this, I would rather be consulting my constituents personally on this matter and bringing those points back to a discussion in which the government responds to the decisions that have been handed to us by the Supreme Court.
Does the hon. member honestly believe, knowing that he is an experienced veteran member of this chamber as well, that a committee can be struck, meet all of the Canadians that the Liberal Party says need to be consulted on this issue, come back, have the technical expertise to draft legislation that would meet the constitutional requirements set out by the Supreme Court of Canada, and then table that legislation before the House and have it passed at all three stages and have it before the Senate before the end of June, which is the last time this Parliament will actually be sitting?
Ruben Deogracias, Blessie Capule Orbigo and Napoleon Orbigo February 18th, 2015
Mr. Speaker, in December of last year, the town of Rocky Mountain House was rocked by the sudden and tragic loss of Ruben Deogracias, Blessie Capule Orbigo and her new husband Napoleon Orbigo, all of them temporary foreign workers, who perished tragically in a car accident on a snow-covered highway just weeks before Christmas.
What followed was a truly inspiring reaction from the folks of Rocky Mountain House who rallied to support those left behind and their families back in the Philippines.
For example, student-aged co-workers wore their work hoodies to school or picked up extra shifts to support each other and honour their lost friends. Donations were accepted at many local businesses and the students of St. Dominic's High School set up a fundraising event.
The community of Rocky Mountain House came together and raised enough money to ensure that Blessie, Napoleon and Ruben could be returned home for burial, and the extra cash was sent to their grieving families back in the Philippines.
The good people of Rocky Mountain House through their kindness, compassion and generosity demonstrated to all of us what it means to be our best in the face of tragedy. They truly honoured the lives of Ruben, Blessie and Napoleon. May they rest in peace.
Intern Protection Act February 17th, 2015
Mr. Speaker, I am pleased to rise today to address Bill C-636, proposed by the member for Rivière-des-Mille-Îles regarding unpaid internships.
Let me be very clear that the government places a high priority on safe, fair, and productive workplaces. These are an essential part of Canada's continued economic growth and prosperity, our number one priority, and internships play an essential role when it comes to providing Canadians with opportunities to gain the skills and experience they need to join that workforce.
There are currently estimated to be several hundred thousand interns in Canadian workplaces, many of whom are working toward degrees or diplomas through secondary or post-secondary educational institutions, but not all of them. There are also new Canadians, recent graduates, and people pursuing a career change or looking to return to the workforce after a period of absence, among others. I think we can all agree that no one wants to see them exploited or left unprotected.
However, the bill could put serious limits on prospective interns. Unpaid internships would be available only to current secondary, post-secondary, or vocational students who are receiving the training as part of their degree or diploma program. This change could leave in the dark prospective unpaid interns who fall outside these limitations, or anyone not involved in an education program with an internship component. Those trying to transition to future studies or employment, like new Canadians, recent graduates, or those looking for a mid-career change could lose an invaluable stepping stone to meeting those goals.
I am sure that prospective interns would have serious concerns about the number of meaningful internship opportunities available to them. The bill also does not define training, which is very much an issue of concern.
The bill could have the unintended consequence, for example, of making it easier for employers to withhold pay from their existing employees who are involved in workplace training.
Another issue is that Bill C-636 is somewhat inconsistent in that it would provide all interns with labour standard protections, except the minimum wage in some cases. This means that labour standards like paid overtime and paid holidays would apply to interns receiving wages, but also to unpaid interns.
There is real potential for confusion about the obligations of employers and the expectations of interns. I am sure we could all agree that internships, whether paid or unpaid, can be extremely valuable. Our government has been saying for some time now that we want to ensure that young Canadians continue to have access to the on-the-job training they need, and internships are an important part of that training.
At the end of January, my colleague, the Parliamentary Secretary to the Minister of Labour, consulted the stakeholders in cities across Canada and across industries to gain a deeper understanding of how we can best support interns. Those meetings will help inform the current environment and help us better understand how best to protect interns in the workplace.
We are talking about balanced measures to make sure that Canadians continue to have the opportunity to get the skills and experience they need, including through internships, and to make sure that all interns are protected while doing so. We are investing $40 million to support up to 3,000 paid internships in these high-demand fields, and $15 million annually to support up to 1,000 paid internships in small and medium-size enterprises.
That's not all we're doing to support young workers. We also provide a number of programs to help our young people learn and develop necessary skills for their future careers, including Canada student loans and grants for post-secondary students, and the new Canada apprentice loan for apprentices.
Our government is committed to providing Canadians with the workplace experience and skills they need to find jobs and succeed in the job market.
This brings me to the point in my speech where I will talk a little bit about my personal experiences when it comes to internship programs. A little while ago, when I was chair of the Canada-Poland Parliamentary Friendship Group, I had the notion brought forward to me by young people in Canada, primarily of Polish ancestry.
Our institution has a great history when it comes to internships. We have the internship program on Parliament Hill, where young people from Canada come here to work in MPs' and senators' offices. We have internship programs, such as the Ukrainian internship program, where young Ukrainians come here to work in our Parliament. It is regrettable that we do not have reciprocity on that particular issue with Ukraine, wherein young Canadians could also go to do the same thing. We also have the Jewish internship program here on the Hill. That is part of a community that participates in these internships.
Some of these internships are paid, some of these internships are unpaid. It is happening right here, all around us, in all of our offices.
I am wondering what the effect of this legislative change might be. The member of Parliament sponsoring the bill never mentioned once any of the potential consequences of the legislation when it comes to these kinds of internship programs
Each political party has the ability to have its own internship programs. We have a Conservative internship program and I am sure the other political parties have ones as well. I do not know what the other parties do. They do not pick up the phone and tell me what they do behind their closed doors, which is unfortunate. I do not know why they do not do that.
These are some of the concerns that we have.
Trinity Western University has an internship program here as well. I do not remember the exact name of it, but young people from that university are also coming here.
This prompted me to reach out to the Polish community a few years ago and create Canada's first ever bilateral internship program. The problem that I see with all of these other internship programs here on the Hill is that they are all unilateral. They are all one-way. Through my ability to get the Polish community involved, we have created a society and an agreement with the Polish parliament, and at this point in time we have had a number of young Poles come over and intern in offices here in our Parliament. Young Canadians of Polish heritage have had the same opportunity to do internships in the chancellery, the Polish parliament, as well.
We have a lot of knowledge on the Hill about the impact of these internship programs and how valuable they are and how unique each one is in its structure and how they are set up. While I understand the sponsor's intent with the bill, we have to be careful if we start to tinker with some of these things.
While the protection is nice, and no one would disagree with that, if we do not get it absolutely right, any legislative changes that would deny young people an opportunity to participate in a parliamentary internship program, or to create a bilateral parliamentary program between parliaments, or to give young Canadians an opportunity not only to intern here but also to intern anywhere in the world as part of those bilateral exchanges, is not something we would want to do.
Canada is a great country. It is a land of opportunity and hope. Internship is just a part of that. It is a rite of passage for many young people so they can get the valuable skills and experience they need, and get those first references on their resumés when it comes to moving on and advancing their careers. We have cooperatives and internship placements and all kinds of other things emanating from our public education institutions. However, we have to be careful.
I will reserve judgement on the member's bill until we have had an opportunity to discuss it further, but at this particular point in time, while I do not question the member's motive, I do question the unintended consequences as we see so many times from legislation from the NDP.
Public Safety February 5th, 2015
Mr. Speaker, the international jihadist movement has declared war on Canada. That is why Canada is not sitting on the sidelines, as the Liberals would have us do, and is instead joining our allies in supporting the international coalition in the fight against ISIL.
I was shocked to hear the Liberal member for Malpeque say, "We knew what kind of brutality was happening." This was before he and his leader opposed the mission against ISIL. I guess it should be no surprise that the member thinks that only giving out blankets is the best way to fight terrorists.
When the member for Malpeque was the solicitor general, he obstructed Conservative efforts to list Hezbollah as a terrorist organization, saying, "CSIS in fact does not need to have people on a list in order to do its job." We will always oppose this type of soft on terror approach. Only a Conservative government will stand up to support and protect Canadians.
Petitions January 28th, 2015
Mr. Speaker, last but not least, I have a petition from firearms owners, hunters, fishermen, trappers, sport shooters and so on, in my riding who call upon the Government of Canada to pass the common sense firearms licensing bill as quickly as possible.
Petitions January 28th, 2015
Mr. Speaker, the second petition calls upon Parliament to condemn the discrimination against girls through sex-selective abortion, and to do all it can to prevent sex-selective abortions from being carried out in Canada.
The petition is signed by a large number of constituents in my riding.
Petitions January 28th, 2015
Mr. Speaker, I am pleased to rise today to present three petitions.
The first petition is signed by a great number of constituents from Central Alberta who outline the fact that Canada has no abortion law in line with that of Korea and China.
The petitioners call upon the Parliament of Canada to enact legislation that restricts abortion to the greatest extent possible as demanded by the Supreme Court of Canada.
Taxation December 10th, 2014
Mr. Speaker, under the strong leadership of our Prime Minister, our government is on track to balance Canada's budget. We are now in a position to help Canadian families balance theirs.
Our plan gives new money to 100% of families with children, and the majority of benefits go to low and middle-income families. With the enhancement of the universal child care benefit, moms and dads in communities like Bentley, Eckville, Millet and Blackfalds in the riding of Wetaskiwin, and across this country, will receive nearly $2,000 per year for every child under six and $720 per year for every child between the ages of six and 17.
However, the NDP and Liberals want to take this money away and spend it on expensive government programs and bureaucracy. Instead of giving the decision-making power to parents, the NDP and Liberals want Ottawa bureaucrats to tell families what they get to do. That is not right.
We know Canadian families deserve to make their own decisions and we are proud to be the only party standing up for them.
Mom of the Year Community Champion November 6th, 2014
Mr. Speaker, I rise in the House today to pay tribute to Marlene Pannenbecker from my hometown of Lacombe, Alberta, who was recently named 2014 Walmart Mom of the Year Community Champion, and rightly so.
Marlene is an example of selflessness in action. On any given day, one can find Marlene raising donations, doing humanitarian work abroad, or handing out hot chocolate and toiletries to people staying at local shelters.
Marlene and her husband Denny have also adopted four orphaned children from Haiti.
Having lost her own son in a tragic accident last January, Marlene put aside her own grief to visit the other people involved in that accident and take care of them while they were recovering. Once they were released, she also helped arrange daily meals for the men who spent the last moments with her son.
Marlene is the definition of amazing, generous, selfless, and courageous. I can think of no one more deserving of the title "Mom of the Year".
Congratulations to Marlene. She is an inspiration to all of us.
Veterans Affairs November 4th, 2014
Mr. Speaker, this Remembrance Day, who will you remember?
I for one will remember my great uncles, Robert and James Calkins, who are buried respectively in Italy and Korea. I will remember Byron Greff, the last soldier to die in Afghanistan. He was from my hometown of Lacombe, Alberta.
Would the Minister of Veterans Affairs please update the House on the new social media campaign "Who Will You Remember?"