Blaine Calkins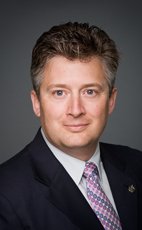 House of Commons photo
Track Blaine
Your Say
Elsewhere
Crucial Fact
Conservative
MP for Wetaskiwin (Alberta)
Won his last election, in 2011, with 81.40% of the vote.
Statements in the House
Business of Supply March 5th, 2014
Mr. Speaker, I would like to thank my colleague, the hon. Chief Government Whip, for his excellent presentation in the House of Commons today. I would also like to thank him for his invaluable service, not only as the whip of the great Conservative caucus that we have, but also for the yeoman work he has done at the Board of Internal Economy. I would like to thank him for not only making sure that Canadians can rest assured that honest, hard-working members of Parliament have their expenses go through a rigorous process when it comes to their duties, but also for his leadership in making sure that the Conservative caucus posts its expenses.
I wonder if the Chief Government Whip could further edify something for the folks at home. I know he alluded to it in his previous answer, but I wonder if he could expand a bit more on the audit that was done by the Auditor General in regard to the House of Commons financial services.
Could he also explain why, in his opinion, Conservative members of Parliament and Conservative senators, along with some of the Liberal members, are the only ones who seem to be willing to publicly display items above and beyond what is currently required? Why does he think that the NDP seems to be afraid to do what most Canadians would deem to be appropriate, which is to proactively disclose?
The Budget February 25th, 2014
Mr. Speaker, there was some great news today from Statistics Canada. It released its survey of financial security, which confirmed that Canadian families are better off today under our Conservative government than under the previous Liberal government. StatsCan found that the net worth of Canadian families was up 44.5% from 2005 and was almost 80% higher than in 1999. In fact, the largest increase in net worth between 2005 and 2012 occurred for families in the middle-income bracket. Therefore, I wonder if my colleague would like to expound on some of the other things in this budget and previous budgets that are doing great things for families across Canada.
Firearms February 13th, 2014
Mr. Speaker, earlier this week I rose in this House to point out the shameful scheme that the Liberal leader was cooking up to confiscate rifles and shotguns from law-abiding Canadian hunters.
The media party and other Liberal elites seem to have taken issue with the fact that on this side of the House, we always stand up for law-abiding hunters, farmers, and sport shooters.
While the media party looks down their noses at us common folk who enjoy hunting and sport shooting, we can see that the Liberals are feeling the pressure. The Liberals removed public references to their Canada-wide gun grab, but law-abiding gun owners will not be fooled by the "now you see it, now you don't" Liberal convention website cover-up. They know Liberals are trying to bring back the wasteful and ineffective long gun registry. It becomes clearer and clearer every day that only the Conservative Party will stand up for the rights of Canadian gun owners.
In a rush to cover up his party's attempt to run roughshod over law-abiding firearms owners, the Liberal leader, like Quick Draw McGraw, has just shot himself in the foot.
Petitions February 10th, 2014
Mr. Speaker, I have a petition here signed by a number of my constituents and people from all over Alberta. They call upon our Parliament to do the following: whereas Canada is the only nation in the western world and in the company of China and North Korea without any laws restricting abortion, and whereas Canada's Supreme Court has said it is Parliament's responsibility to enact abortion legislation, the petitioners are calling upon Parliament to change that as quickly as possible.
Firearms February 10th, 2014
Mr. Speaker, Canadian firearms owners know that only the Conservative Party will stand up for their rights.
The leader of the Liberal Party has already mused that he would bring back the wasteful and ineffective long gun registry should he ever get the chance.
Shockingly, we have now learned that the Liberal Party has a plan to confiscate rifles and shotguns from law-abiding Canadian firearms owners. At its next convention, the Liberal Party will be discussing the best way of "reducing the number of firearms in Canada". This shows that the Liberal Party has not moved beyond the days when former Liberal justice minister Allan Rock said only the police and military should possess firearms.
Let me assure the House and all Canadians that, unlike the Liberals, a Conservative government will never engage in a scheme to confiscate firearms from law-abiding Canadians. We will always work to develop common-sense firearms policies that benefit hunters, farmers, and sport shooters. If the Liberal leader wants my guns, he can pry them from my cold dead hands.
Hockeyville February 4th, 2014
Mr. Speaker:
I rise again in this House to talk about hockey
In a community that lies between Red Deer and Rocky.
Sylvan Lake's plight is my subject of call.
Their arena collapsed under record snowfall.
The old barn came down without much warning.
A very close call, at one in the morning.
Many young children with no place to skate
No stands to cheer from, so proud and so great.
A rink that is known for its great hockey camp,
Producing great players, some Stanley Cup champs
The Sutters, Morris, to name just a few,
Ranford and Iginla, have skated there too.
And now comes the task, not incredibly small
How to rebuild; the costs will be tall.
Sylvan Lake's spirit will not be defeated.
Fundraising has started; the job CAN be completed.
Mr. Speaker, before my poem's complete
I do need to note, that with no small feat
Other towns and cities have provided support,
Working together to help Sylvan Lake sport.
Thanks to Eckville, Clive, Blackfalds, Leduc,
Red Deer, Rocky Mountain House, and Caroline too.
Maskwacis, Bashaw, Spruce View, lnnisfail,
And Rimbey, a friend, just down the trail.
But today, I stand in support of this town
For I've played there too, and when that building fell down,
What I ask for today, is support from the Hill.
Vote for Sylvan Lake, for Kraft Hockeyville!

Business of Supply February 3rd, 2014
Mr. Speaker, I represent a large rural area. A lot of the smaller communities in my riding are serviced by a credit union or an Alberta Treasury Branch if one of the main banks does not have a branch there. I want to ask my colleague a question about convenience, which he touched on earlier.
When people go to their own banks, they are typically not charged for the use of the ATM. Most of us can make those arrangements in our daily lives to ensure that we are not. I did it this morning. It was actually a little inconvenient for me to park where I had to park to get to my bank, but I saved myself a couple of bucks because I am a Conservative and a little frugal.
Also, from time to time, I need to have some convenience. For example, I need the convenience of being able to hear myself talk in the House when New Democrats are talking. From time to time, I like to have a bit of convenience.
When I go to the 7-Eleven, I do not expect to pay the same for eggs as I do if I go to my local grocery store. If I go to another country, for example, I am encouraged to use a Visa card or my bank card to get the money out because I know that if I pay at the kiosk in the airport terminal or whatever, I will get rooked on the exchange rate and I am better ahead using the ATM.
We have to understand that Interac was bought and paid for by the major banks in this country. It was not something that was set up magically for free. It is not like the road system that was provided by the government. This system was bought, paid for, invested in, researched, and installed by the various banks across this country, and they are going to make a profit. Banks are going to make a profit whether we like it or not. We can drop the rates on credit card fees and ATMs, but the banks are just going to push up the fees on something else somewhere else.
My question for my colleague over here is ultimately this: does he really believe, as the NDP does, that if we legislate the price on the convenience of using an ATM, it will actually make things more inconvenient? I ask because nobody is going to be interested in working for what the NDP is proposing.
Employees' Voting Rights Act January 28th, 2014
Mr. Speaker, it is truly a privilege to stand accurately in my place and give the right of reply to the debate at second hour reading of my bill, the employees' voting rights act.
First of all, allow me to thank all of my colleagues, not only from this side of the House, but throughout the House, for their valuable input into this legislation.
It is absolutely crucial that we have a discussion about this. As I said in my previous speech, constituents have brought concerns about the fairness of the process to my attention, and they were the reason for me bringing this legislation forward. I would like to thank them for their courage in coming forward and telling me about this, understanding the kinds of repercussions that they would face from their union leaders if it were ever found out that they had spoken to me about these kinds of things.
Notwithstanding that, I would like to dismiss some of the allegations that we have heard in the House. I have heard opposition members say that no member of Parliament would ever get elected at the thresholds that were set for this.
I would like to remind all hon. members that the threshold for union certification is 50% plus 1 in a card check system. My legislation proposes the very same threshold, but through a secret ballot vote. If it can be done through card check certification, why could it not be done through a secret ballot vote? That is a question that nobody arguing against my bill is prepared to answer. They do not want to answer the question because they know that the fear, intimidation, and the other tactics employed in a union certification drive will come to light and that is something to which they simply do not want to expose themselves.
I have heard from other members over here, saying that the same threshold does not apply to members of Parliament, as it does in this particular case. Well, at least I face a secret ballot vote, as all of my colleagues do in the House, when it comes to making the determination.
The red herring in the mix is the fact that a yes/no question is a referendum question, which is what my bill is actually dealing with, not a first past the post system, which we currently have when we vote for members of Parliament. It is absolutely ridiculous to assume that someone in a 5- or 6-way race would get 50% plus 1 of the votes. It is a complete red herring and, quite frankly, it is an illogical argument being prepared by the other side. However, I am happy to report that in one of my elections, I did get 50% plus 1, notwithstanding the votes for the opposition and the folks who refrained from voting. I owe that to the good common sense of the people back home in the riding of Wetaskiwin.
In closing, I would also like to draw out some of the other misinformation that was here. I have heard it said that this bill is not in line with Quebec values. We know from polling results that when we ask Canadians across the country whether they would like to have a secret ballot vote during the certification and decertification process of a union, the answer is overwhelmingly always in the 80% range. I have not seen a poll at less than 80% or 82%. In fact, the numbers are actually higher in Quebec, and when we ask current or former union members, that percentage is even higher.
My legislation, as it is proposed in principle, is completely onside with the values that Canadians hold dear. They want a secret ballot vote. These workers deserve an opportunity to determine what is in their best interests. Whether or not the union can make the pitch, whether or not they can provide better services for those workers, and whether or not the employer can make that pitch, the workers have every right to decide what is in their best interests, and the best interests of their families, insofar as what they choose to do and where they want to work.
I would encourage all members to stand in this place at the second reading vote on this bill and show, through their democratic right in this House, whether they actually believe in democracy.
Does the New Democratic Party actually mean the "No Democratic Party", with no democracy unless it suits the party's needs? We will find out.
I know that my colleagues on this side of the House will support my legislation, or I am at least very hopeful that they will. Let us get this bill to committee and hear from the stakeholders at the committee stage. The government has indicated that it is looking at amendments to the bill. I am okay with that as long as we keep the true spirit and intention of the bill, which is to ensure that we have a democratic and mandatory secret ballot vote during the certification and decertification process.
That is in the best interests of Canadians. It is in the best interests of our society. It is in the best interests from a public policy perspective.
Employees' Voting Rights Act January 28th, 2014
Mr. Speaker, I was present during question period today, as were most of the members in the House. I do not remember the Minister of Labour getting up once to answer a question. The hon. member may wish to correct the record.
Evelyn Onofryszyn January 27th, 2014
Mr. Speaker, I rise today to pay tribute to a community leader who will be greatly missed. Evelyn Onofryszyn passed away peacefully on December 20, 2013, surrounded by her family.
I came to know the passion Evelyn had for the Eckville community as we crossed paths at various events and functions. In fact, during my first trip through Eckville in my first campaign, I was taken straight to meet Evelyn at Blindman Valley Propane Co-op, a place she managed for 40 years, retiring just last year at the tender age of 78.
Evelyn was a dedicated member of the Eckville Hospital Board, Eckville Manor House Board, the local 4-H chapter, the Eckville Chamber of Commerce; a passionate member of the St. Paul's Presbyterian Church and so many other community groups and initiatives. In fact, if there was something going on or a need in Eckville, one only had to go to Evelyn to get things started.
Evelyn gave her best to her community. Unlike most people, she wanted all the benefits to go to those around her. She kept none for herself. Her daughters wrote in the obituary that Evelyn was known to be gracious, diligent, capable, ambitious, wise and a role model for many.
I want to extend my deepest condolences to Evelyn's daughters, Elaine, Sharon, Noreen and Karen; her brothers, Jack and Mark; her sister, Helen; and all of the grandchildren and great grandchildren; our best.