Blaine Calkins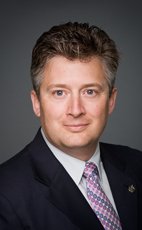 House of Commons photo
Track Blaine
Your Say
Elsewhere
Crucial Fact
His

favourite word

is alberta.
Conservative
MP for Wetaskiwin (Alberta)
Won his last election, in 2011, with 81.40% of the vote.
Statements in the House
Taxation December 10th, 2014
Mr. Speaker, under the strong leadership of our Prime Minister, our government is on track to balance Canada's budget. We are now in a position to help Canadian families balance theirs.
Our plan gives new money to 100% of families with children, and the majority of benefits go to low and middle-income families. With the enhancement of the universal child care benefit, moms and dads in communities like Bentley, Eckville, Millet and Blackfalds in the riding of Wetaskiwin, and across this country, will receive nearly $2,000 per year for every child under six and $720 per year for every child between the ages of six and 17.
However, the NDP and Liberals want to take this money away and spend it on expensive government programs and bureaucracy. Instead of giving the decision-making power to parents, the NDP and Liberals want Ottawa bureaucrats to tell families what they get to do. That is not right.
We know Canadian families deserve to make their own decisions and we are proud to be the only party standing up for them.
Mom of the Year Community Champion November 6th, 2014
Mr. Speaker, I rise in the House today to pay tribute to Marlene Pannenbecker from my hometown of Lacombe, Alberta, who was recently named 2014 Walmart Mom of the Year Community Champion, and rightly so.
Marlene is an example of selflessness in action. On any given day, one can find Marlene raising donations, doing humanitarian work abroad, or handing out hot chocolate and toiletries to people staying at local shelters.
Marlene and her husband Denny have also adopted four orphaned children from Haiti.
Having lost her own son in a tragic accident last January, Marlene put aside her own grief to visit the other people involved in that accident and take care of them while they were recovering. Once they were released, she also helped arrange daily meals for the men who spent the last moments with her son.
Marlene is the definition of amazing, generous, selfless, and courageous. I can think of no one more deserving of the title "Mom of the Year".
Congratulations to Marlene. She is an inspiration to all of us.
Veterans Affairs November 4th, 2014
Mr. Speaker, this Remembrance Day, who will you remember?
I for one will remember my great uncles, Robert and James Calkins, who are buried respectively in Italy and Korea. I will remember Byron Greff, the last soldier to die in Afghanistan. He was from my hometown of Lacombe, Alberta.
Would the Minister of Veterans Affairs please update the House on the new social media campaign "Who Will You Remember?"
Business of Supply October 9th, 2014
Mr. Speaker, as I said in my previous answer, the Species at Risk Act has a lot of provisions in it that would prevent the continuance of any activity that would threaten an endangered species or endangered population. This is common knowledge to members of Parliament here who choose to follow those things. Those kinds of protections are already in place.
We have invested in the National Energy Board. We have strengthened the provisions under the National Energy Board. There are many other things that we have done, whether it be tanker safety, double hulls, pipeline inspections, double wall pipelines when they go across areas where there are waterways. These are the kinds of things the government has done and has taken very seriously.
No member of Parliament wants to degrade the environment at the pure expense of growth. However, that does not mean we have to have the exact opposite ideology, which is what the NDP has and regrettably the leader of the Liberal Party has with his idea of a moratorium on tanker traffic on the west coast.
When we strand Canadian assets like oil and gas, it only serves the interests of those companies operating out of the Middle East, Venezuela, South America and the United States. It is about time members of Parliament served the interests of Canadians instead of these other countries.
Business of Supply October 9th, 2014
First, Mr. Speaker, I would like to address the member's comments about the member of Parliament for Dauphin—Swan River—Marquette, who I think is one of the most honourable, conscientious, conservation-minded, and environment-minded members that the House of Commons has ever seen. Any disparaging comments from the other side with regard to this individual will certainly not meet any good standing with me.
I have a zoology degree, and I have worked as a conservation officer and as a fisheries biologist in my home province of Alberta. I understand full well that one can have one's cake and eat it too when it comes to responsible resource development.
I enjoy the clean air, clean water, and clean land that I live on in my home province of Alberta, and I know full well that all the protections are given to species in Canada, whether it is through the Species at Risk Act, the Fisheries Act, or the Canadian Environmental Assessment Act, and that no project would go ahead, especially, when there are species and habitat that would be considered fragile or where there could be detrimental effects.
The problem with the entire motion we are discussing today, though, is that the NDP has already pre-positioned itself to oppose the project before the National Energy Board has even received an application, and that just underscores the complete ideological aversion it has to anything to do with oil and gas projects.
Business of Supply October 9th, 2014
Mr. Speaker, it is a pleasure for me to rise in the House today to speak to this issue and set the record straight on a number of these issues.
I would like to thank my colleague the member for Sarnia—Lambton for her excellent speech and her excellent answers to the questions. Her riding of Sarnia—Lambton and my riding of Wetaskiwin share many commonalities, including great petrochemical refineries and those kinds of installations, as well as the oil and gas sector and all of the well-paying jobs that this part of the economy supports.
I am glad to be here to set the record straight on this important matter, raised by the member for Drummond. As most members know, Canada possesses one of the largest and most diverse energy supplies in the world. As an Albertan, I know this. Canada is the world's fifth-largest producer of natural gas, with technically recoverable resources estimated to be up to 1.5 trillion cubic feet. Canada is also punching above its weight when it comes to clean energy. It is the third-largest producer of hydroelectricity and the second-largest producer of uranium in the world.
However, of all our assets, perhaps none is more important to Canada than its vast oil reserves. Canada is the world's fifth-largest producer of oil, with the world's third-largest proven reserves. There are 173 billion barrels, of which 167 are in Alberta's oil sands. That is not the best news. As technology evolves, Canada's oil sands reserves could nearly double to over 300 billion barrels to become the largest oil reserve in the world.
As members know, natural resources are a huge part of Canada's economy. When we take direct and indirect impacts into account, the natural resource sector represents approximately 20% of Canada's gross domestic product, and energy resources are a huge part of that equation. Canada's oil sands are creating jobs and wealth right across the country. This strategic resource has attracted more than $215 billion in capital investment and, of that, about $175 billion is in the last 10 years alone.
While Canada's endowment of petroleum resources is immense, we have only one major customer, which is the United States. In fact, Canada currently exports nearly 100% of its natural gas and oil exports to our friends and neighbours south of the border.
The United States is now becoming awash in energy resources, and it is poised to become a net energy exporter itself. New energy discoveries have reshaped domestic production in the U.S., driving down the demands for Canadian energy resources. That is something that we just did not fathom here a few years ago.
While Canada will continue to be a key supplier to the U.S., there is a strategic imperative for our country to access new and growing markets. The growing demand for oil and gas and other resources in new markets such as China and India represent a once-in-a-generation opportunity for Canada.
The International Energy Agency now predicts that by the year 2035, the world will need a third more energy than is currently being consumed today. Non-OECD economies are forecast to account for over 90% of that energy demand growth, with China and India alone accounting for 49%. The world will need more oil and natural gas to drive global economic growth. It will raise living standards and lift millions out of poverty in these countries, and Canada is a safe and responsible supplier of energy.
Right now, the opportunities for growth are unlike anything we have seen in our history. According to analysis by Natural Resources Canada, there are hundreds of major resource projects currently under way or planned in Canada over the next 10 years. These projects represent a total investment of up to $675 billion. Our government wants to ensure that every dollar of that potential is realized.
Expansion and diversification of our energy markets, both within Canada and globally, is a top priority for the Government of Canada. The Conservatives recognize that without the infrastructure needed to move our energy products to tidewater, our oil will be stranded. That is why we need to build pipelines going west, south, and east.
The numbers tell the story. In 2012, 82% of crude oil delivered to Atlantic Canada refineries and 93% of crude oil delivered to Quebec refineries was imported from countries like Saudi Arabia, Algeria, and Angola. Our government welcomes, in principle, the prospect of transporting Canadian crude to consumers and refineries in eastern Canada and, ultimately, to new markets abroad. Perhaps most importantly, it would make our country less reliant on foreign oil.
Our government has been clear that projects can only proceed if they are safe for Canadians and safe for the environment. That is precisely what responsible resource development is all about. It sends a clear signal that the Government of Canada is determined to protect public safety and the health of the environment based on sound science and world-class standards.
Looking at our record, we see we have instituted strict rules and regulations governing the development and shipment of products like oil and gas. All federal pipeline projects are subject to an independent and rigorous environmental assessment by the National Energy Board. We have also given the National Energy Board the necessary resources to increase annual inspections of pipelines by 50%. The board is also doubling the number of annual comprehensive safety audits to identify pipeline issues before incidents even occur.
Equally important, the National Energy Board now has the authority to impose substantial financial penalties on companies that do not comply with safety and environmental regulations. It can levy fines of up to $100,000 a day for as long as the infractions go unaddressed. However, we are not stopping there. We have announced plans to give the National Energy Board even greater authority, so we can strengthen incident prevention, preparedness, and response and liability and compensation.
Here is the bottom line. As I said, our government will only allow energy projects to proceed if they are proven safe for Canadians and for the environment. With our plan for responsible resource development, we have increased our protection of the environment and streamlined regulatory reviews. We have enhanced pipeline and tanker safety, and we are working to reach new markets for Canadian energy projects.
Therefore, subject to regulatory approval, our government supports energy infrastructure projects that will create jobs and generate economic growth in Canada now and for decades to come.
Bill Nielsen October 7th, 2014
Mr. Speaker, I rise today to pay tribute to Bill Nielsen, a community leader who dedicated many tireless hours building running and walking trails in my hometown of Lacombe. Bill passed away this spring at the age of 73 from pancreatic cancer.
This past Saturday, I had the pleasure of joining hundreds of local runners at the sold-out inaugural Bill Nielsen Trail Run. Bill was an inspiration to all. He ran his first marathon at age 40, and he ran his 100th marathon in 2008. Amazingly, Bill ran more than 30 marathons after being diagnosed with Parkinson's disease.
Bill was a legend in the Lacombe running community, but perhaps his greatest contributions were the trails he built and maintained in our city. Preferring to ask forgiveness rather than seek permission, Bill carved out trails through undeveloped parks in town using hand tools to avoid loud noises. Surprisingly, it took the town six months to catch him. Bill's passion led him to join the board of the parks and recreation committee in Lacombe so that he could continue his work on our trail system.
Bill stood for everything good about running, and his legacy will be enjoyed by future generations. I thank Bill for keeping us on the right trail.
Conservative Party of Canada October 2nd, 2014
Mr. Speaker, Canadians have known for years that the NDP bows to the will of their big union bosses and their illegal political sponsorships. Earlier this month, however, some big union bosses announced they would supporting the Liberal Party rather than their fellow travellers in the NDP.
It did not take the Liberal Party very long to start following its new union bosses' instructions. Earlier this week, the member for Saint-Laurent—Cartierville was advertised on the Public Service Alliance of Canada's Twitter account, gleefully holding the childish Brigette DePape stop sign.
Unlike the Liberals, whose only idea is to legalize drugs, on this side of the House we stand up for Canadian taxpayers' interests. This government lowers Canadians' taxes, balances budgets, and puts money back in the pockets of hard-working Canadians, and we will continue to stand up for them day in and day out.
Energy Safety and Security Act September 15th, 2014
Mr. Speaker, rare is the day when I have a colleague in the Liberal Party asking me to help him beat up colleagues in the NDP. However, I will take the bait, because here is what the NDP is proposing.
The NDP and the Green Party simply do not want nuclear facilities in Canada. I will answer my colleague's question directly. My understanding is that raising liability to $1 billion would cost the average household a couple of dollars a year on its utility bills to cover it. However, if we were to move to unlimited liability and the vast amount of liability being proposed by other parties, it would result in a hefty increase to those premiums. Ultimately, as we all know, regulated utility industries are regulated to the point where they will make a profit. That is the way those systems are set up, and those costs will be passed on through those energy utility boards in the various jurisdictions to those consumers. That much we do know.
It is a responsible approach to go to $1 billion of unlimited liability for the offshore sector for oil and gas and for nuclear liability. We have seen from various countries around the world that we are in line with what everyone else is doing. We are going to protect our environment but also not place an unreasonable burden. We will strike that right balance not only to protect taxpayers but to ensure that there is money left over on the kitchen table at the end of the month.
Energy Safety and Security Act September 15th, 2014
Mr. Speaker, the member is asking me a question in regard to changes made to the Fisheries Act, and the House is currently debating Bill C-22, which is nuclear and offshore liability changes we are proposing.
The reality is that everything under the absolute liability regime would be covered when it comes to the polluter pays principle. That would mean damages to people, damages to property, and damages to the environment. All of it would be covered under absolute liability. That is what the word "absolute" means. It is unfortunate that the hon. member does not understand that word.