Jeff Watson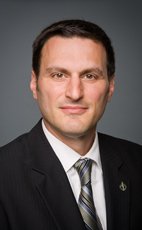 House of Commons photo
Track Jeff
Your Say
Elsewhere
Crucial Fact
His

favourite word

is transport.
Conservative
MP for Essex (Ontario)
Won his last election, in 2011, with 48.10% of the vote.
Statements in the House
Canada Post October 21st, 2014
Mr. Speaker, as the member should have heard in the last answer, two-thirds of Canadians currently do not receive home delivery. Canada Post, in order to deal with its financial crisis and the plummeting business case in terms of plummeting rates of individual mail, is taking action under a five-point plan to ensure that daily mail will be preserved in a way that is equitable for all Canadians.
Canada Post October 21st, 2014
Mr. Speaker, as the member knows, in 2013 Canada Post delivered 1.2 billion fewer letters than it did in just 2006. She may also know that under that business model, two-thirds of Canadian households already do not receive door-to-door delivery, and under its five-point plan, that will be true for all Canadians. It has a financial responsibility in legislation to not be a burden to taxpayers. Canada Post is taking action and is doing so by communicating with Canadians about what their needs may be during this transition.
Canada Post October 20th, 2014
Mr. Speaker, this is from a member who thinks there is no crisis with respect to the plummeting rates of mail delivery in Canada. Canada Post does in fact have a significant problem facing it. The way Canadians are communicating has drastically changed in the digital age, and Canada Post is struggling to keep up.
When it comes to the implementation of its five-point plan, obviously Canada Post operates at arm's length from the government in how it executes that particular plan.
The Environment October 20th, 2014
Mr. Speaker, the member will know that even though the Port of Québec is independent and arm's length in its operations, we have made it very clear to the Port of Québec that it should be working on consulting the local community. When it comes to its developmental projects, we know that it has involved and been working with its tenants as well to lower dust emissions in the port. We expect them to continue that work.
Canada Post October 20th, 2014
Mr. Speaker, the member well knows that Canada Post is an arm's-length crown corporation that is responsible for its operational decisions. It also has a legislative mandate to not be a financial burden to the taxpayers of this country. It has a serious and growing problem with 1.2 billion fewer letters being delivered than just a few years ago and deficits which the Conference Board of Canada suggests will reach $1 billion by 2020. It had to take urgent action. It has a five-point plan and it is implementing it.
Canada Post October 20th, 2014
Mr. Speaker, obviously, Canadians are using the mail service less than they did before. There were 1.2 billion fewer letters in 2013 since 2006. We expect Canada Post to operate in a way that is financially sustainable. It has a five-point plan it is taking action on.
Maybe the member should listen to the FCM which revisited this issue and by a two-thirds margin voted against reversing those changes at Canada Post.
Marine Safety October 20th, 2014
Mr. Speaker, I will take the specifics of the question to the minister and report back to the House, but when it comes to marine safety, specifically with respect to the transport of oil, obviously we know that ships are required, if they are transiting Canadian waters, to have an emergency response plan with a certified organization.
We have taken a number of initiatives under our world-class tanker safety system to further enhance both the prevention, the response and the liability of our regime.
Rail Transportation October 10th, 2014
Mr. Speaker, this from a member whose government was lax when it came to railway safety. We instead have been taking very strong actions. We are talking about prohibiting the least crash-resistant DOT-111s and a three-year phase-out or retrofit with respect to the remaining to bring them up to standard. We are also in discussions with American partners in terms of a new, tougher standard for these cars.
What did the Transportation Safety Board say about that? Ms. Tadros said, "I am encouraged by the Minister of Transport's strong response to the Board's recommendations".
Rail Transportation October 10th, 2014
Mr. Speaker, as the minister has said, and we share that, we are relieved to learn there were no injuries involved in this particular incident. Transport Canada, of course, will co-operate fully with the Transportation Safety Board, which is responsible for investigating the causes of this accident. What is clear is that our government has taken very strong action in response to the Transportation Safety Board's recommendations on DOT-111s to remove the least crash-resistant and also to have an aggressive, more aggressive than the United States, three-year phase-out on the DOT-111s. We are taking action to ensure the safety of Canadians, workers and our communities.
Rail Transportation October 9th, 2014
Mr. Speaker, I will take this specific question under advisement to the minister.
This government has put in place a very important oil tanker safety system. We have done a number of measures to ensure the safe transit of oil through our Canadian waters, such as increasing the national aerial surveillance program and adopting area response planning, as the member mentioned, which is to ensure that risks and environmental sensitivities are included in all response planning.
Most importantly, consistent with the polluter pays principle, we have removed the liability limit of the ship-source oil pollution fund so that 100% of the costs—