Jeff Watson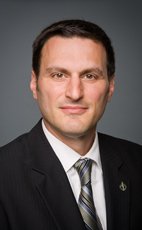 House of Commons photo
Track Jeff
Your Say
Elsewhere
Crucial Fact
His

favourite word

is transport.
Conservative
MP for Essex (Ontario)
Won his last election, in 2011, with 48.10% of the vote.
Statements in the House
Rail Transportation October 10th, 2014
Mr. Speaker, this from a member whose government was lax when it came to railway safety. We instead have been taking very strong actions. We are talking about prohibiting the least crash-resistant DOT-111s and a three-year phase-out or retrofit with respect to the remaining to bring them up to standard. We are also in discussions with American partners in terms of a new, tougher standard for these cars.
What did the Transportation Safety Board say about that? Ms. Tadros said, "I am encouraged by the Minister of Transport's strong response to the Board's recommendations".
Rail Transportation October 10th, 2014
Mr. Speaker, as the minister has said, and we share that, we are relieved to learn there were no injuries involved in this particular incident. Transport Canada, of course, will co-operate fully with the Transportation Safety Board, which is responsible for investigating the causes of this accident. What is clear is that our government has taken very strong action in response to the Transportation Safety Board's recommendations on DOT-111s to remove the least crash-resistant and also to have an aggressive, more aggressive than the United States, three-year phase-out on the DOT-111s. We are taking action to ensure the safety of Canadians, workers and our communities.
Rail Transportation October 9th, 2014
Mr. Speaker, I will take this specific question under advisement to the minister.
This government has put in place a very important oil tanker safety system. We have done a number of measures to ensure the safe transit of oil through our Canadian waters, such as increasing the national aerial surveillance program and adopting area response planning, as the member mentioned, which is to ensure that risks and environmental sensitivities are included in all response planning.
Most importantly, consistent with the polluter pays principle, we have removed the liability limit of the ship-source oil pollution fund so that 100% of the costs—
Canada Post October 9th, 2014
Mr. Speaker, obviously Canada Post not only has a five-point plan to respond to its challenges, but it has certain commitments it has made to Canadians in terms of the implementation. If there are any service questions, I would ask the member to direct them to Canada Post.
Canada Post October 9th, 2014
Mr. Speaker, despite the intense feelings over there, two-thirds of Canadians already do not have door-to-door delivery. Canada Post's plan is addressing the other one-third of those homes.
However, let us be clear. This is a serious problem that Canada Post is facing. It proposed a five-point action plan that it says would allow the corporation to return to a fiscally responsible state, while still ensuring that mail delivery continues in this country.
Canada Post October 9th, 2014
Mr. Speaker, the member should know that in 2012, Canada Post delivered a billion fewer pieces of mail than it did in 2006.
In 2013, that number slipped to 1.2 billion fewer pieces. The trend is confirmed in the Conference Board's report that says Canada Post will be posting losses of up to $1 billion per year by 2020.
Canada Post has responded with a five-point plan. The member will know that Canada Post is an arm's-length crown corporation. It is carrying out its plan.
Rail Transportation October 9th, 2014
Mr. Speaker, the member has it all wrong.
The government has been taking a number of important actions with respect to rail safety. Since 2006, we have invested in inspectors and put $100 million in our rail safety regime.
With respect to fatigue management, the safety of Canadians obviously remains our top priority. Railway companies are required to submit their fatigue management plans to Transport Canada. These plans must address a number of factors, such as education and training, scheduling practices, dealing with emergencies, alertness strategies, and rest environments.
If there is non-compliance with those rules, we will take whatever action is necessary.
Rail Transportation October 9th, 2014
Mr. Speaker, our thoughts and prayers will continue to be with the victims and families affected by this tragic accident.
As we have been saying from the beginning, and as the Transportation Safety Board of Canada concluded, the rules were not followed. Certain individuals are facing criminal charges as a result of negligence, and court proceedings are under way.
Our government thanks the coroner for his report and recommendations. Our government has taken great strides in the area of rail safety, and in fact, we have already addressed some of the coroner's recommendations.
National Defence October 8th, 2014
Mr. Speaker, we heard it ourselves, just now, from the member that she believes our Canadian Forces are not going to be able to carry out their mission. That shows a complete lack of confidence in our brave men and women and the material that they use to do that.
I find that very disappointing, however not out of character for the Liberals who presided over a decade of darkness when it came to the military. Those are not my words. It was a former military commander in Canada who said those words about the Liberals. We will not let that happen.
National Defence October 8th, 2014
Mr. Speaker, let me begin first by correcting the record. In fact, defence budgets are up consistently year over year under this particular government, and second, I take note of the member's underlying tone and lack of confidence in our forces to carry out the job.
As endorsed by the House of Commons yesterday, the government is taking strong action to respond to the grave security and humanitarian crisis created by ISIL. There can be no doubt about the threat posed by this group of extremists or the scale of the humanitarian crisis it has caused. It has violently seized territory in Iraq and beyond, persecuted ethnic and religious minorities, and driven more than a million Iraqi civilians from their homes. This has only exacerbated an already severe humanitarian and refugee emergency in that region.
Among the despicable acts ISIL has perpetrated are horrific acts of sexual violence against women and girls, including sexual slavery and using rape as a weapon of war. This government joins all Canadians in feeling the utmost sympathy for the people in Iraq, which is precisely why we have taken action to help those people in need.
We have proposed a multi-pronged approach, which includes humanitarian assistance and advisory support for the people of Iraq, but humanitarian assistance alone cannot get to the people who need it while armed groups continue to threaten the population. Sexual violence and other abuses cannot be investigated effectively in the absence of security in the region. If permitted to remain in Iraq unchecked, we believe that the threat posed by ISIL will only grow worse over time and will further destabilize the region and worsen the humanitarian crisis.
As much as ISIL poses a serious threat to Iraq and the wider region, it also poses a direct threat to Canada. Very recently, ISIL called for the targeting of Canadians in their own homes. There can be no greater responsibility of a government than the safety and security of its own citizens.
That is why the government has decided, now supported by a vote in the House and by government members, to meet the threat of ISIL at its source. This began in August when the Canadian Armed Forces commenced airlifting military supplies from donor countries to Iraqi forces. Over 1.5 million pounds, in fact, of military supplies donated by Albania and the Czech Republic were successfully delivered by us in northern Iraq.
In addition, special operations forces members have been deployed to assist and advise Iraqi forces in effectively countering ISIL. Last week we announced additional military contributions to the coalition efforts in Iraq for up to six months. CF-18 fighter jets will join our allies and partners in conducting air strikes against ISIL targets. As well, we will contribute the Polaris aerial refueller and up to two CP-140 Aurora aerial surveillance aircraft.
Canada will not stand idly by in the face of the humanitarian catastrophe caused by ISIL.