Jeff Watson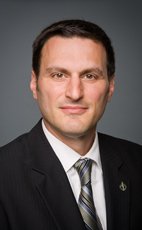 House of Commons photo
Track Jeff
Your Say
Elsewhere
Crucial Fact
His

favourite word

is transport.
Conservative
MP for Essex (Ontario)
Won his last election, in 2011, with 48.10% of the vote.
Statements in the House
Motor Vehicle Safety Act October 28th, 2014
Mr. Speaker, I am always pleased when I get to rise in this House to participate in important debate.
We are talking today about a private members' bill, Bill C-603, an act to amend the Motor Vehicle Safety Act pertaining specifically to vehicle side guards, presented by our colleague who is the official opposition transport critic, the member for Brossard—La Prairie.
Let me say off the top what I had begun with my intervention and question to the member, that obviously we are always looking at the health and safety of Canadians and how we ensure in the best way we can that Canadians will remain safe and secure. Obviously the government takes seriously deaths as a result of collisions, whether they are cyclists or pedestrians. We also have to be careful, when we are looking for solutions, that we follow the evidence, especially when we are talking about the heavy hand of legislation or regulation being used. We want to ensure that, of course, we are pursuing measures that are the right solution and not just an action that may not be the solution.
As I said, we obviously believe in and are committed to the safety and security of Canadians. We have regulatory improvements made under the authority of the Motor Vehicle Safety Act, one of the key reasons why progressively fewer people have been killed and injured on Canadian roads, despite the increase in traffic and number of motor vehicles.
The government is not supporting the bill for three reasons. First, the government believes there is insufficient evidence to support the mandatory requirement for side guards.
Second, the government believes there may be promising advanced technologies currently under development that have the potential to actually improve the safety of cyclists and pedestrians around heavy vehicles, thereby ultimately reducing the number of deaths or injuries as a result of collisions with heavy vehicles.
Finally, there is the inadequacy of amending an act to include a technical requirement.
Canadian motor vehicle safety regulations apply to all vehicles designed to operate on public roads, from motorcycles to heavy trucks, as well as some off-road vehicles that are occasionally driven across or along the sides of roadways or on trails. Vehicle use on Canadian roadways falls under the jurisdiction of the provinces and the territories.
The government, though, has been heavily involved in improving vehicle safety for many years. The Motor Vehicle Safety Act came into effect the year I was born, 1971, and it has been updated at various times throughout the years, with the most recent amendment being our modernization amendment, which received royal assent in June of this year.
The act regulates the safety requirements that apply to new and imported motor vehicles and to new motor vehicle equipment. It enables the development of regulations and safety standards for everything from new tires to new equipment used in the restraint of children and disabled persons within motor vehicles.
It is important to note that the renewed act supports the goals of the Canada-U.S. Regulatory Cooperation Council for the better alignment of our regulatory programs with our largest trading partner. However, it also improves motor vehicle safety for Canadians through new compliance and enforcement requirements, such as higher monetary penalties to industries if, in fact, they are found guilty of not complying with our laws.
I will first explain that placing a mandatory requirement for side guards in the act is misplaced. I understand that this is a technical argument against the member's method for trying to effect change. The Motor Vehicle Safety Act already includes the authority to mandate new technical requirements for vehicles and equipment via regulation.
Transport Canada continually assesses regulations made under the act; conducts research, including international research on the topic we are talking about today; and engages with stakeholders to ensure that the legislation and regulations continue to serve the road-using public, as well as support a competitive and efficient Canadian transportation industry.
Changes to the act made this summer, for example, will have many positive and significant impacts on both industry and public safety.
We believe that regulatory improvements under the Motor Vehicle Safety Act are a key reason that progressively fewer people have been killed and injured on our roads, despite the ever-increasing number of motor vehicles on the road. We are encouraged by the information we derive from our national crash data that shows steady and impressive progress toward a vision of Canada having the safest roads in the world. The latest collision stats from 2012 confirm a continuing trend of improvements in road safety. That year, the fatality rate dropped to an all-time low of six per 100,000 population. That compared to nine per 100,000 population ten years ago. Serious injuries and total injuries have also continued to fall over that same period.
While we are encouraged by the progress, we assure members that we continue to work toward our vision of having the safest roads in the world.
It is a technical argument whether that should be a regulatory change versus a change of the law.
With respect to the side guard legislation before the House today, Transport Canada has extensively considered and assessed the issue over the past number of years, both the Canadian situation and the international situation, and it has found that the body of evidence does not make the case for the mandatory installation of side guards.
To obtain a broader perspective, Transport Canada in fact commissioned research by the National Research Council, which conducted a study on heavy vehicle side guard use worldwide. That study, which was published in March 2010, as well as other international studies, show that there is insufficient evidence to demonstrate the effectiveness of side guards in preventing deaths. Among the study's conclusions, which is important, was that it is not clear if side guards would reduce deaths and serious injuries or if they would simply alter the mode of death and serious injury. It is important, whether using regulation or the law to compel, that we do so with the right solution.
It is important then to note that as alternative technologies emerge from ongoing international research, Transport Canada continues to monitor them for possible regulation here in the future. Technologies such as mirrorless commercial vehicles with side-view cameras and proximity sensors, for example, may be beneficial in preventing a broader range of collision types, such as turning manoeuvres, where side guards have not shown benefit. New stability and advanced braking systems that are currently under development will also assist truck and bus drivers in maintaining control of their vehicles in emergency situations. It is expected that the introduction of these new technologies will continue to improve road safety.
In closing, it is important, whether we are looking at regulation or at changing the law, that we actually have the right solution in front of us. It is the government's view, based on Transport Canada's research into this matter, including commissioned research here at home, that the body of evidence does not make the case for a mandatory requirement for side guards on trailers in this country.
We remain committed to monitoring and assessing the ongoing research, both at home and abroad, on promising new advanced technologies that we believe may hold the answer to reducing and preventing these types of deaths.
Motor Vehicle Safety Act October 28th, 2014
Mr. Speaker, first of all, I commend my colleague opposite for his relentless focus with respect to what is really at the core of the motivation of trying to address issues and that is, of course, the unfortunate incidents where people are either injured or die in vehicle accidents.
Having conceded that, I have taken a long look at the empirical research about the nature of most of these types of collisions. Overwhelmingly, they involve right-hand turns by trucks, and the point of collision is actually up at the front-wheel passenger side of the tractor and not at the back where the trailer is.
I wonder if the member can elucidate on whether this solution is actually the best one in terms of the available options for dealing with this type of an accident, where the point of collision is actually up at the front rather than back at the trailer. Can he comment on that?
The Environment October 27th, 2014
Mr. Speaker, those ramblings were utter nonsense.
I commend the member. One cannot argue in this House that there is legislation that has requirements and then turn around and suggest that they are voluntary. That is completely contradictory. There is a Canadian Environmental Assessment Act, 2012. It imposes obligations. I invite the member to actually read the legislation and see, as well, what additional support the federal agencies provide to the port authorities, such as the Port of Quebec.
The Environment October 27th, 2014
Mr. Speaker, I am glad to have the opportunity to address the question from the hon. member for Québec regarding the modernized federal environmental assessment regime in Canada.
In line with the objectives of responsible resource development, the modernized federal environmental assessment process focuses on major projects with the greatest potential for significant adverse environmental effects in areas of federal jurisdiction.
This government is focusing federal resources on the assessment of major projects that pose a risk to the environment, the public, and aboriginal peoples. However, I would emphasize that all projects will continue to be subject to a wide range of federal and provincial environment-related requirements, such as the requirements under the Canadian Environmental Assessment Act, 2012, for projects located on federal lands, including those falling under the responsibility of the Quebec Port Authority. Under the Canadian Environmental Assessment Act, 2012, authorities with responsibilities linked to federal lands are required to determine the likelihood of significant adverse environmental effects that might result from potential projects.
I want to emphasize that port authorities responsible for federal lands have a legal requirement to look at all environmental effects on federal lands. They cannot ignore these obligations. They cannot simply turn a blind eye to these requirements that are written very clearly in the act. It is clear that they must determine the likelihood of significant adverse environmental impacts.
Federal authorities have established processes for conducting this analysis. The approach and depth of this analysis reflect the risk and likelihood of significant adverse environmental effects.
They also put in place measures to mitigate the environmental impacts. Authorities have extensive experience in determining whether their projects may potentially cause environmental effects, and it is fully expected that authorities will bring this expertise to bear on any potential project.
To ensure a timely analysis, authorities are also encouraged to work co-operatively with experts and all other authorities who may have a decision to make on a project. Authorities with responsibilities under the Canadian Environmental Assessment Act, 2012 to carry out this work have access as well to operational policy guidance. In addition, the Canadian Environmental Assessment Agency leads a working group that brings together authorities, including port authorities, to discuss their obligations and to support them in meeting these requirements.
This government has legislation in place that holds federal land managers to account. We are confident that the authorities will continue to make decisions that will ensure that projects on their lands are carried out in a careful and precautionary manner to avoid significant adverse environmental effects.
Rail Transportation October 27th, 2014
Mr. Speaker, in point of fact, the government is doing both of those things.
The Transportation Safety Board investigates any accidents or incidents that are under its mandate to do so.
As I have noted with respect to Lac-Mégantic and other reports, the government takes those very seriously and they inform the decisions of the government. We will be hearing in due course additional measures to comply with the Transportation Safety Board's report into Lac-Mégantic. I know members of the House, including those opposite, will be interested to hear about those actions.
Rail Transportation October 27th, 2014
Mr. Speaker, the government is committed to the safety and security of Canadians and communities, and a safe, dependable, modern transportation system to support the continuing well-being and prosperity of this country.
The Transportation Safety Board's August report for the Lac-Mégantic derailment did conclude that the rules were not followed, but it also highlighted areas where the Government of Canada could improve, a fact that the minister has said repeatedly in the House.
This government takes all the Transportation Safety Board recommendations seriously. Transport Canada officials are currently thoroughly reviewing its latest recommendations to determine the appropriate course of action.
In the past year, however, our government has taken decisive action to further strengthen Canada's regulation and oversight of rail safety and the transportation of dangerous goods specifically, such as removing the least crash-resistant DOT-111 tank cars, and requiring railway companies to share data about the dangerous goods they ship with officials in municipalities and with first responders. We will continue to work on more prescriptive rules for the securement of trains.
This past July, officials from Transport Canada also prepublished new railway safety management system regulations in part 1 of the Canada Gazette. These proposed changes include new or updated processes to encourage employees to report contraventions of safety concerns to the railway company; to analyze data and trends to identify safety concerns; to manage organizational knowledge so that employees can perform their duties more safety; and to improve work scheduling to prevent employee fatigue.
Let me assure the member that our government does not hesitate to take enforcement action to ensure rail safety. Transport Canada can proceed with a letter of concern, notice or notice and order, ministerial order, emergency directive, investigation and prosecution, or order of the court. For example, under the Railway Safety Act, Transport Canada may issue a ministerial order requiring a federal railway company to provide an action plan with corrective measures to address a deficiency that risks compromising the safety of the railway company's railway operations. Additionally, railway safety inspectors have the authority under the Railway Safety Act to require the production of documents to verify a company's compliance with applicable requirements.
These actions also reflect our determination to honour our railway and dangerous goods safety commitment in last year's Speech from the Throne. Our government does not only intend to continue to improve rail safety. It has improved it over the past years and will continue to take action to improve it even further for the long term. We will continue to work with our municipalities, first responders, railways and shippers to explore and implement measures that will help inform communities and make our railways safer.
Our government remains committed to the safety of all Canadians and concrete railway safety measures to date attest to this fact. We will continue these efforts going forward.
Health October 27th, 2014
Mr. Speaker, I know the New Democrats are not noted for their mathematics, but let us be clear. Under this government, we have delivered an increase in health care of 6% per year. We are reaching record transfer levels, notwithstanding the expiry of the health accord. Those increases will continue in absolute dollars every year.
We have made some adjustment with respect to having it tied to economic growth, but in each and every year, even in years where the economy will not perform well, there will be increased funding.
I encourage the member to embrace that and get on board with our historic increases for health care.
Health October 27th, 2014
Mr. Speaker, first, let me correct the record that in fact there are no cuts, but only increases going forward to provincial health care budgets.
Let me reiterate that through record transfer dollars and significant targeted investments, this government continues to work collaboratively with the provinces and territories to improve access to services where they are needed most.
I noted as a result of this strong partnership, we have made significant gains in increasing the numbers of physicians, including family physicians practising in Canada. We also recognize that determining the right mix and distribution of health care providers is critically important in meeting the health care needs of Canadians. We will continue to work with the provinces and territories to optimize their health workforce so Canadians, including those living in rural and remote areas, can access the care they need.
Our government is providing the highest recorded health transfer dollars in history to the provinces and territories. This record funding will reach $40 billion annually by the end of the decade, and it provides stability and predictability to the system. While primary provision and delivery of health care rests with the provinces and territories, including matters related to the training and hiring of the health workforce, our government is providing record supports.
Between 2009 and 2013, the growth in the number of physicians was three times higher than population growth rates and was even higher in the rural communities.
Medical school enrolments continue to be at an all-time high as do the number of graduates, including family physicians. According to the Canadian Institute of Health Information, last year Canada had the most physicians per capita in history, over 77,000. In addition to record levels of investment, our Conservative government supports targeted efforts to address challenges related to the health workforce.
Internationally, educated health professionals, for example, play an important role in meeting health care needs of Canadians. More than one-quarter of physicians who entered the workforce in 2014 received their medical training outside of Canada. That is why this government is investing $18 million per year to support the integration of internationally educated health professionals so they may quickly become of Canada's highly qualified workforce.
Additionally, the government is working with provincial and territorial governments to help integrate health professionals with overseas credentials through the pan-Canadian framework for the assessment and recognition of foreign qualifications.
We know, however, that numbers alone are not enough to improve access to health care providers in areas where they are needed most. That is why our government, working in partnership with provinces and territories, has invested $39.5 million to train family medicine residents in rural and remote communities.
In addition, we have launched the Canada student loan forgiveness program, providing up to $9 million in Canada student loan forgiveness to new family physicians and nurses who practise in rural and remote communities.
We continue with research that is important as well. We are supporting innovation in health care to ensure our system is sustainable and meets the needs of Canadians now and into the future.
Canada Post October 24th, 2014
Mr. Speaker, I am not sure whether the member understands the structure of crown corporations. They are not government departments. They operate at arm's length from the government in their operational decisions. They have a board of directors who make those types of decisions. They have clearly made a decision in this matter. If the member has a problem with that, then he should take that up with Canada Post.
Canada Post October 24th, 2014
Mr. Speaker, as the member well knows, Canada Post has seen a continuing plummeting of volumes of individual-addressed mail. In fact, there were 1.2 billion fewer pieces of mail in 2013 than in 2006.
The member would also know that two-thirds of Canadians currently do not receive their mail door to door. Those in the remaining one-third, as part of Canada Post's five-point action plan, will be seeing a change, but they will continue with their daily mail.