Jeff Watson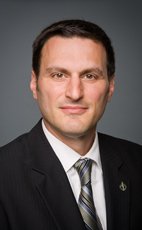 House of Commons photo
Track Jeff
Your Say
Elsewhere
Crucial Fact
His

favourite word

is transport.
Conservative
MP for Essex (Ontario)
Won his last election, in 2011, with 48.10% of the vote.
Statements in the House
Points of Order September 29th, 2014
Mr. Speaker, during question period, the member for Algoma—Manitoulin—Kapuskasing, when she was interrupted in her question, turned and said, in reference to the Minister of the Environment, "Isn't she disgusting?"
That is clearly a personal attack and unparliamentary. I ask that the member rise in her place, withdraw the remark, and unreservedly apologize for the unparliamentary language.
The Environment September 19th, 2014
Mr. Speaker, our Conservative government is making a positive difference on the environment in Windsor—Essex. For those who do not know, Essex County has the most species at risk, both plant and animal, of anywhere in Canada, largely due to habitat fragmentation.
However, thanks to our government's policies, Windsor—Essex has seen the creation of the first binationally-funded fish spawning reef, a first in Canada's priority natural area, and major investments from our natural areas conservation program to restore and preserve key habitats on the Ruscom River, along Cedar Creek and Canard River, and on Pelee Island.
We have not stopped there. Our government created a national conservation plan this year to conserve land and water, restore ecosystems and connect Canadians with nature. We backed it with over $250 million.
This summer the government House leader and I hosted key local stewardship groups to discuss how Windsor—Essex could continue our environmental success through the national conservation plan.
Our plan is working and Windsor—Essex will have a greener, cleaner future for generations to come.
Rail Transportation September 18th, 2014
Mr. Speaker, I hope the member opposite is not suggesting that federal railway companies should not be primarily responsible for the safe operations of their companies for the sake of their workers and communities. If so, that would be a first in the world.
We actually expect, and the regulatory regime is very clear, that the primary responsibility for safety rests with railway companies. The role of Transport Canada, of course, is in the field of oversight. We have taken the important recommendation that this oversight does not meet the level of expectation of the public and it is being continuously improved.
As I said, we did make significant investments in improving the ability to have oversight, over $100 million in railway safety. We have additional actions and measures that are under way. Of course we expect Transport Canada to deliver a higher standard in terms of its oversight.
Rail Transportation September 18th, 2014
Mr. Speaker, let me open by saying that last statement was absolutely false.
Our government takes the safety of the Canadian railway system seriously and is committed to ensuring that appropriate levels of safety are maintained. Should an issue of non-compliance be identified, there are a range of enforcement tools available under multiple acts, up to and including prosecution.
Under the Canadian Transportation Accident Investigation and Safety Board Act, which provides the legal framework that governs transportation safety board activities, railway companies must report all accidents. Should a railway company not comply with the requirements of the act, appropriate action will be taken.
Railway safety regulations exist to ensure the safety and protection of the public. If these regulations are not followed, we will not hesitate to take whatever course of action is available to us. Further to this, railway companies are required by law to ensure the safe operations of their trains, and our government increased fines from $200,000 to $1 million for companies found to be in breach of the Railway Safety Act. To reiterate its commitment to a safe railway transportation system, not only for communities across the country but also for Canada's economic well-being and to further strengthen the railway safety federal regulatory regime, Transport Canada is currently accelerating the development of several regulations.
Transport Canada has a variety of tools available to enforce compliance and respond to safety concerns or threats to safe railway operations, such as an order to respond to threats to safe railway operations and an emergency directive ordering a railway company to cease a particular unsafe action or take specific action to mitigate the immediate threat identified.
Following the accident in Lac-Mégantic, the government took a number of actions. Continuing with our record on railway safety improvement, we have issued emergency directives, protective directives and ministerial orders requiring, among other things, all railway companies to further enhance the safety of their operations and the security of railway transportation; any person who imports or offers for transport crude oil to conduct proper classification testing; the railway companies to share information with municipalities, which will further support municipal emergency planners and first responders; the railway companies to reduce the speed of trains carrying dangerous goods and implement other key operating practices; and the removal of the least crash-resistant DOT-111 tank cars from dangerous goods service.
That builds of course on a broader record of safety since 2006, which includes everything from the important continued hiring of the inspectorate; the training of the inspectorate, also in audit functions and capabilities in light of the Auditor General's recent report; an investment of $100 million in railway safety improvements in the regime in this country.
The list goes on and on. I believe our government has clearly demonstrated that it has not hesitated to take action when necessary to ensure the safety and security of Canadians. I can assure members that it will not hesitate to take any action in the future.
Transportation June 20th, 2014
Mr. Speaker, as the member would know, Marine Atlantic is an independent crown corporation responsible for its operational decisions. That corporation has the responsibility to ensure investments by Canadian taxpayers are used in the best interests of Newfoundland and Labrador to serve the needs of its citizens.
In like fashion, that member is responsible for getting on his feet and explaining his part, with 22 other NDP MPs, in bogus mailings for partisan flyers that ripped off the taxpayers, and when he and his colleagues plan to pay them back.
Air Transportation June 20th, 2014
Mr. Speaker, to the specifics of the member's request to this government, I will take it under advisement and report back to the House.
However, when it comes to making investments in airport infrastructure through programs like the airport capital assistance program, I would remind the member that she and her colleagues continue to vote against those substantial investments to provide safe airport infrastructure for small communities.
Prohibiting Cluster Munitions Act June 18th, 2014
Mr. Speaker, I listened closely to the member's intervention. Obviously, this bill would help Canada fulfill its important commitments with respect to international protocols without binding us from our own unilateral action to exceed the intent of such a protocol.
The member noted that the United States was not a signatory to that international protocol. Would he discuss how Canada might appropriately engage the United States, to bring it along, and whether this bill in some way would allow us to do that?
New Democratic Party of Canada June 16th, 2014
Mr. Speaker, the NDP insists that it will not pay back money that it misspent to send out inappropriate and partisan mail-outs. This is unacceptable to us and the taxpayers. The rules have always been clear. It is not acceptable to use House of Commons resources to fund party offices or send party mail-outs.
Last week, the all-party Board of Internal Economy received and accepted the non-partisan House official's recommendations, showing that the total cost of the NDP's partisan mail-outs was $1.17 million. Of that, $36,000 is owed to the House and $1.13 million is associated with the use of franking privileges through Canada Post.
The verdict is clear. The NDP broke the rules, and Canadians now expect that it will pay it back. Should the NDP continue its campaign to evade accountability, we fully support House administration and Canada Post taking every step necessary to recoup every penny for Canadian taxpayers.
We say, "Pay it back".
Georgian Bay Channel to Lock 45 – Port Severn June 16th, 2014
Mr. Speaker, it is a pleasure to rise today to speak to the motion at hand, sponsored by the member for Simcoe North. I want to thank him for bringing it forward, as well as the interventions already by the member for Beaches—East York and Ottawa South in the debate today. I hope to explain a bit about Transport Canada's role under the motion in front of us today.
I am pleased to speak about Transport Canada's mandate under the Navigation Protection Act in relation to proposed dredging projects, such as deepening and straightening the navigation channel between Georgian Bay and the westerly limit of the Trent-Severn Waterway at Port Severn.
The high current in the channel makes it a difficult and challenging channel to navigate. The government recognizes the benefits of improving access within this waterway and supports, in principle, the initiative to widen and straighten the navigation channel to improve navigation through this busy recreational waterway.
However, it is important to note that Transport Canada does not dredge for the purposes of enhancing recreational boating. Rather, when a proponent brings forward a submission for a proposed dredging project, Transport Canada undertakes a regulatory review of the navigation safety of the project under the Navigation Protection Act, formally known as the Navigable Waters Protection Act.
As members are aware, the Navigable Waters Protection Act was amended in December 2012 as part of budget Bill C-45 in order to modernize the regulatory process that oversees our navigable waters.
The NWPA was one of Canada's oldest pieces of legislation, dating from a time when our waterways were Canada's primary transportation routes. A key purpose of the act was the protection of navigation in the context of allowing the construction and placement of works in, on, over, under, through, or across navigable waters in Canada.
A significant change to the act was the change in name to the Navigation Protection Act, correctly aligning the name of the act with its navigation safety mandate. Another key change was the addition of a schedule of specific navigable waters, focusing efforts on the regulation of those works that had the biggest impact on navigation in Canada. The schedule is focused on those waters that support busy commercial or recreation-related navigation, that are accessible by ports and marinas, and that are often in close proximity to heavily populated areas.
Nautical charts compiled by the Canadian Hydrographic Service, reliance on departmental historic data, and information acquired through Statistics Canada related to freight movement on Canadian waterways were used to compile the list.
Canadians have a public right of navigation; that is, the right to free and unobstructed passage over navigable waters. The new Navigation Protection Act operates as a statutory exception to the common law, allowing interferences with the public right of navigation.
In this day and age, where economic stimulus remains a top priority for Canada, I believe the amendments to the act have seized the opportunity to create a modern, robust, and flexible legislative regime that can effectively respond to current and future needs of Canadians. Ultimately, these amendments will facilitate better economic growth.
For years provincial, territorial, and municipal governments expressed a desire for the Government of Canada to overhaul the legislation and reduce the red tape. The amendments to the act respond to this demand, making it easier for communities to build important infrastructure like roads, bridges, and wharves, which create jobs and economic development.
For the purposes of our discussion today, the navigation channel that provides access between Georgian Bay and the westerly limit of the Trent-Severn Waterway at Port Severn is included in the schedule of waters.
The Trent-Severn Waterway is an important Canadian navigation and environmental resource, dating back to the 19th century transportation systems in Ontario, and continues to contribute to Canadian society today as part of our proud heritage. Thousands of boaters use the Trent-Severn each year, millions visit and enjoy the lock stations and other public sites along the canals, many local community businesses provide services to both residents and tourists, and, in addition, communities have been built around the lifestyles associated with this waterway.
In summary, this waterway continues to be a substantial boost to the economy of the region.
As I mentioned earlier, the navigation channel that provides access between Georgian Bay and the westerly limit of the Trent-Severn Waterway is on the schedule. This means that any proposed work on this navigable water may require a review and authorization by Transport Canada's officials under the Navigation Protection Act.
Transport Canada's role in any proposed dredging project on any navigable waterway listed on the schedule is to continue to support a safe and efficient transportation system through the regulatory review process, thereby minimizing risks to navigation.
It should be noted that some works, including dredging, may fall under the category of designated or minor works. Works in this category do not require review and authorization by Transport Canada's officials if the works meet the criteria set out in the minor works order.
Should a dredging project not meet the minor works criteria, Transport Canada's officials would work closely with their clients, usually the owners of the works, and with federal and provincial partners throughout the process of assessing the potential impacts of proposed works. They are directly involved in activities and operations that can impact navigation, and they serve clients in Canada's industrial sectors, all levels of government, stakeholders in the tourism and recreation sector, private property owners, and the general public.
To reiterate, a primary purpose of the Navigation Protection Act is to regulate works that risk interfering with navigation in waters listed in the schedule to the act. A proponent's submission requirements are determined by Transport Canada's officials and include important and relevant project information, such as final design and construction details. This detailed information is required for Transport Canada's officials to identify likely interferences with shipping and boating activities.
In the case of a proposed project for dredging within the Trent-Severn Waterway, the proponent would have to comply with the process for a regulatory submission. It is the owner's responsibility to submit a notice and receive confirmation from Transport Canada's officials prior to any construction. Specifically for this case, the proponent would be responsible for contacting the Transport Canada navigation protection program for the Ontario region. Transport Canada regional officials will provide the proponent with the relevant submission requirements.
In closing, Transport Canada's responsibility regarding this initiative is to review any proposed works in scheduled navigable waters to ensure they are constructed in a manner that considers the impacts to navigation and supports a safe and efficient transportation system. Transport Canada works closely with clients to assist them with a smooth and transparent regulatory review and authorization process.
Privilege June 12th, 2014
Mr. Chair, it is my privilege to be able to have the service in this House in my language, which is English. My testimony in this House was that I did not hear the words "unanimous consent". The only word I heard was "consent". My instinct was to say "no", and say it twice. That was my intervention before the House leader even came in to make the question about it. I heard in the earpiece the word "consent". I did not hear it in French. I could not hear what was said there. That is my testimony. I am entitled to wait for the translation to make my point.