Jeff Watson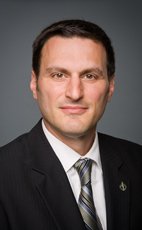 House of Commons photo
Track Jeff
Your Say
Elsewhere
Crucial Fact
His

favourite word

is transport.
Conservative
MP for Essex (Ontario)
Won his last election, in 2011, with 48.10% of the vote.
Statements in the House
Canada Post December 12th, 2014
Mr. Speaker, I will remind the member that Canada Post is of course an independent, arm's-length agency. The decisions it makes, including that one, are its own.
Government Appointments December 12th, 2014
Mr. Speaker, the long-standing feud between Mr. McQueen and that member continues, only now it is in the House. The ethical and political activity guidelines for public office holders do not state that political activity is against the guidelines. He should read them.
Air Transportation December 12th, 2014
Mr. Speaker, the member will know that under the flight rights Canada initiative, we have introduced a code of conduct for Canada's airlines. We have taken a number of measures to make pricing transparent. These are decisions by individual airlines, which are private companies.
However, I will tell members what would raise the price of an airline ticket drastically. It would be a $21 billion NDP carbon tax.
Canada Post December 12th, 2014
Mr. Speaker, that is the second consecutive question sponsored by CUPW.
I will remind the member that Canada Post is an independent, arm's-length crown corporation. It has taken action under its five-point plan to address three consecutive years of multimillion-dollar losses due to the significant decline in individually stamped letter mail, 1.2 billion fewer pieces in 2013 than in 2006. That is common to postal agencies around the world because of e-substitution. It has to operate on a financially self-sustaining basis. Taxpayers expect it to do that, and so do we.
Canada Post December 12th, 2014
Mr. Speaker, I remind the member that two-thirds of Canadians currently do not receive door-to-door delivery at their homes.
Canada Post has taken action with respect to a five-point plan. It is precisely because it is delivering far fewer letters, 1.2 billion fewer in 2013 than in 2006. It posted three years of major multimillion-dollar losses as well. It has a legislative responsibility to be financially self-sustaining. Taxpayers expect it to do that, and we do as well.
Economic Action Plan 2014 Act, No. 2 December 9th, 2014
Mr. Speaker, the member says he supports the airline industry, and yet his leader campaigned aggressively in the province of Ontario in favour of a carbon tax on jet fuel. That is hardly the kind of support that members on this side believe in. In fact, through the Canadian Transportation Agency review, we are looking at ways that we can make the industry much more competitive on an economic basis.
However, today we are talking about the BIA no. 2 changes to the Aeronautics Act specifically, which would formalize a process for consultations, so we do not have any kind of a wild-west scenario with aerodromes cropping up all over the place. Instead, the public would know very clearly, when the regulations are complete, that they would have opportunities to be fully consulted to either expand or modify operations at an existing aerodrome or, before a new aerodrome is built, they would have the opportunity to weigh in. We think that is a major improvement. The member should support that.
Economic Action Plan 2014 Act, No. 2 December 9th, 2014
Mr. Speaker, no; in fact, it would be quite the opposite. The changes proposed in this particular bill would create a regulation-making authority whereby we would now have a regulated process specifying how consultations would occur before a proponent seeking to build an aerodrome could build an aerodrome. We would actually formalize that process.
It would be the same thing for operators of an existing aerodrome who seek to expand it. That process would now be defined in regulations. There would be responsibilities upon stakeholders, and it would be fully incumbent upon them to carry them out.
That would be a step forward. It would guarantee that consultations, which in a large number of cases currently do not occur, would in fact occur through a formal process. That would be a step forward, and the member should support it.
Economic Action Plan 2014 Act, No. 2 December 9th, 2014
Mr. Speaker, I am pleased to rise today and speak to this important legislation, Bill C-43, which includes provisions that would support jobs, economic growth, families, and communities.
In addition to the measures making the tax system simpler and fairer for farming and fishing businesses, extending the existing tax credits, doubling the children's fitness tax credit, and much more, we are also bringing in changes to support our transportation system.
I would like turn the attention of the House to the amendments to the Canada Marine Act. Canadian port authorities operate Canada's 18 major ports. Canadian port authorities are considered key economic drivers and are vital to Canada's domestic and international trade objectives. Our government is committed to creating the right conditions to ensure that we have competitive ports to support our aggressive trade agenda. The proposed amendments to the Canada Marine Act are part of the plan to enable strong Canadian ports.
The proposed amendments would allow Canadian port authorities the ability to acquire surplus federal real property. This supports the federal government's ongoing divestiture of regional ports. To date, Transport Canada has divested or otherwise transferred 499 regional and remote ports that it owned, while 50 ports remain under federal ownership. Some Canadian port authorities have expressed an interest in acquiring Transport Canada-owned ports to expand their business opportunities. Canadian port authorities are well positioned to attract investments, increase traffic, and, importantly, create jobs.
The participation of Canadian port authorities is considered a key part of the ongoing divestiture strategy. However, provisions under the current Canada Marine Act do not allow Canadian port authorities the ability to acquire federal real property, thereby preventing these port authorities from participating in the divestiture program. The proposed amendments would enable Canadian port authorities to participate in the divestiture program after other interested stakeholders, such as municipalities, have been given the opportunity to acquire these surplus ports first.
There are also increased resource development projects on federal port lands stemming from Canada's potential to be a major player in the global energy economy. Our government is proposing amendments to ensure projects are undertaken in a safe manner while protecting the environment and Canadians. These amendments would provide the government with an option to develop regulations applying to any specific large-scale commercial or industrial projects on federal port lands. These proposed amendments would also permit these regulations to incorporate by reference any laws or documents to effectively regulate any potential projects on federal port lands.
As I noted at the start, many of our transportation initiatives relate to our country's trade agenda and help connect us to a global supply chain. This means we must ensure that our transportation system, including ports, has a robust legislative regime to support our trade agenda. The amendments to the Canada Marine Act would support economic growth and enable international trade.
Let me move on to another important measure in Bill C-43. We are making amendments to the Aeronautics Act that would provide the Minister of Transport with the authority and the necessary tools to effectively respond to an increasing number of aerodrome issues pertaining to development, location, land use, and consultation.
Canada's aviation system consists of 300 certified aerodromes, or airports, and approximately 7,000 aerodromes, which are defined as an area of land, water, or other supporting surface used for the arrival, departure, movement, or servicing of aircraft.
Over the last several years, Transport Canada has increasingly heard from provinces, municipalities, and Canadians concerning a number of complex issues related to the construction of new aerodromes and the operation of existing aerodromes, some of which were subsequently brought before the courts. As the situation now stands, current regulations do not require proponents to take part in consultation processes with local land use authorities and affected stakeholders or to notify Transport Canada or Nav Canada prior to developing an aerodrome. Transport Canada also does not have a formal engagement process in place whereby stakeholders or those involved may raise concerns regarding aerodrome development to that department.
In the absence of these tools, the department has been left in a reactive position and has been dealing with issues on an ad hoc basis, which has proven to be inefficient and resource-intensive and has not effectively responded to the concerns of constituents. It has also led to unnecessary and significant costs for aerodrome proponents.
In order to suitably carry out the department's aviation mandate, the minister requires the legal authority to promote aerodrome development when it enhances Canada's transportation system and supports economic prosperity, and also the authority to prohibit the development if it is not in the best interest of Canadians.
As such, the amendments would provide the minister with the authority to make an order to prohibit an aerodrome proponent from developing or expanding or making changes to the nature of operations if there was a risk to aviation safety or if it is not in the public interest. For example, this could include cases in which the operations of a new or existing aerodrome would result in greater air traffic congestion, which could introduce a risk to aviation safety.
This new authority would permit intervention by the minister to prohibit development at an early point, rather than after construction or during operations, in order to allow for the early identification and mitigation of safety issues.
The proposed amendment would also provide for regulation-making authority respecting the consultations to be carried out by the proponent of an aerodrome before development or the operator of an aerodrome before an expansion or change to its operations.
This initiative would provide the minister with flexibility to effectively respond to either existing or possibly unforeseen issues or trends and is an important first step in modernizing the department's aerodrome framework.
This amendment would also protect aerodrome proponents and operators from unnecessary costs associated with development and would provide an opportunity for affected Canadians to be engaged in the process.
We will continue to promote the freedom to fly safely in a rapidly growing sector while providing greater regulatory predictability and transparency for Canadians. We will also continue to address aviation safety and public interest concerns while encouraging the responsible development and operation of aerodromes in Canada.
Economic action plan 2014 no. 2 would create the right conditions for an efficient, competitive, and sustainable transportation system to move Canadian products. Such a system is vital to a strong economy.
Rail Transportation December 8th, 2014
Mr. Speaker, as the TSB's report clearly indicated, this was a case where the rules were not followed. That is precisely why criminal charges have been laid and there is a court proceeding.
Nonetheless, there are other elements of the TSB's report. It made a number of recommendations. The government is following those recommendations, because Transport Canada takes the safety and security of Canadians very seriously.
Rail Transportation December 8th, 2014
Mr. Speaker, obviously we thank the TSB for the report it did. It did point out, of course, that this was a case where the rules were not followed. The government accepted every one of the recommendations of the TSB, including requiring railway companies to meet standardized requirements for handbrake application, and putting into effect additional physical safeguards, a redundant system of safeguards, and we will make good on that.