Thomas Mulcair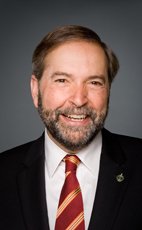 House of Commons photo
Track Thomas
Your Say
In Parliament
Elsewhere
Crucial Fact
His

favourite word

is conservatives.
NDP
MP for Outremont (Québec)
Won his last election, in 2011, with 56.40% of the vote.
Three days ago
Didn't vote on Vote #226 That the House proceed to First reading of Senate Public Bills.
Posted on Twitter Pouring a few pints with @DominicCardy at the @PHBrewery in #Moncton to top off a busy day of campaigning. #nbvotes http://t.co/qovPdV5omx
Posted on Twitter Très fier. Aujourd'hui, le #NPD a pris les rênes de la Chambre des communes et forcé un débat sur la tenue d'une enquête nationale. #MMIW
Posted on Twitter Beaming with pride. Today, the #NDP took control of the House of Commons & triggered a debate on a public inquiry on #MMIW #cdnpoli
This week
Voted Yes on Vote #225 That, in the opinion of the House, the government should reinstate the federal minimum wage and increase it ...
Spoke in the House on Rail Transportation Mr. Speaker, we need a full inquiry into murdered and missing indigenous women. Within 100 days, an NDP government will call one. We are just a ...
Spoke in the House on Air Transportation Mr. Speaker, despite the consensus in the region, the Mirabel terminal will be demolished. The Liberals killed the airport in 2004, and now the Conservatives want ...
Spoke in the House on Aboriginal Affairs Mr. Speaker, the Minister of Infrastructure, Communities and Intergovernmental Affairs is a "he," and he is hiding behind her. For years Conservatives have rejected calls for ...
Posted on Twitter Happy birthday to my friend @MayorGregor! Only for you would I do a video selfie. #cdnpoli #vanpoli http://t.co/NwVrXMyZd2
Posted on Twitter Great to have a coffee and a laugh with Steve Patterson (@patterballs) from The Debaters on @cbcradio. Thanks Steve! http://t.co/17g8q9D6zb
Posted on Twitter #NDP motion to #UpTheWage rejected by #CPC MPs. @JustinTrudeau doesn't show up to work again. Canadians deserve better #cdnpoli #canlab
Spoke in the House on Situation in Iraq Mr. Speaker, in 2004, the then-opposition leader, today the Prime Minister, joined with Jack Layton in calling for a change to the Standing Orders of the ...
Spoke in the House on Champlain Bridge Mr. Speaker, Arthur Porter, Mike Duffy, Patrick Brazeau, why is it that so many of the Prime Minister's buddies wind up with handcuffs? I do not ...
Spoke in the House on Ethics Mr. Speaker, it is nice for the Prime Minister to reference another NATO leader. The fact is that it was he who promised Canadians a vote ...
Spoke in the House on Foreign Affairs Mr. Speaker, that is the same person who, in 2003, wanted Canada to be involved in Iraq. He is finally getting his wish. However, in 2006, ...
A week ago
Spoke in the House on Natural Resources Mr. Speaker, there he goes again, confusing Investment Canada with the China FIPA that he just signed. Now that the government of China owns Nexen, it ...
Mentioned by Huffington Post Canada Mulcair: Minimum Wage For Federal Employees Will Be $15 An Hour If NDP ... Thomas Mulcair celebrates his win at the NDP leadership convention in Toronto, Ontario, March 24, 2012. Canada's social democrats Saturday chose a firebrand center-leaning MP to run for prime minister in 2015, after the death of a leader who led them to ...
Mentioned by Globalnews.ca NDP promises minimum wage for some workers NDP Leader Thomas Mulcair responds to questions as MP Nathan Cullen, right, listens during a media availability in Vancouver, B.C., on Tuesday August 19, 2014. THE CANADIAN PRESS/Darryl Dyck ...
Mentioned by Edmonton Journal Thomson: Political parties come courting newly receptive Alberta votes Just ask federal NDP leader Thomas Mulcair. He and every federal NDP MP have come a-courtin' this week to Alberta. They're holding three days of caucus meetings in Edmonton in a display of political affection for Alberta — in the hopes that maybe the ...
Mentioned by Huffington Post Canada Mulcair And NDP To Ramp Up Attacks Against Trudeau EDMONTON — NDP Leader Thomas Mulcair is gearing up to take a tougher stand against Justin Trudeau, after party officials concluded that Tory attacks ads have not worked to blunt the Liberal leader's momentum. In a speech to his caucus Thursday, Mulcair is expected to compare and contrast ... MP Robert Aubin questioned whether Canadians really want Trudeau to answer the phone when the president of the United States calls. Brian Mason, the leader of the NDP in Alberta, said he expects the federal party is ...
Mentioned by Ottawa Citizen The Gargoyle: How does Prime Minister Andrew Ference sound? Edmonton Oilers hockey club captain Andrew Ference (right) is presented with an NDP hockey jersey from Canada's New Democratic Party (NDP) Leader Thomas Mulcair (left) and Alberta NDP MP Linda Duncan (middle) after Ference spoke at the NDP ...
Mentioned by Huffington Post Canada Mulcair Looks To Mimic Charest's 2003 Quebec Campaign EDMONTON — Thomas Mulcair is looking to his and former Quebec premier Jean Charest's past to plot out the NDP's election strategy for 2015. Mulcair plans to mimic Charest's winning 2003 provincial election campaign, NDP insiders told The Huffington ...
Three months ago
Didn't vote on Vote #224 on Bill C-6 Implement the Convention on Cluster Munitions
Didn't vote on Vote #223 on Bill C-2 Amend the Controlled Drugs and Substances
Didn't vote on Vote #222 That the debate be now adjourned.
More than three months ago
Spoke at the Procedure and House Affairs committee on Committee Business Thank you. I do appreciate your opening on that with regard to the difference between "real reality", as you just said, and "reality", so let's stay ...
Spoke at the Procedure and House Affairs committee on Committee Business Mr. Chairman, we're supposed to be looking at these things as a continuum. The speaker continues to go back to his original motion. He keeps explaining ...
Introduced legislation Private member's bill C-476 An Act to amend the Parliament of Canada Act (Parliamentary Budget Officer)
Introduced legislation Private member's bill C-600 An Act to amend the Income Tax Act (tax credit for charitable gifts)