John Weston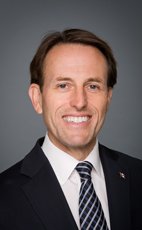 House of Commons photo
Track John
Your Say
Elsewhere
Crucial Fact
Conservative
MP for West Vancouver—Sunshine Coast—Sea to Sky Country (B.C.)
Won his last election, in 2011, with 45.50% of the vote.
Statements in the House
Foreign Affairs April 4th, 2014
Mr. Speaker, Canadians believe in democracy at home, in Ukraine, in Iran, and around the world. For instance, in dealing with the government of Iran, our government has consistently supported the democratic aspirations of the people of Iran. The crisis in Ukraine has reminded Canadians that democracy is not a reality for everyone, but Canadians are proud that our Prime Minister's visit to Ukraine was the first of any G7 leader since the crisis began. However, in a recent interview with the Farsi language media, the Liberal Party leader attacked our government's support of democracy around the world.
Can the Minister of Canadian Heritage please affirm our government's foreign policy?
International Trade April 4th, 2014
Mr. Speaker, "It was the best of times, it was the worst of times...". So wrote Charles Dickens at the beginning of his book, A Tale of Two Cities. When it comes to the economy, the worst of times may be when a leader really believes that the budget balances itself, as the Liberal leader has recently concluded. However, the best of times is when a country in the midst of the most ambitious trade expansion in its history. That is where we Canadians are today.
When our Conservative government came to office Canada had only five concluded free trade agreements. Our government has added 38 signed or concluded agreements. The results are clear. Statistics released yesterday show that Canada's overall trade balance returned to a surplus in February of $290 million.
With 38 countries, our government has added more free trade agreements than there are Liberal members.
Economic Action Plan 2014 Act, No. 1 April 4th, 2014
Mr. Speaker, I am glad my colleague raised the question, because I am sure his intent is virtuous, but his facts are ill-informed. In fact, in this budget we see $40 million invested in our youth, and the genius of that investment is that the money is to go through small and medium-size enterprises so it can be leveraged.
These youth will gain experience through internships and apprenticeships that will enable them to broaden their life experience, which is even more valuable than the money that will come to them. The money is essential as well, and the money will certainly enable those small and medium-size enterprises to hire the students. It is a boost to the economy. It is a boost to the specific companies that take advantage of this benefit. Most importantly, it is a support for our youth who are the leaders of tomorrow.
Economic Action Plan 2014 Act, No. 1 April 4th, 2014
Mr. Speaker, we have seen time and again how the government has supported youth—for instance, at Vancouver Island University, the Powell River campus in the riding I represent. The $40 million investment in this budget will support 3,000 full-time internships for small and medium-size enterprises.
This is a government that walks the talk. We talk about the amazing youth. For instance, some youth in my riding have created HEY Day, Helping Every Youth Day, which is an opportunity every year for youth to come together, and they bring in the top volunteer organizations from around Canada and showcase them to inspire other youth.
There are the MP book awards, something I had the honour to initiate in my riding, which challenge our young people to show their writing skills. These are young people, the leaders of tomorrow, who produce essays that address things like the economy.
From the budget through what our parliamentarians are doing, I see that we revere our youth. We know they are the leaders of tomorrow. We are behind them, and this budget supports them.
Economic Action Plan 2014 Act, No. 1 April 4th, 2014
Mr. Speaker, I would like to thank the hon. member for his question.
Where I would focus in terms of the democratic aspect of the budget is how it links the aspirations of Canadians from coast to coast, how individual Canadians and agencies have seen their aspirations realized in this budget.
We have seen, for instance, health and fitness, something that is a concern for all Canadians. We have seen specific things that were voiced by Canadians from coast to coast; we have seen the fulfillment in the budget. The $44.9 million for prescription drug abuse is something that was put on the table by individual Canadians in round tables here in Ottawa and in my constituency. My colleague, who is also from British Columbia, will know that it is the search and rescue volunteers who enable people to enjoy the great outdoors of British Columbia.
These are the kinds of things; Canadians rejoice to see their parliamentarians take their needs, put them into policy, take the policies, put them into law, and implement that law through the budget.
Economic Action Plan 2014 Act, No. 1 April 4th, 2014
Mr. Speaker, I will be sharing my time with the chief government whip.
I rose this morning, before rising here, thinking about how grateful I am to be in this wonderful institution in this amazing country of ours, how grateful I am just to be standing here, and what an honour it is to represent the people of West Vancouver—Sunshine Coast—Sea to Sky Country and to be with colleagues who champion the interests of Canadians day by day.
It is also my honour to express support for a bill that keeps Canada on track. I am speaking of economic action plan 2014, tabled by our Minister of Finance.
Our government has charted a course for this nation that has led us through uncharted waters, namely the fragility of the global market. However, despite this uncertainty, there is no doubt that we have emerged triumphant, as our nation's economy continues to thrive.
This is not a coincidence. Our government has, since 2006, relentlessly pursued job creation and economic growth with the full intention of creating a stable, sustainable, and prosperous Canada.
In my remarks today I will focus on four aspects of budget 2014, which illustrate this focus and commitment. I will be drawing direct ties to the people of my constituency who brought their interests to me and to this Parliament through me.
Canada's economic success manifests a vision set forth by our Prime Minister. We cannot witness the transition from a multi-billion dollar deficit to a predicted multi-billion dollar surplus next year without first acknowledging the efforts of this Conservative government.
With the elimination of our deficit, Canadians can anticipate lower taxes, a higher standard of living, greater opportunities for job creation, and a significantly smaller financial burden on our children and grandchildren.
Canada has already leapt from number six to number two in Bloomberg's annual ranking of the most attractive countries for doing business in the world, just behind Hong Kong. A reduced deficit will continue to attract investment and signal our nation's stability on the global stage.
What I see in front of us is a budget that reflects the priorities of our citizens. I know for a fact that this budget addresses four key areas that interest my constituents and other Canadians: the environment, the economy, health and fitness, and search and rescue. I am equally confident that it will reflect the concerns of Canadians from coast to coast.
We have seen a growing number of Canadians voice their concerns regarding our environment. Today I am proud to tell these Canadians that their government has listened. It is my long-held belief that the economy and the environment are inherently entwined. In fact, in my speech to this House last year, entitled "The environment is the economy", I relayed the concerns of The Future of Howe Sound Society and other constituents that we must embrace the two in tandem.
Economic action plan 2014 follows the lead of innovative Canadians who continually find ways to stimulate the economy while protecting our natural resources. The economy and the environment are not at war, so the advancement of one should not prejudice the other. This is evident in B.C., where a great number of people, including constituents of mine like CaroleAnn Leishman, have expressed their concerns over proposed pipeline projects, despite their potential economic rewards.
This budget will fund the National Energy Board to review pipeline projects so that Canada's economic pursuits can be reconciled with the protection of its natural resources. Our government will not commit to specific energy transportation projects, but will sustain dialogue with the aim of reconciling economic potential with environmental restraint.
As our Minister of Natural Resources recently declared:
No project will be approved unless it is safe for Canadians and safe for the environment.
Energy exports will continue to grow and create many great jobs for Canadians, but the government remains committed to ensuring safe and responsible resource development.
Economic action plan 2014 will also invest in environmental sustainability by protecting Canada's recreational fisheries, so brilliantly championed by organizations in my riding such as the Sea to Sky Fisheries Roundtable, the West Vancouver Streamkeepers, the Squamish Streamkeepers Society, and the Squamish River Watershed Society.
Last year, the recreational fisheries conservation partnerships program received $10 million, and this year the government is renewing its commitment to environmental sustainability, another demonstration of our government's ability to balance both economic and environmental goals.
The recreational fisheries conservation partnerships program commenced last year at the urging of organizations like the ones I mentioned and people around the country who care about the recreational fishery.
I congratulate the member for Dauphin—Swan River—Marquette for his championing of this program. This is a strong encouragement to show our government has listened to and acknowledged the voices of people who are passionate about salmon and other fisheries in B.C. and throughout the country.
Increasing financial support for another great organization, the Pacific Salmon Foundation, responds effectively to advocacy by fellow Conservative B.C. members. I am proud to have championed the PSP cause along with them. It is another great aspect of budget 2014.
With our government's devotion to environmental sustainability in mind, Canadians can anticipate more economic progress without great cost to the environment. My constituents in Powell River and the Sunshine Coast and the mayors who have been so powerful in advocating for new jobs, like Wayne Rowe in Gibsons, John Henderson in Sechelt, and Dave Formosa in Powell River, can look forward to adding more jobs in their areas as Canada's economy continues to strengthen.
More than one million net new jobs have been created since the recession. When compared with other G7 nations, Canada's economic performance is among the best, leading the pack in job growth.
In this budget, the government has re-emphasized its desire to find employment for every Canadian and reduce job vacancies.
Internationally, I commend our government for securing free trade agreements with other countries. When our government came into power, Canada had three established FTAs. This number has now grown to 44, including the recent Canada-Korea trade agreement—to which the Speaker has contributed—our nation's first official trade agreement in Asia.
Under our government's leadership, Canada will continue to bolster its economy by trading with other nations in a way that is mutually beneficial.
Within our borders, our government also commits to the future employment of our youth, through its youth employment strategy. This program aims to provide young Canadians with real-life work experience that aligns with the evolving realities of the job market. We need to ensure that young Canadians can access employment in high-demand fields, like science, technology, engineering, mathematics, and trades. The government has recognized this need and proposed a $40-million investment to support 3,000 full-time internships, particularly for small and medium-sized enterprises. Allowing our youth to gain work experience is a worthy investment and a proactive step toward reducing future unemployment and strengthening our economy.
I am also excited to see how our government has recognized health and fitness as a priority in its 2014 economic action plan, a priority I have championed, to reflect the emphasis on this area shown by my constituents in the Olympic riding.
I applaud the government's initiative to increase the rate of excise duty on tobacco products as a viable method of increasing federal tax revenue. This measure illustrates our government's desire for fiscal responsibility and, more important, for a healthy Canadian population.
This budget also addresses prescription drug abuse, another concern shared by my many Canadians, including West Vancouver police chief Pete Lepine, who has worked closely with me to bring about a national prescription drug drop-off day, which will occur this year on May 10.
The new economic action plan proposes to invest $44.9 million, over five years, to expand the focus of the national anti-drug strategy, so we can also address this emerging health and safety concern. This investment would serve a diverse Canadian population, by enhancing education on the safe use, storage, and disposal of prescription drugs, among other things.
Having watched our Olympians and Paralympians demonstrate the ultimate in health and fitness in Sochi, I am delighted to see our government's continued desire to support Canadian athletes of all levels. Sport promotes leadership. It plays a vital role in our culture, both as an expression of our national identity and as a means of inspiring more Canadians to become active and healthy. This budget would maintain our government's record level of investment for athletes without leaving anyone behind.
While our Olympians are supported through initiatives like own the podium, our government supports Paralympians, amateurs, and Special Olympics athletes, as well.
The last provision upon which I would like to touch is the search and rescue tax credit. This commemorates Tim Jones, the amazing revered volunteer who led the North Shore rescue team for 26 years and who participated in over 1,600 rescue operations. The search and rescue tax credit would recognize the important role played by volunteers who put themselves at risk for the sole purpose of serving their communities.
In conclusion, I see Canada's 2014 economic action plan as another step in the right direction.
Today, I have highlighted four of the many aspects of budget 2014 that are particularly relevant, not only to my constituency but to the whole country: environmental sustainability, economic prosperity, health and fitness, and the recognition of our nation's search and rescue volunteers.
The return to a balanced budget is the fulfillment of a long-term goal. The proposals I have mentioned are examples of our government's commitment to Canadians. It is a good time to be a Canadian. This budget would help ensure good health for our people, our environment, and our economy.
Autism March 28th, 2014
Mr. Speaker, today I applaud the town of Gibsons, B.C., for officially proclaiming World Autism Awareness Day on April 2 and for the official kick-off of the International Naturally Autistic People Awards Convention and Festival. This is the only convention of its kind in the world, and it is rooted right here in Canada on B.C.'s Sunshine Coast.
On its fifth anniversary, the participation has grown from four to 22 countries. For the first time in its history, it will kick off simultaneously in five different countries, with a Canadian delegation attending the Edinburgh conference. Yesterday, the Centers for Disease Control announced that autism affects one in 68 children in the U.S.
The MP for Edmonton—Mill Woods—Beaumont is a real role model for all of us parliamentarians in how he integrates his role as dad and MP. As he said, "Children with autism become adults with autism and eventually will become senior citizens with autism." I commend my colleague and the Autistic People's Federation for their dedication to raising awareness about autism, supporting the autistic community, and helping all of us strive for the creation of a society in which autistic people can evolve and grow beyond any limits.
Substance Abuse March 27th, 2014
Mr. Speaker, today I rise as an MP but also as a dad, so I hope Shane, Jake, and Mei Mei are listening.
My Conservative colleagues and I have been meeting on a regular basis to examine issues relating to substance abuse. Our goal is to get the best information available to make our legislators informed and capable. We are dealing with challenging issues, such as the effects of cannabis, recovering from drug abuse, prescription drug misuse, and mental health. Informed and capable legislators are the ingredients of good laws responsive to challenging problems, which continue to weaken our youth, divide our families, hurt our health, and hamper our economy.
I am grateful to constituents and other Canadians who have helped with the symposium, such as Lorinda Strang and AnnMarie McCullough from Bowen Island's Orchard Recovery Center, Kerry and Ginny Dennehy, staunch advocates for mental health, the Canadian Centre on Substance Abuse, and the Minister of Health, the Minister of Public Safety and Emergency Preparedness, and the MP for Kootenay—Columbia, who have been avid participants in this discussion.
I commend all involved as these issues are so critical for our youth, such as our own children, and Canadians of all ages.
Festival of Nowruz March 7th, 2014
Mr. Speaker, as spring arrives in Canada we look forward to celebrating the Nowruz, the Persian new year across our country.
In 2009 the House of Commons unanimously proclaimed Nowruz officially to acknowledge its importance. As the government liaison to the Persian and Iranian community in Canada, I am pleased that our government has put great emphasis on building relations with Canadian people of Iranian background.
In addition to regular informal discussions, our Prime Minister and several cabinet ministers have, on many occasions, held formal round tables with people in the Canadian Iranian community, responding to their needs and taking part in their efforts to introduce the highlights of Persian culture to Canadians.
While our government takes issue with the Iranian regime on matters of human rights, nuclear proliferation, and its destabilizing of the Persian Gulf region, wherever possible we make sure these criticisms are consistent with our support of the interests of Canadian Iranians. As we approach Nowruz, our thoughts are with the people of the Persian Gulf region and with people of Iranian background in Canada.
We are thankful to those who share the legacies of Cyrus the Great for their support for freedom, human rights, democracy, and the rule of law.
Happy Nowruz. Nowruz mobarak. Nowruz pirooz.
Consumer Protection February 24th, 2014
Mr. Speaker, when consumers purchase a new vehicle, it is important that they have access to the most accurate information possible so that they can make the right decision for themselves and their families.
We notice that Canadians have concerns about how energy efficiency standards are set. Updated standards allow consumers to make informed choices and to save money.
Could the Minister of Natural Resources explain to the House what measures our government is taking to put consumers first?