Stephen Harper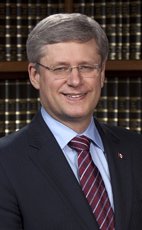 House of Commons photo
Track Stephen
Your Say
In Parliament
Elsewhere
Crucial Fact
His

favourite word

is ndp.
Conservative
MP for Calgary Southwest (Alberta)
Won his last election, in 2011, with 75.10% of the vote.
Today
Posted on Twitter On behalf of all Parliamentarians, thank you to Speaker Kinsella for his many years of dedicated service. #cdnpoli http://t.co/SsUEb3d6It
Yesterday
Spoke in the House on Veterans Mr. Speaker, let us be accurate in terms of what the Auditor General said. He looked at two government programs. He noted that Veterans Affairs has ...
Spoke in the House on Veterans Affairs Mr. Speaker, once again, that is not completely accurate. What the Auditor General has said is that he examined the mental health program. He said that ...
Spoke in the House on Northern Development Once again, Mr. Speaker, a full recitation of the facts is a little bit different. As has been noted, there has been about a 25% increase ...
Voted Yes on Vote #286 on Bill C-40 Respecting the Rouge National Urban Park
Posted on Twitter On Thursday I'll be heading to Dakar, Senegal to participate in the 15th Francophonie Summit. Learn more: http://t.co/eyaWRdUkl2 #cdnpoli
Two days ago
Didn't vote on Vote #285 on Bill C-26 Amend the Criminal Code, the Canada Evidence Act and the Sex Offender Information Registration Act, ...
Didn't vote on Vote #284 on Bill C-18 Amend certain Acts relating to agriculture and agri-food
Posted on Twitter Stopped by @AngelosBakery in London, ON for lunch today, it was a pleasure to meet your staff. http://t.co/r8OwzimEDZ
Posted on Twitter The new infrastructure support that I announced today will promote future growth & prosperity across Canada. #cdnpoli http://t.co/kIzh8dFvfQ
Posted on Twitter Learn more about the government's new investments that will continue to build & renew infrastructure across Canada. http://t.co/mRshxE7uig
Posted on Twitter Pat Quinn was a giant of the hockey world, on the ice and off. Laureen and I extend our condolences to his family. http://t.co/2tKpCsDBC6
A week ago
Spoke in the House on Access to Information Mr. Speaker, it was this government that modernized the system by bringing some 70 agencies and organizations under access to information that were previously not under ...
Spoke in the House on Health Care Transfers Mr. Speaker, our government's record is clear. It is quite different from that of the previous Liberal government, supported by the NDP, which cut transfers to ...
Spoke in the House on Child Care Mr. Speaker, I have regular meetings with provinces and territories across the country, in fact some 300 since I have become Prime Minister. We understand the ...
Spoke in the House on Infrastructure Mr. Speaker, the facts laid out in that question are completely wrong. The government announced in the last two budgets the largest infrastructure program in Canadian ...
Spoke in the House on Intergovernmental Relations Mr. Speaker, I was told that the Government of Canada was represented at that conference. What is more, we are always interested in hearing people's ideas, ...
Voted Yes on Vote #283 on Bill C-608 Respecting a National Day of the Midwife
Voted Yes on Vote #282 That the First Report of the Standing Committee on Agriculture and Agri-Food, presented on Thursday, March 27, 2014, ...
Mentioned by Yahoo News Canada (blog) Stephen Harper becomes Canada's sixth longest-serving PM Former MP Paul Forseth, who was once a seat-mate of a much younger Stephen Harper when they were both in the Reform Party, says the milestone is very satisfying. He predicts that Harper will eventually pass Chretien. "It's interesting…to look at the ...
Two weeks ago
Mentioned by The Vancouver Observer Prime Minister Stephen Harper meets with President of the Philippines [VIDEO] Prime Minister Stephen Harper met with Benigno Aquino III, President of the Philippines, prior to attending the Asia-Pacific Economic Cooperation (APEC) Leaders' Meeting in China. Here's the short video from the event: All media from Prime Minister's website. Read More: News ... Burnaby-Douglas MP Kennedy Stewart wrote a forceful letter to Kinder Morgan Canada President urging him to "cease activities on Burnaby Mountain". The Texas-based pipeline giant's workers are... Jenny UechiNov 20th, 2014.
Mentioned by Vancouver Desi Former MP Gurmant Grewal won't be allowed to seek B.C. nomination in 2015 OTTAWA — Controversial former Conservative MP Gurmant Grewal, who has repeatedly praised Prime Minister Stephen Harper's government during a lengthy comeback attempt, has been told he won't be allowed to seek a B.C. nomination for the 2015 ...
Three weeks ago
Mentioned by Yahoo News Canada (blog) Stephen Harper heads to China to 'reanimate' trade relations Prime Minister Stephen Harper leaves on a five-day trip China Wednesday to "reanimate" Canada's trade relations, experts say. The trip comes after a tumultuous few months between the two countries. First came the accusation of a Chinese cyberattack on ...
Mentioned by NorthumberlandView.ca Prime Minister Stephen Harper Announces Tax Cuts, Increased Benefits for ... Prime Minister Stephen Harper today announced new measures to help make life more affordable for Canadian families. He was joined by Joe Oliver, Minister of Finance, Julian Fantino, Minister of Veterans Affairs, Candice Bergen, Minister of State (Social ...
A month ago
Mentioned by Winnipeg Sun Stephen Harper, opposition condemn 'act of hatred' Prime Minister Stephen Harper, in a rare televised address to the nation and with his voice thick with emotion, spoke first of Cpl. Nathan Cirillo, "murdered in cold blood as he provided a ceremonial honour guard at Canada's National War Memorial, that sacred place that pays tribute to those who gave their lives so that we can live in a free safe and democratic society." Harper .... MP Peggy Nash from inside Centre Block 13 minutes ago: Security locked me in a room on the Senate side of the House. They say it's not ...
More than three months ago
Introduced legislation Government bill C-1 An Act respecting the Administration of Oaths of Office
Introduced legislation Government bill C-1 An Act respecting the Administration of Oaths of Office
Introduced legislation Government bill C-1 An Act respecting the Administration of Oaths of Office
Introduced legislation Government bill C-1 An Act respecting the Administration of Oaths of Office