Stephen Harper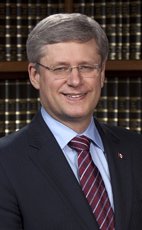 House of Commons photo
Track Stephen
Your Say
Elsewhere
Crucial Fact
His

favourite word

is ndp.
Conservative
MP for Calgary Southwest (Alberta)
Won his last election, in 2011, with 75.10% of the vote.
Statements in the House
Public Safety October 23rd, 2014
Mr. Speaker, I would not expect that the number has changed radically in the past two weeks. Obviously, that kind of information is really in the purview of security agencies to provide in detail, if they think that is appropriate.
The fact of the matter is that there are serious security threats in this country, and in many cases those serious security threats continue to be at large and not subject to detention or arrest. I know that is something that concerns Canadians at large. It concerns the government, and we are working with our security agencies to examine how we can handle that situation.
Public Safety October 23rd, 2014
Mr. Speaker, I would be happy to see all members of Parliament in all parties unite around the idea that, whatever our differences, we are committed not only to the safety and security of Canadians but to the free and democratic society we all hold so dear.
I think it is important to remind Canadians at times like this, in spite of the fact that we are considered and are in fact a relatively young country, that from the great pact of 1867 we have one of the longest unbroken forms of governance, particularly democratic governance, anywhere in the world today. It has been unbroken by war, unbroken by civil disorder or national catastrophe for almost 150 years now. It is a tremendous country that we are all fortunate to be part of, and I know we are all committed to making it better.
Public Safety October 23rd, 2014
Mr. Speaker, in every situation in our history, the governments have made sure of two things: that our country and its citizens are safe and secure and that we have a free and open country. Our departments and security agencies will continue to act with this objective in mind.
Public Safety October 23rd, 2014
Mr. Speaker, the police and the RCMP have indicated that the passport of the first individual in Quebec had been revoked. That has not been confirmed in the second case. I will let the RCMP inform the public about these matters.
Clearly, we are looking at that aspect of the situation. We are very concerned that there are Canadians here who want to train to commit terrorist acts throughout the world.
Public Safety October 23rd, 2014
Mr. Speaker, I know that the police are going to give more information about what happened a little later today. Since investigations are obviously under way, I think it is up to the police to inform the public. I expect that information to be forthcoming in the near future.
Public Safety October 23rd, 2014
Mr. Speaker, while obviously I am briefed on a regular basis, I will leave public comment on certain events to the police authorities as they conduct their investigations.
Obviously, we have been, as I indicated earlier today in the House, looking at our various laws and options under the law to strengthen the ability to survey, detain, and arrest individuals who are threats to us.
At the same time, I know individual security agencies will also be looking very carefully at the events of yesterday to determine what else has to be done. As you know, Mr. Speaker, the security agencies of Parliament themselves do not report to the government; they report to the Speakers and to the Boards of Internal Economy of the two Houses. I know that the RCMP, City of Ottawa police, and others will be working with them.
Ministerial Statements October 23rd, 2014
Mr. Speaker, I would like to thank my colleagues.
I would like to begin today by recognizing and thanking the Leader of the Opposition and the hon. member for Papineau for their kind remarks and words of encouragement yesterday evening.
In our system, in our country, we are opponents but we are never enemies. We are Canadians, one and all.
We may sit across the aisle from one another, but when faced with attacks on the country we all love and the things we all stand for, I know we will always stand together.
Today more than ever before, I am quite pleased to see all of my colleagues from all parties in good health and and good form.
Let me, Mr. Speaker, through you, provide a little bit of advice to my colleagues. I think my position and growing number of grey hairs entitles me to do this once in a while, and that is to say we all here are engaged in extremely demanding and stressful jobs, but the stress that many of you faced yesterday was really beyond and above anything that any of us are really expecting to face.
While we resume our duties, and I will talk about that in a moment, I would encourage everybody here to take care of their health. Be sure that you find some time to relax in the next little while and also, because we are not all in perfect health, if any of you are experiencing any undue physical stress as a result of what occurred yesterday, please take the time to see a physician and get that checked out.
I also want to say we heard a lot of feedback from Canadians yesterday. We are all used to the feedback we get very regularly from Canadians, much of it in the form of brickbats and some of it deserved, but in this case I think we all experienced the tremendous outpouring of warmth, affection, and good wishes from people across country, and we all thank them for this.
I also want to convey all the good wishes I heard personally, not just from Canadians but from our friends outside the country. I heard from President Obama, from Prime Minister Abbott, from Prime Minister Netanyahu, and through a statement, from Prime Minister Cameron. We have heard these expressions from across the world. I think we were all, as Canadians, touched by the wonderful gesture shown last night at the Pittsburgh Penguins hockey game. So thanks to our friends in the United States and around the world for their expressions of concern.
Of course, we know all too well that this is not a happy day for everybody. In particular, it is a terribly sad day for all of the family, loved ones, friends, and colleagues of both Nathan Cirillo and Patrice Vincent.
We have seen photos of these lovely men.
We have all seen the pictures of these beautiful guys, as Don Cherry would say, and our hearts really are with all of them. We are so fortunate to have people like this. In the past couple of decades, we see across the world increasing places where the planet is descending into savagery, and there are people who, every day of their lives, stand on guard for this country and for all of us. We obviously want to convey our gratitude to these two servicemen and their families, but also to all the people who undertake this extremely dangerous work on behalf of our country.
I spoke of the state of much of the world, and I think for all of us who are blessed to live in a country like this, it is hard to appreciate, understand, or fathom how we can have people who are involved in a movement that so wants violence, who so despise modernity, who so hate progress that they can desire to drive out medical workers from their community, harm them; that they can enslave women, torture children; that they can kill, want to kill anyone who looks or thinks differently from them. It is in a sense beyond our comprehension, but it is very real. In this struggle in which we are engaged, in which not only our finest values must be pushed to work, so must be and will be the highest unity and resolve. They are our ultimate and indispensable weapons, and that is what these people will face.
With regard to the events of yesterday and in recent days, a number of questions remain and will all be answered over the course of the police security investigations. However, I can tell the House this today: the objective of both of those attacks was to spread fear and panic in our country and to interrupt the business of government. Well, honourable members, as I said yesterday, Canadians will never be intimidated.
We will not be intimidated. We will be vigilant, but we will not run scared. We will be prudent, but we will not panic.
As for the business of government, well, we are here, in our seats, in our chamber, in the very heart of our democracy, and our work goes on.
In all its diversity of peoples and opinions, this House personifies the spirit of Canada.
Canada will never yield to terrorism, and neither will this House of Commons—we carry on. We will attend to the country's affairs and we will be faithful to the trust that people have placed in us.
As I said earlier, and I have been saying for a long time, we live in a dangerous world. Terrorism has been here with us for a while, and dangerously close on a number of occasions. For example, I draw members' attention back to incidents such as the Toronto 18 and the VIA Rail conspiracy in 2013, and I could point to a number of others, as well as many that most will never know about.
For that reason, and with the belief that security in Canada is the government's primary responsibility, we have, over the years, passed such legislation as the Combating Terrorism Act and the Strengthening Canadian Citizenship Act to better protect Canadians and secure our institutions. Last week, our government proposed amendments to the legislation under which the Canadian Security Intelligence Service operates.
As members know, in recent weeks, I have been saying that our laws and police powers need to be strengthened in the area of surveillance, detention, and arrest. They need to be much strengthened. I assure members that work, which is already under way, will be expedited.
In conclusion, we are all aware and deeply troubled that both of this week's terrorist attacks were carried out by Canadian citizens, by young men born and raised in this peaceful country.
I share this concern, and I have to ask myself what sort of feeble-mindedness could lead a person to reject a nationality that so many people in so many countries would do anything to earn for their children.
However, that is a question for another day.
For now, make no mistake: even as the brave men and women of our Armed Forces are taking this fight to the terrorists on their own territory, we are equally resolved to fight it here. We live in dangerous times, yes, but the mission of our country and the work of this Parliament goes on, and so does the work throughout this city.
Let me just say one final word in recognizing all the heroes of yesterday. First, I know so many. I could certainly speak personally of my staff at 24 Sussex: M. Roger Charbonneau and the chefs, Tim and Tina, who were up all night. However, I know people who were working day and night to make things as easy as possible for all of us across the country and here in Ottawa, officials who were busy at work trying to respond to the situation, first responders and citizens who put themselves in harm's way when this incident began to unfold. However, in conclusion, I acknowledge most particularly the men and women in our security services, the Royal Canadian Mounted Police, the Canadian Armed Forces, the City of Ottawa Police. Most particularly of course, I would be very remiss if I did not acknowledge specifically the work of the security forces here on Parliament Hill and the great work of our Sergeant-at-Arms.
Malala Yousafzai October 21st, 2014
Mr. Speaker, on a happy note, tomorrow we will welcome Malala Yousafzai to Canada.
As our government set out just over one year ago in the Speech from the Throne, we intend to bestow honorary citizenship on this remarkable young woman. Therefore, on behalf of all Canadians, I am proud to rise in the House today to seek consent to propose the following motion, which is jointly seconded by the leader of the official opposition of the New Democratic Party and by the leader of the third party, the Liberal Party.
That, whereas over 57 million children around the world are denied access to primary education;

Whereas girls are still disproportionately denied access to basic education around the world;

Whereas Canada supports global efforts to ensure that all girls and boys have access to basic education;

Whereas Malala Yousafzai fearlessly documented her challenges simply to attend school under the barbaric rule of the Taliban, a listed terrorist organisation under Canadian law;

Whereas she suffered a horrific attack perpetrated by the Taliban who, to this day, wish for her to be silenced;

Whereas Canadians and the civilised world were united in standing against this attack and are intent on honouring the bravery of Malala Yousafzai;

Whereas she has been recognised on numerous of occasions as a champion for fundamental human rights and access to education, including most recently being awarded the Nobel Peace Prize in recognition for her advocacy for universal education;

Whereas she continues to fight for the empowerment of girls and women;

Whereas she serves as a role model and an inspiration to all Canadians and the world in her fight for universal education,

Therefore ______________ the House of Commons resolve to bestow the title of "honourary Canadian citizen" on Malala Yousafzai; and

That a message be sent to the Senate requesting that House to unite with this House in the said resolution by filling in the blank with the words "the Senate and".
Health October 21st, 2014
Mr. Speaker, clearly, we always encourage Canadians to make donations to charities under any circumstances. However, it is important to reiterate that the Government of Canada is one of the world's biggest donors in the fight against the Ebola crisis. We will continue to live up to our responsibilities.
Health October 21st, 2014
Mr. Speaker, of course ministers have remained available throughout this particular international pandemic. They have been available not only to the House; they have been available constantly to Canadians. I am sure they will also be available on occasion at committee when required. I would encourage members of the Liberal Party to work with the government on a motion to which we could both agree, but I can certainly assure the House that the Minister of Health, the Minister of International Development, and others who are involved will continue to communicate actively with parliamentarians.