Stephen Harper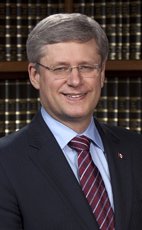 House of Commons photo
Track Stephen
Your Say
Elsewhere
Crucial Fact
His

favourite word

is ndp.
Conservative
MP for Calgary Southwest (Alberta)
Won his last election, in 2011, with 75.10% of the vote.
Statements in the House
Public Safety October 29th, 2014
Once again, Mr. Speaker, we have acted. The truth of the matter is that we have the Canadian Security Intelligence Agency, an organization that we believe works hard, that is dedicated to protecting Canadians.
Oversight of that body, effective oversight over a long period of time, has determined that this organization is not only effective at protecting Canadians but works within the scope of the law. We will continue to enforce that oversight and we thank those people for the hard work that they do on our behalf.
Public Safety October 29th, 2014
Mr. Speaker, I just answered that question.
I must say once again that while, obviously, we always recognize that certain risks exist, I do not think we should start from the assumption that everything our police and security agencies do are somehow a threat to the rights of Canadians.
On the contrary, more often than not, security and rights find themselves on the same side of the ledger and Canadians do not have effective rights unless we can ensure their security, and that is what we intend to do.
Public Safety October 29th, 2014
Mr. Speaker, in fact, under successive governments of different political stripes, the government has long had a system of effective oversight of CSIS and our security agencies. Those oversight bodies have long concluded that these organizations respect their mandates within the law and do a good job of protecting Canadians. It is a system that works and we will continue moving forward.
Public Safety October 29th, 2014
There is, of course, Mr. Speaker, no contradiction to individuals who may have a series of personal financial and mental difficulties and also be engaged in terrorist Jihadist activities as, indeed, the police have already said.
We do not think it helps Canadians to do anything but address these matters head on, face them for what they are, and this government will take its responsibilities seriously and bring forward measures to protect the country.
Public Safety October 29th, 2014
Mr. Speaker, the government always ensures that these agencies have the necessary resources to do their jobs.
Let me repeat my previous answer. Since we are talking about this in the shadow of two terrorist attacks last week, it is important to say that CSIS does important work to protect Canadians. Not only does it do important work, but repeatedly, over a long period of time, the agencies that are in place to provide oversight for that work have reported the agency's unfailing dedication to the law and to the respect and protection of Canadians. That is something, at this point in time, we should be recognizing.
Public Safety October 29th, 2014
Mr. Speaker, the government will fill those seats in the near future.
I must point out that CSIS has an excellent record on protecting rights and complying with the law. Those have been the findings of the oversight agencies for a long time now.
After the events of last week, it is time to recognize the important work that this organization does to protect Canadians.
Public Safety October 29th, 2014
Mr. Speaker, of course we are very interested in hearing the views of the various stakeholders on this matter.
On this side of the House, we do not presume that protecting people's rights and ensuring their safety are mutually exclusive. I think Canadians expect us to do both.
Public Safety October 29th, 2014
Mr. Speaker, as the Leader of the Opposition and the House as a whole will be aware, there are ongoing investigations into this matter. We know full well that the RCMP has been regularly updating Canadians on this. I have nothing to add to its public statements.
I will note that the Chief of the Defence Staff has taken some measures with regard to the security of armed forces personnel. That is within his purview and we respect his decisions in that matter.
I am also delighted to see, as I mentioned yesterday, that the honour guard has resumed its duties at the national war memorial.
Public Safety October 23rd, 2014
Mr. Speaker, to repeat my answer, I am not in a position to confirm all of the statements just made by the leader of the Liberal Party. I know the police will comment on those in the days to come, but the police have said, in the case of the first terrorist, that the individual was subject to an active investigation and that his passport had been seized, in fact revoked. The reality is that our police and national security agencies are aware of such individuals seeking to become foreign fighters. There are already such Canadians elsewhere in the country. These agencies are doing everything within the law to resist and to deal with that kind of threat. It is our judgement that they may need additional tools, and we are examining that matter.
Public Safety October 23rd, 2014
Mr. Speaker, to add another fact about the RCMP, the police have indicated that the first terrorist who struck in Quebec earlier this week was being actively investigated. The reality is that there are some Canadians who want to become foreign fighters. Some already are, and others are seeking to become foreign fighters. This is a major concern for our security agencies. These agencies and the police are working closely to deal with that threat.