Stephen Harper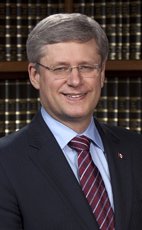 House of Commons photo
Track Stephen
Your Say
Elsewhere
Crucial Fact
His

favourite word

is ndp.
Conservative
MP for Calgary Southwest (Alberta)
Won his last election, in 2011, with 75.10% of the vote.
Statements in the House
Foreign Affairs January 28th, 2015
Mr. Speaker, I thank the hon. member for Etobicoke Centre for his question and for his ongoing interest in and commitment to this particular issue.
Today the government announced additional support to assist Ukraine as it works to rebuild itself into a prosperous country, free from Russian aggression.
This additional support will assist Ukraine's newly elected government to stabilize the economy and stimulate sustainable growth.
We will continue to condemn the ongoing military aggression by the Putin regime, which is solely responsible for the violence and disruption.
Veterans Affairs January 28th, 2015
Mr. Speaker, the leader of the Liberal Party knows full well that the government is not going to comment on matters before the court other than simply to observe that in this case, the government is defending a decision of the previous government, supported by all parties in the House of Commons.
Since coming to office, since the previous government imposed the new veterans charter, this government has enhanced veterans' services and programs to the tune of some $5 billion, opposed every step of the way by the Liberals and the NDP. We are proud of those actions and will obviously look at what more needs to be done as we continue to support our veterans.
Taxation January 28th, 2015
Mr. Speaker, ordinary, hard-working Canadians do not have personal trust funds. The reality is that Canadian families are well aware that all Canadian families will benefit and pay fewer taxes as a result of our measures.
The Liberal Party wants to do away with the universal child care benefit and income splitting for families and seniors. We are in favour of those measures, but the Liberal Party is against them. The Liberal Party's measures do not support Canadian families.
Taxation January 28th, 2015
Mr. Speaker, let us be clear. The vast majority of Canadian families cannot rely on a personal trust fund. The reality is that they rely on the creation of jobs, which this government has been supporting, and every single Canadian family that is benefiting from our tax reductions and benefits welcomes those changes. They understand that the Liberal Party would take those things away from them, and they will tell the Liberal Party it is on the wrong path.
Veterans Affairs January 28th, 2015
Mr. Speaker, obviously I do not know the facts of this particular case, but whenever we lose a serving military officer or a former military member, it is a terrible thing, and our condolences go out to that family.
That is why we are taking the steps that we are taking, why we have created eight operational stress injury clinics. I do not know why New Democrats voted against that support for our veterans. Why did they vote against the expansion of the road to mental readiness education campaign? Why did they oppose the expansion of the veterans independence program, or the Canada remembers program, or the community war memorial program, or the earnings loss supplement retirement program? We are standing by veterans.
National Defence January 28th, 2015
Mr. Speaker, as I have said repeatedly, this is a robust mission to assist and advise the Iraqi forces.
I know the NDP is against that. I know the opposition members think it is a terrible thing that we are actually standing up to jihadists. I know they think it is a terrible thing that some of these jihadists got killed when they fired on the Canadian military.
I do not know what other militaries are doing, but I know that ours is doing exactly what this Parliament asked it to do, and that Canadians are behind it.
National Defence January 28th, 2015
Mr. Speaker, that is not true.
The truth is that the NDP leader and the entire opposition are opposed to military missions to advise and assist Iraqi forces in fighting jihadist terrorists.
It is true that our troops killed jihadist terrorists who fired on them. That is their mission. We are proud of our troops and we are behind them 100%.
Employment January 28th, 2015
Mr. Speaker, they are human beings, and there are 1.2 million more of them working now than there were. There are nearly 4.5 million households. That is over eight million adults who will be benefiting from the tax cuts and benefits brought in by this government. Those millions of Canadians will fight tooth and nail against every attempt by the NDP to raise the deficit, to raise taxes, and to kill jobs.
Employment January 28th, 2015
Mr. Speaker, it is quite the opposite. Although Statistics Canada's methods and numbers change from time to time, the trend is clear.
The Canadian economy has created almost 1.2 million jobs since the depths of the recession. This is not the time to increase personal and corporate income taxes. This is not the time to run up large debts and deficits.
This is the time to lower taxes, as we are doing, and ensure that significant investments are made in the Canadian economy.
The Economy January 27th, 2015
Mr. Speaker, the government is continuing its long-term plan to balance the budget, lower taxes and create jobs. Our plan is working. We can see the results.
I understand very well that the Liberals and New Democrats prefer huge tax increases and deficits, but that is not our country's policy. That is why our economy continues to grow and why our policy is admired around the world.