Joy Smith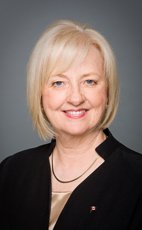 House of Commons photo
Track Joy
Your Say
Elsewhere
Crucial Fact
Conservative
MP for Kildonan—St. Paul (Manitoba)
Won her last election, in 2011, with 58.20% of the vote.
Statements in the House
Petitions May 21st, 2013
Mr. Speaker, the next two petitions are on the target the market model.
Petitioners are requesting that Parliament amend the Criminal Code to decriminalize the selling of sexual services and criminalize the purchasing of sexual services and provide support to those who desire to leave prostitution. This is a result of the Swedish and Nordic models to target the market. Those are the people who buy sex and victimize young victims.
Petitions May 21st, 2013
Mr. Speaker, I have three petitions to present.
The first one is from residents all across the country. The petitioners ask that the House condemn discrimination against females occurring through sex-selective pregnancy termination. They say that this is the worst form of discrimination against females and want Parliament to take action on it.
Aboriginal Affairs May 21st, 2013
Mr. Speaker, for more than a quarter century, aboriginal women living on reserve have been without access to the legal rights they deserve.
Could the Minister for Status of Women update the House on the actions this government has taken to address this inequality that has stood for far too long?
Criminal Code May 21st, 2013
Mr. Speaker, I thank the member for Langley for this very important bill. There are many victims in this country who have never felt as if they have been heard.
Our government has done much. It is a government for the victims. As the member has described the bill today, I would like to ask him this. It seems unconscionable that a family would have to close their blinds or run away from the perpetrator after it has been proven that he or she has committed a violent or sexual act against a minor. Could the member expand on what it is like for the constituents in his riding to have to endure this because often as parliamentarians we forget how difficult it is for victims?
Mental Health Week May 7th, 2013
Mr. Speaker, May 7 to 13 is CMA's national Mental Health Week. This week's theme, "mental health for all", reminds us that our mental health plays an important role in creating healthy and fulfilling lives for all Canadians.
Mental health is a priority for our government. The signing of the Declaration on Prevention and Health Promotion, which recognizes the benefits of good mental health, the provision of $245 million for mental health for first nations and Inuit communities across Canada and the support of the establishment of the Mental Health Commission of Canada, has demonstrated what our government has done on this issue.
Like the CMA, I want to congratulate other mental health champions, including Emily Doer, a constituent of mine who was working hard this week to raise awareness and reduce the stigma associated with mental illness. Individuals like Emily are inspiring others with mental illnesses to speak up.
Congratulations to our Minister of Health, the CMA and Emily Doer for leading the way.
Economic Action Plan 2013 Act, No. 1 May 7th, 2013
Mr. Speaker, this is passing strange to hear, when I just explained how well economically placed our country is and how associations across the country are praising the government for the strong, stable economic environment it has placed in our country.
The main thing is that we should work together as parliamentarians. The budget obviously speaks to families in our communities. It speaks to our aging demographic. It speaks to people who need jobs. As members of Parliament in the House, partisan remarks should be left by the wayside, and we should all be working very closely to ensure that our country remains economically stable for all Canadians.
Economic Action Plan 2013 Act, No. 1 May 7th, 2013
Mr. Speaker, we hear daily from members across the way that the budget is no good, that nothing good is happening here in Canada. In actual fact we have seen, over every community, so many jobs created. We have heard people, like the those in the Association of Manitoba Municipalities in my province, say it makes a big difference because then municipalities know for 10 years that the funding would be coming and it would allow them to do the proper planning for the huge capital projects.
I hear members opposite saying these are not good moves. Obviously we are one of the countries across the globe that other countries look up to, because we have a stable economy, Canadians are working and we have focused on one major thing. Well, we have focused on a lot of things, but the major thing is to keep our economy stable. The major thing is to keep people working and to promote economic growth. This country is in a really good position. Families are working and living well because of the economic expertise of our Prime Minister. I thank him for that.
Economic Action Plan 2013 Act, No. 1 May 7th, 2013
Mr. Speaker, in my time today I would like to spotlight the really positive measures in economic action plan 2013.
Today's bill would ensure that Canada keeps a strong position relative to so many other countries in the world and avoids the mistakes of so many others around the world as well. It would do that by promoting jobs and growth, and supporting families and communities across the country, all while respecting taxpayer dollars. There are literally so many great and positive measures in the bill that I want to quickly run down the list for Canadians at home.
To build a strong economy and promote job growth, here are just a few of the great things in the bill: We are extending tax relief for new investments in machinery and equipment by Canadian manufacturers. We are indexing gas tax fund payments to better support job-creating infrastructure in municipalities across Canada. We are extending for one year the mineral exploration tax credit.
Our government is providing $165 million in multi-year support for genomics research through Genome Canada. To help young entrepreneurs grow their firms, our Conservative government is providing $18 million to the Canadian Youth Business Foundation. This government is also providing $5 million to Indspire for post-secondary scholarships and bursaries for first nations and Inuit students.
And there is so much more good news in the budget for Canadians.
To support families and communities we are also doing so many great things, and I want to explain how that transpires. Our Conservative government is promoting adoption by enhancing the adoption expense tax credit to better recognize the costs of adopting a child. We are introducing a new first-time donor super credit for first-time claimants of the charitable donations tax credit to encourage all young Canadians to donate to charity. To better meet the health care needs of Canadians, our government is expanding tax relief for home care services.
We are removing tariffs on imports of baby clothing and certain sports equipment. This will help families all across the nation. Our government is providing $30 million in the 2013-14 budget to support the construction of new housing in Nunavut. We are investing $20 million in the Nature Conservancy of Canada to continue to conserve ecologically sensitive land. We are providing $3 million to the Pallium Foundation of Canada to support training and palliative care for front-line health care providers. As members know, we have an aging demographic in our country and this is extremely important.
Our government is committing $3 million to the Canadian National Institute for the Blind to expand library services for the blind and partially sighted. I just met with some members from that community and they are so grateful for this $3 million because it will enhance their quality of life. We are supporting veterans and their families by no longer deducting veterans' disability benefits when calculating other select benefits.
And we are doing so much more.
I honestly have to ask NDP and Liberal members opposite: how can they possibly vote against these great items? How can they possibly vote against all these positive measures for Canadians? How can they oppose helping the blind get library services? How can they oppose supporting palliative care? How can they oppose helping out our veterans? Along with their constituents at home, I am waiting for the answer.
Unlike the opposition, our government understands that Canadian businesses big and small are faced with new economic challenges originating beyond our borders. That is why Canada's economic action plan would lower taxes, slash unnecessary red tape and improve conditions for new and growing businesses. The economic action plan 2013 act proposes the next wave of initiatives to preserve these gains and create high paying, value-added jobs for Canadians.
On the advice of the Canadian manufacturing industry, we are providing $1.4 billion of tax relief to the manufacturing sector through a two-year extension of the temporary accelerated capital cost allowance for new investment in machinery and equipment. This tax relief would encourage manufacturers and processors to continue to invest in machinery and equipment, making their operations more productive and globally competitive.
While the NDP would have us give tax breaks to Chinese companies, extending the temporary capital cost allowance for machinery and equipment would help keep our jobs where they belong, right here in Canada. We know it works.
Listen to the Chemistry Industry Association of Canada, which told us:
Measures like the ACCA for new manufacturing machinery and equipment can make the difference between a company investing in Canada, or taking its business--and the stable, high-paying jobs that go along with it--elsewhere.
While manufacturing and exporting are at the heart of our economic action plan, improving our infrastructure is also crucial to delivering Canadian goods and services to markets as efficiently and cost-effectively as possible. Bill C-60 also proposes to index gas tax fund payments to better support job-creating infrastructure in municipalities across Canada. This is a very important component of our new 10-year building Canada plan, unveiled in budget 2013, which would fund infrastructure like roads and bridges from coast to coast to coast.
The feedback from our municipal partners has been overwhelmingly positive. Just listen to the words of the Association of Municipalities of Ontario, which told us that indexing the gas tax fund payments:
...recognizes that all types of municipal infrastructure can contribute to public safety, better quality of life and economic growth.

...An indexed Fund is essential so that infrastructure funding grows over time to meet inflation and the rising costs of construction.
Bill C-60 also proposes to reform the temporary foreign worker program to ensure that the cost of the labour market opinion process would no longer be absorbed by taxpayers, and to better ensure that Canadians would be given the first chance at available jobs. We plan to support job creators, such as junior mineral exploration companies, by extending for one year the 15% mineral exploration tax credit for flow-through share investors. We would also clarify the rules for how we would treat proposed investments in Canada by foreign state-owned enterprises and would allow for the extension of timelines for national security reviews by modernizing the Investment Canada Act.
While we remain squarely focused on jobs and growth, our government recognizes that Canadians are our country's greatest resource. As outlined earlier, we would be doing some very positive things for Canadian families in today's legislation. To help Canadians selflessly welcoming a child into their family, as I said earlier, we would adopt the adoption expense tax credit. To better help the health care needs of Canadians, we would expand tax relief for home care services. The Canadian Home Care Association said that this is:
...an important step in supporting the needs of our aging population and enabling individuals to live independently in their homes.
Through our new measures, designed to ensure everyone pays their fair share, Bill C-60 would help to keep taxes low for everyone, providing Canadian families with greater opportunities than ever before. Not only is our plan prudent; it is an effective response to global economic changes, which still persist. By staying the course, our Conservative government will continue to promote economic growth, job creation and long-term prosperity for all Canadians.
I urge all my colleagues on all sides of the House to vote in favour of Bill C-60. I outlined today all the wonderful things that are in the budget and that hit home very closely to Canadian families, to the aging population and to the municipalities, who so welcome the indexing of the gas tax. It is so important, so we can build the infrastructure within our country.
Today, I met with the electrical workers, and they are praising what we are doing in terms of the foreign workers, saying that jobs belong in Canada, and Canadians need those jobs.
Vision Health Month May 2nd, 2013
Mr. Speaker, May is Vision Health Month. The CNIB is launching a month-long campaign to educate Canadians about vision health and the importance of caring for our eyes.
As demographics change in Canada, the cost of vision loss is going to rise, taking a toll on Canadians. These costs are not limited to vision health care. Canadians who are living with vision loss are twice as likely to suffer from falls and three times as likely to suffer from depression.
Age-related macular degeneration is the leading cause of vision loss, with over one million Canadians having some form of AMD, including individuals within my riding of Kildonan—St. Paul. The number of Canadians who experience vision loss is forecasted to double over the next 20 years.
Congratulations to the CNIB and members who are on Parliament Hill today for making vision health awareness a priority for all Canadians.
Our government supports the CNIB Library, Canada's largest producer of alternative format material.
I encourage all parliamentarians to advocate for this important health issue.
Committees of the House April 22nd, 2013
Mr. Speaker, I have the honour to present, in both official languages, the 13th report of the Standing Committee on Health on Main Estimates 2013-14, Votes 1, 5, 10, 15, 20, 35, 40, 45, 50, and 55 under Health.