Joy Smith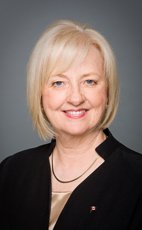 House of Commons photo
Track Joy
Your Say
Elsewhere
Crucial Fact
Her

favourite word

is trafficking.
Conservative
MP for Kildonan—St. Paul (Manitoba)
Won her last election, in 2011, with 58.20% of the vote.
Statements in the House
Respect for Communities Act February 26th, 2015
Mr. Speaker, I want to thank the minister for her very insightful comments on these questions. I wish all parliamentarians would listen very carefully to what she says, because it is very relevant.
I would like the minister to expand on the response we need to have when we have collaboration across the country and when the Supreme Court and Canadians are saying that there is a certain thing they want, which is a voice. Could the minister address that a little bit more fully?
Business of Supply February 24th, 2015
Mr. Speaker, I have a deep respect for the Hon. Preston Manning. His ideas are extremely good. However, what is salient in terms of what the member opposite has mentioned is that we basically have to talk to people and find out where they are coming from. It can be legislators and academics, but that is not everybody. In fact, that is a very small part of the population.
In answer to the member's concern about 12 months, which is extremely important, it would behoove us to appeal to the Supreme Court of Canada for an extension so we can do it right. This is not something that should be rushed like was done in the Netherlands when one of the lead professors, who agreed with euthanasia, stood up in 2004 and said not to do that. That is not something we want to say in Canada. We want to get it right.
Business of Supply February 24th, 2015
Mr. Speaker, as we know, palliative care, for the most part, is provincial jurisdiction. We also know that from a federal point of view, we are looking now at the euthanasia issue and palliative care to open this dialogue all across the country. How we get to the bottom of all this? I think we would all agree that there should be collaboration, getting as many Canadians as we can to give us feedback about where they are coming from and what they believe, before we go to a committee. I know that will eventually happen; we have to do that. We need to search far and wide because this is a very important issue.
As parliamentarians, we all need to do our part in reaching out, in a non-partisan way. This is a very personal, very important issue in our country today.
I dearly care for the member for Charleswood—St. James—Assiniboia and appreciate his points of view in many ways. Far and wide collaboration, reaching out to every Canadian, and doing it in a very meaningful way by using the Internet and eventually a committee to really do a good job is of paramount importance to the well-being of those who are reaching their end of life right now.
Business of Supply February 24th, 2015
Mr. Speaker, it is my pleasure to speak to such an important issue. I will be splitting my time with the member for Charleswood—St. James—Assiniboia.
As members know, I have been long-time friends with the member for Charleswood—St. James—Assiniboia. I am so glad he is here in Parliament today, because he is one of the smartest people I have ever worked with, and it is just a pleasure to speak to this.
When we speak about this very important issue, I am certain there is not one of us here in the chamber or listening to any speeches today who is untouched by concern about family or friends facing serious health issues, now and in the past. We are concerned about their quality of life and their happiness, and also about their ability to have timely access to the high quality care they may need, especially in the last days, weeks or months of life.
Compassionate end-of-life care affects every citizen in the nation, yet we do not know about the options that are there for them and, eventually, for ourselves. My hat goes off to all palliative caregivers and people who directly work with those who are at the end of their lives. It is a very important time.
When we think of palliative care, we often think of it only as a type of medical care focused on managing pain and symptoms, but it is much more than that. Another way to think about it is that palliative care helps patients to achieve the best quality of life right up to the end. It focuses not only on the concerns of the patients, but on their families, often using a team approach. It has issues with paying close attention to managing pain, depression or confusion, and it is very mindful of patient dignity. After someone has passed on, family members may need support as they grieve the loss of the loved one.
This is a very important issue. We all have expiry dates and all of us will one day face this issue, yet numerous barriers remain. As far as we have come collectively, we still live with the stigma associated with the end of life. A recent poll conducted by the Canadian Hospice Palliative Care Association said that 45% of respondents had great fear of death. Society is now starting to acknowledge the end of life as a natural part of life, but it will still take some time before the majority comes around to this kind of thinking. Work has to be done there.
This morning, as I listened to the member for Mississauga—Erindale, I thought his speech was one of the most thoughtful speeches, well thought out because he touched on this. He also touched very personally upon what happened in his personal life. Society and all of us as parliamentarians have started to acknowledge end of life as natural part of life, but it will still take some time to understand all of the ramifications about it.
There is also the issue that is fundamental to public awareness, which is that palliative care is strongly associated with the end of life, but it is not uncommon for the term "palliative care" to be stigmatized.
At the end of her life, my youngest sister had heart problems. She had wonderful palliative care toward the end. It was very sensitive to us. She passed on at a young age, and this palliative care was a critical in helping her pass on without a lot of pain but with a lot of support around her.
Palliative care units are often perceived as places as death, but in our case when my younger sister passed on, it was also a place of supreme caring, love and compassion. We were very supported, and I know a lot of people have been, but there are real issues when people are seriously ill. There are real fears. Sometimes people resist a referral to palliative care services, and then afterward ask why they did not do it sooner.
However, if people do not know about palliative care and other end-of-life care options, there is a fundamental obstacle to requesting it and accessing it. It is something that has to be discussed with a doctor. People might think that palliative and end-of-life care can be provided in a limited number of settings like hospitals and nursing homes, but that is not the case. Palliative care can be provided anywhere, at home, in a hospice, in a hospital, in a nursing home. The best place for palliative care is the place that best matches the patient's needs. Many health care providers continue to build palliative care teams.
In the case of this issue, when we just have 12 months to come up with a possible solution, we have the Internet, as the member for Mississauga—Erindale said this morning. We have many ways of communicating. This is a very important issue, an issue in my view that does not rest on one specialized committee. It rests on Canadians to give their feedback to Parliament. It rests on Canadians to have this open discussion. It rests on Canadians to learn more about it.
Interestingly, in the Netherlands for instance, Professor Theo Boer, was on a regional team that looked at euthanasia. He was very much in favour of euthanasia in 2007. He said:
I wrote that 'there doesn't need to be a slippery slope when it comes to euthanasia...But we were wrong--terribly wrong, in fact. In hindsight, the stabilization in the numbers was just a temporary pause.
He said that before the House of Lords. Then again later on, he said, "I used to be a supporter of" the Dutch law on euthanasia "But now, with 12 years of experience, I take a different view." In April 2001, it became law in the Netherlands.
However, in 2014 Professor Boer said, "don't go there. Once the genie is out of the bottle, it is not likely to ever go back in again."
My question would, did they it too quickly? Did they not have extensive collaboration all across the country? I do not know, but in Canada we are a leader on many fronts and I know parliamentarians on all sides of the House are very concerned about this. As was said earlier in the House, we need to work together in a collaborative manner and not make demands that a special committee be compiled, and there we go. It is more than a special committee. It touches the lives of every man, woman and child in our country. It is deeply emotional. It is something that is deeply personal.
Professor Boer was totally in favour of it and examined it. When the law was put through in the Netherlands, all of a sudden he said that it should stop, that it should not do that. He said:
You must realize that a growing number of the Dutch are saying: for me going to a care institution would equate with unbearable suffering. I'm worried about that. Care facilities are not getting any better.
Have we examined all the care facilities? Have we examined everything that needs to be done to ease the end-of-life issues for anyone, young and old? No, we have not. This discussion has not been opened to the degree that it should. People might say that if a care facility is the reason for people to get euthanasia, then we should do something about care facilities.
Professor Boer went on to say:
If we don't have the means to do that, then I'm afraid that in 2030 a large number of euthanasias will be performed because people are in deadly fear of the care facility
Toward the end of life, an awful lot of people have issues with fear. If they do not have family around, then they get very depressed. All of these things were mentioned this morning, and I will not repeat them because the member for Mississauga—Erindale has done that.
I encourage all members of Parliament to take their time and not rush this. It is a very important issue.
International Development February 24th, 2015
Mr. Speaker, constituents in my riding are concerned with the living conditions of mothers, newborns, and children in the developing world. Our Conservative government has shown global leadership on this file, and the figures are staggering. Globally, between 2010 and 2013, an estimated two million child deaths from disease have been prevented. Two million children have been saved.
Could the minister please update Canadians on our action?
Justice February 3rd, 2015
Mr. Speaker, the activities around prostitution are illegal because they are harmful to vulnerable individuals and all of society.
On December 6, our government's response to the Bedford decision, the Protection of Communities and Exploited Persons Act, came into force. Could the Minister of Justice update the House on the impact it is having on prostitution in Canada?
David Wynn January 26th, 2015
Mr. Speaker, I want to express my sincere condolences to the family of Constable David Wynn, who will be laid to rest in St. Albert, Alberta, today.
Today, I stand with all of the families that have lost loved ones in the line of duty. What a tragedy that four RCMP officers were killed in the line of duty this past year.
With my own son being an RCMP officer who was on the ground following the Moncton shooting, I know the sacrifice and dedication it takes to be in the force, but none know that sacrifice more personally, more profoundly or more painfully than the families and colleagues of a fallen officer.
I would like to thank all police officers from all across our great nation for continuing to ensure that our communities and our families are safe. Truly, they serve and protect.
Economic Action Plan 2014 Act, No. 2 December 9th, 2014
Mr. Speaker, 40 studies have been done on the murdered and missing women issue. Is it not time to take action instead of having another inquiry?
Economic Action Plan 2014 Act, No. 2 December 9th, 2014
Mr. Speaker, every day we hear the member for Winnipeg North, because he is constantly on his feet in the House on every topic, which is good. However, after listening to him today, I cannot help but comment.
The member for North Vancouver talked about the budget implementation bill and the DNA missing persons index for murdered and missing women. This DNA missing persons index is very important to our country and the many victims who have gone missing. Identifying missing persons brings resolution to many families after someone has gone missing.
Having said that, an inquiry is something that has been done over and over again. I would ask the member if he does not believe it is time to take action and solve the missing and murdered women issue in a concrete way, such as having round tables, but also to actually get the job done, instead of talking about it.
Prostitution December 8th, 2014
Mr. Speaker, prostitution hurts Canadian communities and the most vulnerable Canadians. Activities around prostitution are illegal because they are harmful for women and for society. They are not harmful because they are illegal; they are illegal because they are harmful.
With this in mind, and in order to meet the Supreme Court's deadline, our government moved expeditiously in passing the protection of communities and exploitation of persons act. Following its introduction and study, law enforcement agencies, communities, and women's groups have welcomed our approach. With new funding, we are also offering those who find themselves in this inherently dangerous activity an exit strategy and hope for a new life.
We will continue to criminalize the activities of pimps and johns. The legalization of their activities is unacceptable to Canadians and unacceptable to our government. For that reason, it is deeply disappointing that Kathleen Wynn and the leader of the Liberal Party appear to disagree with Canadians and support the legalization of prostitution.