Joy Smith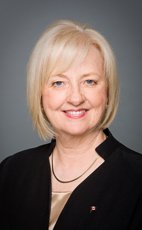 House of Commons photo
Track Joy
Your Say
Elsewhere
Crucial Fact
Her

favourite word

is trafficking.
Conservative
MP for Kildonan—St. Paul (Manitoba)
Won her last election, in 2011, with 58.20% of the vote.
Statements in the House
Economic Action Plan 2014 Act, No. 2 October 29th, 2014
Mr. Speaker, as the member knows, the bill does go through committee. It is at committee where those suggestions are made and brought back.
Having said that, the whole bill is about creating jobs. The whole bill is about building business. The whole bill is about making the lives of families and business people better in this country.
I have to say that I look forward to the member for Winnipeg North sitting on committee and bringing those suggestions forward for a fulsome conversation.
Economic Action Plan 2014 Act, No. 2 October 29th, 2014
Mr. Speaker, first of all, this particular bill is not unusual. I keep hearing that it is an omnibus bill, a great big bill with a lot of pages. Having said that, it is not unusual when we compare it to other budget implementation bills that have come forward over the years.
Also, we have had this bill for over eight months. I think it has been eight months and twelve days, actually, so there has been a lot of time to go through it. It does not take that long.
When we talk about temporary foreign workers, provinces all across this country have had challenges where the temporary foreign worker issue has been abused. Jobs for Canadians come first. Having had that collaboration across the country, we have had to look at putting Canadians first, jobs first for Canadians, and at the checks and balances that are long overdue in the temporary foreign worker program.
Economic Action Plan 2014 Act, No. 2 October 29th, 2014
Mr. Speaker, I am sharing my time with the member for Vancouver South.
I listened this afternoon to all the speeches. The job of members opposite is to be the opposition. I listened to some of the speeches from the NDP side and I know it has never been in government, so it can pretty well say anything. As far as the Liberal side is concerned, it too is in the same position.
When in government we have to make sure everything is in balance. We expect criticism, which is fine. However, let us look at the global picture. Nearly 1.2 million net new jobs have been created in Canada. That is over 82% full-time jobs and 80% in the private sector since the end of the recession in July 2009.
When we look at our country, Canada is the envy of the world because Canadians as a whole live well, and as a whole we are safe. It is the best country in the world in which to live.
As parliamentarians and members on this side of the House know, as we went into the recession, the most important thing was to ensure that our country's economy was balanced so that there were jobs, so that people could live in their homes and buy their food. In any country, nothing is perfect. There are housing problems and other issues in all countries. However, in Canada, we have a lot to be proud of. Canada has one of the strongest job growth performances in the entire G7. That is quite incredible looking at the global economic problems that the world has faced. Canadians have also enjoyed one of the strongest income growth performances in the G7 and Canada's business investment performance has been the strongest in the G7 over the recovery. This is very important. Why? It is because this gives a sense of security to Canadians.
Since 2004 Canadians have put our government into power because they had the confidence that the economic part of their lives would be secure. That does not mean to say every single Canadian is secure. It means that we are the best country compared to others. Canada has a AAA rating in this economic environment worldwide. We also know that the middle class in Canada lives better than in the U.S. and many other countries. Also, we now have 180,000 children who are now out of poverty.
There is a lot to be proud of. For the sixth straight year the World Economic Forum has ranked Canada's banking system the soundest in the world. This means something. With all due respect, even though there are always things to improve and do better, this is indicative of Canada's standing on the world stage and indicative of its very sound economic planning and practices. Does that mean everyone is going to get everything they want, daily? No, that does not mean that. It means that the economy within the country is sound, jobs are growing, people can go to work, children can go to school, and our country is the best country in the world in which to live.
I listen to all these criticisms and all the hyperbole. In Parliament, hyperbole is something that we hear every single day on probably every single topic.
When Canada is leading the global economic recovery, that is something to be proud of. There needs to be a recognition that Canada and this government are doing something right. When we listen to members opposite, we hear all the talk of gloom and doom. They think they can do things better. The fact of the matter is that this is not what the Canadian public thought, because those members are not sitting on this side of the House.
Canada has the lowest overall tax rate in the G7 on new business investment. That is a red flag right there. It shows that this government is creating new business.
Canada is one of only two G7 countries to have a rock solid AAA rating, with a stable outlook, from all the major credit rating agencies, such as Moody's, Fitch, and Standard & Poor's. That is important. A lot of countries cannot claim that, because they have no plan in place. War-torn countries have not had the opportunity to put a plan in place. It is impossible for them to do that. This government has been able to meet that high standard.
There is a reason our government's top priorities are job creation, economic growth, and long-term prosperity. It is so people can have families, work, prosper, and have a future.
Our government has become aware of many issues that have presented themselves through businesses. For instance, small business is the engine of this country. It pushes out so much of the economy. Women are some of the top small-business owners, and that is a real change from 20 years ago.
More small business opportunities have been created through the small business job credit, and that has been a real asset to those women who want to start businesses. That is not often spoken about in the House. Some of these businesses are run out of the home. Some are run out of small offices. These businesses are providing income for families.
The budget implementation bill will make life more affordable for Canadian families. What is important to a family? A lot of children participate in sports. It was presented to our government that a lot of families could not afford to pay the registration fees for sports, such as soccer and other kinds of sports, so in this particular budget, our government has doubled the children's fitness tax credit to $1,000 and has made it refundable.
Paying attention to individual families has made a huge difference in balancing Canada's economy. We have heard today many instances of how families have been impacted. Unfortunately, because I only have 10 minutes to speak, I cannot list them, but they were listed earlier.
We should work collaboratively to give suggestions. When the bill goes to committee, amendments can be made, if need be. We should look at how we can build together and recognize the fact that this government has put in a strong economic plan.
National Health and Fitness Day Act October 21st, 2014
Mr. Speaker, it is my great pleasure tonight to speak to the bill. I think it is one of the most important bills we have had in this Parliament because it affects all of us in a major way.
I have to compliment the member for West Vancouver—Sunshine Coast—Sea to Sky Country. He has taken a dynamic leadership role in, first of all, making MPs aware of healthy eating and healthy living styles. Parliament Hill is a place where we eat on the run. We eat unhealthy foods because we are so busy. We are on airplanes all the time, and need I say more about airplane food and the inactivity of sitting on an airplane? We have chronic issues there.
Having said that, when I was first introduced to the member for West Vancouver—Sunshine Coast—Sea to Sky Country, he was starting all these fitness programs around this place. I am possibly the least sports- or fitness-minded person. As a mother, I took my kids to every sport known to man, from hockey to soccer. I was the hockey mum and the soccer mum and did all those kinds of things. My husband is a wonderful athlete and does everything from martial arts to hockey to whatever. That certainly helped him when he got chronic cancer, because today he is in remission, and I credit that to, number one, prayer, and second, his fitness level was fantastic.
When I look at what the member for West Vancouver—Sunshine Coast—Sea to Sky Country has done, it has began to turn or reset the channel of even Parliament Hill, the seat of Parliament where we are supposed to be producing laws for all Canadians and being examples for all Canadians.
I had a big challenge personally, because at a very young age my brother drowned and it hit our family very hard, particularly my mum. I was a baby at the time, so I do not remember my older brother, but I remember my mum sitting in a rocking chair and every once in a while she would start to cry. Even when I was a teenager, my dad would say, "Leave mum alone for a while. She just needs this time". She was remembering the tragic loss of her son and our brother. I have to say it sort of seeded a fear of water in me. I love to look at the water. I love to put my toe in the water. When I was very bold, I would walk into water up to my neck and hope I could still reach the bottom, because I liked the water in way, but I feared it dreadfully.
One day the member for West Vancouver—Sunshine Coast—Sea to Sky Country said, "Why do you not come and learn how to swim?" I kept telling him I did not have time, and I really did not have time. I was very busy. However, it was a very healthy thing to do and he is very persistent and very persuasive. I could not believe it. I bought a bathing suit, goggles, and a cap. I looked like something from outer space, and I do not have the greatest figure in the world, so getting me out there just on that basis was a challenge.
Having said that, I started going into the water, and today I am not a bad swimmer. I know how to swim and I have learned how to go under water. The most exciting thing is having my goggles on going under water and seeing all the things that are happening there. I got over my fear of water, but it also got me into physical activity.
The other thing I do on a regular basis is biking. We could be walking down Wellington or O'Connor and there we would see the member for West Vancouver—Sunshine Coast—Sea to Sky Country early in the morning on his bike. It never ceases to amaze me how he can bike in extremely cold, windy weather.
I am not that dedicated, but I am dedicated to a charity I started, and I biked for victims of human trafficking. I have done that kind of thing, which motivated me as well.
The member for West Vancouver—Sunshine Coast—Sea to Sky Country has changed the environment around this place through his leadership, and it is an environment of activity that involves people from all parties. It is just amazing. We can get together, no matter what party we belong to, and we can run, bike, or swim, and it is pleasant. It became a three times a week event for me over the summer. I am now down to two times a week, but I do other things.
One of the members said earlier that taking care of our bodies is like taking care of a 1950s car. I wish I were a 1950s car. My car would be a little older than that. Having said that, we have to take care of our bodies and repair them so we will end up living longer.
This awareness that the member for West Vancouver—Sunshine Coast—Sea to Sky Country has brought forward is of paramount importance in my own riding. I love the idea of the first Saturday of June being a national day to promote health and fitness for all Canadians. I love that idea because it would make us all aware. A school will not change our mindset. Parliament will not change our mindset. I have always said that education is our greatest weapon. The more we know about the problems we have, the better off we are. It takes a tremendous toll on our families if we are sedentary and do not take care of our bodies. Not only does it take a tremendous toll on our families, but it also takes a tremendous toll on our lifestyle and our quality of life.
We have heard members talk about the different aspects of the health care system. One-quarter of colon and breast cancers are attributable to Canadians' sedentary lifestyle. Twenty-seven per cent of diabetes in Canada and 30% of chronic heart disease is attributed to inactivity.
It is telling when one in three Canadian children are overweight or obese. It is telling when health care costs due to overweight individuals and inactivity amount to $7 billion a year. We can do something about that. Under the leadership of the member for West Vancouver—Sunshine Coast—Sea to Sky Country, we have been caught up in the awareness of physical activity.
I have talked to many municipal leaders in my riding about doing something special on that day. There could be free entry into the pool or maybe a special thing for seniors to get them out, like a bike-a-thon. We could do anything on that national health day. Each municipality has the ability to do that.
It says a lot when only 13% of Canadians participate in sports. It says a lot about our need to become aware of the health benefits from activity. It says a lot as well when only 6% of Canadians choose to spend their leisure time in sports.
That would have been me before, but not anymore. When I have some leisure time, I either go for a swim or a bike ride. I take part in some activity. Through this process I not only managed to overcome a fear of the water, which was tremendous, but I now enjoy the lifestyle and the physical activity. Exercise of some sort clears our minds in such a way that we feel better mentally and physically.
I congratulate once again the member for West Vancouver—Sunshine Coast—Sea to Sky Country for his tremendous leadership on this issue. I urge members to look for him on the Hill. He will be recognized because he always has a bicycle pin attached to his lapel. I think it is marvellous. He gave me one of those little bicycles and I wear it quite frequently now. I am proud to say that I am a bit of a sports jock now. I could not have said that before.
Petitions October 9th, 2014
Mr. Speaker, I have another petition calling on Parliament to pass a resolution to establish measures to stop the Chinese Communist regime's crime of systematically murdering Falun Gong practitioners for their organs and to amend Canadian legislation to combat forced organ harvesting.
Petitions October 9th, 2014
Mr. Speaker, I have close to 2,000 signatures that continue to come in to ask Parliament to decriminalize the selling of sexual services and criminalize the purchasing of sexual services. This is from all provinces across Canada.
Operation Northern Spotlight October 8th, 2014
Mr. Speaker, in March, I raised the impact of Operation Northern Spotlight, a national anti-trafficking initiative carried out by police services across Canada to identify and rescue victims of sex trafficking from prostitution.
Today I am pleased to give the House an update that phase two of Operation Northern Spotlight was carried out last week. Members of 26 police services, including my hometown Winnipeg police force, met with individuals in prostitution. As a result of the coordinated investigations, nine people were charged with 33 offences, including child pornography, assault, human trafficking and living off the avails. Police were also able to ensure the safety of 18 people who had been working in the sex trade as a minor or against their will.
Today, I would like to thank the 167 officers and support staff involved in last week's operation, and the local NGOs which partnered with the police. They worked relentlessly to bring freedom to those trapped in prostitution and sex trafficking.
Protection of Communities and Exploited Persons Act October 3rd, 2014
Mr. Speaker, today we heard many things about the bill not being constitutionally sound.
I would ask the parliamentary secretary to go over the reasons why we believe very strongly that the bill will survive any court challenges that happen.
Protection of Communities and Exploited Persons Act October 3rd, 2014
Mr. Speaker, the member skated around the issue four times from Sunday. Two weeks ago, the leader of the Liberal Party tweeted, "The days when old men get to decide what a woman does with her body are long gone. Times have changed for the better. #LPC defends rights".
The Liberal Party is not supporting Bill C-36. We heard the member speak over and over again about human trafficking in Winnipeg North. Will that member toe the party line or will he vote "yes" to Bill C-36?
Protection of Communities and Exploited Persons Act October 3rd, 2014
Mr. Speaker, I am thankful to my colleague who has been supportive of this issue. Parliamentarians must take leadership in making this socially unacceptable. I will help any member on any side of the House who has it in their heart to support Bill C-36 for the good of Canada and the good of our children.
We have to stop being partisan. There are good people on all sides of this House. This bill is very important. We cannot mess around with it. I am paying attention and will move forward if I see other things happening. I know the victims. I know the police officers who work with them. I know the families who have to endure the aftermath of human trafficking. Parliamentarians on all sides of this House can rise up, in a non-partisan manner, to stop this terrible crime.