Joy Smith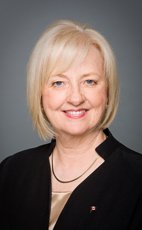 House of Commons photo
Track Joy
Your Say
Elsewhere
Crucial Fact
Conservative
MP for Kildonan—St. Paul (Manitoba)
Won her last election, in 2011, with 58.20% of the vote.
Statements in the House
Business of Supply April 1st, 2014
Mr. Speaker, I would like to compliment my colleague on his very insightful speech today. I would like the member to please go over, with all parties in the House, particularly opposition, how important it is for the Prime Minister to have that opportunity to invite people on the jet in terms of the business of Canada. Could he expand on that?
Human Trafficking March 27th, 2014
Mr. Speaker, March 25 was the anniversary of the adoption of "An Act for the Abolition..." in England over 200 years ago, which led to the end of the Atlantic slave trade. However, as we are reminded all too often today, slavery thrives not only throughout the globe, but also right here in Canada through sex trafficking and forced labour. I want to take this opportunity to recognize the survivors, peace officers, victim support agencies, and countless volunteers all across our nation for providing support, raising awareness in their communities, and ultimately bringing freedom to trafficked individuals.
Many of these unsung heroes dedicate their personal time and finances well beyond their professional roles. Particularly, I would like to thank all those involved in Operation Northern Spotlight, an anti-trafficking initiative involving more than 30 police services and 180 officers and support personnel across the country. We thank the police officers, NGOs, and the survivors for working relentlessly to abolish modern-day slavery in our nation.
Prostitution March 5th, 2014
Mr. Speaker, March 8 is International Women's Day, an opportunity to celebrate the progress that has been made toward equality for women worldwide.
Sadly, many women and girls in Canada continue to face injustice and inequality through prostitution. Our nation is now at a tipping point. We must ensure that we do not legalize an industry that promotes and normalizes the exploitation of women at the hands of pimps and johns, nor should we continue to treat prostitution as a nuisance.
Canada must take an approach that recognizes the inherent harm of prostitution to our most vulnerable citizens. We must adopt a made-in-Canada approach that severely punishes pimps and johns without criminalizing the victims, that provides robust programs to help women exit prostitution,and that fully reflects the equality of women as human beings, not objects to be bought and sold.
Today, as we are reminded of the progress of women's equality, let us be resolved to stand ever stronger against sex slavery and gender violence. We can do better.
Justice February 27th, 2014
Mr. Speaker, my constituents are increasingly concerned that while the overall crime rate is in decline, instances of sexual violations against children appear to be on the rise. These are some of the most horrific crimes that can be committed. The fact is, one victim is one too many.
Could the Minister of Justice please inform the House about the government's latest efforts to combat the sexual exploitation of children?
Ukraine February 26th, 2014
Mr. Chair, I thank my colleague from Edmonton—Strathcona for bringing up that topic. In years past, I did quite a bit of work in Ukraine on this issue with Abina Dann, the former Canadian ambassador to Ukraine.
In terms of the financial aspect of it, that always comes into play in situations like this. As I have said, as the days unfold, Ukraine will give us better direction on how it wants other countries to support it and infuse whatever is needed to help it come to a democracy where people can be free, where they can build their businesses, and where they can grow.
In terms of the actual dollars and things like that, we will soon know what we are able to do and what Ukraine wants us to do as the days and months unfold.
Ukraine February 26th, 2014
Mr. Chair, I have always known the member from Winnipeg North to be a very caring person and very in tune with nations that are having these kinds of problems, especially the Ukraine because, as the member said, in Winnipeg we have a great deal of Ukrainian Canadians who have settled in Winnipeg and made it their home.
I think, as was said earlier by one of the colleagues on this side of the House, we first of all need to take our direction from Ukraine. We will be the support. We will be the help.
In the past, Canada has had a tradition of going to monitor elections. We have had a tradition in this country of helping out when help was needed, whether it was monetary help, help during elections, or support systems and advice when support systems and advice were needed.
As the days unfold in the very near future, what we need to do for the country of Ukraine will become apparent. Right now, we have a delegation on its way over to that country. I think we will always continue to be there for Ukraine.
Ukraine February 26th, 2014
Mr. Chair, I was going to say it is my pleasure to stand to talk about this, but in light of everything, it would be an inappropriate comment. Tonight, as I was listening to all the speeches, I was thinking about the Orange Revolution. I was in Ukraine during the Orange Revolution with my colleague. I was thinking back to walking down the streets of Kiev and seeing all the orange tents. There was orange all over the place. There were very patriotic Ukrainians who wanted a democratic country, the right to vote the way they wanted to vote, all the things we enjoy in our great nation of Canada. I remembered sitting in one of the tents with six young people talking to me about their dreams for Ukraine.
It was with great sadness that I learned of the problems under the rule of Yanukovych, of having democracy in Ukraine being turned all around. I give my very sincere condolences for those who have lost their lives in Ukraine and to the families who have had to deal with great violence in the face of their own patriotism for their country.
When I was in the countryside of Ukraine, I saw beautiful farm families. They made the best borscht in the world, I have to say. It was great. Along with that was the people's very warm and open hearts about their country.
Before I go any further, I should inform you that I will be sharing my time with the member for Mississauga—Erindale.
We can share our time and express our hopes and dreams for Ukraine. We have 1.3 million Ukrainian Canadians in our country, whose hearts are in our country as well as in Ukraine, and whose hearts are breaking. In my own family, my brother-in-law is Ukrainian. There are many memories for Ukrainian Canadians of what it was like in Ukraine and coming to Canada. We are sister countries in many respects. The Ukrainian people who immigrated to Canada have helped build our great nation and contributed greatly. Yet, today, in my riding of Kildonan—St. Paul, I see Ukrainian Canadians flocking to their churches and community centres to raise money to help their sisters and brothers, cousins, aunt and uncles, in Ukraine, to ensure they have some resources to get through this very troublesome time.
As usual, Canada always rises to the top, in aid and caring about what happens in Ukraine and to the citizens of Ukraine. In Canada, we have not had the experience of having to fight for democracy on our streets. This is a very privileged country. We have democracy. We have the right to walk where we want to walk, to vote the way we want to vote, to speak of what we want to speak.
I visited Ukraine during the Orange Revolution, and I have visited since then, and it is a very different kind of feeling on the streets. Freedom is not only within the rules, regulations, and law of the country, it is also within the heart of the country and its citizens. Tonight, all of us on all sides of the House are thinking about what we, as Canadians, not only Ukrainian Canadians but others, can do to help our sister country get through this troubled time.
I have a lot of confidence in the people of Ukraine. I know they know the solutions that they will need in their country and I know that they will carry them through. They have demonstrated it with their blood and with their voices in the streets of Ukraine.
The Budget February 26th, 2014
Mr. Speaker, I would be glad to give those kinds of examples.
Before the members on this side of the House and our government got into office, the gas tax transfers were shaky. They are now permanent and indexed so that municipalities across this great country can benefit. Why? It is because they are predictable. Large amounts go not only to the larger communities but to the smaller communities as well. In Manitoba, and in my riding of Kildonan—St. Paul, the municipalities are grateful for that. They can predict what will happen in the next year and can invest that money from the gas tax transfers in that. That was a huge investment in infrastructure in Canada.
On top of that, there has been a large amount of money put into infrastructure, such as the $53 billion to make sure that roads, bridges, and infrastructure are in good repair.
When we look at other countries, there are many that cannot afford even the basics for infrastructure, whereas in this country, because of the permanent gas tax transfers and the monies that have been put into infrastructure, we can enjoy an expansion of infrastructure in all of our ridings.
The Budget February 26th, 2014
Mr. Speaker, I would like to draw a few things to the member's attention that might be helpful in his riding. For instance, the launching of the job-matching service in this budget is important when we talk about creating jobs.
The member opposite said that the chambers of commerce and organizations like that were not happy. My chamber of commerce is happy with the budget. There are initiatives such as a job-matching service, where Canadians looking for work can get that work, because there is a simple way of finding those jobs, or increasing paid internships for young Canadians by investing $55 million to create paid internships for recent graduates. This is all part of what the chamber of commerce really appreciates. Those are initiatives that my chamber of commerce has said are excellent.
Perhaps if the member would put out the information, it would be helpful to those chambers of commerce and would help them build their job base within his riding.
The Budget February 26th, 2014
Mr. Speaker, I am very pleased to rise in this House today to speak about this budget.
I want to speak about my wonderful riding of Kildonan—St. Paul because a lot of these things in the budget really impact, in a very positive way, upon my riding.
I know in this House we have heard a lot of talk about all of Canada, because we know that Canada is in the best possible position of any country in the world. People are working. Jobs are being created. There is money to improve infrastructure, health care transfers, and the social transfers. We are in a place where people can live, grow, prosper, and feel secure that, in this country, their families will be able to live a very good life. I know that all depends, too, upon the people themselves, whether or not they have taken the time to hone their skills and do their due diligence for their families. That is the other variable.
However, this government has produced a budget over the last eight years that has really impacted in a very positive way upon the economy in our country.
At one point, over the last decade, we have gone through a recession and our country stood firm and tall in terms of maintaining a stable economy.
Looking at the global picture, in my province of Manitoba, there has just been a growth in the transfers to the province of Manitoba. It is almost $3.4 billion in 2014-15. That is a whopping 24% increase from the previous Liberal government.
I know the member on the other side of the House has said, several times, that there is a shortage of this and a shortage of that. He needs to look at the world situation. Canada, now, is best-positioned under this government to grow and prosper, and it has done very well.
The building Canada plan, a $53-billion investment in predictable infrastructure funding for the next 10 years, is the largest and longest federal investment in job-creating infrastructure in Canadian history.
Now, as members know, the job of opposition members is to criticize everything that goes on in the country, especially criticizing those who are in government. That is their job. I appreciate that.
However, those same members enjoy, in this country, a very stable life in which they, their families, and their children have job opportunities and opportunities for improvements in their communities.
Even though I appreciate that it is their job to criticize, when we look at the whole picture, not only globally but here in Canada, as I said, we are positioned very well.
I know the member for Winnipeg North is a member from Manitoba and I know that, of course, it is the member's job to criticize, as I said.
However, Manitoba is in a very good position, now, because of the transfers that are going forward. For Manitoba, the total major transfers will total almost $3 billion or $4 billion in the years 2014 and 2015.
I want to expand on that a bit because the major transfers impact on a lot of things. There is almost $1.8 billion through equalization. That is an increase of $149 million, almost 9%, since 2005-06 under the former Liberal government; so today, Manitoba has a lot more benefits and a lot more opportunities than it did under the former government.
Let us talk about the Canada health transfer. Almost $1.2 billion through the Canada health transfer is an increase of $371 million, or 47%—almost 50%—since 2005-06 under the former Liberal government. I am speaking about this because I have heard today, over and over again from members opposite, about how things are going badly; but in actual fact, we have a lot to be grateful for and a lot to work with.
I also want to talk about the Canada social transfer. There is $453 million through that transfer, which is an increase of $120 million, or almost 36%, since 2005-06 under the former Liberal government. Things have improved a lot since that time.
Having said that, as we look at other things that impact on my riding of Kildonan—St. Paul, in Manitoba, and on Manitobans, there are many other things that have put people back to work and that have helped families put money directly into their pockets from tax savings. For instance, the launch of the Canada job grant was no small thing. Canadians need education and skills training to get in-demand jobs, so launching the Canada job grant was extremely helpful for people in all of our communities, not only in Manitoba but all across the country.
What about the Canada apprentice loan? I was a teacher for 23 years. I know there are a lot of students who wanted to go into the trades, but there was nothing for them. Now, under our government, they would have the Canada apprentice loan, which would provide apprentices in Red Seal trades access to over $100 million in interest free loans every year. The fact that these would be interest free loans means so much to these students and apprentices.
What about small business? The previous member talked in his speech about the red tape and all the things that have to happen for small business. Our government has cut 800,000 payroll remittances for approximately 50,000 businesses. Small business is the search engine of our country. It is the mom and pop shops that are creative. They grow and create business, and it is very exciting to see them make a living with their own creativity. Our government wanted to help them, and that was a great help for them.
We talk about research and innovation. I have to say that, going through nine years of university, the research that was involved in that was very important. Research and innovation are what start new businesses and initiatives. We would commit over $1.5 billion over the next decade for research in universities through the Canada first research excellence fund.
It is not only dealing with the very practical things. It is also dealing with the research and innovative things that Canadians are so famous for, such as supporting families. We have given many tax breaks for families. There is over $3,000 in the pockets of every family right now because of the tax relief for families. In addition to that, many families adopt children, and we have expanded the tax relief for families adopting a child.
We have also expanded the tax relief for health related services and done very practical things, like capping wholesale wireless rates to make service more affordable. All of these are the kinds of things that people do not talk about a great deal, but they impact on their families at home every single day.
I am very proud to be able to speak in favour of this budget, not because I am on this side of the House but because it works. It would make lives better for everyday Canadians like us. Standing up for the victims of crime has also been a part of that.
I could go through many examples. I will try to do that as I answer the questions.
I have to congratulate the people on this side of the House and the Prime Minister for the great work on this budget.