Malcolm Allen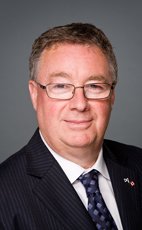 House of Commons photo
Track Malcolm
Your Say
Elsewhere
Crucial Fact
His

favourite word

is actually.
NDP
MP for Welland (Ontario)
Won his last election, in 2011, with 42.20% of the vote.
Statements in the House
Julia Turner December 12th, 2014
Mr. Speaker, next Tuesday, December 16, the Welland minor hockey midget teams will join members of the community for a good old hockey game and to remember the life of Julia Turner. Julia tragically lost her life to cancer three years ago at the age of 15. She was an avid hockey fan and worked at the arena every Sunday night, where she would watch her friends play. Now, every year, her friends come together to play in her memory. They all wear purple, Julia's favourite colour.
Julia was committed to helping those less fortunate in our community. She was so young, but for much of Julia's life she gave selflessly to her community. To celebrate her life and work, those who attend are asked to bring non-perishable food items to donate to the HOPE Centre in Welland, a cause that was very special to Julia.
I would like to thank the organizers of Julia's hockey night in Welland, especially her family and friends, for their touching tribute to a remarkable young woman. I would also like to remind all members of the House and all Canadians to think of those less fortunate as we enter the holiday season, and perhaps to donate to a local food bank. I know Julia would be smiling on all of us.
Canadian Wheat Board December 5th, 2014
Mr. Speaker, on this side of the House we are actually ideologically in favour of transparency, and we want to see some transparency from the government for a change.
Are the Conservatives going to give the assets away, yes or not?
Why is are the Conservatives giving out cushy patronage jobs? We would like to know why exactly the Conservatives' friends are actually getting these jobs in the first place, when there really are people out there who could do the job and who are not just simply patronage additions. There is actually no end in sight to the grey and black log, and my friend across the way knows that.
Will the minister for once give the rhetoric a rest and tell Canadians and farmers how much money the Wheat Board actually owes, how much it makes, and will the minister give the board away, or is he going to sell it and make money for Canadian farmers?
Canadian Wheat Board December 5th, 2014
Mr. Speaker, the Canadian Wheat Board is now owned by Canadians. It is a public company and its financial statements actually should be made public. Is it losing money? Is it making money? Well, we do not know, because no one on that side will tell anyone.
In addition to keeping the documents secret, the minister will not even confirm or deny that he is going to give this public asset away to a private company.
I have a really simple question for the minister. Will the government make the Wheat Board's financial documents public before it literally gives it away?
Agriculture and Agri-Food December 3rd, 2014
Mr. Speaker, in 2012 the Conservatives cut one-third of the staff at the Canadian Grain Commission and said there would not be any impact. Well, surprise, there was. There were fewer inspections, and now buyers of Canadian wheat are complaining about under-weight shipments and variable quality. In fact, one foreign-based buyer found 850 kilograms of peas in what was supposed to be a wheat shipment.
Under the minister's watch, the commission cannot get farmers' grain to market, cannot assure the quality of the grain at market, and cannot even deliver the right quantity to the market.
When will the minister stand in his place, apologize to Canadian wheat farmers, and tell them that he intends to make it right and that he will stop failing Canadian farmers in the future?
Agriculture and Agri-food December 2nd, 2014
Mr. Speaker, Farmers of North America, a group of more than 3,000 Canadian farmer investors, recently offered to buy the Canadian Wheat Board for—get this—about $250 million to $300 million, which they thought it was worth.
The Conservatives rejected the offer. They did not give a reason. They just said no.
Now, we hear the minister will hand over the Wheat Board's assets to the private sector for a grand total of—get this—zero. That is right: nothing, nada, no thank you; just give it away.
I ask a simple question. Why would the Conservative government give away these assets free to multinational corporations instead of simply selling to Canadian farmers and actually gaining a real value for Canadian farmers—
Agriculture and Agri-Food December 1st, 2014
Mr. Speaker, we witnessed last fall what really happened when it came to the rail companies and this government. The government stood tall and said it would be tough with the rail companies. The reality? Grain really did not move. The government said that the fines would be daily, and now they are going to be weekly, so $300,000 a day has became maybe $300,000 a week. Now we find out that they have not fined anyone yet; not one rail company has been fined.
CN did not meet its targets. The government did not hold it to account.
When will the minister stand on her feet and say that the fines have been levied, the fines have been collected, and the government will stand for farmers, because right now it does not?
Agriculture and Agri-Food December 1st, 2014
Mr. Speaker, we now know what the Conservative plan is for the Wheat Board and what it is really all about. The board has assets. It has railcars. It has real estate. It has freighters, but the minister came to the agriculture committee and said that it did not have any assets but is just over-leveraged and in fact is almost bankrupt and does not have any money at all. Then of course, his assistant deputy minister, in the next hour of testimony, said, "Well, not really". What really is going on is that it is not over-leveraged, and it is actually paying out of its own financials on an ongoing basis.
Clearly, the government has some sort of hidden agenda for the Wheat Board. It intends to sell it off to the lowest bidder, which would give no money back to the public treasury, and worst of all, no money—
Veterans Affairs November 25th, 2014
Mr. Speaker, I am interested in the industry minister's comment, because Industry Canada has lost $1 billion and cannot tell us where it went. It has no idea where it went. It went to the States? Who knows?
That is just one of many programs. It is a theme across the front bench. They constantly say it is the bureaucrats or it is somebody else's problem, but it is not their problem; they are only ministers. "I'm only the Prime Minister", he says over there.
At the end of the day, the Auditor General clearly said they are failing veterans. Can someone over there, just anyone, stand up with a little humility and say to veterans across this country, "We are sorry for what happened to you and we will make it better"?
Agricultural Growth Act November 24th, 2014
Mr. Speaker, my friend talked a bit about public research. I would like him to elaborate a bit more. The bill would allow public research with patented material up to a certain level, but not for commercial use. People could not actually commercialize it if they used it. If they could not actually make money from it, and there has been a decrease in public dollars actually going into public research, does the member have any fear or concern that the public research piece of the balance may actually decline? Where does he see it going? Even though they could get the material from a private company, they could not commercialize it, because it would be explicit that it was for non-commercial use.
Does the member see any threat to public research in the sense that there is a lot of stuff to work with but nothing to do? What effect would that have on farmers, ultimately?
Agricultural Growth Act November 24th, 2014
Mr. Speaker, I want to thank my colleague for the question; it is actually a very good one.
The organic association, to use an example, had real concerns about what this meant to their members. What we have seen when large corporations do things is that, justifiably, they do them to scale. They do them on a very large scale, and they do very limited numbers because those become the most profitable ones, and so they should. Why would they market something that is less profitable when they can market something that is more profitable? Their shareholders are looking for their company to be more profitable. That is the impact that consumers will see: less choice in the marketplace in the future.
The organic association is not so much concerned that their seeds will necessarily get commingled. It is more that folks now in the seed business may get out of the business because there will be less return through it and they should actually be in something else. There is a big concern that they will see a kind of homogenization and have fewer choices than exist now. There are those who believe the choices could still be there, but it remains to be seen.
Therefore, there is an impact for consumers down the road, and it will not necessarily be a positive one.