Malcolm Allen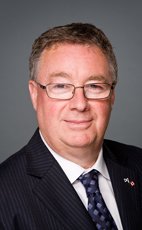 House of Commons photo
Track Malcolm
Your Say
Elsewhere
Crucial Fact
His

favourite word

is actually.
NDP
MP for Welland (Ontario)
Won his last election, in 2011, with 42.20% of the vote.
Statements in the House
Agricultural Growth Act November 19th, 2014
Mr. Speaker, I want to thank my hon. colleague, the chair of the agriculture committee, for his comments. I believe I said it the other night but will say it on the record again today that I thought he chaired the committee admirably when it looked at Bill C-18. I thought there was a good balance of witnesses. His ability to chair is one thing. My trying to convince the other side to accept amendments is my own responsibility and I have to admit that I was not quite as successful as I had hoped to be. In baseball parlance, it is called an "ofer". In other words, 16 up to the plate and 16 outs. That happens in life.
The chair asked committee members to study the bill in a professional manner, and we did. We were presented with some very professional suggestions that we thought were amendments to bring forward. Where I take slight issue with the chair is when he says that these amendments to take UPOV '91 out of this particular bill before us now would leave us eons back in time. That is not quite true. If we go back to UPOV '78, which everyone is regulated under today, it has been fairly successful. I would suggest to the chair respectfully that farmers in this country have done very well, and so they should. They have worked extremely hard. If UPOV '91 is taken out, UPOV '78 would be there.
I think the chair perhaps overstates things. I recognize that members in the House sometimes stretch things a bit, but we would clearly still have a UPOV agreement. It would be UPOV '78.
Agricultural Growth Act November 19th, 2014
Mr. Speaker, as we have unfortunately become very accustomed to in the House, we have time allocation and this time it happens to be with respect to agriculture. I guess we have to spread it around every ministry to ensure everybody gets an opportunity to come and defend time allocation in this place, so now it is the Minister of Agriculture and Agri-Food's opportunity.
Even when the minister came before committee, he said that the bill was not quite the way the government wanted it and required some changes. He is correct about some of the things that go on in this place because of the way the process is when it comes to the amendments. However, we submitted 16 recommendations that we thought would strengthen the bill. In its wisdom, the government side of the committee decided to vote against all of them. That was disappointing to say the least because the minister said that he would send a recommendation and the department would have some changes to it, which actually came about. However, it turned out to be a very small piece.
Clearly, the dilemma with Bill C-18 is that it is an omnibus bill, so there are many moving parts contained within it, some of which we like. The problem is we have to vote for all of it, so we have to vote for the parts we dislike more than the parts we like. That is part of the problem.
Ultimately, the minister said that the new seed act would take care of the new seed varieties, which is true. UPOV '91 will not affect them. However, as I said in committee, one of the amendments we tried to make was with respect to the varieties that were established today. When I asked the department this, it clearly agreed with me and said that if I applied to deregister them, there was a process for the deregistration and if that was not opposed to in any way, I could have them removed. The reality is that if I have a new seed variety under UPOV '91 and two old ones and I want to keep the two old ones, which I do not make as much money from, as a business person, I would probably take the new one. Why could we not have ensured that piece was in legislation?
There were a number of other things that did not get through the committee, which is unfortunate because we are now in this situation. The minister made a promise that he would get it done by August, and the last time I checked it was November. That is no reason for time allocation.
Petitions November 19th, 2014
Mr. Speaker, the second petition actually speaks to my private member's bill, which is to designate the Friday preceding Father's Day as National Garden Day.
Representing a part of the city of St. Catharines, which is also known across this great land of ours as the garden city, what more appropriate thing could we do than actually celebrate the horticultural industry, but celebrate part of my riding at the same time, and designate that Friday as national garden day?
Petitions November 19th, 2014
Mr. Speaker, I have two petitions.
The first one is to reverse the cuts to Canada Post. Hundreds of petitioners are calling on the government to reverse those cuts and restore home delivery, as well as look at innovative ways to make Canada Post a viable corporation on a go forward basis.
Committees of the House November 18th, 2014
Mr. Speaker, I thank my colleague. He certainly talks very eloquently. There is no question that he knows a great deal about red meat, because he comes from that area and represents folks from that area extremely well, because of his family background there.
I wonder if my friend would talk about the seafood industry, because a lot of folks talk about a lot of different things in agriculture and quite often the seafood industry is one that gets totally overlooked. It used to be like the wine industry before we made sure that the current government understood there was a wine industry in this country and that the agriculture committee actually got an opportunity to speak to them.
I wonder if my friend across the way could explain to Canadians whether the seafood industry really does as well as the red meat sector
Committees of the House November 18th, 2014
Mr. Speaker, I want to thank my colleague, the Parliamentary Secretary to the Minister of International Trade, for his comments on this particular file and on trade in general. I have a couple of comments and then a specific question.
The member referenced the red-meat sector, and the numbers he used are quite accurate. They come out of the report, as I am sure he is well aware, based on his portfolio. The problem is that if we have access now, it is not going to be utilized. That is the what-if piece.
James Laws, of the Canadian Meat Council, said that his industry might need some investment and some government assistance to get the investment in those processors. There is no question in my mind that primary producers and ranchers across this country can indeed raise beef cattle for the European market.
My specific question is on the issue of supply management. Let me just be sure that I use the term correctly, because these terms get interchanged. It comes directly from the report. The milk protein substances tariffs would be phased out to give the EU the same access as the United States. However, the committee heard from the Dairy Farmers of Canada that it should be over 10 years.
My question is for the parliamentary secretary. Would that be a 10-year phase-out period, or would that simply disappear, and the Europeans would get the same access as the U.S. has now?
Committees of the House November 18th, 2014
Mr. Speaker, he is right. Why would one accept it? Yes, the Conservatives have concluded an agreement in principle and have a lot of details about it, but they do not have anybody's signature on it from the other side of the ocean yet. They have to go through that.
There are a bunch of governments that are going to have new elections. In fact, I had the great honour of being in Ukraine when it elected its new parliament. There are others. Ukraine is not in the EU, but many of us on both sides of the House are hopeful that that will happen. I would like to thank my colleagues on the other side who accompanied me on that mission.
There are other things to do with this yet. We have clearly outlined in committee, in good faith, why we do not accept this. We put a report together that does not show dissent but how we think we can improve it and in which we added a couple of recommendations of our own. Of course, the government did not respond to them, which was really disappointing. It would have been nice if it had responded to our recommendations, though I realize it did not have to do so. In my view, the recommendations were not offensive but were there to try to augment the report. That is why we do a supplementary report.
Clearly, we await the debate on CETA and the implementation language. As mentioned earlier, we do not debate trade here but debate enabling legislation. The debate comes after that. Let us be honest and admit that it does. We do not actually do that, but we sneak it in sometimes. When the legislation comes forward, it is not about the different viewpoints and how we do trade, but about whether we want it or not, and here is the deal. The Speaker allows us to go around it a bit and do that sort of stuff, but the bottom line is that we do not actually have that debate.
The Leader of the Government in the House of Commons was absolutely right when he talked about being a younger man at university and remembering the great debate in the eighties on the first free trade agreement. That really was a debate about free trade and what groups wanted this or that. It was the last time that such a debate happened. He was absolutely on the money when he said that. It was the last time, but the Conservative government is responsible for that because it does not bring trade agreements here to talk about trade. It brings them here to enable what the government has already decided to do.
Perhaps the Leader of the Government in the House of Commons should read his own remarks in Hansard tomorrow and find out if maybe he wants to have the policy discussion here, instead of enabling legislation and simply having a "yes" or "no", "up" or "down" vote. Perhaps the House leader of the government would take a look at Hansard and decide to do something different in the future.
Committees of the House November 18th, 2014
Mr. Speaker, my colleague from Malpeque raises some interesting things. The member has sat in the House for a substantial amount of time and has seen many agreements go back and forth. He is absolutely right when he says that the legislation is just waiting for a number to get slapped on it. Perhaps in his Thursday question, my hon. friend, the House Leader of the Official Opposition, will glean that information from the other side. Perhaps we will find out there is a new bill on CETA with a number on it. Somehow, though, I do not think so.
I have my doubts. I am still waiting for the tooth fairy, but I do not think the tooth fairy is coming to visit me anymore; I am a little too old. The tooth fairy has got a better shot of getting to me than I have of seeing legislation on CETA from the Conservative government before Christmas. I would actually wager on that one, and members know that I do not bet very often, but I probably would here.
Committees of the House November 18th, 2014
Mr. Speaker, the simple answer to clarity is, where is the bill? I am not sure what I can vote for and what I am supporting if I have never seen the bill. The Conservatives do not have one. I know I do not get to ask questions. The questions come this way. The bottom line is they do not have a bill. They have an agreement in principle and they have some additional new text that explains it, but they do not have a bill.
Therefore, if he asks me which way I will vote, it is like asking me if I have a scarf on my coat that is blue or orange. Why not guess. Then again, they may say one, but they may be wrong.
The bottom line is that if you have a bill bring it out, get it on the floor, let us have that debate and you will find out how we will vote. That is what it is about. Put it on the floor, we would be happy to debate it and vote one way or the or the.
Committees of the House November 18th, 2014
Mr. Speaker, after listening to the parliamentary secretary, I almost find myself almost at a loss for words. That is hard for the House to believe, and to be truthful, I think I can find my voice.
As the House leader quite correctly said in one of the few things he said that actually was correct, we did not have all of the details to study this matter. At committee we questioned why we were studying this when we did not even know what it was. We only knew that it was a CETA agreement and that we needed more details with respect to it so that we could pose questions to the folks who came before us from the agriculture sector. They included primary producers, processors, and the retail sector. There was a comprehensive number of witnesses, and I felt that there was a reasonable cross-section of folks who came before us to tell us what it was.
However, when we asked them specifically if they really knew what it was, the answer was that they thought so. Many had been at the table, but some had not. There was a sense that there might be some things they could win and that maybe there were not, but most said that overall they thought it was a good deal. The parliamentary secretary said that. The problem was whether they would be able to take advantage of those good things.
Unfortunately, one of the things missing in this report was the numbers. We talked about a nice big number—I think it was $2.4 billion—which is the value of wheat exports being sent to the EU now in the agriculture sector, but there is no number in here as to what the EU sends to us in the agriculture sector, which is actually greater than $2.4 billion. Even after we add in the numbers that the government talks about in this report—and the agriculture committee heard from different people—and add that number to the $2.4 billion, it is still less than what the EU ships here, so it is not as if we come out a winner over the EU. We can certainly say that we have come up, and there is no question about that. We have a cumulative number that is higher, and the EU got some extra stuff.
I agree with what my friend from Malpeque said when he talked about supply management. The government did not destroy the three pillars of supply management. Wally Smith, the president of the Dairy Farmers of Canada at that time, was quite clear about that. He said that it had not.
However, this is an overgrown mouse that is chewing away at supply management, especially the cheese section. That is what has happened, to the tune of millions of dollars.
My good friend, the deputy critic for agriculture for our party, comes from a great riding I can never pronounce because it always escapes me. I sit on the agriculture committee, and she does a wonderful job. It was quite clear in the motion that she presented to the House that we need to have some sort of transition plan for cheese producers.
If I remember, I think the government supported that idea. I do not think it has done much with it yet, but it did support it. It will be interesting to see what it does with that and if it actually works that through. It even agreed that there is an impact; otherwise, why would anyone support a motion for a transition program for a group of producers if we thought they were going to be winners? This government says it does not give away something for nothing, so it would not give money to farmers, or pretend to, if it did not think that somehow there was a loser.
That is what is in this agreement. That is what the report highlighted. That is why we added no dissenting report here. We added a supplementary piece because we heard from our friends in the agriculture sector, who said that there were opportunities for them.
As we have seen, there are opportunities there now. The Canadian Meat Council quite correctly pointed out that it has access now, but it does not use it, for a lot of legitimate reasons. The council says that additional access would enhance its ability to go ahead, and its members would probably take advantage of it.
However, if memory serves me right, that industry is looking for about $100 million in transitional costs so that it can move those factories and processors so that they can ship to the EU. The reason is that the EU is looking for red meat that is different. It wants it to be hormone-free and probably without antibiotics, so the meat has to be treated differently when it is processed. Different things have to be dealt with.
The problem ends up being the cost. Does the government intend to move that cost, or will the meat processors simply say that without the money, they will not do it? We do not know. The indirect benefits clearly are to those who say that they will feed those extra cattle, but that will happen only if the producers grow the extra cattle and send the meat down the chain.
In the committee report the barley producers talk about the net benefit to them. The problem is it is indirect, because they will not be selling barley to the EU. That is what the president of the Barley Council said. There is not really a big market for them to sell barley, because the EU has its own, but if we need another 500,000 head of cattle for that market, barley producers will be able to sell to the Canadian primary producers to raise that cap.
To go back to the beginning, if the processors do not develop a new line to take the cattle, then there are no cattle and there is no market for the barley producers. There is opportunity, but it is not a given. Unfortunately, my friend the parliamentary secretary always tells us that this will be so; well, it will not be so. It might be, but maybe not. We could point to other free trade agreements in which a lot of promises were made. Some of them happened.
It is not always the government's fault. We have to be truthful about that. If the opportunity is made available, someone has to take that opportunity. If they do not, then that is their choice. The issue is whether they can get all the things they want, and are we on a level playing field? It remains to be seen.
When we look at this situation, we see there are winners and losers. Some who came before the committee—and my friend did not talk about them—said they were not really sure if they are going to derive a benefit. Horticultural folks came before the committee and said they think they have some opportunities. They might have some winners, but they think they might have some losers too. Doing away with the tariffs is what it is about between the two, so they were wondering if the Dutch would dump all those red bell peppers on us, because right now they have a tariff. What happens if they decide to sell them in the horticultural sector? We will be swamped with bell peppers. We will be done. That is an impact no one in the government has talked about.
There is no transitional funding for the horticultural sector, by the way. At the moment the only reason there is one is that we moved a motion on this side to get Conservatives to talk about the cheese industry, and they finally accepted. There are none of those mitigating factors being taken into account.
On balance, it looks as though there could be opportunities, but perhaps not. No one is suggesting a free trade agreement in which one side wins and the other side loses. There has to be a balance. There is back-and-forth at the bargaining session. I know how it works. For 25 years I have looked across the table at folks trying to bargain collective agreements. We give something and we get something. That is how it works. In good agreements, on balance, we get what we need and they get what they need. When people go away from the table, they are never the happiest people in the world, but they feel they got a deal.
In this case, the EU will still have more agricultural product coming to this market than we will have going there, even when we add all of the new things that the government says will happen and, to be fair, what the ag sector believes it can win.
At the end of the day, we did not catch up, yet by all accounts we are a great agricultural country. We are great producers. We have great processors. We have great folks who market around the world and great products to sell. There are a multitude of things that we do extremely well, but we will still come up short compared to what will happen over there. We will still be in a position of going onto a playing field that we are not really sure is going to be equal.
After the committee adjourned, I had a discussion with one of our friends who appeared before it. He talked about GMOs. He said, "You know, we thought we were going to get that fixed in about four years." I asked when that was, and he said it was in 1993. He thought that by 1997 or 1998 at the latest, we and Europe would be finished with that issue.
However, he said that what he liked about this agreement was that they are going to get to talk about it.
I said, "Didn't you talk about it in 1993?" He said, "Yes." I said, "How are you making out?", and he said, "Well, we're not, yet." I asked him what makes this any different. He said, "Well, they said there will be an agreement on phytosanitary and all these things would get put to bed."
I have never heard the government say yet that it has an EU deal that says the EU will take GMOs from us. If there is such a deal, somebody can nod their head in the affirmative over there and correct me. Stand and tell me I have it wrong. If it is true that CETA says the EU will take GMOs tomorrow, please let me know, because I have never heard it. That is not changing.
Our folks were hoping it might, but it did not. What does that mean for producers? It means it is a market they cannot get to unless they change. That is their choice, and that is okay. They can choose to go in that direction or not.
However, as the government says, it is a market of 550 million people that those producers will give up on, so they have to figure out what they want to do. Do they want to look at someone else who would take that particular product?
I make no value judgments with this speech about a GMO product. That is the farmer's decision to use the product. The issue in growing that crop is entirely up to them. At the moment, the market does not take that particular product, so it eliminates it for them unless they switch. Maybe someone from the other side, during questions and comments, will tell me that somehow this is not true and I have it wrong. I will wait to hear if that is the case.
Clearly, for us, we listened to farm groups, farmers and processors, right across the country, of which there were many. On balance, they said that the agreement looked like a good deal for their industry. However, there were some who said it was not necessarily a good deal for them.
We have heard about the supply side and it may not get what it thought it would get. My colleague from Malpeque introduced the sense of how it would be affected. Mr. Wally Smith said that the existing quota today would be 2.25% less after the agreement than before. If the market is not growing in Canada, because it is a closed market for them, and the quota shrinks by that amount, it impacts the ability of farmers and producers to make money, unless the Canadian milk market can swell, but it only grows at a certain level.
The New Democrats, and I am sure members on their side, would encourage folks that if they do not drink a lot of milk, they should. They should drink additional milk products and look for real milk products, not the pretend products, if they want to do things for farmers. It is really all about that.
This is an issue on the supply management side that makes it interesting.
The other part of it is that in my neck of the woods we have the wine industry. When representatives of the industry came before us, they said there was no impact on them. The fact is that wine basically comes into the EU anyway. There is no real import tariff on it. It is a minor amount and it has been reduced for the last number of years. It basically is not there anyway. Most of it is kind of a provincial piece as it is imported into what the taxation regime is. Those people have said that they needed help marketing themselves, because the Canadian wine industry is a small player internationally. Part of that is because we do not have a lot of cultivars in areas where they grow grapes. We have less of it in the ground than in the European nations. That is just the nature of it. Since we are physically smaller player, they said it did not really impact them. In a way there is a bit of an indirect piece that they need.
The representatives did say that the potential was there for them to import equipment in the wine industry. I have always found it unfortunate that we do not have a manufacturer. I am not suggesting the government is at fault for this because it is not. As somebody who grew up in Niagara, I have always wondered why there is not a machine company around the province that makes good wine making equipment for us, rather than having to buy it from Europe all the time. Every time we go to these places, the equipment is usually made in Italy or Germany. I wonder why we do not make it here. We have great machinists and machine operators, so why do we not make the stuff here for our home industry? Maybe that will be an indirect benefit, and it will be an industry that sprouts up. We never know, because it certainly would be one that would be welcome in Niagara, which is a great manufacturing place to be.
As we went through this, we decided we would add a supplementary piece to the agreement that talked about what we would like to have seen as well. We wanted to see that protection for dairy farmers, and we made that motion in the House.
The New Democrats want to thank the government for accepting and supporting the motion, but we also want to ask what it is going to do. We are looking for some action. The Conservatives always suggest that we are inactive about certain things, well we are looking for some action from the other side and it would be nice to see that happen. It is clearly something they have said.
My friend mentioned Mr. James Laws, who is the executive director of the Canadian Meat Council. He was concerned about reciprocity. The reciprocity is on something that is called parma ham or feta cheese. It is a geographical indicator. We gave the Europeans a whole whack of geographical indicators, a whole pile of GIs, but we did not get too many in the deal. They got 20-some odd, which really surprised me because I actually thought they would only get a handful. I thought we would be firm with them and not really allow them to have as many as they got. We got next to none and the one we actually tried to get was maple, which is really a traditional Canadian symbol.
We put a recommendation in our supplementary report, but the government did not answer our recommendations at the back. It answered the other recommendations. It was really surprising that the government would not say it was for maple.
When it gets close to winter when the leaves fall, they are maple leafs. I am not suggesting the hockey team. I am saying it is maple leafs that are falling. For all the Leafs fans out there, I hear they are doing better than normally. One would think that if we are going to protect anything in this country as an icon, it is the maple leaf and maple syrup.
Members of my family who live in Scotland know to buy real maple syrup that comes from Canada. In fact, when they come to visit, we ensure they get some to take home. They say they can buy syrup in Europe, but it is not the real maple syrup. The real syrup that we get in Canada is iconic to our country. I am surprised the government did not say it agreed with that recommendation the New Democrats made as part of our supplementary report.
Clearly, there are some issues that the government has not addressed.
The Canadian Meat Council talked about it when it comes to GIs. It asked where that reciprocity was, where that ability was for us to stand up and ask why the Europeans were given all the ones they wanted. We understand that Europeans want to hang on to these sorts of indicators, that they really like the fact that this comes from a certain region, and they have a real attachment to it, especially when it comes to food products.
As much as we do not have quite the same attachment, one would have thought during bargaining we would have wanted to get something for that. If we were going to give them the GIs, why would we not then ensure they did not get as much cheese? Why did we not get something in return for that? That is what bargaining is about. It is about getting something for giving something. One does not just give stuff away for free. That is not bargaining, that is just giving up. For me, it was a real issue about not fighting to keep the things we need to keep.
On balance, I would be foolhardy to suggest that the folks who went before the agriculture committee did not say they felt there were opportunities here. Some felt there were very direct opportunities and could track it, but they were not really sure. There were some numbers used, some approximates, which were probably close to reality, but others were not. It really is quite often, as they say, not to pick on the pork industry, a bit of a pig in a poke, which is maybe it is and maybe it is not. One has to wait on those things.
Let me end by saying that the parliamentary secretary's amendment earlier I found strange at best, but then again I should never find anything coming from the other side too strange. There is this sense that the bill should be taken back to be re-studied with the additional information, which is actually a good piece. I do not know if subamendments can be made to these things, but I am not even going to try.
The bottom line is that now we have this additional information, maybe we should show the folks who went before the committee and ask them what they think. They may think it is better, they may think it is not so good. Giving an explicit instruction saying thou shall vote this way, means one really supports it. Let the Conservatives bring the bill to the House and then New Democrats will see if we want to support it.