Maria Mourani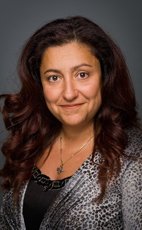 House of Commons photo
Track Maria
Your Say
Elsewhere
Crucial Fact
Her

favourite word

is prostitution.
Independent
MP for Ahuntsic (Québec)
Won her last election, in 2011, with 31.80% of the vote.
Statements in the House
Foreign Affairs January 30th, 2015
Mr. Speaker, the Premier of Quebec let the Ambassador of Saudi Arabia know that Quebec would be prepared to take in Raif Badawi, whose wife and three children are living in Sherbrooke.
The Minister of Foreign Affairs declared the sentence inflicted against Mr. Badawi a violation of human dignity.
When will the Prime Minister intervene with his Saudi counterpart to ensure that Mr. Badawi is pardoned and reunited with his family in Canada?
Public Safety January 30th, 2015
Mr. Speaker, the Minister of Public Safety keeps talking about how urgent the situation is regarding the fight against terrorism.
However, the only thing he has done since realizing that urgency is to make cuts to research programs and to CSIS. No additional resources have been given to the RCMP and there has been no additional funding to prevent and counter the violent radicalization of young people.
Does the Minister of Public Safety realize that none of his new laws are going to stop jihadist groups from recruiting our young people, and what is needed instead are additional resources for prevention, research and intelligence?
International Development January 29th, 2015
Mr. Speaker, if we are to believe my colleague, everything is fine and life is wonderful, but that is not what the UN Under-Secretary-General is saying, and this is not from 10,000 years ago, but rather yesterday.
At the United Nations Security Council, the UN Under-Secretary-General for Humanitarian Affairs painted a rather bleak picture and said that resources are lacking. Not only that, but we have also learned that all the UN agencies my colleague referred to have received less than half of what they were supposed to receive. They need $2.9 billion, and they are not even close.
As for Syrian refugees, 10,000 or 20,000 have already settled in Germany and Switzerland. It took Canada two years to take in 1,200 refugees. This really worries me.
Will the 10,000 refugees really arrive by 2018, or will it be 2030 or 2040?
International Development January 29th, 2015
Mr. Speaker, given the regional instability caused by the conflict in Syria, 40 countries participating in the Berlin conference on October 28, including Canada, acknowledged in their communiqué the importance of increasing humanitarian aid to Syria and the entire region.
Yesterday, at the Security Council, the UN Under-Secretary-General for Humanitarian Affairs described a situation that demonstrates the lack of support from member countries to the humanitarian tragedy that is affecting the Syrian people in Syria and in neighbouring countries, including Lebanon.
Since the spring of 2011, more than three million Syrian refugees have been received by neighbouring countries, including Lebanon, Jordan, Turkey, Iraq and Egypt. These countries are facing a huge challenge. The countries concerned and the UN High Commission for Refugees called for increased international support in order to cope with the refugee crisis and warned against the threat of a humanitarian disaster.
I remind members that there are more than one million displaced Syrians in Lebanon, a country of about four million people. It is clear that the international community, which includes Canada, is not doing enough. Right now, 40% of Syrians in need—of a total of 12.2 million civilians—are not being reached by UN humanitarian assistance and humanitarian operations. The UN would need $2.9 billion to fund these operations. However, UN agencies have received less than half of this amount, as their pleas went unanswered last year. They did not even get what they wanted. Hundreds of thousands of people without any financial means were left out in the cold this winter.
Another important issue, which was recognized by the signatories of the Berlin communiqué, is the need to increase opportunities for repatriation, resettlement and humanitarian admission of refugees. Canada has a poor record in that regard. At the ministerial conference on resettlement and other forms of admission for Syrian refugees, which took place on December 9, 2014, in Geneva, we learned that Germany had taken in approximately 20,000 Syrian refugees. According to the Swiss ambassador to the United Nations, his country has given asylum to 10,000 Syrian refugees. However, in two years, Canada has been unable to resettle 1,300 refugees. What is more, the minister recently announced that Canada would accept 10,000 Syrian refugees by 2018. That may seem like a worthwhile announcement, but one has to wonder how that will be done since we have yet to take in even 1,300 refugees. In any case, we do not know how many have been allowed in. One has to wonder how the government will live up to that announcement given the fiasco with the 1,300 refugees. How can we still believe that this government is acting in good faith?
In closing, once the conditions for return are known, will Canada provide financial support for the repatriation and resettlement of Syrians who want to return to their country?
Protection of Canada from Terrorists Act January 28th, 2015
Mr. Speaker, I am not sure that my vote was properly recorded, which is what I was trying to tell you earlier. I am in favour of the amendment and I think my vote was recorded against the amendment. Is that correct?
Transportation December 12th, 2014
Mr. Speaker, in the field of passenger transportation, an international company, Uber, has set up a system that promotes the underground economy and ignores the rules for collecting GST and provincial tax in Montreal, Toronto and Vancouver. This is unfair to taxi drivers and owners who pay their fair share to the government.
Will the Minister of National Revenue take action and have Revenue Canada develop a Canada-wide action plan to rein in Uber and regulate all the individuals who transport passengers to ensure that they pay their fair share to the government?
Canadian Security Intelligence Service December 11th, 2014
Mr. Speaker, this week a U.S. Senate report found that torture does not work; information obtained through torture is unreliable.
On March 31, 2009, at the Standing Committee on Public Safety and National Security, I got CSIS, the Canadian Security Intelligence Service, to admit that Canada uses information obtained though torture carried out by other countries. In December 2010, we learned that the Minister of Public Safety had sent a letter to the director of CSIS, authorizing him, in certain cases, to use information that may have been obtained through torture or abuse.
This government must stop this practice immediately, since it encourages other countries to use torture, and it must order CSIS to stop using this kind of information. This practice is immoral and unacceptable and it jeopardizes our national security by basing risk analysis on misinformation.
Housing November 27th, 2014
Mr. Speaker, the Minister of State for Social Development misled the House by suggesting that housing co-operatives will be able to provide long-term subsidies after their agreement expires. However, that is not the case.
What is more, according to the minister, funds were supposedly transferred to the provinces to maintain funding for affordable housing after the agreements expire. The housing co-operatives do not know what the minister is talking about.
Can she tell us how much money was transferred to save affordable, co-operative housing?
Housing November 24th, 2014
Mr. Speaker, a group of people and social leaders from Ahuntsic are calling for 1,000 affordable housing units to be created in the next 10 years, and rightly so.
Many of the current affordable housing units are in jeopardy because agreements with the federal government are coming to an end. By 2016, 100,000 housing units in Canada will lose their financial support, and that includes many in Ahuntsic.
Does the government understand that it needs to reverse its decision and renew these agreements?