Maria Mourani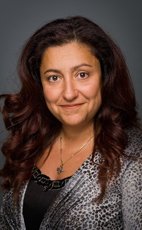 House of Commons photo
Track Maria
Your Say
Elsewhere
Crucial Fact
Her

favourite word

is prostitution.
Independent
MP for Ahuntsic (Québec)
Won her last election, in 2011, with 31.80% of the vote.
Statements in the House
Public Safety September 15th, 2014
Mr. Speaker, in its most recent 2014 report, CSIS indicated that Canadians are going abroad to join jihadist groups, including Daech, and commit terrorist acts, mainly in Iraq and Syria. The possible return of these individuals poses an obvious threat to Canada's national security.
What does the government intend to do put an end to this new scourge that could one day come back to haunt us?
Ahuntsic Community Organization June 17th, 2014
Mr. Speaker, the organization we now know as the Union des familles d'Ahuntsic was founded in 1963. Like many community institutions in Quebec, the Union des familles d'Ahuntsic was originally established by a church, in this case, the Saint-André-Apôtre parish. In the 1970s, Loisir Saint-André-Apôtre became the Union des familles d'Ahuntsic.
I want to commend the women and men who have helped make high-quality leisure activities accessible to everyone: women, men, teens and children.
Day camps, sports, dance, wood carving, stained glass, Japanese embroidery, music and singing are just some of the activities offered at the UFA. Over the years, many residents of Ahuntsic have developed their skills in this respectful and accepting environment.
On behalf of my constituents, I want to thank the people at the Union des familles d'Ahuntsic and wish them well in the future.
Justice June 16th, 2014
Mr. Speaker, people are saying that Bill C-36, as it stands, will not make prostitution illegal. This is an important aspect because the legal nature of prostitution was a fundamental element that, for the Supreme Court justices, justified their ruling in the Bedford case.
Will the Minister of Justice clearly state in Bill C-36 that prostitution is illegal in Canada?
Protection of Communities and Exploited Persons Act June 12th, 2014
Mr. Speaker, I would like to thank my colleague for her speech.
I would invite her to look at most of the studies that have been done in Europe. We are incredibly lucky that, over there, people have already tried legalization and the so-called abolitionist Swedish system. The observation has been that, in the legalization system, there is a marked increase in prostitution, both in terms of the number of prostitutes and in terms of human trafficking. As for reducing the number of prostitutes, as the hon. member suggested, we can see that, in a system like Sweden's, there is a marked decrease in the number of prostitutes.
Where I tend to agree with my colleague is that criminalizing prostitutes in a public place, even by summary conviction, is problematic. I would like to make a slight clarification. Criminalization by summary conviction may involve a criminal record, but not automatically so. I wanted to clarify that. However, apart from that small element, that one subsection of the bill, I feel that we should all be working together in the same direction, but not towards legalization, because the legalization of prostitution is the legalization of violence against women.
Protection of Communities and Exploited Persons Act June 12th, 2014
Mr. Speaker, I just want to clarify a few things. First, nowhere in this bill did I see anything about the criminalization of prostitutes who are minors. Johns and pimps who exploit minors or adult men or women are criminalized, but prostitutes who are minors are not criminalized. I want to talk about this, but I have not seen it anywhere in here.
The bill talks about criminalization by summary conviction—not indictment—of prostitutes soliciting in public places in general, not just public places where minors might be present.
I think this is the most tenuous part of the bill because if immunity is being offered, it should apply to solicitation in public places as well. However, given that this would be addressed by summary conviction, not indictment, these people will not end up with a criminal record.
Is this a way to bring them into the health care system? That is my question.
Citizenship and Immigration June 12th, 2014
Mr. Speaker, a few days ago, I personally witnessed the magnitude of the humanitarian tragedy caused by the presence of more than one million Syrian refugees in Lebanon. In northern Lebanon, I saw improvised camps and many children by the roadside, in the suffocating heat and dust, selling the little they have in order to survive.
In July 2013, Canada promised to accept 1,300 Syrian refugees.
As of today, what is the exact number of Syrian refugees who have arrived in Canada?
Protection of Communities and Exploited Persons Act June 12th, 2014
Mr. Speaker, I would like to thank my colleague for her speech and all the work she has been able to do.
I think it would be important to add a few things. I listened to my opposition colleagues, and after analyzing the Bedford decision and the bill from start to finish, I think that it would hold up constitutionally. I will explain why.
The Bedford decision states that in the current legal context, we cannot criminalize the practice of prostitution. The decision also tells legislators to decide on the legal context that will be put in place to deal with prostitution. The government decided to declare prostitution illegal.
In doing so, the government has established its right to criminalize certain players as pimps and johns. In addition, the government gave immunity to prostitutes. In my opinion, this approach is the fairest for Canada. It presents a Canadian model and, on that point, I hand it to them.
However, I disagree with criminalizing prostitutes in a public place. When immunity is adopted, it must be provided across the board, be it in massage parlours or in public places.
I would encourage the government to reconsider its position because criminalizing johns acting in public view is enough. Criminalizing pimps acting in public view is enough.
There is no need to criminalize prostitutes working in public places. This is how we can give these women, the most vulnerable people on the streets, the opportunity to report the people who assault them.
I would like to propose a friendly amendment.
Public Safety June 6th, 2014
Mr. Speaker, in accordance with its statutory authority, the RCMP ruled that semi-automatic weapons, including various models of the CZ858, are prohibited because they can quickly be transformed into automatic weapons.
However, the Minister of Public Safety and Emergency Preparedness not only gave a two-year amnesty to the owners of these weapons, but also assured them that the RCMP's decision would be urgently reviewed.
How does the Minister of Public Safety and Emergency Preparedness expect to protect Canadians if he is going to undermine the RCMP and fail to maintain effective gun control?
Status of Women June 4th, 2014
Mr. Speaker, women's groups across the country are urging the government to introduce a bill that will make it illegal to purchase sexual services. They are also worried that this government is not doing anything to help prostitutes.
Can the government reassure these women's groups and announce that it will invest money, in collaboration with the provinces, to help prostitutes get out of prostitution?
Air Transportation May 16th, 2014
Mr. Speaker, on May 13, Jacques Roy, director of the Academic Department of Logistics and Operations Management at HEC Montréal said that the Aéroports de Montréal, ADM, should be placed under the purview of a federal control agency.
He maintains that:
Ottawa did not properly negotiate its contract...in 1992. Since...it was a free for all with projects carried out without any studies or transparency...Who is monitoring ADM's investment decisions? Its charges for airport improvement fees?
There is a real problem with governance. Will the Minister of Transport at least undertake to have ADM subject to review by the Auditor General?