Maria Mourani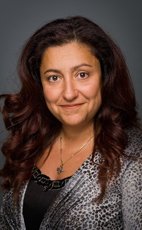 House of Commons photo
Track Maria
Your Say
Elsewhere
Crucial Fact
Her

favourite word

is prostitution.
Independent
MP for Ahuntsic (Québec)
Won her last election, in 2011, with 31.80% of the vote.
Statements in the House
Youth Prevention October 23rd, 2014
Mr. Speaker, the recent attacks on soldiers and the attack on Parliament yesterday raise many questions.
Investigations are under way, of course. However, we already know that the perpetrators were known to the authorities. Their passports had even been taken away to prevent them from fighting abroad with jihadist groups.
While our intelligence agencies and our police forces are equipped to deal with well-organized terrorist groups, they cannot deal with this kind of terrorism alone. Evil is striking our country and the western world: youths with no direction who are being brainwashed by jihadist propaganda every day. This kind of terrorism attacks the conscience of vulnerable young people.
We must therefore put in place prevention programs, with specific budgets, that address the violent radicalization of young people and make it possible to intervene when tips on those young people are received.
Ministerial Statements October 23rd, 2014
Mr. Speaker, I would like to begin by thanking all my colleagues for giving me the opportunity to speak for a few minutes.
One may not reach the dawn save by the path of the night. Those are the words of poet Kahlil Gibran. Warrant Officer Patrice Vincent and Corporal Nathan Cirillo were murdered, and let us not forget that a third soldier was wounded. They embody one of our institutions dedicated to defending our freedom and democracy. Our thoughts are with their families. They will not be forgotten.
Our eternal gratitude also goes out to the women and men who kept everyone in the House of Commons safe. A man tasked with providing that security told me one day that his role was to protect us all even at the risk of his own life. Yesterday, Mr. Vickers, you and your team were true to your word. Thank you.
Evil is striking our country and its vulnerable youth, whose minds are being poisoned daily by jihadist ideologues who blithely prey on our young people on the Internet. This type of terrorism assails the conscience of vulnerable youth that have lost their way. We must combat this with love and prevention and by defending the right to freedom, democracy, and individual rights. We must not lose our way and attack individual freedoms out of fear and turning inward.
Today, I see that we can rise above our challenges when we want to. Let us all work together with this same solidarity and love that I am feeling in the House today. Let us work together to help these young people resist the pull of these groups, to help our youth and our country.
Military Contribution Against ISIL October 7th, 2014
Mr. Speaker, as my colleague knows—it is no secret—Canadians have reportedly gone abroad to join the jihadists. This is outlined in the report from the Department of Public Safety. Apparently, there are even some Canadians who have come back and are like sleeper cells.
I asked the Minister of Public Safety and Emergency Preparedness whether there were specific programs, with specific budgets, to prevent this and limit violent radicalization of young people. He was not able to respond.
Could my colleague tell me whether any such programs exist, with their own budgets, to prevent violent radicalization here in Canada?
Military Contribution Against ISIL October 6th, 2014
Mr. Speaker, I would like my colleague to clarify one thing for me. I am not sure that I understood correctly, and she could perhaps even reassure me. Does the NDP consider the al-Nusra Front to be a terrorist organization? I did not quite understand what she said.
In closing, what I find very frustrating about this situation is that with this whole humanitarian disaster, both in Syria and in Iraq, I have actual files in my riding concerning Canadian children currently in Syria. The Minister of Citizenship and Immigration is refusing to issue visas to some of the relatives, the mother, father and younger brother, who are not Canadians, to allow these families to come to Canada. That is a key issue in my riding. I have been trying to work with this minister for almost a year, and nothing has happened so far. The children are Canadian and are still in Syria.
Public Safety October 6th, 2014
Mr. Speaker, the 2014 Public Report on the Terrorist Threat to Canada states the following:
Working with communities, the Government is contributing to efforts to build prevention capacity...to impede the radicalization-to-violence process.
Can the Minister of Public Safety and Emergency Preparedness stop with the rhetoric and tell us whether there is actually a radicalization-to-violence prevention program—such as the street gang prevention program—that includes a budget?
Rail Transportation September 30th, 2014
Mr. Speaker, in May 2013, the Federation of Canadian Municipalities published a document that recommended a minimum distance between main railway lines and new construction. However, regulations are still not standardized across the country.
When will the government establish a minimum distance between the construction of any new building and railway lines in Canada?
Burundi September 16th, 2014
Mr. Speaker, I would like to express the legitimate concerns of the people of my riding who are of Burundian origin.
Burundi's history has unfortunately been marked by several inter-ethnic massacres. A peace process, which was supported by Canada, led to the Arusha agreements in 2000 and a political transition in 2005.
In that context, in 2014, the Parliament of Burundi passed legislation to create a truth and reconciliation commission. However, some people have concerns about the process for appointing commissioners and the possible absence of international participants and human right observers.
I would also like to invite the Canadian government to provide Burundi with some expertise and support in the creation of that commission, so that it may lead to lasting peace.
The children of Burundi deserve a better future.
Public Safety September 15th, 2014
Mr. Speaker, in its most recent 2014 report, CSIS indicated that Canadians are going abroad to join jihadist groups, including Daech, and commit terrorist acts, mainly in Iraq and Syria. The possible return of these individuals poses an obvious threat to Canada's national security.
What does the government intend to do put an end to this new scourge that could one day come back to haunt us?
Ahuntsic Community Organization June 17th, 2014
Mr. Speaker, the organization we now know as the Union des familles d'Ahuntsic was founded in 1963. Like many community institutions in Quebec, the Union des familles d'Ahuntsic was originally established by a church, in this case, the Saint-André-Apôtre parish. In the 1970s, Loisir Saint-André-Apôtre became the Union des familles d'Ahuntsic.
I want to commend the women and men who have helped make high-quality leisure activities accessible to everyone: women, men, teens and children.
Day camps, sports, dance, wood carving, stained glass, Japanese embroidery, music and singing are just some of the activities offered at the UFA. Over the years, many residents of Ahuntsic have developed their skills in this respectful and accepting environment.
On behalf of my constituents, I want to thank the people at the Union des familles d'Ahuntsic and wish them well in the future.
Justice June 16th, 2014
Mr. Speaker, people are saying that Bill C-36, as it stands, will not make prostitution illegal. This is an important aspect because the legal nature of prostitution was a fundamental element that, for the Supreme Court justices, justified their ruling in the Bedford case.
Will the Minister of Justice clearly state in Bill C-36 that prostitution is illegal in Canada?