Maria Mourani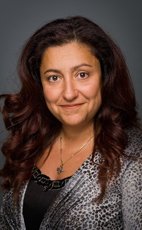 House of Commons photo
Track Maria
Your Say
Elsewhere
Crucial Fact
Independent
MP for Ahuntsic (Québec)
Won her last election, in 2011, with 31.80% of the vote.
Statements in the House
Status of Women January 27th, 2014
Mr. Speaker, on December 20, the Supreme Court struck down the provisions on procuring, solicitation and keeping a bawdy house under the existing legislative framework.
However, prostitution is a system of exploitation and a form of violence against women and girls.
Does the Minister of Justice plan to propose a new legislative framework to combat prostitution by making it officially illegal and criminalizing the purchase of sexual services rather than prostitutes?
Nelson Mandela December 10th, 2013
Mr. Speaker, Canada's ties to Nelson Mandela and South Africa are well established and undeniable.
In 1998, Nelson Mandela became a Companion of the Order of Canada. In 2001 he was the second foreign national to obtain honorary Canadian citizenship. I am therefore renewing my request, so that future generations remember the work of Nelson Mandela and Canada's international political action, both of which helped make the world a better place.
Would the government consider devoting a national day to Nelson Mandela?
Nelson Mandela December 6th, 2013
Mr. Speaker, I listened carefully to my colleagues' eloquent tributes to Nelson Mandela.
I believe that we all agree that future generations should always remember the profound friendship and the ideals that united and continue to unite Canada and this great man.
Would the government consider instituting a national Nelson Mandela day?
Concertation-Femme Centre for Women in Ahuntsic-Cartierville December 4th, 2013
Mr. Speaker, in this special week, during which we mark the National Day of Remembrance and Action on Violence against Women, I would like to acknowledge the outstanding work of the Concertation-Femme team in Ahuntsic-Cartierville.
In addition to developing an excellent information tool in 10 languages addressing women's rights and the prevention of all forms of violence, this organization's workers and volunteers reach out every year to women from over 55 countries who have just arrived in Canada. They work with mothers and elderly women to foster their emotional and economic independence.
More recently, Concertation-Femme has held a number of activities with students in high schools, during which they address such issues as relationships between girls and boys and self-respect.
Congratulations and a sincere thank you to Concertation-Femme.
Criminal Code November 26th, 2013
Mr. Speaker, I would like to begin by thanking all of my colleagues for their speeches and for their support for this bill. This demonstrates that when we work together in the interests of Canadians, we create positive results.
I will not use my five minutes because I know that we all wish to see this bill referred to the Senate so that it can follow its course. We have been debating this bill in the House for about a year or a year and a half, and it has unanimous support. Therefore, Mr. Speaker, I am sure you can understand that we are simply eager to vote unanimously to send this bill to the Senate.
Once again, I would like that thank everyone in the House.
Criminal Code November 26th, 2013
Mr. Speaker, I would like to thank my colleague for his excellent question. I think that model is an excellent one.
Canada needs to address the issue of purchasing sexual services. Sweden has done it and Norway has followed suit. They started with a basic principle: prostitution is a form of violence and the women, men and children trapped in the system are victims.
They created a law called "Women's Integrity". What a great name. They invested resources in it and they worked to make their society understand that purchasing any form of prostitution—through a massage parlour, a strip club, or escort service—contributes to human trafficking and the exploitation of women.
They have created an egalitarian society where no human being may buy another. I dream of the day when we have a law here in Canada that makes it a crime to purchase sexual services and decriminalizes those victimized by prostitution by giving them safe havens and resources to get out of the trade, not to keep them in it. I dream of that day. I know that Canada is a great country that can take that vision and bring it to North America.
Criminal Code November 26th, 2013
Mr. Speaker, I thank my colleague for her question.
Indeed, trafficking takes many forms, and forced labour is a much more significant aspect of it in some countries. In Canada, 80% to 90% of all human trafficking is for the purpose of sexual exploitation. This is why I am placing so much emphasis on this. This is currently the most significant phenomenon in Canada.
I agree that a small part of this exploitation occurs in the context of domestic work, for example, and the bill covers all kinds of human trafficking. All forms of human trafficking are abominable, but it is essential not to lose sight of a very important aspect of human trafficking worldwide.
Fully 80% of human trafficking in the world is done for sexual exploitation. It is important to understand that prostitution is linked to trafficking. We cannot separate the two issues and say that we have prostitution on one side and human trafficking on the other. That is not true. That would be burying our heads in the sand.
Prostitution and human trafficking are intertwined. All countries that legalized prostitution have seen human trafficking grow exponentially. We should be wary of this trap. We should not talk about prostitution as if it were an issue separate from human trafficking. That is a trap.