Massimo Pacetti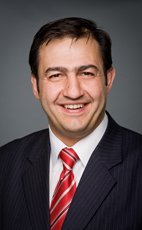 House of Commons photo
Track Massimo
Your Say
Elsewhere
Crucial Fact
His

favourite word

is going.
Independent
MP for Saint-Léonard—Saint-Michel (Québec)
Won his last election, in 2011, with 42.30% of the vote.
Statements in the House
International Trade November 24th, 2014
Mr. Speaker, according to the Canadian Intellectual Property Office, Canada has 25 recognized geographic indicators. In the 2004 agreement with the European Union, only 9 of the 25 indicators were protected in the European Union, but we recognized more than 1,400.
Recently, in the free trade agreement, this government recognized an additional 179 European geographic indicators, but we got no additional protection for our products.
Is there a reason why this government is refusing to protect Canadian products internationally?
Amateur Hockey November 18th, 2014
Mr. Speaker, in 1995, thousands of kids were born in Montreal, including my son, Carlo. Five years later, my son and roughly 50 other kids signed up to play amateur hockey for the very first time, in Saint-Leonard, and got to benefit from my stellar coaching.
One of those kids I coached, Anthony Duclair, made it to the NHL this year as a member of the New York Rangers. Congratulations, Anthony. It would be easy to say that I knew back then that he would make it, but the reality is that Anthony and his childhood teammates were just like millions of other young Canadian athletes. There is no way to tell where youth sports will take them. A select few will make it to the highest levels, while the vast majority will not, but this does not make some better than the others. What really matters is that they all got the opportunity to learn important life skills through amateur sports.
Anthony, through years of hard work, has earned every bit of success he is achieving. I am certain that his parents and everyone who helped him along the way are filled with pride seeing him reach these new heights, myself included.
To my son Carlo and all of Anthony's pre-novice teammates, the job market out there is pretty rough, so do not forget the life skills learned at the rink. They will be needed.
Petitions November 18th, 2014
Mr. Speaker, I have a few petitions here to present.
I would like to begin by thanking Donald Haney, Pierrette Desrosiers and Monique Desrochers for sending me these petitions regarding the Canadian Broadcasting Corporation.
The petitioners are saying that our national broadcaster is a key player that fulfills an important role in showcasing the reality of Canada's regions. They are also saying that our public broadcaster reflects our diverse realities and can benefit from a shared national spirit.
The petitioners are therefore calling on the Government of Canada to maintain stable and predictable long-term core funding for the public broadcaster, including English and French radio, in support of its unique and crucial role.
Questions Passed as Orders for Returns November 5th, 2014
With respect to government advertising: for each television advertisement which has been aired during the 2014 "Fédération Internationale de Football Association" (FIFA) World Cup, what is the (a) identification number, name or ADV number; (b) number of times each advertisement has aired during such a broadcast, specifying the total number of times and the total length of time (seconds or minutes), broken down by date and match for each advertisement; (c) total cost to air each advertisement, broken down by date and match; (d) criteria used to select each of the advertisement placements; (e) media outlet used to air each advertisement, broken down by date and match; and (f) total amount spent per outlet, broken down by date and match?
Questions Passed as Orders for Returns November 5th, 2014
With regard to materials prepared for Assistant Deputy Ministers from June 4, 2014 to the present: for every briefing document prepared, what is (i) the date on the document, (ii) the title or subject matter of the document, (iii) the department's internal tracking number?
Questions Passed as Orders for Returns November 5th, 2014
With regard to materials prepared for deputy heads or their staff from June 4, 2014 to the present: for every briefing document prepared, what is (i) the date on the document, (ii) the title or subject matter of the document, (iii) the department's internal tracking number?
Economic Action Plan 2014 Act, No. 2 October 30th, 2014
Mr. Speaker, my colleague's very good question does not only relate to Montreal. Urban centres all face the challenge, but we saw in the last budget implementation bill that the government committed to having tolls put on the Champlain Bridge. Just south of Montreal we have three other bridges. If we put tolls on just the Champlain Bridge, we are going to have backlogs in traffic all the way to the east end and the Champlain Bridge is located on the west end. I met with some east end business groups and they said we will not solve the problem by setting tolls. The problem will be solved by investing more in infrastructure.
There is a chronic problem in this country in getting goods from east to west and west to east through the provinces, but we have a huge problem on the island of Montreal getting goods from the east end to the west end because of tonnes of problems with infrastructure. Putting tolls on the Champlain Bridge will be one of the many problems that we will have if the government does not get its act together and put more money into infrastructure.
Economic Action Plan 2014 Act, No. 2 October 30th, 2014
Mr. Speaker, I thank my colleague for her question.
If the government will not listen to the NDP and the Liberal Party, maybe it will listen to the Parliamentary Budget Officer, who came up with the estimates.
I might have gone a little too fast, so I can redo the math, but it is just like my colleague said. The government's new employment insurance reform will cost $500 million and will create just 800 jobs. If you divide $550 million by 800 jobs, that means each job will cost $700,000. That makes no sense.
That $500 million could be invested in ridings like the one represented by my colleague from Sudbury, or the Island of Montreal, where unemployment rates are a little too high. That way, we could train our young people so that they can find sustainable jobs for the future.
Economic Action Plan 2014 Act, No. 2 October 30th, 2014
Mr. Speaker, we are here to debate Bill C-43 to implement certain provisions of the 2014 budget. I am pleased to be able to speak on this subject.
First, I believe that it is logical to oppose bills like this one that are too big. This bill addresses too many subjects that have nothing to do with the budget. As a result, we do not have enough time to analyze and thoroughly debate the bill. By way of evidence, this bill corrects a number of previous bills that contained disparate elements.
We have come to expect omnibus bills from this government, and that is something that I find unacceptable in a country like Canada. Today, we are not only debating the implementation of the budget, but also amendments to the Criminal Code, patents, aeronautics and telecommunications, employment insurance and social assistance, which the government wants to take away from part of the population. I am not the only one to point out the Conservatives' lack of respect for democracy.
To come back to the bill before us today, I believe that it contains initiatives and measures that are not in line with the pressing needs of the middle class. The bill offers tax credits here and there, but we can already predict that they will be useless, outdated and impractical.
I find it disappointing that the government ignores what the public wants when drafting a document as important as a budget. We need a much more ambitious plan in order to offer middle-class families better opportunities, while doing everything we can to foster sustainable economic growth.
One of the measures in the bill that I would like to speak about today is the increase in the child fitness tax credit from $76 to $150. This increase is one of the new income tax measures. As the sport critic, I am pleased to speak about this initiative.
During the 2011 election, the Conservatives' platform indicated that this measure would cost approximately $130 million a year. The government now expects it to cost only $35 million a year, even though this tax credit will be refundable every year. The fact that the government lowered the estimated cost of this initiative shows that it already knows that this increased tax credit will not increase our children's physical activity.
Of course, no one is against costs that are lower than planned, and no one is against additional tax credits. However, I strongly believe that if the measure already in place did not achieve the goal of making young people more active, then the proposal to increase the tax credit will not really encourage more people to use it to improve their children's health.
The participation rate in organized sports is going down, not up. The only year when there was an increase in the past 10 or 15 years was in 2003. We know what happened: in 2002, during the Winter Olympics, the men's and women's hockey teams won gold medals. We expect to see increased participation in organized sports this year because Canada won medals in hockey and curling. There will be just a slight increase in participation. We do not expect this increase in the tax credit to increase the number of children registered for sports such as hockey in the long term.
This shows that the government is not listening. This initiative is not the help that Canadian families need to motivate young people to be physically active. I know the benefits of physical activity, and I think we need to assess certain policies and improve them or even replace them when they are not working.
It has been proven that being active plays a very important part in reducing the long-term risk of heart disease, hypertension, diabetes and cancer.
According to a document produced by the Conference Board of Canada, inactivity is a serious problem for everyone. The document says that "sitting is being called the 'new smoking'".
This is a problem that affects both adults and children, who are becoming increasingly focused on and influenced by technology. This is a social crisis that affects us all. Computers and televisions are creating a generation of young people who remain seated and who do not move enough.
Unfortunately, I see the child fitness tax credit as a relatively ineffective and impractical tax measure.
A real initiative to encourage young Canadians to get into shape would involve resources on many different levels. Various Canadian sports organizations wanted the federal government to invest a significant amount of money in infrastructure for various sports.
I have to wonder how much the government has set aside to refurbish or build sports infrastructure over the next few years. Has the government set aside any money, and could this government commit to doing more and doing a better job at getting our young people moving? I think it is the government's responsibility to look at the programs it develops and eliminate them when they do not achieve their objectives.
I enjoy sports and this topic is important to me, so I am aware of the urgent needs in the sports world. The most common concern is the lack of infrastructure and resources. We are lacking resources to better train our coaches and enable elite athletes to continue to train in the future.
Massive, direct investments in sports infrastructure could play a big part in getting Canadians back in shape. I urge the government to act now for the well-being of all young Canadians.
Another important aspect of the bill that I would like to debate is the amendment to the Employment Insurance Act. This new employment credit is for small businesses that pay less than $15,000 in EI premiums annually. According to government estimates, this credit will cost $550 million over the next two years. Again according to government estimates, this initiative could create approximately 800 jobs over the next two years.
However, this is another useless and ill-conceived measure by this government. According to the Parliamentary Budget Officer, each one of the jobs created will cost about $700,000. Some experts even believe that this credit will eliminate jobs, which goes against its main objective. This is not really the help that the Canadian middle class is looking for.
The Liberal Party proposed a two-year premium exemption for every new job created by small businesses. We believe that companies that create new jobs should be compensated and that we should not run the risk of losing jobs or driving down salaries because of a bad tax credit.
The Liberal Party believes that we must focus on job creation for the middle class and on economic growth. We can only build a strong and growing economy by addressing Canadians' concerns and listening to what they want. The government is completely out of touch with Canadians and is not offering any major, practical solutions to spur economic growth.
In closing, I believe that Bill C-43 does not meet Canadians' expectations. The government must do better when it comes to investing in infrastructure, investing in education by working with the provinces to promote accessibility, and developing real initiatives to create jobs in Canada. Furthermore, I believe that the government should sit down with the provinces and consider the different problems they are facing.
Economic Action Plan 2014 Act, No. 2 October 30th, 2014
Mr. Speaker, I rise on a point of order. It is nothing urgent, but as my colleague from Winnipeg North did previously, I would ask for unanimous consent for the following motion: That the 18th report of the Standing Committee on Procedure and House Affairs, presented on Tuesday, September 30, 2014, be concurred in.