Massimo Pacetti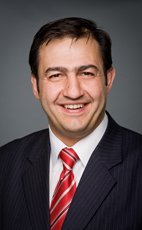 House of Commons photo
Track Massimo
Your Say
Elsewhere
Crucial Fact
His

favourite word

is going.
Independent
MP for Saint-Léonard—Saint-Michel (Québec)
Won his last election, in 2011, with 42.30% of the vote.
Statements in the House
International Trade February 16th, 2015
Mr. Speaker, various free trade agreements are currently being discussed, and the opening of international markets could have a serious impact on small and medium-sized businesses in Canada if they are not prepared for it. The global markets action plan does not include any concrete measures specifically for SMEs.
With several agreements about to be implemented, we are still wondering if the government plans to develop a strategy to help SMEs manage the risks associated with international trade.
Can the Minister of State for Small Business and Tourism explain why he is leaving SMEs to fend for themselves?
Tourism February 5th, 2015
Mr. Speaker, in 2002, 40% of Canada's tourism revenue came from international tourism. Today that number has dropped by 20%.
The hotel association is asking the government to increase the tourism marketing budget to attract more international tourists. Funding for the Canadian Tourism Commission has been shrinking since 2010.
When will the minister make appropriate investments in marketing tourism internationally to raise Canada's profile as a tourism destination of choice?
Committees of the House February 4th, 2015
Mr. Speaker, I have no problem with proceeding in this manner. I will vote in favour of the motion.
Sports January 27th, 2015
Mr. Speaker, over the past five years, this government has spent over half a billion dollars on the children's fitness tax credit. Its attempt to get young Canadians to be more active has failed. According to Active Healthy Kids Canada's 2014 report card, only 5% of young Canadians meet the Canadian guidelines for physical activity.
What we need are better-funded, more accessible sports programs with modern infrastructure. When will this government take action to improve young Canadians' physical fitness?
School Boards December 8th, 2014
Mr. Speaker, on November 2, school board elections were held across Quebec.
As a former school board trustee, I know the kind of impact these elections will have on our children's future. School board trustee is a very important local position that does not always get the credit it deserves.
My riding is served by three school boards in two languages, and I would like to thank all the candidates who put their names forward. Election night saw familiar faces return and new faces emerge, and it even saw one tie, proving once and for all that every vote counts.
I want to thank all the outgoing trustees for their dedication, and I want to congratulate Mohamed Maazami and Kenneth George, who will serve as trustees for Saint-Michel on the French Montreal school board.
I would also like to thank Patricia Lattanzio in Saint-Léonard and Dominic Furfaro in Saint-Michel, who will serve as trustees at the English Montreal School Board.
I also want to thank Vincenzo Galati and Leonardo Ragusa, who were elected as trustees for Saint-Léonard on the Pointe-de-l'Île school board.
Lastly, I want to extend my best wishes to Chantal Harel-Bourdon, Angela Mancini and Miville Boudreault, who were elected as chairs of these three school boards.
International Trade November 24th, 2014
Mr. Speaker, according to the Canadian Intellectual Property Office, Canada has 25 recognized geographic indicators. In the 2004 agreement with the European Union, only 9 of the 25 indicators were protected in the European Union, but we recognized more than 1,400.
Recently, in the free trade agreement, this government recognized an additional 179 European geographic indicators, but we got no additional protection for our products.
Is there a reason why this government is refusing to protect Canadian products internationally?
Amateur Hockey November 18th, 2014
Mr. Speaker, in 1995, thousands of kids were born in Montreal, including my son, Carlo. Five years later, my son and roughly 50 other kids signed up to play amateur hockey for the very first time, in Saint-Leonard, and got to benefit from my stellar coaching.
One of those kids I coached, Anthony Duclair, made it to the NHL this year as a member of the New York Rangers. Congratulations, Anthony. It would be easy to say that I knew back then that he would make it, but the reality is that Anthony and his childhood teammates were just like millions of other young Canadian athletes. There is no way to tell where youth sports will take them. A select few will make it to the highest levels, while the vast majority will not, but this does not make some better than the others. What really matters is that they all got the opportunity to learn important life skills through amateur sports.
Anthony, through years of hard work, has earned every bit of success he is achieving. I am certain that his parents and everyone who helped him along the way are filled with pride seeing him reach these new heights, myself included.
To my son Carlo and all of Anthony's pre-novice teammates, the job market out there is pretty rough, so do not forget the life skills learned at the rink. They will be needed.
Petitions November 18th, 2014
Mr. Speaker, I have a few petitions here to present.
I would like to begin by thanking Donald Haney, Pierrette Desrosiers and Monique Desrochers for sending me these petitions regarding the Canadian Broadcasting Corporation.
The petitioners are saying that our national broadcaster is a key player that fulfills an important role in showcasing the reality of Canada's regions. They are also saying that our public broadcaster reflects our diverse realities and can benefit from a shared national spirit.
The petitioners are therefore calling on the Government of Canada to maintain stable and predictable long-term core funding for the public broadcaster, including English and French radio, in support of its unique and crucial role.
Questions Passed as Orders for Returns November 5th, 2014
With respect to government advertising: for each television advertisement which has been aired during the 2014 "Fédération Internationale de Football Association" (FIFA) World Cup, what is the (a) identification number, name or ADV number; (b) number of times each advertisement has aired during such a broadcast, specifying the total number of times and the total length of time (seconds or minutes), broken down by date and match for each advertisement; (c) total cost to air each advertisement, broken down by date and match; (d) criteria used to select each of the advertisement placements; (e) media outlet used to air each advertisement, broken down by date and match; and (f) total amount spent per outlet, broken down by date and match?