Massimo Pacetti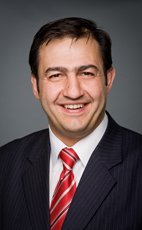 House of Commons photo
Track Massimo
Your Say
Elsewhere
Crucial Fact
His

favourite word

is see.
Liberal
MP for Saint-Léonard—Saint-Michel (Québec)
Won his last election, in 2011, with 42.30% of the vote.
Statements in the House
Protecting Canadians from Online Crime Act October 10th, 2014
Mr. Speaker, I want to thank the hon. member for a good speech. I know he made it low key.
With his experience, I want to give him a chance to explain. Since the current government has been in place, has he seen other examples of bills, whether we call them omnibus, Trojan horses, or any of the other words we have used, that have been totally unacceptable and have only succeeded in dividing the House instead of trying to work for Canadians?
Copyright October 10th, 2014
Mr. Speaker, the government is trying to concoct a ridiculous excuse involving free speech. It is seems the government means "free" in the sense that it will not cost the Conservative Party one red cent for all the footage it steals. It is hardly free when the exemption would apply only to political parties and no one else.
Would the government please announce that it is dropping this hare-brained scheme?
Copyright October 10th, 2014
Mr. Speaker, the Minister of Industry once said copyright matters to Canadian businesses that drive our economy.
It seems that will not apply if the businesses are news organizations and the Conservative Party wants to steal their content for its ads. It is a tactic that we only see in banana republics.
Will the government back off and drop this ill-conceived plan?
Copyright October 10th, 2014
Mr. Speaker, the Minister of Industry has already said that copyright matters to Canadian businesses that drive our economy. It seems that will not apply if the businesses are news organizations and the Conservative Party wants to steal their content for its ads. It is a tactic that we only see in banana republics.
Will the government drop this mean-spirited, unfair plan?
National Fiddling Day Act October 7th, 2014
Mr. Speaker, we were having a discussion in this corner and wondering what happened to violin day. Some people say that the fiddle and the violin are the same. Could the member expand on that? How about some of the other stringed instruments?
I am a piano player myself, but I would never present piano day. If members ever heard me play piano, they would not want to have a piano day.
Military Contribution Against ISIL October 7th, 2014
Mr. Speaker, as the member is a former national defence critic, what does he see as our military's role? How does he see the Liberal Party taking a role in this mission?
Second, he just spoke about the Prime Minister and, as many of us have said, the lack of trust or transparency the Prime Minister has shown. Could he expand on that?
Canada-Korea Economic Growth and Prosperity Act September 30th, 2014
Mr. Speaker, I do not know if that is a loaded question, but I will try to answer it in a non-partisan way as much as possible.
It is one thing to sign trade deals and another thing to follow up on. The world is changing and we see it as one world, a global economy. Leading trade partners in the last number of years are Canada, Japan and Korea. We started negotiating with Korea over 10 years a go. Japan has been negotiating more or less the same period of time. We are one of the last countries involved in TPP negotiations, and that has been going on for years.
Since the Conservative government came to power, we are always last. Signing a free trade deal does not provide us with extra trade. It is nice to say we will sign a free trade deal. The Prime Minister has signed a free trade deal with Europe I do not know how many times, I think at least three or four times in the last six months. However, it is not yet in law because we do not even know what Europe will do. It has not even begun. It just released the text. There is a bit of a disconnect between reality and announcements and what really goes on the business world.
Canada-Korea Economic Growth and Prosperity Act September 30th, 2014
Mr. Speaker, that is a great question, but it cannot be answered with a simple yes or no. It is a double-edged sword because some areas of technology require us to intervene pretty much right away. During testimony before the Standing Committee on International Trade, people from the technology sector said that they cannot wait years, as was the case during the softwood lumber dispute, which was dragged through the courts for years. Canadian technology companies like BlackBerry expect disputes to be resolved pretty quickly. They need a system that can hear both sides and reach a verdict as soon as possible.
Canada-Korea Economic Growth and Prosperity Act September 30th, 2014
Mr. Speaker, I am very pleased to rise in the House today to debate Bill C-41 on the Canada-Korea free trade agreement.
The Liberal Party and I support the initiatives that lead to free trade agreements. There are definitely many advantages to free trade agreements, and it goes without saying that Canada's economy gains strength when markets are opened. That is why we will support the bill to establish a partnership between South Korea and Canada.
We believe that it is important to establish a special relationship with South Korea, since we do more than $10.8 billion of bilateral merchandise trade with this country. Furthermore, South Korea already has free trade agreements with the European Union and the United States, which is an incentive for us to act quickly. We are now playing catch-up. We could end up at a serious disadvantage if we delay an agreement with South Korea even further.
Canada already lost more than 30% of its share of the South Korean market when South Korea signed agreements with the United States, the European Union and Australia. Since negotiations have been going on for nearly 10 years, we sincerely hope that this agreement will take effect quickly. Strategically, we are lagging far behind on markets we should already have access to.
This is the first free trade agreement that establishes an agreement with an Asian country, yet our primary trading countries are Asian countries, including Japan, China and Korea. The government is lacking a clear vision when it comes time to targeting new markets or quickly carving out a space in emerging markets.
The government boasts about signing free trade agreements, as we saw with the last member who spoke, but we have had some significant trade deficits since 2009. The announcement of a free trade agreement with South Korea will not magically fix that situation, as the Conservative government hopes. We think that the government needs to commit resources and make investments to increase trade.
For example, since the free trade agreement between South Korea and the United States was established, Canadian pork producers have lost the Korean market to the United States. This situation is unacceptable. We should have acted much more quickly before these kinds of things happened. Now that the agreement has been signed, this government has the duty to protect these industries and ensure that they regain their market share.
As the Liberal critic for small business, I am aware of the importance of this agreement for Canadian workers. Removing tariffs is often the support small and medium businesses want, to ensure that they have an equal chance of being competitive on the markets. The agreement can only help Canadian companies doing business with South Korea and the many subcontractors involved.
This agreement is even more beneficial when you take into account that the customs tariffs imposed by South Korea are about three times higher than Canada's, and they will be eliminated, on different schedules, once the agreement is in effect. These are small things that will matter a lot at the end of the year for Canadian small and medium-sized businesses.
I am pleased to hear the news for Canadian entrepreneurs who do business with South Korea, but I hope it is not too late for those who would like to enter the Korean market. Indeed, the various competitors from other countries have already become well-established since the signing of free trade agreements that preceded ours.
From another perspective, what concerns me about the free trade agreement between Canada and South Korea is the current situation with the Canadian automobile industry and what will happen once this agreement is implemented. The Canadian and North American auto market has already been significantly infiltrated by Korean vehicles.
About 100,000 Korean vehicles worth $2.6 billion are imported into Canada annually, while Canadian or North American vehicles do not really reach the Korean market. One hundred or so Canadian vehicles worth about $12.5 million are exported annually to South Korea.
Objectively speaking, it would be wrong to believe that free trade will create a balance. The government is really turning its back on the auto industry under this agreement.
In the final agreement summary, only South Korean imports from Canada are mentioned. There is no mention of Canadian imports from South Korea. We can therefore neither compare nor see the scale of the imbalance.
The government has gotten us used to that kind of thing: hiding important information to make it easier to pass bills that might be controversial. My concern is that the gap will only grow wider.
According to Unifor, Canadian auto sector imports from South Korea have increased by 1,010% since 1997. In that sector, the benefits are exclusively South Korea's. A greater number of Korean cars will enter the Canadian market, and it will get harder and harder to compete.
Another important and interesting aspect of the bill we are debating today is that it would not change anything in terms of intellectual property. Since becoming a member of the Standing Committee on International Trade, I have seen how big a global issue this has become. There are increasing demands to improve intellectual property protection, and there is a lot of pressure around that in various agreements.
From negotiations with the European Union to creating a trans-Pacific partnership, there is always disagreement about intellectual property. The surprising thing is that when a country complies with international intellectual property protection standards, a negotiating partner can ask it to do even more than the good things it is already doing, can expect all the parties to an agreement to use the same system. I am surprised but pleased to see that a free trade agreement that respects each country's system can happen.
Will the government be able to respect and protect our own Canadian standards as it negotiates agreements with the European Union and the countries working on a trans-Pacific partnership? It is difficult to tell at the moment, but our preliminary information suggests that the European Union's high expectations regarding intellectual property seem to be finding their way into the final agreement.
Over the course of the committee meetings, we repeatedly heard concerns about increased protection for intellectual property from representatives of various fields, including the pharmaceutical field.
Just this week, since the text of the final Canada-EU agreement was released, Canadians have already expressed concern about the potential increase in costs for drugs, as well as the possibility of higher costs in our health care system. I sincerely hope that their concerns will be taken seriously by this government.
To get back to the bill being debated today, I wish to support it so that it can be sent to committee for further study. I hope that we will have the viewpoints of all the sectors and stakeholders of society in the testimony at committee.
I hope that this agreement will not add significantly to the imbalance we can see in the automotive sector or that the government will at least keep an eye on the health of the Canadian sector.
I also hope that this agreement will help Canadian businesses by fostering more and more trade between the two countries. I think the elimination of trade barriers can only benefit the majority of Canadian businesses.
As I said before, such agreements have significant repercussions on local entrepreneurs. In fact, customs tariffs alone can account for many unnecessary direct and indirect expenses for small businesses.
Canada-Korea Economic Growth and Prosperity Act September 30th, 2014
Mr. Speaker, the member said that when the Liberals were in government, they had a difficult time with trade agreements.
However, I am looking at the statistics since 2003. For the years 2004 through 2008, on average, we had a trade surplus of at least $50 billion per year. Then from 2008 to 2011 and all the way to 2013, there was only one year when we had maybe half a billion dollars of trade deficit. In all the other years, we are looking huge amounts of deficit in trade.
Would the member agree that the trade agreements they are signing are insignificant and are maybe not doing the job?