Massimo Pacetti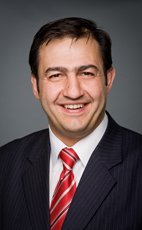 House of Commons photo
Track Massimo
Your Say
Elsewhere
Crucial Fact
Liberal
MP for Saint-Léonard—Saint-Michel (Québec)
Won his last election, in 2011, with 42.30% of the vote.
Statements in the House
Questions on the Order Paper May 10th, 2013
With respect to Bill C-463, what is the Department of Finance's estimate of the amount of increased economic activity that would be generated if the number of eligible travellers increased by (i) 5%, (ii) 10%, (iii) 15%, (iv) 20%, (v) 25%?
Questions on the Order Paper May 10th, 2013
With regard to the response to Order Paper question Q-1125 in which it is stated that, "the Department of Finance has conducted a costing analysis of Bill C-463", what details can the Department of Finance provide regarding the full version of this costing analysis, including the methodology used to conduct the costing analysis?
Discover Your Canada Act May 9th, 2013
Mr. Speaker, I am pleased to rise and close the debate on my private member's bill, the discover your Canada act.
I outlined previously to the House why we should send the bill to committee. I spoke about why I believe this legislation is important for building Canada's unity. I was very clear that this legislation is an initiative to encourage Canadians to travel within Canada, period. I have produced figures, testimonials and polling data. I have even shared personal insights to help my colleagues better appreciate my reasoning for introducing this bill. I do not intend to spend the little time I have today restating what I have already said. I will instead use the limited time I have to address some of the criticism brought forward by members, because I am disappointed by the pessimistic tone and the calibre of debate.
Our duty as members of Parliament is to assess the merits of legislation. In order to do so we must have accurate and detailed data to make better-informed decisions. However, many members are obviously not using accurate information. I heard the remarks made on March 27 by the member for Etobicoke—Lakeshore, who said that the bill is really just a novelty, a gimmicky distraction that would cost taxpayers more than $200 million without really encouraging tourism within Canada. I have problems with this statement that go beyond its non-collegial tone. Accusing me of imposing a gimmicky distraction upon Canadians is bad enough, but I dispute the claim that the discover your Canada act would cost over $200 million a year. It is a little exaggerated.
When researching where this number came from, I realized it was based upon a number that the Department of Finance came up with. To this date, the department has yet to provide me with a breakdown on how this number was arrived at, so I am not sure how credible this number is.
However the independent Parliamentary Budget Office has provided everyone here with a full-blown detailed analysis of this legislation so they can better understand the fiscal implications of what they would be voting on. The PBO calculations determine that the discover your Canada act would have a fiscal cost of $90 million, but at the same time, it also says there will be a revenue windfall of as much as $110 million due to the increase in tourism spending. If I were to use industry standards, which are quite conservative, every $1 spent would generate $5 of economic spinoffs. Members can see that the cost is not even a factor, contrary to what some Conservative and NDP members have said, who have used this as an argument to speak against the bill.
Therefore I am left to ask the question: What passes for solid evidence on the government side and on that of other members of the House, when time and time again the PBO has put out estimates more accurate than the government's? This happens when the government is more interested in partisanship than pursuing the best interests of Canadians. It is shameful. It is ongoing. It has to stop.
Unfortunately, I was also disappointed with the NDP's arguments against this bill.
My colleague for Montmagny—L'Islet—Kamouraska—Rivière-du-Loup read the report by the Office of the Parliamentary Budget Officer, but he does not seem to have understood it very well.
He seems to think that we are milking the Canadian tourism industry. If that were the case, why would the Parliamentary Budget Officer state that the measure will have $110 million in tourism spinoffs? It seems that there is some milk left.
My colleague also talked about potential fraud that the bill could encourage. For example, people could claim that a business trip was a vacation. As an accountant, I am very familiar with taxation. Business deductions are far more generous than the proposed measures in this bill.
In short, a business person who tries to claim a business trip under the provisions of this bill will pay more taxes because this deduction is less advantageous.
The bill may not be perfect. I accept that, and I am ready to work on it at committee. However there appears to be no desire by some Conservative or NDP members to work with me on the bill, which has the support of 70% of Canadians and would come into effect in 2017, in time to celebrate Canada's 150th birthday.
The PBO's estimate of $110 million in economic spinoffs is another piece of information that my colleagues have failed to mention in their haste to discredit the bill by claiming it would not encourage tourism within Canada, which is totally false. An independent Harris/Decima study confirmed that four out of ten Canadians surveyed would be more than likely to travel within Canada if the bill were passed.
I am asking all my colleagues to set aside partisan politics and vote for this bill so that we can study it in committee and improve it.
I will close by simply stating that we should vote in favour of the bill, which 70% of Canadians support in its current form, so we can send it to committee, work collaboratively to improve it and pass an even better version at third reading, so that even more Canadians will approve. We owe it to Canada to support the bill, which is good for national unity.
Pensions May 7th, 2013
Mr. Speaker, as soon as they were elected, the Conservatives began attacking our seniors. First, they eliminated income trusts. Then, they raised the age of eligibility for old age security from 65 to 67. Now, they are directly attacking the middle class and future retirees by eliminating the tax credit for labour-sponsored funds, which is very popular in Quebec. Quebeckers invest less in RRSPs than the average Canadian.
Why does the government have it in for Quebeckers?
Economic Action Plan 2013 Act, No. 1 May 6th, 2013
Mr. Speaker, we are still trying to add up how much the tax increases will be, because there are so many that are hidden. However, I will answer the question directly. Based on our calculations on just the tariffs, there will be a tax increase of $300 million this year for Canadian taxpayers.
Economic Action Plan 2013 Act, No. 1 May 6th, 2013
Mr. Speaker, again we are seeing the shortsightedness of the NDP. That is why, at the end of my speech, I said that the Liberals were going to come back into power, because we are able to balance the right and the left.
We do not look at 350 jobs. We are looking at the 350,000 manufacturing jobs that have been lost since the Conservative government took over, with the help of the NDP. That is the problem. It is not the 350 jobs. Hopefully, by signing free trade agreements, we have been able to bring in extra employment for Canadian workers. However, the current government, with its politics, has not been able to create extra opportunities so that people can find proper jobs.
Economic Action Plan 2013 Act, No. 1 May 6th, 2013
Mr. Speaker, I have not counted the number of people who have a job there. However, I know that there cannot be too many former Liberals there because the Conservatives are sure to get rid of them, whether they were involved in politics or not.
I did not talk about administrative costs. They reduced some of these costs, but that is fine by me.
The problem lies with the direct transfers to Quebeckers, the money that helps them. In 2011, these transfers totalled $424 million. It is estimated that these transfers will be $211 million in 2014. To my calculations, that represents a 50% reduction for Quebec's regional economic development budget.
Economic Action Plan 2013 Act, No. 1 May 6th, 2013
Mr. Speaker, with its recent budget, the Conservative Party is continuing its frontal attack on Quebec. Apparently, the Conservatives did not appreciate Quebeckers' refusal to vote for them, and so they decided to abandon one part of Canada's population and send the money somewhere where they would have a chance of winning some ridings. Quebeckers have heard a lot of bad news and, unfortunately, the measures in this bill are only the tip of the iceberg.
Let us begin with the Economic Development Agency of Canada for the Regions of Quebec. Last year in the House, the Conservatives assured us that the expected cuts would affect only the department's operating budget, and not transfer payments. That is not the case. Not only did the Conservatives cut the department's operating budget, but worse yet, they savagely reduced transfer payments to their lowest level since the Economic Development Agency of Canada for the Regions of Quebec Act came into force on October 5, 2005.
I looked it up in the public accounts which, unlike the Conservatives, are incapable of playing with the words and numbers. I am going to list the transfer payments, which are distinct from the agency's operating costs. In the 2005 public accounts, $286 million was paid out in transfers. In 2006, it was $293 million. In 2006-07, $316 million went in transfer payments. In 2007-08, it was $286 million. In 2008-09, it was $243 million. Here we see the numbers going down. In 2009-2010, transfers went up to $342 million. In 2010-11, it was $424 million. Then, in 2011-12, after the Conservative majority government was elected with only 10% support in Quebec, it was only $253 million. Finally, in 2012-13, the prediction is $252 million, an amount that will drop to $212 million in 2013-14.
I would remind the House that a 2013 dollar is worth less than a 2005 dollar, because of inflation. The Conservatives promised last year that they would decrease only the administrative expenses, and not the transfers. Yet, at $212 million, we have reached a very low point. Can the Conservatives tell us clearly what they intend to do with the Economic Development Agency of Canada for the Regions of Quebec? Are they abolishing it by stealth? Many businesses in Quebec need this government assistance. What is the Conservatives' plan? Do they want to abandon Quebec? Why have other regional agencies seen their budgets increase? Why is funding being increased in one place and decreased in another?
I do not suppose that the Prime Minister's office has written up answers for these questions, and so I do not even expect a response from Conservative members.
Economic action plan 2013 will reduce the labour-sponsored venture capital corporations tax credit, also known as the federal tax credit for labour funds, from 15% to 10% in 2015. The tax credit will decrease from 10% to 5% in 2016, and will be completely phased out in 2017. We all know that the Conservatives' narrow ideology dictates their policies. However, in this case, the Conservatives are directly attacking unions and they are attacking Quebec, whether they mean to or not. This tax credit is most popular in Quebec; 85% of those using it are Quebeckers. Even though labour funds do not provide the highest returns in the market, they are so popular in Quebec that many people who would not otherwise invest are investing in these funds. Many small businesses do not provide any retirement plan, and for their employees, labour funds are the only investment they make.
Quebeckers contribute less than other Canadians to RRSPs. We finally have a program that works, and all of a sudden it ends. How typically Conservative.
Generally speaking, this budget increases taxes more than it reduces them. It is certainly a good idea for the government to try to balance the budget, especially since the Conservatives have done nothing but increase the debt since they came to power.
However, the government must not try to balance the budget by gouging Canadians. For instance, taxes on small business owners will increase by $2.3 billion over five years.
We are just emerging from the economic crisis, and our economy is still quite fragile. This is what we are hearing on a daily basis from the Conservatives across the way. With measures of this kind, we are likely to drive many companies out of business, increase the number of unemployed Canadians and weaken Canada's economy.
At the same time, the penny-pinching Conservatives are sending public servants to harass the unemployed. They are raising taxes on credit unions by $75 million annually, an increase that will cause serious problems for economies in rural regions. They are attacking another one of Quebec's traditions.
To put it frankly, none of this makes any sense after such a major economic crisis, but we understand why this government improvises more often than not.
The crisis was particularly hard on young people, whose unemployment rate is now five points higher than it was before 2008. Young people, who have just finished their term or will soon be completing their school year, will not have any work this summer. Those young people will not save any money for the next academic year, which will push many into debt.
That will also have a negative impact on the economy as a whole since these young people will consume less this summer, which means less revenue for many businesses. Nevertheless, this budget contains no measures to promote youth employment.
We support some measures, but the budget on the whole does not meet Canadians' needs. What is more, the government has once again introduced an omnibus bill in order to pass measures that have nothing to do with the budget.
The Conservatives' ideological obsession is apparent throughout Bill C-60. Despite its right-wing ideology, this government has increased waste since 2006 and passed the cost on to Canadians.
We can also see from this budget that the Conservatives have completely abandoned Quebec. The elimination of the labour-sponsored fund tax credit, which is very popular in Quebec, and the significant cuts in funding for Canada Economic Development for Quebec Regions show that the Conservatives have given up on Quebec for the next election.
A good government should not favour one region over another. Instead it should unify the country by acting in the interests of all Canadians, which is what the Liberal Party of Canada will do when it forms the government in 2015.
We will repair the damage done by the Conservatives and will act for all Canadians.
Mental Health May 6th, 2013
Mr. Speaker, this week is Mental Health Week in Canada. One in five Canadians will be diagnosed with a mental illness in their lifetime. Yet there are many who will never speak to a doctor.
Canada's youth suicide rate is the third highest in the industrialized world, and while nearly 20% of Canadian youth suffer from a mental disorder, only one in five will receive treatment.
A prevention strategy and appropriate care are key to mental health care. We need to eliminate the stigma surrounding mental illness because it keeps those afflicted from seeking help before they do something that cannot be undone. We will not diminish the stigma by treating them as criminals.
The Mental Health Commission of Canada released a landmark mental health strategy a year ago, yet the Conservative government has taken no action. The government has taken credit for the MHCC's strategy for mental health in the workplace, but it has failed to implement these recommendations in its own public service.
Talking about mental illness helps de-stigmatize the issue, but talk must be backed up with action to truly help those in need.
An Act to Amend the Criminal Code (prize fights) May 6th, 2013
Mr. Speaker, I want to thank my colleague, who is a good hockey player. It is a pleasure to respond to his comments about sports.
The bill aims to decriminalize sports where feet are used in combat, for example karate, taekwondo and other martial arts. Sports must be regulated at the federal level in order to ensure that participants are able to practise them in a safe environment. I do not believe that we should criminalize these sports, which is why the bill seeks to update the Criminal Code. Parliament has not examined this issue for 80 years, so it is time to review this technical detail.