Massimo Pacetti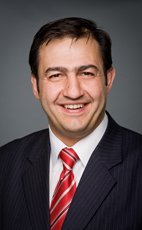 House of Commons photo
Track Massimo
Your Say
Elsewhere
Crucial Fact
Liberal
MP for Saint-Léonard—Saint-Michel (Québec)
Won his last election, in 2011, with 42.30% of the vote.
Statements in the House
Petitions December 4th, 2013
Mr. Speaker, a thousand people have signed a petition reminding the Prime Minister, the Minister of Finance and all members, particularly in the Conservative Party, that labour-sponsored funds, which are often used as a primary tool for saving for retirement, are savings vehicles for the middle class. These investments often go to small and medium-sized businesses.
The petitioners are calling on the Conservatives, the Minister of Finance and the Prime Minister to take all necessary steps to reverse the government's decision to eliminate the 15% federal tax credit granted to people who invest in labour-sponsored funds, as announced in the budget on March 21, 2013.
Questions Passed as Orders for Returns December 2nd, 2013
What is the total amount of government funding, allocated within the constituency of Saint-Léonard—Saint-Michel in the fiscal year 2010-2011, listing each department or agency, initiative and amount?
Questions Passed as Orders for Returns December 2nd, 2013
What is the total amount of government funding, allocated within the constituency of Saint-Léonard—Saint-Michel in the fiscal year 2009-2010, listing each department or agency, initiative and amount?
Questions Passed as Orders for Returns November 29th, 2013
With regard to Canadian Forces (CF) health issues: (a) how many CF members reported suffering from symptoms of Lyme disease for each of 2006-2012 inclusive; and (b) for each reported case, what is (i) the date of the suspected occurrence, (ii) the location of each occurrence, (iii) the rank of the injured CF member, (iv) whether the member was treated and returned to full duty?
Questions Passed as Orders for Returns November 29th, 2013
With regard to the Department of National Defence: between January 1, 2008, and December 31, 2012, how many investigations were initiated by the National Investigation Service (NIS), which the Office of the Chief of Defence Staff (CDS) or the Vice-Chief of Defence Staff (VCDS) ordered, directed, requested, enjoined, required, instructed, commanded charged, told or requisitioned the Provost Marshal or the Commanding Officer of the NIS to (i) conduct such an investigation and (ii) to report back or keep the Office of the CDS or the VCDS generally appraised of the conduct or outcome of the said investigation, and for each investigation, what was the date the NIS investigation was initiated, the rank of the Canadian Forces member being investigated, the general nature of the investigation and the date upon which the NIS investigation was concluded?
Petitions November 20th, 2013
Mr. Speaker, I wish to present several petitions signed by hundreds of Quebeckers.
The petitioners want the Minister of Finance in particular to do whatever is necessary to reverse the government's decision to eliminate the 15% federal tax credit granted to investors who pay into labour-sponsored funds, as announced in the budget on March 21, 2013.
Petitions October 31st, 2013
Mr. Speaker, I have a petition signed by constituents and other Montrealers for equity and fairness for the Canadian Museum for Human Rights.
They acknowledge that the Government of Canada has recognized fundamental human rights in the Charter of Rights and Freedoms and is providing over $100 million in capital funding for a national museum for human rights.
Canada has also recognized in legislation the Ukrainian great famine and the internment operations against the Ukrainian community during the First World War. Therefore, the petitioners are upset that unlike the Holocaust and indigenous suffering, the Holodomor will not be proudly and permanently recognized but rather will be included in a gallery alongside other mass atrocities and will not be given a permanent exhibit. Therefore, they call upon Parliament to ensure that the Holodomor and Canada's first national internment operations are permanently and prominently displayed at the Canadian Museum for Human Rights in its galleries.
National Hunting, Trapping and Fishing Heritage Day Act October 30th, 2013
Mr. Speaker, I am pleased to rise to speak to Bill C-501, An Act respecting a National Hunting, Trapping and Fishing Heritage Day.
This bill is quite simple. It would designate the third Saturday in September as National Hunting, Trapping and Fishing Heritage Day. This bill would be a symbolic acknowledgement of the contributions of hunters, trappers and anglers to Canadian society. From what I understand—and it is important to mention this—the bill would not create a new legal holiday and, therefore, would not entail any additional cost to Canadian society.
I would like to begin by talking about the historical importance of hunting, trapping and fishing in Canada. Well before the arrival of Europeans in North America, hunting and trapping allowed first nations to survive the harsh Canadian winters. Nomadic peoples, such as the Algonquin and the Inuit, survived by hunting, whereas more sedentary peoples relied more on agriculture than hunting.
The first French and English colonists quickly learned the first nations' hunting techniques in order to adapt to the frigid Canadian winters. For many years, the fur trade was the main source of revenue for the colony of New France. This trade resulted in a unique way of life, that of the coureurs de bois.
Courageous young men travelled around Canada to trade with first nations for animal pelts. This way of life continued until well after the Seven Years War and fostered cultural exchanges between European settlers and the first nations.
The openness of Canadians and respect for differences were the result, in part, of this trade. Many Canadian towns were founded as a result of the establishment of trading posts. This economic sector spawned such commercial empires as the Hudson's Bay Company and the North West Company. It is not an exaggeration to say that Canada would not be the great, prosperous country it is today without hunting and trapping.
Even today, many Canadians hunt and trap, both as a source of income and for recreation. Some of my colleagues in this House hunt and trap, as they have already said. I think it is a good idea to acknowledge this contribution by establishing a national heritage day, as the United States has done.
Fishing is also one our country's cornerstones. Canada's aboriginal population has long fished to survive. Certain aboriginal peoples, such as the Inuit, were even able to hunt whales at a time when boats did not perform nearly as well as they do today.
The first European settlers were quickly drawn in by the sheer volume of fish in Canada, and the fishing industry built up quickly. My colleagues, particularly those from the Atlantic provinces, can attest to the importance of fishing to their province's development. Salmon fished near British Columbia has gained international renown and is a valuable part of Canada's economy. Fishing also creates a number of spinoff jobs in processing products and manufacturing fishing equipment, for example.
It has been clearly demonstrated that fishing makes a significant economic contribution to Canada. Of course, predatory commercial fishing practices can harm marine fauna, and that sector needs to be regulated. Decreasing fish stocks in our oceans and lakes is a major concern, and the government has a duty to ensure that those stocks recover. There is more to fishing than the economic angle; it is a way of life for many Canadians across this country. There are far more Canadians who fish recreationally than who do it commercially.
Millions of Canadians fish or have fished for pleasure. While too many Canadians these days prefer to stay at home in front of their television or computer instead of getting outside, the popularity of this pastime and its health benefits must be pointed out.
Earlier, I mentioned the historical significance of hunting, trapping and fishing for the Canadian economy. The numbers speak for themselves. These activities generate $10 billion in economic spinoffs. For example, more than 3 million Canadians fish, and each year we export more than $4 billion worth of fish and seafood.
Commercial fishing employs more than 100,000 Canadians. Even trapping, which is less popular than fishing, brings in nearly $1 billion each year.
Many tourists come to Canada to hunt, trap and fish, so that they can take advantage of the abundance of locations available for those activities. Those tourists make significant contributions to the Canadian economy.
Many Canadians also go to other regions of the country to engage in these activities. For more isolated communities, the economic benefits of these Canadian tourists are tremendous and enable some of them to prosper.
That was one of the goals of my Bill C-463, the Discover Your Canada Act, which I introduced in the House. This bill would have encouraged travel within Canada, perhaps convincing people who enjoy hunting, fishing and trapping to visit other places in Canada in order to practice their favourite activity. Unfortunately, as we all know, the Conservatives and the NDP voted against that initiative.
I would also like to point out that people who like to hunt, fish and trap are committed to preserving the environment. They, more than most, can speak to the effects of climate change on the environment. They work and live in nature. Accordingly, they are generally concerned about maintaining our environment. What is more, many hunting and fishing enthusiasts volunteer their time to preserve our environment.
I would recommend that the members opposite do more than just designate a national hunting, trapping and fishing heritage day, and go even further by making a serious and tangible commitment to protect our environment.
Their environmental record so far has been condemned by almost every environmental group in Canada and abroad.
Canadians expect more. It is my hope that the government will propose concrete measures. Unfortunately, the many ideological cuts and changes made to the departments do not bode well.
Finally, as stated right in the bill, this national heritage day would not be a legal holiday or a non-juridical day, which should help avoid creating extra costs.
Nonetheless, I think we could consider this matter further in committee. For example, would the departments have to reprint their calendars in order to add this day? If so, how much might that cost?
I think there are a few technical details we need to iron out in committee.
Nevertheless, I support this bill because I believe that the contribution that hunting, trapping and fishing make to Canadian society is indisputable and deserves to be acknowledged.
I hope that my colleagues will agree and vote in favour of this bill so that we may refer it to committee and study its potential impact more closely.
Not Criminally Responsible Reform Act June 17th, 2013
Mr. Speaker, that was not a bad speech for such a late hour. The member spoke on the bill and the justification for the bill, which was commendable.
One of the areas the member started to speak about is what the bill does not do. Some of the mental health experts who came before the committee said that prevention is the key and that if we could diagnose people who suffer from mental illness at an early stage, it would help.
Would investing more money in trying to prevent these crimes perhaps be the best way to protect victims, by stopping the crime from ever happening?
Canadian Museum of History Act June 17th, 2013
Mr. Speaker, I just meant that out of respect, not out disrespect for the minister, because I know he will be answering the question.
Do we really need time allocation on this bill? It is not controversial. There are some aspects of the bill that need to be discussed. I know there were some amendments put before committee. However, none of the amendments were accepted.
The minister is more of a conciliatory type individual. From his point of view, would it not have been better if we had just sat down, come to some kind of agreement, accepted some amendments and decided that maybe we did not need to have time allocation on the bill?
I am asking the minister if that is possible.