Parm Gill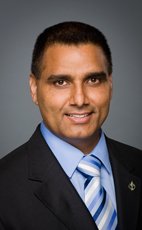 House of Commons photo
Track Parm
Your Say
Elsewhere
Crucial Fact
Conservative
MP for Brampton—Springdale (Ontario)
Won his last election, in 2011, with 48.30% of the vote.
Statements in the House
Veterans March 7th, 2014
Mr. Speaker, the modernization of Veterans Affairs' 50-year-old process is important and, so far, has eliminated dozens of forms and countless hours of headaches for Canadian veterans. More work must be done to ensure a seamless delivery of benefits and services available for veterans transitioning from the military, none of which is consistent with how Veterans Affairs Canada operated even a decade ago.
The only thing the NDP is interested in is more federal public servants to process more forms and red tape.
Veterans March 7th, 2014
Mr. Speaker, veterans have said they want faster services with less paperwork and red tape, which led to the veterans affairs transformation initiative in 2010.
As the report clearly indicates, any risks associated with such a wholesale change are being addressed by listening to veterans and experts. By streamlining our business practices with National Defence Canada and our partners, veterans affairs modernization will meet the needs of Canadian veterans.
Veterans Affairs March 3rd, 2014
Mr. Speaker, June 6 marks the 75th anniversary of the historic Allied invasion on D-Day.
Yesterday, the Minister of Veterans Affairs proudly announced Canada's effort to recognize and support the men and women who bravely fought on the beaches of Normandy. Our government will provide a maximum of $2,000 in travel assistance for up to 180 D-Day and Normandy veterans wishing to go to France in June. The application forms are available online, by email, or simply by calling Veterans Affairs Canada.
We are committed to helping make it possible for these great Canadians to be recognized for their service and sacrifice.
Lest we forget.
Veterans Affairs February 14th, 2014
Mr. Speaker, let me first thank the hon. member for Palliser. He is a hard-working member on behalf of his constituents.
Last year, our government doubled the financial payment, now totalling up to almost $10,000, while making the program itself easier to use for veterans' families. This week, economic action plan 2014 added $108 million for the Last Post Fund to ensure that modern-day veterans of modest means can have a dignified burial.
Here is what the president of the Last Post Fund said:
I am very pleased that the issue of eligibility of modern-day Veterans for the Funeral and Burial Program has been positively dealt with in this budget.
Veterans February 14th, 2014
Mr. Speaker, since coming to office in 2006, our government has invested over $4 billion in additional funding to help Canada's veterans, to provide them the services and the benefits that they deserve.
Every single time we have brought forward initiatives to help our veterans, the NDP and the Liberals have both voted against every single measure.
We on this side of the House will continue to stand up for Canada's veterans.
Veterans February 14th, 2014
Mr. Speaker, I understand that math is not necessarily the NDP's thing. Let me explain it for him. Our government has created 600 additional points of service across this great nation. There are now approximately 650 points of service in communities, in neighbourhoods, where a district office did not exist. We are putting points of service where veterans need them the most in the communities.
In the event that a veteran is unable to travel to a district office or is seriously injured, we will send a registered nurse or a case manager to the comfort of his or her home.
NATO Council Secretariat Intern February 14th, 2014
Mr. Speaker, I rise today to recognize a great, young, and bright Bramptonian. Jeelan Syed, a 24-year-old, is currently completing his internship at the council secretariat of the NATO headquarters in Brussels.
He studied in Toronto and Paris, specializing in international relations, with the aim of serving Canada as a diplomat. In addition to speaking both of Canada's official languages, he also speaks German, Russian, Arabic, Urdu, and Spanish. While at the University of Toronto, he was president of the francophone student association, promoting bilingualism. Motivated to see people of different backgrounds living together in harmony, he worked on peace-building projects in India, Kosovo, and Morocco, as well as working at the Canadian mission in Vienna, Austria.
Jeelan's passion to serve his community and promote multiculturalism continues to benefit those he helps. I invite all members to join me in recognizing Mr. Syed.
Citizenship and Immigration February 11th, 2014
Mr. Speaker, in Brampton-Springdale we hosted a meet and greet in our office to help welcome new citizens to our growing and vibrant community. The event was a resounding success where constituents from across our community came to share their immigration stories with one another. It was an excellent event that allowed us to meet some amazing Canadians coming from all different backgrounds, including Polish, Afghani, Mexican, and many more.
Each year, thousands of people come to our country in hopes of building a better life, to share in the values of freedom, opportunity, respect for the rule of law, and equality that help make Canada the greatest country in the world. Canada is a land of freedom and opportunity.
To hear the gratitude in the voices of new Canadian citizens from all backgrounds is truly moving. I look forward to doing this again in the near future.
Veterans Affairs February 7th, 2014
Mr. Speaker, we till take no lessons from the Liberal Party over there until the leader of the Liberal Party fires the member for Scarborough—Agincourt for disrespecting veterans on Remembrance Day, for saying that giving money to veterans is like hanging a case of beer in front of a drunk; they go and spend it either trying to buy a house or buying a fast car, or spend it on booze or addiction. That is what the Liberals—
Veterans Affairs February 7th, 2014
Mr. Speaker, we will take no lessons from the Liberal Party over there. Mr. Speaker—