Parm Gill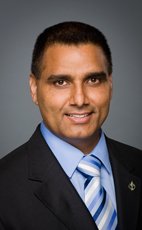 House of Commons photo
Track Parm
Your Say
Elsewhere
Crucial Fact
Conservative
MP for Brampton—Springdale (Ontario)
Won his last election, in 2011, with 48.30% of the vote.
Statements in the House
Personal Information Protection and Electronic Documents Act May 23rd, 2013
Mr. Speaker, I am pleased to rise today to speak to private member's Bill C-475.
I thank the hon. member for the opportunity to discuss our government's approach to protecting Canadians from data breaches. This issue is one of many the government has committed to addressing in its own bill to update the Personal Information Protection and Electronics Documents Act, namely Bill C-12, which is currently awaiting second reading.
I wish to point out that the data breach notification regime proposed in Bill C-475 takes a starkly different approach than that in Bill C-12. Bill C-475 requires organizations to first notify the Privacy Commissioner of every potential data breach, regardless of context or remoteness. The Privacy Commissioner must then determine whether affected individuals should be notified. Given the potential number of breaches that could be reported, such a regime would increase costs and burdensome compliance procedures for Canadian businesses and would impose an unwieldy financial and administrative burden on the Office of the Privacy Commissioner, generating more costs than benefits for taxpayers.
In contrast to the approach in Bill C-475, Bill C-12 requires that organizations determine whether a breach of personal information poses a real risk of significant harm to individuals. The organization experiencing the breach is in the best position to understand and assess the risks and decide quickly what should be done to protect individuals without delay. With appropriate oversight by the Privacy Commissioner, the responsibility should rest with the organization experiencing the breach. Bill C-12 also requires an organization to report a potential breach to the Privacy Commissioner when there is real risk of significant harm.
The Privacy Commissioner retains oversight of the notification process and would have the option of initiating an investigation if it were believed that notification was not done properly or did not occur when it was required. This also provides her office with information on the nature and number of breaches that have occurred.
There are other differences between the approaches to notification taken in the two bills. Bill C-475 states two factors that are to be used by an organization when determining whether to report a breach to the Office of the Privacy Commissioner. These factors are the sensitivity of the information and the number of individuals impacted by the breach. The use of only these two factors to determine risk related to a breach does not allow for consideration of circumstances to determine if a potential breach could be harmful.
This approach in Bill C-475 to determine whether to report a breach to the commissioner would also not capture breaches impacting only one or a few individuals, even where there is a high risk of significant harm to those individuals. This leaves a large portion of potentially harmful incidents outside of the legislation.
By contrast, Bill C-12 lays out different factors for determining whether a breach poses a real risk of harm, namely the sensitivity of the information and the potential for the misuse of that information. This requires the organization to assess all the circumstances around the breach, including, for example, whether the information was encrypted, whether it was fully recovered, or whether the circumstances suggest criminal involvement. All of these issues must be considered when determining the risk related to a particular data breach. If not, we run the risk of not capturing all harmful breaches or of focusing on capturing too many remote potential breaches, thereby increasing the burden on organizations and quite possibly reducing the commissioner's capacity for dealing with those that would cause harm.
Under Bill C-475, the proposed threshold to be used by the Privacy Commissioner for determining whether to order an organization to notify individuals is "appreciable risk of harm". This term is ambiguous and is not defined in the bill. It is therefore not clear what type of breaches this threshold is meant to capture.
The manner of notification to individuals required by Bill C-475 is stated as "...clear and delivered directly...in the prescribed form and manner". However, there are no details provided on what that form and manner would entail. Furthermore, the bill would not provide for regulation-making power to address this. PIPEDA applies to a very broad range of organizations of all sizes to ensure the timely notification of individuals. The means of notification imposed by any legislative requirement should be flexible enough to accommodate the varying circumstances in which these organizations find themselves.
For example, Bill C-12 would allow organizations to use means of notification such as website notices or paid advertisements, where necessary. This can be an important tool in situations where there is a large group of individuals who have not provided their current contact details, for instance. Organizations need access to every method available to reach those concerned in a timely manner. The new requirement proposed by Bill C-475 would create considerable uncertainty and would be burdensome and costly for organizations. In the U.S., where this issue is tracked annually, the average cost to an organization of a single notification is estimated to be $194. The average total cost to an organization for a data breach is approximately $5.5 million. As entrepreneurs in our communities strive to grow our economy and create jobs for Canadian families, we should take care to examine more efficient alternatives to ineffective procedures. These new requirements might even diminish the value of notification because of notification fatigue, causing individuals to ignore the numerous notices they receive. Bill C-475 would thus undermine its own purpose.
In summary, the opposition's approach in Bill C-475 would impose an administrative burden on the Privacy Commissioner and a financial burden on organizations and would impede timely disclosure of data breaches to individuals. Bill C-475 also does not define key terms adequately and does not capture many potentially harmful breaches, such as those involving a small number of individuals.
The notification regime proposed under Bill C-12, on the other hand, is a careful, risk-based approach that would balance the need for notification to individuals with the cost of notification. The comprehensive approach of Bill C-12 could be applied to the vast range of circumstances and considerations faced by the various types of businesses, both large and small, that are subject to our federal private-sector privacy legislation.
I would therefore urge hon. members to oppose Bill C-475, and I invite the opposition to join us in support of Bill C-12 and move it to committee for detailed consideration as soon as possible.
Hardeep Singh Kang May 22nd, 2013
Mr. Speaker, it is with great sadness that I rise today to pay tribute to a fine individual, a dedicated police officer and a young man I am proud to have known. Peel Regional Police Officer Hardeep Singh Kang passed away this weekend after his battle with cancer at only 25 years of age.
In his short life, Officer Kang dedicated his time to helping others in need, particularly by working with youth and providing guidance as a positive role model and an inspiration to all.
I offer my deepest and sincere condolences to the entire Kang family. It is my hope that we can all come together to provide support for the family and friends of Officer Kang as they cope with this tremendous loss. Officer Kang will be missed dearly by his family, friends, colleagues and everyone who knew him.
Organ Donation May 9th, 2013
Mr. Speaker, over the past month I have had the opportunity to partner with the Amar Karma Organ Donation Society and founder Loveen Gill on a special campaign to highlight the need for organ donors across our country.
The Amar Karma Organ Donation Society is Canada's first South Asian non-profit organization that has pledged to provide education on organ donation and encourage Canadians to become organ donors.
More than 1500 people are on the transplant wait list in Ontario alone, and the need far exceeds the number of registered donors.
A single donor can save up to 8 lives and enhance up to 75 others.
I would like to thank all of the Amar Karma volunteers who worked tirelessly to encourage Canadians to become involved in this extraordinary cause.
The success of this campaign has showed us all that together we can make a difference.
Economic Action Plan 2013 Act, No. 1 May 6th, 2013
Mr. Speaker, Canadians are very generous people who are known for their generosity right around the world. This government clearly recognizes that. That is one of the reasons why this government put a provision in our budget that encourages new Canadians and Canadians who have not donated in the past to donate. It would give them additional tax breaks and encourages first-time individuals who will be making donations. Charities are doing wonderful work across this country and other parts of the world and they will truly benefit from this.
Economic Action Plan 2013 Act, No. 1 May 6th, 2013
Mr. Speaker, I would like to point out to my hon. colleague the number of initiatives this government has taken since coming into power in terms of reducing the tax burden. I understand there have been about 150 different tax reductions. An average family of four currently saves in the neighbourhood of $3,200 a year.
I would also like to point out that the Liberals want to raise taxes. They are on record as asking for an increase of the GST from 5% to 6% to 7%. It was the Conservative government that reduced the GST and other tax initiatives that we have taken to help Canadian families. We will continue to do that.
Economic Action Plan 2013 Act, No. 1 May 6th, 2013
Mr. Speaker, I would like to point out that this budget was introduced well over a month ago. Since then all members of the House have had tremendous opportunity to debate the bill and that will continue. I understand, as my hon. colleague pointed out, a number of different committees will be studying the bill moving forward. There has been plenty of opportunity for all members of the House to debate the bill and there will be plenty more opportunity.
Economic Action Plan 2013 Act, No. 1 May 6th, 2013
Mr. Speaker, I am thrilled to rise in the House and speak in support of the economic action plan 2013 act, no. 1.
Since July 2009, our government's policies have helped the Canadian economy create over 900,000 net new jobs and lead the G7 in economic recovery.
Prior to the introduction of this budget, I had the opportunity to meet with many of my constituents in order to hear their concerns on the economy and to get their input. Through these meetings, I can report that the citizens of Brampton—Springdale strongly support the important actions our government has taken to lead Canada.
My constituents understand that our country is changing and want our government to look ahead into the future and plan for generations to come. They want their children to grow up in a country where job opportunities are plenty. It is for this reason that our government has tabled a strong and stable budget that every Canadian family can benefit from.
Like all Canadians, the wonderful people of Brampton—Springdale understand that the job of steering Canada through a troubled global economic downturn is not yet finished. There is still work that has to be done. Our government has done an outstanding job when it comes to keeping our country on the right track. In order for our country to stay on the right path, we must implement the measures introduced in the budget. This is not the time for us to rest on our hands. Our government and the citizens of Brampton—Springdale understand it very well.
During my consultations with my constituents and small business owners, there were four very clear priorities: creating jobs, support for small businesses, improving infrastructure and overall respect for the taxpayers.
Last year, small businesses across the country praised the hiring credit for small businesses. By extending the hiring credit for an additional year, an estimated 560,000 employers would be eligible to take advantage of this program. The true success of the hiring credit can be measured by the number of companies that took advantage of the assistance already provided.
Each job created represents an individual receiving a new employment opportunity. It is one more person who is given a chance to return to the workforce. These are real people with families who depend on them. I am proud to stand in the House and support a budget that is going to make their lives easier.
Over 80% of the businesses in my riding are designated as small or medium-sized businesses with fewer than 50 employees. Many of these are small and family-run businesses. The budget would increase a lifetime capital gains exemption to $800,000 from $750,000 and index it going forward. It would now be easier for owners to transfer their family businesses to the next generation when the time comes, encouraging the entrepreneurial spirit that makes Canada great.
However, this is not the only way that we would be helping Canadians find the jobs they need to support their families. In economic action plan 2013, our government also introduced the Canada job grant. This grant would assist Canadians by providing the training and skills they need to take on a new or better job.
There are a number of manufacturers that call Brampton—Springdale home, like Blue Giant Equipment, Magnum Integrated and Gray Tools. Our government recognizes the important role the manufacturing sector plays in our economy.
Since 2006, we have worked hard to help the manufacturing sector by lowering taxes, cutting red tape, and making Canada the first tariff-free zone for manufacturing in the G20.
With our economic action plan 2013, we would continue our support for manufacturers that keep jobs in Canada, by extending the temporary accelerated capital cost allowance for new investment in machinery and equipment. Extending this tax relief for an additional two years would provide businesses in Ontario with approximately $562 million in tax relief and would allow these firms a greater opportunity to expand operations and create new jobs.
The budget would also invest $18 million into the Canadian Youth Business Foundation to help young entrepreneurs start and grow new businesses, with an additional $5 million for post-secondary scholarships and bursaries for first nations and Inuit students. By investing in the best and brightest of our youth, we would be supporting the next generation of Canadian leaders in all fields and helping to ensure the long-term prosperity of our country.
The City of Brampton has benefited tremendously from the gas tax fund for municipalities. The budget would index the gas tax fund payments to provide municipalities with reliable funding to support job-creating infrastructure projects across Canada. With this funding, municipalities would be able to build roads, improve public transit and build new recreational facilities for their residents to enjoy; residents would be able to commute to and from work much more quickly as communities expand their transit and infrastructure network to meet ever-increasing demands; businesses would save on lost productivity due to traffic congestion in our cities; and Canadians would be able to spend more of their time with their families, rather than stuck in traffic.
This is an issue of great concern to many of my constituents in Brampton—Springdale. I know that they support our government in making this a top priority.
Finally, our government would achieve these aims while ensuring Canadian taxpayers are treated with respect. The budget would improve the fairness of the tax system, align employee compensation at crown corporations, and introduce a new temporary first-time donor super credit for first-time claimants of the charitable donation tax credit.
Economic action plan 2013 would take important steps to demonstrate to hard-working Canadian families that our government remains committed to the priorities of jobs, growth and long-term prosperity.
As the member of Parliament for Brampton—Springdale, I am proud to support the next phase of Canada's economic action plan. It would directly benefit the families, children, seniors, new Canadians and businesses in my community. However, on a larger scale, this budget would help all Canadians and the plan set before us would provide a promising future for our country.
I look forward to continue working alongside every one of my constituents as a member of the government focused on creating jobs, relieving financial stress and providing the assistance that every hard-working Canadian truly deserves.
Justice May 1st, 2013
Mr. Speaker, our government is committed to keeping our streets and communities safe. This is why I have introduced Bill C-394. My legislation targets those who attempt to recruit youth into gangs. Parents want gangs off our streets and out of their neighbourhoods. This legislation would help to achieve precisely that.
With the final vote in the House of Commons scheduled for tonight, could the Minister of Justice please inform the House about the government's position on this important piece of legislation?
Criminal Code April 30th, 2013
Mr. Speaker, I would like to thank all of my hon. colleagues for taking the time to participate in the debate on this important piece of legislation. Bill C-394 is legislation that Canada needs in order to make our streets and communities safer for everyone to enjoy.
This is not about politics or partisanship. It is my belief and hope that when it comes to protecting our youth and our most vulnerable citizens, we are all on the same side. Our youth are our future and it is our responsibility to provide an environment in which they can reach their greatest potential.
The realities of a gang lifestyle are heartbreaking. Such things as death, guns, drugs, violence, substance abuse, criminal activity and prostitution are all too common in this environment. This is a place that no person should ever find themselves, yet far too many still do. It is our responsibility not only as elected representatives but as citizens of this country to work together in an effort to make our future safe for all.
This proposed legislation is an important tool that our criminal justice system needs in order to address this growing concern. The act of gang recruitment affects those directly involved. It is a danger to families, communities and the safety that every Canadian holds dear. Young Canadians, regardless of where they grow up, should be able to grow and explore their potential in a safe environment.
It is an unfortunate and disheartening reality that youth today are targeted by active and violent gangs. The means by which these gangs recruit our youth are both inhumane and life-altering. This reality necessitates the quick passage of Bill C-394 because one person recruited into a gang is one person too many. It is time to take action so that families do not have to live in fear and communities across this country can enjoy the safety and security that we all deserve.
As this bill is at third reading and will soon be voted on, I would like to take a moment to thank everyone who has been involved in the development and progression of this bill.
I would like to sincerely thank my very hard-working staff, both in Brampton and in Ottawa, for their support; my colleagues for supporting this bill from the beginning; and community stakeholders across this great nation who met with me, including front-line police officers and justice officials who supported this bill from the beginning and even took the time to testify before the justice committee.
I would like to thank my constituents, the wonderful citizens of Brampton—Springdale, for the honour of allowing me to represent them here in this House and for providing me with incredible feedback and support toward this bill.
Finally, I would like to thank the countless number of youth I had the opportunity to meet and who inspired me to create this piece of legislation so that their future and the future of coming generations could be protected.
Criminal Code April 30th, 2013
Mr. Speaker, when I was putting together the bill, I had an opportunity to travel right across the country and discuss it with a number of different stakeholders and communities, including youth. I came across far too many incidents like the one I shared in my remarks about gang members in Winnipeg targeting younger and younger people with some of their tactics. This is very heartbreaking, the destroying of our future, because especially at a young age, as young as eight years of age, these young people have no idea what they are getting into. They are being enticed. Their lives are being ruined. These criminal gangs are terrorizing our communities and our streets. Bill C-394 would help protect us.