Parm Gill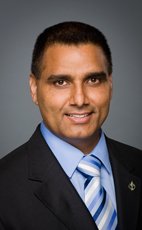 House of Commons photo
Track Parm
Your Say
Elsewhere
Crucial Fact
His

favourite word

is support.
Conservative
MP for Brampton—Springdale (Ontario)
Won his last election, in 2011, with 48.30% of the vote.
Statements in the House
International Trade January 30th, 2015
Mr. Speaker, that claim is completely false. Following the departure of the former CSR counsellor, the office continued to deliver on the mandate of CSR counsellor workshops and regular meetings with industry, academia, and civil society.
The search process to find a new counsellor is under way, with interviews scheduled for February. During the 13 years the Liberals were in power, they never had a CSR policy. It was this government that introduced this very important strategy.
Ekjot Swagh January 30th, 2015
Mr. Speaker, I rise today with great sadness for the tragic loss of a bright young man, Ekjot Swagh, who passed away this past weekend.
Ekjot was a world champion in Brazilian jiu-jitsu, a well-decorated fighter renowned both internationally and in Brampton.
He learned many of his fighting skills locally, joining the wrestling team at Heart Lake Secondary School and the DoggPound Mixed Martial Arts Club.
He became a world champion in Brazilian jiu-jitsu and received an invitation to train with some of the best coaches at one of the world's top training centres in San Diego. During his fights he had a reputation as a fierce grappler and a skilled technical fighter. He was renowned as having a humble spirit and an astounding sense of sportsmanship.
This great fighter's life was tragically cut short when a rare arterial disease took his life last weekend in his sleep.
We keep Ekjot and his family in our thoughts and prayers as the entire community mourns this great loss.
Taxation January 27th, 2015
Mr. Speaker, since coming to office, our government has made it a mission to reduce taxes on Canadian families. This is why our Prime Minister announced that we would be putting hard-earned money back into the pockets of Canadian moms and dads with our family tax cut and the enhanced universal child tax care benefit.
Soon families in my riding will receive approximately $2,000 annually per child under the age of six. When added up, a family with five children will receive nearly $60,000 by the time their children turn the age of six. While we are making life more affordable, the Liberals and NDP would take this money away from families and hike taxes.
Unlike the members on that side of the House, we will continue to stand up for hard-working Canadian families.
Veterans December 12th, 2014
Mr. Speaker, our government makes absolutely no apologies for eliminating big government bureaucracy and backroom offices, and making a substantial investment when it comes to investing in front-line services and resources.
Here are a couple of examples. We eliminated nearly 100 positions after we stopped requiring veterans to submit receipts for expenses like snow clearing, yard maintenance, and home cleaning.
We will continue to eliminate red tape to serve Canada's veterans for the benefits and services that they deserve.
Veterans December 11th, 2014
Mr. Speaker, that is extremely wishful thinking. I do not necessarily know if Canadians would agree with that assessment by the member opposite.
However, let me respond by saying that our government's cutting-edge mental health strategy offers more points of service for veterans and their families, more timely access to important and lifesaving support, and will go a long way toward helping to reduce the barriers that veterans face in getting the help they so urgently need.
It completely mystifies me as to how anyone could possibly criticize what are clearly steps in the right direction by this government toward giving Canada's veterans and their families the tools they need to successfully transition to civilian life. This government remains committed to responding to the needs of veterans, not only today but also in the future.
Veterans December 11th, 2014
Mr. Speaker, I would like to thank the member opposite for giving me an opportunity to expand on the question, because it will allow me to correct a great deal of misinformation in the public domain about this particular issue.
The Minister of Veterans Affairs announced these extraordinary improvements to mental health support for active serving members of the Canadian Armed Forces, Canadian veterans, and their families. He said it was an investment that would significantly improve mental health support for veterans and still-serving members, including their family members.
The member opposite has fallen for the misinformation propagated by members of his own party, and partisan critics of the government have lost sight of what truly is good news. The measures announced by the minister will allow for earlier intervention for veterans living with mental health conditions. This means more support and assistance and a better chance of achieving successful outcomes.
The network of operational stress injury clinics is expanding. By fall 2015, a new clinic will open in Halifax, Nova Scotia; a regional clinic will be set up in Montreal; while the existing clinic in the greater Toronto area will also be expanded. We will also expand services in six other locations throughout the country. Over the six-year period, more than 1,200 veterans in the Halifax area could receive specialized care closer to home, allowing better access to specialized assessment, diagnosis, and treatment services. Additionally, the regional clinics could help 1,300 veterans.
Fifteen new peer support coordinators are being hired to enhance the operational stress injury clinic and social support program. The peer support program is in high demand. By employing 15 new peers, another 2,200 veterans and their families could be helped by trained peer support coordinators who have already experienced the same challenges. These coordinators listen, support, and encourage veterans to access needed treatment.
Access to seven military family resource centres will be expanded on a pilot project basis to include medically releasing Canadian Armed Forces personnel and their families. Traditionally, the services and programs offered through these centres have been available only to still-serving members of the military. This change alone will allow up to 1,200 medically releasing veterans and their families to take part in this pilot project. This is a tremendous resource, giving them access to a wide range of services to help address their needs as they transition to civilian life.
A veteran-specific mental health first aid training course will help increase awareness of the various kinds of mental health conditions. This means that a veteran or his or her family member may be able to respond or intervene earlier if someone he or she cares about is in crisis. This training course could benefit up to 3,000 veterans and their families. Imagine what that would mean to someone who may go from day to day in fear of a mental health crisis.
These are valuable programs and service improvements.
I encourage that member to stop with the partisan games and help us to eliminate the misinformation that continues to cause confusion in the veterans community.
Veterans Affairs December 10th, 2014
Mr. Speaker, a veteran who is injured and in rehabilitation receives a minimum of $3,500 in financial benefits each month. Veterans who are most seriously injured can receive $8,000 or more per month in financial benefits from the Government of Canada and their military pension. Our government has increased the two disability awards to a new combined total of half a million dollars, tax free. Injured veterans now also have access to up to $75,800 toward university and college retraining.
Veterans Affairs December 10th, 2014
Mr. Speaker, I would encourage the member opposite and that party over there to start standing to vote in favour of the initiatives our government has brought forward to support Canada's veterans.
Their record is completely opposite. Let me give some examples of the some of the initiatives they have voted against. They have voted against the veterans independence program; Community War Memorial Program; the partnership program; the community award memorial program; the earnings loss and supplementary benefit retirement program—
Veterans Affairs December 10th, 2014
Mr. Speaker, since taking office, our government has made substantial investments to help Canada's veterans with benefits and services.
On this side of the House, we support our veterans. The reality is that we voted for the agent orange compensation program; they voted against it. We voted for the Canada remembrance program; they voted against it. We voted for the health care program and reestablishment services; they voted against it. Their rhetoric in this place does not match their record. They should stop playing and start voting—
Veterans Affairs December 10th, 2014
Mr. Speaker, on this side of the House, we will continue to stand up for Canada's veterans, even though the opposition, both the Liberal Party and the NDP, continue to vote against every single initiative we bring forward—