Ralph Goodale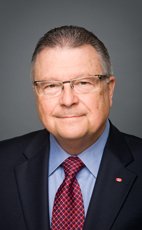 House of Commons photo
Track Ralph
Your Say
Elsewhere
Crucial Fact
His

favourite word

is grain.
Liberal
MP for Wascana (Saskatchewan)
Won his last election, in 2011, with 40.80% of the vote.
Statements in the House
Employment February 26th, 2015
Mr. Speaker, the Prime Minister would not recognize a balanced budget because he has never met one.
There are 140,000 more jobless Canadians than six years ago. Job quality is suffering. York University says that low wage employment in Ontario has jumped by 50%. The OECD has said that Canada is the third worst country in the world for crappy jobs.
The government's former employment minister admits wages have barely kept pace with inflation. The Bank of Canada says that 200,000 young Canadians are underemployed and living in the basement.
Is that good enough for the government?
Employment February 26th, 2015
Mr. Speaker, speaking of facts, in the nine years since the government took office, job creation has been half of what it was in the nine years before.
The recession ended nearly six years ago, and still the jobs record of the Conservative is anaemic. Last year, they first bragged about creating 186,000 new jobs, but had to admit it was actually one-third less than that, barely 120,000 jobs, and that was down from the year before, which was down from the year before that.
Why is the government such a failure at generating jobs?
Rail Transportation February 25th, 2015
Mr. Speaker, about a month ago I asked the Minister of Transport about new data on grain shipments being published weekly by the AG Transport Coalition. The latest figures say that the railways have supplied on time only 44% of the grain cars ordered by their customers. In total, they are nearly 20,000 cars behind; shipments to the U.S. are especially poor; but CN is doing better than CP.
Does the minister agree that these figures are accurate? If so, do they represent, in her opinion, suitable and adequate accommodation for grain shippers?
The Economy February 23rd, 2015
Mr. Speaker, the government's own former employment minister said "wage rates have barely kept pace with inflation...".
Economic growth is also crucial to balancing the government's books. Conservatives have failed to generate growth, so they have to concoct a balance: 70% of infrastructure funds get punted into 2019, $1 billion gets clawed back from veterans, $10 billion is gone from DND, and the Mounties cannot keep up with child porn. Why? It is so that those earning $233,000 can get the biggest tax break. How smart is that?
The Economy February 23rd, 2015
Mr. Speaker, greater economic growth is critical to lifting the fortunes of the middle class.
Since 2006, the government has had the worst growth record of any Canadian government in 80 years, a paltry 1.7%. Since Conservatives have come to power, job creation in Canada is less than half of what it was before they came to power. Wage growth is also down by nearly one third. The middle class is struggling just to get by, let alone get ahead.
Why is there no plan for growth, jobs, or fairness?
The Economy February 20th, 2015
Mr. Speaker, the New York Times story said that the situation was that the U.S. economy had fallen back, not that the Canadian economy had moved forward.
The late Jim Flaherty said that income splitting was too expensive and would cost $12 billion over the planning cycle. He also said that it would be unfair, because 86% of Canadians would never qualify.
It worsens inequality; it does nothing for growth. Will the government at least use this budget hiatus to do two things: recycle that $12 billion into the pockets of real middle-class families, not those earning $233,000; and invest in municipal infrastructure to drive jobs and growth?
The Economy February 20th, 2015
Mr. Speaker, the government just drives by all the worries of Canada's middle class and all those who are working so hard just to get there. Their earnings are stagnant, but their debt has ballooned to 164% of disposable income. Three-quarters do not have a pension, and in 40% of empty nester households their adult children have moved back home. Their expectations of progress, of upward mobility from one generation to the next, are frustrated.
Why is the government's only priority an income splitting tax break that would pay the most to those earning $233,000?
The Economy February 19th, 2015
However, there are no jobs and no growth, Mr. Speaker.
Canada needs to be far more aggressive on public infrastructure. Who said so? The G20, the IMF, the Bank of Canada, the Parliamentary Budget Officer, all of the premiers, every municipality, every think tank from C.D. Howe to the Canada West Foundation, the Chambers of Commerce, the Canadian Council of Chief Executives, the Canadian Labour Congress, and many more. The only one who is saying that the feds are doing enough is the beleaguered government, and it cannot even get its act together to table a budget. If it will not lead, will you please get out of the way.
The Economy February 19th, 2015
Mr. Speaker, with yet another forecast of recessions in Alberta and Newfoundland and Labrador, with the latest GDP figures showing the national economy is shrinking too, with nearly $28 billion in investor capital fleeing the country in December, with anaemic job creation, poor job quality and weak labour market participation, the government keeps punting its overdue budget deeper and deeper into the next fiscal year, into May or even later.
Canada needs an urgent budget that invests in real growth right now, so why not?
Petitions February 18th, 2015
Mr. Speaker, I have a petition today signed by a number of people from Regina and across Saskatchewan.
The petitioners express concern about small family farmers, particularly women farmers. They call upon Parliament to protect the rights of small family farmers to preserve, use and freely exchange seeds.