Ralph Goodale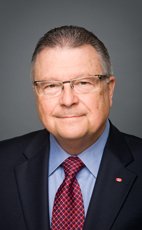 House of Commons photo
Track Ralph
Your Say
Elsewhere
Crucial Fact
Liberal
MP for Wascana (Saskatchewan)
Won his last election, in 2011, with 40.80% of the vote.
Statements in the House
Situation in Ukraine December 10th, 2013
Mr. Chair, the message that we have all just received from Paul Grod, president of the Ukrainian Canadian Congress, which was just read into the record by the member for Ottawa Centre, certainly drives home the crucial nature of the situation in Kiev and across Ukraine tonight. It drives home further the point that having a debate on this subject is necessary, but translating our sentiments into concrete action is even more necessary.
I wonder again whether Canada would be prepared to take a diplomatic initiative with other countries around the world. I am thinking of several in Europe and of the United States. These countries could develop a set of specific sanctions aimed not at Ukraine as a country and not at the Ukrainian people, but at Yanukovych and his government, his henchmen, and the oligarchs who support him. The sanctions would curtail their ability to use their assets, curtail their ability to travel and enjoy the fruits of their behaviour, and say very clearly on behalf of the world that what is happening in the Maidan tonight is not acceptable. The trampling on human rights and freedoms is not acceptable, and there will be consequences for doing so.
Canada could not take that initiative on its own, but we could in concert with other countries. We could lead the effort to bring other countries together to focus attention on this issue and to make it clear to those who are perpetrating this violence that the world is watching this behaviour very closely and that the world deplores it.
I wonder if the government is prepared to at least consider that kind of initiative to help to translate our sentiments into concrete action.
Situation in Ukraine December 10th, 2013
Mr. Chair, again I note the sense of unanimity in the House tonight, among all members on all sides, with respect to the situation in Ukraine, and the deep concern we all feel with news reports tonight that riot police have taken some action in the Maidan and that water cannon may have been used and other forms of suppression. Some of the tents apparently have been torn down. At the moment, the situation may not have turned a corner to severe violence, but the risk is certainly there and that troubles us all deeply.
I think we all agree with the point that the member for Parkdale—High Park has made, and the minister referred to this, about finding the means to seek engagement and encourage dialogue and get the government and the opposition in Ukraine talking to each other in civil terms toward constructive solutions. One of the big problems seems to be getting President Yanukovych's attention. He seems to be prepared to act with impunity, perhaps because he believes there will be no consequences for him.
I wonder if the hon. member for Parkdale—High Park could share some of her thoughts about how to get Yanukovych's attention. Other than rhetorically criticizing his behaviour, how, in a tangible way, can we bring this man to understand that the world is watching, the world is deeply concerned, and that there will be consequences for behaviour that violates civil rights, democracy and the rule of law?
Situation in Ukraine December 10th, 2013
Mr. Chair, obviously the concern about Ukraine is universal in the House this evening. It is being well expressed on all sides.
I wonder if the hon. member could advise the House on the state of communication between Canada and a number of allies. I am thinking about allies in Europe, other than the Ukraine, the United States, and other parts of the world. We share a common concern about the deterioration of events in Ukraine. How well are we communicating with our allies and potential allies?
Do we have the capacity, perhaps under Canadian leadership, to pull together a group of like-minded countries to develop a specific action plan for what we could do to have a very real impact on the behaviour of President Yanukovych? He seems to be able to act with impunity and sort of thumb his nose at world opinion. It is important that the message be driven home to him in a way that does not damage the Ukrainian people or the economy of the Ukraine. It needs to be driven home to him directly that this behaviour is unacceptable.
The world is watching, and there will be consequences if, for example, there is bloodshed or violence in the Maidan.
Situation in Ukraine December 10th, 2013
Mr. Chair, while we are meeting tonight, news reports out of Kiev indicate that large numbers of police are once again moving closer to the Maidan. There is no action yet. However, there appears to be large numbers descending on Independence Square and the risk of violence is obviously in the air. That will be of great concern to a great many Canadians, the 1.25 million Canadians who can trace their heritage to Ukraine, 13% of the population of the province of Saskatchewan and even more so, I think, in the province of Alberta.
This is a very troubling situation. We need the means to get the attention of President Yanukovych so he knows the world is watching, the world is deeply concerned and the world is not prepared to turn away or to turn its back.
That is why I make the suggestion of trying to bring together the international community in an effort to develop a set of very targeted, very specific Yanukovych sanctions that are aimed at him, not at the country, not at the people, but at him so he is not free to use his assets with impugnity, he is not free to travel with impugnity and that the world will hold him to account for how he is handling this situation.
I wonder if my colleague from Winnipeg North could indicate his view on that specific suggestion. Canada could not do this alone, but we could in concert with other countries. I do think it would be useful for Canada to start that international dialogue so President Yanukovych will understand very clearly that the world treats this situation in a very serious manner and there will be consequences for behaviour that violates human rights, democracy and the rule of law.
Situation in Ukraine December 10th, 2013
Mr. Chair, once again I appreciate the remarks of the foreign affairs critic for the New Democratic Party. I want to underline the critical point that he made toward the end of his remarks, which was that all Canadian political parties are very much on the same page when it comes to dealing with this issue.
We are deeply concerned by the news reports that we see emerging from Ukraine. We are concerned about the brutal treatment of the demonstrators, where ordinary human rights seem to be totally disregarded. We are concerned as well about the offices of political parties being raided and ransacked. This is a very troubling situation, and that is why we are having this special debate tonight.
I wonder if the hon. member would agree that it is important for Canada, with its international partners the United States, the European Union, and elsewhere, to pursue all means by which we can apply appropriate diplomatic pressure to bring about a change in attitude with the Yanukovych regime.
I am thinking particularly of the way in which that regime—the president himself, members of his government, the oligarchs that support him—seem to be able to carry out these actions to which we object with complete impunity. They have a disregard for the rule of law, a disregard for human rights, and a disregard for democracy.
Would it be possible for Canada to lead an initiative in the world that would bring the United States, European countries, and others together to develop a set of specific actions that would not be focused against Ukraine as a country or focused against the Ukrainian people, but would be focused directly against Yanukovych, his henchmen, and the oligarchs who back him up to make sure that they cannot enjoy their wealth, their assets, their ability to travel with impunity without regard to what they are doing to their own people back home?
Can Canada lead that kind of an international effort to develop that action plan, if necessary?
Situation in Ukraine December 10th, 2013
Mr. Chair, I thank the parliamentary secretary for his remarks and for opening this debate tonight.
Canada has always stood with the Ukrainian people through the long relationship between the Ukraine and Canada. I think of Mr. Mulroney being quick to recognize the Ukrainian independence in 1991 and Mr. Martin being quick to acknowledge the Orange Revolution toward democracy in 2004.
Sometimes over the course of those years our support has been rhetorical. Other times it has been specific and tangible. In the present circumstances, it is important to find the ways to move our position from rhetoric to concrete action.
Obviously, we need to make sure that any action that is taken does not impinge upon the Ukrainian people in a negative way. It is the behaviour of Mr. Yanukovych that is the problem here. In the past there has been some discussion about Canada or other countries leading an international dialogue toward a set of Yanukovych-specific sanctions, so that we are not imposing any burdens upon the Ukrainian people but are focusing our attention on Mr. Yanukovych himself. That could include the group of oligarchs who support him.
Is the government prepared to consider that type of measure, at least to have some discussion with our allies, the United States and European allies, specifically about what the world community can do to focus a set of sanctions, such as freezing assets and limiting travel, aimed specifically at Mr. Yanukovych and the oligarchs around him to make sure that they cannot conduct their campaigns against the Ukrainian people with impunity, and just get away with it and go on a holiday when they feel like it?
Ethics December 10th, 2013
Mr. Speaker, the Prime Minister claims his ethics scandal is confined to just two miscreants: Duffy, the greedy senator, whom the Prime Minister once called his best appointment, and Wright, the great deceiver, whose ethical advice the Prime Minister praised in his book on hockey.
However, there are more: van Hemmen, Rogers, Woodcock, Byrne, Hilton, Novak, Perrin, Hamilton, Gerstein, LeBreton, Tkachuk, and Stewart Olsen, all named by police in relation to the cover-up.
Which of these people have now been interviewed by the Mounties, not just once but twice? Which ones?
Questions on the Order Paper December 6th, 2013
With regard to the proposed divestiture of the Agroforestry Development Centre at Indian Head, Saskatchewan: (a) have any studies been conducted, either internally or by external consultants or advisors, to identify the costs or benefits, including any possible continuation of any science or research activity at the existing site or elsewhere; (b) who prepared the studies; (c) when were those studies completed; and (d) what were the detailed results of any such study?
International Development December 6th, 2013
Mr. Speaker, from Diefenbaker to Clark and Mulroney, Canadian governments stood with the people of South Africa, especially Nelson Mandela, in the fight against apartheid. Mr. Chrétien made him an honorary citizen of Canada.
In his final days, Mandela expressed just one regret, that he had not won the battle against HIV/AIDS, which claimed the life of his own son.
As a fitting memorial to this global icon, will the Canadian government establish an ever more robust initiative in Mandela's name to battle the scourge of AIDS in Africa, just as Canadians helped Mandela battle apartheid?
Nelson Mandela December 6th, 2013
Mr. Speaker, people around the world today are remembering the late Nelson Mandela.
During one remarkable trip to Canada, Mandela was walking up Parliament Hill to deliver a speech in the House of Commons. By complete chance, he encountered a group of Metis from Saskatchewan. It too was headed up the Hill to sit in the gallery to hear what this champion of human dignity would have to say.
As a spontaneous gesture of affection from a group in Canada that had felt the sting of discrimination and disadvantage, one of the Metis took off his traditional sash and presented it to the South African icon. A short while later, Mandela honoured the Metis by wearing that sash in the Canadian Parliament, while he delivered his speech. He knew how much that would mean.
Nelson Mandela was a beacon of goodness in his own country and his life illuminated the whole world. He changed things for the better and millions are grateful for the hope he inspired.