Ralph Goodale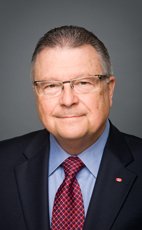 House of Commons photo
Track Ralph
Your Say
Elsewhere
Crucial Fact
His

favourite word

is shippers.
Liberal
MP for Wascana (Saskatchewan)
Won his last election, in 2011, with 40.80% of the vote.
Statements in the House
Petitions December 12th, 2014
Mr. Speaker, I have a petition to table, signed by a number of people in Regina, across Saskatchewan, and from other locations in the country, expressing concern about changes to the Seeds Act and issues related to plant breeders' rights. They call upon Parliament to enshrine in legislation the inalienable rights of farmers and other Canadians to save, reuse, select, exchange, and sell seeds.
Veterans December 10th, 2014
Mr. Speaker, one year ago, retired General Rick Hillier said, "Many of our young men and women have lost confidence in our country to support them". He was talking about PTSD among Canada's veterans. More have been lost to suicide than on the battlefields of Afghanistan.
General Hillier called for a public inquiry. Not one, but two, veterans ombudsmen have also sounded that alarm. However, a year later, the Auditor General says that the same problems persist.
How can the minister sleep at night, knowing that his failure is responsible for this mess?
Veterans December 10th, 2014
Mr. Speaker, over $1 billion in support for veterans was promised by the government, approved by Parliament, but never delivered.
Eight specialized service centres were closed. Hundreds of front-line support staff were fired. Mental health wait times for vets stretched for dangerous months and years. However, the minister increased his political staff fourfold. He increased his advertising. He paid hundreds of thousands of dollars to bonus senior managers if they slashed veterans services.
By any decent standard, how is that acceptable?
Agriculture and Agri-Food December 4th, 2014
When the government eliminated the single-desk selling system for western grain, they acceded to the U.S. government's number one demand in its trade with Canada, but Canada got nothing in return: no guaranteed market access, no end to country of origin labelling, no approval for Keystone XL. We got nothing.
Now the vandalized remnants of the CWB are simply being gifted, absolutely free, to a U.S. multinational. Again, Canadian taxpayers and farmers get nothing in return.
Why does the government always lose in dealing with the United States?
Corner Gas: The Movie December 2nd, 2014
The Rouleau area farm where I was raised is just five and a half miles straight east of Ruby's Diner in the town of Dog River in the hit CTV series Corner Gas.
Through six seasons, 107 episodes, and six Geminis, Corner Gas captivated audiences in Saskatchewan, across the country, and abroad. Each broadcast attracted a million viewers and more. Now Corner Gas is a movie.
With the down-to-earth nature of rural Saskatchewan, expressed through the most engaging humour, Corner Gas was the brainchild of Tisdale's extraordinary Brent Butt. To him and to all his co-stars, Gabrielle Miller, Fred Ewanuick, Eric Peterson, Janet Wright, Tara Spencer-Nairn, Lorne Cardinal, and Nancy Robertson, and to producers Virginia Thompson and David Storey, congratulations from the Parliament of Canada. I thank them for their excellence. Break a leg with Corner Gas on the big screen.
Questions on the Order Paper December 1st, 2014
With regard to the Canada and European Union Comprehensive Economic and Trade Agreement (CETA), has the federal government done any analysis of the following, and, if so, what are the details: (a) the changes required to provincial laws and regulations in order for Canada to ratify CETA; (b) each province's commitment in implementing those changes; (c) the current status of those changes; (d) when these changes are expected to be completed; and (e) other steps required to implement CETA and for CETA to come into force
Veterans Affairs December 1st, 2014
Mr. Speaker, the longer the minister clings to the government, the worse they both look. His portfolio has been grossly mismanaged, and when the Auditor General blows the whistle, the minister is AWOL. Worse still, he is fighting veterans in court, denying any special obligation to respond to their needs. He insults 90-year-old veterans who have the courage to complain. He runs away from the spouse of a PTSD sufferer.
He refuses to take any responsibility, so surely the Prime Minister must. To prevent any more trouble for veterans, will the Prime Minister fire this failed minister?
Veterans Affairs December 1st, 2014
Mr. Speaker, the Minister of Veterans Affairs failed to deliver over a billion dollars in support for veterans, which was promised by the government and voted on by this Parliament. He closed eight specialized service centres across the country. Veterans are forced to wait months, even years, for the most basic mental health services. When a new program gets announced, the minister misleads veterans by claiming that it will be delivered in six years, when it will really be spread over 50 years.
There is no trust or credibility left. Will the minister simply stop the travesty and resign?
Questions on the Order Paper November 27th, 2014
With regard to the Minister of Transport's commitment on April 23, 2014 to "immediately remov[e] the least crash-resistant DOT-111 tank cars from dangerous goods service by directing the phase-out of tank cars that have no continuous reinforcement of their bottom shell": (a) how many of these tank cars remained in service in each month since last April; (b) when does the government expect this phase-out to be complete; (c) what constraints limit the government's ability to complete the phase-out; and (d) have any of these tank cars been involved in accidents since last April, and if so, where and when?
Veterans Affairs November 20th, 2014
Mr. Speaker, speaking of bad choices, since 2006, the government has made new promises to returning soldiers and veterans totalling $1.1 billion, but those promises were broken. The programs and services were never delivered. The government pocketed the cash. What did it do with it? Since 2006, it blew it on nearly $750 million in tax-paid government advertising.
How can it justify swiping a billion dollars from veterans while wasting hundreds of millions on its own self-indulgence?