Ralph Goodale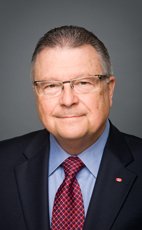 House of Commons photo
Track Ralph
Your Say
Elsewhere
Crucial Fact
His

favourite word

is shippers.
Liberal
MP for Wascana (Saskatchewan)
Won his last election, in 2011, with 40.80% of the vote.
Statements in the House
Agriculture and Agri-Food October 21st, 2014
Mr. Speaker, media speculation is growing in the west about the final disposal of the Canadian Wheat Board. The deadline is not until 2017, but it does appear to be happening more quickly.
Can the minister say how many potential buyers have signed confidentiality agreements to gain access to CWB's detailed data, how many of those buyers are Canadian, how many are foreigners, and how many are farmers? Since all of the assets of the CWB come from farmers' money, not government money, how will the proceeds of any sale be returned to farmers?
Rail Transportation October 10th, 2014
Mr. Speaker, again there was no precise answer. To repeat, last April, the minister said the most dangerous DOT-111 cars would be gone within one month. Were they or were they not involved in the train wreck this week in Saskatchewan? The railway is saying these particular DOT-111s were not their cars, indeed they were supplied by the shipper of the highly flammable distillate. I am sure that is a great comfort to the people of Clair, Saskatchewan, and Lac-Mégantic. How is the government requiring shippers, not just railways but shippers too, to get these dangerous cars out of service?
Copyright October 9th, 2014
Mr. Speaker, artists looking for copyright changes have been told to wait until 2017, but the Conservative Party gets served right now, this fall, by a copyright change bootlegged into a omnibus bill. Journalists will have their news content taken—they would say stolen—without permission or remuneration, and then they will be forced to broadcast their own stuff in partisan attack ads. It is expropriation without compensation. It degrades integrity and freedom of the press. Why does the government behave like such a tinpot banana republic?
Government Policies October 9th, 2014
Mr. Speaker, with the latest unemployment figures showing 112,000 lost jobs, and Canada's latest monthly economic growth at zero, what does the government plan to put in its next omnibus budget bill?
Well, first, there is an EI scheme that the Parliamentary Budget Officer says will actually kill 9,200 jobs, and second, there is another scheme authorizing the swiping of television news programs for use in political attack ads. Why is the government perverting a budget bill to legitimize illegal behaviour?
Rail Transportation October 8th, 2014
Mr. Speaker, we do not yet know the cause of the Saskatchewan train wreck, but apparently operator error is being ruled out. Nevertheless, there is clearly an ongoing argument between Transport Canada and the railway companies about the issue of operator fatigue. Some reports suggest that as many as three-quarters of freight operators may actually have fallen asleep at the controls.
The issue is acknowledged. It has been under investigation since 2009. Air crews and truck drivers are regulated against fatigue. Will the government implement the necessary safety regulations for train crews before Christmas?
Rail Transportation October 8th, 2014
Mr. Speaker, people in Saskatchewan are cleaning up the mess from yesterday's train derailment. There were no injuries, thankfully, but it was dangerous. Twenty-six cars crashed. Dangerous goods spilled. There was a fire and pollution, and 50 people were evacuated. The province, municipalities and private individuals incurred costs.
I have three questions. Will all those costs be fully and quickly reimbursed? Were local first responders informed of the contents of that train before they had to deal with the emergency? Were these the old DOT-111 cars?
Erik Spicer October 8th, 2014
Mr. Speaker, I rise today to pay tribute to an illustrious parliamentarian who passed away September 27.
Erik John Spicer was never elected to the House of Commons or called to the Senate, but for 34 years he served these two institutions with skill and devotion as the Parliamentary Librarian of Canada.
Erik loved the library, as a building of huge historic importance, as an institution fundamental to our democracy, as a service indispensable to Canadians. He served 8 prime ministers, 22 Speakers, thousands of MPs and millions of citizens.
Erik was a decorated veteran, a patron of the arts, a man active in his local community and devoted to his family.
Canada's longest continually serving parliamentary official, Erik was uniquely recognized on his retirement as Librarian Emeritus and an honorary officer of both Houses.
Our thoughts and prayers are with his loving wife of 61 years, Helen, and the entire Spicer family.
National Defence October 3rd, 2014
Mr. Speaker, there are, of course, many different ways in which Canada can do its part in rooting out the evil that is ISIL. How then has the government weighed all of the alternatives, the costs, benefits and effectiveness, for example, of strategic airlift or training, signals intelligence, reconnaissance, medical support, critical infrastructure engineering, all in addition to massive humanitarian relief and all to do our part against ISIL?
How has the government calculated that the highest and best use of limited Canadian resources are air strikes, potentially crowding out all of the rest?
National Defence October 3rd, 2014
Mr. Speaker, complexities in the Middle East are daunting. We could soon be bombing people in Libya who we were trying to defend not long ago. Even some misguided Canadians who have run amok could soon be among our enemies. In Turkey, which is a NATO ally, there is a long-running fight with the Kurds, but the Kurds are currently a major source of local resistance against ISIL.
Has this conundrum been carefully explored with the Turkish government? Is it clear who is on what side in the combat Canadians are about to get into in Iraq?
National Defence October 3rd, 2014
Mr. Speaker, its various important missions have extracted a large toll from the financial and human resources of the Canadian Forces. Some senior military commanders have argued for a pause in the tempo of deployments. The budget has been cut and procurements have been postponed. Even ammunition is in short supply. In dollars and in personnel, what will Canada's maximum exposure be in Iraq over the next five years? Will there be a new and extra appropriation in this fall's fiscal update?