Ray Boughen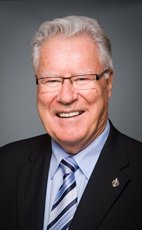 House of Commons photo
Track Ray
Your Say
Elsewhere
Crucial Fact
His

favourite word

is nation.
Conservative
MP for Palliser (Saskatchewan)
Won his last election, in 2011, with 47.00% of the vote.
Statements in the House
Justice for Animals in Service Act (Quanto's Law) October 23rd, 2014
Mr. Speaker, I thank my colleague for a very informative speech. My question is this: What would be an amendment or procedure to add to the bill so that if a person destroyed a dog with a knife, a gun, or whatever, that person would be financially responsible for paying for the life of that dog? I wonder if that is a feasible proposition.
Snowbirds October 7th, 2014
Mr. Speaker, I am proud to rise today to mention that the 44th season of the Snowbirds came to a successful close in Moose Jaw last weekend. The Snowbirds continue to showcase the skilled professionalism and teamwork of our Canadian pilots and technicians serving in the Royal Canadian Air Force. This season, in 50 performances in 35 locations throughout North America, people enjoyed the Snowbirds' show.
This past weekend also marked the 50th anniversary of the Snowbirds' aircraft, known as the CT-114 Tutor jet. As part of the 50th anniversary celebrations, past and present Tutor instructors, technicians, students, and Snowbirds gathered with the general public to honour the jet's service.
I ask all members to join me in congratulating the Snowbirds on a successful season and in wishing the Tutor jet a warm 50th anniversary.
Prohibiting Cluster Munitions Act June 18th, 2014
Mr. Speaker, for the last two evenings I have listened to interventions on Bill C-6 from the ladies and gentlemen across the floor who have said that this is a badly flawed bill. I have not heard what those flaws are. I have heard about some shortcomings of cluster bombs, and I knew about those beforehand, but maybe we could have one of the speakers share with us what those flaws are.
Respect for Communities Act June 17th, 2014
Mr. Speaker, the first speaker this evening talked about a site located in Montreal, and the latest speaker talked about a site located in Vancouver. Are there two sites? How many national sites are there?
Economic Action Plan 2014 Act, No. 1 June 11th, 2014
Mr. Speaker, just let me offer my service to my colleagues across the way. They are having trouble again reading this document, which reads like a good book. There are not too many big words. There are pretty small words. I used to help young people with their reading, so I could run some remedial reading classes if we could work that in.
Anyway, let me talk a little about one thing that is in the book, and it is all here. This book is divided up into chapters. It is an easy read. This is a supplemental one. I do not know how many folks may have seen this book.
Let us look at affordable housing. On page 207 and 208, we have: $1.7 billion annually through Canadian Mortgage and Housing Corporation; $1 billion in 2012, the first $1 billion in 2011; $1.9 billion for affordable housing for homeless, helping out with 147 households; $303 million annually in support of first nation housing.
On page 208, we have: $2 billion to create new and renovate existing social housing; $2 billion for the municipal infrastructure program, which has provided 272 low cost loans for municipalities with a housing program in place.
I respectfully submit that this is a housing philosophy and a housing policy. It is in the budget book, and many questions I have heard the hon. folks across the way ask this evening are found in this book.
It is a good read. If the members get stuck, they should give me a call.
Veterans Affairs May 8th, 2014
Mr. Speaker, just a few months ago I was honoured to receive unanimous support for my private member's motion calling on our government to recognize our Afghanistan War veterans in a permanent way that would forever mark its place in history.
Will the Minister of Veterans Affairs please update this House on any new developments about how our government plans to remember and honour our veterans of the Afghanistan War?
Family First Radiothon May 6th, 2014
Mr. Speaker, this past weekend, the generous folks of Moose Jaw and area rallied together. I am proud to announce that they raised more than $688,000 for the eighth annual 800 CHAB Family First Radiothon. The major donors included Golden West, via the Orange Benevolent Society and 800 CHAB Kids Fund, the Mosaic Company, the Fox family, and the Moose Jaw Union Hospital Auxiliary.
All funds raised will be used to purchase life-saving medical equipment for the future universal care unit at the Moose Jaw Regional Hospital.
Thanks to all organizers with a special mention to Ken Hawkes, the volunteer coordinator. Beyond the Radiothon, Ken has been an integral part of the volunteer community in Moose Jaw for decades. I am proud to be part of this community that recognizes the importance of giving back, and did just that.
First Nations Control of First Nations Education Act May 1st, 2014
Mr. Speaker, across Canada instruction occurs in either English or French. There are options for immersion programs in French. Hutterite colonies teach German in an immersion setting after the regular school year. Right now, most schools on reserve teach their own language in kind of an intermittent fashion without prescribed times of attendance, as a rule. It is something that has grown with the reserve.
Is there a better way to do it? There probably is if we all sit down with the chief and the council and design a program that could start in September and finish in June that would mesh with English and/or French. There are ways to combat that, but we simply have not addressed that. I really cannot believe that we get stopped and cannot move forward. I think we can. We just have to listen to each other and make sure that when we go back to the table, we are prepared to implement what we heard being asked for implementation.
First Nations Control of First Nations Education Act May 1st, 2014
Mr. Speaker, the truth of the matter is that we said we were going to educate young people on reserve and then they would take their place in society. What we forgot to deal with was the fact that the curriculum that is offered in schools across Canada is not necessarily the curriculum that is offered on reserves.
We have to make sure we meld the two curricula together, so that both are captured and nothing is lost in the educational process for those students. That means bringing provincial curricula together with curricula for reserve schools.
First Nations Control of First Nations Education Act May 1st, 2014
Mr. Speaker, my understanding is that consultation was done and there was an opportunity for people across the country to give feedback. I am not quite sure what we are talking about here. As far as I know, the consultation covered off questions that arose.