Ray Boughen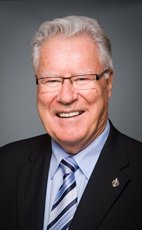 House of Commons photo
Track Ray
Your Say
Elsewhere
Crucial Fact
Conservative
MP for Palliser (Saskatchewan)
Won his last election, in 2011, with 47.00% of the vote.
Statements in the House
Kinsmen Foundation Telemiracle March 5th, 2014
Mr. Speaker, I am pleased to extend congratulations to the Kinsmen Foundation on another successful Telemiracle to help families with children with disabilities and people with special needs.
Over the 20-hour telethon last weekend, viewers were asked to open their hearts and wallets and to ring those phones, and indeed, the viewers responded to the tune of almost $5,286,000. Along the way, more than 40 musical and dance ensembles from across the country entertained viewers.
Now in its 38th year, the Telemiracle has raised more than $100 million to benefit thousands of Saskatchewan residents.
I would like to extend thanks to the warm-hearted Saskatchewan population for supporting their community and to the thousands of hard-working folks at the Kinsmen Foundation for their efforts year-round to improve the quality of life for Saskatchewan residents.
Veterans Affairs February 14th, 2014
Mr. Speaker, last year our government committed to Canadian veterans and their families that we would make substantial improvements to the Last Post Fund. We all want to ensure a dignified burial is possible for veterans of modest means or those who have been injured in service to Canada.
Would the parliamentary secretary please update the House on how economic action plan 2014 delivers on that commitment?
Afghan Veterans Monument February 12th, 2014
Mr. Speaker, I would like to say a few words to address points I have heard over the course of the evening in this debate. First of all, let me give a heartfelt thanks to the opposition members and government members who have taken time out of their busy day to join us here and be part of the celebration of the people who gave it all in the Afghan conflict.
We have heard themes about the importance of commemorating and supporting our veterans and their families. We have heard about the word "duty" and what that means. I humbly suggest that we owe a great duty to the people who went before us and defended peace, prosperity, and the right of democracy in Afghanistan.
First of all, let me talk for a minute about commemoration. Commemoration serves as a solace for family left behind. Commemoration gives thanks from those who bear witness. Commemoration teaches our young people to value their freedom.
Everyone realizes the importance of remembering our forces that fought on Vimy Ridge and Juno Beach and in other conflicts. We cannot forget those who fought for the freedom we enjoy here today.
Second, I would like to take a minute to note the increased support that veterans have received from 2006 onward, when the Conservative government took office. Allow me to share some financial facts with the House. The government has increased investments in veterans benefits by nearly $5 billion in new funding since coming to office.
Funding has increased, while the number of veterans has unfortunately decreased. I will point to some of the figures that indicate there has been a change in the demographics. There were 695,700 veterans in 2013, a drop of approximately 31,000 people. Meanwhile, spending has risen from just under $3 billion to $4.7 billion. This increased support has led to the expansion of different programs for veterans, set a minimum monthly allowance for veterans in rehabilitation, and more.
Is it money well spent? Members can bet their last dollar it is. We owe these soldiers a great debt. We owe it to them to remember their sacrifice for us. We owe it to our returning soldiers to thank them and their families for their service.
This motion would take steps to pay tribute to the service of our veterans, especially those who paid the ultimate price. We have heard from a number of the speakers this evening about the 158 who did not return. I hope all of my colleagues support this important motion and will pay tribute to our vets from Afghanistan.
Ladies and gentlemen, lest we forget.
Olympic Winter Games January 31st, 2014
Mr. Speaker, seven days from now, Canadians will be filled with patriotism as they tune in to watch the 2014 Olympic Winter Games.
Four-time Olympic medallist Hayley Wickenheiser has the honour of leading the team into the stadium as Canada's flag-bearer. I am proud to add that she is from my home province of Saskatchewan and is an excellent role model for young athletes.
Our athletes may be across the world in Sochi, but they can be confident that all Canadians are with them as they strive to own the podium. I know they will do us proud, with the whole country behind them.
I call upon all members of the house to join with me with a "Go, Canada, go".
Are we ready?
Go Canada, go!
Grey Cup November 21st, 2013
Yes, indeed, Mr. Speaker, and it is very good and gracious of you to have noticed that right away.
Certainly, in response to Hamilton making all that racket, we in the agricultural sector have noticed that empty 45-gallon drums make a lot of noise.
This Sunday, millions of Canadians will tune in to watch a sea of green as the Saskatchewan Roughriders take on the Hamilton Tiger-Cats, in Regina, for the 101st Grey Cup game.
With the leadership of Coach Corey Chamblin and the grit of CFL stars like Darian Durant, Kory Sheets, Chris Getzlaf, Weston Dressler and Brendon LaBatte, just to name a few, the Riders are ready to compete for the title.
With the power of the offensive and defensive lines and the precision of the special teams, the Riders are ready to hoist the Grey Cup in victory.
I would like to extend a special thanks to the thousands of community-minded volunteers who pitched in to make this celebration safe and fun.
Two things are certain: first, snow or shine, this year's Grey Cup is going to be the best ever and the best for years to come; and second, the Riders are going to win and all those kittens are going to go home feeling green with envy.
Let us hear it. Go, Riders, go.
Afghan Veterans Monument November 19th, 2013
Mr. Speaker, just as the hon. member for Medicine Hat has shared with us, that is the kind of input we want.
We want to hear what people have to say about it. We want to include text in the memorial. We want to make sure that it is reflective of everyone who has something invested in democracy and freedom, and that is every Canadian.
Hopefully we will have lots of input and we will design a memorial that we can all be proud of.
Afghan Veterans Monument November 19th, 2013
Mr. Speaker, the thought is that the input from all parts of Canada will be somehow married into this edifice that will say "good job" to the men and women of the Afghan war.
We have not decided anything in terms of placement. We have not decided anything in terms of design. We wanted to decide that we were going to do this as a Parliament, to recognize soldiers, the men and women who have given their lives in the pursuit of freedom.
Right now, it is open. We encourage input from everyone who has something to say about it. We look forward to putting together something that is reflective of coast-to-coast-to-coast Canadians.
Afghan Veterans Monument November 19th, 2013
Mr. Speaker, the site for the monument and the design of the monument is all to be planned out in the not too distant future and ready for presentation in 2014 later in the fall. We have a window of about a year to seek input from various groups like the Legion, army and navy veterans, Parliament, and other bodies that have an interest in the memorial to come with their thoughts. We look to receive a lot of input and then have a committee to decide on the design and where it should go.
Afghan Veterans Monument November 19th, 2013
moved:
That, in the opinion of the House, the government should commit to honouring our Afghan veterans through a permanent memorial either at an existing or a new site in the National Capital Region, once all Canadian Armed Forces personnel return to Canada in 2014, and that the memorial remember (i) those who lost their lives and who were injured in the Afghanistan War, (ii) the contribution of our Canadian Armed Forces, diplomatic and aid personnel who defended Canada and its allies from the threat of terrorism, (iii) the contributions made by Canada to improving the lives of the Afghan people, and (iv) the hundreds of Canadian Armed Forces personnel who remain in a non-combat role in Afghanistan today, helping to train Afghan forces.
Mr. Speaker, it is a great honour to rise today to present Motion No. 448. I am mindful of the veterans across our great country who have served our country while defending the principles of freedom, human rights and democracy. They are veterans like Master Corporal Jeff Walsh who was killed while on active duty on August 8, 2006, in Afghanistan, leaving his family to cherish his memory. They are veterans like Major Derek Prohar who was wounded by an improvised explosive device during an enemy ambush but continued returning fire and helped to gain control of key terrain in September 2006, and who continues to wear the uniform through his employment in the Department of National Defence. They are veterans like Officer Bill Green, a reservist and teacher, and the many others who demonstrate a remarkable courage and valour to all of us here at home. They and their families made great sacrifices for the sake of preserving our freedom, our human rights and our democracy.
Although the sacrifice these veterans and their families make cannot be calculated, we can begin to repay that debt through remembering and honouring their service. I also hope that this motion provides some closure for the families of the 158 fallen Canadian soldiers.
Our government has stood, and will always stand, shoulder to shoulder with the men and women who have helped build this great country and defended its values and ideals. I would like to add that Canadian veterans and the men and women currently in uniform, along with their families, have a strong ally in the Minister of Veterans Affairs. In him, they have a proud and hard-working individual who is always there to champion their best interests. I know all members will join me in saluting his service and devotion to the cause of veterans.
Only short steps away from this chamber are powerful reminders of the service and sacrifice that Canadians have made in defence of freedom, human rights and democracy. We have the Peace Tower, the iconic centrepiece of our parliamentary buildings, which serves as a memorial itself. Within the Peace Tower lies the Memorial Chamber, a quiet and sacred space that is dedicated to the memory of Canadians who have died in military service. Within the Memorial Chamber lie seven books of remembrance, where a page in each book is turned every morning in a special ceremony at 11 o'clock. These books offer a special tribute to each and every individual fallen soldier since World War I.
A short walk from here stands the National War Memorial, an awe-inspiring memorial that has become a Canadian icon and the national focus for Canadians every Remembrance Day. The National War Memorial is also the last resting place of Canada's Unknown Soldier. Every Remembrance Day since the Unknown Soldier returned home, thousands of Canadians have adorned his tomb with their poppies in respect and remembrance.
Not far away in Confederation Park are the stirring memorials to our first nation veterans and those of the Korean War. Of equal prominence is the memorial to Canadian peacekeepers, which is located in Major's Hill Park, just off of Sussex Drive.
All of these memorials were designed and erected with the greatest artistic skill and sensitivity, and all are meant to ensure that their message of remembrance is expressed in a manner that will resonate down through the ages. However, we are also aware of the memorials that stand in villages, towns and cities in every area of our great country. I would think that all of us here today have stood before them on occasions that honoured Canadian veterans, and we did that just a few short days ago on November 11, Remembrance Day.
A number of these memorials were established at private expense and to this day are respectfully tended and cared for by those who understand the motto "lest we forget". They remember, and do so in reverence and quiet dignity. These memorials serve as a reminder and challenge to all Canadians to appreciate the sacrifice that our veterans have made in the defence and promotion of the values that define our country, and by extension, ourselves.
Edmund Burke, the great English philosopher, once stated, "It is not what a lawyer tells me I may do, but what humanity, reason, and justice tell me I ought to do".
His statement defines the very reasons why we went to the aid and protection of the people of Afghanistan. His statement defines Canada as a nation and speaks to why our nation is admired and trusted throughout the world. We have and always will defend the right to self-determination and of people's right to be free from tyranny and oppression. In defence of these principles and human justice, Canadians have always been in the vanguard.
The mission in Afghanistan has been the most significant Canadian military engagement since the Korean War. It has been the fourth most costly in terms of lives lost in our nation's military history after the First and Second World Wars and the Korean War.
Tragically, 158 Canadian Armed Forces members were killed and more than 2,050 members were injured. It also took the lives of five civilian Canadians, including a senior diplomat, two aid workers, an engineer, and a journalist. We remember their service.
We remember the sacrifice, and it is our fervent hope and prayer that those who continue to serve in Afghanistan until the mission is ended will come home safe and sound to their loved ones.
Mr. Speaker, hon. members, let us do the right thing. Let us act responsibly. I seek support of members to pass this motion and pave the way to ensure that the Canadians we call "soldiers" can reflect with pride and compassion on the effort and sacrifices of the Canadian men and women who served in Afghanistan.
Lest we forget.