Ray Boughen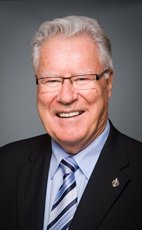 House of Commons photo
Track Ray
Your Say
Elsewhere
Crucial Fact
His

favourite word

is nation.
Conservative
MP for Palliser (Saskatchewan)
Won his last election, in 2011, with 47.00% of the vote.
Statements in the House
Corner Gas: The Movie December 2nd, 2014
Mr. Speaker, 10 years ago, we met those characters on Corner Gas, and they are back, thanks to a successful Kickstarter campaign to fund a feature film. Last night I was delighted to attend the Ottawa premiere of Corner Gas: The Movie, after red carpet galas in Saskatoon and Regina.
Canadians can grab some popcorn to watch Brent, Wanda, Lacey, Emma, Davis, Karen, Hank, and Oscar come to the rescue of Canada's favourite small town in theatres across the country from December 3-7. That starts tomorrow.
Following the big-screen run, I expect that the collector's edition DVD will be found under a few Christmas trees this holiday season.
As the MP for Dog River, I mean Rouleau, Saskatchewan, I ask my colleagues to join me in congratulating the entire Corner Gas cast for putting us in stitches once again.
Potash Industry November 5th, 2014
Mr. Speaker, as the proud representative of the Palliser riding, I know first-hand the economic impact of the fertilizer industry in Saskatchewan and indeed across Canada. Canada's potash sector accounts for 40% of the world's potash trade and contributes more than $6 billion annually to our economy. This sector delivers more than 25 million metric tonnes annually to feed our country and the world, in addition to employing 12,000 Canadians in high-skill, high-wage jobs.
I am proud to relay that my riding boasts some of these jobs at agri-retailers like Avonlea's Wigmore Crop Production Products and at facilities for multinationals, like Yara and the Mosiac Company.
Our government is proud to support the fertilizer industry and will continue to contribute to this vital sector of our economy.
Remembrance Week November 4th, 2014
Mr. Speaker, in Flanders Fields and on Canadian jackets, poppies will grow as we begin Remembrance Week today. From coast to coast to coast, Canadians will proudly display a red poppy, share a story or recall a loved one who served our great nation.
This week is about remembrance; nothing more, nothing less. I call on my colleagues from all parties to begin thinking about someone who they remember as we prepare to commemorate our veterans this week.
Above all, I encourage all Canadians to not only wear a poppy, but if they see a veteran, to say "thank you". Thank them for their service.
For their sacrifice, lest we forget.
Economic Action Plan 2014 Act, No. 2 October 30th, 2014
Mr. Speaker, whether they like it or lump it, that is just the way it is. If they take a look at the page, they will see it.
It was just a comment, Mr. Speaker.
Economic Action Plan 2014 Act, No. 2 October 30th, 2014
Mr. Speaker, this is just a comment rather than a question.
I have been listening to the debate this morning and the opposition members keep talking about this mammoth number of 400 or 450 pages. There is only half a page here. It is in column print and there are two columns on every page, so they cannot be counting that as a full page because it is a half page. Therefore, if there are 400 pages, that is about 200 pages.
Justice for Animals in Service Act (Quanto's Law) October 23rd, 2014
Mr. Speaker, I thank my colleague for a very informative speech. My question is this: What would be an amendment or procedure to add to the bill so that if a person destroyed a dog with a knife, a gun, or whatever, that person would be financially responsible for paying for the life of that dog? I wonder if that is a feasible proposition.
Snowbirds October 7th, 2014
Mr. Speaker, I am proud to rise today to mention that the 44th season of the Snowbirds came to a successful close in Moose Jaw last weekend. The Snowbirds continue to showcase the skilled professionalism and teamwork of our Canadian pilots and technicians serving in the Royal Canadian Air Force. This season, in 50 performances in 35 locations throughout North America, people enjoyed the Snowbirds' show.
This past weekend also marked the 50th anniversary of the Snowbirds' aircraft, known as the CT-114 Tutor jet. As part of the 50th anniversary celebrations, past and present Tutor instructors, technicians, students, and Snowbirds gathered with the general public to honour the jet's service.
I ask all members to join me in congratulating the Snowbirds on a successful season and in wishing the Tutor jet a warm 50th anniversary.
Prohibiting Cluster Munitions Act June 18th, 2014
Mr. Speaker, for the last two evenings I have listened to interventions on Bill C-6 from the ladies and gentlemen across the floor who have said that this is a badly flawed bill. I have not heard what those flaws are. I have heard about some shortcomings of cluster bombs, and I knew about those beforehand, but maybe we could have one of the speakers share with us what those flaws are.
Respect for Communities Act June 17th, 2014
Mr. Speaker, the first speaker this evening talked about a site located in Montreal, and the latest speaker talked about a site located in Vancouver. Are there two sites? How many national sites are there?
Economic Action Plan 2014 Act, No. 1 June 11th, 2014
Mr. Speaker, just let me offer my service to my colleagues across the way. They are having trouble again reading this document, which reads like a good book. There are not too many big words. There are pretty small words. I used to help young people with their reading, so I could run some remedial reading classes if we could work that in.
Anyway, let me talk a little about one thing that is in the book, and it is all here. This book is divided up into chapters. It is an easy read. This is a supplemental one. I do not know how many folks may have seen this book.
Let us look at affordable housing. On page 207 and 208, we have: $1.7 billion annually through Canadian Mortgage and Housing Corporation; $1 billion in 2012, the first $1 billion in 2011; $1.9 billion for affordable housing for homeless, helping out with 147 households; $303 million annually in support of first nation housing.
On page 208, we have: $2 billion to create new and renovate existing social housing; $2 billion for the municipal infrastructure program, which has provided 272 low cost loans for municipalities with a housing program in place.
I respectfully submit that this is a housing philosophy and a housing policy. It is in the budget book, and many questions I have heard the hon. folks across the way ask this evening are found in this book.
It is a good read. If the members get stuck, they should give me a call.