Rick Dykstra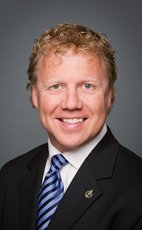 House of Commons photo
Track Rick
Your Say
Elsewhere
Crucial Fact
His

favourite word

is cbc.
Conservative
MP for St. Catharines (Ontario)
Won his last election, in 2011, with 50.90% of the vote.
Statements in the House
Mental Health January 28th, 2015
Mr. Speaker, I rise today to speak about the stigma surrounding mental health and recent efforts to address it by Bell Canada and our government.
Today marks the 5th annual Bell Let's Talk Day. For every text, call, tweet and Facebook share of the campaign, Bell is donating 5¢ to a variety of Canadian mental health charities. In just four years, Bell has donated over $67 million. This is a significant achievement which will effect positive change.
Bell is not alone in its support of mental health initiatives. Our government has taken action and created the mental health commission and a national strategy for mental health and well-being.
We have invested significantly and seriously into mental health and neuroscience research in the past eight years, supporting organizations like the Canada brain research fund and its projects, and an additional $6 million for research into eating disorders since 2006.
Down in Niagara, Regional Chairman Al Caslin has assured me the regional government is also committed to delivering with us. Our government is focused on supporting initiatives that benefit the health of all Canadians, physically and mentally.
Canadian Heritage January 27th, 2015
Mr. Speaker, the member referred to a couple, including the festival program, which, as you know, benefited your riding, the riding of St. Catharines, and ridings across this country as a stimulus program. She mentioned the programs not running again.
Her community and her city benefited greatly from that two-year festival program that was an economic stimulus. It generated economic benefits across this country, put people back to work, and ensured that Canada was going to work through the issue of a worldwide recession in such a way that we actually created jobs in this country over the last number of years, whereas in other countries, they are still trying to catch up from that mess.
We are very much aware that in 2017 we will have to make some significant decisions. We all agree that the 150th anniversary of Confederation is significant in and of itself. We believe that all Canadians, including those in Quebec City, deserve the opportunity to celebrate and deserve the opportunity to participate. Our government is preparing for memorable celebrations that will take place in 2017. I cannot think of anyone in this House who would actually criticize an attempt to celebrate our country's anniversary, especially its 150th.
Canadian Heritage January 27th, 2015
Mr. Speaker, I appreciate the opportunity to respond to the member's comments.
Whether as a municipal councillor over the years, as an employee of the provincial government, or here as a federal member of Parliament in the House of Commons, when I negotiate things on behalf of the people in my riding, I certainly want to defend them in the House of Commons and I certainly want to promote them in the House of Commons. However, I find that when I negotiate on behalf of my riding, on behalf of the region of Niagara, I am a lot more successful in those negotiations when I do them behind closed doors. I do not attempt to criticize those who are within a particular ministry to assist them in achieving the goal, which the member for Québec City is trying to do. I find that being critical publicly does not always enhance one's ability to succeed in assisting those she obviously cares deeply for in her riding.
Tourism makes an important contribution to the Canadian economy, with 618,000 direct jobs across Canada, including in Niagara and the riding of Québec City. Last year, tourism revenue in this country was just under $85 billion.
The Government of Canada is proud to support initiatives that bring clear economic tourism benefits to communities across our country. We have made significant federal investments and support the industry, underlining the importance of tourism to the local, provincial, and Canadian economy.
The Department of Canadian Heritage provided funding for the 2014 SAQ New France Festival, which helped visitors to Québec City discover the history and the way of life of North America's first European settlers.
The department also provided funding to allow the l'Assemblée de la francophonie de l'Ontario to organize artistic and cultural activities during the festival and to extend its reach outside of Québec. We also saw investments provided for the festival's 2013 and 2014 editions through the Québec economic development program
The Government of Canada also supported the Festival d'été de Québec in 2014 and 2015. Taxpayers across this country invested significantly in programs from Canadian Heritage to offer a wide range of musical performances, street theatre, circus arts, and more. This was in addition to the funds provided to the Québec economic development program to promote and market the festival internationally in both 2013 and 2014.
This year the Department of Canadian Heritage provided significant funding to the 2014 edition of the Rendez-vous naval de Québec.
In 2014, as in past years, we supported many projects that benefited Québec City and helped to raise the profile of the greater Québec region. I would argue that the member herself has applauded some of these investments. She in fact bragged a bit about them when the opportunity arose in her riding to talk about the investments made, in part, by the efforts she put forward.
Canada's 150th anniversary of Confederation in 2017 will provide an opportunity to reflect on what we have achieved as a country, to promote a sense of strong pride among Canadians, and to inspire a bright future for Canada in Québec and across our country.
We are well aware of the timelines and the required plan to prepare for Rendez-vous 2017. It is an ambitious and attractive project in the context of the 150th anniversary of our Confederation. We are consulting, discussing, negotiating, and preparing. The member will be happy to know that Québec City is going to be included in a significant way in those celebrations.
Questions on the Order Paper January 26th, 2015
Mr. Speaker, with regard to (a), since January 1, 2010, the CRTC has issued 86 administrative monetary penalties, AMPs, including negotiated settlements, for a value of $4,499,800.
With regard to (b), since January 1, 2010, the total number and dollar value of AMPs paid are 62 and $3,900,419 respectively.
With regard to (c), since January 1, 2010, the CRTC has entered into 31 negotiated settlements.
With regard to (d), since January 1, 2010, 28 negotiated settlements have been paid in full for a total of $ 3,423,400.
With regard to (e), since January 1, 2010, no companies have refused to either pay an AMP or reach a negotiated settlement.
With regard to (f), with respect to the fine of $495,000 to Pecon Software Ltd., the Canadian Radio-television and Telecommunications Commission, CRTC, issued a notice of violation on October 2, 2012. In order to comply with international service requirements, the CRTC filed the documents with the Indian Government's Ministry of Law and Justice--central authority for extrajudicial service of documents. The CRTC cannot proceed with these matters legally until Pecon Software Ltd. has been legally served. According to the Convention on Service Abroad of Judicial and Extrajudicial Documents in Civil or Commercial Matters, the Indian central authority is required to provide the CRTC with an affidavit attesting to the fact that they have legally served the documents to Pecon Software Ltd.
The documents were received by the central authority in India on April 2, 2013. The CRTC is now working with the Indian Ministry of Law and Justice--central authority to serve the documents to Pecon Software Ltd. Once the Indian Ministry has attested to the fact that the documents have been served, Pecon Software Ltd. will have 30 days to pay the penalty or file representations with the CRTC.
With regard to (g), with respect to the fine of $12,000 to Avaneesh Software, the CRTC issued a notice of violation on October 2, 2012, and Avaneesh Software accepted the service of the notice and accompanying documents. Avaneesh Software has submitted representations as per section 72.07(2) of the Telecommunications Act and a violation and review panel will be held to determine if the violations set out in the notice of violation occurred and whether or not to uphold the administrative monetary penalty. The matter has yet to be reviewed.
Canadian Broadcasting Corporation December 12th, 2014
Mr. Speaker, I will confirm that the government does understand the CBC belongs to all Canadians. It is a public broadcasting institution.
Our government expects the CBC to fulfill its duty to provide quality programming to official language minority communities under the Official Languages Act and the Broadcasting Act. The CRTC has expressed authority to ensure that the CBC is fulfilling its mandate under the Broadcasting Act, as well.
Canadian Broadcasting Corporation December 12th, 2014
Mr. Speaker, we certainly understand, from a remote and smaller community perspective, that services need to be delivered. That is why the CBC receives over $1 billion a year from the federal government and from its revenue in order to deliver services.
The best part of all of this is that the CBC is responsible for the services that it delivers, and we leave it in its hands to do so.
Canadian Broadcasting Corporation December 12th, 2014
Mr. Speaker, I know there is one group on the other side of the House that certainly does like to speak about itself.
The changes at the CBC are the result of declining viewership in certain demographics and lower than expected advertising revenues. We understand the important role that the CBC plays in remote communities across the country. It is the CBC's responsibility to deliver those services, and we let it do it.
Canadian Broadcasting Corporation December 12th, 2014
Mr. Speaker, as Hubert Lacroix said, there are "challenges of a rapidly changing media environment to which no conventional broadcaster is immune". Changes at the CBC are the result of declining viewership in certain demographics and lower than expected advertising revenues.
The CBC is responsible for its own operations. We on this side believe that. I wish the opposition would agree.
CBC/Radio-Canada December 11th, 2014
Mr. Speaker, that is simply not the case. The CBC is solely responsible for its day-to-day operations, including decisions with respect to programming and with respect to human resource management.
Our government respects the CBC's independence as an arm's-length crown corporation. It would be nice to hear, before Christmas, the NDP agree with us on that point.
Taxation December 8th, 2014
Mr. Speaker, Canadians know they can count on our government to stand up for the middle class. Even the Secretary of Labor in the U.S., Thomas Perez, said that Canada's middle class is the one other countries must aspire to.
By giving an average of $1,100 in new money to every Canadian family with children, our government would do just that. The new family tax cut would give the majority of benefits to low- and middle-income families. A single mother with two kids, earning $30,000, would benefit by almost $1,500 per year.
We want families like the Mays and the Leslies in my riding of St. Catharines to be more prosperous and spend their hard-earned money as they see fit. Our plan helps 100% of families with children. Meanwhile, the NDP plan would only help 10%. Our government is on track to balance Canada's budget, and now we are helping Canadian families balance theirs.