Rick Dykstra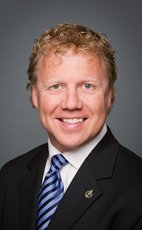 House of Commons photo
Track Rick
Your Say
Elsewhere
Crucial Fact
His

favourite word

is cbc.
Conservative
MP for St. Catharines (Ontario)
Won his last election, in 2011, with 50.90% of the vote.
Statements in the House
Canadian Heritage February 27th, 2015
Mr. Speaker, that is actually not true. Consultation has taken place on this monument, and the fact that it was brought forward by the organizations involved should be respected by the member across. The memorial will honour more than 100 million lives lost under communist regimes and will pay tribute to the Canadian ideas of liberty, freedom, democracy, and human rights.
Our government committed to honouring the victims of communism in our Speech from the Throne in 2010. We look forward to fulfilling that commitment.
Stratford Festival February 24th, 2015
Mr. Speaker, I am hearing from across the floor, in a very non-partisan way, that we can share the honour.
I think if Niagara or Stratford were to be displayed to the rest of the world, they would show an amazing example of what culture, theatre, and heritage are, not just to our country but to the world.
Finally, to the member for Perth—Wellington, who announced that he is retiring at the end of this Parliament, to quote Shakespeare, "No legacy is so rich as honesty." If that is true, the member has left a great and distinguished legacy, and I am proud to have served with him in this House. The member of Parliament for Perth—Wellington has been a dedicated public servant, serving his community as a counsellor and as a local firefighter. He was a champion for his constituents and, of course, in the very essence of the motion this evening, a champion for the Stratford Festival. His efforts are appreciated, and his presence in this House will be missed.
To borrow from Shakespeare one last time:
Farewell, my [brother], fare thee well:

The elements be kind to thee, and make

Thy spirits all of comfort! Fare thee well.
Good luck to my good friend, the member for Perth—Wellington.
Stratford Festival February 24th, 2015
Mr. Speaker, I do not know if my colleague, who is the critic for the Liberal Party on the Canadian heritage committee stole a little of my thunder or whether I will reiterate some lines he may have used, not only because they are famous and great and written by Shakespeare but also because they speak volumes to the topic that we are addressing tonight.
Friends, parliamentarians, countrymen, I come not just to praise the member for Perth—Wellington but to ask for support for Motion No. 545:
That the House recognize the Stratford Festival's distinct cultural and economic contributions to Stratford, southwestern Ontario and Canada since its inception in 1953.
My good friend was right: we must decide to support or not support, and that is the question this evening. By putting forth this motion, the member is highlighting the importance of the cultural sector to the Canadian economy in creating jobs. The Stratford Festival is a standout example of an organization that historically had an incredible cultural impact locally, nationally, and internationally.
I would like to speak about the economic impact of this festival, especially for the city of Stratford. In 2010, a Conference Board of Canada study concluded that just under $140 million of spending can be attributed to the Stratford Festival. That $140 million is a significant contribution to the Stratford community, which has a population of just over 30,000 people.
What is more, $76.5 million of revenue goes directly to local businesses as a direct impact of this festival. Revenue flows through various industries, including hotels, bed and breakfasts, local cheese and agricultural producers, and local shops and restaurants. Local businesses like these are the heart of our communities. These businesses are what help our communities succeed.
The Stratford Festival achieved this by following a vision of co-operation with local business to come together and demonstrate the value of art in the community and by working hard to make this vision come to life.
The Government of Canada has been a proud supporter of the festival for many years. This government and previous governments have funded arts organizations to ensure that Canadians can enjoy our shared culture and heritage. We recognize that arts and culture give us an identity that makes us proud to be Canadian.
This House's recognition of the cultural and economic impact of the Stratford Festival is also the recognition of the positive impact that private sector partnerships with a not-for-profit community can produce: a vibrant, innovative, resilient arts organization that makes a long-term positive social, cultural, and economic impact on its community.
Since 2006, through funding programs at the Department of Canadian Heritage and the Canada Council for the Arts, our government has invested significant taxpayer dollars into the Stratford Festival. This funding helps generate thousands of jobs in Ontario, including 2,500 jobs in Stratford alone.
Considering the $139 million economic impact, it is a strong return on that investment. We know that our investment is delivering concrete economic results, and the Stratford Festival continues to think about ensuring its long-term sustainability by considering ways in which it can build other revenue streams.
The Stratford Shakespeare Festival Foundation has used this program as leverage for private sector support and for the festival's endowment fund, which is now valued at over $62 million, making it one of the largest endowment funds held for a not-for-profit cultural organization in our great country.
I encourage members to support this motion to recognize the Stratford Festival, the tremendous contribution that our cultural sector makes in our communities with the support from their public and private partners, and the hard work of the member for Perth—Wellington.
I will finish my remarks a little early to help speed along the passage of this motion, but I have one final thought. Before I conclude with that final thought, I want to indicate how much I have enjoyed debating and arguing with the member for Perth—Wellington as to whether the Shaw Festival in Niagara is actually this country's epic display of both theatre and art or whether it is the Stratford Festival.
Taxation February 17th, 2015
Mr. Speaker, Statistics Canada has confirmed that middle-class families are better off under our Prime Minister than under the previous Liberal government.
The Liberal leader has no idea what it is like to be middle class. He has promised to reverse tax benefits for middle-class families, but under our family tax cut and enhanced child care benefit, 100% of families with children will receive an average of over $1,100 a year. A single mother with two children earning $30,000 would benefit from an additional $1,500 a year.
We know that, for the important decisions that affect the lives of children, the decision-making power should be with moms and dads, not with government and certainly not with the Liberal leader.
Parliamentary Precinct Security February 6th, 2015
Mr. Speaker, there is no issue around an individual in this House presenting his or her position on a particular motion or piece of legislation. That is understood in our democracy.
However, when the member indicates and repeatedly states our perspective on the security folks who work in the House of Commons and makes unfounded accusations about our position and how much we appreciate what security officials did on October 22, that is wrong. I would ask that you tell the member to stop misleading the House.
John Larocque February 5th, 2015
Mr. Speaker, on January 17, St. Catharines lost one of its best loved media personalities. Nicknamed the "Mayor of the Morning", Radio Station CHSC's John Larocque passed away following a long battle with both Alzheimer's and Parkinson's disease.
John was a familiar voice for nearly 30 years in his post as CHSC's morning man. He was also a familiar face at almost every kind of community event we could think of. From hosting hundreds of charity functions to attending probably thousands of local sporting events, John was the epitome of CHSC's old slogan "All About this Town".
The week before John died, the building that housed CHSC Radio on Queenston Street was bulldozed to the ground. I cannot help but find some symmetry to the fact that this was the last week John was on this earth, and made his exit.
For St. Catharines, the loss of CHSC and of John Larocque is truly the end of an era.
Mental Health January 28th, 2015
Mr. Speaker, I rise today to speak about the stigma surrounding mental health and recent efforts to address it by Bell Canada and our government.
Today marks the 5th annual Bell Let's Talk Day. For every text, call, tweet and Facebook share of the campaign, Bell is donating 5¢ to a variety of Canadian mental health charities. In just four years, Bell has donated over $67 million. This is a significant achievement which will effect positive change.
Bell is not alone in its support of mental health initiatives. Our government has taken action and created the mental health commission and a national strategy for mental health and well-being.
We have invested significantly and seriously into mental health and neuroscience research in the past eight years, supporting organizations like the Canada brain research fund and its projects, and an additional $6 million for research into eating disorders since 2006.
Down in Niagara, Regional Chairman Al Caslin has assured me the regional government is also committed to delivering with us. Our government is focused on supporting initiatives that benefit the health of all Canadians, physically and mentally.
Canadian Heritage January 27th, 2015
Mr. Speaker, the member referred to a couple, including the festival program, which, as you know, benefited your riding, the riding of St. Catharines, and ridings across this country as a stimulus program. She mentioned the programs not running again.
Her community and her city benefited greatly from that two-year festival program that was an economic stimulus. It generated economic benefits across this country, put people back to work, and ensured that Canada was going to work through the issue of a worldwide recession in such a way that we actually created jobs in this country over the last number of years, whereas in other countries, they are still trying to catch up from that mess.
We are very much aware that in 2017 we will have to make some significant decisions. We all agree that the 150th anniversary of Confederation is significant in and of itself. We believe that all Canadians, including those in Quebec City, deserve the opportunity to celebrate and deserve the opportunity to participate. Our government is preparing for memorable celebrations that will take place in 2017. I cannot think of anyone in this House who would actually criticize an attempt to celebrate our country's anniversary, especially its 150th.
Canadian Heritage January 27th, 2015
Mr. Speaker, I appreciate the opportunity to respond to the member's comments.
Whether as a municipal councillor over the years, as an employee of the provincial government, or here as a federal member of Parliament in the House of Commons, when I negotiate things on behalf of the people in my riding, I certainly want to defend them in the House of Commons and I certainly want to promote them in the House of Commons. However, I find that when I negotiate on behalf of my riding, on behalf of the region of Niagara, I am a lot more successful in those negotiations when I do them behind closed doors. I do not attempt to criticize those who are within a particular ministry to assist them in achieving the goal, which the member for Québec City is trying to do. I find that being critical publicly does not always enhance one's ability to succeed in assisting those she obviously cares deeply for in her riding.
Tourism makes an important contribution to the Canadian economy, with 618,000 direct jobs across Canada, including in Niagara and the riding of Québec City. Last year, tourism revenue in this country was just under $85 billion.
The Government of Canada is proud to support initiatives that bring clear economic tourism benefits to communities across our country. We have made significant federal investments and support the industry, underlining the importance of tourism to the local, provincial, and Canadian economy.
The Department of Canadian Heritage provided funding for the 2014 SAQ New France Festival, which helped visitors to Québec City discover the history and the way of life of North America's first European settlers.
The department also provided funding to allow the l'Assemblée de la francophonie de l'Ontario to organize artistic and cultural activities during the festival and to extend its reach outside of Québec. We also saw investments provided for the festival's 2013 and 2014 editions through the Québec economic development program
The Government of Canada also supported the Festival d'été de Québec in 2014 and 2015. Taxpayers across this country invested significantly in programs from Canadian Heritage to offer a wide range of musical performances, street theatre, circus arts, and more. This was in addition to the funds provided to the Québec economic development program to promote and market the festival internationally in both 2013 and 2014.
This year the Department of Canadian Heritage provided significant funding to the 2014 edition of the Rendez-vous naval de Québec.
In 2014, as in past years, we supported many projects that benefited Québec City and helped to raise the profile of the greater Québec region. I would argue that the member herself has applauded some of these investments. She in fact bragged a bit about them when the opportunity arose in her riding to talk about the investments made, in part, by the efforts she put forward.
Canada's 150th anniversary of Confederation in 2017 will provide an opportunity to reflect on what we have achieved as a country, to promote a sense of strong pride among Canadians, and to inspire a bright future for Canada in Québec and across our country.
We are well aware of the timelines and the required plan to prepare for Rendez-vous 2017. It is an ambitious and attractive project in the context of the 150th anniversary of our Confederation. We are consulting, discussing, negotiating, and preparing. The member will be happy to know that Québec City is going to be included in a significant way in those celebrations.
Questions on the Order Paper January 26th, 2015
Mr. Speaker, with regard to (a), since January 1, 2010, the CRTC has issued 86 administrative monetary penalties, AMPs, including negotiated settlements, for a value of $4,499,800.
With regard to (b), since January 1, 2010, the total number and dollar value of AMPs paid are 62 and $3,900,419 respectively.
With regard to (c), since January 1, 2010, the CRTC has entered into 31 negotiated settlements.
With regard to (d), since January 1, 2010, 28 negotiated settlements have been paid in full for a total of $ 3,423,400.
With regard to (e), since January 1, 2010, no companies have refused to either pay an AMP or reach a negotiated settlement.
With regard to (f), with respect to the fine of $495,000 to Pecon Software Ltd., the Canadian Radio-television and Telecommunications Commission, CRTC, issued a notice of violation on October 2, 2012. In order to comply with international service requirements, the CRTC filed the documents with the Indian Government's Ministry of Law and Justice--central authority for extrajudicial service of documents. The CRTC cannot proceed with these matters legally until Pecon Software Ltd. has been legally served. According to the Convention on Service Abroad of Judicial and Extrajudicial Documents in Civil or Commercial Matters, the Indian central authority is required to provide the CRTC with an affidavit attesting to the fact that they have legally served the documents to Pecon Software Ltd.
The documents were received by the central authority in India on April 2, 2013. The CRTC is now working with the Indian Ministry of Law and Justice--central authority to serve the documents to Pecon Software Ltd. Once the Indian Ministry has attested to the fact that the documents have been served, Pecon Software Ltd. will have 30 days to pay the penalty or file representations with the CRTC.
With regard to (g), with respect to the fine of $12,000 to Avaneesh Software, the CRTC issued a notice of violation on October 2, 2012, and Avaneesh Software accepted the service of the notice and accompanying documents. Avaneesh Software has submitted representations as per section 72.07(2) of the Telecommunications Act and a violation and review panel will be held to determine if the violations set out in the notice of violation occurred and whether or not to uphold the administrative monetary penalty. The matter has yet to be reviewed.