Rick Dykstra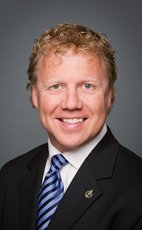 House of Commons photo
Track Rick
Your Say
Elsewhere
Crucial Fact
Conservative
MP for St. Catharines (Ontario)
Won his last election, in 2011, with 50.90% of the vote.
Statements in the House
Economic Action Plan 2014 Act, No. 1 April 7th, 2014
Mr. Speaker, it is an interesting question. This government has always believed that when the government has the ability within its particular ministries to deliver services, it does so without having to reach to outside sources.
However, the member has been around this place a long time, both as an elected member and as a senior adviser to former ministers, and she realizes that there are incidents, examples, and circumstances that require the government to use external sources, especially when it comes to legal services and expertise, to defend the government's interests and the civil servants who represent this government in terms of defending their service and the delivery of that service as well.
Economic Action Plan 2014 Act, No. 1 April 7th, 2014
Mr. Speaker, the only part of that question that actually resonated with me was his statement that the Province of Ontario needs to take responsibility for its actions, or lack thereof.
It has not acted on manufacturing, it has not acted on jobs, and it has not acted on building an economic system that would work. We have provided all of the social service needs in terms of investment, whether in health care, education, or social services. He should take a look. The member does not need to look too far if he wants to understand facts and figures.
The commitment that this federal government has made to all of the provinces and territories leaves the Province of Ontario to only turn its head in shame when it comes to its commitment to health care in that province, because certainly the commitments in this budget and the last eight budgets that have come forward from this federal government have all included increases in finances and in delivery of those finances to the provinces. If we were to ask any Ontarian if they are getting better health care than they did after all that investment, they would say no to that provincial government.
Economic Action Plan 2014 Act, No. 1 April 7th, 2014
Mr. Speaker, I appreciate the opportunity to conclude my comments.
As I was stating, the provincial government, when it comes to the funding for health care and the transfers from the federal government to the provinces, has not released a budget for the fiscal year. Therefore, I will use the data from the 2013 budget.
This data clearly shows that the increase in federal health funding to Ontario was actually greater than the increase in the provincial share of funding. The federal government provided over $635 million in increased funding to Ontario's health transfer. This represented 59% of the increase in health care funding in Ontario from 2013-14. Nearly 60% of the increase in funding for health care in Ontario, which is close to 50% of the Province of Ontario's budget, was made up from the federal transfers that we delivered to the Province of Ontario for health care for the year 2013-14.
In the first two budgets since the last provincial election, the federal government increased Ontario's health transfers by over 11.8% from 2012 to 2014. Yet, between 2012 and 2014, the Ontario government increased its share of heath care funding by only 3%, and that is over two years. The annual increases were 1.8% and just over 1% in the last budget. Therefore, with the federal government providing almost 12% in increases between 2012 and 2014, the Canada health care transfer grew by almost four times the rate of the 3% that Ontario raised in its share.
When we account for equalization, let us not forget that Ontario, under the provincial government, is now a have-not province, but it was about $1 billion above 2012 levels. One has to wonder if the Province of Ontario has invested a single penny into new health care spending that did not come from the federal government since the last election.
If anything is truly "outrageous", as the provincial minister of health has stated, it is not only that the federal government invested more new money in Ontario's health care system than the Province of Ontario did but that the Province of Ontario's share of new money from increased equalization payments was paid for by the federal government.
I applaud this budget's move to a sustainable model of health care funding. The Canada health transfer would increase by a minimum of 3% each year and would increase above 3% when the economy grows faster than that. This budget would bring in a sustainable funding model for health care that could guarantee a predictable level of funding for provinces and territories, and could do so for generations. On our commitment, our promise, we have delivered. Even in times of recession, it would be at least 3%.
I believe those comments summarize economic action plan 2014 as well.
The budget is managing taxpayers' dollars wisely while investing in the services Canadians need and positioning Canada to experience further job creation, economic prosperity, and long-term growth, including a commitment to health care for generations to come.
Economic Action Plan 2014 Act, No. 1 April 7th, 2014
Mr. Speaker, I would like to begin my remarks on economic action plan 2014 by acknowledging its author. Our former minister of finance, the member for Whitby—Oshawa, was given an extremely difficult task, but under his stewardship Canada managed to keep on the right track through a global economic recession.
As a result of this government's low-tax plan for jobs and economic growth, Canada has enjoyed the strongest economic record of any G7 nation, with over one million net new jobs created, 13,000 in Niagara alone. We are on track to balance the budget by fiscal year 2015, if not sooner, and that is good news for Canadians. One million net new jobs and a balanced budget are no small feats in the chilling aftermath of a global financial crisis.
I also worked with the former minister of finance in the Ontario provincial government, which also created one million net new jobs and balanced the budget, which were no small feats in the chilling aftermath of an NDP government. I have greatly enjoyed my years working with the member for Whitby—Oshawa at Queen's Park and in the House. I would like to thank the member for his years of service and for delivering the kinds of results that made my job that much easier. In his ninth and final budget, I believe the former minister of finance has built upon an already spectacular record.
It is also my privilege to rise today to speak on economic action plan 2014, and I would encourage members of the House to support this budget. When it comes to paper billing, for example, the budget is introducing greater fairness for consumers. One section of the budget that many people in St. Catharines have mentioned to me is the elimination of fees for paper billing. Canadians should not have to pay a fee to see how much they have to pay on their bill. It is only fair, and the government is taking action to increase fairness for Canadian consumers.
The budget also recognizes the price gap between Canada and the United States, wherein Canadians have to pay more to buy some of the very same products that Americans do. It also promotes Canadian-made products by developing a made-in-Canada campaign to promote those very same products and reduce internal barriers to trade. These are measures that would help consumers, as well as job-creating small businesses in communities close to the American border, like those in the Niagara region.
Another item in the budget is investment in the automotive innovation fund. This budget would support new projects and long-term investment in Canada's automotive sector. The automotive sector is an important part of the local economy in St. Catharines and throughout southern Ontario. I am glad to see that the federal budget would support these manufacturing jobs.
I would also like to take this opportunity to help some of my colleagues on the other side of the floor, who have been making some outlandish claims about this budget and health care. This budget is increasing the Canada health transfer. Not only is the total amount of the health transfer increasing, but all provinces and territories are also seeing an increase to their funding.
In this budget, health care funding has increased for absolutely everyone. Some members on the other side of the House cannot seem to comprehend that fact and are saying that they intend to vote against record levels of health care investment. With respect to investing in health care, the only budgets that should ever have been voted against were the Liberal budgets in the 1990s. If opposition members cared to read budget 2014, they would see that not only is overall funding going up, but health funding for every province and territory has also increased since last year. In fact, it has gone up by 60% since the current government took office.
This budget is fair for the Ontario health system just as it is fair for every other health system in this country. To quote former premier McGuinty, when the formula was announced by the government, he said:
The federal government has also addressed an outstanding concern related to the Canada Health Transfer. We are now going to be treated the same as Canadians in the rest of the country when it comes to the funding that we receive for the Canada Health Transfer.
Health care funding that is tied to population growth makes sense. If Ontario has a third of the population, then the Province of Ontario will receive a third of the funding. If it has a quarter of the population, it will get a quarter of the funding. If a province needs additional funding for extenuating circumstances preventing equal delivery of services, that is what equalization payments are for.
I would also like to address the comments made by the provincial health minister in December. She thinks that it is outrageous for Ontario to receive more health care funding than ever before. That is odd, because in recent years the federal government has been investing more in Ontario health care than Ontario's own provincial government. The federal government is paying for a larger share of health care costs in Ontario than it was in 2006. With every single budget, the federal government's share of health care costs has gone up, and it now pays for almost 25% of Ontario's health budget.
The provincial government has not released a budget for this fiscal year, so I will have to use data from 2013. That data show that last year the increase in federal health care funding to Ontario was greater than the increase in the provincial share of funding.
I am going to finish after question period and continue to show why health care funding from the federal government to the provinces, especially the Province of Ontario, is more than ever before.
Canadian Radio-television and Telecommunications Commission March 7th, 2014
Mr. Speaker, I will let him know that the CRTC is doing its work and fulfilling its mandate. When it comes to the filling of positions, whether they be in Quebec or anywhere else in our country, we ensure that they are done properly, that there is full research, and interviews have taken place to produce the person who is going to do the best job for both the CRTC and this country. That is exactly what we intend to do, and we are going to do it. We are going to get it done right.
Sports February 28th, 2014
Mr. Speaker, I am not sure where the member was for the last five years, but if he had watched the Olympics in Vancouver, if he had watched the Olympics in Sochi, he would have seen a program we implemented and funded, with record proportions, called own the podium. It is a program that not only has helped athletes win medals but has helped athletes become better individuals. They are leaders in our communities. They are telling children it is time to get involved and time to take action.
This government supports our athletes. I certainly have not seen the Liberal Party stand to support an athlete in this country in a long time when it comes to financial support.
The Budget February 14th, 2014
Mr. Speaker, I was waiting for this supplementary.
We have invested an additional, actually permanent funding of $9 million for a $37 million total for the Canada book fund, an additional $9 million for the Canada music fund, and we have actually added $25 million for the Canadian Council for the Arts.
Now, to the person from the Liberal Party who asked this, twice in a row, he must be so concerned about it, that I want to see him, on budget day, support culture and heritage in this country.
The Budget February 13th, 2014
Mr. Speaker, the finance minister, in the budget, does commit to ensuring that both those budgets will remain intact for 2014.
Canadian Heritage February 12th, 2014
Mr. Speaker, I thank the member for his question. The minister is focused on this issue. It is indeed an issue that we are pursuing, and we will get back to him with an answer shortly.
Hockey Tournament February 11th, 2014
Mr. Speaker, every year for the last 49 years a very special hockey tournament takes place. The Merritton Athletic Association in St. Catharines and the Wissahickon Skating Club in Philadelphia have taken turns hosting the tournament each year. This year is their 50th anniversary celebration.
The tournament brings together young players between the ages of 11 and 14, as well as their families and friends. For 50 years, along with the competition, all of those who have competed have been able to learn from each other the principles of hard work, sportsmanship, and teamwork. It is a highlight of the hockey year for all involved and it has forged friendships, relationships, and the kind of memories that last a lifetime. I played my youth hockey at Merritton and this is a group of dedicated volunteers who help our kids become better people.
My good friend Congressman Pat Meehan and I want to congratulate both the Wissahickon Skating Club and the Merritton Athletic Association for 50 years of commitment to our youth. It is too bad for Pat that Merritton has had to win so many of these tournaments.