Rick Dykstra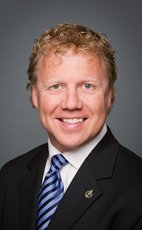 House of Commons photo
Track Rick
Your Say
Elsewhere
Crucial Fact
Conservative
MP for St. Catharines (Ontario)
Won his last election, in 2011, with 50.90% of the vote.
Statements in the House
Canadian Radio-television and Telecommunications Commission March 7th, 2014
Mr. Speaker, I will let him know that the CRTC is doing its work and fulfilling its mandate. When it comes to the filling of positions, whether they be in Quebec or anywhere else in our country, we ensure that they are done properly, that there is full research, and interviews have taken place to produce the person who is going to do the best job for both the CRTC and this country. That is exactly what we intend to do, and we are going to do it. We are going to get it done right.
Sports February 28th, 2014
Mr. Speaker, I am not sure where the member was for the last five years, but if he had watched the Olympics in Vancouver, if he had watched the Olympics in Sochi, he would have seen a program we implemented and funded, with record proportions, called own the podium. It is a program that not only has helped athletes win medals but has helped athletes become better individuals. They are leaders in our communities. They are telling children it is time to get involved and time to take action.
This government supports our athletes. I certainly have not seen the Liberal Party stand to support an athlete in this country in a long time when it comes to financial support.
The Budget February 14th, 2014
Mr. Speaker, I was waiting for this supplementary.
We have invested an additional, actually permanent funding of $9 million for a $37 million total for the Canada book fund, an additional $9 million for the Canada music fund, and we have actually added $25 million for the Canadian Council for the Arts.
Now, to the person from the Liberal Party who asked this, twice in a row, he must be so concerned about it, that I want to see him, on budget day, support culture and heritage in this country.
The Budget February 13th, 2014
Mr. Speaker, the finance minister, in the budget, does commit to ensuring that both those budgets will remain intact for 2014.
Canadian Heritage February 12th, 2014
Mr. Speaker, I thank the member for his question. The minister is focused on this issue. It is indeed an issue that we are pursuing, and we will get back to him with an answer shortly.
Hockey Tournament February 11th, 2014
Mr. Speaker, every year for the last 49 years a very special hockey tournament takes place. The Merritton Athletic Association in St. Catharines and the Wissahickon Skating Club in Philadelphia have taken turns hosting the tournament each year. This year is their 50th anniversary celebration.
The tournament brings together young players between the ages of 11 and 14, as well as their families and friends. For 50 years, along with the competition, all of those who have competed have been able to learn from each other the principles of hard work, sportsmanship, and teamwork. It is a highlight of the hockey year for all involved and it has forged friendships, relationships, and the kind of memories that last a lifetime. I played my youth hockey at Merritton and this is a group of dedicated volunteers who help our kids become better people.
My good friend Congressman Pat Meehan and I want to congratulate both the Wissahickon Skating Club and the Merritton Athletic Association for 50 years of commitment to our youth. It is too bad for Pat that Merritton has had to win so many of these tournaments.
Ukraine February 7th, 2014
Mr. Speaker, the Government of Canada supports the advancement of democracy and human rights around the world. Since November, Ukrainians have been demonstrating across their country for the right to democratically decide the future of their nation. They have been met with violent repression and deplorable treatment by their own government.
Canada has already taken measures that show our support for the people of Ukraine, and we will continue to stand by them during this tumultuous time. As the situation unfolds and Ukraine moves forward in the struggle for democratic reform, we are reminded that issues of democracy, human rights, freedom, and the rule of law are issues that transcend party lines.
In the coming days, we will be forging action plans to deal with the developments in Ukraine, and I hope that all members will continue to come together to contribute to a solution that promotes democracy and the safeguarding of individual freedoms for all of those in Ukraine.
Winter Olympic Games February 4th, 2014
Mr. Speaker, we will all be watching and cheering on Canadian athletes during the Sochi Olympics. However, the people in my community may be cheering just a little harder for St. Catharines' own Kirsten Moore-Towers. Kirsten is one of our national champion pairs figure skaters, and we are all proud of her accomplishments. The hard work, dedication, and countless hours of training that she has committed cannot go unrecognized.
To our over 200 young men and women who will represent Canada at the Olympics, I want to wish them the best of luck and thank them for representing our country with dignity and class.
St. Catharines will be cheering on Kirsten and her partner, Dylan Moscovitch. We are looking forward to their bringing home that medal to where it belongs, St. Catharines.
Canal Classic January 30th, 2014
Mr. Speaker,
MPs took to the ice and were surprised at the friends they were keeping.
There were MPs from all parties joining together in full force,
To take on members of the media party, of course.
Thanks to Canadian Tire for the chance to take part,
It was to help less advantaged kids, Canadian Tire Jump Start.
It was MPs from all parties who took to the ice,
One person did say, "That MP from Ottawa Centre is actually nice".
The NDP's best was a former soldier, who on the ice did sail,
It was to no one's surprise that NDP player was female.
Our captain from Barrie did lead us. "He is really good", cheered one young lass.
The Minister of Justice did say, "Yeah, sure, but we just wish he would pass".
It was the media's enforcer, CBC's Solomon, who did cross check from behind,
From the ice I could hear Evan say, "I want to confirm, the CBC is really not kind".
It was Senator Munson who looked unsure as if in a dream,
It was then he said, "I am not sure who to play for, because yesterday my leader kicked me off the team".
At game's end our hero rose, his hands in the air, as he fired the puck into the netty.
That shoot-out goal will be remembered forever as a Pacetti.

Canal Classic January 29th, 2014
Mr. Speaker, hockey's place in Canadian culture is more than a simple sporting pastime. It is a unifying force that brings the whole country together, regardless of age, gender, language or political affiliation. That being said, I would like to invite everyone to come down to the Rideau Canal tomorrow morning to watch the first annual Canadian Tire/Sport Chek Canal Classic. It is a hockey game between parliamentarians, NHL and Olympic alumni, representatives from the media and the team at Canadian Tire and Sport Chek in support of Jumpstart Charities.
Canadian Tire Jumpstart Charities is a national charity that helps kids from financially disadvantaged families participate in organized sport and recreational programs by covering the costs of registration, equipment and transportation, thus helping more Canadian kids get physically active through sport and recreation opportunities. With the Sochi Winter Olympics just a week away, what better way to celebrate Team Canada than to strap on a pair of skates and play Canada's official winter sport, even if it is against the opposition?