Rick Norlock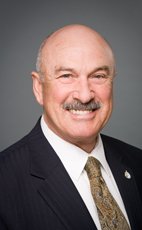 House of Commons photo
Track Rick
Your Say
Elsewhere
Crucial Fact
Conservative
MP for Northumberland—Quinte West (Ontario)
Won his last election, in 2011, with 53.80% of the vote.
Statements in the House
An Act to Bring Fairness for the Victims of Violent Offenders May 10th, 2013
Mr. Speaker, I welcome the opportunity to continue the debate on Bill C-479, an act to bring fairness for the victims of violent offenders, a bill which I support, with amendments proposed by the government.
Let me begin by commending the hon. member for Ancaster—Dundas—Flamborough—Westdale for his tenacity in fighting for the rights of victims. The predecessor to this bill was introduced into the House of Commons during the previous Parliament and was debated for an hour prior to dissolution, yet the hon. member has held fast to his vision and deserves our admiration and respect for his hard work in bringing the bill forward.
Today's debate is an opportunity to reflect on the traumatic impact of violent crime on its victims and what our government is doing to support our victims and what more we can do.
I will not pretend to fully understand the harm that violent crime inflicts on a victim. Only those who have survived such a terrible experience have the right to speak of it. However, I have met with victims of crime and I have seen the toll of emotional trauma and the desire for meaningful participation in the justice system. They spoke because they needed to be heard. Giving voice to their experience empowers them because they are determined to gain control over their lives.
Our government is listening. Our government is committed to keeping our streets and communities safe and supporting victims, which includes strengthening legislation, protecting victims rights, tackling crime and ensuring fair and efficient justice. All of these will have a positive impact on the victims of crime and their families.
When our government was elected in 2006, we pledged to Canadians that we would work hard to address the needs of victims of crime and their families. I am proud to say that we have made significant progress. The National Office for Victims, Public Safety Canada is helping victims gain a greater voice in the corrections and conditional release process. It is helping victims get access to the information and services they might need.
Apart from the physical and emotional trauma of violent crime, victims may also carry a financial burden. Worries about money adds stress to families at the worst possible time. That is why, last November, our government announced a new income support program to ease the financial burden on parents who were struggling to cope with the death or disappearance of a child.
Even as we are helping victims of crime, we are working hard to prevent these crimes from happening in the first place. In our high speed culture it has never been easier for young people to go astray. If we can address the risk factors early, we may well prevent young people from falling in with the wrong crowd. One of the strategy's programs, for example, is the youth gang prevention fund. On the one hand, the fund helps communities develop programs to help youth at risk to make better choices and avoid criminal behaviour. On the other hand, it works with families that have been victimized. I am proud to note that in 2011 alone, our government funded 138 community-based crime prevention programs through this strategy. All told, these programs reached 16,000 youth at risk.
I have highlighted our government's support for victims of violent crime and our efforts to reduce the chance of violent crime occurring in the first place. We are also helping victims at the legislative level. Over the past seven years, our government has introduced and passed compelling and comprehensive changes to our legislation, changes that support crime prevention, that give police the tools they need to fight crime and increase offender accountability.
The centrepiece of our approach is the Safe Streets and Communities Act, which received royal assent last March. As part of the significant overhaul of our justice system, the act provided greater support for victims of crime. Victims are entitled to be kept better informed about the behaviour and management of offenders. An act of violence can touch many people. That is why the Safe Streets and Communities Act expanded the definition of a registered victim. This definition now includes the guardians and caregivers of dependents of victims who are deceased, ill or otherwise incapacitated.
Our government has tilted the justice system back to where it should be. Through our steady approach, we are strengthening legislation, protecting the rights of victims, tackling crime and ensuring justice is fair and efficient.
Private member's Bill C-479 would complement our drive toward making the justice system work better for victims of offenders. It proposes changes to the Corrections and Conditional Release Act that would complement the Safe Streets and Communities Act by: modifying parole and detention of review dates; facilitate victims observing hearings; and expanding the rights of victims to have access to information about the offender.
As we have heard, our government will seek to move minor amendments should the bill be referred to a committee for study.
I believe private member's Bill C-479 is important legislation that would support the rights of victims. I urge all hon. members to join me in supporting the bill before us today.
Veterans May 10th, 2013
Mr. Speaker, according to the NDP:
A war of the bourgeois who always wanted more money. A purely capitalist war... The only ones...who rejected [this war] were the communist activists.

I don't understand why this government puts so much emphasis on our military past, on everything related to military history.
Incredibly, these are comments made by senior members of the NDP caucus. The Leader of the Opposition stands firm: no retraction for Canadian veterans, no apology for such reckless comments. The Leader of the Opposition has shown that he is incapable of reigning in his party's extremist positions.
How many more days must our brave veterans wait for the Leader of the Opposition to make this right?
Business of Supply May 9th, 2013
Mr. Speaker, I think I did say that during my speech and in my response to the hon. member of Her Majesty's Official Opposition.
However, to the third party question, I put my trust in the Auditor General of Canada and the Auditor General of Canada said that the money was not spent in any way that it should not have been. When in committee, he went on to say that government departments were responsible for accounting and reporting spending through the Public Accounts of Canada. He confirmed:
The spending within the departments would have undergone normal control procedures in those departments; so there are internal controls in departments about spending and they would go through all of those normal processes. We didn't identify anything that would cause us to say that we felt that anything was going on outside of those processes.
What is the opposition worried about? What is the concern? In its vain attempt to throw mud and hope that some of it sticks, the Auditor General has said that it will not to stick because everything is accounted for in Public Accounts.
Business of Supply May 9th, 2013
Mr. Speaker, I will not comment on the across-the-bow shots that may occur here because to my constituents and to me personally, and as the member has just said, to his constituents and to him, we want a government that has the accounting practices that the Auditor General says that are sufficient so he feels secure in telling Canadians that on viewing the government operations, they are being done in a manner that he thinks is appropriate.
In this case, the Auditor General has said that there is no money that cannot be accounted for and that there has been no funnelling off to any enterprise. In fact, we have repeated in the House ad nauseam, that the Auditor General said, "We didn't find anything that gave us cause for concern that the money was used in any way that it should not have been".
What am I saying? I would agree with the Auditor General that he needs to be satisfied in order to satisfy my constituents and that we need to be a little more diligent and in some cases perhaps much more diligent in identifying specifically. Therefore, we have agreed as a government to take his suggestions and recommendations and we will implement them.
Business of Supply May 9th, 2013
Mr. Speaker, I am pleased to speak today on the subject of the funding for Canada's public safety and anti-terrorism initiative.
As we know, the hon. opposition is calling into question the government's accounting for the money used to fight terrorism both at home and abroad. We have indicated that all funds in question have been accounted for in public accounts, and those are available to Parliament.
What is more, there is no indication that any money is missing or that any money has been poorly used or wasted, and that is also the opinion of the Auditor General of Canada. He gave the government's accounting for these expenses a clean bill of health. He did so after reviewing all available documents during the course of his audit. In fact, he confirmed at committee that the anti-terrorism funding he was reviewing was purely an internal government reporting process. The Auditor General clearly said that his office did not find anything to indicate that the money was used in any way it should not have been.
We understand the priorities of Canadians, and our priorities are aligned with theirs. We understand that there is no duty more fundamental than protecting the personal safety of our citizens and defending them against threats to our national security. That has been our objective with regard to spending on anti-terrorism measures at home and abroad. To this end, the Canadian Forces have played an essential role in recent years.
We continue to face a wide range of complex and unpredictable threats that, as we know, can emanate from anywhere from down the street to the other side of the globe. These threats can take on many forms, and the government bears the responsibility to protect and defend the individuals, institutions and infrastructure of our nation against all dangers.
Now, as our defence community shifts its focus away from Afghanistan, it is looking closely at that environment, an environment that poses challenges ranging from cyberthreats, piracy, illicit trafficking and arms proliferation to fiscal crises that persist around the globe to changing regional dynamics in Asia and the Arab world. These challenges, paired with the end of our long mission in Afghanistan, give us clear impetus to make sure that the Canadian Forces are ready to meet today's needs.
Indeed, the readiness of the Canadian Armed Forces to react to any eventuality will be an area of continued effort in the post-Afghanistan era. The Canada first defence strategy outlines the government's commitment to give the forces the resources they need to carry out their work on behalf of Canadians in a volatile world.
In keeping with this commitment, we have increased defence spending by about a third since 2006. We have invested in critical military capabilities by acquiring transport aircraft, upgrading armoured vehicles, modernizing warships, and launching Canada's first military satellite.
The government has made significant investments since 2008 in reviewing military infrastructure across the country. We have provided new resources to care for our troops and their families.
I would like to mention at this point that at 8 Wing in Northumberland—Quinte West, this commitment has never been greater. Hundreds of millions of dollars are being invested in the infrastructure there so that we can accommodate Canada's elite anti-terrorism squad.
The results are clear. The Canadian Armed Forces have been able to maintain the highest operational tempo since the Korean War, ranging from Afghanistan and Libya to floods and fires across Canada. All these investments and others like them will leave the forces well equipped to handle their current and future operations, including protecting us at home right here in Canada.
Other investments are being made to ensure that firefighters, police, medical professionals and military personnel are supported with the right resources, knowledge, tools and training to stay ahead of the curve. To support this vital work, the Minister of National Defence announced the establishment of the Canadian safety and security program in 2012.
With an annual investment of some $43.5 million, this comprehensive program identifies and funds innovative scientific and technological solutions to address the full array of public safety and security challenges. It promotes collaborative efforts because no single department, agency or organization is equipped to tackle all of the desperate dangers in today's world.
In March, the Minister of National Defence announced an additional $20 million for 26 science and technology projects that aim to make Canada more safe and more secure. These projects help address Canadian vulnerabilities in the face of some of the most pressing threats to public safety and security today. For example, Transport Canada will work with the Canada Border Services Agency, the U.S. Department of Homeland Security and industry partners to enhance the X-ray capabilities used at airports and border crossings for baggage and cargo screening.
Natural Resources Canada will lead an effort with Parks Canada, the B.C. Ministry of Environment, and the University of British Columbia to develop a better system to predict and track smoke from forest fires to assist with emergency evacuation decisions.
Defence Research and Development Canada, partnering with Laval University and the University of Western Ontario, will lead a project to develop critical technical capabilities to identify, locate and mitigate potential wireless security threats and enhance the resiliency of digital infrastructure and response effectiveness. The examples go on.
As recent events in Canada and the United States have shown, Canada must continue to be on guard against terrorism. Terrorism threats are real problems that have to be dealt with, and we are getting the job done with continued investments.
I urge the members of this House to focus their energies and their efforts on the real problems we face and to work together to defend our citizens against terrorism.
The Auditor General found that the deficiencies in the PSAT reporting process did not prevent the programs from achieving their objective, which is keeping Canadians safe and secure.
The Auditor General reviewed all available documents and concluded, "We didn't find anything that gave us cause for concern that the money...was used in any way it should not have been".
With a conclusion like that from the Auditor General himself, I cannot support this motion.
Economic Action Plan 2013 Act, No. 1 May 6th, 2013
Mr. Speaker, we heard from the NDP and we heard from the Liberal member.
The NDP member, of course, tried to fire off blame instead of saying how she is rolling up her sleeves and working with the residents there. The CFDC is using a whole plethora of federal agencies that are designed to work with the member of Parliament to excite the community and get the community ready to work. She failed to state that the Government of Ontario has indicated a willingness to make the necessary repairs to the ferry, which is a provincial jurisdiction.
To the hon. Liberal member, perhaps he would comment on what the government did before the last recession, paying down our debt and positioning the government so it could weather the economic storm.
National Hunting, Trapping and Fishing Heritage Day Act April 29th, 2013
moved for leave to introduce Bill C-501, An Act respecting a National Hunting, Trapping and Fishing Heritage Day.
Mr. Speaker, it is indeed a pleasure and an honour to introduce this bill, an act respecting a national hunting, trapping and fishing heritage day. We know that this is an activity that most Canadians enjoy. It is at the very foundation of our country. Our brothers and sisters of aboriginal nature came to this continent and subsisted by hunting, fishing and trapping. Today, we know that recreational fishing contributes billions of dollars to our economy. More important than that, it is an important social interaction between fathers and sons, mothers and daughters. It brings families together to enjoy the great outdoors of this wonderful country of ours.
That is the main reason why I, and my friend who is seconding the bill, are bringing the bill forward. It is important to us, to our constituents and to the country. I look forward to speaking further to the House on the matter.
(Motions deemed adopted, bill read the first time and printed)
Pennies and More for Polio April 29th, 2013
Mr. Speaker, I rise in the House today to highlight Rotary International's Pennies and More for Polio initiative.
In Canada, Rotarians raised $2.2 million through Pennies and More for Polio, which was matched dollar for dollar by CIDA and the Bill and Melinda Gates Foundation.
In total, $6.8 million was raised, which will support the immunization of millions of children. We have seen great success in stamping out this disease, and the eradication of polio will continue until the few vulnerable pockets are cleansed.
I extend special recognition to my constituent, Dr. Robert Scott, for his commitment and leadership as chair of Rotary International's polio eradication committee.
I applaud the successful efforts of my fellow Rotarians in Canada who surpassed their goal in collecting funds to combat this debilitating disease.
Justice April 26th, 2013
Mr. Speaker, Canadians are concerned about crime, particularly violent and brutal murders that involve sexual assault and kidnapping. The justice system should do all it can to specifically denounce society's worst crimes.
Yesterday, the member for Selkirk—Interlake received the government's support for his legislation, which would ensure that victims are not re-victimized by the justice system with repeat parole hearings. Can the Parliamentary Secretary to the Minister of Justice please inform the House how Bill C-478, the respecting families of murdered and brutalized persons act, would further complement our government's support for victims?
Not Criminally Responsible Reform Act April 26th, 2013
Mr. Speaker, I was listening intently to both the previous speaker from the NDP and the question from the member from the Northwest Territories, which was to the effect that somehow we are bothering or burdening victims by telling them the situation with regard to the person who aggrieved them.
After 30 years of policing and seven years as a member of Parliament listening to victims and working with victims and knowing how they feel, I do not know of one instance, not one in 37 years, in which a victim has said he or she really did not want to know what was going on. Maybe it has occurred, but I have never experienced it, nor do I know a fellow police officer who has. If I were to add up all of our experience, it would be hundreds of years, and a victim has never said that.
We hear the opposition say that victims should be paramount. All we are asking is for a judge in the criminal justice system to look at the situation once more before someone is released into society. It is sort of a double check, so to speak. For the trivial 2% of people who are re-victimized or where there is recidivism, those are huge numbers in their minds when they have a loved one who has been killed or seriously hurt.
I think the opposition is just looking for an excuse to vote down another criminal justice bill.