Rick Norlock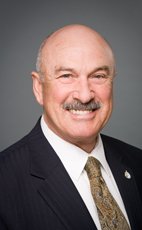 House of Commons photo
Track Rick
Your Say
Elsewhere
Crucial Fact
His

favourite word

is police.
Conservative
MP for Northumberland—Quinte West (Ontario)
Won his last election, in 2011, with 53.80% of the vote.
Statements in the House
Anti-Terrorism Act, 2015 February 19th, 2015
Mr. Speaker, I have served on the committee the hon. member referred to for some nine years now, and I can say that we have had a lot of debates on a lot of issues.
I have looked at this. The member said that they have had time to consult on it. The New Democrats were saying no to it almost from the minute the bill entered this House, so it is somewhat inaccurate to say something otherwise.
I will provide a scenario for my constituents. Let us say there are two people with Canadian citizenship in a foreign country where there is some unrest and we know terrorism exists. They want to leave the country, so they go to the airport and see a CBSA official and state that, according to international law, as citizens they have the right to re-enter their country. That official must immediately agree, which is a good thing. However, the official then sees something that causes him or her to believe there is a possibility that these two individuals may have been engaged in a terrorist activity in that country and may be coming back to Canada.
Under the current legislation the CBSA official cannot go next door to where there is an RCMP officer to voice his or her concern so that something can be done about it, because the current legislation does not allow for that. All this bill would do is allow, under the Privacy Act, that official to talk to that RCMP officer to ensure that something is done about it to remove that fear. That is one of the simple things this legislation would do, and I do not know why the opposition is so fundamentally and ideologically against this bill.
Petitions February 19th, 2015
Mr. Speaker, I have a petition signed by numerous residents of Northumberland—Quinte West and the surrounding area, who want the government to ratify the convention on the protection of new varieties of plants, known as UPOV '91; to adopt international aid policies that support small farmers, especially women, and recognize their role in the fight against hunger and poverty; and to ensure that these policies and programs are developed in consultation with small farmers; and that they protect the rights of small family farmers in the global south to preserve, use, and freely exchange seeds.
Foreign Affairs February 18th, 2015
Mr. Speaker, our government is committed to working with our international allies to fight against ISIL around the world in order to protect Canadians.
According to the Liberal member for Westmount—Ville-Marie, air strikes against the ISIL death cult are "overkill".
My constituents do not believe that working to stop a gruesome terrorist organization that beheads people who do not agree with it, threatens to behead the elderly in their beds if they do not convert, and has committed countless crimes against women and children is "overkill". In fact, our armed forces has confirmed that our air strikes have successfully degraded ISIL's capabilities.
ISIL is a threat to domestic and international security. It has declared war on Canada. It called for brutal attacks against Canadians. Although the Liberals want us to sit and do nothing, we will persist.
Marine Mammal Regulations February 17th, 2015
Mr. Speaker, I was pleased and honoured to support my friend with respect to this bill coming to the House. It appears that we will have unanimous approval for it. I think it is worthy of that, and I applaud the member.
In part of his speech he referred to the importance of sealing to our aboriginal community. I know he has had communication with the Minister of the Environment, and I am sure she has advised him as to how important it is. I wonder if he could talk about how important this industry is to not only those who are on the eastern coast of our great country but also to the aboriginal community here in Canada.
Drug-Free Prisons Act February 17th, 2015
Mr. Speaker, the hon. member across the way who sits on the public safety committee, as I do, gave some reports as to what was said at committee. Without going line by line as to where she was wrong and turning it in the opposite direction from where it was, I am going to ask the people out there who count, the people of Canada, to go to the blues of the public safety committee and read what was actually said. It will be remarkably different from what the member said.
The member also says she does not like the title. They wanted to change the title, and that was ruled out of order, just as in the House when something is ruled out of order. They think, if we cannot play the game their way, it is all bad.
She says some of the drug addiction programming was cut back. The evidence was that it was not cut from $11 million to $9 million, but that there is actually some $20 million. We are verifying that. Therefore, Canadians out there should go to the blues. They should not believe any of the talking-head politicians in here. They should go to the blues and read what the witnesses actually said.
The member for Saanich—Gulf Islands was mentioning it. In a previous Parliament, the public safety committee went to other countries. They said Canada has some of the best programs available. We went to Norway. Sixty per cent of the programming in its prisons is from Canada. I ask the hon. member from across the way to read the study into drug addiction and mental illness in our prisons, and she will find some of that evidence.
The member went on and on about the short title. She mentioned double bunking. Actually, the evidence before our committee was that the additional beds going in were reducing the amount of double bunking. She needs to get her story straight.
Therefore, I am just going to suggest to Canadians out there that they go to the blues and actually read them. They will be remarkably different from what she said.
Parliamentary Precinct Security February 16th, 2015
Mr. Speaker, I can assure my fellow members of the House that their privileges as parliamentarians would not be affected.
As I mentioned at the beginning of my speech, we looked at our sister Westminster legislatures, including Great Britain. Its parliamentary security is the same as this motion recommends. Members are trying to cloud the issue, that somehow and in some way we are immensely different from everyone else.
The RCMP would work in conjunction with House of Commons and Senate security. I suspect strongly that the RCMP will continue its relationship with the Ottawa Police Service on the outside of this precinct. It only makes sense that there would be an efficient stream with the RCMP, the police force of this nation, which has access to all of the information that comes to the security service and which keeps us safe both nationally and internationally. The Auditor General of Canada has said that this would be more effective and efficient for the safety of parliamentarians and Canadians in general who visit this place.
Parliamentary Precinct Security February 16th, 2015
Mr. Speaker, I do not mistrust the RCMP. It works independently of government. If someone in government goes offside, commits an offence, or breaks the law, does the RCMP ask someone for permission to charge that individual? No, it goes directly to the crown attorney.
What is sometimes wrong in this place is when everyone goes off on tangents and says that the RCMP cannot be trusted because it is made up of police officers, that they would much rather trust someone else. RCMP officers act in the best interests of the citizens of this country and would never permit themselves to be swayed by any Liberal, Conservative, socialist, or other party. I just bristle, unfortunately, when I hear the opposite. I try to keep calm, especially when members of this place tell the citizens of Canada that they cannot trust the RCMP, that somehow we have to make sure that we in the House of Commons can be trusted more than the RCMP. I trust the RCMP. I trust police officers in this country more than I trust some other folks.
Parliamentary Precinct Security February 16th, 2015
Mr. Speaker, because of committee work, unfortunately I was not here for the last part of the previous member's presentation to this House.
Also, I will be splitting my time with the hon. member for Edmonton Centre.
Mr. Speaker, we hear from the other side that the government is trying to somehow let Canadians know that we members of Parliament feel unsafe. I feel quite safe in this place. As a matter of fact, I feel quite safe in any part of my dear country called Canada.
However, we have a responsibility in this place. That was brought to our attention in a very unfortunate way, when a person visited us on October 22, 2014. Every Canadian who viewed the events of that day through the media and saw what occurred, saw the person running across the parliamentary precinct and right up the steps, wonders how these things happen.
We know that for some time prior to October 22 there had been discussions of security in this day and age. There had been discussions of security in the world in which we live, having regard to so-called homegrown terrorists and homegrown difficulties, even just the things that are happening in our world that have changed the paradigm. We are no longer living in 1940; we are living in 2015. We need to look at security, as other nations have across the world. We need to look at nations that have a parliamentary tradition similar to ours, a Westminster-style governance, such as our sister legislatures in Australia, New Zealand, Great Britain. We see what they are doing about their security, and we find they are very similar to what the motion states it would do.
The government is not trying to significantly change the way we do things in this House, or the way that security is presented in this House. We are guided by the realities of 2015. The realities are that we cannot break a chain of responsibility into four or five different pieces and expect there to be efficiency and effectiveness. There needs to be uniformity, a plain and simple order of authority that is ultimately responsible: what job is it for every level, just like in Canada's second-largest deployed police force, in which I worked. We have detachments that respond to regions which were responding to headquarters.
In this place, as a result of October 22, we found that there were four different jurisdictions affected on that date, each one operating somewhat in a silo, although there was communication. We had the Ottawa Police Service, the House of Commons security services, the Senate protective service, and, of course, the RCMP.
I think any Canadian viewing this would say that a uniform chain of command is needed, a responsible agency at the top that works in conjunction with the different levels of security.
I heard a mention of the Ontario legislature. In the Ontario legislature, the province that I come from, we have the Ontario Government protective service, OGPS. It works in conjunction with the Ontario Provincial Police, which has the same type of relationship with the Government of Ontario that the RCMP has with the federal government.
That is what the motion says. No one is going to lose their job. It makes a lot of sense. Why does it make sense? Any person who knows the connection with the RCMP, which is responsible for policing this great nation of ours, and the rest of the world, knows it has international relationships with other nations and a close relationship with CSIS.
Therefore, in this place, the seat of democracy for our nation, we the government are proposing that the RCMP be able to gather all of this information because it is the most responsible body.
We will still have the House of Commons and Senate security, which we are saying should be one security service. We were already moving toward that before October 22. However, we have parliamentarians who want to go back 200 to 300 years and cloud this whole issue of security.
The RCMP is independent of the government. It knows its responsibility. This motion would not change that.
There are those who are saying that they want to make sure that the RCMP reports to Parliament. However, the RCMP will report through security, through the Speakers of each of our individual Houses. Therefore, we will maintain the independence we already have.
It would make sense to have one security agency, although it would operate in different parts. It would be just like it is with a deployed police force, such as the RCMP, which has detachments reporting to provincial governments, but which in the end is our national police force. We would have a uniformed police service reporting here. Instead of several independent agencies working in silos having meetings and sharing information, we would have a distinct chain of command. The RCMP would oversee security, but we would still have the great men and women who work in the House of Commons and Senate security and who keep us safe, and will continue to do so.
I look back on October 22 and see some of the things the average citizen sees and who asks how a person could have done the things he did. I respond that we are working on security. I inform my constituents that we continually improve security. We have those pylons for the green buses going by, which were not there a year and a half ago, and so we are increasing security. What the plan and this motion advance is the integration of these security forces. We need to continue that.
Time is of the essence and despite what members may have heard, this integrated approach is compliant with the Auditor General's report of 2012, which recommended unifying the security forces on Parliament Hill under a single point of command, making it possible to respond to situations more effectively and efficiently.
The RCMP, as I mentioned, has international as well as domestic relationships with other police forces. It would also have the ability to work in conjunction with the security forces on Parliament Hill to be able to make them into a stronger, more efficient and effective security service. That is what this motion would do. It actually goes further than the Auditor General's report.
I think the Auditor General would be very happy with that, because we would have the RCMP, which is able to correlate those additional resources from around the world with its connections with CSIS and the Five Eyes. Pursuant to this motion, having a completely integrated security service on Parliament Hill would bode well for all of the people who work and live in this precinct, including on days like this when we are here until nine or ten o'clock.
However, more important than the 308 of us here and 105 in the other place, Canadians would be able to come here and also feel safe. I care about everyone's safety, but it is the men, women, and children who come to this place whom we need to keep safe. They need to know that it is a safe place to visit. October 22 told them that bad things can happen, which we also see as we look around the world.
It is our responsibility to reassure our constituents that what we are doing in this place is making it safer not only for the men and women they send here, but also for their friends, their neighbours, and them and their children when they visit this great place of democracy where we are all so honoured and privileged to sit and represent our constituents.
Veterans Affairs January 30th, 2015
Mr. Speaker, I am pleased to rise and pay tribute to the hard work and sacrifice of our veterans. Our veterans have sacrificed and fought for our freedom, our democracy, and this great country. I think all of us in the House know a veteran.
Under our Conservative government, we have worked to assist our veterans to make the transition from the Canadian Forces to Veterans Affairs Canada easier. Among our government's many initiatives, we have hired more staff to help transfer medical files more quickly and more efficiently from National Defence to Veterans Affairs. We have significantly reduced the number of pages on the application forms, thus reducing red tape, and through eight successive budgets, our government has earmarked over $5 billion in new funding to improve the benefits and services we provide to our veterans and their families.
We listen to veterans and we deliver results.
Nááts'ihch'oh National Park Reserve Act December 11th, 2014
Mr. Speaker, I listened to the hon. member across the way, to whom I also wish a merry Christmas. Having worked in Hearst, Ontario, I know the north somewhat.
I was very interested in the claim that we are not spending sufficient funds in regard to Parks Canada. It is the season to celebrate and sometimes in the celebratory nature of the season we are in, we forget certain things that occurred in the House of Commons. I would ask if the hon. member could comment on the announcement of $250 million that would go to infrastructure in and surrounding our parks. I wonder if she recalls hearing that from the Prime Minister's own lips.