Rick Norlock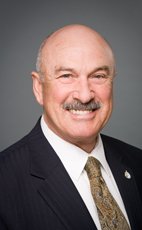 House of Commons photo
Track Rick
Your Say
Elsewhere
Crucial Fact
His

favourite word

is police.
Conservative
MP for Northumberland—Quinte West (Ontario)
Won his last election, in 2011, with 53.80% of the vote.
Statements in the House
Supporting Non-Partisan Agents of Parliament Act October 9th, 2014
Mr. Speaker, I am pleased to have this opportunity to provide the government's response to Bill C-520, an act supporting non-partisan offices of agents of Parliament. I know that the member for York Centre has worked very hard on this bill, and I would like to assist the House in explaining the reasons he brought it forward.
The purpose of the bill is to avoid conflicts that could arise, or be perceived to arise, between partisan activities and the official duties and responsibilities of any person who works in the office of an agent of Parliament. For the record, this bill would apply to the offices of the Auditor General of Canada, the Chief Electoral Officer, the Privacy Commissioner, the Commissioner of Official Languages for Canada, the Information Commissioner, the Commissioner of Lobbying, the Senate Ethics Officer, the Conflict of Interest and Ethics Commissioner, and the Public Sector Integrity Commissioner.
We all know these offices quite well. They oversee the activities of our public institutions. Their chief officers report directly to Parliament rather than to government or an individual minister, and as such, they support MPs in carrying out their important duties.
Some have been part of our system of government for a very long time. This includes the position of Auditor General, which was created shortly after Confederation to provide objective information and assurance regarding the use of public funds.
In 1920, the position of Chief Electoral Officer was created. Among its many duties, this office monitors compliance with electoral law and maintains readiness to conduct federal elections.
The Office of the Commissioner of Official Languages has also been with us for some time. Established in 1969 with the adoption of the Official Languages Act, this office ensures recognition of the status of each official language in Canada. It also ensures compliance with the spirit and intent of the Official Languages Act in the administration of the affairs of federal institutions.
Then, in 1983, as issues related to personal privacy and access to information began to draw more and more attention, the positions of Information Commissioner and Privacy Commissioner were created.
More recently, the government created three additional agent of Parliament positions: a Conflict of Interest and Ethics Commissioner and a Public Sector Integrity Commissioner in 2007, and a Commissioner of Lobbying in 2008.
Each office serves a specific function. They contribute enormously to the accountability of our system of government, and taken together, they provide Canadians with assurances that government programs and services are working as they should and that institutions and individuals are accountable for their actions and decisions.
Here are some of the important functions they ensure: that funds provided to a federal organization are fully accounted for and used in compliance with programs or project agreements, that public service employees and other officials adhere to standards of professionalism and ethics, that activities are conducted in accordance with an organization's legislative mandate and adopted policies, that government activities are conducted in the most efficient and effective manner, and that the inefficient use of resources is avoided.
In short, agents of parliament play an invaluable role in our Westminster style of government. As a whole, they oversee the activities of a vast array of public institutions and officials that provide countless services and benefits to Canadians around the world.
It is worth remembering that the federal government is the largest employer in Canada. Its range of activities is as broad as it is vital to the future of our country. Indeed, we have people working in hundreds of locations in all parts of Canada and around the globe. From hospital orderlies to research biologists, from economists to crews on naval ships, from ambassadors to correctional officers, from police officers in remote communities to aircraft pilots, the knowledge and skills demanded of public service employees are as varied as Canada itself. This all takes place in a complex and unpredictable environment.
It is part of our challenge as parliamentarians to ensure that the full range of what the government does for Canadians is run in an accountable and transparent way. It is a big job, and we could not do it without the support of agents of Parliament.
The government has taken steps to strengthen and enhance the role of agents of Parliament in recent years, in particular through the 2006 Federal Accountability Act. The act strengthened the powers of the Auditor General, toughened the office of the ethics commissioner, expanded the reach of the Access to Information Act, and tightened lobbying rules, among other measures. Thanks to such reforms, Canada has one of the most accountable and transparent systems of government in the world. This is something all Canadians can be rightly proud of.
The bill before us today gives us an opportunity to further enhance our accountability regime. It includes measures to help maintain the principle of merit and non-partisanship in the offices of agents of Parliament. For example, it would require every person who applies for a position in the office of an agent of Parliament to make a declaration with respect to past engagements in political partisan positions. Specifically, this declaration would state whether in the 10 years before applying for that position the person had occupied certain specific politically partisan positions. The declaration would indicate the nature of any such position as well as the period of time during which the person occupied it.
The bill would also require every person who works in the office of an agent of Parliament and who intends to occupy a politically partisan position while holding the position in that office to provide a written declaration of their intention to do so. The declaration would indicate the nature of the politically partisan position as well as the period of time during which the person intends to occupy it.
In addition, the bill would require persons who work in these offices to provide a written undertaking that they will conduct themselves in a non-partisan manner in fulfilling the official duties and responsibilities of their positions.
This bill would help to ensure that we continue to benefit from a system of government that is based on non-partisanship, an essential element of both a professional public administration and a responsible democratic government. It is for this reason that I urge all members to join me in supporting this legislation.
Brighton AppleFest October 1st, 2014
Mr. Speaker, this past weekend, the municipality of Brighton celebrated the milestone 40th anniversary of its annual AppleFest. This unique festival, which recognizes Brighton's apple farming heritage, marks the beginning of the fall apple harvest season.
This year's AppleFest was the largest and busiest in recent memory, with a record 30,000 attendees over the weekend. Festival goers were able to shop local vendors at the street fair or browse the classics at the car show. An evening concert showcased Canadian greats Kim Mitchell and April Wine, and kids and parents alike were entertained by renowned wildlife filmmakers Chris and Martin Kratt, of Wild Kratts.
Brighton's 40th AppleFest surpassed everyone's expectations and provided an outdoor venue replete with something for everyone. I would like to take a moment to thank those numerous volunteers who were able to make this year's event possible. I also encourage a visit to this apple-growing region any time of the year.
Committees of the House September 29th, 2014
Mr. Speaker, I know my colleague and friend in our caucus is quite concerned about the whole issue. The good thing is that she is on the committee, and I know she has examined the subject matter before us today. I know certain parts of it have piqued her interest and that she believes it is important for the House to know more about them. I wonder if she could share that with us at this time.
Citizenship and Immigration September 26th, 2014
Mr. Speaker, this week the court has condemned people for honour-based crimes in Canada. A family was intimidating and harassing a young woman simply because she was seeing a young man. On this side of the House, we believe those are barbaric practices that they have no place in Canada. Sadly, the Liberal leader refuses to condemn these barbaric practices because he does not want to offend some people.
Could the minister update the House on what action we are taking to combat so-called honour-based crimes?
Outstanding Heroes in the Home Award June 20th, 2014
Mr. Speaker, Community Care Northumberland, a non-profit organization, has a dedicated mission to strive to be the best volunteer-based community support organization in Northumberland County, and to assist clients to experience a higher quality of life by strengthening their connections with the community.
Community Care Port Hope branch recently recognized the efforts of six local heroes with an Outstanding Heroes in the Home award.
One of these heroes is 12-year-old Kameron Cross, from Garden Hill, nominated for his valiant efforts to assist his father. Andrew's father is confined to a wheelchair with multiple sclerosis, but this does not stop Andrew from helping his dad with daily chores, outings, and everyday events that we take for granted.
This outstanding young man compassionately serves his family with unwavering commitment and kindness, to ensure his father is included both in his family home and in the community.
I applaud all of our local heroes in the home, all those who work in the background to ensure that everyone has the same opportunities and experiences as the rest of us.
Committees of the House June 12th, 2014
Mr. Speaker, after two years' hearing from many witnesses, and hard work on behalf of all the clerks, staff, and members of the defence committee, I have the honour to present, in both official languages, the fourth report of the Standing Committee on National Defence, entitled "Caring for Canada's Ill and Injured Military Personnel".
Pursuant to Standing Order 109, the committee requests that the government table a comprehensive response to the report.
Navy League of Canada June 9th, 2014
Mr. Speaker, Northumberland--Quinte West is proud to support a growing and well-served local branch of the Navy League of Canada. The Navy League of Canada Northumberland Branch is dedicated to sponsoring two corps, the 116 Royal Canadian Sea Cadet Corps Skeena and the 194 Navy League Cadet Corps Northumberland.
Just this past Sunday, the 194 Navy League Cadet Corps held its annual inspection. Sixteen navy league cadets aged 9 to 13 participated in the 11th annual review and demonstrated skills learned through their training year. The cadets proudly demonstrated their skill and enthusiasm for a group of over 50 parents, guests, and visitors. I am pleased to see the ongoing tradition of the Navy League of Canada, which celebrates excellence and high standards, and promotes valuable leadership skills. The Northumberland Branch states that every cadet officer and instructor who has graduated from this program has contributed something special to the community.
Congratulations to all the cadets of 194 Navy League Cadet Corps for another successful annual inspection.
Committees of the House May 30th, 2014
Mr. Speaker, I have the honour to present, in both official languages, the third report of the Standing Committee on National Defence in relation to the main estimates 2014-2015.
Ganaraska Region Conservation Authority May 30th, 2014
Mr. Speaker, I would like to take a moment t:o thank the Minister of Fisheries and Oceans for funding opportunities under the recreational fisheries conservation partnerships program, and the member for Dauphin—Swan River—Marquette for spawning the idea.
I had the opportunity to announce funding for the Ganaraska Region Conservation Authority last week, with assistance from the member for Durham. Our government is providing significant funding to the Ganaraska River riparian tree planting project.
I am pleased to see the success of this program and for the government's continued commitment to support individuals and organizations working along the shores of lakes, rivers, and streams across the country to protect and restore fishing habitats for future generations.
Projects like these have a direct benefit on the health of our watersheds as well as an indirect benefit on local economies. Recreational fishing alone attracts thousands of visitors to Canada and contributes billions of dollars to our economy every year.
Projects funded under the recreational fisheries conservation partnerships program will benefit our communities for many years to come.
Career Protesters May 13th, 2014
Mr. Speaker, it has been my experience and the experience of many others that when someone says that it is not about the money, it is always about the money.
Recent media reports about the expansion at CFB Trenton indicate that career protesters, the ones I mentioned in my previous statement in this chamber, can now be described as paid professional protesters. Despite the efforts of the member for Ottawa Centre and a Liberal senator from B.C., this issue is all about the money. These media reports show that these career protesters are being paid to protest. How sad.
We will continue forward with our government's original intent to create long-term, secure jobs and countless opportunities for the Quinte region. Our government is committed to the base expansion and the transfer of JTF 2 to CFB Trenton.