Thomas Mulcair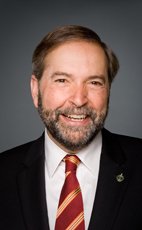 House of Commons photo
Track Thomas
Your Say
Elsewhere
Crucial Fact
His

favourite word

is conservatives.
NDP
MP for Outremont (Québec)
Won his last election, in 2011, with 56.40% of the vote.
Statements in the House
The Environment September 22nd, 2014
Mr. Speaker, since the Conservatives now acknowledge that Canadians have a right to clean air and clean water, will they support including that in the Canadian Charter of Rights and Freedoms?
The Environment September 22nd, 2014
Mr. Speaker, so the Conservatives say, of course, Canadians have a right to live in a clean environment respectful of biodiversity, which is exactly what I had enshrined in the Quebec charter of rights when I was the Quebec environment minister.
Since the--
The Environment September 22nd, 2014
So decisive, Mr. Speaker, that Canada is the only country in the world to have withdrawn from the Kyoto protocol.
It is important to remember that because of the Prime Minister, Canada is the only country in the world to have withdrawn from the Kyoto protocol. Let it be noted that the Conservative backbenchers are applauding. That is shameful.
Do the Conservatives believe that everyone has the right to live in a clean environment respectful of biodiversity, yes or no?
Rail Transportation September 18th, 2014
Mr. Speaker, we need a full inquiry into murdered and missing indigenous women. Within 100 days, an NDP government will call one.
We are just a year removed from the Lac-Mégantic tragedy. Today is the anniversary of a deadly bus-train collision here in Ottawa. On Tuesday, Slave Lake in Alberta had its sixth train derailment in five months—six train derailments in five months in one town. How many more before someone is killed?
Will Conservatives finally acknowledge that these are not isolated incidents? Self-regulation does not work.
Aboriginal Affairs September 18th, 2014
Mr. Speaker, the Minister of Infrastructure, Communities and Intergovernmental Affairs is a "he," and he is hiding behind her.
For years Conservatives have rejected calls for a public inquiry on murdered and missing aboriginal women in Canada. The Prime Minister ignores the underlying causes of this tragedy. Now Conservatives are brushing aside recommendations on how to resolve this crisis from the AFN.
Ghislain Picard, the new head, has said that the Conservatives are ignoring all of their recommendations, and their action plan is meaningless.
When will Conservatives start listening to indigenous women on the subject of indigenous women?
Air Transportation September 18th, 2014
Mr. Speaker, despite the consensus in the region, the Mirabel terminal will be demolished. The Liberals killed the airport in 2004, and now the Conservatives want to put the last nail in the coffin.
The mayor of Mirabel, Jean Bouchard, was clear and said that this was complete arrogance on the part of ADM. He said, "The minister is nowhere to be found on this issue and never wanted to meet with us. Even though the ADM administers the airport, the Government of Canada owns it."
The minister himself is a former mayor. Is meeting with mayors now below him? Is it because he is now a big shot?
Situation in Iraq September 16th, 2014
Mr. Speaker, this is coming from the same person who, a little bit earlier this evening, said that he took it really seriously when people in one of those groups said they were going to take over everything from Al-Andalus, which is in Spain, to India. That is how serious he thinks this is.
This is what we are dealing with. We are dealing with a government that does not even recognize that it is doing the exact same thing, and it is true that when we do not learn the lessons of history, we are condemned to repeat them. The lessons in Afghanistan were that we were drawn into a conflict that cost well over 100 Canadians, cost tens of billions of dollars, for a situation that is right now barely more stable than it was then. This is because the Conservatives and the Liberals simply followed all the instructions from other powers.
This is not a NATO mission. There is no NATO mandate here. It has nothing to do with NATO. So any reference by this minister to NATO in Iraq shows the paucity of his empty rhetoric and his incapacity to present a case that will convince Canadians.
Situation in Iraq September 16th, 2014
Mr. Speaker, if there were still people listening tonight who thought that perhaps the government was serious, I think that all doubt has been removed. What we are looking at now is the same thing we are going to be looking at from the government benches: posturing, positioning, using the lives of our brave women and men in uniform, sending them into an ill-defined mission, asking Canadians to buy a pig in a poke.
Canadians deserve to know what this mission is about and what the real dangers are. We are not going to be like the Liberals. We are not going to drag us down the slippery slope that brought us into Kandahar. We are not going to accept being told by the Conservatives, especially when it is the same Conservatives who brought motion after motion to say that no Canadian military mission should ever take place without a vote in this House. That is what they said they wanted. That is what we demand: there should be a vote in the House of Commons on this mission.
Situation in Iraq September 16th, 2014
Mr. Speaker, my hon. colleague from St. John's East raises the most important question of all: what is the nature of this mission?
What words are being played with as the government describes an advisory role? These are Canada's top, elite special forces. If they are targeting, and someone else is doing the shooting, is that just advising?
We do not have any details about that. What we had tonight was a diatribe, un ramassis of George W. Bush-era arguments.
This is what we are listening to here tonight. There is nothing that has been put on the table tonight that would allow any reasonable Canadian to vote in favour of the mission being proposed by the Conservatives, because we know, as my colleague correctly points out, that the Americans are already talking about several years. We have been down that path before.
We were down that path when the Liberals, after deciding correctly not to go into Iraq, decided that we should go into Kandahar, unprepared for the situation we were being put into. That is mission creep.
That is the slippery slope that the government is putting us on. That is why we are insisting, not to be informed but to be consulted and to have a right to vote based on full information.
As things now stand, we do not have enough information to do that. That is why the only responsible thing is to say no to the Conservatives.