Thomas Mulcair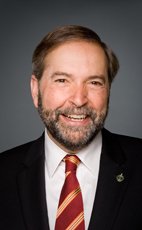 House of Commons photo
Track Thomas
Your Say
Elsewhere
Crucial Fact
His

favourite word

is conservatives.
NDP
MP for Outremont (Québec)
Won his last election, in 2011, with 56.40% of the vote.
Statements in the House
Jean Béliveau December 3rd, 2014
Mr. Speaker, there have been consultations among parties in the House.
I believe that if you seek it you would find unanimous consent for the following motion, and for a moment of silence to be observed in the House of Commons to recognize the death of a legendary Montreal Canadien.
The motion reads as follows:
That the House

recognize that Jean Béliveau was a legendary captain of the Montreal Canadiens;

recognize that Canadians are deeply touched by the loss of this gentleman, who left his mark on an era through both his athletic excellence and his strength of character;

celebrate his brilliant career marked by 18 seasons with the Montreal Canadiens and 10 Stanley Cups;

and offer its condolences to his wife Élise, his daughter Hélène, his two granddaughters Mylène and Magalie, as well as the entire Montreal Canadiens family, which was part of his life for over six decades.
Health December 3rd, 2014
Mr. Speaker, the NDP will reopen every one of those nine offices.
This week, members of Parliament voted unanimously in favour of an NDP motion to give ongoing support to the victims of thalidomide. When will this vote be followed by action by the government? When will the Prime Minister confirm specific funding for ongoing support for victims of thalidomide in our country?
Veterans December 3rd, 2014
Mr. Speaker, unfortunately for the Prime Minister, he is proving that he actually does think that they were only political speeches. He does not think veterans in our country have a right to service.
He has said through his lawyers in court, in Canada, that these are political speeches and that those promises should never have been taken seriously.
Instead of blaming the veterans for actually taking his word, why does he not start respecting his word?
Veterans December 3rd, 2014
Mr. Speaker, the Conservatives' callous disregard for our veterans does not end there.
Conservatives are now arguing before the courts that the government's repeated promises over the years to care for injured vets were just political promises and should never have been taken seriously to begin with. I quote: "These statements were political speeches not intended as commitments or solemn commitments".
Does the Prime Minister stand by that argument, made by his own lawyer in court, that the government's promises to veterans were just political speeches?
Veterans December 3rd, 2014
Mr. Speaker, staff at Veterans Affairs even warned the minister that these layoffs created a risk that Veterans Affairs would be unable to meet the needs of veterans, Canadian Forces members, and their families. Nine veterans service centres have been closed, and 1,000 staff have been laid off. The minister is knowingly putting our veterans at risk.
Instead of firing the staff, why does the Prime Minister not fire the minister?
Veterans December 3rd, 2014
Mr. Speaker, the Department of Veterans Affairs is obviously facing a growing demand for services given that an entire generation of Afghanistan veterans is approaching retirement. Meanwhile, the Conservatives decided to cut the department's staff by 25%. Nearly 1,000 professionals who know our veterans have been fired by this government.
How is the Department of Veterans Affairs supposed to help a growing number of veterans with 1,000 fewer employees?
Public Safety December 2nd, 2014
Mr. Speaker, the Minister of Justice has just asked us if there is anything he could do to avoid putting women at greater risk.
Actually, there is something that the government could do to avoid putting women or girls at risk. It could withdraw Bill C-42 that is before the House, because it would make exactly the type of assault weapon used by Marc Lepine easier to transport and easier to have in Canada. The Ruger in question should be banned instead of being easier to get and transport in Canada.
Will he withdraw Bill C-42, if he is sincere about having better protection for women in this country?
Public Safety December 2nd, 2014
Mr. Speaker, earlier in question period, the Minister of Justice said this about December 6, the 25th anniversary of the tragedy of Polytechnique. He said that "...we may never understand what occurred, why this happened, why these women were singled out".
We know why this happened. We know why these women were singled out. It is because they were women. That is what Marc Lepine wrote in a manifesto.
Is there anything that the minister would like to correct in his previous statement?
Aboriginal Affairs December 2nd, 2014
Those are reasons he does not want Nigel testifying, Mr. Speaker.
Yesterday, instead of answering serious questions about the Auditor General's scathing report on her hopeless mismanagement, the environment minister just ignored questions and sat there reading a newspaper.
People are scavenging for food in landfills in the Canadian north in 2014. It is shameful, and the government's response is to deny and ignore the tragedy.
Will the Prime Minister tell his minister to put down the newspaper and start doing her job?