Thomas Mulcair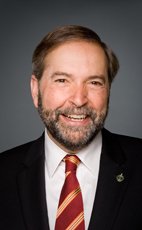 House of Commons photo
Track Thomas
Your Say
Elsewhere
Crucial Fact
His

favourite word

is conservatives.
NDP
MP for Outremont (Québec)
Won his last election, in 2011, with 56.40% of the vote.
Statements in the House
Shipping February 25th, 2015
Mr. Speaker, since CN is saying it wants to be left out of this, the government will have to listen to Mayor Labeaume and ask Bill Gates to put pressure on CN; Bill Gates is one of the main shareholders.
The main estimates tabled yesterday by the President of the Treasury Board show a shocking drop in funding for Marine Atlantic. There will be an 85% drop in funding, which includes $97 million in reductions for its operational budget.
Marine Atlantic represents the livelihood of hundreds of thousands of people in Atlantic Canada and it is constitutionally mandated.
Is the government proposing either higher fees for Marine Atlantic, reduced services or both?
Quebec Bridge February 25th, 2015
Mr. Speaker, he is a regular Don Rickles.
Today the Prime Minister is meeting a major CN shareholder. CN owns the Quebec Bridge. The Quebec Bridge is an important piece of federal infrastructure. It is even a national historic site of Canada.
Will the Prime Minister talk to Bill Gates about the Quebec Bridge as Mayor Labeaume has asked? It is high time the Prime Minister stopped misleading the public and started getting that bridge painted.
Public Safety February 25th, 2015
Barn burnings, Maher Arar, there is a history, Mr. Speaker, and we stand up in favour of the rights and freedoms of Canadians.
However, it is not just security experts who understand that Bill C-51 goes too far. First nations are raising the alarm. The Union of British Columbia Indian Chiefs is clear:
—Bill C-51 directly violates the ability of all Indigenous Peoples to exercise, assert and defend their constitutionally-protected and judicially-recognized Indigenous Title and Rights to their respective territories.
Again, Bill C-51 goes well beyond terrorism and will impact constitutionally-protected dissent and protest.
Why is the Prime Minister afraid to hear from first nations themselves?
Public Safety February 25th, 2015
Mr. Speaker, it is not telling that yesterday the Prime Minister was putting the emphasis on getting the committee to study the bill as quickly as possible, not as thoroughly as possible.
We are talking about the most significant changes to security legislation in our country since 2001, a bill where critical flaws are being revealed by security experts across the country every day. It is simply reckless and irresponsible to try to ram it through without a full and proper study. Canadians deserve better.
Is the Prime Minister simply trying to hide his bill from proper scrutiny?
Public Safety February 25th, 2015
Mr. Speaker, the parliamentary committee that will examine and analyze Bill C-51 has the delicate task of protecting both the security and the rights and freedoms of Canadians.
After imposing a gag order on the debate in the House, the government now also seems to want to limit the debate in committee. That does not make any sense. This is a complex law and it is imperative that we hear from experts, legal minds and community leaders, as the Edmonton city police said today.
Will the government give the parliamentary committee time to do its work properly for once?
Physician-Assisted Dying February 24th, 2015
Mr. Speaker, there are more people working in the parliamentary cafeteria than there are at SIRC. With nominations like that of Arthur Porter, it is hard to believe that the Prime Minister takes the role seriously.
The member of Parliament for Kitchener Centre and other members of the government caucus are calling on the Prime Minister to use the notwithstanding clause to go around a recent Supreme Court judgment on physician-assisted dying. Can the Prime Minister assure Canadians that he will not be using the notwithstanding clause to overrule the Supreme Court's unanimous decision on end-of-life care?
Public Safety February 24th, 2015
Mr. Speaker, it is no wonder they want to avoid any serious study of this bill.
Ramming Bill C-51 through without improved oversight is reckless. Despite the Prime Minister's insistence, the Security Intelligence Review Committee is not an oversight body; it is a review body that looks at what CSIS does after the fact. SIRC's spokesperson is clear: "...we are not involved in the operational decision-making".
Does the Prime Minister still maintain that SIRC is adequate oversight of CSIS when even the committee itself says it is not?
Public Safety February 24th, 2015
Mr. Speaker, so it is a no.
As Mr. Fahmy's case so clearly illustrates, serious human rights violations can be committed in the name of national security. That is why, unlike the Liberals who blindly support the government, the NDP believes it is essential to seriously study Bill C-51.
Does the Prime Minister recognize that it is important to study this bill at length and ensure that security and human rights experts are not only heard, but also listened to?
Foreign Affairs February 24th, 2015
Mr. Speaker, we asked a clear question of the Prime Minister, and the family deserves a clear answer.
The Australian prime minister spoke directly with the Egyptian president. Has the Prime Minister of Canada spoken with President el-Sisi of Egypt about getting Mr. Fahmy back to his home in Canada?
Foreign Affairs February 24th, 2015
Mr. Speaker, after 411 days in an Egyptian jail, Canadian journalist Mohamed Fahmy's retrial has now been delayed for two weeks. Everything needs to be done to get Mr. Fahmy home to Canada.
The Prime Minister's Office has said that he has been in contact with Egyptian authorities "at all levels", but Fahmy's family and all Canadians would like to know the truth. Has the Prime Minister himself spoken directly and personally to President el-Sisi to ask that Mr. Fahmy be returned to Canada? Yes or no?