Thomas Mulcair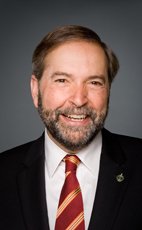 House of Commons photo
Track Thomas
Your Say
Elsewhere
Crucial Fact
His

favourite word

is conservatives.
NDP
MP for Outremont (Québec)
Won his last election, in 2011, with 56.40% of the vote.
Statements in the House
Public Safety October 23rd, 2014
Mr. Speaker, we stand here today united, united in our determination to keep this land strong and free. We are all committed to that goal.
We also know that, from time to time, we will disagree on how to achieve that goal. Will the Prime Minister join me in committing that, no matter what differences we may have in the days or weeks to come, we will all approach this complex issue with the respect and dignity it deserves, knowing that however we sometimes disagree, every member of this House is committed to the safety and security of all Canadians?
Public Safety October 23rd, 2014
Mr. Speaker, today we see enhanced security measures on Parliament Hill, as we should. Still today, this remains first and foremost a mainly open area, and that is good for democracy.
As the government adopts new, permanent security measures in the coming days, can the Prime Minister assure Canadians that their Parliament, the pillar of our democracy, will remain open to them?
Public Safety October 23rd, 2014
Mr. Speaker, it would appear that the assailants involved in Monday's and yesterday's attacks had their passports revoked before they committed their crimes. Many other Canadians, like them, have had their passports revoked because the authorities believed that they intended to join radical groups in other countries.
What new measures, if any, have been taken in these particular cases?
Public Safety October 23rd, 2014
Mr. Speaker, while I thank the Prime Minister, we know that the information that is out there about yesterday's tragic events is incomplete and sometimes even contradictory.
Now that the situation is under control, does the Prime Minister intend to hold a public information session so that everyone can find out about everything that happened?
Public Safety October 23rd, 2014
Mr. Speaker, today we are here. Today we carry on.
Can the Prime Minister please update Canadians and the members of this House on the horrific events of yesterday? Can he tell us what immediate measures are being taken to ensure the security not only of Parliament but of all Canadians?
Ministerial Statements October 23rd, 2014
Mr. Speaker, it is an honour for Catherine and me to be here today and to rise in this House. Yesterday, a crazed gunman came here intending to silence us, to silence the values that our country represents: peace, tolerance and diversity. He failed.
Yesterday's cowardly act was meant to shake this great city of Ottawa and indeed the entire country, but it has only hardened our resolve. It has only strengthened our commitment to each other and to a peaceful world. Let us not become more suspicious of our neighbours. Let us not be driven by fear because in Canada love always triumphs over hate.
For the family of Corporal Nathan Cirillo, may they please know that the thoughts and prayers of every single member of this House and of every single Canadian are with them today. Corporal Cirillo was a young man, just 24, with a beautiful son and a bright future ahead of him. Friends said he always had a smile on his face. That smile will be remembered by a nation.
I would also like to salute my friend, Sergeant-at-Arms Kevin Vickers. On behalf of us all, I would ask him to convey our sincere thanks and appreciation to each and every member of his team here on the Hill, the police forces and the Canadian Armed Forces. We do not yet know all of the names of yesterday's heroes, but I can say that we all witnessed heroic actions. We saw such actions right in our room: a member of Mr. Vickers' team threw himself against the door when the gunman was right outside and told us to get down even as he himself was standing in front of the door. The courage and professionalism they showed in the face of such brutality embody the best of what it means to be Canadian.
I thank our Canadian Armed Forces. This week, they experienced two unspeakable tragedies. Every day, our armed forces defend Canadian values, and today all Canadians stand united with them.
Yesterday we awoke in a land of love, diversity and peace, and today that has not changed. Here in this place, throughout Ottawa and across the country, we will conduct the nation's business as normally as possible. As the Prime Minister said, our presence here today is proof of that.
We will hold our loved ones a little bit closer, but we will not allow hatred and violence to change who we are.
As we all know, events take place here that exemplify Canada's openness and freedom.
One of my favourite examples of how this parliamentary area in and of itself becomes a symbol of the freedom and openness of this great country of ours, Canada, is that every Wednesday at noon during good weather we can see hundreds of people, multi-coloured, doing yoga on the front lawn. It is a symbol of openness and freedom. The person who came here yesterday with violence on his mind and in his gestures did not win. We cannot allow that openness and freedom to be rolled back either. We have to continue to defend both.
Today I stand here on behalf of all New Democrats and Canadians. We say that there is great solidarity here in the House and across the country. There is solidarity with the Prime Minister. These acts were driven by hatred, but also designed to drive us to hate others. That is not going to happen. We will stand up and we will stand together. We will preserve. We will persevere. We will prevail. That is what Canadians have always done together. That is what we do best together.
Thank you, Mr. Speaker. On we go, together.
Health October 21st, 2014
Mr. Speaker, the Minister of Health claims that the WHO did not request protective gear from Canada until September 4, but that was a full month after the WHO had already declared an international public health emergency. How can the Prime Minister explain that it took his minister so long to realize that medical protective gear was actually needed when fighting Ebola?
Health October 21st, 2014
Mr. Speaker, actually, he has repeatedly refused to respond.
Since the Ebola outbreak began, the Minister of Health has sold off $1.5 million worth of protective gear for just $30,000. The Conservative government was carelessly getting rid of needed medical supplies for 2¢ on the dollar.
Why was the minister giving this equipment away to private middlemen instead of giving it to the people who need it fighting Ebola in Africa?
Health October 21st, 2014
Mr. Speaker, according to several reports, documents from the U.S. Securities and Exchange Commission show that the Conservative government sold the commercial rights to the Canadian Ebola vaccine to NewLink Genetics for $205,000.
Can the Prime Minister confirm that?
Public Safety October 21st, 2014
Mr. Speaker, yesterday, the government took everyone by surprise, including the Sûreté du Québec, by revealing unconfirmed information in the House.
A tragic event like the one in Saint-Jean-sur-Richelieu should be a time for us to move beyond partisan politics.
If this incident is an attack on Canada's national security, when is the government going to provide parliamentarians a full briefing on the situation?