Thomas Mulcair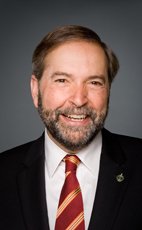 House of Commons photo
Track Thomas
Your Say
Elsewhere
Crucial Fact
His

favourite word

is conservatives.
NDP
MP for Outremont (Québec)
Won his last election, in 2011, with 56.40% of the vote.
Statements in the House
Public Safety October 29th, 2014
Mr. Speaker, the Prime Minister understands, as do Canadians, the fundamental difference between the horrific acts of a profoundly disturbed individual and organized terror.
That being said, if there is one thing that we will agree on, it is the importance of keeping Canadians safe. I would like to know if the Prime Minister would accept sitting down with all parties and analyzing the situation in order to decide together the best legislative reaction to these horrific events.
Public Safety October 29th, 2014
Mr. Speaker, the Conservatives have not just reduced oversight mechanisms in the area of security. In 2012, they cut funding for public safety by $688 million.
Before introducing new legislation that could restrict Canadians' freedoms, will the Prime Minister restore funding to Canadian security agencies?
Public Safety October 29th, 2014
Mr. Speaker, Canadians have known for some time now that our homes as well as our rights must be protected.
The privacy commissioners also said it is crucial that any new legislation include some sort of civilian oversight mechanism. In 2012, the Conservatives eliminated the CSIS inspector general position. At this time, two of the five seats on the Security Intelligence Review Committee are vacant.
When will those seats be filled, and will the Prime Minister hold a real consultation this time?
Public Safety October 29th, 2014
Mr. Speaker, in the wake of last week's events, the federal, provincial and territorial privacy commissioners met to discuss Canada's security legislation.
They agreed that the first step should be to consult with Canadians to discuss potential new measures as well as the impact those measures will have on their personal freedoms.
How does the Prime Minister plan to consult with Canadians on the issue of new security legislation?
Public Safety October 29th, 2014
Mr. Speaker, as we just heard, yesterday many of us were able to attend the regimental funeral of Corporal Nathan Cirillo. His family, friends, colleagues and thousands of others were there in Hamilton, Ontario.
This week millions of Canadians from coast to coast to coast are remembering Corporal Cirillo and Warrant Officer Patrice Vincent.
Would the Prime Minister update Canadians on any new developments regarding last week's tragic events and tell us if any new measures are being taken to protect Canadian Forces members on duty here at home?
Public Safety October 23rd, 2014
Mr. Speaker, we stand here today united, united in our determination to keep this land strong and free. We are all committed to that goal.
We also know that, from time to time, we will disagree on how to achieve that goal. Will the Prime Minister join me in committing that, no matter what differences we may have in the days or weeks to come, we will all approach this complex issue with the respect and dignity it deserves, knowing that however we sometimes disagree, every member of this House is committed to the safety and security of all Canadians?
Public Safety October 23rd, 2014
Mr. Speaker, today we see enhanced security measures on Parliament Hill, as we should. Still today, this remains first and foremost a mainly open area, and that is good for democracy.
As the government adopts new, permanent security measures in the coming days, can the Prime Minister assure Canadians that their Parliament, the pillar of our democracy, will remain open to them?
Public Safety October 23rd, 2014
Mr. Speaker, it would appear that the assailants involved in Monday's and yesterday's attacks had their passports revoked before they committed their crimes. Many other Canadians, like them, have had their passports revoked because the authorities believed that they intended to join radical groups in other countries.
What new measures, if any, have been taken in these particular cases?
Public Safety October 23rd, 2014
Mr. Speaker, while I thank the Prime Minister, we know that the information that is out there about yesterday's tragic events is incomplete and sometimes even contradictory.
Now that the situation is under control, does the Prime Minister intend to hold a public information session so that everyone can find out about everything that happened?
Public Safety October 23rd, 2014
Mr. Speaker, today we are here. Today we carry on.
Can the Prime Minister please update Canadians and the members of this House on the horrific events of yesterday? Can he tell us what immediate measures are being taken to ensure the security not only of Parliament but of all Canadians?