Bev Desjarlais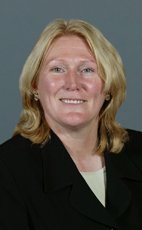 House of Commons photo
Elsewhere
Crucial Fact
Her

favourite word

was dollars.
Last in Parliament November 2005, as

Independent
MP for Churchill (Manitoba)
Lost her last election, in 2006, with 17% of the vote.
Statements in the House
Question No. 157 September 26th, 2005
With regard to the use of federal money for aboriginal communities in the Federal Riding of Churchill: ( a ) what capital funds have been allocated to the rebuilding of the road on the Bloodvein First Nation; ( b ) what is the waiting list time for new school construction in each first nation community; ( c ) what is the waiting list time for new housing construction in each first nation community; ( d) what has been the capital funding for each First Nation community each year over the past ten years; ( e ) which capital projects have been approved in first nations communities over the past five years; ( f ) what capital projects have been approved for the next two years; ( g ) what is the amount spent by Indian and Northern Affairs Canada per status resident in the riding of Churchill; and ( h ) how many communities are under third party management?
(Return tabled)
International Aid June 27th, 2005
Mr. Speaker, last week the Liberal members of the foreign affairs committee seemed to think they had a plan for Canada to reach its decades old goal of 0.7% of GDP to go to developmental assistance. It soon became clear that either the Liberals do not have a plan to reach the 0.7% or they do and they have not told the finance minister.
The Prime Minister said that he would not make a commitment even though he believed in 0.7% and would very much like to see Canada get there. However, the finance minister signed on to the Commission for Africa report, which called on developed countries to reach 0.7% by 2015.
Does anyone in the cabinet know if there is a plan to reach 0.7% by 2015?
Civil Marriage Act June 27th, 2005
Mr. Speaker, I will be voting no on this motion.
(The House divided on Motion No. 8, which was negatived on the following division:)
Extension of Sitting Period June 23rd, 2005
Mr. Speaker, I want to clarify something for my colleague from the Conservatives, who is very upset with Bill C-48 that somehow will cost the Government of Canada so many additional dollars.
The Conservatives supported Bill C-43 when it had the corporate tax cuts of $4.6 billion. They had no problem with that. Now he used outright the term that the Conservatives do not support social spending. Those were his words. It was okay to give $4.6 billion in corporate tax cuts, but no dollars back to Canadians.
There is no question that all Canadians will benefit from the changes in Bill C-48. By improving dollars for affordable housing, there will be construction throughout the country. Small and medium size businesses throughout the country will benefit from the building of homes and improvements to homes. It is not as if it will just be the people who finally get to have some decent housing around them. It will be those small and medium size business in rural Saskatchewan, remote Manitoba, all over. Everybody will benefit. The dollars for education benefit everybody throughout Canada.
I know the budget is not supporting the people about whom the Conservatives seem to care. It is not supporting corporations. How can they possibly stand here and say to Canadians that they do not value them as much as they value corporations?
An Act to Authorize the Minister of Finance to Make Certain Payments June 21st, 2005
Mr. Speaker, I want to indicate to my colleague from Churchill River that I do not think there is anything more unconscionable than to hear in this House that any member of this House or any party would risk someone's life and play politics using someone's life. That was proven when an offer was made to pair, and that member should be ashamed that he would continue to do that.
I do not believe that any member in this House would do that and it is unacceptable. It is unacceptable to continue that kind of an indication to Canadians. It says very little for the humanity of each and every parliamentarian.
Let us put that one to rest right now. No one is going to allow that to happen. We might have partisan differences, but no one should risk someone's life for that, and to have it come about again in this House is not something that I am going to tolerate or sit and listen to and not address.
My colleague from across the way says there was nothing in that budget for Saskatchewan and nothing for his riding. What about affordable housing? I know the communities in his riding. I know there is a need for affordable housing. Why would the Conservatives not support Bill C-48 that has additional dollars? We have specifics for aboriginal housing, for areas with the greatest need. Why he would not support that is beyond me.
Are the Conservatives suggesting that somehow farmers and rural people in small and medium businesses will not benefit from the additional dollars for education for their families? The affordable housing dollars will mean construction in the communities throughout the country and everybody will benefit. It is unconscionable that the Conservatives would not support that, but they supported tax cuts for corporations. That is unconscionable.
An Act to Authorize the Minister of Finance to Make Certain Payments June 21st, 2005
Mr. Speaker, the Conservatives are insisting that something is missing out of Bill C-48. They are insisting there is no indication in the bill as to how the money would be spent. If those members would be honest and upfront with Canadians, they would tell them the truth. The approach used in Bill C-48 is the same approach in each and every budget. It is written down in a general way where the money will go, but we do not get all the specifics.
Just for once those members should try to be honest with Canadians.
An Act to Authorize the Minister of Finance to Make Certain Payments June 21st, 2005
Mr. Speaker, to respond directly to my colleague's comments, he mentioned that the Conservatives support good, quality education so I am at a loss as to why they would not support the additional dollars the NDP has ensured in Bill C-48. They were not in Bill C-43, the budget that the Conservatives were willing to go along with. They are in Bill C-48, yet the Conservatives are talking about not supporting it. That is speaking on two sides, and I imagine we will see both coming out in the pamphlets that the Conservatives will send around in the next little while.
In the member's last statements, he talked about supporting the environment. Again, on the road to improving support for environmental initiatives, it is in the NDP budget, Bill C-48. It is there. It hit that right on the mark. He talked about the need for affordable housing. That is in the NDP budget, Bill C-48.
I am really at a loss as to what the problem is that the Conservatives have with this budget other than the fact that corporations may not get $4.6 billion in tax cuts, the corporations that the Conservatives are here to represent rather than representing all the people of Canada. Tax breaks for small and medium sized business are still in the budget. That was part of the deal as well. Those members can talk about them not being there all they want, but the reality is that they are still there.
If the Liberals can come up with another $4.6 billion for tax cuts, we will deal with that next time around, but what we are saying is that if they can give this $4.6 billion after already giving billions of dollars in tax cuts in the last number of years, they can give back to Canadians. Why are the Conservatives against dollars going back to ordinary Canadians?
An Act to Authorize the Minister of Finance to Make Certain Payments June 21st, 2005
Mr. Speaker, my colleague from Prince Albert mentioned a number of items that were not in the budget. He mentioned forestry, equalization, farming and BSE, and obviously, they were not in Bill C-43 when it came before the House. However, $4.6 billion in tax cuts for corporations was in that budget, which in essence the Conservatives supported by way of not voting against it. In essence, they were voting for a budget that did not have farming, BSE, equalization, forestry and a number of items.
We worked out a deal where some additional dollars could help out Canadians with education and affordable housing. My colleague again mentioned and criticized the foreign affairs dollars which were supported by his own colleagues and are still supported by his own colleagues within his party. So they had better get things together because they are starting to sound like the Prime Minister and the finance minister.
If all those things were not in the budget, why did he not vote against the budget and why did his party not make some effort to get that budget changed so that it would reflect the needs of Canadians?
An Act to Authorize the Minister of Finance to make Certain Payments June 16th, 2005
Mr. Speaker, I was going to sit back and just let the Conservatives go back and forth at each other and enjoy the humour of a lot of the comments, but I cannot help but make a few comments through you to the self-pronounced rookie.
It is crucially important for him to recognize, as I pointed out to one of his colleagues earlier, that the same process which is in Bill C-48 is in Bill C-43. Bill C-48, whether he likes it or not, is a piece of budget legislation as pronounced by the government, because until we get rid of the Liberals as a government, they get to make that decision. We have to work and try to come up with the best possible solution for Canadians, but it is a bill. As I pointed out to his colleague earlier, the same process in Bill C-48 is in Bill C-43. Bill C-43 does not give any more of an indication of how the money is going to be spent. It does not say that this amount will go to Regina for this and this amount will go to Saskatoon for that. It does not do that. That is not what budgets are about. Bill C-43 follows the same process. It is probably something he will understand in time.
The other comment I want to make to the self-pronounced rookie, through you, Mr. Speaker, is on the innuendo that two people were holed up in a hotel room and were writing on napkins. The reality is that a good number of hours were spent working and negotiating a deal. While the Conservatives were wallowing somewhere around Canada, not representing Canadians, a deal was being made to make sure that Canadians, not just corporations, benefited from that budget.
Everybody in this Parliament who has been around for any length of time knows that there is more of a surplus. One would have to be without a mind to not know that there is more of a surplus right now. We know the government has fudged those figures. If there is more money for the government to come up with some other dollars to spend on things, so be it. The reality is we got $4.5 billion or $4.6 billion to go back to Canadians.