Jean Augustine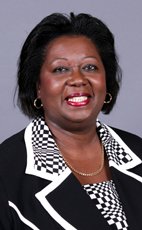 House of Commons photo
Elsewhere
Crucial Fact
Her

favourite word

was support.
Last in Parliament November 2005, as

Liberal
MP for Etobicoke—Lakeshore (Ontario)
Won her last election, in 2004, with 50% of the vote.
Statements in the House
Member for Etobicoke--Lakeshore November 28th, 2005
Mr. Speaker, I rise today to inform the House that I have decided not to seek re-election in the riding of Etobicoke--Lakeshore.
It has been a great privilege to serve Canada and especially the people of Etobicoke--Lakeshore, to whom I am deeply grateful for their 12 years of friendship and unfailing support.
I want to thank all of my colleagues in Parliament for the tremendous experience of working with them in building a Canada where citizens from every corner of the globe can fulfill their hopes and aspirations. I have enjoyed the many and varied responsibilities with which I have been entrusted.
I owe much to Canada as a black woman who has risen from grassroots engagements to the highest councils of this land. I want to thank my community from coast to coast for their unstinting support of my efforts.
While there is much left to be done, I believe it is time to pass the baton and to explore and embrace other opportunities to serve my fellow citizens. I will miss this place and the many dear friends I have made here. As a proud and committed supporter of our Liberal team, I want to wish its members every success.
Gun Violence November 22nd, 2005
Mr. Speaker, let me take this opportunity to offer our sympathy to the families and friends of so many black young men who have been killed by guns and gun violence.
The entire Toronto community is shocked by the boldness and non-caring attitude of young men who belong to gangs and whose lifestyle, criminal activities and weapons use create havoc and distress in our communities.
As legislators we cannot ignore this continuing crisis which is a manifestation of deep-rooted problems facing African Canadians. As we call for stricter laws and penalties, let us also assist the communities to obtain quality of life for all of our citizens.
Petitions November 17th, 2005
Mr. Speaker, pursuant to Standing Order 36, I have two sets of petitions to present to the House where the constituents call upon Parliament to amend section 83 of the Criminal Code of Canada to provide an exemption for all martial arts and all martial arts contests and competitions. They reeled off the names of the competitions and they ask that Parliament recognize that exemption.
Black Canadian Studies November 1st, 2005
Mr. Speaker, this past weekend I had the pleasure of attending a major three day national conference entitled, Multiple Lenses: Voices from the Diaspora located in Canada.
I was pleased to witness the engagement of eminent Black Canadians in the field of academia, business, film, law, politics, media, art, literature, education and spirituality. This conference was organized by the James Robinson Johnston Chair in Black Canadian Studies. The forum provided 400 participants with an opportunity to discuss and explore the complexities of being identified as Black and Canadian. Presentations will be collated in a book form.
I would like to congratulate Professor David Divine of the James Robinson Johnston Chair in Black Canadian Studies at Dalhousie University for his efforts in organizing and overseeing such a successful conference. Kudos to all involved.
Rosa Parks October 25th, 2005
Mr. Speaker, on December 1, 1955, in the segregated city of Montgomery, Alabama, Rosa Parks, a black woman, was ordered to make room for white passengers on a city bus. She refused to give up her seat. For this, she was arrested, tried and convicted of disorderly conduct and violating a local ordinance. Her case ultimately resulted in a decision by the United States Supreme Court declaring segregation unconstitutional.
Rosa Parks did not have the luxury of being able to take her freedoms for granted. She fought on behalf of all those who believe that all men and women are created equal.
Last night, Rosa Parks passed away. I would like to take this opportunity on behalf of my constituents, and I believe all Canadians, to salute her efforts as a pioneer within the civil rights movement and to express our deepest sympathies and condolences to her family and friends. Her contribution to equality and social justice will never be forgotten.
Etobicoke Sports Hall of Fame October 18th, 2005
Mr. Speaker, on October 20 the Etobicoke Sports Hall of Fame will be holding its 12th annual induction dinner at the historic Old Mill Inn and Spa in my riding.
I commend the board of governors, organizers and sponsors for hosting this event in recognition of the exemplary accomplishments of community members.
Congratulations to this year's inductees: W. Zeke O'Connor, Mark Osborne, Erin Woodley, Frank Bonello, Tom Watt and Louis Cauz. They have demonstrated that with determination and commitment, excellence can be achieved. They have set a remarkable example of superior sportsmanship.
In Etobicoke we are proud of our heroes. I wish them the very best in all future pursuits.
Mental Illness Awareness Week October 5th, 2005
Mr. Speaker, this is Mental Illness Awareness Week. It is a public campaign to better inform Canadians about the issues surrounding mental illness. This year's theme, Face Mental Illness, is designed to help break down the stigma associated with this illness and to put a human face on mental illness by featuring the stories of people who have been diagnosed.
Approximately 20% of Canadians will be diagnosed with a disorder during their lifetime and the remaining 80% will be affected by the illness of a loved one.
I wish to congratulate the individuals who have courageously told their stories of struggles and triumphs. I wish to commend the Canadian Alliance on Mental Illness and the Mental Health Association, along with the Lakeshore Area Multiservice Project and the Family Association for Mental Health Everywhere.
They are organizations in my riding who are doing significant work in bettering the lives of many individuals. I have special congratulations for the hon. Ujjal Dosanjh who was honoured today as this year's champion for mental health. Congratulations minister.
Hiv-Aids September 27th, 2005
Mr. Speaker, earlier this month, I was joined by many of my hon. colleagues of the House and Senate as part of a Canadian delegation to Senegal.
We took part in the third policy dialogue organized by the Parliamentary Centre with African and Canadian parliamentarians. The focus was on the issue of HIV-AIDS, especially the issue of generic drugs and medication.
We had a very successful exchange in which we discussed best practices and the methods to engage civil society.
African parliamentarians expressed their support for the manufacturing and distribution of generic antiretroviral drugs.
Let me remind the House that as Canadian parliamentarians we need to ensure that the Jean Chrétien pledge to Africa is implemented so that we can help alleviate the unnecessary suffering and loss of lives as a result of the carnage of HIV-AIDS.
Bosnia and Herzegovina June 28th, 2005
Mr. Speaker, this July will mark the 10th anniversary of the massacre in Srebrenica, Bosnia and Herzegovina. The memory of those atrocities are still very much alive in the minds and hearts of many of my constituents.
Srebrenica marked the climax of the war in Bosnia and Herzegovina. The Red Cross estimated that between 8,000 and 10,000 innocent people were either executed or listed as missing. Throughout the three year war, tens of thousands were deprived of the fundamental democratic principles of peace, stability and safety.
This July let us remember the individuals who suffered because of hatred and intolerance. Let us assure the Canadian-Bosnian community and all communities that aggression, ethnic cleansing, genocide and all such evils be not repeated, and that Canada and Canadians stand ready to uphold democratic principles and the rule of law.
July 11 is a day that all Canadians will remember.
Etobicoke—Lakeshore June 21st, 2005
Mr. Speaker, as parliamentarians, we all know the importance of a strong community base. I am proud to represent the people of Etobicoke--Lakeshore because they have an incredible sense of civic pride and are working continuously to improve our community.
Through their contributions, our community continues to flourish. Community activities not only create camaraderie but they also establish a supportive network that helps people improve issues of common concern.
This coming weekend the Grand Hamptons Owner's Association will be hosting their summer street party to meet each other and celebrate their neighbourhood. Throughout the GTA, members will be promoting safety in their communities in the National Night Out campaign.
I wish every one of my constituents a wonderful and safe summer. I look forward to seeing them and their families in and around the riding and at my summer community picnic on August 28 at Marie Curtis Park. Have a safe and enjoyable summer, to all my colleagues in the House and all of my constituents.