Marlene Catterall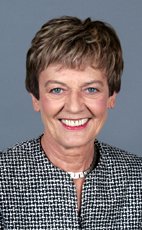 House of Commons photo
Elsewhere
Crucial Fact
Her

favourite word

was recorded.
Last in Parliament November 2005, as

Liberal
MP for Ottawa West—Nepean (Ontario)
Won her last election, in 2004, with 42% of the vote.
Statements in the House
Energy Costs Assistance Measures Act November 1st, 2005
Mr. Speaker, I have provided information to my constituents on that on numerous occasions. One of the problems here in Ottawa is that the program is so popular that there is a huge waiting time for those energy audits. However, yes, the government will help people get an energy audit and it will pay half the cost so they will know precisely what improvements to their homes will result in the greatest energy savings.
However the greatest thing that we are doing in the bill is creating a program for low income households so that they can make similar improvements with assistance from the government that they probably would not be able to afford to make themselves.
Energy Costs Assistance Measures Act November 1st, 2005
Mr. Speaker, first, I accept fully what the member just said. Many people, because of rural or occupational requirements, are dependent on a one person car to carry out their normal activities of life. However there are many more who do have options about how much, how often, how far, how well they use their automobile or their other vehicle. I want to say to those people that if they want to send a message to the gas companies, they have the power of their wallet to do it. It takes time and it takes discipline but it is worth doing.
Frankly, one of the things I would like to see in the bill is an incentive for people to buy more energy efficient vehicles. The market impact is already leading in that direction because I have been told that the sales of SUVs in this city are down by about 50% in the last few months. That is a positive thing and that is the way the consumers are getting their message across, which is that if they are going to be overcharged for a produce then they will find ways to use less of that product.
Energy Costs Assistance Measures Act November 1st, 2005
Mr. Speaker, I am happy the member asked the question. I do not think she knows what a big door she offered me to walk through. In fact, it was under a Conservative government that our government negotiated an agreement on the national child benefit.
I am sure she is aware that the Constitution tells us that social services, such as assistance to families with children, is the responsibility of the provinces. The only way the federal government can have any role in assisting families with children is through an agreement with the provincial governments.
It was a Conservative government, a Mike Harris government, and, may I say from the point of view of Ottawa West—Nepean, a Conservative government with John Baird as the minister of community and social services that would only allow us to help families with children if they were allowed to claw it back from families on public assistance.
How did things change when a Liberal government was elected in Toronto? One of the first things Premier Dalton McGuinty did was to say that Ontario could not afford to cancel the whole clawback right now but that it would not claw back the increase that the federal government was giving to those families. That certainly was a step in the right direction out of the pit that the Tories put us into when the national child benefit was brought in.
May I also say that the Conservatives, while they were stealing money out of the pockets of children and their parents, were also giving tax breaks to their rich friends.
Energy Costs Assistance Measures Act November 1st, 2005
Mr. Speaker, as we all know, a few short months ago Canadians were hit with huge, unexplainable and what seemed to be frivolous increases in the price of gasoline at the pumps, and immediately began demanding action on the part of the government to assist with those unexpected costs. There were concerns about the impacts on business and on the price of goods generally in the market as cost of transportation increased.
I want to comment briefly on the concerns and the proposals constituents made to me and to, I am sure, other members of Parliament. They were concerned about the sudden windfall to the government of increased taxes as a result of the rising gas prices. In fact, the increased revenues to the government come only from the GST, so if the price of a litre of gasoline goes up by 20¢ to 25¢ as it did, the increased revenue is relatively minimal compared to other taxes on gasoline.
Those increased revenues are offset by additional costs to the government. First, as consumers shift their expenditures for gasoline from other goods and services, other areas of GST drop. Second, as the price of goods go up, then other benefits that the government pays out to Canadians such as old age security increase. The higher revenue from the sale of gas is in fact the excise tax which remains constant at 10¢ a litre regardless of the price and for the province of Ontario, it is close to 15¢ a litre.
The government instead turned its attention to helping Canadians who would face increased heating costs as the winter approached. Quite honestly, people have a little more control over their cost of transportation. They can choose to use the bus, to car pool, and to walk shorter distances, but we have very little control as Canadians over the amount of energy we need to heat our homes through a cold Canadian winter.
The government chose first, to direct help to those most in need with the costs of heating their homes this winter; and second, to help Canadians to reduce on a permanent basis their energy consumption through such things as improvements to their homes and help municipalities reduce the demand for fossil fuels by improving public transit, for example.
This bill and the government's actions respond to the demands from Canadians for greater accountability about how gas prices are set. This was perhaps best exemplified by someone who works at a gas station who, as the prices suddenly jumped 10¢ to 20¢ a litre, said he did not know he was charging more for gas. It was the same gas that was bought before Katrina hit and the price of it did not change, so he did not know why customers were being charged more. Greater accountability with greater powers of enforcement and review from the Competition Bureau are also an important part of the government's measures.
Let me deal with some of the specifics of how we propose to help modest income Canadians. Some 3.1 million households will benefit from payments under the energy cost benefit. To be clear, families who qualify for the national child benefit supplement will be eligible to receive $250. That is not a lot, but it is a fairly significant way of contributing to increased heating costs this winter, which may or may not materialize given the current prices of oil and gas.
A single senior entitled to receive the guaranteed income supplement will get $125. A senior couple, where both spouses are entitled to receive the guaranteed income supplement or where only one is entitled to receive it depending on the household income, will get $250. This will certainly help families on low incomes with children and seniors on low income under existing programs to pay the extra costs of heating their homes this winter.
We should all be pleased for a number of reasons with the other initiatives, which are to help Canadians reduce their dependency on fossil fuels and therefore be less vulnerable to sudden shifts and increases in prices.
A number of measures are in place to help Canadians of modest income, but not just Canadians of modest income, to make their homes more energy efficient and therefore reduce their costs of heating and other uses of energy. For instance, for modest income households we will provide between $3,500 and $5,000 to defray the cost of items such as draft proofing, heating system upgrades and replacing windows. This is under the new EnerGuide for low income households.
Multiple unit buildings and rooming houses will also be eligible for financial assistance and cost savings will average about 30% per household. That is an ongoing year after year reduction in the cost of heating.
We are also providing incentives to acquire the most energy efficient furnaces for homes and providing support to families who heat with electricity, but we are going beyond individual homes. We are also helping public institutions such as schools, hospitals, and municipalities to make the same kind of energy retrofits and cut their costs, and therefore cut the burden on the taxpayer.
What is important about these measures is that not only will they help individuals, families, and the institutions involved, but they will also help meet our commitments to reduce the impact energy use has on our atmosphere. I do not think there is much doubt in the House that we have to act decisively to reduce climate change and to reverse the greenhouse gas effect, which is warming the atmosphere, warming our oceans, causing climatic turbulence, and creating significant economic as well as social risks in the long run. These measures, while they have been brought in to respond to a particular crisis, are helping us meet our long term environmental goals with respect to the atmosphere.
As part of our new partnership with cities, we are accelerating the release of funds to upgrade and improve public transit. I am particularly pleased that in my own community in Ottawa we have made a substantial investment of $600 million toward public transit in cooperation with the province and the City of Ottawa.
As we do this in communities throughout Canada, we are meeting our environmental objectives. We are making it easier for Canadians to choose to use public transit instead of relying on gas for their automobiles and other vehicles.
Let me say a few words about what we are doing in terms of market transparency and accountability. Canadians are deeply concerned about the fact that prices can jump overnight. In the few weeks immediately following Katrina, gas prices went up by approximately 25%.
There is no explanation for that. My constituents see that as clear and blatant profiteering by the oil companies. Perhaps some would say in defence of the oil companies that it is just insurance in case the price goes up. The simple fact is a lot more people paid a lot more for gas than they needed to. Fortunately the oil companies seem to have come to their senses and I hope it is in part because consumers are refusing to buy gas at those higher prices.
Nonetheless, I do not think we are out of the woods yet in terms of the impact on people and their home heating costs this winter. No one needs to be reminded how cold it can get in Canada just about anywhere.
I should point out that people also suggested that we limit the price companies can charge. Constitutionally only the provinces have the right to put a price on a commodity like gas or oil. We heard earlier today that Nova Scotia in fact does that. Companies have to justify an increase in the price of fuel.
The federal government does not have that authority countrywide, so we have chosen other ways to assist people. Where we do have some authority is with the Competition Bureau, and the ability to oversee and to ensure as far as possible that there is no collusion around price fixing.
The bill strengthens the Competition Act to deter anti-competitive practices, gives the Competition Bureau more powers for enforcement, and increases fines for those convicted of price fixing significantly to $25 million from $10 million.
The problem is that after a number of reviews by the Competition Bureau, it has not been able to find evidence of collusion or price fixing. Therefore we will have to wait and see I am afraid as to whether the strengthening of the act in fact will give the Competition Bureau more latitude and more possibility of finding that in fact there is some collusion that is contrary to the public interest.
Market transparency and accountability is also important. As Canadians know more, they can make their own judgments on what is being done at the gas pumps and whether the price of fuel coming into their home during the winter is fair and reasonable based on the actual cost to the companies of the product they are selling.
We are providing much better information to Canadians. What good does that do? I think if Canadians have good information, they can use the power of their purse to bring pressure on companies that they think are being unfair. I am a great believer in the power of the consumer where people refuse to take out their wallets and pay for a product if they think they are being unfairly charged for it.
There have been a number of consumer actions that I can remember throughout my adult life that were extremely effective because consumers said "No more". They would not pay what was being asked for by a product.
To sum up, we have been concerned. The price of gas is down again at the pumps, so I suppose the political pressure is off. Nonetheless, we have no idea what the situation will be as Canadians start paying for fuel to heat their homes this winter.
We are focusing our efforts to: help low income families with children; help seniors with the cost of heating their homes; invest in those energy saving measures for families and individuals in their own homes that will help reduce their long term dependency on fossil fuels; help our public institutions, hospitals, schools, and municipalities to reduce their longer term cost to the benefit frankly of all taxpayers because we all know who pays the bills of those institutions; and to work with the municipalities to speed up public transit.
Leading up to the development of this program, one of the things I urged was for the province to look at ways to cooperate and support the kind of measures being taken by the federal government. One area in particular concerns the thousands of public housing units in my community that were built in the 1960s and early 1970s. In those days these units certainly were not built using the best environmental standards in terms of energy conservation.
I urge the province of Ontario, the municipalities and other provinces where this situation prevails to look at whether we should not be upgrading the energy efficiency of publicly owned housing.
I am proud of what we are doing. I suppose sometimes it is never enough but it certainly is important to the families who would be helped.
Energy Costs Assistance Measures Act November 1st, 2005
Mr. Speaker, I am pleased to have the opportunity to address the bill and the measures the government is taking to assist families with the cost of fuel and particularly with the cost of heating.
I am especially pleased that we have a bill in front of us that essentially has three prongs to it. The first one, which is important, is the direct financial assistance to low income seniors or households with children who will be facing increased heating costs this winter.
However we are also using this opportunity to inject extra resources into ensuring Canadians are less dependent on fossil fuels. This would have a benefit in long term savings for families who qualify for these incentives to make home improvements, but it would also have a hugely important environmental benefit, in that as we reduce our consumption of fossil fuels we also would be reducing our impact on the atmosphere and our contribution to the greenhouse effect and to global climate change.
Therefore, not only are we addressing the immediate issue of the cost of fuel, but we are also addressing the long term issue of how we reduce the consumption of fossil fuels.
We also are addressing issues around market transparency. How can Canadians know better about how the price of fuel is determined and where perhaps there are questionable practices in the cost charged for fuel, whether it is gas at the pump or heating fuel going into our homes in the winter?
There have been persistent concerns about competitiveness in the oil industry. Measures are in this bill, as well, to strengthen the oversight of the Competition Bureau and its ability to take action.
I will speak more about this after question period but I hope the bill and the measures the government has announced will be an incentive for the provinces to look at how they can contribute.
We are clearly at a point now where gas prices have returned to, and I think perhaps a bit below, where they were prior to the Katrina storm that impelled a 25% increase in the cost of gasoline at the pumps, but it does not take away from or minimize the importance of these measures in the bill.
Kiwanis International October 31st, 2005
Mr. Speaker, this year Kiwanis International celebrates 90 years of serving the children of the world.
There are more than 600,000 members of Kiwanis in 96 countries.
In 1994, Kiwanis International promised the children of the world to eliminate the most prevalent preventable cause of mental retardation: iodine deficiency. This goal is imminent and will rank as one of the world's greatest health achievements.
Last Friday Ottawa hosted Kiwanis International President Steve Siemens as Rideau Kiwanis celebrated its 50th anniversary. Today we welcome to Ottawa Hazel Brandon of Suriname, the governor of the Eastern Canada and Caribbean District of Kiwanis. Governor Hazel is completing her official visit to clubs in Ottawa and area.
On behalf of all members of the House, I thank Kiwanians across Canada for their good work and encourage Canadians to learn more about Kiwanis in their own communities.
International Federation of Red Cross and Red Crescent Societies October 24th, 2005
Mr. Speaker, for the first time in 50 years a Canadian has been nominated as president of the International Federation of Red Cross and Red Crescent Societies. I am pleased to congratulate Janet Davidson on this achievement.
Ms. Davidson's experience is exceptional. She is the chief operating officer of the Vancouver Coastal Health Authority, the largest regional health authority in Canada. Her achievements include serving as president of the Canadian Red Cross, as vice-president for the Americas and as vice-chair of the standing commission, the highest level of governance in Red Cross/Red Crescent.
Janet Davidson superbly exemplifies the qualities of dedication, compassion, ability and the internationalism that Canadians so highly prize.
Her nomination is an honour for Canada. We wish her the best in her quest to become the president of the International Federation of Red Cross and Red Crescent Societies.
Queensway Carleton Hospital October 21st, 2005
Mr. Speaker, on a point of order, that last statement is untrue. The member was told a year ago it is untrue.
Queensway Carleton Hospital October 21st, 2005
Mr. Speaker, on a point of order, you may very well rule this to be a point of debate. I speak for my constituents and my conscience.
Queensway Carleton Hospital October 21st, 2005
Mr. Speaker, I think it is quite legitimate to speak to health care and to the credibility of those who are proposing this particular measure. Let me continue.
Despite a promise from the Mike Harris government, no money came for two years to the Queensway Carleton Hospital for its promised expansion until the federal government transferred additional money to the provincial government.
Let me also point out that our hospital board was fired while John Baird sat at the cabinet table. It is simply not credible to accept that this is about health care. This is a current publicity seeking stunt that has everything to do with Mr. Baird's political ambitions.
Let me now speak to the issue as I see it. The hospital is extremely important to our community, too important to be made into a political football.
It is also important to our community and to this country that the greenbelt be preserved in its integrity. This is something that was part of a plan developed after the second world war to honour our returning veterans. It contributes to making the capital a symbol of pride and unity for all Canadians, a capital that will be passed on as a legacy for future generations.
Whether we like it or not, the NCC is obligated under legislation and regulations to charge market value for any land it leases or sells, as is every federal government department and agency. This was a rule brought in by a Conservative government pursuant to the Nielsen task force report of the mid-1980s.
This is a policy that is also overseen by the Auditor General, who is scrupulous about ensuring that the taxpayers' interests, the people of Canada's interests, are looked after.
I want to put on the record some things that have been brought up in this debate.
There has been a claim that no other hospital pays rent for its property. That is simply not true. The simple fact is that another hospital in this community pays rent to the NCC for property. The simple fact is that a third hospital in this community pays substantial rent to the City of Ottawa which is now in fact increasing that rent for the land it uses. It is also true that the Queensway Carleton Hospital, like every other hospital, pays $75 per bed in taxes to the City of Ottawa. Surely the mover of the motion is not suggesting that the city should forgo its taxes on the hospital as well.
The member has also spoken publicly about this lease costing potentially 40 nurses at the Queensway Carleton Hospital. He knows that is simply not true. He is going on figures that he himself made up and that have nothing to do with the likely real rent that might be agreed to between the NCC and the hospital.
He has also referred to the lease with the Pine View golf course. This is a lease with the City of Ottawa for the land on which it operates the Pine View golf course. In fact the city paid up front for that lease over $200,000, has invested nearly half a billion dollars in assets which now belong to the people of Canada to be leased at market value whenever the current lease expires.
The NCC is being as flexible as it can be within the rules and the laws it is bound to abide by. The hospital and the NCC are in discussions about reaching a mutually agreeable lease. I encourage those discussions to continue. I encourage all members of the House to support those discussions.