Grant McNally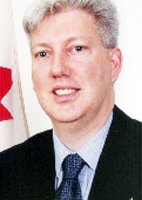 House of Commons photo
Crucial Fact
His

favourite word

was colleague.
Last in Parliament May 2004, as

Canadian Alliance
MP for Dewdney—Alouette (B.C.)
Won his last election, in 2000, with 58% of the vote.
Statements in the House
Supply March 22nd, 2004
Mr. Speaker, I remember back in 1997 when I first came to the House, there was a situation where a Liberal fundraiser named Pierre Corbeil got hold of a list of companies that were receiving grants. He was basically shaking them down for cash saying "If you do not give $10,000 to the Liberal Party of Canada, you are going to lose your grant". He was charged and convicted on four counts of influence peddling. I think what we saw at that point in 1997 was the tip of the iceberg, as it were.
I was wondering if my colleague might want to comment on the beginning of that scandal and the continuation of it as it has been culminating and growing every single day.
Criminal Code March 22nd, 2004
Mr. Speaker, I thank my colleague for his speech and for his initiative in bringing this issue forward. He mentioned the very personal situation he dealt with when he was on the force in Calgary and one of his colleagues was brutally murdered. He mentioned what that has meant not only for our colleague here but for the family of the victim in having the offender come forward and go through this repeated application process. Every time that happens there is a parole hearing, which puts an incredible amount of strain on the family and which simply is not right.
The member also alluded to a horrific crime in my own riding, in Maple Ridge. A loving mother was brutally assaulted and murdered by a young offender who has pleaded guilty to that crime but could be out in as short a period of time as four years given the time he has already served. It is unbelievable. It is a story that ran on the front pages of all the newspapers in Canada last week and certainly highlights the fact that our colleague's bill is necessary.
I would like him to comment, if he could, on the personal impact on the individuals he has dealt with who have faced this kind of terrible situation in their lives and on what he has noticed in that period of time, which I would think is giving him motivation for bringing forward this bill.
Sumas 2 Power Project March 10th, 2004
Mr. Speaker, residents of the Fraser Valley in British Columbia achieved a victory last week. The National Energy Board announced it will not allow the power lines needed for Sumas 2 energy plant just south of the Canadian border.
As an intervenor against SE2, I have heard from thousands of my constituents who oppose the project because it would spew 2.5 tonnes of pollutants per day into our already stressed air shed in the Fraser Valley.
Despite years and years of public appeals, personal interventions and questions in this House, the environment minister still has no understanding of the devastation that SE2 would cause for Fraser Valley residents. He has done nothing to oppose its plans. In fact, SE2 used his comments to support its air-polluting plant.
Thanks to my Conservative colleagues and the thousands and thousands of British Columbians who have fought this for years, together, we have achieved a victory in the battle for clean air in the Fraser Valley.
Liberal Party of Canada February 25th, 2004
Mr. Speaker, I guess the Prime Minister is taking the fifth amendment today.
The fact is that the police raided David Basi's home in connection with allegations of money laundering and proceeds of crime. The fact is David Basi sold thousands of Liberal memberships for the Prime Minister. The fact is that the Prime Minister's senior B.C. minister got caught doling out cash from sponsorship funds to Liberal friends.
How does the Prime Minister expect Canadians to believe that he is going to clean up the culture of corruption in his own government when these scandals are so closely linked to him?
Liberal Party of Canada February 25th, 2004
Mr. Speaker, there is another Liberal scandal in B.C. that has deep roots leading right to the Prime Minister's front door. The Prime Minister's chief B.C. organizer, David Basi, is under police investigation related to allegations of money laundering and proceeds of crime. The Prime Minister does not deny his connections to David Basi.
How can anyone expect the Prime Minister to have any credibility to clean up the scandal surrounding him, when his own B.C. organizer is under police investigation?
Open Government Act February 24th, 2004
Exactly, Mr. Speaker. My colleague says that we would be able to see the documents and the dollars. Right now, who knows what happens? As my colleague from the Bloc alluded to, we get a piece of paper that is blanked out, with one or two words on it. All that does is leave more doubt in people's minds as to where the government is going and what it is trying to hide.
If a government wants to stand on the claim that it is open, that it wants to improve a perceived democratic deficit, that it wants to enlist the trust of Canadians, then these are the kinds of changes needed, and not just in word. They must be followed up on by deed, by implementing these kinds of ideas and putting them into place.
As my colleague from Fraser Valley also mentioned, an information management system would be another good, third pillar to the Privacy Act and the Access to Information Act. Also good would be putting in place a structure to make sure that we have the documents. Sometimes around this place the shredders go faster than a speeding bullet. Who knows how fast they have been working lately?
My colleague's bill also looks at the idea of including cabinet confidences in the Access to Information Act. It is a novel idea and I am sure it is one that worries some people. At the same time, I refer back to the current situation with the scandal that is going on. The Prime Minister mentioned the other day in this place that he would be willing to unseal some cabinet memos related to the current misspending of the government. That would be more of a routine practice if this act were to be implemented.
My worry is that the good suggestions that are contained in this act are not going to be implemented, that they are not going to be listened to by the current government because of the culture that is there now, the culture of maintaining a cloak or a control of information in such a way that there is no openness. We can clearly see that in this place. Extracting information through access to information requests, or however that information may come to us, is a very hard and convoluted process much of the time. Why not put in place these kinds of reforms that are going to send a message to Canadians that this government cares about openness and transparency and that put in place the tools to do it in this place and across the country?
Those are the kinds of things that are going to reduce the cynicism of Canadians. They are not just going to see hollow words but structural changes, so that if they have a concern they will be able to get information about where their tax dollars went. As is said to people now, "I am sorry, we cannot find out where those dollars went because that happened under a crown corporation or that happened under an agency of the government". That is just not acceptable. Canadians across this country work very, very hard and send their tax dollars here. When the government puts them into questionable use, as in this scandal we have seen through the crown corporations named just recently, that just shakes the confidence of all Canadians.
In many ways, this bill has been a bit of a foreshadowing. Really, it tells a tale of neglect within the current government. The member has alluded to this: that the current Access to Information Act has not had significant change to be modernized, to bring it up to where it should be. As a result, we find ourselves in a situation in this place in which the government is wearing the scandal and trying to get out from underneath it but in many ways cannot.
I will conclude my remarks by again congratulating my colleague for his hard work, particularly through his endeavours with the ad hoc committee, for his continued efforts with the bill even prior to that committee and now after the committee in staying with it and pursuing it, because he sees it as a way to increase people's trust in the government if we change the systems of government and reform them in such a way that there is more access to information, not less. It is a laudable goal. We should make these changes and we should put them into place as soon as we can.
Open Government Act February 24th, 2004
Mr. Speaker, it is a pleasure to speak to Bill C-462 and I commend my colleague from Ancaster--Dundas--Flamborough--Aldershot for it. I had the great opportunity to sit on this ad hoc committee that he and many others have referred to. That was an enjoyable experience.
It was a committee struck at the initiative of the member. He put out a call to backbenchers from all parties. The committee did not have standing as a parliamentary committee, but it operated very much like a parliamentary committee and came up with a very good report. The committee was very non-partisan, as members can imagine, and was on top of all of our regular parliamentary duties.
Many of the proposals that came from the committee's report are included in my colleague's private member's bill and I want to commend him for that. I want to commend him in particular for including the overriding notion that releasing more information, rather than concealing information, is the way to go. If a government wants to elicit support from people and claims to be transparent but does not put mechanisms into place to allow transparency, then those really are hollow words. Bill C-462 goes a long way toward putting in place specific mechanisms that would allow greater access to information.
Something that came up during committee testimony was the idea that if government were ahead of the curve it would be more open to releasing information, and if it were more open in releasing information, then there would not be such a need for reform to the Access to Information Act.
At the same time, a government that chooses to be more open and chooses to release more information, rather than to manage it in such a way that it is like pulling teeth to get any information, would be seen as a positive by people. There would be more transparency and more availability of information. This would be a good thing not only for the government but for all Canadians.
Bill C-462, my colleague's bill, goes a long way toward improving the current act. The member is to be commended for his hard work. He is known in this place as an independent minded member, one who knows his information very well. He is a knowledgeable member of the House. We commend him for that. As chair of the ad hoc committee, he was fair and open and he really wanted to get to the bottom of concrete changes to improve access to information for all Canadians, to improve the way that we do business here in the capital and in the country, to provide information to Canadians.
One of the important pieces of his bill is the inclusion of crown corporations and, in fact, many institutions that receive government funding. This is something that we in the Reform Party, the Canadian Alliance and now the Conservative Party have been saying for a long time. We need more openness and more transparency. If taxpayers are paying the bill, they should have the ability to see where their dollars are going.
That is where the bill leads us and that is a good thing, particularly given the climate that my colleague from Fraser Valley just mentioned, with the questionable spending and the missing $100 million in the sponsorship scandal and the fact that five crown corporations have been involved in this current debacle.
If we had this legislation in place, we would have the ability to get that information right away and it could be done without going to a special commission or a special committee. There would be more accountability. We would be able to see where the dollars went--
Supply February 24th, 2004
It is unbelievable that a member of the government would say such a thing to the member from Calgary. Would he care to comment on that unbelievable concession from the government member?
Supply February 24th, 2004
Madam Speaker, I agree that the NDP has brought up some points in the debate today that have raised some questions about the government's choice of investing CPP funds in some questionable companies.
I also want to refer to my colleague's comments. He briefly talked about the scandal going on with the government scandal. I was surprised that the member for Toronto—Danforth shouted across the way, with regard to government largesse, "That is just a down payment and it is not going to stop".
Later on, when my colleague referenced the national energy program, the member for Toronto--Danforth said, "It was a work of genius. It is the best thing that ever happen to this country".
Petitions February 24th, 2004
Mr. Speaker, the second petition has to do with stem cell research. The petitioners call on this place to put in place stem cell research which is ethical. They support the idea of adult stem cell research to find the cures and therapies necessary to treat the illnesses and diseases of suffering Canadians.