Sophia Leung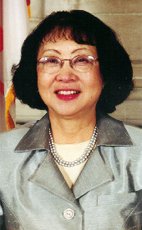 House of Commons photo
Elsewhere
Crucial Fact
Her

favourite word

was ccra.
Last in Parliament May 2004, as

Liberal
MP for Vancouver Kingsway (B.C.)
Won her last election, in 2000, with 43% of the vote.
Statements in the House
The Budget March 25th, 2004
Mr. Speaker, the issue of lower interest rates is another very good point. All this shows encouragement for many, especially for young people and newcomers to this country. They can now start thinking about the purchase of a home. This really shows what we are able to offer Canadians, and it improves the quality of life. This is our country's success.
We know that low interest rates create a very hot market. I am from B.C. and in Vancouver I know it has created great competition for many houses. More important, this enables many young people and many families to have better housing.
The Budget March 25th, 2004
Mr. Speaker, I will be splitting my time.
I am very pleased to comment on the budget which was presented by the Minister of Finance. As a member of the finance committee, I know that our government has always consulted our citizens from coast to coast to coast. Therefore, this budget was a result of taking all the concerns of Canadians.
As a former university teacher, I am always interested in education. We all know that a post-secondary education is an imperative in today's society and is required for 70% of new jobs created in Canada.
Announced in the budget is a $500 Canada learning bond that will be provided at birth for children in families that are entitled to the national child benefit supplement. This bond is up to $2000 for each child born after 2003. It will save for a child's college education in the future. The government will provide over 20,000 students from low income families with new grants worth up to $3,000 to cover a portion of the first year's tuition. All those things will help.
As well, the government will provide literacy training and essential skills upgrading for workers, measures to encourage apprenticeships in skilled trades, and employer-based training. That will certainly help Canadians to have more skills for job selections.
The budget provides $15 million over two years for a pilot project to provide matching funding for union-based training centres. This funding will be used to purchase new equipment and machinery to meet current industry standards and requirements.
Today Canada is facing an aging population and low birth rates. Canada really needs many skilled immigrants in the labour market, but due to the cultural and language barriers, they need help to develop their new language skills and trying to overcome some of the obstacles.
Last year our government committed to $5 million annually for pilot projects under which community-based partners deliver labour market language training at more advanced levels to help those new immigrants. In this budget we propose to invest an additional $15 million a year to provide skilled immigrants with work-related language training at more advanced levels. Essentially that will enable them to enter the labour market as soon as they can.
This budget also sets aside an additional $5 million per year beginning in 2005-06 for the integration of skilled immigrants and in recognizing the credentials of internationally trained workers.
We all know that many foreign-trained professionals, like doctors, nurses, engineers, teachers and scientists come to Canada, but they cannot utilize their own training. It is a real waste of their trade and skills. Their skills are really needed in the country. It is our government's intention to recognize their foreign credentials so they can better contribute to Canada. We are giving new immigrants very good support and they will be able to take on the jobs in the country.
I would like to talk about the business side. We all know that small businesses and entrepreneurs are really the backbone and the job creators in Canada. In my riding of Vancouver Kingsway, small businesses are in the majority. I know it is so important for them. They are also facing a lot of difficulty and struggle. For them, our budget will accelerate by one year the planned increase in the small business deduction limit. It will be the lower 12% income tax rate applied to $300,000 by 2005.
Also, recognizing the financial losses that are incurred during developing new technologies and the products, the budget will help those innovators to start up small business by extending the non-capital loss carry-forward period to 10 years This certainly will help a lot of newly developed companies that have quite good innovation. It is an important support for them.
In our public consultation, we had also heard Canada really needed a lot of venture capital financing to support and help encourage the new business. The budget will provide $270 for new investments in venture capital financing by the Business Development Bank of Canada, BDC, and the Farm Credit Canada, FCC.
The budget will provide $100,000 for direct investment in new technologies to bring them to the next level of venture capital financing. Another $100,000 will be provided to support the creation of specialized funds that will level additional private equity investment in leading edge technology.
I think all this is very thoughtful, and we heard it many times during our public consultation. I congratulate our Minister of Finance for providing such strong support.
Now I would like to comment on the health area. From having so many extended consultations, including the last year's SARS epidemic, we learned that Canada really needed a new Canada public health agency. There will be $160 million in new money, and transfers of another $400 million from Health Canada, to kick off the Canada public health agency.
Again, I have to congratulate our Minister of Finance. This will be a wonderful thing for Canada.
The new agency will focus on the management of infectious diseases, emergency preparedness and responses, and chronic diseases. We all know this is necessary and essential. It is very important for the public health of Canadians. This is also a national organization that will monitor the big picture by spotting outbreaks quickly and also mobilizing emergency resources to control any infectious diseases. We will also appoint a chief public health officer to oversee the agency and help co-ordinate the national responses during the public health disasters and emergencies.
As a matter of fact, I think in Canada we have a few very good centres to be qualified for such an agency. Of course, as I am from B.C., I would think Vancouver is one very good place to have such an agency.
Overall the budget really focuses on many points, and I just briefly mentioned some, but above all the biggest accomplishment is very obvious.
This is the seventh consecutive balanced budget projected and it is the first time since Confederation that such a wonderful thing has happened. I think it is also one of the best among the G-8 countries. Also, improving the expenditure control and oversight by implementing a comprehensive plan, including the re-establishment of the office of the comptroller general of Canada, is another important thing.
The budget also confirms the payment of an additional $2 billion in health care funding for the provinces and territories in the 2003-04 fiscal year. As part of the government's commitment to provide stable, long term health care funding, cash transfers to the provinces and territories for health and social programs will reach $28.1 billion in 2007-08. That represents an average annual increase of $1.8 billion or 8% per year starting from 2003-04.
Of course as I already indicated, establishing the Canada public health agency is another very important highlight for our country. Also we are speeding up the implementation of the agreement with the provinces and territories to provide better access to affordable and quality child care and early childhood learning. That is very important. I want to offer congratulations.
The Budget March 25th, 2004
Mr. Speaker, the hon. member for Mississauga West and I entered the House in the same year, 1997, and I feel very sorry that he lost the nomination, but I am pretty sure he has many great plans and is going to do many exciting things for Canada.
The member mentioned his plan to go to the United Nations to try to seek some solutions regarding the future for peace in the Middle East. I would like to have the member expand a little more on that exciting plan.
South Vancouver Neighbourhood House March 12th, 2004
Mr. Speaker, I participated in the opening of the South Vancouver Neighbourhood House. The newly renovated South Vancouver Neighbourhood House was a joint effort of the community, business and government sectors under the Canada-British Columbia infrastructure program.
The new facility will provide day care for children, job and language training, a place for seniors to gather and new office space.
I wish to congratulate the South Vancouver Neighbourhood House; Chris Friesen, Chairman of the Board and board members; Executive Director Karen Larcombe; and the many volunteers for their hard work to bring positive change to our community.
Racial Discrimination March 11th, 2004
Mr. Speaker, my question is for the Minister of State for Multiculturalism and the Status of Women.
Why is it important to celebrate March 21 as the International Day for the Elimination of Racial Discrimination? What is the multiculturalism program doing to highlight the importance of this day?
International Women's Day March 10th, 2004
Mr. Speaker, Canadians celebrated International Women's Day on March 8. This day was established by the United Nations in 1977 to recognize the achievements of women.
This year the Government of Canada has decided on the theme of "She's on a Role". Our government is promoting a full week of activities to celebrate women's leadership from Vancouver to St. John's. This is an important week for all Canadians to recognize the achievements of women for their strong leadership in Canada.
However we also learned from a recent report of the Canadian Council of Social Development that 10.5% of immigrant women of visible minority have experienced emotional and financial mistreatment in Canada. These women victims usually lack personal and social support in a new country.
The Environment February 24th, 2004
Mr. Speaker, my question is for the Minister of the Environment. Last year avalanches caused eight fatalities in our national parks, including seven students from Strathcona-Tweedsmuir School in southern Alberta. What has the minister done to improve the public safety in our national parks?
Western Economic Diversification February 17th, 2004
Mr. Speaker, Okanagan University College recently received $1 million in funding from Western Economic Diversification for its applied trace analysis facility and nuclear magnetic resonance spectrometer.
Could the minister explain how these two projects will advance the economy of the region?
Sports February 12th, 2004
Mr. Speaker, Canada has many talented young athletes. This is not new. We know of our star athletes in many sports whether it is hockey, skiing, skating or curling. So far in this winter season of 2004, Canadian athletes have reached the top of international podiums on over 80 occasions in 8 different winter sports.
Speed skaters like Jeremy Wotherspoon, our freestyle skiers like Stephanie St-Pierre, and our bobsledders like the team of Pierre Lueders and Giulio Zardo or our junior men's hockey team, week in and week out proudly represent Canada on the international stage.
Today I wish to congratulate all of our athletes, their coaches and the sport organizations supporting these achievements. As we look to the Vancouver 2010 Olympic and Paralympic Winter Games just six years away, we know that Canadians, with the continued support from governments and the private sector, will be ready to shine.