Jeannot Castonguay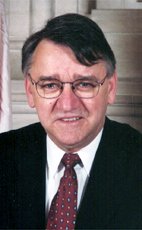 House of Commons photo
Crucial Fact
His

favourite word

was research.
Last in Parliament May 2004, as

Liberal
MP for Madawaska—Restigouche (New Brunswick)
Won his last election, in 2000, with 52% of the vote.
Statements in the House
Electoral Boundaries May 14th, 2004
Mr. Speaker, the Federal Court of New Brunswick has reversed the decision of the Electoral Boundaries Commission for New Brunswick that transferred certain municipalities from the riding of Acadie—Bathurst to that of Miramichi.
Can the Leader of the Government in the House of Commons and Minister responsible for Democratic Reform tell us if the government will respect this ruling or if it will appeal?
Member for Madawaska—Restigouche May 14th, 2004
Mr. Speaker, I have had the honour to serve my country as the representative of the people of Madawaska—Restigouche since 2000, and I thank them for that privilege.
I salute all my colleagues in this House who are also here to serve their fellow citizens, too often to the detriment of health and family life.
To my colleagues on the various committees on which I have served, thank you for the opportunities you have given me for personal growth. As you know, enlightenment comes when ideas collide.
To all those who work behind the scenes to help us accomplish our jobs here on the Hill, and in particular my assistants Diane, Marlyne and Rita, my sincere thanks.
Lastly, my thanks to my family, my wife Sylvia and our children Roger, Julie and Marc-André, for their unconditional support during my time here as the member for Madawaska—Restigouche.
Thank you all, and goodbye.
Supply May 11th, 2004
Mr. Speaker, I listened with a great deal of interest to the presentations of the two hon. members who just spoke. I think we can agree that currently in Canada doctors are providing excellent services.
We also know that the majority of these doctors are private entrepreneurs. They are paid a fee for service, and if they do not work, they are not remunerated. If they do work, they are. It is up to them to take care of their own fringe benefits.
My colleague is simply suggesting that we stop this type of practice in Canada and that all doctors should be salaried public workers. I wonder if we would receive better care that way. Would the cost be any different?
Supply May 11th, 2004
Mr. Speaker, in light of my colleague's answer, it is obvious that his vision is not a pan-Canadian one. On this side of the House, our vision is a pan-Canadian vision, where the health care system is fair to all Canadians, regardless of the province where they live.
This is why I believe a time comes when it is important to get together to work out certain disagreements. Clearly, we will never be able to meet if the vision, on one side of the House, is limited exclusively to Quebec while, on this side of the House, our vision includes all of Canada.
Supply May 11th, 2004
Mr. Speaker, I have listened attentively to my colleague's presentation. I myself worked in the health field for several years and I have seen how things have changed over time.
I clearly recall how, at the very beginning of the program, physician and hospital services were covered on a 50-50 cost sharing basis. Over the years, the practice of medicine has evolved. WIth the advent of new technologies, there have been additions made to the programs by various provinces, and as a result there are now disparities. Some provinces have added services, while others have not. An imbalance has resulted, one thrown in our faces constantly together with the accusation that there is an unbelievable disproportion in funding.
I was personally very pleased to hear the Prime Minister say that what was needed was to sit down with the provincial premiers and health ministers in order to ensure, in light of all that has gone on in recent years, that there is a system in place to meet the needs of Canadians for the next ten years at least. That pleased me a great deal. It is all very well to point fingers of blame, but that does not solve the problem.
I would like to hear my colleague's comments in connection with the proposed meeting this summer. Does he agree with such an approach to stabilizing our health system?
National Police Week May 10th, 2004
Mr. Speaker, May 9 to 15 is National Police Week. The purpose of this event is to strengthen ties between the police and the community since the best way to increase public protection is to establish partnerships with the public.
A number of community activities will be held across the country. For instance, police officers will be visiting schools, or taking part in a marathon or a softball game. In some communities they will be holding open houses or serving breakfast to seniors.
Our police services play a vital role in keeping our communities safe. It is thanks to them that Canadians have a strong sense of security.
To all those whose job it is to protect us, I say thank you. Keep up the good work to make our communities safer places to be.
Canadian Forces April 30th, 2004
Mr. Speaker, on Sunday as I was waiting for my flight at the Montreal airport, I happened to meet soldiers who were on their way back from Afghanistan for a three-week break at home. One of them was Daniel Dupuis, from the Gaspé and the other Ben Gale, from Cape Breton. Daniel phoned home and his little girl Marie-Christine said, "Daddy, I put on my pretty dress to come meet you at the Quebec City airport later", and Daniel, this brave solider, had tears in his eyes.
Two hours later when I arrived in Ottawa on the same flight as Ben, I saw him on the floor with his two and a half year old son in his arms and I saw his less than six month old baby in mother's arms. This was the first time this family had been together in many weeks because of the father's service in Afghanistan.
That is when it became very clear to me what sacrifices military families make when their loved ones serve abroad in the name of peace and the fight against terrorism, just as these brave soldiers are doing.
On behalf of my colleagues in this House, I thank these soldiers and today I also thank their families for the sacrifices they make that far too often go unrecognized. I also thank the nearly 1,900 Canadian soldiers who are deployed to Afghanistan.
Thank you to all these service men and women and their families.
Father Anselme Chiasson and Léone Boudreau-Nelson April 29th, 2004
Mr. Speaker, Acadia has lost two great figures in as many days. This past Sunday we learned of the death of Father Anselme Chiasson, and on Monday of the passing of Mrs. Léone Boudreau-Nelson.
Both were passionate about history. Father Anselme founded the Société historique acadienne, and Mrs. Boudreau-Nelson was its president for over 18 years.
In addition to her involvement with the historical society, Mrs. Boudreau-Nelson was well known as an educator for over 50 years in the public school system of the province and at the Université de Moncton.
Memories of this exceptional educational pioneer and all of her accomplishments will long be held in the Acadian collective consciousness.
As for Father Anselme, this modest Capuchin, a native of Chéticamp, a historian and ethnologist, has also left an indelible mark on Acadian culture and history.
For over 60 years, he tirelessly promoted his culture, and gained particular recognition for his extensive research and numerous publications on Acadian folklore. Father Anselme accumulated a most impressive Acadian folklore collection, particularly a collection—
Roméo Dallaire April 2nd, 2004
Mr. Speaker, Roméo Dallaire, a former Lieutenant-General in the Canadian Forces, went through hell as a firsthand witness of the horrible genocide that took place in Rwanda.
Let us hope that our country and the whole world will learn from this tragic episode in history, which Mr. Dallaire had to watch helplessly. Let us also hope that we never forget the root causes of this tragedy and that we learn the lessons so that such acts can be prevented in the future.
Yesterday, the book written by Mr. Dallaire on the genocide in Rwanda and entitled Shake Hands with the Devil , won the Shaughnessy Cohen award of the Writer's Trust of Canada. This is undoubtedly small consolation for Mr. Dallaire, but this recognition deserves to be mentioned in the House.
This prize is awarded for books that help Canadians better understand current political and social issues. I urge my colleagues and all Canadians to read Mr. Dallaire's personal account.
Petitions March 24th, 2004
Mr. Speaker, I am pleased to present to the House a petition signed by thousands of students from Canadian universities, particularly from New Brunswick, but also from British Columbia, Alberta and just about every Canadian province.
The petitioners are asking us to improve our student assistance program by reducing financial barriers to education. They are also asking us to work with the provinces to put in place targeted money transfers for post-secondary education, so that colleges and universities can maintain a post-secondary education system that is accessible to all those who wish to further their education.
If I were not in the House, I would be tempted to say that I support this initiative.