Lawrence O'Brien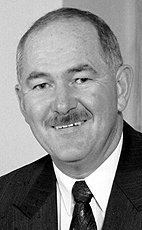 House of Commons photo
Crucial Fact
His

favourite word

was aboriginal.
Last in Parliament November 2005, as

Liberal
MP for Labrador (Newfoundland & Labrador)
Won his last election, in 2004, with 62% of the vote.
Statements in the House
Westbank First Nation Self-Government Act April 22nd, 2004
Absolutely, Madam Speaker. This model is making sure that non-members on reserve or non-members in any claim area, whether it is for Inuit, first nations like the Westbank or the Métis or any claim that Canada entertains, first and foremost have mechanisms put in place to protect the rights of all non-members on any particular reserve. In this case, the department and the Government of Canada have made sure that those mechanisms have been duly noted and are formal. If there are any disputes between members and non-members, there are mechanisms to take care of it. I think that is the way to go.
Westbank First Nation Self-Government Act April 22nd, 2004
Madam Speaker, I feel very comfortable with that question. In my eight years in Parliament I have seen the concerns of aboriginal organizations in my own riding, the Inuit of Labrador, the Innu Nation, the Labrador Inuit Association, the Westbank First Nation, during various agreements with which we have dealt. The big concern and major issue is giving them economic stability, economic growth and economic understanding.
From my understanding and knowledge, I find the more economic growth that aboriginal first nations get, the more stability they get in their social values. It cultivates their cultural values. It gives them a right within themselves and a freedom to go forward. I have to say, from my firsthand knowledge of all of this, that I have heard nothing but very positive stories. I have no doubt, from the Westbank First Nation perspective, that the same will apply.
Westbank First Nation Self-Government Act April 22nd, 2004
Madam Speaker, as I understand this, Canada was very careful in negotiating this first nation agreement to make sure it did not impede any of the rights under the Canadian Constitution, the Canadian Human Rights Act and the various ways and means in Kelowna and the surrounding area. It specifically mentions the 8,000 non-members on the Westbank reserve. The government paid particular attention to ensure that the rights of non-members would not be jeopardized.
I am fairly familiar with this concept because we are in a ratification forum in Labrador with the Labrador Inuit Association agreement where great strides have been taken by the negotiating powers to make sure that non-members are protected and their rights continue as they do for Canadians like ourselves.
Westbank First Nation Self-Government Act April 22nd, 2004
Mr. Speaker, it is the second time in two days that I have had the opportunity to speak to a first nations agreement. Yesterday we voted and today I am speaking to the Westbank First Nation self-government agreement, Bill C-11, which is enabling legislation.
The bill has two main features: it gives the force of law to the Westbank First Nation self-government agreement; and it makes consequential and coordinating amendments to other federal acts.
At the outset I would like to emphasize that this agreement is not a treaty. In other words, it is very similar to what I am used to in Labrador. We have the Labrador Inuit agreement, which is going for ratification this spring and, hopefully, will become law in the next 12 months. We have the framework and the ratifications of another agreement coming forward with the Labrador Inuit Association, and we have a pending claim with the Labrador Metis nation. Therefore I am very familiar with this subject area of first nations agreements.
This agreement is the first stand-alone self-government agreement negotiated under the federal government's inherent right policy to be presented to Parliament. This policy recognizes the inherent right of self-government as an existing aboriginal right under section 35 of the Constitution Act of 1982. The policy and the agreement based on the policy do not, however, define the inherent right to self-government, as only the courts may determine its nature, scope and content.
In this regard, the Westbank First Nation self-government agreement sets aside the debate regarding who has such a right and the scope and content of such a right and focuses rather on setting forth practical arrangements for a number of jurisdictions where Westbank First Nation may exercise law-making authority.
The agreement clearly states that the parties do not consider the agreement to reflect any definitive legal views with respect to how the inherent right of self-government may be defined in law. Further, for greater certainty, section 8 of the agreement states that "nothing in the Agreement shall be construed as recognizing or denying any aboriginal right, recognized and affirmed by section 35 of the Constitution Act, 1982".
This agreement does seek to change the relationship between Canada and the Westbank First Nation, representing a break with the existing Indian Act regime which has created a dependency relationship with first nations and has undermined the relationship between the first nation leadership and the band members. I think that is a very important point because I believe the Indian Act is greatly outdated. Putting terms into the agreement that are different from some aspects of the Indian Act shows that we are in the mode for modernization.
Under the terms of the Westbank First Nation self-government agreement, the Westbank First Nation would act as a government primarily accountable to its members. The federal government would be removed from the day to day operations of the Westbank First Nation and its reserve lands.
The agreement requires the Westbank First Nation to establish a constitution that would provide for a democratic and legitimate government and institutions that would be fully accountable to Westbank First Nation members. The Westbank First Nation constitution must provide for, among other things, democratic election of council members, conflict of interest rules and appeal mechanisms.
The Westbank First Nation developed and ratified its constitution in May 2003. Upon implementation, the constitution would be a law of Westbank First Nation and, as with any other Westbank law, would not be approved by Canada.
The agreement sets out rules applicable to the Westbank First Nation government, its constitution and the exercise of law-making powers in a number of agreed upon subject matters, including: agriculture; culture and language; education; environment; health services; lands and land management; licensing, regulation and operation of business; membership; prohibition of intoxicants; public order, peace and safety; public works; resource management; traffic and transportation; and wills and estates.
Except for membership in the Westbank First Nation, the law-making authority would only extend to matters on reserve and would not include matters that are not specifically addressed in the agreement, such as social services, child and family services, policing and creating a court. Also, the agreement specifically excludes criminal law, protection of health of all Canadians, intellectual property regarding all matters under federal jurisdiction, as well as broadcasting and telecommunications from the jurisdiction of the Westbank First Nation.
The agreement is a bilateral agreement between Canada and the Westbank First Nation that replaces most of the provisions of the Indian Act. As the Westbank First Nation exercises its law-making power over a subject matter covered by the agreement, the corresponding provision of the Indian Act will no longer apply. However, certain elements of the Indian Act, such as Indian status, taxation and certain regulation-making powers of the governor in council, were not the subject of negotiations and are therefore retained. For example, the agreement does not confer any taxation powers on the Westbank First Nation and, accordingly, existing property tax related bylaws will continue in accordance with section 83 of the Indian Act.
Upon implementation of the agreement the fiduciary relationship would be maintained but, as the Westbank First Nation exercises its jurisdiction, Canada expects that its fiduciary obligations would diminish.
Canada's full legal framework is reflected throughout the agreement, which is premised on the concurrent application of federal laws and first nation laws passed in accordance with the parameters of the agreement. Provincial laws of general application will also continue to be treated in the same fashion as they are under the Indian Act. The Westbank First Nation government will be bound by the Charter of Rights and Freedoms and the Canadian Human Rights Act.
The Westbank First Nation represents an unusual profile in that, in addition to its 386 members living on reserve, there are approximately 8,000 non-member residents living on Westbank First Nation lands. Non-members will continue to be protected by the charter and the Canadian Human Rights Act. The agreement stipulates that leases to non-members created, granted or issued pursuant to the Indian Act would continue in accordance with their terms and conditions.
The agreement also requires that, following the effective date, the first Westbank First Nation law must establish a mechanism providing non-member residents with a formal statutory right to provide input into matters that significantly and directly affect them. With this future obligation in mind, the Westbank First Nation consulted with non-members and established an interim advisory council in 1999.
Furthermore, the agreement requires that the Westbank First Nation constitution establish an appeal mechanism and provides that the Westbank First Nation may establish administrative bodies to resolve administrative disputes under Westbank law, including landlord and tenant issues.
In closing, the current Indian Act regime tends to undermine the relationship between the Westbank First Nation chief and council and band members. Implementation of the agreement would modify the relationship between Canada and the Westbank First Nation such that the Westbank First Nation would assume increased responsibilities and develop governance structures outside the Indian Act that respond to the individual needs and aspirations of the Westbank First Nation.
Tlicho Land Claims and Self-Government Act April 21st, 2004
Madam Speaker, it is a great pleasure to speak in this debate. I hail from a riding that is largely dominated by aboriginal parties, the Innu, the Inuit and the Métis of Labrador.
It is a genuine honour and privilege for me to rise in the House to speak to this legislation. Bill C-31 is no ordinary piece of legislation. The bill puts into effect the Tlicho land claims and self-government agreement. This is an historic step for the Tlicho people of the Northwest Territories and a milestone in the history of aboriginal peoples in Canada.
The word milestone is entirely appropriate, for the Tlicho land claims and self-government agreement represents the accumulation of a long journey, one that has demanded patience, determination and conviction.
As this journey has now reached the House of Commons, I would like to offer my congratulations to the Tlicho people for achieving this momentous agreement. I am proud to declare my support for the agreement and for Bill C-31.
The benefits of aboriginal self-government are many. The Minister of Indian Affairs and Northern Development has made this fact abundantly clear on numerous occasions. In the time allocated to me today, I would like to touch on just one of these benefits: strengthening economic development in aboriginal communities.
This is an area of which I am deeply concerned. I am very proud to see our aboriginal peoples move forward and to see the Tlicho people, as well as the aboriginal people that I represent, starting to do so very well in economic development.
The question is, why does the promise of economic development for the Tlicho people deserve special attention? As the House will recall, the government made a plea in the recent Speech from the Throne to foster such opportunities for aboriginal communities, to see aboriginal peoples participate fully in national life on the basis of historic rights and agreements, with greater economic self-reliance and improved quality of life.
The land claims and self-government agreement signed by the Government of Canada, the Government of the Northwest Territories and the Tlicho people helps fulfill that commitment by recognizing the jurisdiction of the Tlicho people over their land, resources, language and culture.
Economic growth can occur only when people have their freedom to cultivate it. Most Canadians take this truth to be self-evident but I was struck by a comment made by the Tlicho elder, Mary Ann Jermemick, upon the signing of the Tlicho agreement last August. She said:
We were always told what to do and what we couldn't do. We could have somebody doing mining…right next to our house and we have nothing to say about it. Now at least we have some say about what's going on in our community and our land.
I think that is a very important statement and one that speaks well of aboriginal people throughout Canada and a statement that could be used by almost any aboriginal person. These are profound words spoken by a wise elder. With this agreement, the Tlicho people will now have the freedom to cultivate economic development. They will possess the authority to not only identify new and important opportunities but also to promptly and decisively pursue them.
How will they accomplish these worthy goals? Under the Tlicho land claims and self-government agreement, the Tlicho people will gain additional governance and administrative tools to strengthen their economy. Using these levers of prosperity, the Tlicho expect to create an entrepreneurial climate that will encourage investment and pave the way for new jobs paying good wages. Through the land, resource and financial benefits they receive from the agreement, the Tlicho will be in a better position to undertake new business ventures and forge profitable partnerships.
As new economic ventures get underway, other opportunities are sure to follow. With these exciting new possibilities on the horizon, it is important to remember that the Tlicho people are no strangers to entrepreneurship. In fact, they have provided an excellent example to other groups, aboriginal and non-aboriginal alike, of the benefits of hard work, the strength of partnership, and the value of innovative thinking.
The Tlicho people were the first aboriginal group in the Northwest Territories to develop their own hydroelectric project. Developed in the 1990s, the Snare Cascades hydroelectric project was a joint venture with the Northwest Territories Power Corporation and represented the largest economic project undertaken by the Tlicho. A vital component of the regional power grid, the Snare Cascades project now generates more than four megawatts and supplies 7% of the territory's power. Labrador could probably help a bit because there are 5,500 in Great Churchill Falls.
The Tlicho also built, independent of any government funding, an airport in the aboriginal community of Rae-Edzo. The airport, which enables airlines to provide direct flights to Edmonton and Yellowknife, is sure to bolster a variety of industries in the region as traffic steadily increases.
The Tlicho currently partner with some of Canada's largest engineering companies, including Procon and SNC-Lavalin. The Tlicho nation is party to impact and benefits agreements with Diavik and Ekati, two prominent diamond mining companies in the region. Through these accords, the Tlicho have negotiated for guaranteed training and employment at both mines, enhancing the chances for increased employment and improved standards of living for the Tlicho well into the future.
It is no secret that the mining industry is the leading employer of aboriginal people in the Northwest Territories. In the early 1990s, aboriginal people accounted for only 10% of full time mining jobs in the north. Direct employment since then has tripled to about 30% largely due to the aboriginal hiring and training initiatives at the two diamond mines.
In fact, at the end of 2001, 683 aboriginal employees, or 30% of the operation's workforce, worked for the Ekati mine or its contractors. At the end of 2002, 36 of Diavik's operating employees were aboriginal. Diavik anticipates that aboriginal workers will account for at least 40% of the company's northern workforce when the mine reaches full capacity.
The mine is well on its way to reaching this figure following a recent agreement signed between Diavik and I&D Management Services, a consortium of aboriginal groups. Under this agreement, I&D provides 100 employees to the mine, of whom half are aboriginal. These workers operate many of the ore haul trucks, excavators, dozers and other heavy equipment essential to the mine's operations.
A new school, for instance, now provides Tlicho youth with a broader range of career and lifestyle options than those enjoyed by previous generations. These increased opportunities are encouraging many more students to remain in school and graduate. Dropout rates have plummeted. Many young people are now going on to post-secondary education, and in June 2006 the school will graduate its first university bound students. That is a very important milestone.
The spirit of entrepreneurship is also reflected in the rapid growth of the local business community. Today, more than 200 aboriginal owned businesses in the region, with annual revenues in excess of $100 million, are employing some 1,000 aboriginal people. These figures represent unprecedented growth in aboriginal entrepreneurship in Canada's north.
Here is more evidence of this growth. In 2001, Ekati spent $105 million of its $400 million operations support budget with aboriginal owned firms, a 62% increase over the previous year. At Diavik, by the end of 2001, the company had $726 million in contracts with northern companies, including $500 million with aboriginal joint venture firms.
These firms provide a variety of support services to the mines, namely, pit haul operations, explosives manufacturing, camp management and food services, employee recruiting, construction, engineering, and environmental management. Mining companies are fast recognizing that contract aboriginal firms in the region makes, above all else, excellent business sense.
I believe that I have made it clear that the spirit of entrepreneurship is alive and well among the Tlicho people. I have no doubt that the land claims and self-government agreement will help bolster the regional economy even further.
The agreement gives the Tlicho people greater and more immediate decision making powers to capitalize on business relationships and expand their entrepreneurial horizons. As those horizons expand, the range of work experience available to the Tlicho will continue to broaden. And it is precisely that breadth of experience that will foster ongoing economic development and innovation.
In this way the Tlicho agreement benefits all Canadians, by providing a model of economic self-determination that others might emulate, and by strengthening the central role played by an aboriginal community within a broader regional economy.
I want to offer my personal congratulations again. This agreement and the people represented in this agreement rivals the kind of support and the kind of development I see in my own riding of Labrador among aboriginal peoples. I wish to offer my sincere congratulations.
It is for these reasons, and many others, that I urge all members to lend their support to this historic piece of legislation, to see its passing, and to ensure that the economic promise of the Tlicho land claims and self-government agreement is made real.
Jamie Murphy February 3rd, 2004
Mr. Speaker, today a brave Canadian soldier was buried in Conception Harbour, Newfoundland. I know I speak for all when I say that our deepest sympathies and condolences are with the family, loved ones and comrades of Cpl. Jamie Murphy.
Sadly, attacks against Canadian troops in Afghanistan are stark reminders of the sacrifices that our soldiers make on behalf of all Canadians. They leave behind the safety and security of Canada to face dangers abroad.
The professionalism and expertise of the Canadian Forces are renowned worldwide. They are remarkable ambassadors and promoters of Canadian values and ideals. They are tangible expressions of our nation's beliefs. Their work in Afghanistan and other countries is making each and everyone of us proud.
Canada's men and women in uniform are fighting a force that threatens our freedoms and our way of life. For this we thank them. For this we remember Cpl. Murphy's sacrifice.
Supplementary Estimates (A) October 28th, 2003
Mr. Speaker, I want it to be noted that I will be abstaining from this vote.
(The House divided on Motion No. 2, which was agreed to on the following division:)
William Kalleo October 28th, 2003
Mr. Speaker, it is with sadness that I rise to pay respects to William Kalleo of Nain, Labrador.
William was a pioneer broadcaster who was devoted to serving the Labrador Inuit. He was forceful as an interviewer, excelled as a translator, and was an eloquent advocate for his people and language.
Whenever I was in Nain I looked forward to coffee and conversation not only with William the journalist but also with William the community leader. He was always generous with his time and his spirit.
While he fought and lost the battle with cancer, his spirit will live on. To his family and his colleagues at the OKalaKatiget Society, I wish to express the condolences of the people of Labrador. Atsunai ilannâk. Goodbye, old friend.
National Children's Memorial Day May 29th, 2003
Mr. Speaker, I extend thanks to my hon. colleagues. I have tremendous appreciation for their support: the hon. Parliamentary Secretary to the Minister of Health and my colleagues who spoke on the other side, the NDP and the Canadian Alliance. I want to thank them very much.
This is a very appropriate motion, a very appropriate moment, and I says thanks. I am sure all Canadians, particularly families who have lost children, will be very grateful for the debate that has taken place here today. I am certainly looking forward to the vote on this motion, to having this instituted and having it become a part of Canadian society. I think it is tremendous.
As I was sitting here I was reminiscing, and we all can reminisce. I am very fortunate to have two beautiful children. I heard hon. members talk about their children. My children are university students and graduates. I think about a child like Paula Normore or I think about the children of my friends who have known throughout my life.
I have a good friend who I went to see at Christmastime a few years ago. He had a 16 year old child who was violently killed in a snowmobile accident in Labrador City. I thought about the situations of young people killed in violent air crashes in small planes and so on. Then I thought about this moment and how fabulous it was, a moment of which I am very proud.
I am very proud that my constituents put this thought forward to me. I am very proud of my staff who has helped put this into perspective. I believe there will be full parliamentary support for this vote.
With that, I am thankful for the opportunity to speak. I will look forward to the vote. I know Dennis and Betty Normore, together with all parents throughout Canadian society, will certainly welcome this coming to fruition. It is duly worthy that we have a Canadian national child memorial day.