Karen Kraft Sloan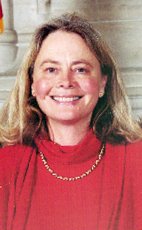 House of Commons photo
Crucial Fact
Her

favourite word

was environmental.
Last in Parliament May 2004, as

Liberal
MP for York North (Ontario)
Won her last election, in 2000, with 47% of the vote.
Statements in the House
Budget Implementation Act, 2004 April 1st, 2004
They have Magna Corporation in that area, as the member opposite points out. They certainly have Magna Corporation in the area of Newmarket--Aurora, but it will be the citizens of Newmarket--Aurora who will be voting, not the shareholders of Magna.
I would like to go back to 1994 on a little historical tour, because I want to say something about the riding of York--Simcoe, and I quote:
...York--Simcoe is where the seeds of responsible government were first sown in Upper Canada. It was there that the rebel, William Lyon Mackenzie, joined forces with farmers and small business owners to challenge the Tory family compact.

Although it has been over 150 years since responsible government has been instituted, the descendants of those rebels have carried on the tradition of farming and operating small businesses in York--Simcoe--
That is the riding I represented before 1997.
My riding of York North was the riding of Baldwin and Lafontaine, the fathers of responsible government. When Lafontaine lost his election to a rowdy, unruly, disrespectful Conservative mob, Baldwin stepped aside and said, "Monsieur Lafontaine, we have a riding for you". It was the good people of Newmarket who sent back a francophone in those days and it was my riding that ensured the unification of the two Canadas.
Allow me to continue. As for the farms of these rebels:
Today their farms grace the landscape of New Tecumseh, King, and east and west Gwillimbury. The world famous Holland Marsh is located near Bradford. Small businesses were and still are the heart of the economic engine in communities like Newmarket and Bradford. Their trades have always been carried out along the main streets of the villages of Sutton, Keswick, Mount Albert, Beeton, Tottenham, Pefferlaw and Schomberg.
The two ridings are now forming and making up the boundaries of those communities.
My riding is also graced with the beautiful beaches of Georgina along Lake Simcoe. A tourist trade booms here all year long, with boating in the summer and ice fishing in the winter.
We are also very fortunate to have a first nations band, the Chippewas of Georgina Island First Nation, and this community is determined to achieve its inherent right of self-government.
Mr. Speaker, I have to tell you that there have been remarkable achievements that I have been able to participate in with that community.
There are members in this House from all kinds of backgrounds and all kinds of ethnic backgrounds. They come in all shapes, sizes, colours, genders and sexual orientations. Each of us interprets our job as a member of Parliament in our own way, very differently, some more differently than others. Some members are very good in front of cameras and some not so good.
Unfortunately, the public does not have the opportunity to see what the vast majority of the members of Parliament in this House actually do. There might be a handful of members who actually appear on the front pages of national newspapers or actually get in front of the cameras of this nation, but the vast majority of the members of the House work quietly and diligently, acting on behalf of their constituents and on behalf of Canadians.
I hope that the last few weeks have not tarnished the image of members of Parliament, because indeed it is a unique privilege to serve Canadians. We do not come here alone. We can only come to this place because people participate in the democratic process. We have volunteers who support us, who cheer us on, who chastise us, and who remind us of who we actually represent and who we are. They come out on election day and put up signs. I have the best sign team around and that best sign team is going to be working in my two new ridings, let me tell you, Mr. Speaker. They put up signs, knock on doors, make telephone calls, make coffee, buy doughnuts and put on events for their colleagues and the volunteers. They drive buses. They make sure that people who would not otherwise be able to vote actually get to vote on election day. For all of those volunteers, I would like to say thanks from the bottom of my heart.
I would also like to thank the people I work with in my constituency office, Debbie McDonald and Rae Bowie, and in my Hill office, Alison Zinni, Tom Balint and Curtis Runions.
Most importantly, we do not come here unless we have the support of our families. My father, Alex Kraft, said, "You are going to Ottawa. Why wouldn't you go?" He always treated me as though I was the first male child of my family, and I have two other sisters. I have to say thanks to my dad. My mom is no longer with us but she is here shining on me today. Her humble, genuine respect of individuals is something that I hope will guide me through the rest of my days.
I have a husband who was the first male feminist I ever met, so I decided I had better marry him. Life here is very difficult and it is hard to hang on to those important relationships, but there is a guy waiting for me in Toronto tonight and I want to be on that 8 o'clock flight.
I would also like to thank my daughter Jessica and my son Patrick. Their courage, their maturity and their wisdom have helped me immeasurably.
For my colleagues sitting in the chamber on both sides of the House, let me say with no partisanship, because it is our loyalty to Parliament that is the most important thing, that we merely pass through this place. Some of us are here for decades, some for maybe only months. Some contributions are great. Some contributions are small.
We merely pass through this place. Even though our words in Hansard will crumble and fade away or get zapped into some electronic netherworld, this place will continue. It is this place that we must continue to respect, because this place is what Canadian democracy is all about. This place is not merely the House of Commons. This is the home of Canadians.
Budget Implementation Act, 2004 April 1st, 2004
Mr. Speaker, about 11 years ago I stood in the House to deliver my maiden speech and it is very likely today that this will be the last opportunity that I have to speak in the House because I will not be seeking re-election.
I do not often speak in the House because I feel that every time I want to rise here, I spend an awful lot of time preparing a speech. I think it is very important that our words in Hansard are thoughtful, well articulated, and provide a good and deep understanding of the issues to which we speak.
I was asked just recently, a few minutes ago, if I would stand in the House and speak to the budget debate. It was 11 years ago that I gave my maiden speech and I am looking at some of the words from that original speech. I had said at that particular time that I was humbled by the history of this place. I think more than anything else, as parliamentarians, our first loyalty is to the Parliament of Canada.
I came here in 1993. It was a raucous time period and an exciting time for politics. There was a new party on the horizon, the western Reform Party. Those members came to Ottawa to turn politics upside down and indeed they did. In fact, they turned politics upside down for their own party several times.
At that time when I delivered my maiden speech, I talked about the long tradition of Canadian democracy. A lot of those new people who came to Parliament were saying we should toss parliamentary tradition out and that they would not be "Ottawafied". Yet, I would suggest that parliamentary tradition is not static; it is not unchanging. It is dynamic and evolutionary. It has evolved and will continue to evolve.
The reason that we must have a first loyalty to Parliament is because it is the place where the will and the voice of the people of Canada have expression. We come here as representatives of the people of Canada. There are aspects of parliamentary democracy, for example, parliamentary privilege.
Parliamentary privilege is not for a parliamentarian; it is for the people of Canada. We must ensure that there is a proper balance, a fairness and equity that is demonstrated through our participation in parliamentary arenas, whether it is in this chamber, in our committees or whether it is other work that we do representing Canada abroad.
Parliamentary privilege allows us the opportunity to say what we want based on the kinds of things that we must say. I have a fear that in some respects parliamentary privilege is not well understood and in some respects, in some cases, it has been abused.
When we abuse parliamentary privilege, we abuse Parliament. We take away the very fundamentals that underlie Canadian democracy. We take away the will, the voice, and the expression of the people of Canada.
In 1994 I talked about the new finance minister, who is now our new Prime Minister. At that time, he set upon an unprecedented budgetary process. Up until that time, the ordinary Canadian, organizations, non governmental organizations, church organizations and all kinds of people across this land from coast to coast to coast did not participate in the budgetary process. In 1993 we set upon an unprecedented process of openness and inclusiveness. That is a very important plank in Canadian democracy.
I said at that time that Canada had a rightful place as a leader among the nations of the world in the 21st century. The kind of budgetary process that our finance minister undertook back in 1993, and indeed following in 1994, 1995, and 1996, was a process that we could use to export as a model for other countries in the world.
I also said at that time that the finance minister had given all of us a great opportunity to work together to let our voices be heard, our ideas tested, and to meld our vision of Canada with the rest of the world to form the Canada that we wanted. That is what democracy is all about.
It is the ability to participate in democratic forums to form the Canada that we want, whether that is something as simple as writing a letter to the editor of one's newspaper complaining about the member for York North, or whether it is to engage full time in election campaigns, or even to put one's name forward on an election sign and ballot.
I also underscored certain principles that were vitally important to the budget process at that time: fairness and equity. I said that these principles must continue to be the cornerstones upon which further budgets are based.
Equity is served when consultation is inclusive, when all perspectives that represent different aspects of Canadian diversity are respected and validated. Our diversity arises from geography, race, religion, ethnicity, age, gender and sexual orientation. Yes, I evoked sexual orientation in 1994 and was pleased to support a motion on same sex marriage back in the early days when it hardly even made the front page of the newspaper. Our diversity also arises from physical and intellectual capabilities, class, education, physical appearance and many other aspects.
Equity is served when our inter-generational responsibilities are acknowledged, and when our global roles and relationships are honoured. Equity is served when our natural environment is respected.
One of the things that I often feel is missing in the debates in the House, particularly budget debates, is the absolute final definitive fact that all of our material and cultural wealth is based on our biological wealth. There is absolutely no denying that. There is no way that we can mess with the account balance of mother nature.
When countries come together with respect to Kyoto and argue about the finer details of what will be included in sinks and what will be included in emissions trading, this is merely quibbling at the margins, because it is Mother Nature's account balance that in the final analysis is what really counts. It is the only thing that counts.
As governments, yes, we can learn an awful lot about the private sector. We can also learn about responsibility and we can learn about fiscal prudence. But the bottom line of government is not a financial bottom line. The bottom line of government is the health and well-being of its people. Our people will not be healthy and well, our economies will not be healthy and well, and our cultures will not be diverse or rich unless we preserve, protect and enhance our natural heritage.
I will continue to quote from a few more paragraphs, because I have the unusual opportunity as a member on the government side to actually have 20 minutes for my intervention.
My riding is now the riding of York North but back in 1993 it was the riding of York--Simcoe. I am delighted to say that we now have a new riding called York--Simcoe, because my riding has been split in two. Two new Liberal members will be welcomed to the House. The other new riding is Newmarket--Aurora and we have a fabulous new candidate by the name of Martha Hall-Finlay. She is a real go get it gal.
Northern Canada March 30th, 2004
Mr. Speaker, I would like to commend the Governor General for her exemplary leadership in focusing our attention on Canada's north. She has worked tirelessly to promote northern and aboriginal issues, both in Canada and internationally.
The huge expanse of the Arctic, which makes up a significant portion of our country's land mass, is an integral part of our national identity and a strategic component of our country's future. Being a northern nation carries distinct responsibilities. First and foremost, we must ensure that the needs and aspirations of northerners are met through increasing indigenous and northern capacity for innovation, commercialization and job creation, the protection of our sovereignty, and the promotion of sustainable development.
Additionally, we must take an international leadership role in circumpolar north initiatives, particularly in the areas of northern science and social development.
Order of Canada February 11th, 2004
Mr. Speaker, I rise to offer my most heartfelt congratulations to three scientists recently appointed to the Order of Canada.
Harry Lumsden provides a strong example of how, by working together, we can make a lasting contribution to conservation. A retired biologist and research scientist, Harry is an international authority in his field.
A past president of The Royal Society of Canada and Canada's foremost expert on risk communication and management, William Leiss has promoted a deeper understanding of technologically generated risk.
David Schindler, a personal buddy of mine, has worked to impress upon Canadians the importance of a healthy ecosystem. Author of over 200 scientific publications, Dr. Schindler's work has been widely used in formulating ecological management policy in Canada, the U.S. and in Europe.
As parliamentarians we should be both proud and pleased to see the accomplishments of these three men recognized with Canada's highest honour for lifetime achievement.
Business of the House February 3rd, 2004
Mr. Speaker, I am a member of the greater Toronto area. I happen to be at the northern end. I think we are seeing a little similarity here with the focus on York North and the northern part of the GTA. There are a lot of farms in my riding. In fact, my hon. colleague himself has lived in my area and understands the concerns of York North.
My hon. colleague has been absolutely diligent and tenacious about looking for the moneys that have been spent in the GTA on behalf of the federal government. Could he elaborate on that?
Business of the House February 3rd, 2004
Mr. Speaker, I will be sharing my time with the hon. member for Toronto—Danforth. He is a colleague who has worked very hard on environmental issues and shares my concern about the north.
Canada is a northern nation. The huge expanse of the Arctic which makes up 50% of our country's land mass is an integral part of our national identity and a strategic component of our country's future.
Being a northern nation carries distinct responsibilities. These include respecting and responding to the needs of northerners, preserving northern ecosystems, safeguarding our sovereignty and taking leadership in circumpolar activities, particularly in areas of northern science and social development.
In the Speech from the Throne we heard that Canadians are uniquely positioned for the new global realities, open to the world, comfortable with the interdependence of nations, aware of our global responsibilities and that Canadians want to see Canada's place of pride and influence in the world restored.
Canada is the largest land mass in the circumpolar north, an area of increasing geopolitical significance. We have obligations that arise from our participation in circumpolar north institutions, for example, the Arctic Council.
We must as an important national priority recognize Canada's place as an arctic nation and act to enhance our leadership among other arctic nations. From both economic and political perspectives, the north has the potential to become a significant factor in world affairs.
Canada was once acknowledged to have a world class expertise in northern science and research. Unfortunately the last 10 years of downsizing of Canadian polar research capacity has led to an exodus of Canadian scientists from critical northern research fields at a time when many other nations are significantly expanding their arctic science operations, even in Canada.
We have made commitments to a number of international obligations such as the Kyoto protocol, the United Nations framework convention on climate change, the Stockholm convention and the Montreal protocol, all of which should be better informed by northern science. As well, active engagement in fulfilling these international commitments will enhance our sovereignty.
At the current rate of global warming, arctic sea ice will disappear in the summer allowing navigation through the Northwest Passage. A report written by the U.S. Arctic Research Commission indicates that as the Arctic Ocean thaws, the U.S. Navy will increase its surveillance of the area.
Given the United States' current sensitivities to security issues, it may come to view the Canadian north as a security gap. In addition, Canadian jurisdiction over the Northwest Passage is not accepted by the United States, the European Union and even, as some suggest, Japan.
As George Hobson, a former head of the Polar Continental Shelf Project with many decades of experience in the north has said, if we do not demonstrate our claim to our land, water or airspace in some manner, we will lose it. Conducting science in our northern lands is a peaceful way to underline our claim to sovereignty. We need to build a stronger sustained national presence in our north.
The Speech from the Throne outlines an important objective of the government to ensure that every region of the country has the opportunity to move forward socially and economically on a rising tide of progress. As we share opportunity, so too will we share prosperity.
Demographically the north is different from the rest of Canada. In Nunavut, 56% of the population is under 25 compared with 33% of the Canadian population as a whole. At its current growth rate, Nunavut's population will double in two decades. Unemployment rates are unacceptably high in many northern communities.
The settlement of aboriginal claims has paved the way for new developments in the energy and mineral industries. These opportunities are also being influenced by the availability of new technologies in the north. R and D activities include research on renewable energies and other things.
There is tremendous potential to increase indigenous and northern capacity for innovation, commercialization and job creation. The success of these emerging economic development opportunities rests on the creation of knowledge to better inform social and ecological impacts of economic development.
As Canadians know, resource extraction, global warming and contaminants pose significant threats to sustainability. A wide range of indicators shows that the northern environment is changing at an unprecedented rate. Sea cover is thinning and retreating, wild life habitation is shifting and shrinking, and the permafrost that supports communities and infrastructure is at risk of melting. Our understanding of many of the stressors responsible for these changes require ongoing and enhanced contributions from scientific and scholarly research.
Northern issues, most importantly, have a human face. We must not lose sight of how massive ecological change affects aboriginal peoples and other northerners. As my friend, Sheila Watt-Cloutier, president of the ICC, repeatedly says, for the Inuit, this is a cultural issue. Inuit wonder if their country's food is safe as contaminants work their way into northern ecosystems. As a result of climate change, hunters are less able to read sea ice as the ice is thinning and thaws are occurring earlier in the season.
In the words of the Prime Minister, Canadians deserve equality of opportunity. This means that the young people who are born and live in the north deserve to be educated in the north. We need to work with northern colleges and northern research institutes to ensure that a full array of educational opportunities is offered.
An important objective of the government is to support the aspirations of northerners and find northern solutions to northern challenges. Fundamental to achieving this objective is recognizing and respecting the link between public policy and science and research. A sound public policy process requires that as a tool, science and research play an integral role in identifying problems, setting priorities and implementing solutions. What is the condition of this very important tool? I am afraid to say that northern science and research as it currently exists in government is in a very sorry state. Canada has lost its place in the world by abdicating its scientific leadership in the north.
In many ways the government has acknowledged the unique nature and magnitude of change facing the north as reflected in the various departmental programs that address northern concerns. However, response to commitments and problems tends to be ad hoc and piecemeal. There is no coherent and coordinated strategy. Programs are fragmented across a dozen departments and agencies. Conflicting mandates often exist between and within these departments. Unbelievably, there is no one minister responsible.
Northern science and research lacks continuity and as a result suffers from an erosion of resources. As a consequence, government, industry and northern communities do not have the necessary capacity to address challenges and find solutions.
For example, the owner of a private sector firm sent me a letter. In it he said, "Years of environmental work done by the government in the Beaufort Sea, the Northwest Passage and other northern areas are in the process of being abandoned when their results are needed most urgently, leaving planners and decision makers without reliable answers to basic questions. Cutbacks have virtually eliminated opportunities for private sector firms in the field of ocean technology".
I have met with members of the northern science research community both in the north and the south and have been repeatedly told that Canada has lost a generation of northern researchers.
The government must take immediate steps to reverse the decline in northern science and research by developing a comprehensive northern science research strategy that would provide coordination, efficiency and effectiveness to the programs that are currently delivered in an ad hoc and piecemeal fashion.
We have received a signal from the government that recognizes this need. In the Speech from the Throne the government made a commitment to develop a northern strategy, ensuring that economic development is conducted in partnership with northerners and is based on stewardship of our most fragile northern ecosystems. Clearly this cannot happen without a focus on and an enhanced investment in northern science and research.
Another important signal that the government is serious is the appointments of the science adviser to the Prime Minister and a parliamentary secretary to the Prime Minister for science and small business. Equally reassuring is the Prime Minister's personal commitment to ensure that top federal decision makers get the best possible scientific advice.
Today the Prime Minister told the House that Parliament must be a place where the voices of all Canada, all of its regions, are included. More specifically, he went on to say that we must ensure that the north has greater control of its destiny. The new governance realities of the north, the massive ecological change impacting northern ecosystems and northern peoples, emerging economic development opportunities and Canada's role as a leader in the circumpolar north demand that as a Parliament, as a government, we no longer delay in accepting this as a national responsibility.
The Environment October 31st, 2003
Mr. Speaker, the government recognizes that it is important to collaborate with provinces and territories to reduce greenhouse gas emissions in Canada. We also understand that discussions are currently ongoing to sign bilateral agreements to achieve this goal.
Could the Minister of the Environment inform the House on the status of these discussions?
Supply May 29th, 2003
Or evil. There are lists; show me the lists. The problem here is that we are witnessing a ratcheting up of fear.
I hold to the original principle of Norad and why Norad was created in the first place. If I may, I will reiterate that it was the situation of mutually assured destruction, a situation in the world where there are two forces, and if one pulls the trigger, the other will pull the trigger and it will be over. As a result, there is some rationality in the system.
With a hyperpower, we are now in a position where there is a lot of finger pointing as to who the enemy is and I am trying to understand that. As I said in my speech, North Korea and these other countries do not have missiles capable of landing in North America.
I want to point out for the members opposite that Amnesty International has come out with a report saying that human rights protection has been badly set back by measures taken in the name of global security. Yes, it is important to ensure that people in our countries are safe and secure, but the reality is that there are situations which have been pointed out in developing countries where security concerns are used as an excuse by governments to crack down on opposition politicians, journalists and religious and racial minorities.
The member opposite was talking about how to go forward on world peace. This report talks about the fact that what has been happening has deepened divisions among people of different faiths and origins--