Gilbert Normand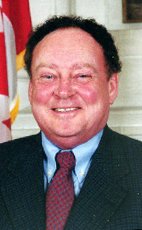 House of Commons photo
Crucial Fact
His

favourite word

was million.
Last in Parliament May 2004, as

Liberal
MP for Bellechasse—Etchemins—Montmagny—L'Islet (Québec)
Won his last election, in 2000, with 48% of the vote.
Statements in the House
Canadian National Railway February 25th, 2004
Mr. Speaker, my question is for the Minister of Labour. Nearly 5,000 Canadian National employees have been on strike since last Thursday.
What measures is the minister planning to take to send the employees back to work? Did she even consider using special legislation to send them back to work?
Shipbuilding June 6th, 2002
Mr. Speaker, the people living in the Lévis area are concerned about the future of Canada's largest shipyard, the Davie shipyard. At the moment, the shipyard is depending on a major bid, which could mean jobs for 600 workers.
Indeed, the conversion of the Midnight Express is the kind of technological challenge Davie can rise to. Having visited the shipyard and worked with them on the Spirit of Columbus platform, I know they will meet this high tech challenge.
The Government of Canada, through the EDC, is prepared to fund up to 60% of this project and grant an interest reduction of some $10 million to the client company, Torch. So, I truly hope that the Davie shipyard will get out of its slump and recover its vitality as soon as possible.
Jean-Paul Riopelle March 13th, 2002
Mr. Speaker, yesterday a truly great Quebecer and Canadian, painter Jean-Paul Riopelle, passed away.
This man, whom I knew personally, was also a close friend. He was a painter, yes, but also a true, independent and free man.
In signing Refus global , he fought against the post-war obscurantism in Quebec.
His paintings depicted wide open spaces, the fauna, and the wonders of nature, the islands of the St. Lawrence, the geese of Île-aux-Grues where he lived and painted, and also the icebergs of the far north.
For 40 years he lived in France, and he took up French citizenship. Yet he returned to finish his work and die in his birthplace, in the natural surroundings he loved so dearly. He is a great international painter who was an honour to our country, Canada.
Jean-Paul Riopelle was a man who had no time for political correctness. He was a model of independence and freedom for all Canadians who took a stand.
I extend my condolences to his family and friends.
The Budget December 13th, 2001
Mr. Speaker, I thank the hon. member for his question.
In the last budget, not only did we allocate new money to research councils to promote research and development in Canada, but we also earmarked $200 million to cover indirect costs in universities and hospitals.
These measures show first and foremost that the government realizes the importance of research for our economic development. These initiatives were welcomed by universities and the scientific world.
International Exchanges October 30th, 2001
Mr. Speaker, on October 25, in Bonn, Germany, we celebrated the 30th anniversary of technology exchanges between our two countries.
I signed a new agreement with my counterpart, the minister of science in Germany, Mrs. Bulmahn. In order to implement this agreement, the National Research Council of Canada and the national research council of Germany will provide $720,000 annually.
The exchanges will involve mostly telemedicine, optoelectronics, agriculture and biotechnologies. This is yet another example which shows that Canada can take part in international exchanges.
Science and Research and Development September 25th, 2001
Mr. Speaker, last Friday, in Quebec City, the federal, provincial and territorial ministers of science met for the first time since 1992.
All the provinces and territories were represented there and all supported Canada's objective of doubling investment in research over the next 10 years and of becoming the fifth country in the world in this field.
In addition, everyone agreed to promote high level training, the marketing of knowledge, the establishment of broadband Internet, innovation throughout Canada and an improvement in indirect costs to research.
Social Sciences And Humanities Research Council June 4th, 2001
Mr. Speaker, I thank my colleague for his question.
I recently had the pleasure of announcing that the Social Sciences and Humanities Research Council is going to provide $56.5 million in funding over three years for 737 research projects in such areas as economics, culture, business and the environment, as well as $3.5 million for 100 post-doctoral scholars. I want to congratulate the recipients.
Quebec's share of this is 31% as far as the number of researchers is concerned, and 27% of the total funds.
Motor Vehicle Transport Act, 1987 May 15th, 2001
moved that Bill S-3, an act to amend the Motor Vehicle Transport Act, 1987 and to make consequential amendments to other acts, be read the second time and referred to a committee.
Employment May 11th, 2001
Mr. Speaker, the hon. member's allegation is utterly unfounded.
Canada is currently doing everything it can to attract the best researchers, including the 2,000 chairs and the money invested in the Canada foundation for innovation. All the programs are now in place to attract the best researchers.
Last week, in Germany, I was told that that country was anxiously awaiting the outcome of our efforts to attract the best minds to our country.