Ghislain Lebel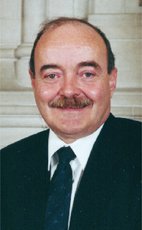 House of Commons photo
Elsewhere
Crucial Fact
His

favourite word

was quebec.
Last in Parliament May 2004, as

Independent
MP for Chambly (Québec)
Won his last election, in 2000, with 50% of the vote.
Statements in the House
Radiocommunication Act February 17th, 2004
Mr. Speaker, I vote against this motion.
(The House divided on the motion, which was agreed to on the following division:)
Auditor General's Report February 17th, 2004
Mr. Speaker, in May 2003, the Standing Committee on Public Accounts had asked the President of the Treasury Board to have all foundations scrutinized by the Auditor General and made subject to the Access to Information Act.
In October of the same year, the current Minister of Industry refused this request.
In the light of what we know now, and given the Prime Minister's conversion to the theological virtues of truth and honesty, can the President of the Treasury Board now—