Jim Hart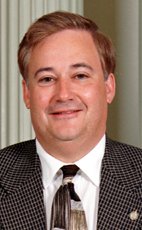 House of Commons photo
Elsewhere
Crucial Fact
His

favourite word

was liberal.
Last in Parliament October 2000, as

Reform
MP for Okanagan—Coquihalla (B.C.)
Won his last election, in 1997, with 53% of the vote.
Statements in the House
National Defence Act June 14th, 2000
Mr. Speaker, I rise on behalf of the people of Okanagan—Coquihalla to speak to Bill S-18, an act to amend the National Defence Act. Of course this follows the government agenda as we have heard the parliamentary secretary speak about soft power. In this debate I want to make sure that we also do not lose sight of the fact that in order for soft power to work, we have to make sure that we maintain our military and have hard military assets available to use when needed.
Bill S-18 amends the National Defence Act by preventing the Canadian armed forces from deploying a person under the age of 18 to a theatre of hostilities. This is a personal thing for me and maybe for you too, Mr. Speaker. I joined the Canadian armed forces when I was 17 years old. I was an ordinary seaman in the Canadian navy. I think my hon. friend Mr. Speaker was an ordinary seaman as well. I enjoyed that experience in the Canadian armed forces and in particular in the navy.
Usually it takes about a year to train a 17 year old to a combat capable standard. In my case I think it was at least a year. The point I want to make is that my ship was deployed to Vietnam. In 1974 the HMCS Gatineau was on its way to oversee the removal of American troops as part of that UN mission. Unfortunately I was in Halifax on marine electrical training and had two weeks left on course so I was not able to go. When I came back to Esquimalt, from where my ship was being deployed, I had to go on another ship that was in refit, the HMCS Kootenay . I will never forget it.
It was a very depressing time in my life because in my eyes, at just 18 years of age, I was ready to go. I wanted to serve my country and be part of that. Therefore I have a special interest in this bill.
I want to make the point that the Canadian Alliance does support the spirit of the bill. We support the idea that it is unthinkable, especially now that I am 44, that we would agree to send a 17 year old into hostilities.
The intent of Bill S-18 is to strengthen Canada's position with respect to the optional protocol to the convention on the rights of children on the involvement of children in armed conflict which was finalized by the United Nations working group in January 2000. The optional protocol is intended to address issues of child soldiers, those children in less developed countries who are often sent into battle as soon as they are able to lift a weapon. Although I support the concept and the spirit of the bill, I wonder, and I think Canadians are probably asking themselves, how do we enforce this and make it work?
In 1994 I had the opportunity to travel with the special joint committee to Bosnia and Croatia. That was at the height of the war. The experience there was that entire villages were being attacked by militia groups and ethnic groups. Ethnic cleansing was going on. Oftentimes young men were taken out and they and their families were killed. Or the other circumstances were that the militia would come in, take the young men and tell them they were now in the army. That situation is one of fight or die. I just wonder if the government has really thought this one through.
It is interesting also that the government would introduce this bill in the dying days of this session of parliament. The designation S on the bill denotes that the bill is from the Senate; it is not from the House of Commons. The Senate is the place of sober second thought when it comes to looking at legislation. Senators are not really there to write legislation and introduce it for us to debate, but here we are tonight. I simply make the observation that if the government had as its number one priority only to allow people who were 18 years old and over to go into an area of conflict, probably the Minister of National Defence would have introduced the bill.
The parliamentary secretary also mentioned that approximately 1,000 16 and 17 year olds join the Canadian armed forces through the reserve or the regular force. I know he cannot answer a question, but I want him to think about this issue. If we have limited resources in the Canadian armed forces, which everyone knows we do, why would we put our efforts into training 16 and 17 year olds for combat missions?
The parliamentary secretary did point out that they are trained in the medical fields, they are trained as mechanics and they are trained in all kinds of support positions. The fact is those support positions go into combat. Let us look at our history in Croatia and Bosnia. During the battle of the Medak pocket in Croatia, the worst firefight that Canadian soldiers have witnessed since the Korean war, 50% of those people were reservists.
We have limited resources. This bill has been introduced through the back door, through the Senate. The government has a history since 1993 of cutting defence expenditures and reducing the number of personnel. I really wonder, and Canadians do too, if this is really a priority of the federal Liberal government.
It is really motherhood and apple pie, is it not? Would we rather see our 16 and 17 year old in schools or going off to Bosnia, Croatia, Kosovo or somewhere else? Of course every member in this House is going to support this initiative. Sure we are.
The hair stands up on the back of my neck when I see a government that has a history since 1993 of not supporting our Canadian armed forces. Now it is supporting a bill to ensure that people cannot get into the armed forces if they have a desire to. Enough said on that issue.
That we are talking about youth and the Canadian armed forces gives me the wonderful opportunity to tell Canadians about one of the most fantastic programs Canada has. It is the cadet program.
The aims of the Canadian cadet program are to develop in youth the attributes of good citizenship and leadership, to promote physical fitness and to stimulate the interest of Canadian youth in the land, sea and air elements of the Canadian armed forces. It is a unique program. No other country in the world has a program like it. It is a partnership between the Department of National Defence and civilian organizations, such as the Air Cadet League of Canada, the Sea Cadet League of Canada, the Navy League of Canada and the Army League of Canada.
As a matter of fact, for five years I had the distinct privilege of being a commanding officer and I started a cadet program in my hometown of Summerland, British Columbia. That organization was an air cadet corps and had the privilege of being sponsored by the Kiwanis Club of Summerland. Currently I am trying to start a sea cadet corps in Penticton, another town in my riding. Another civilian organization, the Army, Navy, Air Force Association of Penticton has said it will financially support the sea cadets in Penticton.
The cadet program is a fabulous way for Canadian youth to get experience about the Canadian armed forces. It is not a way to recruit young people into the armed forces. It is very separate from that. It has a very distinct and different approach to how it attracts young people between the ages of 12 and 19.
These cadets participate in mandatory weekly training. There are 1,140 sea, army and air cadet squadrons for coast to coast to coast. This means that there are over 54,000 cadets in Canada. Each squadron is led by a group of officers who are usually but not always employed in other professions. I was in the advertising profession, but for five years I worked part time as a commanding officer of an air cadet squadron.
Here is another area where I think the government is failing Canadians. This is a fabulous program. The government should be putting more money and resources into cadet training. It should also be looking very closely at the issue of these officers. There are some 4,500 cadet instructors-cadre officers in Canada. In fact the parliamentary secretary can check this, but I am sure it will be found that out of the officer corps in the Canadian armed forces there are more officers in this segment of the armed forces than any other.
It is quite a responsibility to step up to the plate and be a real supporter of youth projects in this way. They are responsible for safety, supervision, administration and the training of cadets.
I wanted to bring this issue forward because there are so very few times that we have an opportunity to talk about the cadet program and that wonderful interaction between the Canadian armed forces and the youth of the country. It is very important.
I mentioned earlier that the Liberal government had failed the Canadian armed forces since it took office in 1993. While Bill S-18 protects our youth by not subjecting them to combat situations, the Liberal government has failed to protect those over 18 in the Canadian armed forces and reserves through its shameful treatment and inadequate funding of the Canadian armed forces.
The defence budget cuts is a prime example. We can look at that over the last seven years. The Liberal government has pursued a defence policy that has stripped the Canadian armed forces of much of its combat capability. The Liberal government slashed defence spending 24% to just over $9 billion, far below that which was recommended by the special joint committee. Less money, less personnel, less equipment, less training, and ultimately less combat capability.
The government side will argue that there was an increase in defence spending in the last budget, but the fact is all that defence increase did was maintain the status quo. The people at national defence headquarters were talking about putting some of our brand new frigates alongside, shutting them down, taking the crew off and sending them home. They were talking about reducing the size of the army and reducing the size of the reserves. All the increase in the last budget did for the Canadian armed forces was to maintain the status quo.
The Canadian armed forces needs an injection of about $2 billion to meet some of its current objectives. The Conference of Defence Associations said that the Canadian army was only combat capable at the company level, which is about 150 troops. That is very serious.
Another problem we are facing is rust out of our equipment in the Canadian armed forces. Last year the auditor general determined that equipment requirements of the Canadian Armed Forces exceeded the planned budget by $4.5 billion. We only have to look at the situation with the replacement of the Sea King helicopter.
In fact today in the House a report was tabled by the Standing Committee on National Defence and Veterans Affairs. One of the recommendations is that government finalize its procurement strategy and proceed immediately to tender a contract for the replacement of the Sea King helicopter.
I am proud of that report because it was a unanimous report. It was agreed to by all members of the committee on which I sit as vice-chair. It is very important, but let us look at the government's record. Its white paper in 1994 promised and made it policy in 1994 that the Sea King helicopter would be replaced by the year 2000.
From my recollection we are now six months into the year 2000 and to date not even the statement of requirements for the new Sea King helicopter has been issued to the industry that needs to look at it. It must compete for the tender. It probably has 12 to 18 months work just on the contract alone before it gets to actually delivering a Sea King. It will take some three years just to do that.
The government has revised its white paper commitment to the Canadian people. It now says that it will be 2005 before it will be able to meet its commitment to replace the Sea King. All the while young Canadians are flying those machines. It is no joke when we hear the people who train the Sea King helicopter pilots say that the rule of thumb is only to fly them as high as one wants to fall. That is not funny. That is a desperate situation that has been created by the Liberal government.
By the year 2005 those machines will be over 40 years old. The Sea Kings are just one example. The chief of defence staff issued his annual report. There are three pages of priorities for replacing equipment. It just goes on and on.
I know I only have 40 minutes tonight. I do not want to take up the whole time because other members want to speak to the issue, but it is an important enough issue that we must talk about it.
The Canadian armed forces is also faced with the new changing world of technology and what is called the integrated battlefield as we face the costs related to the revolution of military affairs, the RMA. The Canadian armed forces must do it. Otherwise it will be left behind.
We do not operate as a single force when we go into Kosovo or other theatres of operation. We go in as part of an international group usually through NATO or the UN. We must be interoperable. We must make sure we can talk to the people. We must make sure that we have the best equipment.
This is one of the points we heard reported on in Kosovo with our CF-18 pilots. They did a great job. They did the best job they could with the equipment they had, but let us face it. The onboard computers in our CF-18s have been compared to a Commodore 64 computer. Did any member ever have a Commodore 64? It is old stuff. The CF-18s did not have night vision.
We put our fine pilots in peril each and every time we send them on a mission. Yes, they did a great job, but that is not the point. If we are to send young people out on dangerous missions, we had better give them the best possible equipment we can. We in the House have an obligation to ensure that happens.
Another area is the national missile defence program. The Liberals are waffling on this issue. It is vital for Canada to support the establishment of an effective NMD system for North America.
It is required for three reasons. The first is to maintain the effectiveness of NORAD, one of our very important bilateral defence agreements with our closest ally, the U.S.A. The second is to counter ballistic missile threats from rogue states armed with weapons of mass destruction. The international community has recognized that ballistic missiles are now a threat to North America. The third is to ensure that Canadian companies can benefit from future contracts to develop and improve this system.
Some would argue that the missile defence system will break the 1972 ABM treaty. I would submit that ballistic missiles are as much a threat to Russians as they are to Americans. The Americans have said on several occasions that technology would be shared. The cold war is over. There is no reason these type of things cannot be shared. It is not star wars. The deployment of such a system would not destabilize a strategic balance between the United States and Russia. The Liberal government is failing to protect Canada's vital interest in ensuring the continued effectiveness of NORAD.
Another reason it is very important is that 90% of all Canadians live within 500 kilometres of the U.S. border. If the United States says that ballistic missiles are a threat to U.S. security, they are also, by extension, a threat to Canadians and Canadian security. We must be a part of that agreement.
I know hon. members across the way are wanting to go home tonight and I know that this is very important meaty stuff. I have but a few more pages to relay to the government before we close off and I know other members want to speak.
Let us talk about the reserves. In Service of the Nation: Canada's Citizen Soldiers for the 21st Century is more commonly known as the Fraser report just released last week. Speaker Fraser used to sit in the House of Commons. He is a very well respected person on military and environmental matters and an honorary colonel of one of the units in British Columbia.
Mr. Fraser states that the militia is currently at less than 60% of the strength that was directed by the Liberal government in the 1994 white paper. It is less than 60% of the strength that was promised by the Liberal government to Canadians in its 1994 defence white paper. The Liberals proposed 23,000 by 1999, of which 18,500 were militia. The militia is the army reserves. Now the numbers equal less than 14,500 in the militia, far lower than what was promised by the government.
Of all Canada's allies, excluding Iceland and Luxembourg, Canada has the smallest reserve force. Most of our allies maintain reserve forces several times that of their regular forces. I will give the House some examples. Belgium, with a population of 10 million, has a regular force of 41,000 and a reserve force of 152,000 people. Canada, with a population of 30 million, has a regular force of 58,000 and a reserve force of 32,000. That number includes the supplementary ready reserve list, people long retired from military service who once a year go in for a medical and make sure their uniforms still fit.
That is pretty pathetic, especially when we consider that if Canada were ever forced into a situation where it would have to mobilize its troops and respond to an international crisis with a large number of trained combat capable soldiers, we would not be able to do it. Canada has a four point mobilization plan, but it could not get past point number two in the four point plan. No concrete mobilization plan has been put together by the government.
In conclusion, while Bill S-18 protects our youth by not subjecting them to combat situations, from an international point of view it is impossible to enforce. What is truly embarrassing and a real shame is the fact that the Liberal government has failed to protect those over 18 in the Canadian armed forces and reserves through its treatment of inadequate funding of the Canadian armed forces.
Petitions June 14th, 2000
Mr. Speaker, the second petition deals with the subject of child pornography. The petitioners ask that the government use the notwithstanding clause to override the B.C. Court of Appeal decision and reinstate subsection (4) of section 163.1 of the criminal code making possession of child pornography in B.C. illegal and by doing so reinforce and reaffirm our objection to the B.C. Court of Appeal decision. Some 3,093 hardworking people of Okanagan—Coquihalla have signed the petition.
Petitions June 14th, 2000
Mr. Speaker, I rise pursuant to Standing Order 36 to present two petitions today.
The first is from the hardworking people of my riding who know that high taxes kill jobs, increase poverty, limit investment and reduce prosperity. The petitioners are calling for a major tax reduction of 25% over the next three years. Some 2,268 people have signed that petition.
Aboriginal Affairs June 14th, 2000
Mr. Speaker, I rise on behalf of the people of Okanagan—Coquihalla to inform the House that the Minister of Indian Affairs and Northern Development is negotiating a flawed self-government treaty with the Westbank Indian Band.
The B.C. treaty commission process, though far from perfect, allows for some third party input and includes the B.C. government. These secret negotiations between the minister and the Westbank Indian Band excludes any input from the citizens of British Columbia.
The Union of British Columbia Municipalities along with concerned landowners are troubled that the federal government is negotiating a treaty in a veil of secrecy that will ultimately entrench preferential rights for certain Canadians at the expense of others. Not only that, it will arbitrarily assign resources, tax dollars and crown property to a distinct group.
Given the concern expressed in B.C. over the Nisga'a final agreement, it is essential that the remaining negotiations be opened to all concerned parties in B.C. and then be put to a British Columbia referendum.
Income Tax Act Amendments, 1999 June 7th, 2000
It is rubbish. This is a real blow to Canadians like people in my riding who work hard. At the end of the year they try to have some disposal income left over so that maybe they can send their children through university, take a bit of a holiday or make renovations to their homes. There are a number of things they could do, but their disposal incomes have shrunk so much that they cannot do many of those things.
The Liberal government policy of high taxation is a blow to Canada's economy as a whole. In Toronto last March a summit of 200 chief executive officers, brought together by the council on national Issues, tried to come up with remedies for Canada's poor economic performance compared to a number of other new economic jurisdictions. While Canada fell behind during the 1990s, Ireland, a nation that traditionally had a lower standard of living than that of the United Kingdom and much lower than that of the European community, has become an economic hot spot.
We might ask ourselves another question. Why has Ireland, but not Canada, been able to draw in so much high tech wealth and talent, when high tech companies in Canada continuously loose many of their brightest and best employees to the United States market? The answer is taxes. During this past decade Ireland has acted decisively to lower taxes, creating a pro-business atmosphere. Ireland now has one of the lowest tax rates and, as a result, one of the most buoyant economies. The standard of living of its citizens has also increased dramatically vis-à-vis its neighbours.
At the same time Canada's standard of living under the regime of Liberal governments has decreased dramatically vis-à-vis that of the United States. Ireland has achieved financial prosperity for its people partly through a conscious policy decision of a government not afraid to cut taxes. Our government does not believe that but I will continue anyway. I know its members are making notes on this point.
Canadians are not as fortunate as people in the United States or in Ireland. The modest tax cuts in the current Liberal budget will do nothing to stem the slide of our standard of living or the flow of skilled Canadians to lower tax jurisdictions in the United States. Like Ireland, Canada must act decisively through conscious policy decisions. This is what Canadians expect of their Liberal government.
The Liberals have gone out of their way to make it difficult for small businesses to conduct business in Canada. Any contractor who subcontracts work to others is now forced by the government to police them by filing a summary of contract payment forms with the Canada Customs and Revenue Agency. This is an additional burden on small businesses with serious fines of up to $2,500 for those who fail to file their summary of payment forms on time.
The current Liberal budget also fails to make serious inroads into paying down debt. The Liberals have totally forgotten about the debt. I think their strategy was that they would try to confuse the public with relation to balancing the books, the deficit and the debt, which are two different things. The Liberals do not like to talk about the debt any more, which is at approximately $580 billion. This has remained steady for the last two years with only a minute reduction of $6.4 billion scheduled over the next five years.
At the rate we are going it could take 100 years. You will be a very old man, Mr. Speaker, before our national debt is paid off. We should contrast that to the United States which intends to pay off its national debt in 12 years.
Without a feasible game plan to pay off our national debt in a timely manner, the standard of living of Canadians will continue to decline. At the same time the lower taxed, debt free U.S. market will continue to attract Canada's best and Canada's brightest. It is called the brain drain.
The Prime Minister does not believe it exists. In fact it does. It is happening in my riding. It is happening in your riding, Mr. Speaker. It is happening right across the country. Our brightest university students are finding high tech, medical and research jobs in the United States and are leaving our country. That hurts our productivity and it hurts the country's future.
To make matters worse, Canadians are also deeply concerned about the way the Liberal government spends their hard earned tax dollars. Instead of offering Canadians tax relief, the Prime Minister and the Minister of Human Resources Development have spent the last two months demonstrating to Canadians why they should not trust the Liberal government with their money. It is reflected in the polls. We see the Liberals plunging in the polls, and that will continue.
The scandal surrounding grants and contributions for a variety of ill defined and unproven job creation schemes clearly shows that the Liberal government has no sense of financial accountability. The scandal does not stop at the Department of Human Resources Development.
The auditor general has pointed out that numerous other departments mismanage billions of dollars in grants and contributions. Our tax dollars are being spent on make work projects designed in effect to re-elect or try to get Liberals re-elected, not to serve the best interest of all Canadians coast to coast to coast.
That fact that real permanent jobs and economic prosperity can only be created through a combination of real tax relief, not disguised tax relief like the Liberals try to give us, and business friendly policies is of no consideration.
Ireland is an example that is ignored by the government. The Liberals are so out of touch with the average Canadian taxpayer that they were actually considering giving subsidies to NHL hockey teams last January.
While the Liberals mismanage billions of dollars in one portfolio, they grossly underfund other portfolios such as health. Health care, for example, is the number one concern shared by my constituents and I am sure every one across the country.
By the year 2004, the Liberal government will have starved the provinces of $35 billion for health care at a time when the population is rapidly aging. New technologies are advancing which come with a very hefty price tag.
Since 1993 the Liberal government's contribution to health has been slashed by 28%. The Liberals claim they will put $2.5 billion back into health care every year for the next four years. That sounds pretty good, but the reality is there is still a serious funding shortfall of $25 billion. The provinces are up in arms, and rightly so. While the Liberals would rather funnel this money into the ridings of the Prime Minister or senior cabinet ministers, hospitals across the country are suffering.
In my own riding the hospitals are suffering. The people of Princeton, B.C., were recently told that they would lose eight acute care beds at the Princeton General Hospital. That may not sound like a lot, but it is a 45% reduction. At the same time the demand for those acute care beds is increasing. There is a nursing shortage which means that the hospital is unable to carry out its caregiving activities. Acute care patients will now have to travel at least an hour and a half to receive the medical attention they need. It is clearly unacceptable.
Why is it that the Prime Minister can funnel money that should be spent on priorities like health care into pet projects like a water fountain in the Prime Minister's riding? How can the Liberal Party justify these actions? Members opposite should be absolutely ashamed of what is happening.
Another example from my riding is the case of the Okanagan Similkameen Neurological Society, the child development centre that helps children with neurological disorders. It is a very prestigious institution and does excellent work but it has a budget shortfall of about $200,000 each and every year.
For the last two years, I have had the privilege and opportunity of hosting a golf tournament where we get businesses, community leaders and people from the area to sponsor and make donations to this one day fundraising effort. It has become quite a great event. In fact, this year the charity golf classic raised about $17,000 for the child development centre.
The $200,000 shortfall that institute experiences each and every year should not have to be made up by golf tournaments and fundraising activities like that. These people are doing necessary work that benefits the community. It is part of the health care system but it has a shortfall.
It is about time the federal government ponied up to the table and started to put back into health what it took away. The people of Okanagan—Coquihalla demand it and people across the country demand it. What the government is doing with Bill C-25 is not good enough, despite its best efforts.
There are some other areas of concern in my riding when we talk about how taxes are collected and the implementation of the budget.
For years we have had problems at the Penticton airport. It is all part of the nationalization of the airports policy where the federal government was going to transfer the operations of the airport to the city of Penticton. Unfortunately, there is a land claim involved in this and an agreement cannot be reached. It is at a stalemate. It has been going on for years, and it is frustrating.
One of the things that happened was that a Liberal senator came out to Penticton one bright morning and arrived without any announcement. He did not even tell the mayor of Penticton that he was coming. In his hand he held a cheque for 650,000 taxpayer dollars. A couple of flags were flying and a podium had been set up on the runway at the Penticton airport so he could tell the people of Penticton that the federal government was going to put $650,000 into repaving the Penticton airport. It needs to be done but why was this done in secrecy?
The other thing that happened was that the Penticton Indian Band came out and stopped the work from proceeding. The federal government knew there was a problem yet it came in under the cover of darkness, trying to put one over on the people of Penticton and the Penticton Indian Band. It is absolutely outrageous what the government is doing with taxpayer money.
I want to make the point very clear that this budget implementation bill, Bill C-25, is 100% pure balderdash.
When we go to the gas pumps and fill up our gas tanks, we pay taxes. Canadians have heard for years that the tax money was to improve highways. Does it ever get to improve highways? I do not think it does. As a matter of fact, I know it does not because we have a stretch of highway between Peachland and Summerland in my riding that is a very dangerous highway. The coroner has said that it is one of the most dangerous highways in Canada. Almost every week there is an accident on that highway, some minor but some have also fatal. The people of the Okanagan area are saying that they want that highway to become part of the national highway system. There has been no action by the government whatsoever, even though Highway 97 is a key transportation link from Alaska all the way down through the United States. Highway 97 is very important to the economy not only of the people of the Okanagan but the economy of the entire province of British Columbia because it is used to transport goods and services.
What I am saying is that the people of Okanagan—Coquihalla are fed up with the Liberal government. They feel isolated because they do not get the things they need. When the government finally comes through with something it is something that is not a priority item for the people of the riding. The government just continues on its merry way doing these crazy things.
The people of B.C. will soon feel the effects of the Nisga'a agreement. The B.C. ministry of agriculture of the NDP government has admitted in a memo that it was a template for future land claims agreements. When we passed the Nisga'a agreement in the House what we in effect did was allow the creation of some 1,600 other sovereign nations in Canada. We should think about the devastating effect that will have on our country and British Columbia in particular because most of those will be in the province of British Columbia.
When we start connecting forestry, natural resources, the economy of British Columbia and what the Nisga'a agreement has done, we will feel more and more severe effects from that agreement.
Canadians and people in my constituency are also concerned about our criminal justice system. I had a terrible thing happen in Summerland, my hometown, where a person who was on day parole murdered two women in front of one of the woman's pre-school children, a two year old and a four year old. The fellow was on day parole from Calgary.
The rules say that Correctional Service Canada is supposed to put a Canada-wide warrant out within 10 minutes. Twenty-four hours had elapsed in which time this person allegedly travelled to Summerland and murdered, execution style, the two women. It was horrific. That same person is now playing with the court system, using every legal option available to him, firing his lawyers and using all kinds of delaying tactics.
What has the government done to improve the criminal justice system? Where is the money that should be allocated to do that. We will not find it in Bill C-25.
Another problem the federal government created across the country, with the impact being felt particularly in British Columbia, was when it negotiated the softwood lumber agreement. In Boston Bar just outside Hope, British Columbia, there is a large sawmill and lumberyard employer by the name of J.S. Jones Holdings Inc.
When the softwood lumber agreement was being negotiated, the government looked at a mill's production and the amount of wood it was transporting to the United States over a two year period. J.S. Jones was in a situation where it was re-tooling its shops. Half of the mill was shut down while it was putting in new equipment. It was upgrading its equipment because it wanted to produce a good quality product in the best possible way.
When the quotas were finally handed out, J.S. Jones did not have enough quota to continue operations. Workers are on lay-off notice right now. That agreement will shut down the largest employer in the Hope and Boston Bar area and put 200 people out of work. What does Bill C-25 hold for those folks? Absolutely nothing.
The softwood lumber agreement negotiated by the Liberal government has to be scrapped. If we are a free trade country, and we are supposed to be, then let us put the free trade agreement in place.
We heard something from the parliamentary secretary about hep C victims and Bill C-25. The only people who have to worry about income tax implications when it comes to hep C victims are the lawyers because they are the only ones who have been paid.
I meet with the victims of hep C in my riding of Okanagan—Coquihalla. Leslie Gibbenhuck and her family have been in my office in Ottawa and I have been helping them all the way along. There is no relief for these folks in sight but the Liberal government has made sure that all the lawyers have been paid.
When it comes to Bill C-25 and hep C victims, this bill falls short again. Why can we not ensure that those victims are paid? It is very sad.
Another issue that is important to the Okanagan region is the wine industry. We have some of the best produced wines not just in the country but in the world. We have award winning wineries. I have more wineries in my riding of Okanagan—Coquihalla than any other constituency in Canada, yet this federal government has failed to recognize the vintners quality assurance, the VQA label we see at the top of all Canadian produced wines. The best wines have the VQA symbol.
Agriculture Canada and this government will not endorse the VQA as the standardization of wines for Canada. That seems like a simple thing. Do members know what that means for our industry? It means that the Europeans will not accept our wine. Last year they imported about $1 million worth of Canadian wine. Do members have any idea how much wine we imported from the European community? Canada imported $385 million worth of wine from Europe. As a matter of fact, the Europeans have totally banned our ice wines. I think that is terrible.
The wine industry is growing and jobs are being created in the Okanagan Valley, but this federal Liberal government will not do one small thing for these people and all the wine industry in Canada, which is to accept the VQA. The government has known about this issue for years and it has done nothing to address it.
Despite Liberal promises in Bill C-25, the Canadian Alliance is the only party in the House today with an effective financial plan to increase the wealth of Canadian families while allowing businesses to thrive in a competitive environment. We call it solution 17.
Solution 17 is a tax system with a single income tax rate of 17% for all Canadian taxpayers combined with a number of progressive deductions. Every single Canadian would benefit financially from our plan.
Highlights of solution 17 include an increase to the basic personal and spousal credits to $10,000 from $7,131 and $6,055 respectively. RRSP limits would be significantly increased to $16,500 from $13,500. Businesses would thrive in a solution 17 economy. The corporate tax rate would be reduced from 28% to 21% while the small business tax rate would be reduced to 10% from 12%.
Solution 17 would encourage success and risk taking by reducing the capital gains tax to 20% from 40%. It would remove 1.9 million low income Canadians from the tax roles altogether. That is so good I want to say it again. Solution 17 would take 1.9 million low income Canadians off the tax roles completely. That would benefit families.
Solution 17 eliminates the current discrimination against single income families vis-à-vis dual income families. Currently, a single income family of four earning $45,000 per year pays 136.5% more in federal tax than a dual income family of four with the same income level. Is that what the Liberals call fairness in our tax system? I do not think so. This is an absolute fact. This is not the smoke and mirrors of the Liberal government. When we get into it, it is terrible what the Liberal government has done to families.
Under solution 17, the Canadian Alliance plan, single parents would receive a significant increase in the amount that can be earned before earnings become taxable. The threshold for a single parent of one will increase to $23,000 from the current $13,186. That is a $9,814 increase which is substantial. The Canadian Alliance will be presenting solution 17 in detail as we get closer and closer to the election.
The whole notion in this debate that the Liberal government is somehow offering tax relief to Canadians is a falsehood. It is just not happening, as can be seen from my remarks. The Liberal Party has always lived by a tax and spend tradition and it is continuing today. It is about time we put an end to it.
The Liberals tax everything. If it moves, they tax it. If it moves slowly, they tax it. If it moves fast, they tax it. If it stops, they subsidize it and try to get it moving again. They tax, tax, tax. It is what they do. They cannot help it.
The people of Okanagan—Coquihalla of course will be voting against Bill C-25.
Income Tax Act Amendments, 1999 June 7th, 2000
My hon. friend says "Hardly". Let me explain. The answer is no. He is absolutely right. After all the hoopla died away it became clear that new spending initiatives combined with tax increases from previous budgets like those in Bill C-25 would wipe out the vast majority of the $58.4 billion tax cut.
Over the next five years spending on programs will increase by $7.5 billion. This brings the supposed tax cut down to just over $50 billion, but there is more. It is kind of like buying one of those vegamatics on TV: "But wait, there is more".
Subtract from this $50 billion the whopping $29.5 billion payroll tax hike caused by the multi-year increase to Canada pension plan premiums. As I mentioned earlier, every January for the next four years Canadians will have to pay more of their hard earned dollars to bankroll a public pension plan that for all intents and purposes is broken.
Now the tax cut is down to about $20 billion, but wait, there is more. Some $13.5 billion of this amount are nothing more than a cancellation of scheduled tax hikes. Is cancelling a scheduled tax hike a tax break? I do not think so, and judging from the response from my constituents they do not think so either.
That leaves a grand total of $7.9 billion for tax relief or, to put it another way, $107.60 per taxpayer per year. We could put it another way, $8.97 per taxpayer per month, or we could take it down even lower to $2.07 per week, enough to buy a medium size Tim Horton's coffee.
Canadian taxpayers are getting no meaningful tax relief from the Liberal government. Each Canadian is still paying over $2,000 more in taxes than they were in 1993 when the Liberals formed the government. That is quite a different story from what we have heard from the Liberals. They keep telling Canadians that there are tax cuts. It is absolute smoke and mirrors.
Income Tax Act Amendments, 1999 June 7th, 2000
Mr. Speaker, we have heard the smoke and mirrors from the government side on Bill C-25 in all the things those members have been saying.
I come from the area of Okanagan—Coquihalla. The people in my riding of Okanagan—Coquihalla are hard working and diligent. They want to have families and create an environment in their communities that is good for themselves and for their community. They want to prosper.
Mr. Speaker, you probably knew this, but in my riding there are two communities with interesting names. One is Merritt and the other is Hope, British Columbia. I often say that the people of Okanagan—Coquihalla reflect the names of those two communities. They are hard workers. They give meritorious service to their communities. They have hope. They have hope for the future. They have hope that they will prosper. But that hope has been dashed by the Liberal government over the last seven years because it has failed to deliver to Canadians the things that make people prosperous, the things that encourage entrepreneurship and so on.
Bill C-25 is an omnibus bill that contains amendments to the Income Tax Act, the Excise Tax Act and implements certain provisions of the 1999 federal budget. Canadians are not in support of this bill.
I want to touch on a point that preceded this debate. That is the issue of the two amendments that were proposed by the finance critic for the Canadian Alliance. Both of those amendments would have seen increased accountability to the powerful revenue agency. Both of those amendments have been disregarded by the House. The excuse was that they were not accompanied by a Governor General's recommendation. We hear all the time from the government how it has broad based consultations, that it speaks to Canadians and tries to find out what Canadians are really after. Let us look at what these two amendments did.
There was broad consultation. We talked to people in the financial services industry, the accounting industry, the life underwriting industry. These were people in the professional tax field. They came to the finance committee to give testimony. They talked about how the bill is too broadly based, how it does not offer a neutral appeal process. That is pretty serious when we are talking about taxes.
If the revenue agency goes after a Canadian with the allegation of a problem with his tax return, there has to be an appeal process, does there not? We think there would be. The amendments the hon. member for Medicine Hat brought forward did that, but they have been disregarded by the Liberal government. It is outrageous. However I am used to it and I think Canadians are used to it.
We will not sit idly by and watch this continually happen time and time again. In the next campaign the Liberal government is going to feel the wrath of the Canadian people when it comes to taxation. I assure the Liberals that they are plummeting now, but they are going to plummet even further in the polls the day we go to the people of Canada and ask them what they think of the Liberal government's record on taxation over the last seven or eight years.
I would like to look at payroll taxes for a minute. In 1999 the increased payroll taxes taken to fund the Canada pension plan removed any savings Canadians expected to see on their paystubs. Canadians will be faced with increases to the Canada pension plan for the next four years. In fact the increased payroll taxes taken to fund the Canada pension plan is the single biggest tax increase in the country.
Does the Liberal government talk about that? No, it does not, but the fact is that its increases to payroll taxes are the biggest that Canadians have ever seen, the largest tax grabs in the history of the country.
Despite the Liberal claims in the 1999 budget, Canadians are still faced with the highest personal income taxes of all the G-7 states, a major factor in the continuing brain drain of skilled Canadians to lower tax regimes like that of the United States.
The Liberal government claims that the 2000 budget will change the distinction we held in 1999. Budget 2000 proposes a five year tax reduction plan that is supposed to create the most important structural changes to the federal tax system in more than a decade.
We all remember the finance minister in his speech in the House. He said:
Today, we are setting out a five year plan so that individuals, families, small businesses and others will know for certain that their taxes will fall this year, next year and in years to come.
The finance minister stated that Canadians could expect tax relief equalling $58.4 billion over the next five years. He even admitted that tax dollars were not the property of the federal government, which was quite a revelation for the Minister of Finance, but really the property of Canadian taxpayers. He said "It is your money after all". That is exactly what he said in the House. Can Canadians really expect to receive $58.4 billion in tax relief from the federal Liberal government?
Health June 7th, 2000
Mr. Speaker, I rise on behalf of the people of Okanagan—Coquihalla who are concerned about the state of our health care system.
Recently the people of Princeton were told they would lose eight acute care beds at the Princeton Regional Hospital. That is a 45% reduction while demand is increasing.
A nursing shortage means the hospital is unable to carry out its caregiving activities. Acute care patients will now have to travel at least an hour and a half to receive the medical attention they need.
The crisis facing the hospital is clearly the result of a health care system reeling from $21 billion in federal Liberal government cuts since 1993. The Liberal government's token effort in the budget to increase funding over five years is only a fraction of what is actually needed.
It is time the Liberals stopped playing with the health and welfare of Canadians and restored full funding to the health care system.
National Defence May 9th, 2000
Mr. Speaker, as a matter of fact I am paying attention. It is the minister who is not listening to the United States whose signals are very clear that it wants Canada in the missile defence program.
Professor Jim Fergusson, an expert on defence issues from the University of Manitoba, has confirmed what I heard the ambassador say. He testified before the defence committee last week that not participating would harm Canada-U.S. relations. Does the Prime Minister agree with Ambassador Chrétien, or does he agree with the rantings of the foreign affairs minister?