Fred Mifflin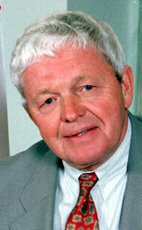 House of Commons photo
Elsewhere
Crucial Fact
His

favourite word

was forces.
Last in Parliament October 2000, as

Liberal
MP for Bonavista—Trinity—Conception (Newfoundland & Labrador)
Won his last election, in 1997, with 35% of the vote.
Statements in the House
Questions On The Order Paper June 7th, 1999
The following table outlines the number of direct and indirect jobs that ACOA, along with its provincial and private sector partners, has helped to create and maintain during the fiscal years 1995, 1996 and 1997 as reported in the agency's five year report to parliament, 1993-1998, as well as for fiscal 1998.
Year—1995-96—1996-97—1997-98—1998-99 Direct Jobs—7,000—7,500—10,000—9,700 Indirect Jobs—2,800—3,000—4,000—3,900 Total Jobs—9,800—10,500—14,000—13,600
Please note that total jobs figures represent the total number of jobs created and jobs maintained. All jobs are calculated in full time, long term equivalent.
Atlantic Canada Opportunities Agency April 23rd, 1999
Mr. Speaker, there is something the hon. member can do and that is stop criticizing an organization that produces in excess of 10,000 jobs a year for Atlantic Canada. Will he do it?
Atlantic Canada Opportunities Agency April 23rd, 1999
Mr. Speaker, once again the Reform has it all wrong. First, there is no relationship of one money to the other. Second, the money was indeed used to expand on a smokehouse operation. It looked good at the time.
As the hon. member knows ACOA does have less than success in some of its operations, but I have to tell him that our failure rate in ACOA is less than 9%, which is lower than they are in the polls, which is very low.
Coastal Fisheries Protection Act April 16th, 1999
Madam Speaker, I certainly appreciate this debate. I know I have about a minute, so I will not get into a long dissertation.
It is an interesting debate and it is a subject that is very close to the hearts of all Atlantic Canadians and Quebecers who are involved in the very difficult business of the management of fish stocks.
I do not really think this is a political issue and I do not think there is much disagreement. I have to remind my hon. friend and colleague from St. John's West that management of fish stocks is not an easy issue. He will recall that a few years ago, on the nose and tail of the bank, while many members of the Conservative government at that time actually agreed that we needed to take some action, the political will was not there to do so. In fact, the minister of the day, Mr. John Crosbie, said as much on television when this government did take action.
That aside, my comment is that the management of fish stocks is a very difficult issue. In the case of seals, I understand what the hon. member is saying and I think eventually we are going to have to do something to address this issue. What that something is going to be he knows is a very complex issue.
Kosovo April 12th, 1999
Mr. Speaker, I have a comment and a question for the hon. member.
He made reference to the fact that we have not consulted parliament. We debated this in November or October. I certainly remember being here on February 17, and we are debating it again today.
I just want to set the hon. member's mind correct. I was a defence critic when the gulf war began. One morning Canadians woke up to hear that Canadian forces had been committed to the gulf war while parliament was in summer recess. The House was not recalled.
He talks about a vote. Yes, there was a vote but considerably after the Canadian forces were committed. I remember that being a very major point. If my memory serves me correctly, the vote was on the UN resolution.
If we were to make public that we will quit bombing in say 5, 10 or 15 days, does the hon. member think this would really help NATO or would it help Milosevic?
Kosovo April 12th, 1999
Mr. Speaker, I want to thank the Leader of the Opposition for his comments.
Notwithstanding the tenor of question period which concerned ground troops, it is my understanding that the hon. Leader of the Opposition supports Canada's role in the air war, that he supports the air war conducted by NATO and its possible expansion. That is my understanding.
The prime minister mentioned that he had written to the President of Russia. How important does the Leader of the Opposition think it is that Russia be involved in this situation?
Veterans March 15th, 1999
Mr. Speaker, I say to the hon. member and to all members of the committee, let us have a look at the report and then we will see where we will go.