Jack Iyerak Anawak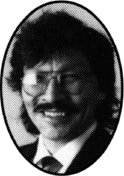 House of Commons photo
Crucial Fact
His

favourite word

was claims.
Last in Parliament April 1997, as

Liberal
MP for Nunatsiaq (Northwest Territories)
Won his last election, in 1993, with 70% of the vote.
Statements in the House
Aboriginal Affairs March 12th, 1997
Mr. Speaker, I would like to ask a question of the Secretary of State for Training and Youth. In January 1996 Human Resources Development Canada signed three national framework agreements with aboriginal groups from across the country on the delivery of human resources programs and services provided by and for aboriginal people.
Can the secretary of state give the House an update on the further actions taken by this government to give First Nations people and the Inuit the tools to develop employment programs that meet their needs?
Seal Hunting March 5th, 1997
Last month the International Fund for Animal Welfare released a disturbing video depicting incidents alleged to have occurred during the 1996 Newfoundland seal harvest.
The tape is currently under investigation. Where there is sufficient evidence, violators will be prosecuted.
Inuit and other responsible seal hunters were shocked and disgusted by the video. It was repugnant to see animals treated in such an insensitive and wasteful manner. The Inuit method of seal harvesting entails complete utilization.
I urge Canadians and the international community to avoid stereotyping all seal hunters because of the alleged actions of a few. The great majority of sealers harvest responsibly and humanely.
This video sensationalism of animal rights organizations threatens Inuit and Newfoundland communities who are just trying to survive.
Suicide Prevention November 6th, 1996
Another young suicide victim was buried in Rankin Inlet last weekend. Another bright and capable youth who could have contributed greatly to his community and to all of Nunavut took his own life and was lost to us forever.
There have been too many deaths. Our youth, our best and brightest hopes for the future, are killing themselves at shocking rates. It has to stop.
I call on all the people of Nunavut, young and old, individuals and communities, to come together to make suicide prevention a priority. Our youth need us and we need them.
Canada Labour Code October 29th, 1996
Mr. Speaker, I rise on a point of order. I wish to retract any words that I said about the member for Delta having broken the law. I apologize.
Committees Of The Whole October 29th, 1996
Mr. Speaker, I was just reading the news that a member was arrested by officers of the law. Usually one gets arrested when one breaks the law.
Committees Of The Whole October 29th, 1996
They seem to be protesting a little too much. I do not know how to say it but it is along the lines of "thou doth protest too much". English being my second language sometimes I am not quite sure of the proper pronunciation. Yes, it is Shakespeare: "Thou doth protest too much".
It is an honour for me to speak in this Chamber and be able to say the kind of things I say to the Reform Party. They are protesting what I am saying but that is politics or debate. At the same time, the Reform Party has problems with the rights that were gained rightfully through treaties and they start doing certain things.
A Reform member from British Columbia was arrested for illegal fishing. What if it had been an aboriginal person doing the same thing? I did not see the Reform Party protesting the law. This is a party that considers itself a law and order party but it is condoning breaking the law. Are they protesting the fact that this member broke the law? I did not hear any of that, Mr. Speaker, but thank you for giving me the opportunity to speak.
Committees Of The Whole October 29th, 1996
I will depend on the people who have always championed the rights of the poor, of the aboriginal people, of minorities such as our present Prime Minister of Canada. They talk about the fact that the Deputy Prime Minister ought to have kept her promise to resign. She had the courage to resign and run again and win. She won big by the way.
To paraphrase what the Reform is doing there must be something that is bothering the Reform Party.
Committees Of The Whole October 29th, 1996
Some aboriginal people have been in Canada for 36,000 years. The Inuit are relative newcomers. We have only been here for 4,000 years.
I do not know if my other colleagues, the aboriginal leaders across the country, welcome the support of the Reform Party when it is convenient for the Reform Party to support the aboriginal people. I do not know how my other colleagues feel.
Committees Of The Whole October 29th, 1996
For the record I live in Rankin Inlet and my family is in Rankin Inlet. As a matter of fact I was talking to my children in Rankin Inlet earlier tonight before I came to the House. They are in school in Rankin Inlet.
All of a sudden Reformers are champions of the poor because it happens to be politically convenient. With help like that we do not need any enemies. As far as that party is concerned aboriginal people should not have recognition.
Committees Of The Whole October 29th, 1996
Mr. Speaker, this same member thinks that Nunavut is an illegal province. Admittedly, there are about 20,000 people in Nunavut. However, those 20,000 people can record their history back thousands of years. They have occupied that land for at least 4,000 years. I would be careful if I was the hon. member for Kootenay East when calling it an illegal province.
Eighty-five per cent of the population is Inuit. However, in negotiations with the Government of Canada we have managed to convince it that we should divide the Northwest Territories in 1999. We should be celebrating. I know the Prime Minister will be with us when we celebrate the new territory of Nunavut in 1999.
The hon. member has a problem because so few people inhabit Nunavut. If the member had his way he would probably move them into apartment buildings in Toronto, Ottawa or Montreal. The difference between that member and me is that I love the north. I love the land. It is my home. There is no way that any member is going to force me to move down here or force the people of the north to move down here just because they do not agree that we have a right to our self-determination within the country of Canada.
It seems that all of a sudden the Reform Party is now the champion of the poor.