Len Hopkins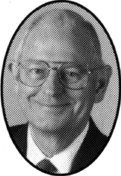 House of Commons photo
Crucial Fact
His

favourite word

was forces.
Last in Parliament April 1997, as

Liberal
MP for Renfrew—Nipissing—Pembroke (Ontario)
Won his last election, in 1993, with 51% of the vote.
Statements in the House
Petitions April 25th, 1997
Mr. Speaker, I have a petition here from petitioners from Palmer Rapids, Barry's Bay, Round Lake Centre, Combermere and Killaloe, Ontario.
They are asking that we request the federal government to immediately rescind section 55.2(4) of the Patent Act, thus freeing up millions of dollars in savings.
Territorial Protection Act April 25th, 1997
moved for leave to introduce Bill C-441, an act respecting the territorial integrity of Canada.
Mr. Speaker, the purpose of this enactment is to affirm Canada's sovereign indivisibility and to preserve its territorial integrity.
The Constitution of Canada formed a federal state that is one and indivisible because this best serves the interests of all Canadians. It would secure the reputation that Canada now enjoys in the world community as a nation in which two founding cultures and other diverse elements have already demonstrated an ability to live and work together for the common good within a strong and united federation, Canada.
It is based on the fact that there is no provision in the Constitution for the withdrawal from the federation of a province or territory, that the federation may not be deprived of any part of the territory of Canada except with its consent by due process of constitutional amendment, and that no province or territory may unilaterally withdraw from the federation.
No province or territory shall either unilaterally or in conjunction with any other province or territory attempt to or declare its intention to secede from the federation and form a separate state. Canada is constitutionally sovereign and indivisible and extends fairness to all cultures in all parts of this nation.
No province or territory shall initiate, authorize, sponsor or permit a referendum to be held on any question purporting to seek a mandate for the withdrawal or indeed the intent of withdrawing of that province or territory from the federation without the federation's consent.
I present this for the consideration of the House.
(Motions deemed adopted, bill read the first time and printed.)
Member For Renfrew-Nipissing-Pembroke April 24th, 1997
Mr. Speaker, from the time I was 14 years old I wanted to be a member of Parliament. This goal in life was achieved on November 8, 1965 when the voters of Renfrew North first elected me to the House of Commons.
I thank my wife and family for all they have done for me over the years. Today I want to thank all the people I have represented consecutively through nine parliaments, from the Right Hon. Lester B. Pearson down to the present; seven prime ministers in nearly 32 years as an MP. I am very grateful to all my constituents and to all those people who have worked hard on my behalf.
I love public life because it is a calling and not just a job. I love my country because it is a valued and caring institution. My thanks go out to the wonderful friends I have made over the years.
It is not what you do in life that matters, it is your purpose in life that counts. I will be working toward a continuing unified Canada as long as I live.
Vimy Ridge April 14th, 1997
Mr. Speaker, historians have stated that Canadian nationhood was born on the battlefields of Europe. Those of us who had the privilege this past week of attending the 80th anniversary ceremonies of Canadians having captured Vimy Ridge on April 9, 1917 know this to be true.
Those who fought in places like Vimy, Passchendaele and Ypres wrote Canadian history by their actions. Because of them and thousands like them, Canadians became known for their courage, their determination and their cohesiveness in helping each other both on and off the battlefield. Six first world war veterans were there representing the nearly 1,500 who are still living. Canada's youth were there.
Thank you to all the other veterans who attended and many thanks to Veterans Affairs Canada personnel who did a super job. Because of what visitors see and hear at Vimy and other locations, we as Canadians can never allow the past to become our future. We must all learn from real history.
Nuclear Liability Act February 14th, 1997
Mr. Speaker, I welcome the opportunity to address the House regarding Bill C-249, an act to amend the Nuclear Liability Act. The issues raised by the proposed legislation are important to all Canadians. It adds to our international standing as a responsible nuclear nation.
It comes as no surprise to any of us that the bill was sponsored by the hon. member for Notre-Dame-de-Grâce. He has consistently shown foresight and wisdom in bringing matters of national concern before the House. I commend my hon. colleague for his commitment to his principles and to the parliamentary process.
He and I were elected on the same day to the House. On many occasions we have been seatmates over the years. He has been consistent in his feelings and principles toward various issues that he has promoted.
As my colleagues before me have indicated, the government supports in principle the need to increase operator liability under the Nuclear Liability Act. However, we also bring to the attention of hon. members the need for a comprehensive review of the act to address a number of other concerns as well.
I will take a few minutes to outline the rationale for the Nuclear Liability Act and the principles upon which it is based to underscore the importance of the act and the need to establish some broad based consensus on amendments.
Canada is recognized as a pioneer and world leader in the development and use of nuclear power. I am pleased to note that we were among the first world nations to establish a liability regime geared specifically to the special circumstances of the nuclear energy sector. A distinct regime is needed for a number of reasons.
As hon. members know, a strong nuclear industry brings tremendous economic and environmental benefits to Canada in spite of what we hear from the other side of the story almost constantly.
If it had not been for the Candu reactors in Canada we would have had to purchase coal from Pennsylvania on a large scale to have coal burning furnaces to generate hydro electric power in industrialized Canada, and our environment would have suffered terribly as a result. The Candu reactor is one of the most clean, environmental sources of energy we could have. In particular Ontario would never have been industrialized to the extent it has if it had not been for the Candu reactors perfected in Canada.
In order to encourage investment in nuclear facilities, however, it is necessary to limit operator liability in the unlikely event of an accident. Otherwise the financial risks are simply too great. This is as true today as it was 30 years ago when the Nuclear Liability Act was first presented. At the same time it is important to ensure that Canadians have access to compensation should they suffer injury or damages as a result of a nuclear accident.
Canada's nuclear safety record is second to none in the world. The Atomic Energy Control Act and the Nuclear Liability Act provide a solid legislative framework for regulating the industry and have done so since day one. The former seeks to prevent and minimize nuclear accidents while the latter applies should an accident occur. However, unlikely as it may be, we must be
prepared for the possibility of a serious nuclear accident that could result in significant third party damages.
Candu reactors are the safest in the world because they have built in backup systems in the event that something goes wrong. It is because of the expense of building those safe reactors with those backup systems that they have sometimes been difficult to market in the world. Today countries are beginning to realize that the Candu reactor is not only safe but also very efficient.
I mentioned before about the safety record in Canada being one of the best in the world.
I want to make the point that AECL workers at Chalk River have a lower rate of cancer than the national average and across the country where there are no nuclear reactors or processors. It is because of the safety features built into the system. The employees are well protected. They are checked on a daily basis. If other industries in Canada put as much emphasis on safety factors in their industries as our nuclear industry has done, we would have a better record right across the board in industrialized Canada.
The cobalt therapy unit for the treatment of cancer was brought in by Atomic Energy of Canada Ltd. Research and development produced that product. We have now sold it in dozens of countries all over the world.
Radioisotopes are produced in Canadian reactors. They are used to sterilize medical instruments. They are used in all kinds of health checks, in checking patients out for various types of injuries and blood conditions. The result is that Canada has a very good nuclear health system.
The results of the non-use of nuclear energy would have had a tremendous negative effect on the health of Canadians because of the environmental fallout of coal dust and fumes.
Canada's involvement in the nuclear industry and in research and development has been for peaceful purposes. Every time people mention nuclear they think of war. They think of explosions and all kinds of other things. However, our work in the nuclear industry in Canada has been to produce energy to drive industry and promote jobs across the country. It has promoted a good environment and cheap energy. It has also been a tremendous asset to Canada's medical industry.
It always bothers me when Chernobyl is thrown into these arguments. The Russian reactor is totally different from the Canadian reactor. The Russians built their reactors with no built-in systems to protect people. We did the very opposite here in Canada by building the Candu reactor. It is the safest reactor in the world and has all kinds of built-in systems to serve workers and Canadians at large.
This is an industry we should positively promote. I totally agree with the hon. member that with this safety record we should be looking at greater insurance for the people in the areas of these developments.
Order Of Military Merit February 14th, 1997
Mr. Speaker, it is with pride that today I congratulate the 52 members of the Canadian forces who were recently honoured by the Governor General of Canada with the Order of Military Merit. This order was established in 1972 to recognize the exceptional service of men and women in both the regular and the reserve forces.
I believe these 52 honoured members of the Canadian forces are truly representative of the kind of people who make up our Canadian forces today. These individuals demonstrate the dedication, honour and courage of the Canadian forces.
They serve Canada in many ways, from providing services to Canadians at home to representing Canada abroad with pride and in often difficult circumstances. They come from all parts of Canada, including my riding of Renfrew-Nipissing-Pembroke and from my home community of Petawawa.
We salute them for their outstanding contributions to the Canadian forces and to Canada over the years.
Peacekeeping February 10th, 1997
Mr. Speaker, I rise in the House today to congratulate the members of the Canadian forces currently serving in Haiti who just this past weekend received a UN medal recognizing their contribution to the United Nations support mission in that country.
The UN recognizes and honours personnel of member states who participate in UN missions in support of its wider goal of maintaining international peace and security. Canada has been a stalwart support of the UN participating in nearly every UN peacekeeping mission.
Canada has played a significant role in the international community's efforts to build peace in Haiti. The Canadian forces have done much to restore hope for those people.
Canada currently has 750 Canadian forces personnel deployed in Haiti, including members from Canadian Forces Base Val Cartier and personnel drawn from 427 Tactical Helicopter Squadron from my own home community of Petawawa.
We congratulate them and we are proud of them. As Canadians we wish them well.
The Late Jean-Robert Roy February 5th, 1997
Mr. Speaker, I want to add my words to those of others who have spoken with regard to Jean Roy.
Jean Roy was a personal friend of everybody in this House during his days here. He was a loyalist to his community, he was a loyalist to this House of Commons and he was a loyalist to Canada. His heart was in what he was doing. He was a man of principles. He never laid back in the harness; he was always there pulling his weight.
I want to say to his wife Georgette and his family today how proud I am, as others are, to have been their friends over the years. I say to them that they have every reason to be proud of that wonderful Canadian, Jean Roy, who served so well in this House of Commons, in his community, across this country and in the business world.
Remembrance Day November 6th, 1996
Mr. Speaker, Monday, November 11, will be Remembrance Day and hundreds of thousands of people from across Canada will gather at cenotaphs to remember the 115,000 young Canadians who were killed in World War I and World War II, the Korean War and peacekeeping duties, plus remembering those hundreds of thousands who came home.
They gave up their future in Canada. They fought so that we could live in peace and democracy. They fought so that we can sit in this Parliament today and express the views of Canadians from across this great land of ours in a free society.
They left their farms, their businesses, their high schools, their universities. They left their loved ones behind. This is something we should never forget. They went to do their duty in a cruel world.
Today we can never take things for granted. If there is anything that we should implant in our own mind, in the minds of every Canadian citizen and everyone in the free world, do not forget them.
On Monday, let us remember them. Lest we forget.
Peacekeeping October 23rd, 1996
Mr. Speaker, in speaking to this motion today, I begin by pointing out that what this motion offers is in absolute keeping with the Canadian peacekeeping policy process. In fact it supports the philosophy which guides our present policy.
It has been and will continue to be the policy of this government to bring before this House all issues relating to peacekeeping. When it has been possible and necessary, that is exactly what this government has done. We recognize the importance of full and free discussion of any proposed deployment of Canadian forces personnel and we attach great value to the opinion which this House has to offer.
It is for these reasons this government has endeavoured to allow for the debate of Canada's peacekeeping commitments at every opportunity. Therefore the apparent objective of this motion to generate discussion and debate of Canada's peacekeeping commitments has already been accomplished by this government.
I note here that we have heard a lot about non-partisan debate from the Reform Party spokespeople tonight. In this House, foreign affairs used to be quite non-debatable and people came to a consensus. It is rather ironic that the spokespersons for the Reform Party were on their feet asking for non-partisanship and at the same time were castigating Liberals in past debates in this House.
Motion No. M-31 calls for a free vote in the House. Our government is derived from the system in Great Britain, the mother of Parliaments. It is called responsible government. Under our parliamentary system responsible government means that the government of the day must make the decisions. Decisions have to be made and sometimes as has been stated they have to be made quickly.
We cannot compare this with the way the United Nations makes decisions because we are in the throes of trying to upgrade and modernize the United Nations and streamline its procedures and that is the right way to go. The way debates are handled in this House, decisions on foreign affairs or any other major events have to be made by a responsible government in the long run. That government is the one that has to live with the decisions.
While we are talking about peacekeeping, peacemaking and what should be done in Parliament prior to a force going wherever to smooth things out, let me emphasize to the greatest degree the appreciation we should have as Canadians for the members of the Canadian forces who go out and do Canada proud around the world. Canadians respond responsibly. Yes there have been a few hiccups along the way, but the hiccups totally disappear when we consider the positive contribution our Canadian forces have made to world affairs and indeed right here at home when disasters occur.
Think back to World War I and World War II and how Canada acted. Why did Canada act? Because there was no United Nations to bring countries together to make decisions. Everybody was drifting off in their own direction and we drifted into World War I and we drifted into World War II. That is why at the end of World War II the UN was founded. Then when the communists started becoming more and more aggressive during the cold war period of the late 1940s, NATO was established, another group of nations coming together for help. That did not exist in the earlier days.
Korea, the first test of the United Nations peacekeeping, was a very successful test in that the United Nations forced the North Koreans back to the 38th parallel.
Canada took part in the Persian Gulf war. It has been into peacekeeping and peacemaking of all kinds over the years. Then there is aid to the civilian power by our Canadian forces.
I want to say here what a debt we owe to those Canadian forces who participated in aid to the civilian power during the Saguenay River disaster. The words of a person who lost their home, lost everything, when he came up to the Prime Minister in the Saguenay area when he visited there were: "Mr. Prime Minister, the Canadian forces have been with us since day one. We don't know what we would have done without them. They have been marvellous".
When we see all this hype about Canadian forces today and all the negative things occurring, let us give those men and women out there a pat on the back. Let us tell them that Canadians should be giving them the credit they deserve for the wonderful work they are doing. The other problems go into insignificance.
Those young families sitting out there tonight may be watching this debate. They have to be thanked, the rank and file of the Canadian Armed Forces who are the very basis of what we are talking about today.
Just to back up what I have been saying, the recent event that supposedly occurred in Hungary with four Canadian soldiers, remember the headlines the first day: "Canadian soldiers assaulted couple, Hungary police say", headlines in a Hungarian newspaper.
After the investigation was made, they found that reports of Canadian soldiers attacking a Hungarian civilian and his girl friend were exaggerated, as Hungarian journalists in the Canadian military now say.
In fact, information indicates that one of the Canadians was himself beaten up in a street fight. Then the editor of the largest Budapest daily newspaper said Monday that the story his paper published on the weekend was not entirely accurate.
I want to thank the Ottawa Citizen for correcting that story. While we castigate the media, when it does admit a mistake and comes forward and corrects a story, it deserves our thanks as well.
I want to emphasize that while we are sending our Canadian troops into all areas of the world, into all kinds of different cultures, different languages, different geographical conditions, different transportation conditions to do a job, for heaven's sake, let the rest of us here at home get behind the spirit of the Canadian forces and give them the boost they deserve.
They are an institution of this country, and a proud one. I want to underscore that tonight while I am on my feet. This country since the very conception of peacekeeping has been an international leader in the field.
Canada's pre-eminence in peacekeeping has resulted from a willingness to act in times of crisis. Indeed it has been our willingness to become involved and our ability to do so quickly that has won us the acclaim and admiration of the entire international community.
This is not to say that this government opposes debate. On the contrary, we recognize that debate is essential, especially when the men and women of the Canadian Armed Forces may be put in harm's way.
Debate on important peacekeeping issues is crucial and the opinion of this House is valued.
That is where this government stands. We have had debates on these issues in the past. There will continue to be debates in the House, but I want to underscore that it is the government of the day that must make the final decision. It is the one which is going to be held accountable, so it will make the decision. If we are going to have responsible democracy in Canada we have to have a responsible government. That means that members of the government respect the government which they support.