Craig Scott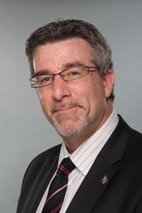 House of Commons photo
Elsewhere
Crucial Fact
His

favourite word

was elections.
Last in Parliament October 2015, as

NDP
MP for Toronto—Danforth (Ontario)
Lost his last election, in 2015, with 40% of the vote.
Statements in the House
Justice June 19th, 2015
Mr. Speaker, Canadians expect Parliament to get results on issues that matter. A bill by an NDP member to ensure that transgender people have the same rights as everyone else and a bill to give more autonomy to members of Parliament have both passed in the House. Yet the undemocratic Senate is killing them, just like it did with Jack Layton's climate change bill. The government ordered its senatorial troops to pass Bill C-51 without amendment. Why the double standard?
Questions on the Order Paper June 15th, 2015
With regard to the statement made by the Minister of Public Safety and Emergency Preparedness on March 10, 2015, before the Standing Committee on Public Safety and National Security that "[c]urrently CSIS can detect security threats but is unable to take action unlike most allies are doing": (a) has the government compiled a list of which allies permit "action" by their intelligence agencies in those agencies' domestic operations, that is, in their operations within the state's own borders; (b) at the time of this statement, was the government aware of the report issued by the Security and Intelligence Review Committee (SIRC) on June 2, 2010, on its Study 2009-05 entitled "CSIS' Use of Disruption to Counter National Security Threats", and, if not, is the government now aware of this report; (c) does the government accept the conclusion of SIRC that not all disruptions were a mere by-product of investigative interviews but, rather, some were intended courses of action; (d) after the SIRC report, did CSIS cease the activities characterized as disruption by SIRC report; (e) if the answer to (d) is in the affirmative, was it as a result of a government directive; (f) at any point since the SIRC report was published, has the government issued any directives, guidelines, or any other form of instruction permitting the activities characterized as disruption by SIRC in its report subject to conditions on, and criteria for, such activities; and (h) if the answer to (f) is in the affirmative, has the government or SIRC made any or all of them available to SIRC to facilitate SIRC's review functions and, if so, when was this done?
Committees of the House June 15th, 2015
Mr. Speaker, I thank my colleague for the effort he has put into the motion. We worked together on committee.
It is very important, for the record, that everyone knows that the committee sent it back to the House in order that the report could be voted on, so people could express their own views. However, the committee is not recommending this system. It is a formal mechanism so that the vote can take place here, but the committee is not recommending the system. It is not not recommending the system either. It is here for everyone to make their own choice.
I still find the argument about it being a waste of time to do it the way we do now to be a little odd. There are not a lot of things that newly elected MPs could do differently, as one of the first acts they do after being elected, that are more important than electing the most important officer of the House.
It allows people to bond a bit. It allows people to spend time with people across the aisles. It is meant to be a vote that is both secret and that spans the aisle. Also, as this is one of the Houses in the Westminster world that turns over the most, it allows newcomers to come to learn who the candidates are with each successive ballot.
I am strongly in favour of maintaining our current system, and I will be voting against concurrence in the report.
Health June 12th, 2015
Mr. Speaker, this is not just some suggestion the minister can just take or leave. We are talking about a unanimous judgment in Canada's highest court. The Supreme Court carefully weighed the evidence and found that the Conservative government's medical marijuana policies are not in the best interest of public health.
I understand that the Conservatives do not really believe in evidence-based policy and that they love to throw blue meat to their anti-judiciary base, but will the minister now stop attacking the court and do her job to implement the decision?
Justice for Animals in Service Act (Quanto's Law) June 11th, 2015
Mr. Speaker, as usual, our colleague from Louis-Saint-Laurent has given an incredibly reflective and indeed philosophical speech.
If we ever get to the point of finally considering comprehensive reform in animal protection, mostly in the Criminal Code because of federal jurisdiction, does she feel that one of the problems with legislation that has come to the House, and been resisted over the last decade or so, is lumping animals into one category? Working animals for example, animals that are fished and hunted and also companion animals, all of them tend to get lumped into the same general language. Does she think that one of the ways forward might be to make some distinctions that would help unblock some of the ships passing in the night on this issue?
Justice for Animals in Service Act (Quanto's Law) June 11th, 2015
Mr. Speaker, I would like to thank my colleague for his speech, as at the second reading stage, I learned a lot.
I want to ask the member if he could follow up a bit on the way he talks about animals not having a voice, saying that he did not expect that the justice system would ever allow a direct voice from animals, for obvious reasons.
Our colleague from Dauphin—Swan River—Marquette seemed to be extremely exercised by the idea that animals would have rights of any sort. Yet, the way my colleague speaks of animals suggests that we are in the universe of intrinsic interests, the kinds of interests that are worthy of generating rights that create duties for us to respect. The idea that we only protect animals for instrumental reasons, because the service animal is somehow instrumentally useful to public security, as the reason for a law like Quanto's law seems to me to be completely missing the mark of why this bill has been introduced.
Would my colleague comment on whether he believes that the intrinsic value of animals is part of why this bill needs to be supported?
Public Safety June 10th, 2015
Mr. Speaker, it is not only about abusing public money for fishing trips and wedding anniversaries. The Senate is also an undemocratic institution that has blocked important legislation passed by elected members of the House.
The Senate killed Jack Layton's climate change accountability act. It is quietly doing away with a bill to bring equality to transgendered people.
Last night it passed Bill C-51 with no sober second thought whatsoever, despite overwhelming public opposition. Not a single amendment was proposed.
Why are Conservatives defending this illegitimate institution that rejects the democratic will of Canadians?
Incorporation by Reference in Regulations Act June 9th, 2015
Mr. Speaker, I will be correspondingly brief in my speech.
I have spoken on Bill S-2 before. I join my colleagues from Gatineau and Charlottetown in indicating that this bill is a sleeper. It would have major implications for the health of our democracy, and it deserves to receive a lot more attention in the media than it has.
The ability of governments to use ambulatory incorporation by reference to smuggle in over time rule changes processed by outside agencies, transnational and private agencies, or even mixed agencies on which governments sit, and the possibility of that would be greatly enhanced by this piece of legislation. Ultimately, it is a piece of legislation that would continue a whole variety of actions by the government over the last four years as a majority and almost ten years in government that seriously undermine our democracy.
I would suggest that, rather than go in this direction, we have to think seriously about how to beef up the current joint committee on the scrutiny of regulations in the Senate and the House of Commons. We should possibly consider the need for an officer of Parliament. I would suggest that a commissioner for statutory and international instruments is probably something that needs to be discussed. It would be an officer who would make sure that the House is not just on top of static incorporation by reference, but incorporation by reference of external documents as they occur. It would then make sure, in the reporting fashion, that the House knows that something has changed that may be of consequence but that the House has had no say in until that point in time.
I indicate that such a commissioner, for example, would look at both statutory instruments, regulations and their like, and international instruments, treaties and their like, because in the globalizing legal environment in which the government is operating, it is those two features, executive action and transnational action, that are increasingly joining hands and taking away governing space from publicly elected legislators.
The bottom line is that this bill needs safeguards. Some four amendments were brought forward by the official opposition in committee. All of them were rejected, as usual, by the government. If we took the problems that the official opposition had and still has with the bill seriously, we would be looking at how to enhance the oversight and review functions of this body over the regulation-making authorities, not undermining it, as Bill S-2 would.
Incorporation by Reference in Regulations Act June 9th, 2015
Mr. Speaker, I would like to thank my colleague for an excellent speech, which set out a lot of the problems with Bill S-2. I particularly like the way in which he drove home at the very end the combined effects of transnationalization and privatization of norm-making; and how, through ambulatory statutory regulation, one more nail in the coffin of parliamentary and democratic sovereignty would be put in place; and that the inability of Parliament to keep track of external norms as they change and enter into our legal system, without Parliament having anything to say about it let alone know about it, is almost frightening.
I may be wrong, but I understand there is yet another retroactivity clause in Bill S-2 that would basically clean up the use of these kinds of clauses in the past by saying that any previous use would be governed by Bill S-2 and therefore would not be a problem. Am I correct in that, and does the member have any comment on that?
Ethics June 5th, 2015
Mr. Speaker, the Senate is in total disrepute. Even former Conservative prime minister Mulroney agrees that the Senate is facing an unprecedented crisis.
The Auditor General's report will confirm just how deep the rot runs. It has never been clearer that it is not only possible but it is necessary to abolish the Senate. The Supreme Court has told us how, so will the Minister for Democratic Reform tell us whether the Conservatives will finally let Canadians get rid of this thoroughly discredited institution?