Jim Abbott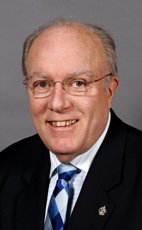 House of Commons photo
Elsewhere
Crucial Fact
His

favourite word

was fact.
Last in Parliament March 2011, as

Conservative
MP for Kootenay—Columbia (B.C.)
Won his last election, in 2008, with 60% of the vote.
Statements in the House
Business of Supply November 4th, 2010
Mr. Speaker, I have listened with great interest to the NDP leader's speech today. I find that it certainly appears as though he is not knowledgeable about the contents of the act to which he refers. Either that or he is misinformed.
I noted on television last night that he was railing on about the fact that we did not close the door for 30 days and that this was terrible. Of course, he was confronted on TV with the fact that the legislation, the law of the land, calls for a 30-day period in which this company can state its case before the door can be closed. The hon. member did not seem to be knowledgeable about that.
Today in the hon. member's speech I heard him say that we are still in the dark about the content of the decision. Well indeed, that is the way it should be. That is what the act calls for.
I suggest that the leader of the NDP might choose to inform himself about the laws of Canada.
International Co-operation November 2nd, 2010
Mr. Speaker, our government's action is to create action. Under our watch Canada was the first G8 country to double its aid to Africa. The Liberals are ignoring the fact that less than 10 years ago the Liberals were giving half of what we are giving today.
When it comes to moving forward and doing what is right for those in need, our government is there.
International Co-operation November 2nd, 2010
Mr. Speaker, our government has been very clear. We have an effective aid strategy and we are acting on it. We are delivering real results for people. We only need to look at the results of the aid programs that we have in effect.
We are focusing so that everything we do is action instead of advocacy.
International Co-operation October 25th, 2010
Mr. Speaker, apparently the member has missed what we have actually ended up doing. We were the first G8 country to double our aid to Africa. We doubled our aid to Africa before we were required to and before any other G7 nation. We are now at $2.1 billion. On top of that, at the conference the Prime Minister came up with some new money again for the African nations because we recognize that they do require our support.
International Co-operation October 22nd, 2010
Mr. Speaker, I answered this question in response to a question from a Liberal member.
The Bloc, the NDP, and the Liberals keep on propagating this myth, this canard.
The fact is that the Government of Canada has doubled aid to Africa in less time than was required by the G7 nations. We are the only nation that did it.
We have to put a spike in what is actually, totally, and absolutely inaccurate information.
International Co-operation October 22nd, 2010
Mr. Speaker, the way the member has constructed his question is just simply not accurate in any way, shape or form.
The fact is that our government doubled aid to Africa in a faster period of time than any other G7 nation. Further, we are at a point now with the African nations that, notwithstanding the misinformation that people like him are bringing forward, they are beginning to understand the generosity and the co-operation there is between Canada and the African nations.
Immigration October 22nd, 2010
Mr. Speaker, yesterday our Conservative government listened to 55% of Canadians who think human smuggling is unacceptable. Our action will ensure Canada's immigration laws are respected and that criminals are sentenced properly.
The proposed bill to prevent human smugglers from abusing Canada's generosity will make it easier to prosecute human smugglers and will implement mandatory minimum sentences for those convicted of this serious offence.
The proposed reforms reflect our government's strong commitment to fight the scourge of human smuggling through stronger criminal laws.
The bill has received glowing praise from cultural groups across the country. The United Macedonian Diaspora stated yesterday that they were pleased to see the government taking strong action to deter human smugglers from coming to Canada's shores and abusing Canada's generosity.
Our government is sending a clear message to human smugglers: the abuse of our immigration system will not be tolerated.
Mr. Speaker, I cannot fathom why the member opposite thinks it is a good idea to take international food aid away so that an Ottawa lobbyist, who does no international aid work in the developing world, can receive a paycheque in Canada from our international aid budget.
The government is working to make our aid more effective. The opposition wants to see our international aid go to Ottawa lobbyists. Our government wants to see our international aid actually help the world's poor. That is why the government doubled our aid to Africa. That is why we doubled our total international aid to a record high of $5 billion.
Our government is getting the job done. The opposition wants to spend the money for foreign aid on Ottawa lobbyists. We want to spend it where it has the most effect.
Mr. Speaker, I want to thank the member opposite for the opportunity to be here in this House on this important issue. This is an issue that I care deeply and passionately about, and it is an issue that highlights the difference between the government's international aid policy and that of the opposition.
We here on the government side of the House look at the developing world and we see so many ways that we as a strong, prosperous nation can assist those who are less fortunate. The key behind the government's policy is the simple fact that action is needed for the world's poor, action will feed the hungry, action will reduce unnecessary deaths, and action will help developing nations help themselves.
As a government we care more about action than advocacy. I strongly believe that Canadians want our international aid funding to be spent internationally and on the world's poor. The member opposite is asking that Canada's international aid be spent here in Ottawa to pay for an organization that does not do any work on the ground to relieve poverty. The Liberals are asking the government to spend money that could be spent in the UN's world food program, and the Liberals want that money to go to Ottawa-based advocates instead.
I am honoured as parliamentary secretary for international aid for this government, a government that chooses action over advocacy. Our government is making our aid more effective. Our track record on international aid is spectacular.
The opposition Liberals play political games and try to twist the facts, but their words simply do not measure up to our government's action. We will take no lessons from the Liberals when it comes to our government's strong commitment to international aid.
This government will make certain that our international aid is spent effectively.
United Nations September 24th, 2010
Mr. Speaker, contrary to what the member is presenting, the fact is that we have doubled our aid to Africa. We have increased our total contribution to the world to $5 billion a year, which is the highest this country has ever given.
Our government is taking leadership because we recognize the responsibility that we have to the world as Canadians. All Canadians are proud of what we are doing.