John Duncan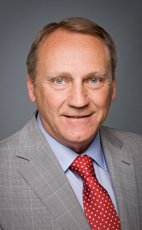 House of Commons photo
Elsewhere
Crucial Fact
His

favourite word

was aboriginal.
Last in Parliament October 2015, as

Conservative
MP for Vancouver Island North (B.C.)
Lost his last election, in 2015, with 28% of the vote.
Statements in the House
Business of Supply June 1st, 2015
Mr. Speaker, if you seek it, I believe you would find consent to see the clock at 6:49 p.m.
National Spinal Cord Injury Awareness Day Act May 29th, 2015
Mr. Speaker, I will not take all of the time, but I did want to speak to this motion from the member for Montcalm and seconded by the member for Charleswood—St. James—Assiniboia.
I cannot remember the exact year, but I was the seatmate of the member for Charleswood—St. James—Assiniboia, and it was during that time that he wrote his book. We had a book unveiling in Ottawa. As a member of the caucus, and particularly because the member was my seatmate, it was incumbent upon me to get to know him much better. Now we have been caucus colleagues for at least a decade. The adversity that I realize the member has gone through, and the inspiration he provides, have carried on. There is no member of this caucus of which the member for Charleswood—St. James—Assiniboia is a member who has ever heard him utter a complaint. The member is constructive, and as everyone has witnessed today, he is quite hilarious.
I realize that I am restricting my comments to the member for Charleswood—St. James—Assiniboia rather than to the member for Montcalm. It is not for any reason other than that I know the member for Charleswood—St. James—Assiniboia much more intimately. There is no slight intended.
We are reminded every time we see the member for Charleswood—St. James—Assiniboia attending meetings, whether they are early or late, that whatever adversity or struggles we may be going through, they pale in comparison. This is part of the ongoing inspiration we all feel.
There was a time, after 13 years of serving in the opposition in this place, that I actually lost an election. It was the very year we formed government. On my way, as I departed from Ottawa by car, guess who called? It was the member for Charleswood—St. James—Assiniboia. He was thinking about me. I have never forgotten that.
We all have to recognize that these members who brought this motion forward are more than contributing members of Parliament. They are much more than full members, in a sense. I know from many discussions that the member for Charleswood—St. James—Assiniboia is actively engaged in the Treasury Board, for example. He is pursuing advanced education. He is a great student of Canadian history. There are many things all of us could learn about Canadian history from just having a short conversation with the member.
I believe that we have a strong responsibility to know our colleagues who face adversity. Today is one of those opportunities, but there is another opportunity, and it is called "every day".
What we witnessed today is consistent with the motion that has been put forward by the member for Montcalm and seconded by the member for Charleswood—St. James—Assiniboia. I congratulate them, and I know that this place will be happy to adopt this motion.
Business of the House May 29th, 2015
Mr. Speaker, I think you would find consent to see the clock at 1:30 p.m.
Port State Measures Agreement Implementation Act May 7th, 2015
Mr. Speaker, like the member from Atlantic Canada who spoke before me, the member for South Shore—St. Margaret's, I come from a large coastal riding with a lot of commercial fisheries. I am also host to the Canadian Forces air base in Comox where we run aerial surveillance right out into the mid-Pacific and ensure that the use of the long nets that had been used throughout the 1960s, 1970s and 1980s to intercept valuable fisheries pretty much comes to an end due to the aerial reconnaissance that Canada has carried out and continues to carry out.
We have done a lot of good things on the fisheries resource. Many of our salmon runs are coming back. We have put individual quotas in place on most of our groundfisheries and commercial harvesting is now in a very sustainable place, so I am not finding the same findings that the member for Labrador is alluding to.
Port State Measures Agreement Implementation Act May 7th, 2015
Mr. Speaker, there are amendments to Bill S-3 that allow the government to make documentation requirements for seafood imports consistent with the catch document requirements of regional fisheries management organizations around the world. Therefore, once we pass this bill, any illegal fish in any part of the world would then be illegal in Canada. I think that addresses the concerns that the member has just expressed.
Port State Measures Agreement Implementation Act May 7th, 2015
Mr. Speaker, our fish harvesters work tirelessly on the seas to make a living, often in challenging conditions. Through their determination, these efforts support the economies of coastal communities and, more broadly, a multibillion-dollar seafood industry for Canada.
Therefore, it is completely unacceptable that international poachers are ignoring national and international rules and regulations that allow them to avoid the true cost of fishing. They leave distorted market prices and missed profits in their wake, which undermines the livelihoods of our legitimate fish harvesters and threatens the stability and the sustainability of global fisheries.
That is why I am pleased to support Bill S-3, an act to amend the Coastal Fisheries Protection Act, which would give Canada additional tools to combat illegal, unreported and unregulated fishing activities.
Our government has embarked upon the most ambitious trade agenda in our nation's history. This is important in the context of this bill. Through our comprehensive economic and trade agreement with the EU and the Canada-Korea free trade agreement, we are opening up new markets and economic opportunities for all Canadian industries and sectors. Our fish and seafood producers will be able to benefit significantly from these agreements with the reduction and removal of tariffs on our world-class products.
However, as we gain increased market access, it becomes all the more important that we support global efforts to fight illegal fisheries.
According to a 2008 British study, the impact of illegal fishing activities is staggering. The global economic loss from these fisheries is estimated at $10 billion U.S. to $23 billion U.S. annually.
The impact of global activities by illegal fishing vessels on the high seas does affect Canadians. After all, Canada exports 85% of its fish and seafood products. This generates a healthy $4 billion for our economy every year. However, if we could curtain illegal fishing internationally, we would do even better.
As a British Columbian, I know how illegal fishing half a world away can have a real impact upon Canada's bottom line. In British Columbia, our once-thriving red and green sea urchin fishery severely declined when illegally harvested products entered international trade and flooded the market. These short-sighted actions by criminals looking to make a quick profit have caused massive damage to this fishery. Illegal fishing is not just some far-off issue. It has real economic impacts for those who make their living from the sea and the communities that depend upon this income.
The strong economic argument is one reason why Canada joined other countries to adopt the port state measures agreement.
There are strong environmental reasons why Canada supports the agreement. Illegal fishing undermines the sustainable management of both fisheries and the ecosystems and habitants upon which those fisheries depend. The port state measures agreement is a logical step in the global effort to improve fisheries' conservation, by ensuring that only legally harvested fish can enter ports for domestic markets and international trade. That is what Bill S-3 is all about.
Canada already has many of the core requirements in place to ratify the port state measures agreement. However, there are a few areas where we need to align our legislation with the new global standard. Specifically, these amendments would expand inspection and enforcement powers beyond the traditional fishing vessel; strengthen prohibitions and international enforcement against imports of illegally harvested fish products; and create an enforcement regime for foreign fishing vessels ordered to port by the flag state for enforcement purposes.
I will speak to two of these important amendments: the ability of flag states to order their ships to port; and improved information sharing among enforcement partners.
Under the Coastal Fisheries Protection Regulations, a foreign fishing vessel must apply for a licence to enter a Canadian port at least 30 days in advance of its entry into Canadian fisheries waters. However, a vessel that has been fishing illegally has good reason to avoid our ports and therefore the vessel is unlikely to apply for entry. Even if the nation responsible for the vessel, the flag state, orders the vessel to enter a Canadian port for inspection, the current legal system requires that the vessel itself apply for a licence. To address this, Bill S-3 would authorize fisheries protection officers to take appropriate enforcement action when the circumstance is such that the vessel is directed to port by its flag state solely for inspection purposes.
It is important to note that this amendment would not change Canada's ability to refuse port access to any illegal fishing vessel that violates conservation and enforcement measures of regional fisheries management bodies. What it would do is implement a key provision of the port state measures agreement. Generally, the agreement requires parties to refuse entry to vessels involved in illegal fishing. This would now be an exception in order to enable a party to allow such a vessel to enter port for the purpose of inspecting it, gathering evidence and taking other appropriate enforcement action on behalf of the flag state.
To crack down on illegal fishing internationally, we need intelligence and better sharing protocols among our enforcement officers at home and leading nations when it comes to tracking offenders. That is why the second area of amendments focuses on improving information sharing. Through this bill, for example, Fisheries and Oceans Canada and the Canada Border Services Agency would gain new and express authority to share information with each other. Similarly, Canada would gain clearer authority to share information regarding actions taken against illegal foreign fishing vessels with other responsible states and regional and international organizations. For example, the information could include the fact that we denied a foreign vessel entry into a Canadian port, any enforcement action that we might take, the results of any inspection and the outcome of any legal proceedings.
Experience tells us that globally strong port state measures can deter illegal fishing. The port state measures agreement represents one of the most efficient and effective approaches to deal with illegal, unreported or unregulated fishing across the globe. Supporting Bill S-3 would allow Canada to follow through on this important international commitment. I urge all members to support this bill.
Anti-terrorism Act, 2015 May 5th, 2015
Mr. Speaker, I move:
That, notwithstanding any Standing Order or usual practice of the House at the conclusion of the debate later today on Bill C-51, an act to enact the security of Canada information sharing act and the secure air travel act, to amend the Criminal Code, the Canadian Security Intelligence Service Act and the Immigration and Refugee Protection Act and to make related and consequential amendments to other Acts, all questions necessary to dispose of the third reading stage of the said bill be deemed put and a recorded division deemed requested and deferred until Wednesday, May 6, 2015, at the expiry of the time provided for government orders.
I believe you will find unanimous consent for that motion.
The Budget April 28th, 2015
Mr. Speaker, we have the advantage of having had only two finance ministers in government since 2006. Our first finance minister paid back $37 billion on the national debt. One does not do that unless one has a balanced budget, so it is obvious that the person who asked the question had not done his homework to even know that we ran surpluses prior to the recession.
Contrary to the member's assertions, under Pierre Trudeau's government, during his 14 years in power, he increased spending by an average of 14% a year for 14 years, completely unsustainable. It changed us from a government that was small and efficient to one that was bloated and inefficient. We have been trying to get back to a decent and responsible place ever since.