Frank Valeriote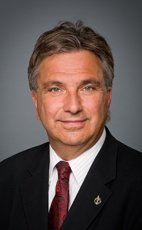 House of Commons photo
Track Frank
Your Say
Elsewhere
Crucial Fact
His

favourite word

is cfia.
Liberal
MP for Guelph (Ontario)
Won his last election, in 2011, with 43.40% of the vote.
Statements in the House
National Defence September 16th, 2014
Mr. Speaker, the government cannot claim any sort of leadership with the number of suicides among our Canadian Forces members. It is even worse for our veterans who are not receiving the support they need to deal with serious issues like PTSD because that is money the Conservative government would rather spend on self-promotion.
These men and women are neglected in the Canadian Forces and then completely abandoned as veterans. I ask the Minister of Veterans Affairs this. When will the government finally take the issue of suicides among our Canadian Forces and our veterans seriously?
Questions Passed as Orders for Returns September 15th, 2014
With respect to the Scott et al. v. Attorney General of Canada legal action against the Government of Canada: (a) what is the total amount of money spent by all departments and agencies, broken down by department and agency, since October 30, 2012, in its defence against the Canadian veterans' class action lawsuit; and (b) what is the total amount of money all departments and agencies have spent to hire outside legal counsel, broken down by department and agency, for the same time period referred to in (a)?
Questions on the Order Paper September 15th, 2014
With regard to government-wide advertising activities, broken down by department, agency, and institution, since April 1, 2011: (a) how many advertisements have (i) been created in total, broken down by type (cinema, internet, out-of-home, print dailies, print magazine, weekly/community newspapers, radio, television) and by year, (ii) been given an identification number, a name or a Media Authorization Number (ADV number); (b) what is the identification number, name or ADV number for each advertisement listed in (a)(ii); and (c) for the answers to each part of (a), what is (i) the length (seconds or minutes) of each radio advertisement, television advertisement, cinema advertisement, internet advertisement, (ii) the cost for the production or creation of each advertisement, (iii) the companies used to produce or create each advertisement, (iv) the number of times each advertisement has aired or been published, specifying the total number of times and the total length of time (seconds or minutes), broken down by year and by month for each advertisement, (v) the total cost to air or publish each advertisement, broken down by year and by month, (vi) the criteria used to select each of the advertisement placements, (vii) media outlets used to air or publish each advertisement, broken down by year and by month, (viii) the total amount spent per outlet, broken down by year and by month?
Veterans Affairs June 19th, 2014
Mr. Speaker, last week, the minister tried to justify spending tens of millions of dollars more on advertisements and commemorations, instead of programs and services, by telling Canadians about all of the veterans who received $10,000 a month in benefits. There are four who receive that amount. That is less than 1% of seriously injured veterans. Most get much less.
It is insulting to veterans to justify wasteful advertising spending by trying to make it sound like, somehow, they just won the lottery.
When will he stop running away from our veterans and finally provide them with the care they desperately need and deserve?
Petitions June 19th, 2014
Mr. Speaker, the petitions I am presenting to the House today are signed by my constituents in Guelph as well as by Canadians across the country.
The petitioners call upon the Government of Canada to allow cities, local residents, and politicians to make their own decisions when it comes to the installation of cell towers. They are concerned that we still do not fully understand the health impact of emissions. They indicate that there must be advance consultations with residents within a 1,000-metre radius so that the people most significantly impacted can have a say.
Specifically, the petitioners are asking Industry Canada and the Conservative government to reject proposals for the installation of Rogers Communications cell towers at the intersection of Alma and Crimea Streets in Guelph.
I look forward to the government's response.
Drug-Free Prisons Act June 17th, 2014
Mr. Speaker, I thank my friend from Bonavista—Gander—Grand Falls—Windsor for his enlightening remarks.
We have learned over the last number of years that the government likes to characterize anyone who does not agree with its crime legislation as being soft on crime while it is tough on crime.
We have learned from our American friends and our British friends that in fact the dichotomy is not tough or soft on crime; it is smart or dumb on crime. Right now the Conservatives are being dumb on crime. The remarks and the suggestions by the opposition and the third party Liberals are being smart on crime.
I am wondering if my friend might talk to us a bit about why they are being dumb, in this legislation, as opposed to being smart, having had the opportunity to be so.
Agricultural Growth Act June 17th, 2014
Mr. Speaker, I want to thank the member for her informative comments. She raised some questions in her previous answer about whether the government would do this or that. As a former member of the agriculture committee, I can advise the member that hundreds and hundreds of millions of dollars have been cut from public research, particularly on the breeding of seeds. I am truly alarmed by it.
The member for Saanich—Gulf Islands brought to our attention the fact that now we are moving public research away from the public and into private industry. It is clear that the intention of the government is the corporatization of this kind of research, which is enhanced by parts of this bill that basically restrict the right of farmers to keep and save their seeds.
I am wondering, notwithstanding the rhetoric of the government, if the member is as alarmed as I am by the tenor of this bill.
National Defence June 16th, 2014
Mr. Speaker, for Conservatives, $32 million to National Defence commemorating military history is a priority, while hiring additional mental health workers and acting on a backlog of investigations into suicides is not. For Conservatives, $50 million from Veterans Affairs on commemorations is a priority, but $5 million on regional offices and programs for veterans is not.
Has the minister not heard them? Veterans are pleading for more services, not more ceremonies. Why will the Conservative government not listen to them?
Citizenship and Immigration June 13th, 2014
Mr. Speaker, the Minister of Citizenship and Immigration continues to stand by his degrading comments about the loyalty of immigrants who arrived in Canada after 1977. By smearing generations of newcomers and talking about cheapened Canadian citizenship, he is creating different classes of Canadians. Many of the people that he is deliberately insulting are doctors, architects, shop owners, and legislators, among so many hard-working and contributing members of Canadian society.
Will he stand and apologize for his despicable comments, or do he and the Conservatives stand by his slur?
Ontario Election June 13th, 2014
Mr. Speaker, it turns out that reports of the death of liberalism in Canada have been greatly exaggerated. Yesterday, Ontarians went to the polls and voted for the Ontario Liberal Party's plan for investment in much-needed transportation infrastructure and more accessible education for Ontario's children, from full-day kindergarten to assistance for college and university students.
They voted for jobs, not cuts, a robust health care system, and filling the gap to ensure that Ontarians across the province are better prepared for retirement, something this federal government refuses to do. It is a win-win, and while some did not think Kathleen Wynne would be elected Ontario's first female premier, we never had a doubt.
Running for office is not an easy task, so I want to take a moment to not only congratulate those who won their races yesterday but to also congratulate every Ontarian who was courageous enough to put their name on the ballot for what they believe in.
I am sure this whole House will join me today in welcoming Ontario's strong, stable, majority Liberal government.