Frank Valeriote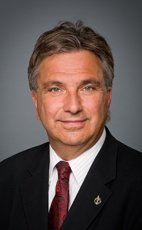 House of Commons photo
Track Frank
Your Say
Elsewhere
Crucial Fact
Liberal
MP for Guelph (Ontario)
Won his last election, in 2011, with 43.40% of the vote.
Statements in the House
Petitions April 29th, 2013
Mr. Speaker, I am honoured to rise and present a petition signed by dozens of Canadians who are calling on Parliament to act immediately and take leadership through the Department of Health and the Department of Agriculture and Agri-Food and develop a national child and youth nutrition strategy.
The petitioners, like many health experts, understand that access to healthy food is critically important to a child's development and that in the face of poverty and rising rates of obesity, we have to do something. A nutrition strategy is the right way forward.
Committees of the House April 29th, 2013
Mr. Speaker, my friend from the NDP talked about family reunification. It is quite remarkable, frankly, that she would talk about family reunification—which is something I agree with, incidentally—juxtaposed with the comments by the member for Willowdale, who said that the government would like to apply the just-in-time approach, turning immigrants into commodities, like parts that have to come from a parts manufacturer, and getting them to the car assembly line just in time to assemble the car. Commodifying immigrants is deadly wrong.
Going back to the point on family reunification, the member knows as well as I that parents and grandparents who come here are more than sentimental parts of a family, more than emotional parts. They are an economic part to a family unit as well, looking after grandchildren so their kids can go to work, or joining in the family business so the business can grow. That is what nation building is all about. I am sure the member's family were nation builders. My family were nation builders. Many immigrants in Guelph were.
Could she talk more about the value of family reunification and the need to take the freeze off family reunification?
Committees of the House April 29th, 2013
Mr. Speaker, the member for Vancouver Centre has an incredibly deep understanding of the issue and the ability to communicate it very effectively. Given her experience, we should be taking her advice.
I particularly agree with her notion that nation-building includes family reunification. Parents and grandparents are very much a part of the family unit. They are more than an emotional or sentimental part. They are an economic part of the family unit.
I wonder if the member could give the House her thoughts about the super visa. I get so many complaints about super visas, which is another bit of spin the government uses. They really are not available to many people because of the cost of the insurance that has to be purchased, thousands of dollars I understand, particularly with respect to older parents who want to visit for the two year super visa period. Could my friend from Vancouver Centre comment on that?
Committees of the House April 29th, 2013
Mr. Speaker, my grandparents came to Canada a little over 100 years ago. Had the current rules applied, my grandparents would not have been able to come to Canada. I would not be here speaking in the House today. I would be on the hills in a southern province of Italy, probably tending sheep as my grandfather did many years ago. That probably applies for many of us in the House whose grandparents came from other countries.
My friend from Willowdale in his earlier speech used the words "just in time". He used them as a wonderful cliché that is usually applied in the manufacturing industry. They get the part there just in time. By doing that we are making our immigrants a mere commodity and ignoring the value of family reunification, with parents and grandparents coming, not just for sentimental reasons, but as part of the economic family unit.
Could my friend talk about any concerns she might have about the commodification of immigrants, whether that should really apply and whether or not it aborts our whole idea of nation building, which includes parents and grandparents?
Committees of the House April 29th, 2013
Mr. Speaker, my friend talked about cutting the backlog by 40%, but one of the methods used was to simply go back to the federal skilled worker program, as the member for Winnipeg North spoke about earlier, and simply delete hundreds of thousands of applicants who applied before February 2008 and make it appear that the government had adequately and properly dealt with the issue when in fact it had not. The way to deal with backlogs is to apply the proper human resources that can process those applications.
My question is about family reunification and bringing parents and grandparents here. I do not want to commit sociology, as the Prime Minister would put it, something for which I am sure the Minister of Public Safety would love to introduce a minimum sentence, but family reunification is a lot more than just bringing parents and grandparents to Canada for sentimental or emotional reasons. Parents and grandparents form part of the economic unit of a family as well, either working at businesses or staying at home and taking care of children that parents might not otherwise have the resources to pay for such services.
Again, why the freeze? So many people on a daily basis come into my constituency office, and I am sure other constituency offices, saying that they want their parents and grandparents here. Why will the Conservatives not apply the proper human resources to process those applications instead of now starting to change the rules to make it convenience for the government?
Committees of the House April 29th, 2013
Mr. Speaker, the member for Winnipeg North and I had the opportunity yesterday to visit a gurdwara in Mississauga where concern, almost disgust, was expressed with the current minister's approach to immigration.
Part of that was related to his refusal to allow parents and grandparents into the country. We were told that parents and grandparents are more than a sentimental or emotional addition to their families; they are an economic part of their families as well.
Can my friend from Winnipeg North talk to us about the value of bringing parents and grandparents to this country if we are truly going to be using immigration for nation-building purposes?
Business of Supply April 25th, 2013
Mr. Speaker, this revisionist history by the NDP is as egregious today as it was in 2005. The Kyoto accord became effective in 2005 when 50% of emitters had signed that agreement, and Russia was the last to sign in 2005. Immediately, the Liberal Party implemented project green, $10 billion to fight climate change. What did they do? They voted with the Conservatives to take down the government in 2005.
Shame on you. If you could bring that moment back to revive that Kyoto accord, would you do it? Would you—
Petitions April 25th, 2013
Mr. Speaker, I rise today to present petitions from hundreds of residents in Guelph and surrounding areas in southwestern Ontario who are calling on Parliament to refrain from changing the Seeds Act or the Plant Breeders' Rights Act in any way that would further restrict farmers' rights or add to their costs. They ask as well that Parliament enshrine in legislation the important rights of farmers to save, reuse, select, exchange and sell their seeds.
Petitions April 24th, 2013
Mr. Speaker, I have a petition signed by hundreds of Canadians from Guelph, southwestern Ontario and the rest of Canada who wish to register their concerns regarding the impacts of genetically modified organisms on Canadian agriculture and on the health of all Canadians. They request evidence-based decision-making and a moratorium on the licensing and release of new GMOs and request an independent review of existing GMOs currently in the Canadian marketplace.
Agriculture April 24th, 2013
Mr. Speaker, Canadians have gathered across the country expressing their concerns about Roundup Ready alfalfa. A pervasive crop spread by pollination, GMO alfalfa rightly has organic and non-organic farmers alike concerned that cross-contamination will compromise organic integrity and affect international markets not open to GMOs.
Will the Minister of Agriculture and Agri-Food undertake a study on the impact of GM alfalfa, and will he place a moratorium on its release until its results are known publicly?