Frank Valeriote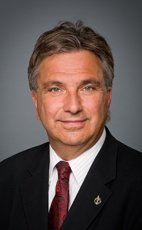 House of Commons photo
Track Frank
Your Say
Elsewhere
Crucial Fact
Liberal
MP for Guelph (Ontario)
Won his last election, in 2011, with 43.40% of the vote.
Statements in the House
Fair Elections Act February 7th, 2014
Mr. Speaker, I am thankful for the opportunity to rise to speak to this bill today. The cause of fair elections is one that is close to my heart, ever since Guelph became ground zero for a concerted and malicious campaign, in the last election, to wilfully mislead non-Conservative voters to the wrong polling locations on election day, May 2, 2011.
The subsequent investigation has demonstrated where we lack the ability to effectively pursue electoral fraudsters, yet it is as if the Conservative government and its minister have learned nothing from what happened in Guelph. Instead, it seems as if they are more interested in punishing Elections Canada and the Chief Electoral Officer for some imagined anti-Conservative transgression. How else could they explain that our top election official was left out in the cold and not consulted when it came to expansive legislation that would make significant changes to how we conduct our elections?
Frankly, over the past couple of days of debate and questions, the minister has seemed quite proud of the fact that he sat through a meeting with Mr. Mayrand, only to ignore his most pertinent recommendations and to go on to draft the same toothless bill they planned to draft before they met with him.
I know that the minister claims there was consultation. However, it is quite clear from the immediate comments from Elections Canada's spokesperson, John Enright, in the immediate wake of the minister's statement, that "the Chief Electoral Officer has not been consulted" and "there's been no consultation on the bill".
Had there been true consultation, the bill might have provided the resources and tools requested by Mr. Mayrand in October, when he said:
Without that power to compel it adds time and complexity to investigations and sometimes they get into a dead end for lack of co-operation from witnesses.
Similarly, this echoes the statement of the Commissioner of Canada Elections, Yves Côte, who asked for further investigative powers and the ability to compel the provision of information. He explained, in his first annual report:
It regularly happens, in the course of our investigations, that we approach individuals who we know will have information relevant to a file we are working on, only to be told that they do not wish to talk to us—they refuse to say anything.
We have all seen this to be the case in Guelph, where two and a half years later, we still do not have any more of an idea of who Pierre Poutine is and just how coordinated a plot it was to misdirect voters, forcing them to the wrong polling stations.
On election day 2011, a fraud was perpetrated across Canada, in over 200 ridings, and yet to this day, only one charge has been laid, in large part because Elections Canada lacks the teeth or the tools it needs to seize documents before they are destroyed or to compel testimony so as to advance the case and find the perpetrators.
The minister has stated that his reforms would enable the Commissioner of Canada Elections to seek stiffer penalties for a wider range of offences. However, what would that really accomplish, when there has been no augmentation to the commissioner's investigative powers? What good are stiffer penalties if one cannot find and convict the perpetrators?
Rhetorical flourishes such as "sharper teeth", "longer reach", and a "freer hand" may paint a delightful picture for government messaging, but they are hollow words in the face of an enforcement regime that has no ability to find those who perpetrate frauds or to effectively enforce the Canada Elections Act. It is like raising the fine for speeding but taking away the radar guns.
Equally concerning is the bizarre move of the Commissioner of Canada Elections from Elections Canada to the Office of the Director of Public Prosecutions. Not only does moving the commissioner's desk not increase his investigative powers, it effectively silos him off from Elections Canada and the data it possesses.
Mr. Speaker, I wish to advise you and ask your permission to split my time with the member for Winnipeg North.
Fair Elections Act February 5th, 2014
Mr. Speaker, on election day in 2011, a fraud was perpetrated in more than 200 ridings across Canada. The Supreme Court has dealt with some of those circumstances and found that fraud was perpetrated by someone who had access to the Conservative information management system, called CIMS.
One of the difficulties that has arisen in the prosecution of that fraud and the reason the only charge that has been laid has been laid against only one person is that the Elections Canada did not have the teeth or the tools it needed to do proper investigation, like seizing documents and compelling witnesses to give testimony, so that it could dig into the case.
I am hearing from a lot of people in Guelph who are concerned about this legislation because it would really give Elections Canada no teeth to investigate.
Would the hon. member speak to me about the need for teeth and the absence of teeth in the legislation?
James Schroder January 29th, 2014
Mr. Speaker, just before Christmas, Guelph and Canada lost a great man, one for whom humility, compassion and care for his community and his country were lifelong tenets. On December 13, former Guelph MP Jim Schroder passed away at the age of 95.
Jim preceded me in the House, serving his country and his community from 1980 to 1984, first as the parliamentary secretary to the minister of the environment and then as the parliamentary secretary to the minister of health where he worked diligently on the Canada Health Act. He was a giant in the community, a devoted husband to Elizabeth, who predeceased him, and father to Elizabeth, Anne, James and Don. He was a beloved veterinarian and professor at the Ontario Veterinary College and a dedicated volunteer, serving as the inaugural chair of the Guelph-Wellington District Health Council and working with organizations like 2nd Chance employment.
Jim was a model for so many in Guelph, and I valued his counsel dearly. We are better for his service and we will all miss him profoundly.
Situation in Ukraine January 27th, 2014
Mr. Speaker, tonight no one in the House is questioning the resolve of all Ukrainians who desire peace and democracy in the Ukraine and of those of the Ukrainian diaspora here in Canada who seek the same. There is one thing everyone is questioning, including the Ukrainian diaspora here in Canada, and that is the resolve of the Conservative government, which my colleague made reference to in her comments.
Today, and actually since last December, the member for Wascana has been calling for unilateral action to send official observers to scrutinize what is going on, for providing expedited visas to victims who need to leave that country for their safety, and for targeting Yanukovych and his crowd with personal sanctions, asset freezes, and travel bans, for example, to push them to stop their anti-democratic behaviour.
Does the member for Parkdale—High Park agree that Canada should take unilateral action in pursuing these three goals to bring some solution and to show the resolve that Canada should have?
Respect for Communities Act January 27th, 2014
Mr. Speaker, I do not know if you know this, but there is a Conservative website that has been fundraising on the issue of InSite. I cannot believe it, but it is alarming people into thinking that InSite is going to be like a spa where cocktails of drugs are available for people to take, and that these InSite locations are going to sprout up like fast food stores across Canada. That is clearly not the case, in either of those instances.
My question for the member is this. The member for Kootenay—Columbia indicated a few questions ago that it is a good thing that InSite locations exist because if people get too pure of a dose of heroin, or they overdose, then at least they are at a location to be taken care of instead of being left on the street to die. I am wondering if my friend agrees it is a good thing that InSite exists to help people who cannot be guaranteed of the quality of heroin they are getting on the street.
Respect for Communities Act January 27th, 2014
Mr. Speaker, it is interesting that the Conservative member for Kootenay—Columbia asks these questions, and in his questions, he gives the very reasons we need a safe injection site: public safety, making sure there are safe needles, and access to help. The fourth, which was couched in his question, was what happens if people take a drug that may kill them. He said that it is a good thing and that they had better have someone there to help them. That is exactly what the site is about. There will be someone there who will help them.
The Conservatives' answer is to just say no. One cannot just say no to alcohol addiction. One cannot just say no to cigarette addiction. People need help, and they need help here.
I wonder if the member could offer the House some insight as to the desperation of people who actually go to a safe injection site, which is, by the way, not a spa. It is a place that has a little cubicle where a person gets a safe needle and gets help.
Could the member answer that question?
Respect for Communities Act January 27th, 2014
Mr. Speaker, the Conservative Party of Canada is now fundraising on this issue. The Conservatives are out there telling everybody that these InSite sites are going to sprout up like fast-food restaurants across Canada, alarming people into believing something that simply is not true. There are others who are now convinced that this is like going to a spa, where people go in and are given a cocktail of drugs and a syringe and are made to feel comfortable.
I am just asking if the member would describe the very unusual circumstances in which a site like this would actually be created, and how desperate people must be to go in and ask for a needle so they are not subjecting themselves to the risk of disease, but are actually inviting the prospect of rehabilitation by those who are at the site to offer that kind of relief.
Respect for Communities Act January 27th, 2014
Mr. Speaker, I would like to thank my friend from Skeena—Bulkley Valley for his thoughtful and informed remarks about InSite.
During both the campaigns of 2008 and 2011, I had questions asked of me of InSite. People had this impression that it was like people walking into a Holiday Inn and walking up to a bar where they could order drugs and have a wonderful room in which to sit and relax and take their drugs. I had to inform these people that it is not at all what it is like.
I am taking my friend up on his last comments about visiting InSite and seeing what really goes on there. Perhaps he might tell Canadians the frame of mind that people are in when they go to InSite, what they meet, the welcoming that they have, the opportunities they have for rehabilitation, and all the other things that are afforded those who actually use InSite.
Veterans Affairs December 9th, 2013
Mr. Speaker, it was my privilege to attend a veterans round table in Guelph on Friday, but I was left heartbroken at their descriptions of how the government is treating them. Veterans young and old told me they feel abandoned. They told me that they go from hero to zero when they return home. Veterans find the government is dismissive, paying only lip service to their issues. The government's failure to deal with their abandonment is having severe consequences.
Could the minister explain why meaningful efforts are not being made to restore our veterans' dignity?
Guelph Lawn Bowling Club December 5th, 2013
Mr. Speaker, from its humble beginnings as the Victoria Bowling Club in 1838 at space on greens behind the Knox Church, to its current home at the Royal City Park on Gordon Street, the Guelph Lawn Bowling Club remains, now as ever, dedicated to sportsmanship and camaraderie that encourages physical activity and healthy competition among men and women of all ages and abilities.
The championship pennants lining the clubhouse walls tell the stories of great matches that built many a lifelong love of the sport. Just one look at the professionally maintained greens each summer makes it very clear that members have built a place for everyone to come and discover a new, exciting game. Year after year, they continue to create new lawn bowlers and memories.
I invite my colleagues in the House to join me in congratulating the Guelph Lawn Bowling Club on an astounding 175 years as a building block of our community and in wishing them 175 more years of fun, success, and healthy living.