Frank Valeriote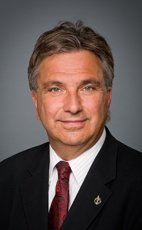 House of Commons photo
Track Frank
Your Say
Elsewhere
Crucial Fact
His

favourite word

is guelph.
Liberal
MP for Guelph (Ontario)
Won his last election, in 2011, with 43.40% of the vote.
Statements in the House
Veterans Affairs December 8th, 2014
Mr. Speaker, the Prime Minister misled the House when he said that the Veterans Affairs cuts were backroom cuts only. Disability and death compensation, lump sum payments, health care, rehabilitation, career transition, and the VIP program suffered the deepest cuts. These are front-line services that help veterans recover, find jobs, and assist them at home. The Conservatives can no longer deny the link between their cuts, mental health wait times, and billions in lapsed money.
Will the minister finally come clean and fix his mess at Veterans Affairs or find someone who can?
Veterans December 4th, 2014
Mr. Speaker, Conservatives claim all sorts of new funding for veterans, but it is a sham. Today, we learned that half of the so-called new programs the minister speaks of already exist, and experts say that it is a very meagre amount of money.
Conservatives claim in the House that they honour the sacred obligation, but that is a sham too, because in court they are still fighting Canadian veterans represented by the Equitas Society, claiming that no such obligation exists.
When will the Conservatives realize that "lest we forget" means both commemorating the dead and taking care of our living veterans, like Mark Campbell?
Veterans Affairs December 3rd, 2014
Mr. Speaker, it would be nice if he showed up to explain the main estimates.
Since 2008, the Conservatives have cut 949 positions or about 25% of the workforce. They let billions lapse and closed nine veterans centres, but they have still been able to increase Veterans Affairs advertising. It was $4 million in the spring and $5 million this fall. After chastising war service vets, running away from Jenny Migneault and failing to answer basic questions, is the real reason the minister has not yet been fired because he is really just doing the Prime Minister's bidding?
Veterans Affairs December 3rd, 2014
Mr. Speaker, that must explain the vote-anything-but-Conservative movement, because they are so happy. He cannot have it both ways.
He cannot explain away savage cuts to veterans' services—lapsed billions, nine closed veterans centres—by standing up as the minister of commemorations and then turn around and slash the program responsible for the preservation of the memorials to those who fought and died for Canada.
Why did the Conservatives cut $2.5 million last year and fire 33 people responsible for maintaining Canadian symbols of remembrance? Of course, it was for more advertising, right?
Veterans Affairs December 3rd, 2014
Mr. Speaker, the minister suggested that the reason he had been absent on his file is because he was in Italy commemorating those killed in the Second World War. He suggested "Lest We Forget" meant something different to him.
Last year, he cut $2.5 million from the very program responsible for preserving the memory of deceased Canadians who served us in war and peace. He fired 33 people who were responsible for maintaining these symbols of remembrance, including the memorial he visited in Italy.
Could he tell us why the hypocrisy, or has he already forgotten?
Main Point of Contact with the Government of Canada in case of Death Act December 1st, 2014
moved that the bill be read a third time and passed.
Mr. Speaker, I am pleased to rise and speak to my private member's bill, Bill C-247, An act to expand the mandate of Service Canada in respect of the death of a Canadian citizen or Canadian resident.
It has been an incredible and surreal experience to shepherd this bill through Parliament so far, and I am honoured by the support it has received on all sides of this House. Through this bill, we have demonstrated what parliamentarians can accomplish when working together with one another to provide for their constituents and all Canadians.
Few things are so daunting as the prospect of losing a loved one. Few things are so difficult as actually settling the affairs of someone after they have died. Over the course of my time as a lawyer and then as a member of Parliament, particularly while preparing and researching this bill, I have heard countless times of how unprepared people are for not only the grief of losing a friend or family member, but the administrative burden that goes along with the loss.
Marny Williams, vice-chair of Bereavement Ontario Network, put it especially eloquently in her testimony before the Standing Committee on Human Resources, Skills and Social Development and the Status of Persons with Disabilities. She said:
At the age of 30, I found myself a widow and solo parent to two children aged three years and three months old. My world had been completely turned upside down and inside out. I was so devastated by the death of my husband, Keith, and the reality of supporting my children through their grief, that I didn't have the time or knowledge or desire to struggle through the multitude of paperwork that was required.
As parliamentarians, opposition and government alike, it is among our foremost responsibilities to Canadians to find ways to ease these burdens when the solutions are available to us. We can do that here.
As it stands, there is no single window that one can approach to notify the necessary officials about the death of a loved one. In the absence of a simpler streamlined process, a bereaved Canadian, husband, wife, child, or other estate representative, may have to contact many separate federal government departments and send death notifications to each.
Unfortunately, successfully notifying every necessary department or official can involve the repetition of submitting the same information to different people and is often confusing and tedious, and just as often emotionally draining and painful. More worrying, it may involve such an overwhelming amount of information that someone notifying the government of a death can miss a department, sometimes with detrimental results.
Service Canada lists that it must be contacted with the notification of "date of death" when an old age security or Canada pension plan recipient passes away, and for the application of potential survivor benefits. Similarly, if someone received employment insurance benefits prior to his or her death, there is a separate application to cancel those benefits, or to apply for additional benefits to which he or she may have been entitled. Had the deceased lived in Canada and in another country, their survivor could be eligible to apply for pension and benefits because of a social security agreement.
An estate's legal representative also makes a separate effort to contact the Canada Revenue Agency to provide a deceased person's date of death, in addition to preparing final tax returns and stopping payments on any tax credits. If the deceased person were receiving the Canada child tax benefit, universal child care benefit, or the working income tax benefit, those benefits must be stopped, and, if applicable, survivor benefits can be applied for.
That list is in no way exhaustive, but it serves to paint a picture of the myriad approaches to government that one must make after a loved one has passed away.
Jim Bishop, chair of the Funeral Service Association of Canada's government relations committee, related a story of a man who was handling the estate of his deceased father-in-law. After the funeral, he notified all of the departments he thought were necessary, but noticed nearly a year later that money was still going into his deceased father-in-law's account. He had not realized that he had to let Canada pension plan know, and so it was still paying out a pension. When he and Mr. Bishop spoke to Service Canada, they were given the impression that this happens often enough.
That sort of angst is not necessary. We can change it, and this bill would do that.
The bill calls on the Minister of Employment and Social Development to implement all measures necessary to make Employment and Social Development Canada, and more specifically Service Canada, the single point of contact for the Government of Canada programs, for all matters relating to the death of a Canadian citizen or resident.
While consulting with the minister and departmental officials after second reading, I learned that there would need to be some modifications to provide that this is for government programs that are authorized to use the social insurance number of the deceased. This was not provided for in the initial drafting of the bill. However, it became clear that it was essential in order to accurately match data, or, more plainly, to ensure that the person who died is the person receiving x benefit or y benefit.
A single window for death notification is not a new idea. In the United Kingdom, its government has already instituted the Tell Us Once registration process, and, in France, the online service portal "Mon Service Public" has been instituted for death notifications. It is estimated that beyond the more personal costs of eliminating considerable hardship and grief, the Tell Us Once process will save the government over $300 million over the decade.
Service Canada is ideally situated to perform this function for Canadians. Located within Employment and Social Development Canada, Service Canada already gives Canadians access to a range of federal government services and benefits. It was intended to streamline access to and provision of government programs and services for Canadians.
Bill C-247 is a practical expansion of Service Canada's mandate, and the logical choice for bereavement reporting. It is the first step in a wider strategy towards cost savings and reduction of red tape while improving client services.
The Auditor General found in chapter 2 of his fall 2013 report, "Access to Online Services", that the integration of service delivery and the sharing of information among departments is "limited". As we have seen through the various departments that require notification on the death of a Canadian, their family, friends, or agents often have to work with multiple departments separately, frequently requiring them to provide the same information multiple times to various sources.
The Auditor General also found at that time that instructions provided online by Service Canada about the process for certain life events were incomplete. Additionally, he noted:
[...] departments are focused on delivering the statutory programs and mandates for which they are accountable. There is no incentive for departments to share information.
When it comes to the death of the loved one, the AG similarly found that:
[...] someone must contact each department separately and follow different processes, as this information is not generally shared and departments do not offer the ability to do this online. This makes it difficult for users who may be trying to stop the payment of certain benefits to prevent overpayments [...] while trying to apply for others....
The hon. member for Kamloops—Thompson—Cariboo said it very well at committee. She said:
[The Red Tape Commission] certainly heard consistently that Tell Us Once wants interaction and how difficult and time-consuming it is for businesses to deal with government. I think we can all imagine what happens when someone who's grieving and the difficulty of finding out many months down the road that they have to pay the government back. That's extremely challenging. It's better to get that stopped in the first place.
The government, for its part, has identified this type of modernization as a priority as well. In this year's report on plans and priorities, the minister's message states:
ESDC will focus on achieving service excellence for Canadians by further modernizing service delivery, focusing on its core business priorities and increasing the use of technology. Through Service Canada, the government will ensure that Canadians quickly receive the benefits to which they are entitled and access to a wide range of programs and services.
It continues later, stating:
Service Canada will continue to work with other departments so that Canadians can better access more Government of Canada services through Service Canada.
What better way to start that process than by facilitating the client experience of Canadians at an incredibly difficult time in their lives?
When I look back on my time in Parliament, one day this bill and the collaboration and good will demonstrated by members from each party will stand out. It is an incredible feeling to know that my private member's bill might pass in the House of Commons.
At second reading, I remarked that members could sit in the House for quite some time without the opportunity to introduce a private member's bill, let alone see it debated, finessed and passed. It is all the more meaningful to me as I will not seek re-election when this Parliament comes to an end. This experience will stand out for me, and I am so very proud of what we have all accomplished with the passage of this bill.
A number of people were essential to the progress of the bill behind the scenes. I wish to thank the Funeral Service Association of Canada, the Bereavement Ontario Network and Hospice Palliative Care Ontario, for their early support, as well as for their testimony on behalf of the bill before the committee.
I wish to thank the Minister of State for Social Development, her staff and the departmental staff that provided invaluable advice and worked diligently to provide the amendments necessary to the bill's success.
I wish to thank Bryon Wilfert for initially proposing this measure, Wendy Leask for her advice on the subject matter, and Elizabeth Cheesbrough for her invaluable assistance.
Finally, I am sincerely thankful for every member from every party who spoke in support of the bill. They have demonstrated to Canadians what a Parliament working in their best interests looks like.
Veterans November 27th, 2014
Mr. Speaker, when the Auditor General reported the government's failure to provide the mental health services that our veterans needed, the minister was out of the country. We hoped to get answers from the department. The veterans affairs committee has cancelled its meeting on the estimates.
We all remember the minister running away from Jenny Migneault, the wife of a veteran with PTSD. Now when veterans have questions about access to mental health services, meetings are put off and cancelled. Why, instead of answering questions and being accountable to veterans, do the Conservatives always cut and run?
Veterans Hiring Act November 25th, 2014
Mr. Speaker, I thank the member from the official opposition for that question. That is exactly the point that was raised by the NDP and the Liberals at committee: the window is not broad enough to capture those people who may wish to retrain. Interestingly, no part of the bill actually provides for the retraining to qualify for a job that may be available. The question was asked and debated, but it was refused by the government.
As well, that is not to mention those people whose service injuries may manifest themselves at a time after one might otherwise qualify to find a job within the scope of this legislation. We asked for an amendment to remove the restriction of five years, but because the current government is all hat and no cattle, it was "No, sorry."
Not one amendment was accepted. It happens all the time, and time after time. Every single time a good idea is presented, even when we are supporting the bill, it is rejected by the Conservative government.
Veterans Hiring Act November 25th, 2014
Mr. Speaker, I have to speak on behalf of all Canadians and not just those who are in Guelph.
Yes, the member is quite right that veterans have used the services of Legion members in Guelph, but I have also been to Brandon and talked to veterans there who are completely discouraged by the closure of the veterans office in Brandon. They now have to drive for hours to Winnipeg. We are talking about older veterans. We are talking about veterans who need immediate access to the workers who had expert knowledge of what services were available when they were with Veterans Affairs Canada in those veterans offices.
Now a lot of them have to go to Service Canada and see people who are, frankly, not qualified to answer the questions that veterans ask. This is the experience not just of people in Brandon, but of people on Cape Breton Island and around seven other veterans offices across this country that have been closed.
Veterans Hiring Act November 25th, 2014
Mr. Speaker, one of the most substantial efforts we can make on behalf of our veterans is to help them find a career when they are released, medically or voluntarily, from the Canadian Forces. This bill might do this, though even if it does, I am afraid it likely will not be enough.
This bill amends the Public Service Employment Act to increase access to hiring opportunities in the public service for certain serving and former members of the Canadian Armed Forces. Furthermore, and perhaps more notably, this legislation would establish a right of appointment and priority over all other persons for certain members of the Canadian Forces who were released for medical reasons that were attributable to service. If members of the Canadian Armed Forces were released due to service-related injuries or illness, their priority in the public service hiring would move from fourth to first. Access to internal postings of the public service and priority over all others for external postings would be extended to Canadian Armed Forces members and veterans who had served at least three years and were honourably released.
It is one thing to have priority for jobs in the public service, but it would remain contingent on possessing the skills that match any number of the public service jobs that exist. It would rely on there being positions available in the first place.
There is nothing in this bill that offers any form of skills translation or upgrading. Also, with the freeze on hiring, what jobs are Conservatives proposing these veterans fill? With 50,000 fewer jobs and a freeze on new hiring not many jobs are really available to recently or medically released veterans.
Officials from Veterans Affairs Canada noted that where issues arise, they involve certain groups of veterans: younger veterans, those with fewer years of service, those in the lower ranks, and those medically or involuntarily released.
The unemployment rate for veterans is more or less the same as the general Canadian unemployment rate, about 8%. That said, the unemployment rate for medically released veterans is much higher, at approximately 15%.
Beyond potential incapacity, there is the additional hurdle of seriously injured veterans who may be unlikely to find employment in line with their initial goals. Injury dashes a lot of those dreams. It is a long and often endless road from recovery to rehabilitation, and finally, to employment. This bill neither shortens this road nor hastens the completion of their efforts.
The government cannot look a wounded soldier in the eye and point to this bill as an example of what a good job they are doing if, when that man or woman is ready to re-enter the workplace, that person is then told that there is no vacancy, that a hiring freeze is in place, and that the time in the Canadian Armed Forces really did not prepare him or her for a career in the public service.
Realistically, this bill is anathema to Conservatives. They do not believe that the government has any role in veterans' affairs, career transition, or rehabilitation. First and foremost, Conservatives have cut hundreds of millions of dollars from Veterans Affairs Canada, $1 billion really, tying the hands of the department when it comes to delivering the benefits and supports veterans rely on.
Now add the egregious closure of nine regional Veterans Affairs offices, often in more remote places, like Brandon, Manitoba, and Sydney, Nova Scotia, and Cape Breton, making it more difficult for veterans to access these benefits and services in their communities. It is unconscionable that veterans, some of them seniors, might have to drive hours outside of their communities to receive face-to-face help.
Conservatives have claimed that veterans can still attend nearby Service Canada centres for services, but front-line staff at Service Canada are not trained to specifically help veterans, and caseworkers are currently burdened with a 40-to-1 caseload ratio.
The government would like Canadians to think they are doing a great job with veterans hiring. They spent millions of dollars advertising the career transition services in prime time playoff slots. I say millions, because among the only new spending in this year's Veterans Affairs estimates is $4 million for advertising, a new and exclusive line item. I say millions, because despite my requests to the minister, his political staff, and his departmental officials, I cannot get an answer as to how much money they are spending on their advertising, precisely.
Had the minister accepted the committee's invitation to testify on this bill, I might have asked him how many veterans currently have access to priority hiring, how many more will have access with the changes made, and how many positions are in fact available to these veterans.
I might also have asked him about concerns expressed by the Veterans Ombudsman, Guy Parent, who, early on, questioned the adjudication of a releasing Canadian Armed Forces member's file to determine if the medical release was service-related.
This will be important in determining whether the member has a statutory or a regulatory priority, or, in effect, whether the priority will be for internal or external postings. This is unclear in the legislation, and I fear it has become a little more complicated since the amendments proposed by the government at committee. Initially the legislation held that the priority for appointment over all others was given to:
... a person who was released from the Canadian Forces for medical reasons that are attributable to service, who belongs to a class determined by the Commission and who meets the requirements established by the Commission.
Upon amendment, the section I quoted changes the priority to be given to:
a person who was released from the Canadian Forces for medical reasons that the Minister of Veterans Affairs determines are attributable to service
We know who adjudicates the files now, but I cannot believe that leaving it to the discretion to the minister was the sort of clarity the ombudsman was looking for. We must remember that this is a government that continually insists that it will not release soldiers before they are ready, but has repeatedly and abruptly ended the careers of injured soldiers who have asked to be kept on.
Finally, I would have asked the minister why his legislation would impose a five-year limit for priority hiring. For starters, the government is not hiring right now. Anyone who applies once this legislation goes into effect is racing against the clock for the government to lift its hiring freeze.
More importantly, the government is putting a five-year time limit on rehabilitation and then on finding a job, which does not take into account potential relapses of injuries at a later date or a later manifestation of an injury that may not be present immediately upon release. I am reliably informed that many still have an avenue to benefits, but no opportunity for employment. It is important that they be eligible to be employed, notwithstanding that they have access to the other regulatory benefits and at a time surpassing the five-year limit.
We are always responsible for those who were so willing to make sacrifices on our behalf, yet somehow the government feels that it has a limited responsibility for these brave men and women's unlimited liability.
The minister would have us believe that veterans, if healthy, will just move on to a career in security or policing, but that is not true. There are veterans like Sergeant Bjarne Nielsen, who wants to be a financial planner, or Corporal Mark Fuchko, who wants to be a lawyer. They do not need a government that dangles weak and ineffective legislation before them in place of real, effective action.
We all just returned from Remembrance Day ceremonies in our ridings a few weeks back. Thousands of celebrations were held across the country, celebrations made perhaps more meaningful by the sacrifice of two brave members of the Canadian Armed Forces here in Canada at a time when they never would have expected to face threats or danger. We have all just returned from looking into the faces of generations of Canadians who served this country with honour, dignity, and professionalism.
To our veterans we owe a sacred obligation. When they and their families agreed to make sacrifices for the well-being of Canada and Canadians, we committed to their well-being and the well-being of their families, and in that commitment lies the necessity to take care of them no matter what.
I truly hope that this legislation will create positions for veterans. Even if it helps one veteran, we should and must support it. The Liberal Party will support it. However, members should not be mistaken: this is a weak, inefficient, and disappointing bill put forward by a minister and a government that have confirmed time after time that they would rather look good than do anything meaningful to help our servicemen and women and their families.