Frank Valeriote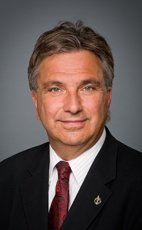 House of Commons photo
Track Frank
Your Say
Elsewhere
Crucial Fact
His

favourite word

is forces.
Liberal
MP for Guelph (Ontario)
Won his last election, in 2011, with 43.40% of the vote.
Statements in the House
Questions Passed as Orders for Returns October 29th, 2014
With regard to internal trade barriers within Canada: (a) what does each department of the public service list as an internal trade barrier; (b) for how long has each department maintained a list of all existing internal trade barriers; (c) what are details on how this list is maintained and updated; (d) what are the materials prepared for the Minister, the Minister's staff, or departmental bureaucrats on any and all of these meetings with provinces and territories advising on additions to the list of internal trade barriers; and (e) what are the materials prepared for the Minister, the Minister's staff, or departmental bureaucrats advising on additions to the list of internal trade barriers?
Veterans Affairs October 29th, 2014
Mr. Speaker, the veterans affairs committee was unanimous in its recommendations to improve the new veterans charter because eight more years of inaction for our veterans is unacceptable. The minister said he agreed with all the recommendations, yet in the nearly 500 pages of the government's recent omnibus budget bill, there is nothing in there for veterans—nothing at all.
Why, when these men and women were willing to sacrifice everything for us, will the minister not act on the things veterans actually need?
Motor Vehicle Safety Act October 28th, 2014
Mr. Speaker, the member for Brossard—La Prairie spoke of circumstances that frankly were repeated in Guelph. I have childhood friends in Guelph who lost a young daughter under the very same circumstances. The grief upon that family and the entire community was immeasurable. I thought about the same thing: side guards.
Most of us in the House are people who really believe that we come to conclusions after all the evidence is presented, not before. My experience in the House is that committee is really the proper venue for evidence to be put before many members, not just one member or the other but many members from all parties.
I am wondering if the member for Brossard—La Prairie would agree with me that to do justice for those who have lost their lives, for their families and frankly for people who may lose their lives under similar circumstances in the future, the bill at least requires a fair hearing with all the evidence of which the member speaks being brought before the committee so that we can have a better view of that evidence, ask probative questions and be better informed.
Health October 24th, 2014
Mr. Speaker, could the minister give us any additional information on the steps the government is taking to work with provinces and territories to ensure they are prepared to deal with a potential case of Ebola?
Could the minister also update the House on the most recent actions the government has taken to ensure that front-line health care providers are prepared to deal with a potential case of Ebola?
Diwali October 24th, 2014
Mr. Speaker, over the next few days, families and friends will gather across the country to decorate their homes, light diyas, share meals, exchange gifts, and revel in all that Diwali, the festival of lights, has to offer.
They meet in one another's homes to mark a great occasion of kindness and peace, and come together to celebrate something so fundamental, the triumph of good over evil.
In times like these, when there are those who would threaten our freedom and security, never has it been so important to remember that light will prevail over darkness, good over evil, and intelligence over ignorance.
Canada stands squarely on the shoulders of our myriad cultures and heritages, festivals and traditions, and we are so much the richer for the joy of each celebration and its celebrants. Together, as more and more Canadians celebrate Diwali, we affirm our mutual values and celebrate the light.
On behalf of my liberal colleagues and all members in the House, I wish a very happy and joyous Diwali to all Canadians who are celebrating.
Care for Veterans October 20th, 2014
Mr. Speaker, I am pleased to rise to speak to Motion No. 532 put forward by the hon. member for Edmonton Centre. When it comes to this subject matter, the credentials of the sponsor of this motion are impeccable. It is truly an honour to serve with him on the Standing Committee on Veterans Affairs, and I genuinely mean that.
The motion, which calls on the government to examine all possible options to ensure that a fully unified continuum of care is available to our women and men in the Canadian Armed Forces and our veterans, is good. It is self-evident to me and to many other members of this House that the elimination of unnecessary or redundant inter-departmental and intra-departmental practices surrounding the delivery of services, assistance to families, and other programming, is necessary for us to deal fairly with the men and women who have sacrificed so much. In fact, I would go even further than it being necessary; I would say it is fundamental to fulfilling our sacred obligation.
It was another Conservative, our then prime minister Sir Robert Borden, who promised Canadians returning from the battlefields of the First World War that there existed a social covenant between the government and veterans. What former prime minister Borden understood, and what this motion underscores, is that the women and men serving in the Canadian Armed Forces serve with the knowledge that they are called upon to accept unlimited liability. There were hundreds of thousands who paid the full limit of that liability with their lives.
When they return from theatre, if they return, these men and women should expect their government to honour their side of the bargain and provide the necessary resources for physical or emotional rehabilitation, further education and skills translation, or adequate, sufficient, and accessible compensation for their disabilities.
While the current government has instructed its lawyers in British Columbia to argue that this covenant is merely a political promise to get votes rather than it being an inalienable right, Liberals believe not only that our sacred obligation is real, but that we must abide by it. In fact, Liberals from across the country gathered in February to pass a resolution to that effect.
We believe that where Canadians have served their country honourably as members of the Canadian Armed Forces, their service requires a personal commitment to put one's life on the line on behalf of their fellow Canadians. Moreover, this service is not only borne by members of the Canadian Armed Forces but also their families. We will live up to Canada's sacred obligation to our Armed Forces and veterans by allowing them and their loved ones to maintain a quality of life worthy of their sacrifice.
Unfortunately, the current Conservative government has wandered away from similar commitments.
To start, the Conservatives have cut hundreds of millions of dollars from Veterans Affairs Canada, tying the hands of the department when it comes to delivering the benefits and supports that veterans rely on. Even more egregiously, the current government has closed nine regional Veterans Affairs offices, making it more difficult for veterans to access these benefits and services in their communities. It is unconscionable that veterans, some of them seniors, might have to drive hours outside of their communities to receive face-to-face help. Conservatives have claimed that veterans can still attend nearby Service Canada centres for services, but front-line staff at Service Canada are not trained to specifically help veterans, and case workers are currently burdened with a four-to-one caseload ratio.
Take for instance the case of veterans in Glace Bay, in the riding of my colleague the honourable member for Cape Breton—Canso. Since the government shut down the Veterans Affairs Canada office in Sydney, volunteer service officers at the Royal Canadian Legion have been working tirelessly in an effort to fill the void created for veterans in the region. Whereas the VAC staff, formerly located in the Sydney office, knew the forms, the veterans, and the benefits to which these veterans might be entitled, the volunteers at the Legion, well intentioned though they are, simply do not have the expertise or training or resources to cope with the workload that the government should be doing.
None of this should take away from the motion before us. I believe that the honourable member, like so many Canadians, also sees gaps in the treatment and availability of resources, which is why he presented this inspired motion.
The motion calls specifically for five things to occur to ensure a fully unified continuum of care: (a) that all unnecessary bureaucratic practices, both within and between departments related to service delivery are eliminated; (b) that all duplication and overlap in the delivery of available services and supports are eliminated; (c) that care and support, in particular for seriously injured veterans be improved; (d) that continuous support is provided to veterans' families during and after their service; and, (e) that connections between the Canadian Armed Forces, the Department of National Defence, and Veterans Affairs Canada get stronger.
However, the fact this motion has been brought at all proves that the Conservative government is failing many of our veterans.
Many of these obstacles were highlighted clearly in the testimony before the Standing Committee on Veterans Affairs by Corporal Mark Fuchko, who when asked upon his return by the parliamentary secretary for Veterans Affairs to elaborate about his experience dealing with the Department of National Defence and Veterans Affairs Canada, answered the following:
When I first came home, I was not the first amputee from the war in Afghanistan and I constantly ran into hurdles that really affected my quality of life and my family's as well. Things like aids to daily living were almost impossible to obtain. Just to get my house accessible took over a year. That was a really long drawn-out nightmare. I'm not the only one who actually experienced that. There seemed to be kind of a battle with what was covered and what was not and who would cover what. That was quite a challenge, and it seems to me that there was a lot of overlap, but people weren't necessarily sure if Veterans Affairs or the military was going to cover it, and things like lead time, house modifications, and stuff like that were a real challenge for sure. I would say that probably the one common thing is housing, especially for the severely disabled.

The military originally took this on but there is a whole group of caveats that make it difficult for the delivery of this in a timely fashion. For example, some people find themselves severely disabled coming back to houses that they can't physically occupy just because their houses are not wheelchair friendly, wheelchair safe. They essentially require a whole new house to live in.
I ask the House for its indulgence for that lengthy quote because I believe it demonstrates the current experience of Canadian Armed Forces members and veterans so clearly.
Corporal Fuchko lost both legs in Afghanistan. He should not have to fight with individual departments so he can get the bare minimum of living accommodations suitable to his new reality. It is unconscionable, and from the testimony we heard at committee, not an experience that is exclusive to him.
We would support any measure to facilitate this system, instead of presenting veterans and Canadian Armed Forces members with a maze upon their return.
The family is another vital element, if not the cornerstone upon which many of these benefits should be built. In his testimony before committee, former senator, retired Lieutenant-General Roméo Dallaire, highlighted the enhanced roles that families play in deployments and rehabilitation. He said:
...by the time we come back from those missions, we see a family who has also lived the missions. The families are now living the missions with the members. It is not a separated exercise. It is a marriage.
As with Jenny Migneault, the wife of a veteran who suffers from post-traumatic stress disorder, her advocacy highlights that beyond the medical professionals and past the bureaucrats, there are wives, husbands, and children, among other loved ones, who are shouldering the burden of service in the Canadian Armed Forces but without any of the resources or support.
It is each of these people, and hundreds of thousands more, to whom we owe the obligation to break down the obstacles that currently exist. To them, we owe the passage of this motion. However, more than that, they deserve that this motion receives real and concerted consideration by the Conservative government. They do not deserve the same consideration that saw the Minister of Veterans Affairs respond to 14 unanimous recommendations from the Standing Committee on Veterans Affairs that examined the new veterans charter by kicking them down the road to a yet to be determined date, with no concrete action. They deserve the consideration requisite to the severity and significance of the sacrifice made by our men and women of the Canadian Armed Forces, yesterday, today, and tomorrow.
I thank the hon. member for Edmonton Centre for raising this important motion and for his advocacy on behalf of the Canadian Armed Forces and veterans. I hope we can all do the right thing by not only passing this motion but by acting on it now.
Care for Veterans October 20th, 2014
Mr. Speaker, I, too, want to acknowledge the efforts of the member for Edmonton Centre on the Standing Committee on Veterans Affairs. We have worked collaboratively and effectively. We do not play politics with issues like this. We do try to get beyond politics and while I have no particular axe to grind, it is not enough to say that we all love our veterans. We have to show them. We have to show a commitment to our sacred covenant.
Yes, the gears of government turn slowly, but the government has known for years the problems our veterans are facing right now. It is not a recent phenomenon or recent awareness. The Conservatives closed nine veterans offices across the country at a cost of $5 million. They spent $4 million on self-promoting advertising on a program that only costs about $200,000 for transitional services. That is $4 million on advertising versus $5 million to keep a veterans office open.
I want to know from the member why the minister has kicked the can down the road yet again. There were unanimous proposals and recommendations that we thought would tie him in because of the unanimity, but he has kicked the can down the road again. Please do not give me that it takes time for government to transition.
Veterans Affairs October 7th, 2014
Mr. Speaker, the government's response to the veterans affairs committee report on the new veterans charter should have been a strong signal to veterans, but instead the minister merely kicked the can further down the road.
After tonight's vote, we shall be engaged in a war in Iraq. That means more members of our forces will someday be veterans without the resources they need and deserve.
Canadian Forces members are willing to put their lives on the line. Why must they return with doubt that they will be cared for by a government more willing to invest in self-promoting advertising than in the well-being of our veterans?
Mental Illness Awareness Week October 7th, 2014
Mr. Speaker, over the course of their lifetimes, one in five Canadians will experience mental illness. Millions of Canadians, our friends, family and loved ones will suffer a painful, though often invisible and isolating injury.
There is no better opportunity than this Mental Illness Awareness Week to ensure that those among us suffering from mental illness are not alone. Prejudices and misconceptions, which surround mental health issues, still exist and stigmatize sufferers. It is incumbent upon us to break through and fight stigma. It is our duty as parliamentarians to ensure that access to professional care is available to whoever is in need.
We cannot lose another soldier, or veteran, or police officer, or firefighter, or paramedic. We cannot lose another mother, father, brother or sister. We have to let them know that they are not alone.
We must ensure that awareness of mental illness extends beyond a week, or even beyond a year. Let us always keep in mind those among us who are suffering and resolve every day to do better with mental health treatment.
Service Canada Mandate Expansion Act October 2nd, 2014
Mr. Speaker, I did give it a great deal of thought before I put forward this bill. Members can sit in this house for quite some time and never have an opportunity to introduce a private member's bill, debate it, and hopefully see it pass. I wanted to ensure that the bill I put forward would have an impact on the lives of Canadians and also would be something members from all parties could indeed come together on and support. For those reasons, it was my great pleasure to introduce a bill that would establish Service Canada as the single point of contact relating to the death of a Canadian citizen or resident.
The death of a loved one is not an easy time for any of us, so I am certainly glad to put forward a non-partisan bill that would create a practical, compassionate approach to helping Canadians through a very difficult time.
I am grateful to all MPs who contributed so constructively to this debate, especially the Minister of State for Social Development, whose genuine interest and collaboration were essential. Also, I thank the members for Kamloops—Thompson—Cariboo, Saint-Lambert, Cape Breton—Canso, Brant, Dartmouth—Cole Harbour, Don Valley East, Sherbrooke, Charlottetown, Markham—Unionville, the Parliamentary Secretary to the Minister of Employment and Social Development, and the member for Okanagan—Shuswap.
With reference to the remarks made by the member for Markham—Unionville, indeed, this idea, with all humility, was not my own. It was in fact the idea of Bryon Wilfert, who first brought the idea before Parliament but did not have the opportunity to navigate it through the House.
What I have heard from Canadians, industry stakeholders, and members alike is clear: the existing system for notifying the federal government of the death of a Canadian citizen or permanent resident can and must be improved. The program must be made more efficient for the grieving family on the one end, who should only have to tell government once of a death, and in the interests of the government on the other.
The process of notifying all the necessary government authorities when a loved one passes away can be tedious, confusing, and sometimes overwhelming, but it is also an often painful process at a very sensitive time. It is a disservice to everyone when Canadians are unaware of what processes currently exist, preventing them from receiving adequate services and assistance while bereaved.
What the bill would accomplish by establishing a single point of contact at Service Canada would be the removal of uncertainty and confusion for family members and estate administrators. Similarly, as a public policy gain, I believe that it would modernize service delivery and reduce duplication and thereby reduce costs. As was said by the member for Charlottetown, a similar system in the United Kingdom, Tell Us Once, has saved $300 million over 10 years.
What I have heard from my colleagues in their comments here in the House and elsewhere is that these are common sense changes, and this is a common sense piece of legislation that they would like to see succeed, regardless of political stripe. That does not mean there cannot be changes made. Some speakers highlighted areas of the bill that could use some modification, and I am pleased to say that I have begun work with the government on ways we can strengthen the bill to ensure that all parties can support it.
If passed at second reading, I look forward to a full discussion of the bill at committee. I remain open to amendments to ensure that the bill remains consistent with existing legislation while ensuring that the government continues to move forward in implementing a secure process by which government departments are promptly informed and that these departments promptly respond when a Canadian passes away. I have said before that I would like MPs to hear public servants on how they would implement the bill and whether they feel that one year, as stipulated in the legislation, is a reasonable amount of time to implement the required changes or if more time is needed.
In closing, we have before us an opportunity to make a real difference for Canadians. It may not be glamorous, but it is truly important and practical. It is my sincere hope that all members of Parliament will support sending the bill to committee for further review and discussion of any necessary changes. I thank everyone for their participation in the debate of this issue; stakeholders, like the Funeral Service Association of Canada, for its information and intervention; and each of my constituents and Canadians across the country who contacted me with their questions and support of the bill.