Joyce Murray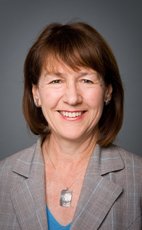 House of Commons photo
Track Joyce
Your Say
Elsewhere
Crucial Fact
Liberal
MP for Vancouver Quadra (B.C.)
Won her last election, in 2011, with 42.20% of the vote.
Statements in the House
Business of Supply June 22nd, 2011
Madam Speaker, I have to wonder whether the member was at the NDP convention last weekend, where the preamble about socialist principles and the aversion to profit was kept in its constitution. Perhaps the member missed that.
I want to celebrate the accomplishments of that member's provincial government. However, I would point out that in my province of British Columbia, British Columbia went from the strongest growing economy in Canada to the worst growing economy in Canada in the decade of the 1990s under the stewardship of a high tax NDP government.
Business of Supply June 22nd, 2011
Madam Speaker, I am pleased to join the debate on the motion put forward by the member for Thunder Bay—Superior North.
Small businesses are the bedrock of the Canadian economy. The people who lead them and work in them are the lifeblood of Canadian society. That is why the Liberal Party has traditionally supported any efforts to help small businesses grow stronger.
One part of that mix is lower taxes. Lowering the burden for small business should always be a goal whenever it is affordable. It was under the Liberal government of Paul Martin, when the government was running record surpluses, that the government passed some of the biggest corporate and personal tax reductions in Canadian history. The Liberals believe in keeping taxes as low as is practical while providing high-quality public services and ensuring the sustainability of our society.
Before I give further thoughts on this particular motion, I want to highlight what small business means to Canada.
There are over one million small businesses in Canada. As defined by Industry Canada, those are businesses having fewer than 100 employees. In fact, 98% of all businesses are small businesses and they employ nearly half of the people in the country's private sector. Canada is a trading nation and 87% of our exporters are small businesses responsible for $84 billion in exports.
Small business is a hugely important source of employment. Many women who wish to have the flexibility to parent and work at the same time choose entrepreneurship to support that objective. In fact, 46% of small businesses have some degree of female ownership.
Small business is a major creator of wealth and a source of employment for new Canadians. It offers new arrivals to the country an avenue to contribute to the growth of their community and the well-being of their own families.
The driver of our economy is small business. Over a 10 year period, nearly 80% of our net job growth came from small business, with large firms shrinking the net number of jobs over that period. That is one of the reasons these tax cuts to large corporations are so egregious. Those funds are being directed at the very organizations that are net job losers at the expense of providing tax cuts to small companies that are the job creators.
Small businesses are flexible and nimble and they can recover more quickly from a difficult period, like the recession that we have just experienced. They hold on to their employees longer and they pick them up more quickly afterward. They can innovate more easily and, when given the right support, they can grow by leaps and bounds.
There are a number of things that small businesses need, not just a lower tax rate. They also need a government that makes it easier for them to do business, one that invests in research and development and makes it easier for innovative firms to commercialize their products. The Conservative government has fallen flat in all of these areas.
The government fell flat when it comes to taxes, something it really likes to thump their chests about, but it turns out that it really did not help small business at all.
One of the first things the Conservative government did when it came into office was to raise personal income taxes. Given that many small businesses are run either as sole proprietorships or partnerships where business income is taxed at the personal rate, the government actually raised taxes on small business owners.
Although much has been made of the corporate tax cuts included in the previous and current budget, these cuts only help the largest and most profitable corporations. As I said, these are the ones that are seeing net job losses.
The government has chosen big business over small business during a time of record deficits and when it was already slashing programs and eliminating thousands of public service jobs from people who spend money in the small business sector.
On the issue of affordability, the government thinks that money grows on trees, not produced by hard-working Canadians and small businesses. A government can only deliver low taxes if it spends wisely. Unfortunately, the Conservative government has proven to do just the opposite.
The Auditor General and now the RCMP have called into question $50 million in misappropriated border infrastructure funds that the member for Parry Sound—Muskoka used in his own riding.
We have seen a government pleading with the public service to find efficiencies, while simultaneously increasing spending of ministers and perks in their own ministerial offices and increasing government advertising by 215%.
All told, government spending rose by 40% during the Prime Minister's first four years. These decisions have meant that small businesses are left without real support and taxes have been kept high.
An area where the government could have helped small business was by supporting research and development, but it cut research budgets for the granting councils. The National Research Council, which supports small business in its R and D efforts through the industrial research assistance program, is being cut a huge 20%. Therefore, where is the vision? Where is the plan that fosters equal opportunity and prosperity for all Canadians? Where is the vision for green technology, innovation, sustainability leadership and the green jobs on which we know the future will be built.
The Conservative government appears to be only governing for the short term and is ignoring the kinds of strategies and investment in innovation that are needed for Canadians to maintain their standard of living.
I do not want to ignore the NDP record with regard to business, because that also has been a reason that there has been lack of support for small business. The government fails to understand the needs of modern business. I am sure the NDP and my hon. colleague from Thunder Bay—Superior North have the best of intentions in bringing this motion forward, but they represent a party that is fundamentally anti-business.
It is important for members of the House to understand that the NDP has, at its core and is guided by, an ethos that stands opposed to the very nature of the marketplace. I will read from the NDP constitutional preamble, the very principles the party maintained at its recent convention. It states, "the production of goods and services shall be directed to meeting the social and individual needs of people within a sustainable environment and economy". That is good as far as it goes. It continues on to say, "and not to the making of a profit".
I wonder if members of the NDP can explain how small businesses can contribute to job creation and economic growth if it believes that profit is a dirty word. Without profit, businesses cannot reinvest and grow, cannot hire new employees, cannot innovate and cannot contribute to the development of sustainable technology and business practices. They simply would not exist. To deny that the basic necessity of a business, which is to earn money and profits, is revealing a fundamental lack of understanding of business.
I hope my colleague from Kings—Hants will not complain when I quote him when he said, "The NDP doesn't know a stock from a sock".
While I served as environment minister in British Columbia, I co-founded a company that incorporated sustainable principles into our business model, focusing on reforestation and ecological renewal. However, we could not have done so, we could not have grown and expanded this company without capital and that capital was the reinvestment of profit.
Thinking that profit is a bad thing discredits the New Democrats among small business owners and proves them not capable of providing the type of leadership that the small business community so desperately needs.
The Liberal Party supports efforts to lower the tax burden on small businesses, but such efforts must be part of a larger strategy that validates the importance of small business and their profitability and that supports research, provides tools and mechanisms for companies to grow their operations and focuses on key factors, not a scattershot approach.
The Conservative government's record on small business is abysmal and, unfortunately, the NDP does not think small business should be allowed to make a profit. The one option is too hot and one is too cold. It is clear why small business needs a Liberal option that is just right for the people who are at the heart of small business and a long-term vision for their success.
G8 Summit June 22nd, 2011
Mr. Speaker, let us try again.
During the G8 summit, $50 million that should have been used to reduce congestion at the borders was spent in the minister's riding. The Auditor General said that he had "not encountered" anything like that. This use of public funds is so controversial that the RCMP has decided to investigate.
Will the government ask the Auditor General to conduct a value for money audit?
Employment June 21st, 2011
Mr. Speaker, the Conservatives are now making cuts they knew about well before the recent election but chose to hide. On the chopping block are thousands of jobs, including the entire Audit Services Canada department, the auditors that serve all the other departments of government. This is a rather self-serving move for a government that was found in contempt due to secrecy and dishonesty, I would say. In fact, the Prime Minister just claimed auditors need to be fired to ensure Canada's dollars are well spent. That is incredible.
Why can the minister not tell us why he has been hiding the planned program cuts from—
Business of Supply June 20th, 2011
Mr. Speaker, there was a plethora of issues in the member's speech that one can take exception to.
For example, in talking about Canada's low rate of poverty for seniors, I thought the member was going to acknowledge the Liberal Party for bringing in the GIS in the first place, and instead his comments were that it was in spite of opposition parties that we are in that situation.
I do need to comment that instead of being here for low income Canadians, the government has regressive tax credits that exclude low income Canadians.
In a place like Vancouver, where rent, housing costs and property taxes are sky-high and going up, there are many seniors in my riding of Vancouver Quadra who can barely hang on to their homes or their apartments that they rent because of these costs. The question that I want to pose to the member is this. How can a GIS increase of less than $2 a day help lift these seniors out of poverty when other costs like food are climbing as well?
Business of Supply June 20th, 2011
Mr. Speaker, the Liberals have recommended a comprehensive anti-poverty strategy and, of course, campaigned on increasing the GIS, as well.
I wonder if the member could comment on the recent research showing that reducing income inequality in a society, in a country, actually benefits all members of that society from reduced crime levels, improved health and in terms of a number of other quality of life metrics.
Veterans June 15th, 2011
Mr. Speaker, 93-year old retired Major Gordon MacLean Logan, who was wounded six times during World War II, dedicated his life to serving Canadians.
For the past three years, he has had to pull teeth to speak to his Veterans Affairs case worker, thanks to a lack of resources. Is this how the Conservative government honours our veterans?
While Mr. Logan's health is failing, government advertising has exploded by 215%.
Can the minister please explain to Mr. Logan and his family how partisan overspending is helping him live with dignity?
Canada Revenue Agency June 13th, 2011
Mr. Speaker, despite the Canada Revenue Agency giving itself top grades on service to taxpayers, an internal audit found that these grades were in fact inflated by almost 20% and fell well below acceptable standards.
The Conservatives continue to pat themselves on the back, to mislead the public and hide their own incompetence. Could the minister please explain this lack of accountability to Canadian taxpayers who have the right to expect timely, respectful service?
The Budget June 9th, 2011
Mr. Speaker, I want to add my congratulations to the member for Mississauga—Streetsville for his election.
I was surprised to hear members talking about being the most democratic government in history, or some such phrase, and that people know what they are getting, and they are getting just that. The current government has been the least transparent government in terms of how the budget would be balanced. I think people are getting a pig in a poke and will find out bit by bit what services they would be losing.
In this democratic government, were Atlantic Canadians who counted on the emergency centre that has been closed and moved to Halifax aware of that when they voted for the government?
The Budget June 9th, 2011
Madam Speaker, I will first note that the member may be here to promote his government's platform but I am here to serve the constituents of Vancouver Quadra.
I will read another quote regarding the situation with Veterans Affairs. It reads, "The problem seems to stem from the Veterans Affairs' staff being overwhelmed with excessive numbers of cases to handle". This constituent received approval for the benefits that were being proposed by the physiotherapist. Everything that could be done was done, except for delivering what was agreed. We are working on that, but because of the attrition and the cuts, there are impacts on individuals that are unacceptable. That is the government's approach to eliminating the deficit. It is mostly necessary because of the reduction of the tax rates for the large businesses that are already competitive.