Joyce Murray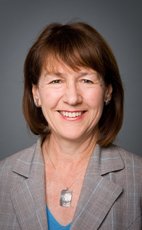 House of Commons photo
Track Joyce
Your Say
Elsewhere
Crucial Fact
Her

favourite word

is military.
Liberal
MP for Vancouver Quadra (B.C.)
Won her last election, in 2011, with 42.20% of the vote.
Statements in the House
Protecting Canada's Immigration System Act March 12th, 2012
Mr. Speaker, after hearing some of the explanations from the minister on this closure motion, it strikes me that he is missing part of the job of being an elected representative. There is a sacred trust to support the general public's understanding of how our parliamentary process works, not to mislead on how it works.
For example, when there were repeated prorogations in order to avoid the consequences of the Conservative government's own actions, the Conservatives argued that other governments had prorogued. Yes, prorogation happens when the government's agenda is essentially completed, but it is not justified to prorogue in order to run away from a difficult situation.
By the same token, of course closure is used from time to time. The minister put a false choice in his question when asking a LIberal member to promise there would never be closure. That falsely implies that it is either done all the time or it is never done. This undermines people's real understanding of how our political process works.
I would like the minister to clarify that there are times when closure is appropriate, but not the way it is being used unilaterally, 18 times in the short time of this Parliament.
41st General Election March 8th, 2012
Mr. Speaker, Eduardo Harari lives in the riding of York Centre. Last election he got a phone call asking if he would be voting Conservative. He said no. Later he got a call, claiming to be from Elections Canada, saying his voting station had been moved to a location on Wilson Avenue, which turned out to be a vacant lot.
Could the government categorically deny that anyone associated with the Conservative campaign had any role in fraudulently misdirecting Mr. Harari?
Petitions March 6th, 2012
Mr. Speaker, I have the honour to present a petition requesting the creation of a royal commission on the environment and health.
The petitioners come from across the country. They are concerned about the thousands of chemical products which contaminate our air, water and food.
As a result, they are asking the government to direct a royal commission to examine all aspects of the environmental and health impacts of Canada's industrial activities.
The petitioners also request that the government apply the precautionary principle in protecting health and the environment from uncertain risks.
Jim Green March 5th, 2012
Alas, Mr. Speaker, last week Vancouver lost an inspiring advocate for my community. On February 28, former councillor and two-time mayoral candidate Jim Green lost his fight with cancer.
Jim was a well-known progressive force in municipal politics and a key architect of solutions to improve the city. He was a passionate doer, with a fountain of ideas which he implemented in one of Canada's poorest neighbourhoods, the Downtown Eastside. Jim founded BladeRunners, an internationally recognized employment program that provides life skills training for at-risk youth. He founded United We Can, a charity that offers residents of East Hastings jobs to clean the streets of their neighbourhood. The Portland Hotel Society, which provides supported living space for the hardest to house people, owes its existence to Jim, among others.
Less than a week before he died, Jim was awarded Vancouver's highest honour, the Freedom of the City award, for his exemplary citizenship, service and leadership. Jim lived according to the idea that one can actually change the world for the better and enjoy it at the same time. On behalf of the citizens of Vancouver Quadra and Vancouver, I offer my deepest condolences to Jim's family and all those he touched.
Business of Supply March 5th, 2012
Mr. Speaker, I have a question for my colleague. The minister claimed there were no cuts. The Conservative member, however, for Ottawa—Orléans has said, "there may have been some cuts to veterans programs, but it can't hurt the dead".
My colleague made the point that many services were underfunded. At the time, I was on the Standing Committee on Health, where members heard about veterans with post-traumatic stress disorder who were unable to get the services they needed, that there were no clinical psychologists employed by Veterans Affairs Canada and that health human resources were woefully inadequate.
I would ask my colleague this question. What would be the impact on these needs if there were further cuts to Veterans Affairs' budget?
Business of Supply March 5th, 2012
Mr. Speaker, I liked what the NDP member had to say, and I want to ask her a question. I support the motion, but I find it a bit vague. Can the phrase "provide...in a timely and comprehensive manner" be more specific? In my riding of Vancouver Quadra, a 90-year-old veteran waited one year for a specific service and, during that time, he was confined to his house. Is this considered timely? How could the motion be a bit more specific?
41st General Election March 1st, 2012
Mr. Speaker, the government has a duty to ensure the integrity of Canada's voting process. Fraudulent calls also harassed Liberal voters in Vancouver Quadra and we reported it at the time.
The independent Elections Canada returning officer in Vancouver Quadra wrote, "The Vancouver Quadra campaign office did inform me by phone of inappropriate calls during the 2011 election".
Is the Prime Minister now going to accuse Elections Canada officials of launching, in his own words, "a deliberate smear tactic?"
41st General Election February 29th, 2012
Mr. Speaker, Campaign Research, the robocall company caught making Conservative-funded false calls in Mount Royal, also provided services to the Conservative campaign in Vancouver Quadra.
When will the Prime Minister accept his responsibility and investigate these nationwide complaints—
41st General Election February 29th, 2012
Mr. Speaker, yesterday a senior in Vancouver Quadra wrote to me that she received an election call giving wrong poll station information so she reported it because, "it is my duty to report it in defence of Canada's treasured democracy and moral integrity".
Campaign Research, the robocall company caught making Conservative—
Business of Supply February 28th, 2012
Madam Speaker, I would like to thank my NDP colleague for his impassioned speech defending the Canadian Charter of Rights and Freedoms, which will soon celebrate its 30th anniversary—30 years since a Liberal government presented this historic guarantee to the people of Canada. I thank my colleague for his support for this important event.
Could the member please describe the amendments that the NDP is preparing to put forward that will help to defend the Charter of Rights and Freedoms in which he so passionately believes?