Joyce Murray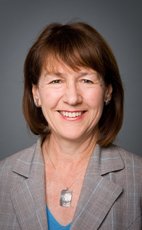 House of Commons photo
Track Joyce
Your Say
Elsewhere
Crucial Fact
Her

favourite word

is conservative.
Liberal
MP for Vancouver Quadra (B.C.)
Won her last election, in 2011, with 42.20% of the vote.
Statements in the House
Business of Supply October 31st, 2011
Mr. Speaker, as the NDP member who brought forward the point of order noted, the parliamentary secretary spoke very little of substance toward the motion and much of his speech was on other issues, promoting his government in areas that really were not associated whatsoever with the motion.
This makes one conclude that possibly the parliamentary secretary is not personally very proud or supportive of the government's position on this issue. He certainly did not have very many words to develop an argument for why he supported the government's position.
I have a specific question about section (b) of the motion. The parliamentary secretary talked about demonizing an industry. In fact, the motion also asks that the government "support international efforts to add...asbestos to the list of hazardous chemical products under the Rotterdam Convention". India, an exporter and importer, supported the Rotterdam Convention.
Could the parliamentary secretary explain why the government would not add its voice to something of which even India is in support?
Tourism Industry October 31st, 2011
Mr. Speaker, Canada's tourism market share continues to plunge. We have dropped from seventh to fifteenth in international tourism visits.
The government's failed tourism policies are costing Canada's economy and small businesses thousands of jobs and billions of dollars each year. The government's solution is to treat air travel as a cash cow, slap visitor visas on our most dynamic markets and increase EI payroll taxes. The government's so-called "strategy" is a disaster.
When will the government heed the industry's alarm bells and take action?
Infrastructure Funding October 27th, 2011
Mr. Speaker, it appears that the Prime Minister is once again giving the people of Edmonton the back of his hand.
First, there was the broken promise on the portrait gallery, then the Conservatives denied funding for the Edmonton folk music festival and then they failed to back Edmonton's bid to host the World Expo.
The Conservatives have no trouble finding 50 million bucks to build gazebos in Muskoka, but when it comes to funding Edmonton's Royal Alberta Museum, it appears they are weaseling out of their previous commitment.
Why does the government continue to show such disrespect for the capital of the province of Alberta?
Prime Minister's Award for Teaching Excellence October 27th, 2011
Mr. Speaker, I am sure members in this chamber can remember a teacher who played a critical role in their life, someone who taught them how to think, helped them feel good about themselves and encouraged them to continuously strive to do better.
I would like to congratulate Vancouver Quadra constituent Laurie Cassie and her colleague Rebecca Robins for being that kind of teacher and for winning the Prime Minister's Award for Teaching Excellence. That is like winning the Nobel Prize for teaching.
Laurie and Rebecca are passionate about innovative and collaborative teaching techniques and about using digital media to help their students excel. Here is how a parent at David Livingstone Elementary School in Vancouver put it:
Laurie...and Rebecca...have been instrumental in transforming our son's worldview. School is no longer a torment, but a rich adventure, where he feels his contribution is valued and his ideas respected.
That is what great teachers do.
It gives me immense pride to congratulate Laurie Cassie and Rebecca Robins on a job very well done. On behalf of all Canadians, I would like to extend my thanks to them.
Ending the Long-gun Registry Act October 27th, 2011
Madam Speaker, I want to speak to the minister's inconsistency.
It is not true that the government moved time allocation on the basis that all of the elements have been debated. That is nonsense. When the minister claims that the data is the registry that is like saying the carpets, dishes and plates are the house. The government is saying it does not want to maintain that house or its location. The Government of Quebec believes the contents of that house are important and wants to house them.
It is not only ideological but vindictive to deny other levels of government access to these records. The minister said that these records are part of the registry. The government said it would eliminate the registry. It never said it would eliminate the records. It is vindictive to now deny the province and people of Quebec access to that information.
Ending the Long-gun Registry Act October 27th, 2011
Madam Speaker, I want to respond to the statement that the data is equivalent to the registry. That is not so at all.
The registry is a process in a system for ensuring that there is a record of guns. It is a requirement. It is a regulation. It is an understanding. It is a process for putting that understanding in place that the government will actually track these weapons that are used in so many tragedies of suicide and domestic violence.
There is data collected, but the registry is actually an information technology system. It is a system for tracking, registering and providing information. That is what the registry is about.
The government has gone beyond the ideological elimination of something that the police, citizens, women and victims' spokespeople say is an important tool for saving lives and protecting people. It has gone well beyond that with the elimination of the data.
Why is the government going beyond ideology and slapping the faces of those who might want to—
Public Safety October 25th, 2011
Mr. Speaker, a new study from SFU confirms the evidence coming out of Texas that the Conservative government's misguided punishment policies just will not work. They discriminate heavily against first nations, who already account for a disproportionate percentage of prisoners. The evidence predicts increased prison overcrowding, reduced access to treatment and a higher likelihood of prisoners reoffending.
Expensive, ineffective and discriminatory: that is Bill C-10.
Is the government against evidence, or is it against real solutions for Canada's aboriginal peoples?
Newfoundland and Labrador Fishery Rebuilding Act October 21st, 2011
Madam Speaker, I am pleased to speak to private member's Bill C-308 put forward by the member for St. John's South—Mount Pearl. I support this piece of legislation, as does the Liberal Party of Canada.
Nearly two years after the first commercial fishing moratorium was introduced, there has still been no substantial recovery of fish stocks off the coast of Newfoundland and Labrador. The collapse of the fishery has had devastating effects on communities in rural Newfoundland because this had been the largest fishery in Canada and the focal point of the local economy.
The recent signs of possible recovery are hopeful but that only makes it more important that we do everything in our power as a nation to prevent this from happening again. It is important that we really understand what we need to do differently to ensure the health of our fish stocks.
The Liberal Party supports this long overdue federal inquiry into the collapse and mismanagement of fish stocks off the coast of Newfoundland and Labrador.
The parliamentary secretary talked about the many inquires that have been held into this regrettable situation. I want to point out that the result that Canadians need has not been achieved. We have not fully understood how the Government of Canada and the Department of Fisheries and Oceans made the decisions that led to the absolute collapse of such an important fish stock. It is urgent that we understand that. We are seeing a repeat of this kind of crash with other fish stock.
As the member for St. John's South—Mount Pearl mentioned, the parliamentary committee on fisheries has been studying for many months the collapse of the snow crab stock. I had the privilege of being on that committee for a year. We learned to our surprise and shock that the department had not been implementing the precautionary principle in its management of the snow crab in 2009, and we are now hearing that the precautionary principle was not being implemented as a clear framework.
The precautionary principle is something people have understood since the 1980s. We had an earth summit in the early 1990s. We had a world summit on sustainable development in 2002. The precautionary principle surely is a baseline approach for managing these important renewable natural resources, but it has not been a baseline approach in the Department of Fisheries and Oceans. An inquiry is an important tool in order to do a better job and get a better result.
It is not just on the east coast of Canada that we are having challenges with sustainable management of important fisheries. We have our challenges on the west coast as well, and I will point to the salmon fishery as a prime example.
The Fraser River sockeye salmon stock collapsed in 2010. The numbers came in at one-tenth the number expected by the Department of Fisheries and Oceans. There was an outcry from people asking why our fisheries were being mismanaged, not just to the extent that we were having crashes, but to the extent that we did not even know why we were having crashes. Fortunately, the Cohen inquiry is looking into the disaster in the Pacific salmon fishery. We need that same kind of attention and that same kind of lens on the fisheries of Newfoundland and Labrador.
That is not to say that an inquiry is enough. Other things need to be done as well, and one of those things is the adequate funding of fishery science. Instead, a hatchet is being taken to the budget of the Department of Fisheries and Oceans, cutting $57 million this year alone. That means research scientists along with budgets for international co-operation projects to identify what is happening with the salmon when they go outside Canadian jurisdiction will be cut.
It means boats will be tied up in harbours, DFO research vessels will be tied up in harbours, unable to afford the gas to go out and find out what is happening. It means that funding for the POST listening system, which is an innovative way of tracking small salmon smolts on the west coast of Canada to identify where they are disappearing and helping us understand why they are disappearing, is woefully inadequate for what is necessary to actually track these smolts as they go out into the ocean. It remains a black box, a mystery, why, year after year, other than for a few anomaly years, we are having decline in our precious stocks of Pacific salmon.
Pacific salmon, like cod on the east coast, is an iconic species for Canadians. It has been the basis for the economies of coastal communities. It has been the basis for the culture of Canadian aboriginal peoples. It has been part of their identity, their celebration. It has been central to the Pacific coast. Our salmon stocks are disappearing and we do not even know why. Yet, we are cutting the budgets of the Department of Fisheries and Oceans which is charged with the responsibility of protecting salmon and other important stocks. This is shocking. That is the kind of thing that I expect an inquiry into the fisheries in Newfoundland and Labrador to shed a light on, so that all Canadians can support having conservation as a number one principle. The degree to which conservation was not held as a fundamental principle by the previous fisheries minister was highlighted in the snow crab process.
I would disagree in this small point with the member for St. John's South—Mount Pearl when he said it is not about laying blame. Actually, I disagree with that. We had a Conservative fisheries minister who deliberately and knowingly ignored the advice of her fisheries scientists who said that there was a very strong risk of a collapse of the snow crab stocks if the quotas were not reduced. That minister ignored the advice of her scientists and took the advice of lobbyists who said, "No, don't worry. Be happy. Keep the quota where it's been".
We cannot allow that kind of interference in our fisheries management, not on the east coast and not on the west coast. We cannot allow these kinds of cuts to the Department of Fisheries and Oceans when we are losing these iconic stocks and we have not even understood why.
Permit me a quick aside about the aquaculture review that the fisheries committee was undertaking.
Recently, the management of the aquaculture industry and potential impacts on wild salmon has been transferred to the Department of Fisheries and Oceans. The regulation of that important industry so that it does not affect our wild fish stocks is a very important role of Department of Fisheries and Oceans. It needs to do a better job than the province was doing in the past. How can we expect the Department of Fisheries and Oceans to do its job, to understand the science of the aquaculture industry and the wild fisheries in those interactions? How can we expect it to do that with these massive cuts to the Department of Fisheries and Oceans?
I support, and the Liberal Party supports, this inquiry because we need more, not less, transparency and more, not less, accountability and more, not less, science so that we can protect our wild fisheries this year, the next decade, and into the future as our legacy to our children
Justice October 21st, 2011
Mr. Speaker, everyone knows that mandatory minimum penalties remove a judge's discretionary power to determine an appropriate sentence based on the crime and the circumstances. Yesterday, the Quebec bar said that it would not allow Parliament to do that to our society.
Will the government stop wasting billions of dollars on an approach that is bound to fail and that will only lead to more crime, less justice and skyrocketing costs?
Small Businesses October 21st, 2011
Mr. Speaker, this past week Canadians celebrated Small Business Week with over 350 events across the country.
Canada is made up of small and medium-sized businesses. They are the vast majority of all companies and employ 6 of every 10 private sector workers. They are innovative and service-oriented. They are the lifeblood of Canadian communities.
I was an entrepreneur and business owner for many years before running for public office. I appreciate the hard work, dedication and optimism that it takes and I understand the challenges. Small businesses give much to Canadian society, and they need government to do its part in return.
Here is what I hear from businesses: "Give us less red tape, not just another study; reduce rather than increase our EI payroll tax burden; and accept our ideas for fixing complex tax and reporting requirements that are rigid and overlapping".
Today I want to congratulate everyone who owns, runs or works in a small business for their immeasurable contributions to Canadian life. I ask all Canadians to support their local small businesses.