Joyce Murray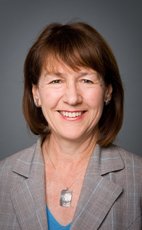 House of Commons photo
Track Joyce
Your Say
Elsewhere
Crucial Fact
Her

favourite word

is conservative.
Liberal
MP for Vancouver Quadra (B.C.)
Won her last election, in 2011, with 42.20% of the vote.
Statements in the House
Ending the Long-Gun Registry Act February 6th, 2012
Mr. Speaker, I just do not know where to begin with all of the inaccuracies by that member. I guess he believes that by repeating the incantation about the firearms registry it will make it so.
This useful and effective firearms registry accounts for a 23% decline in suicides by firearms. In fact, five times as many firearms-related suicides use long guns as use handguns. It has been effective. It has been effective in reducing homicides, which have had a 41% decline since 1995, whereas homicides with handguns and illegal sawed-off shotguns have been flat during that time.
There has been so much inaccuracy. I want to ask the member about his comment about how expensive the long gun registry is to maintain. It is the RCMP itself that has said it will save between $1 million and $4 million a year to scrap the registry.
I wonder if the member could tell us, with that kind of saving, $1 million to $4 million a year, how many years it would take to save up that money to where the President of the Treasury Board could use it, as he did with his Muskoka madness of putting $50 million into his riding for pork-barrel projects, unrelated to the intent of the funds that he used.
B.C. Legislative Assembly Black Rod February 1st, 2012
Mr. Speaker, today I joined High Commissioner Campbell, the former premier of British Columbia, and other dignitaries in an historic celebration of Canadian tradition and heritage. In honour of Her Majesty's diamond jubilee, the Legislative Assembly of British Columbia is creating an usher of the black rod. Tracing back to 14th century England, the black rod deepens B.C.'s connection with our proud roots in the Westminster parliamentary tradition.
Today was part two of three-part ceremony to install symbolic rings on this rod. The first was attached in the House of Lords of the United Kingdom in December, and the final will be attached at the official opening of the B.C. legislative assembly in February.
The mid section of the black rod features a special jade carving by Tsimshian elder, Clifford Bolton, representing the unity and intertwining of B.C.'s diverse cultures and hope for the future.
As a member of parliament from British Columbia, I am honoured to mark the placement of the second ring of the black rod in Ottawa on its journey to Victoria. I congratulate all British Columbians for this symbol and celebration of our important heritage.
Madam Speaker, that is just another cherry-picking of the impact of this bill. Of course there are some things that all of the members support. It is the issues around mandatory incarceration for minor non-violent offences, and the use of mandatory minimums for broad, vague underlying offences that will result in unjust, grossly disproportionate sentences.
To sum up, the Canadian Bar Association has been absolutely clear that this bill will do nothing to improve the state of affairs that we are already seeing in terms of prison overcrowding and all of the results of that. It ignores the reality that decades of research have shown, that what actually reduces crime is addressing child poverty, providing services for the mentally ill, diverting young offenders from the adult justice system, rehabilitating prisoners and helping reintegrate prisoners into society. Bill C-10 ignores these facts and would actually be redistributing funds that would have been spent on those issues to more prisons, dealing with the overcrowding and all of the problems that causes. Therefore, this is a bad bill.
The Conservative government should be listening to Canadians on this matter, but it simply is not because it--
Madam Speaker, I have the pleasure of rising to continue debate on a question that I asked the government in October. That has to do with the mandatory minimum penalties in Bill C-10. This bill removes a judge's discretionary power to determine an appropriate sentence based on the crime and circumstances. Since that question was asked, this bill was rushed through the House with time allocation and closure. It is on its way to being the law of the land, unfortunately. This is another expression of the government's disrespect for Parliament, parliamentarians, Canadians and stakeholders who are represented in the House of Commons.
Bill C-10 had no consultation on some of its elements. They were new. They were not bills that had been previously discussed. Worse than that, the bill had many aspects that had been discussed, debated and brought forward in committee. It had input from stakeholder groups and experts across the country, and all of that expert testimony was ignored. The vast array of troublesome aspects of Bill C-10 had no modifications, no amendments permitted and, essentially, the expert advice from Canadians who knew about these issues was brushed off.
It is not my word on this. I want to put on record the voices of people who know about these issues. While the government claimed that Bill C-10 would make Canadians and streets safer, that is clearly completely false. It is a marketing ploy by the government. In fact, the vice-chair of the Canadian Bar Association's National Criminal Justice Section said:
We believe the substance of this legislation [Bill C-10] both to be self-defeating and counterproductive, if the goal is to enhance public safety. It represents a profound shift in orientation from a system that emphasizes public safety... rehabilitation and reintegration to one that puts vengeance first.
The executive director of the Washington-based Justice Policy Institute stated:
Republican governors and state legislators in such states of Texas, South Carolina, and Ohio are repealing mandatory minimum sentences, increasing opportunities for effective community supervision, and funding drug treatment because they know it will improve public safety and reduce taxpayer costs. If passed, C-10 will take Canadian justice policies 180 degrees in the wrong direction, and Canadian citizens will bear the costs.
The Assembly of First Nations' national chief said:
—the Conservative government's tough-on-crime bill will hurt First Nations people, who are already disproportionately represented in federal, provincial and territorial jails.
In fact, it will hurt first nations people and discriminate against them, as well as youth and people with mental illness.
The justice minister for Newfoundland and Labrador was clear that "incarcerating more people is not the answer".
The bill's approach is contrary to what is known to lead to a safer society.
That was a statement made by the Canadian Bar Association.
I have pages and pages of testimony, all ignored by the Conservative government in Bill C-10, which is going to create more crime, greater costs and less justice.
Questions Passed as Orders for Returns January 30th, 2012
With respect to Canada's Asia-Pacific Gateway and Corridor Initiative, what are the total authorities used in any and all federal programs and activities for fiscal years 2005-2006 to 2010-2011 (inclusive), including authorities granted by statutes other than Appropriation Acts and any partner or other government contributions in support of the initiative, broken down by specific initiative, including (i) the Asia-Pacific Economic Cooperation Secretariat, (ii) the Asia-Pacific Gateway and Corridor Transportation Infrastructure Fund, (iii) the Asia-Pacific Gateway and Corridor Initiative Research Consortium, (iv) Canadian Tourism Commission marketing and sales programs focused in the Asia-Pacific, (v) any other government programs or activities that are part of this initiative?
Questions Passed as Orders for Returns January 30th, 2012
With respect to Western Economic Diversification (WED) Canada, for fiscal years 2005-2006 to 2010-2011 (inclusive), what are the total authorities used on the following programs and activities, including authorities granted by statutes other than Appropriation Acts, broken down by individual budget categories or subcategories: (a) community economic development, (i) initiatives to facilitate economic recovery from depressed economic circumstances, (ii) initiatives designed to foster community growth and economic development, (iii) investments in community infrastructure; (b) innovation, (i) knowledge infrastructure, (ii) basic and applied research and development, (iii) personnel, (iv) investments to improve access to adequate patient financing, (v) technology commercialization facilities, (vi) support systems and mechanisms to link those elements to each other; (c) business development, (i) initiatives to enhance business productivity and competitiveness, (ii) initiatives to support trade and investment attraction and penetration of western Canadian technologies, services and value-added products into international markets, (iii) initiatives in priority sectors to introduce new products, technologies, or innovations to existing production and processes, (iv) programs and services designed to improve access to risk capital and business services for entrepreneurs and small businesses; (d) policy, advocacy, and coordination, (i) initiatives to advocate for Western Canada in national policy discussions, (ii) leading federal and intergovernmental collaboration, (iii) research and analysis to inform policy and program decisions; (e) internal services, (i) management and oversight services, (ii) communications services, (iii) legal services, (iv) human resources management services, (v) financial management services, (vi) information management services, (vii) information technology services, (viii) real property services, (ix) materiel services, (x) acquisition services, (xi) travel and other administrative services; and (f) any other general categories or sub-categories of the above used in WED's own management and accountability of its programs?
Questions on the Order Paper January 30th, 2012
With regard to injuries and fatalities attributed to firearms in British Columbia: (a) for each year from 2001 to 2010 (inclusive), what are the number of injuries and what are the number of fatalities attributed to firearms in British Columbia in each category of non-restricted, restricted, and prohibited firearms and any firearm prescribed under the Criminal Code and associated regulations (including long guns); and (b) what number of the injuries and fatalities in (a) involved (i) suicides, (ii) accidents, (iii) incidents involving domestic violence, (iv) incidents involving women as victims, (v) incidents involving Aboriginal Canadians as victims?
Questions on the Order Paper January 30th, 2012
With respect to executive recruiting firm Odgers Berndtson and the recent selection process for a new Auditor General: (a) who was responsible for selecting the recruiting firm; (b) was there a competition for the contract awarded to the firm and, if yes, what was the nature of the competition; (c) if there was no competition, who suggested or recommended Odgers Berndtson; and (d) what was the total cost incurred by the government in employing Odgers Berndtson to manage the Auditor General selection process?
Citizen's Arrest and Self-defence Act December 15th, 2011
Mr. Speaker, I enjoyed listening to the member speak to Bill C-10, for which he has not much respect and which we in the Liberal Party call the "more crime, less justice and spiralling costs" law. There is much I would say in agreement with the NDP member.
I want to return to Bill C-26 with my question. The member is probably well aware that on Tuesday a 30-year-old man in a Tim Hortons restaurant in Vancouver was shot on the spot but managed to survive. It is possible that someone might have intervened to protect the person in that situation.
One of the controversial parts of Bill C-26 is the broadening of the allowance from just protecting one's own life to intervening to protect another person's life. In the situation I mentioned, we can see that it would have been a positive thing if someone had disarmed and held the shooter, but there is also a concern that it could lead to vigilantism.
I would like to hear the member's comments on that provision in the new law.
Citizen's Arrest and Self-defence Act December 15th, 2011
Mr. Speaker, the personal stories shared during the debate were very interesting and very meaningful, and they illustrate various aspects of the bill. I would like to thank the hon. member for sharing his experience.
I have a specific issue. The member just noted that he would look forward to a variety of witnesses and a thorough discussion. I know he is aware that many members feel it is important that there could be amendments that would be respected and included.
One of the concerns that we in the Liberal Party have was laid out by the member for Mount Royal in his initial speech. It is that contrary to the earlier version of the bill, Bill C-26 adds the phrase "threat of force" to this part of the Criminal Code as being a legitimate basis for civilian action. "Threat of force" could be seen as quite subjective. It could be that this term overbroadens the bill to the point that we could have people putting themselves in harm's way.
I would like the member's comment on where his party stands on this issue of threat of force and what they may be proposing in that regard.