Joyce Murray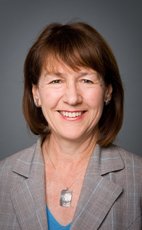 House of Commons photo
Track Joyce
Your Say
Elsewhere
Crucial Fact
Her

favourite word

is military.
Liberal
MP for Vancouver Quadra (B.C.)
Won her last election, in 2011, with 42.20% of the vote.
Statements in the House
Pensions February 15th, 2012
Mr. Speaker, the Prime Minister does not seem to understand the real consequences of these OAS changes for real people in Vancouver Quadra, who have told me, "My wife has worked for 27 years and has no pension. Moving the age from 65 to 67 will put more strain on seniors to work longer". Another said, "This is totally unacceptable. I have been in the work force for 44 years. I have paid taxes for all these years and now they want people like me to be penalized".
Will the government stop its mean-spirited assault on hard-working Canadians and get its hands off their old age security?
Copyright Modernization Act February 10th, 2012
Mr. Speaker, I am pleased to add a few comments to this important debate. The Liberal Party absolutely believes that Canada's Copyright Act must be modernized. In this era of iPhones, iPads, cloud sourcing and so on, we must have modern laws.
That is not the challenge here. The challenge, or the issue, is to implement reforms that are fair and that balance the rights of authors and the rights of the Conservatives. We all know this is the objective of the bill. However, the Conservatives have not succeeded. That is obvious. A number of groups have told us and them that the bill is not balanced.
One of the greatest concerns for me is the fact that the Conservatives will continue with their agenda without listening to Canadian citizens, groups, experts and opposition members. We could call this dictatorial federalism.
We know that this bill has sparked a great deal of discussion and that many suggestions were made to improve it. But did the Conservatives add some ideas? Did they change what they will do? No. They introduced a bill that ignores everyone else's ideas. That is not democracy. That is not enough for those of us on this side of the House.
Why do we have to be in such a rush to pass a bill when, when it comes right down to it, the result is not acceptable for so many people and so many organizations in terms of the objectives we have here in Canada? Why? This is a complex issue. This bill is very detailed, and there are many valid arguments. It is worth listening to them and continuing to work on the bill in order to achieve a good result.
Why put forward a policy that is so important and that affects the lives of all Canadians, only to be satisfied with a poor result that does not achieve the balance that everyone wants, when that is the very goal of modernizing the legislation?
It is the same with other issues. The process used by this government and the Prime Minister is a bit dictatorial. They understand while others do not. It is insulting to those who oppose and also to organizations that work every day, every year, to explain the issues with respect to the modernization of the Copyright Act.
Why shorten the debate in such a manner? Why? There is no support for doing so outside that group.
In the beginning, I spoke about the process, which is faulty. I would like to continue in that direction and speak about something that is of great concern to me.
I just asked an NDP member a question about that. Who is managing our decisions as Canadians? Who is in charge of our country's legislation? Recently we learned that some diplomatic cables have shown that some parts of the Conservatives' copyright bill, which we are talking about this afternoon, were drafted to satisfy the concerns of the American industry instead of addressing the concerns of Canadians.
Many Canadians are opposed to the digital locks, which seem to only address American interests. That worries me a lot because the Americans are major partners. They are our friends and neighbours, but they are not in charge of our legislation. This strategy is very worrisome because it sends a message to specific industries in the United States that they can push Conservative MPs in a direction that does not serve the best interests of Canadians.
Our sovereignty belongs to us, to Canadians. It is very important to the people of Canada. Handing over our sovereignty on a silver platter by creating legislation for the American industry is very dangerous. Other industries are going to see that and expect Canada to do it more often. It is unacceptable and we must stop doing it right now.
Copyright Modernization Act February 10th, 2012
Mr. Speaker, according to recently leaked diplomatic cables, some parts of this copyright bill were designed to address the concerns of American industry instead of the concerns of Canadians, including digital locks.
Does the hon. member expect American industries to exert this type of power in the future? What sort of precedent does this set? I would like to know what he thinks about this.
Natural Resources February 10th, 2012
Mr. Speaker, the Prime Minister's style of dictatorial federalism is to shut down discussion and try and intimidate anyone who disagrees with him.
He has the member for Fort McMurray—Athabasca insinuating that first nations are accepting bribes from environmentalists. While in China, he is undermining our environmental processes and our regulatory review, boasting that he will make sure the northern gateway pipeline goes through no matter what.
The citizens of British Columbia will not be intimidated and we will not be dictated to.
Will the Prime Minister stop his assault on British Columbians and stop his assault on our regulatory processes?
Mr. Speaker, it was very nice to hear all of those statistics about the tourism industry. Wikipedia or Google can provide them.
This is a complete and woeful failure on the part of the Prime Minister and the government in terms of tourism.
I will speak on behalf of British Columbia. We have a wilderness tourism industry that brings in over $1 billion a year and provides 2,200 jobs. It a very important industry. It is built on our brand called "Supernatural British Columbia". What did the Prime Minister and the Minister of Natural Resources say? They called the interveners at the northern gateway project joint review panel hearings radicals and adversaries. Who were some of those interveners? Those interveners included many of the tourism businesses that are concerned about the potential impact of an oil spill. They said, "The biggest concern is the threat of a spill on the coast…we think that a spill is inevitable if there's that much tanker traffic going down Douglas Channel, and a spill would have irreparable damage in our industry". Not being respected and actually being—
Mr. Speaker, I asked a question previously about Canada's tourism market share in our industry and about the concern that the government's tourism strategy was inadequate. I now have the opportunity to continue and make a few more points in this regard.
It is a good thing that the government has put forward a tourism strategy but, unfortunately, it is a very disappointing piece of work. When I attended the Canadian Tourism Industry Association's large gathering here in Ottawa not that long ago, one of the key spokespersons said that the strategy kind of reminded him of a university term paper. Now that was not to put down university students, but it was a commentary on the amateurish nature of this strategy. There are no measurables in it, no specific actions, no clear criteria and no way of knowing whether the strategy is working or not. This was not a very impressive piece of work.
The tourism industry is a very important industry. It contributed 617,000 jobs in Canada in 2010 and a lot of these were small business jobs. There are 180,000 tourism businesses in Canada. Therefore, it is a very important industry that deserves better attention than that tourism strategy. I was disappointed that the minister let that one go by.
A couple of days ago, we saw the opening of a new office in Beijing by the Canadian Tourism Commission, which is a good thing, but it also reminds us that the government, because of its diplomatic gaffs and because of our Prime Minister insulting China and the Chinese leadership over the course of three or four years, creating a really negative climate and atmosphere between China, one of Canada's most important trading partners with a hugely growing economy and the hundreds of thousands of tourists interested in Canada, we actually lost the opportunity to have Canada as an approved destination status. It was only approved in 2009, although it had been planned to be approved in 2006 after years of work by the Liberal government.
Having this approved destination status delayed for almost four years was a failure that has cost our tourism businesses hugely. Actually, Canada ended up being one of the last developed nations to get this status from China, whereas, when the Liberal government was first negotiating for it, we were in line to be one of the very first developed countries to enjoy the status.
Last year, that status increased our tourism visits from China by about 50,000 visitors. We can think of the years of lost opportunity for our tourism operators. Callously and carelessly, the Prime Minister managed to squander that opportunity through his inexperience and his diplomatic failures.
Those are not the only challenges for our tourism industry. The government's policies have been a series of blunders and diplomatic gaffs that have contributed to a decline in the international market share for Canada. We have all the opportunity in the world to be very competitive. We are number one in branding but we have fallen from number seven to number fifteen in actual international tourism overnight visits.
Our industry deserves better than the Prime Minister doing photo ops in China. It deserves better than a second-rate strategy. It deserves a real focus. These are real people, real jobs and real businesses and the government needs to do better.
Vancouver February 9th, 2012
Mr. Speaker, I am honoured to congratulate my city, the City of Vancouver, which last night won the Federation of Canadian Municipalities' Sustainable Community Award in the category of planning.
Through its innovative action plan, the City of Vancouver plans to become the greenest city in the world by 2020. Fuelled by an inspiring vision to create a healthy and sustainable future for Vancouver, the city has set targets in a number of areas: the economy, greenhouse gases, waste, construction, transportation, air, water and food. This is one of the largest challenges ever taken on by a city in Canada, but this exercise also comes with tremendous economic opportunities.
I offer my sincere congratulations to Vancouver's mayor, councillors, staff and 30,000 sustainable communities volunteers for their dedication to creating a sustainable future for all.
Mr. Speaker, I sat in the same committee meeting when Mr. Sapers and others spoke. Two million dollars are being taken out of the programs for people struggling with drugs.
The government is taking power away from judges to look at the circumstances of a crime and determine a fair punishment. It undermines the judge's necessary ability to consider extenuating circumstances. More young people, more aboriginal people and more people with FASD and mental illness will end up in jail. That will be the wrong place for those people. That will make our streets more dangerous as well.
Bill C-10 has many provisions that are based on a solid foundation all right but a solid foundation of regressive policies that have proven not to work. It would make Canadians less secure on their streets and in their communities.
Mr. Speaker, I am rising to continue the debate on a question regarding Bill C-10, and the government's expensive, ineffective and discriminatory approach to crime.
I have talked with people in Vancouver Quadra. I have had a stakeholder meeting with key leaders in the community on a number of issues. To discuss this approach to crime, I hosted a telephone town hall involving almost 6,000 constituents to go over the details and get input. My guest was a former minister of justice. I have had a policy breakfast featuring the head of the criminology department at Simon Fraser University.
I have had a chance to hear from constituents in Vancouver Quadra. They are most disturbed with the provisions in Bill C-10 around mandatory minimums. There are many other parts of this omnibus grab-bag of nine different laws that they are concerned about, but those provisions are the most concerning.
When I asked the question, the leader of the government in the House of Commons at that time used the words "safe streets and communities" four times in 30 seconds. Clearly, all of my constituents want safer streets and communities too, but the research and evidence shows that Bill C-10 would provide the opposite. The Conservative government would actually make streets more dangerous.
Don Head, the Commissioner of the Correctional Service of Canada, said, "Offenders who participate in substance abuse programs are 45% less likely to return with a new offence and 63% less likely to return with a new violent offence."
Substance abuse programs make our streets safer. However, the government has put a huge amount of money into security because of the overcrowding and in-prison crime. It has cut the funding for substance abuse programs. Correctional plans include those programs for a reason. The government would actually make the streets more dangerous by denying 85% of prisoners the very programs they need to help with their rehabilitation.
In B.C., the prisons are close to 150% capacity. Recently there was news that charges against two alleged offenders were dropped due to lack of capacity to prosecute in a timely way. That problem will only be exacerbated with Bill C-10 by the influx of prisoners because of fixed mandatory sentences. This will make the streets even more dangerous.
This has been shown in other jurisdictions, such as Texas. Texas saved $1.7 billion and slashed crime rates by 27% by reversing its approach to crime which had resembled Bill C-10. Instead, Texas put that money into rehabilitation, mental health centres and so on.
The government for ideological reasons will make our streets more dangerous. It needs to level with Canadians because if that is its plan, more dangerous streets will be the outcome.
Ending the Long-Gun Registry Act February 7th, 2012
Mr. Speaker, I appreciate the reasoned tone and logic put forward by the member for Surrey North in contrast to other members who say that because people were killed by knives, there is no need to control guns, or that by registering, someone is imputed to be a criminal, which is nonsense, whether it is for cars, snowmobiles, dogs or guns. The member for Peterborough certainly brought forward some illogical arguments.
One thing I would like the member for Surrey North to comment on is the conclusion being reached by the members of the Conservative Party on less information about deadly weapons. Even in the hands of hunters and farmers, guns can be deadly. We see that from suicides and accidental shootings. Their conclusion is that less information can make Canadians safer and less control of these deadly weapons can make Canadians safer.
Could the member comment on the logic, or otherwise, of that?