Joyce Murray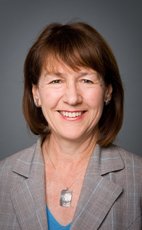 House of Commons photo
Track Joyce
Your Say
Elsewhere
Crucial Fact
Her

favourite word

is military.
Liberal
MP for Vancouver Quadra (B.C.)
Won her last election, in 2011, with 42.20% of the vote.
Statements in the House
Citizen's Arrest and Self-defence Act December 15th, 2011
Madam Speaker, I want to thank the hon. NDP member for his speech. He talked about Bill C-10 and the need to have prevention programs and care for people with mental illness or problems with drugs, instead of putting them in prison.
In his opinion, if we had more prevention and rehabilitation programs, would the problem that Bill C-26 is trying to correct be less significant? Would there be fewer crimes against property and persons?
Citizen's Arrest and Self-defence Act December 15th, 2011
Madam Speaker, I want to follow up on the question from my colleague from Winnipeg North. He asked whether the government would look at potential amendments based on merit.
The answer he received was that Bill C-10 had been widely discussed and amendments were considered. Of course, we know that zero amendments were accepted. In fact, there were several amendments put forward by my colleague from Mount Royal that were rejected out of hand at the committee railroading process, which later the minister decided actually were worthwhile. The minister tried to bring them forward at report stage but the amendments were rejected by the Speaker because they should have been done at committee stage.
This is exactly what we want to avoid. We want those reasonable amendments to be considered, discussed and potentially accepted in committee where it should happen. Will the member advocate for that with his minister and colleagues?
The Environment December 14th, 2011
Mr. Speaker, Canada's withdrawal from the Kyoto protocol by this government is of historical importance and represents an international breach of trust. The message sent by this decision to the world is embarrassing. Being part of the solution would have significant economic benefits.
Why is the government tarnishing our international reputation by pursuing an outdated ideology that will cost jobs and be harmful to our economy?
Fair Representation Act December 13th, 2011
Mr. Speaker, what makes this democratic process so rich is that we have a chance to hear the flights of fancy and fury from the member for Winnipeg Centre and then the logistical minutiae of the operation of an Alberta MP's office. It is all very interesting.
When the member for Peace River began to talk about the actual content of the bill, he talked about fairness, necessity and the challenge. I would put it to the member that fairness is actually built into the proposal by the member for Saint-Laurent—Cartierville on behalf of the Liberal Party. There would be redistribution to bring that fairness and democracy but without adding the 30 new seats which I am sure the member's constituents in Alberta do not see as a priority for fiscal spending. The challenge is to have the courage to do redistribution and not try to have a popularity contest by adding seats to have that fairness.
How does this commitment to fairness dovetail with the member's party's bill on Senate changes, which would be very prejudicial to the interests and the representation of his province of Alberta and my province of British Columbia?
Fair Representation Act December 13th, 2011
Mr. Speaker, I listened with interest to the member's remarks. I must say I prefer his arguments to those of his Conservative colleague who spoke prior, who seemed to base his argument on, "I once lost my job in a redistribution. I did not like that. My constituents did not like that, so therefore we need 30 more seats in Parliament to get equity". I thought that was a very self-serving argument, frankly.
However, the member's argument was that in a large riding with a very diverse population, it is difficult to serve the constituents. It occurs to me it would be far more economical to adopt the Liberal plan to redistribute seats, rather than add seats. Then if the member is having problems, an additional staff person would be a much cheaper solution, from a financial perspective, than the solution of adding 30 new members of Parliament.
What is the research that shows that adding 30 members of Parliament will lead to better service for the constituents, compared with the existing number?
Fair Representation Act December 13th, 2011
Mr. Speaker, I commend the hon. NDP member for her comments on the importance of defending the interests of Quebec.
As my colleague already mentioned, there are no numbers, but I understand that the NDP's policy and plan would require 30 more seats. An additional 30 seats would cost a lot. On the contrary, the Liberals have a plan that is fair for Quebec and the other provinces and it does not add any seats.
In the hon. member's riding, as in mine, are there people who want more money for researchers, for Fisheries and Oceans, for scientists working on climate change, who want more money to narrow the gap between rich and poor? Do the hon. member's constituents think that spending more money to have more MPs is a better plan than using that money for other things we need in our society?
The Environment December 9th, 2011
Mr. Speaker, Conservative members are laughing, but in fact they are going to be losing Canadian jobs because more and more countries are putting trade restrictions on products from countries like Canada that are climate change laggards.
Why are the Conservatives jeopardizing Canadian jobs with their backward approach to climate change? It is shameful.
The Environment December 9th, 2011
Mr. Speaker, the government promised that it would not stand in the way of countries that want to have an international climate change agreement, but it has done just that and so it has been shamed once again with the fossil of the year award. What the Conservatives do not understand is that by isolating Canada--
The Environment December 9th, 2011
Mr. Speaker, rising global greenhouse gas emissions present clear evidence that the fight to prevent dangerous climate change is being lost and we must not let that happen. That is why the stakes are so high at the climate conference in Durban and constructive solutions are so urgently needed. How shameful that the Conservative government has been described as "swinging a wrecking ball through the conference".
Canada's emissions continue to increase and will fall well short of our required reductions as well as the watered down Conservative targets for 2020.
Under the current government, the oil and gas industry receives $1.3 billion in annual subsidies. In effect, Canadian taxpayers are paying almost $9 for every tonne of CO2 pollution the industry emits. That is backwards. In Europe the polluter pays per tonne of CO2. The result in Germany has been the creation of almost half a million new green energy jobs.
The conference in Durban ends today, but the battle to prevent climate change is far from over. The government must respect the majority of Canadians who want Canada to help construct, not obstruct, solutions.
Importation of Intoxicating Liquors Act December 7th, 2011
Madam Speaker, I am pleased to be part of the debate on this private member's bill, Bill C-311.
I wish to congratulate my colleague from Okanagan—Coquihalla, a riding in the beautiful province of British Columbia, on this very sensible bill. I am pleased that all the parties in the House seem to agree that it is a good thing to do.
I also want to congratulate my colleague from Kings—Hants for being the seconder of this bill and having spoken on behalf of the Liberal Party in support of it.
I represent a riding in British Columbia that has a large wine industry.
The wine industry is of growing importance in my province.
We have heard from members who have spoken to this bill that the current law makes no sense. We are dealing with a law that dates from 1928, the Importation of Intoxicating Liquors Act, which was passed more than 80 years ago. This law was brought into force following the lifting of prohibition on alcohol. Some of the elements of the law at that time were overly restrictive because there was no clarity as to how the use and sale of alcohol would proceed following the period of prohibition.
What happens under that law established 80 years ago is that people visiting a vineyard in the province of British Columbia who come from another province in Canada would be able to taste wine, buy a bottle or two and consume it in B.C. However, they would not be able to take any home or order any to have sent home. This makes no sense from many perspectives, one of which is the trade barrier that it implies.
We are one nation. We are a united nation. We are a nation of Canadians who are united in many ways. One way to unify us is to reduce barriers to trade, to increase the prosperity of small businesses and their workforces. When there is a trade barrier that does nothing to protect people, it is important that we look at those laws, update them and change them. That is exactly what Bill C-311 is all about. It is time to change that law.
The changes proposed are widely supported. I know some of my colleagues have been speaking about that. It is a change that is supported by Canadian consumers who enjoy agri-tourism, visiting vineyards and going on wine tours. For example, the circle tours which have been developed in British Columbia are an important tourist product. People from other countries and provinces are invited. Some drive through the interior of British Columbia, one of the most spectacular parts of Canada, and through the Okanagan. They stop at wineries, enjoy high-quality meals, see the magnificent art on the walls, go on tours to see how wine is made and enjoy the products. It makes no sense whatsoever that if tourists visiting a winery come from south of the border, for example, they are able to have wine shipped to them, but if they come from Alberta, Nova Scotia or Quebec, they are not able to do that without breaking the law.
The law is actually quite strict. There is a $200 maximum penalty for a first offence. For a second offence, the penalty is between $200 and $1,000 or imprisonment of three to six months for the default of payment. I know some in the House might think that more and longer prison sentences are a good thing, but we all agree that for bringing wine from one province to another, it is completely ridiculous. This penalty actually goes up to between 6 and 12 months for each offence after the second offence. This a very out-of-date law.
Some concerns have been raised about the provinces' responsibilities in that regard. Will the federal government be acting in an area of provincial jurisdiction? I would like to say that that is not the case will Bill C-311, because it allows the provinces to set their own limits regarding the quantity of alcohol and bottles of wine that can be transported between provinces. This means that if a province does not want to import any wine and wants to stop all such imports, it can set the maximum amount at zero. Thus, the quantity or existence of this interprovincial exchange remains in the hands of the provinces.
Who is for this? It is very strongly supported by the vintners, of course, as well as the business community and even the provinces. I note that the solicitor general of British Columbia was publicly considering taking steps to reduce the effects of this antiquated law that made it an offence to take wine across a provincial boundary.
According to the vintners, the proposed amendments are widely supported by the Canadian wine industry. They are pleased to be able to facilitate consumer choice in wine. It is good for small business, for tourism and for people who love to sample wine from other parts of the country and bring it back to share with their families, friends and neighbours.
Having recently been on an economic tour of the interior of British Columbia, I noted that some of the rural communities that were struggling to develop their economies after a downturn in their logging industry. The local provision of jobs through logging are turning to agri-tourism. The vineyards and wineries are a high quality example of agri-tourism in British Columbia. In fact, our wineries are among the best in the world. We have a solid reputation for award winning wines. We want people to not only come and travel throughout British Columbia and bring their tourist dollars and leave them with the small businesses, the hotels, the restaurants and wineries, but we want them to be able to take some of that product home with them, or order that product.
Small and medium-sized businesses are the bulk of the wine industry. Almost all of Canada's wineries are small businesses. This is a very important part of rural economy and it is growing. The number of Canadian grape wineries has increased by roughly 300% to more than 400 wineries. British Columbia, of course, is one of Canada's wine centres and gives the other provinces a run for their money in terms of awards and recognition.
These are small businesses and our small and medium-sized business sector in Canada is incredibly important in terms of job creation, innovation and recycling money in the Canadian economy. Small and medium-sized enterprises employ two-thirds of the private sector workforce, overall. The wineries are an important segment of this.
In British Columbia, the B.C. wineries are happy to see this bill brought forward, so are wine lovers across Canada who can continue to appreciate and share with their friends the bounty that our vineyards produce.