Joyce Murray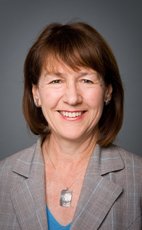 House of Commons photo
Track Joyce
Your Say
Elsewhere
Crucial Fact
Liberal
MP for Vancouver Quadra (B.C.)
Won her last election, in 2011, with 42.20% of the vote.
Statements in the House
Fair Elections Act February 10th, 2014
Mr. Speaker, I thank the member for his comments. I also thank him for remembering that I ran for leadership of the Liberal Party of Canada.
That gave me the opportunity to hear from Canadians across the country, and I talked to them. Their concerns about what has happened to our democracy matter to me.
What is more, we have a Prime Minister who has referred to Elections Canada, a neutral, non-partisan agency charged with making sure our elections are fair, as being, in his own words:
"The jackasses at Elections Canada are out of control".
This, as he aimed to fundraise, on the back of his dismissive comments about our public servants who were charged with ensuring fair and free elections.
Elections Canada has been attempting to do just that, in a laundry list of election violations, and it is now being punished by the Conservative government in an effort to provide an advantage to themselves and to reduce the percentage of the public who vote by marginalizing those who need help the most.
Fair Elections Act February 10th, 2014
Mr. Speaker, the member has just pointed out that the Liberal Party vote has dropped. There is actually a direct connection with the kind of anti-democratic, hostile, negative, and untrue attack ads the Conservative Party has been pioneering on Liberal Party leaders between elections.
This is another aspect that shows a lack of principle by the Conservative Party. I would also like to mention that in my riding of Vancouver Quadra, I was aware, a few days before the election, that calls were coming in to those constituents who had been identified by the Conservative callers as Liberal voters.
These constituents were receiving harassing phone calls late at night and on weekends by people identifying themselves as Liberal callers, but when we checked those call numbers, we found that they were from a call centre in the United States that was later found to be tied to the very fraudulent voter suppression calls made through the Conservative Party database.
Fair Elections Act February 10th, 2014
Mr. Speaker, I am pleased to make a few comments about Bill C-23, which is before the House, unfortunately, for far too short a time for debate, thanks to the closure motion put forward yet again by the government.
Conservatives are acting as though issues of democracy and the very way we elect our representatives in Canada are not important issues. They are acting as though the kind of detail and complexity of a bill of over 200 pages can be commented on, debated, and discussed in literally a few hours. Unfortunately, that is symbolic of the cynicism that underpins the bill and some of the very concerning elements that are in it.
I would like to start by talking about the importance of democracy to Canadian citizens. I was reminded of that in my constituency of Vancouver Quadra, not just this past weekend, where I had organized several events to engage with voters, but the previous weekend, where I had organized a town hall on the subject of democracy. One might think this is a topic for academics or a handful of people who are interested in theories around our electoral system and political framework in Canada, our democracy. In fact, at the town hall that I hosted 10 days ago, 200 people turned out. We were not able to fit everyone in; we were not able to provide chairs for everyone.
What I heard again and again, and what I have been hearing in Vancouver Quadra, is that this is one of the key concerns that voters have today about the direction the Conservative government and Conservative Prime Minister are taking Canada. There are many other concerns as well. There are the kinds of breaches of trust with Canadian citizens when environmental regulatory frameworks are virtually eliminated with the stroke of the pen, in a way that is misrepresented to the public. I could list many of the changes that the Conservatives have made, including to the Navigable Waters Protection Act, the Environmental Assessment Act, and others.
That is a concern to people in Vancouver Quadra. There are also issues around immigration policy. There are issues around access to employment insurance. There are issues around government spending on advertising that crosses the line into partisan advertising. This is advertising done to advantage the Conservative Party and Conservative government, but using taxpayer dollars. There is a huge range of issues that concern people in my constituency in Vancouver Quadra. However, underpinning those is the erosion of democracy. That is what I hear about time and time again.
For example, the government cancelled the mandatory long form census, with a supposed explanation that there was an invasion of privacy, while at the same time the government brushed off concerns around the collection of metadata and the tracking of people's movements through their devices that are using Wi-Fi. The government brushed off concerns of that invasion of privacy, an invasion that the Ontario Privacy Commissioner Ann Cavoukian considers to be very dangerous for the future of our democracy and takes Canada down a totalitarian path.
It is these concerns about democracy that I hear again and again.
The other changes being made are also being made in a way that is anti-democratic.The more we shrink our democratic principles in Canada, or the more the Conservative government shrinks access to true, open, and accountable democracy, the more it is able to rush through omnibus budget bills that have major policy changes embedded in them without the ability of members of Parliament to adequately debate them, and without adequate public consultation or respect for the concerns of the public.
Bill C-23 is focused on the issue of democracy and, unfortunately, is a further erosion of our democracy. Bill C-23 is an opportunity for the government to strengthen some of the fundamentals of our democracy through our electoral processes, in a way that would be non-partisan and could be respected and appreciated by Canadians. It could begin to reverse the increasing reputation of the Conservatives for their dictatorial and highly partisan actions on behalf of their voters and to the detriment of our democracy. This is an opportunity to address that distressing tendency of the government, and it has failed to take it.
I want to confirm that there are several minor provisions in the bill that the Liberals do support.
In a unanimous ruling, the Supreme Court of Canada found that the ban on transmitting election results before polls close infringes on freedom of speech. The fair elections act will repeal that ban and ensure respect for freedom of speech.
Having a limit on early election results is not practical, and eliminating that necessity is a positive.
The bill also provides an extra day of advance polling. This change will give Canadians four days to vote in advance polls.
Having one more early advance voting day is positive. Again, it is minor.
For almost two years now, the Conservatives have been promising a bill to reform the Canada Elections Act. Instead, they have torpedoed reform by gutting the enforcement provisions.
That is damning. The Chief Electoral Officer, who was appointed by the Conservative government itself, has called the bill an affront to democracy. That is a very strong statement, by someone who is not given to partisan statements. Canadian citizens need to stand up and take notice. It is an affront to democracy, rushed through by the Conservative government to reinforce its benefit and partisan gain.
What are some of the principles we need to consider here?
First is voter participation, which is important in a democracy, and access for all Canadians to the right to vote. Second is respecting the rules; in other words, no cheating. For that, we need effective compliance and enforcement. Third is non-partisan party input.
This bill has undermined all of the principles I have just mentioned. It is intending to suppress voters by making it more difficult for 4% of Canadians who have the right to vote but may not have the kind of photo ID that would be necessary. It would marginalize remote first nations reserve residents, the poorest Canadians, and seniors who no longer have a driver's licence and might not have a passport. This bill is making these things worse.
On the topic of respecting the rules and no cheating, I have a laundry list, which I will not be able to get to, of all of the cheating that has been done by the Conservative Party and its members. This would be an opportunity to plug the loopholes.
Bill C-23 is going to make compliance and enforcement much more difficult. It makes it much more partisan.
It is a shocking and shameful bill that the government is putting forward. I would call it the "voter suppression with impunity" bill. We need to see changes to this bill at committee.
National Defence February 6th, 2014
Mr. Speaker, Conservatives claim that soldiers' concerns about seeking help for mental injury is all in their heads, but yesterday the military ombudsman testified that most injured members who seek help end up being kicked out of the armed forces. To quote him: "90 per cent are probably going to find themselves on the street". No wonder soldiers have described the process "as the equivalent of being pushed off a cliff".
How will budget 2014 fix this mean-spirited and shameful assault on our injured Canadian Forces members?
National Defence February 5th, 2014
Mr. Speaker, after years of insisting everything was fine, the Conservatives, today, finally admitted their record of economic incompetence on defence procurement, and they sidelined the Minister of National Defence.
Since 2006, the Conservatives have bungled every military equipment competition they have touched. That is eight lost years, lost jobs, and lost economic opportunities. Worse still, Canadian Forces members have been betrayed.
Given this record of failure, how can the minister pretend that rearranging the deck chairs will save this ship?
National Defence February 4th, 2014
Mr. Speaker, the Minister of National Defence is claiming that CSEC is merely tracking the metadata of Canadians, not spying on individuals. That would be like the post office saying that it steams open people's mail but it does not read their letters. Canadians do not want government illegally intruding on their personal privacy.
This CSEC watchdog has no teeth and is on a short leash. All of our major allies balance citizen safety and privacy by making their spy agencies accountable. Why are the Conservatives unwilling to submit CSEC to proper parliamentary scrutiny?
Business of Supply February 4th, 2014
Mr. Speaker, the member talked about not wanting to tie up the agencies in red tape. I would suggest that the member and his government take note of a lawsuit that was filed in October, in the B.C. Supreme Court. It is the first one to challenge the legality of CSEC's spying activities against Canadians. It was filed by the British Columbia Civil Liberties Association, and supported by OpenMedia.ca. This means that because there is such a vacuum of leadership by the Conservative government, the courts are going to be filling the gap, at public expense and with the red tape of fighting this out in court.
The lawyers on behalf of the British Columbia Civil Liberties Association claim that unaccountable and unchecked government surveillance presents a grave threat to democratic freedoms. I think Canadians would agree that Canada is not a nation of secret laws. It is fundamental to the proper operation of our democracy that Canadians be able to access and understand the laws that impact their freedoms and their rights, and it is simply not enough for the government to ask Canadians to trust its spy agencies. We are not a society of blind faith. We are a society of accountability, transparency, and free and open debate.
My question is, why not engage in that debate to move forward in this complex terrain—
Business of Supply February 4th, 2014
Mr. Speaker, I appreciate the member reinforcing concerns about trust and the ability of Canadians to trust the government's agencies.
My contention would be that this is part of an overall approach of the current government. From the muzzling of scientists who produce research incompatible with the government's ideological goals, to spying on environmental groups that may disagree with the government's pet projects, to potentially removing some of Election Canada's oversight powers because the Chief Electoral Officer found the Conservatives guilty of election offences, the government has responded very consistently with a clear disregard for transparency, accountability, or respect for the rights of our citizens and the well-being of Canada's democracy.
Business of Supply February 4th, 2014
Mr. Speaker, once again, I did not hear much of a question in the member's comments.
He likes the word "supernumerary". Perhaps he is so impressed with that word that he does not feel it necessary to have any actual mechanisms to ensure the independence of a commissioner who is appointed by a minister and responds to a minister—political people in the Conservative government—and has no report to Parliament that has not been abridged and condensed to the point where it says very little more than that it is operating within the law.
That is not good enough for Canadians. They want to not just be able to trust these agencies; they want to be able to verify. There is no ability to do that. The agency is being blocked by the current Conservative government and the Minister of National Defence.
Business of Supply February 4th, 2014
Mr. Speaker, I am pleased to speak in support of our Liberal motion today.
Canadians understand and appreciate that part of their government's responsibility is to defend the realm and protect Canadians and our interests against terrorism and cyberattack. Part of the way we do this is through intelligence gathering. However, the way we gather intelligence has changed dramatically in recent years, and our structures for protecting privacy need to catch up.
I have no doubt that the men and women of Canada's security and intelligence agencies carry out their duties honourably. I do not doubt their loyalty or their commitment to the safety of our citizens. However, their job is hard and the world has changed. The very nature of national security threats facing open and democratic nations like Canada have changed. Gone are the days when our greatest security threats were adversarial states such as existed during the Cold War. Today, intelligence agencies operate in a rapidly evolved field of information gathering, where having and analyzing as much data as possible is essential. This need to collect data can potentially conflict with our fundamental right to privacy.
We have seen this several times recently, including with the Communications Security Establishment of Canada, an agency that is part of National Defence, which has been collecting the personal information of Canadian travellers who were transiting through Canadian airports. The member for Malpeque did a good job of explaining why this is a concern. This data was used to help conduct surveillance operations for weeks afterward and to track people's activities for the weeks before the data was collected through Wi-Fi users in the airport. That is seemingly a contradiction to CSEC's legal mandate. This was done without a warrant.
An analogy could be a government spy agency that begins to track individuals' mail, who is sending them mail, who they are sending mail to, where those letters are originating from, where they are sending their letters to, and where they are when they send those letters. It tracks people's mail, steams open the envelopes, but claims it is not reading the contents or opening it up and pulling out the letter. I do not think Canadians are comfortable with the idea of that kind of tracking. That kind of intrusion on the liberty and privacy of citizens is counter to the principles of our fundamental democracy. Therefore, to balance the need to acquire data and respect people's privacy and liberty creates a pressing need for a robust oversight of CSEC. It also means we need to have a detailed discussion about how we balance those interests in our society. That is the importance of our motion.
That the House express its deep concern over reports that Communications Security Establishment Canada (CSEC) has been actively and illegally monitoring Canadians and call on the government to immediately order CSEC to cease all such activities and increase proper oversight of CSEC, through the establishment of a National Security Committee of Parliamentarians as laid out in Bill C-551, An Act to establish the National Security Committee of Parliamentarians.
It is unfortunate that the government appears to want to block proper oversight, such as is being proposed in Bill C-551, put forward by the member for Malpeque.
What is happening in Canada is unique in the western world. Ann Cavoukian, the Ontario Information and Privacy Commissioner, talked about the response by the United States president, which demonstrates the kind of free, open, and candid discourse that society is undertaking on the subject of surveillance powers of intelligence agencies. However, while the U.S. is doing that, to quote the commissioner, "...our government is maintaining a wall of silence around the activities of the...(CSEC). This silence is putting our freedoms at risk".
I ask why the Minister of National Defence is not listening to those who are raising red flags and sounding alarms about this intrusion and this wall of secrecy.
CSEC is an agency that is not being given proper direction by the government. At the Senate committee hearing last night, the director of CSEC made it clear that, should instructions by the government come that there should be a proper oversight and review by some other mechanisms, it would accept that. He was not arguing against the need for that; he was saying there was no political direction to do that. So that is a failure on the part of the Prime Minister and his defence minister.
Canadians need to have faith in their government that is elected to serve and represent them; so this is an issue of Canadians' trust in the government. I believe Canadians want to be free of unwarranted intrusion into their personal affairs. Right now they cannot trust that this is the case.
One of the senators at the committee hearing last night said that not only do Canadians need to trust but they need to be able to verify that the trust is warranted, and right now they are not able to verify and not able to have trust.
The Conservative members of Parliament in this debate have again and again repeated the idea that there is robust oversight, but that is simply not the case, and a range of people with expertise in this matter have commented on that.
One of them is Dr. Wesley Wark, who is a professor at the University of Ottawa. I am going to read a few comments that he made with respect to our current oversight situation, which is the CSEC commissioner.
According to Dr. Wark, who is an academic analyst on national security and cybersecurity issues, there has been no commitment on the part of the commissioner to conduct a specific investigation into the airport Wi-Fi project that is so concerning. The commissioner did not indicate the timeline for his "ongoing review of CSEC". It has taken three years for the CSEC commissioner to conduct his first full review of metadata activities. That is three years, and it is important to note that this was never discussed in the commissioner's public annual report.
According to Dr. Wark:
The CSEC Commissioner's inability to bring any urgency to an investigation of metadata collection, his apparent unwillingness to engage in an targeted investigation of the Airport Wi-Fi project, alongside an abysmal prior failure to challenge CSEC's desire to keep even the term metadata secret, considerably (if not completely) undermines the value of that office as a watchdog.
This is not a robust watchdog. This is a starving, ineffective watchdog.
That is why the B.C. Civil Liberties Association has filed a lawsuit, the first yet on this issue, because it is concerned that "...unrestrained government surveillance presents a grave threat to democratic freedoms". It is filing this lawsuit to force the government to enact specific safeguards to protect the rights of Canadians. These are the very kinds of safeguards that our motion is proposing and that the member for Malpeque's bill would provide.
According to the B.C. Civil Liberties Association, "There is no court or committee that monitors CSEC's interception of...private communications and metadata information, and there is no judicial oversight of its sweeping powers. CSEC's operations are shrouded in secrecy".
It is ironic, as the member for Mount Royal noted, that the government cancelled the long form census based on supposed privacy concerns, a critical tool for understanding the demographics of our country and yet is defending the secrecy of an organization that is affecting Canadians' privacy.
Most Canadians would be far more comfortable telling the government how many rooms they have in their house than having government tracking their smart phone data and location and following them for weeks.
The government must listen to the concerns of the Canadians who want their agencies to respect the law and protect their privacy, and I call on all members to support this motion.