Joyce Murray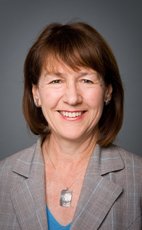 House of Commons photo
Track Joyce
Your Say
Elsewhere
Crucial Fact
Liberal
MP for Vancouver Quadra (B.C.)
Won her last election, in 2011, with 42.20% of the vote.
Statements in the House
Economic Action Plan 2013 Act, No. 1 May 2nd, 2013
Mr. Speaker, I want to congratulate my colleague from Kings—Hants for his very clear presentation on the downsides of budget 2013.
My question is about the increase in taxes on dividends for small and medium-sized businesses.
We know that sometimes dividends are a way that small business people can withdraw funds from their company. Often they use it to reinvest in the company. Small and medium-sized businesses often do not have access to public capital; they are not listed on a stock exchange; so that is necessary for their growth, their ability to hire and their ability to invest in innovations.
What explanation does the member have for why it would make sense to put billions of dollars in extra taxes on dividends for small and medium-sized businesses over the coming five years?
Elections Canada May 2nd, 2013
Mr. Speaker, fair elections are the cornerstone of Canada's democracy, and Elections Canada is our watchdog.
The Conservatives were found guilty of fraud in election 2006. They were accused of fraud in 2008. They are under investigation for fraud in 2011. These election problems are increasing. A new report notes that Elections Canada actually needs more money to deal with this, but the government is slashing its budget instead.
Just what do the Conservatives have to hide?
Taxation May 1st, 2013
Mr. Speaker, suppose Dr. Evil were thinking of ways to trip up the Canadian economy to make life harder for the middle class and prevent our youth from getting jobs. One way he would be doing that would be to shaft one million small businesses, by raising payroll taxes again and again, by slapping a tax hike on their dividends. Oh, but wait, that is what the Conservative Minister of Finance has just done.
Who really designed these tax hikes for small businesses that will be hurting middle-class Canadians?
Strengthening Military Justice in the Defence of Canada Act April 29th, 2013
Mr. Speaker, clearly the NDP member prefers process over principle. This is about principle. Is the member saying that committees are an absolutely ironclad place to do great public policy? Do amendments actually happen in committee these days? Does the member feels that committee is a place that he and his party can get great public policy to happen? I would posit that is not the case. To rest a decision on the process in committee rather than the fundamental principle of human rights and equality is not something with which I agree.
Strengthening Military Justice in the Defence of Canada Act April 29th, 2013
Mr. Speaker, I find it amusing, actually, that the member opposite is using words like "radical" and "extreme" for a proposition the Liberals are making that in fact was applied by the British Parliament, and we have a Conservative government in Britain. The British government did actually go a long way to ensuring the fair treatment of soldiers facing summary trials. In Britain, I would claim that the requirements of independence, impartiality, fairness and equality are very similar to those in Canada.
If we are proposing that this law, before becoming law, should incorporate those kinds of changes that have been incorporated in Britain and so many other places, I fail to understand how these can be considered radical and extreme proposals.
Strengthening Military Justice in the Defence of Canada Act April 29th, 2013
That is right. My colleagues are on the ball. No such report has ever been tabled by the Minister of Justice.
This is not just a procedural rule. This is actually fundamental to protecting our rights and freedoms that are engraved in our country's framework for justice.
Why has the government never actually done that kind of review, and what is the consequence of that?
Actually, the consequence is very expensive, because that means the government continually comes forward with bills that are then contested, either at the provincial level or through other organizations. That ties up court time. That ties up resources. For example, there are challenges now to other government bills. I think there is very likely to be a challenge to the bill we are debating today because this government omitted an important part of our equality framework from the bill, disadvantaging our troops, our Canadian armed forces, whom we all respect and would want to see treated equally. I think there may well be a challenge to the bill, because it is flawed, and it will then go through the hoops of being contested and found failing.
Let us avoid that. Let us pull the bill back. Let us fix it before it goes forward, on behalf of Canadians, on behalf of rights and equality and on behalf of our armed forces.
Strengthening Military Justice in the Defence of Canada Act April 29th, 2013
Mr. Speaker, I am happy to join my colleagues who have spoken so eloquently for equality for those individuals in the military who serve Canadians. This particular legislation purports to update our military criminal justice system, but in fact has some significant gaps.
It is always good to review our laws to make sure that they reflect present realities and that they are equitable, appropriate and consistent with our Constitution. The military criminal justice system is no exception. This legislation has been worked on for a long time but the Liberal Party of Canada believes it is not where it needs to be in order to get our support. The members for Winnipeg North, Halifax West and York West made that case in quite a specific and compelling way. We are being asked to support something that still has so many flaws; that is politics.
Clearly, many aspects of the military justice system remain inexplicably unchanged or give unnecessary powers in this bill. For instance, the bill enshrines in law a list of military offences that will carry a criminal record in the future, which is not necessary in many cases.
Given that the pardon system was recently revoked and that summary trials are what they are—with no record and no means of meaningful appeal—the members of the armed forces will find themselves with criminal records and unable to find employment upon release.
Clearly there are some flaws in the bill. The one I want to focus on in particular is the issue of human rights and equality. It really boils down to what kind of society we want to have in Canada, and I think Canadians are clear. The Charter of Rights and Freedoms in Canada is widely supported right across the country and is a very proud part of our framework for protecting rights but also for enshrining responsibilities in our country, to make sure those who are vulnerable have the law on their side to protect their right to equality.
It has been shameful and disappointing that the Conservative Party of Canada has chosen to minimize the importance of this very important part of our Constitution, the Charter of Rights and Freedoms, essentially dismissing and not celebrating its great anniversaries. Last year was the 30th anniversary, and there was not much of a murmur from the government, but hundreds of millions of dollars went into celebrating the anniversary of a war.
That goes down to what kind of society we want to have. Do we want to have one that protects rights and freedoms, or do we want to have one that is all about punishment? We see changes to immigration. We see in Bill C-10, that grab bag of bad public policy, that the Conservative government is much more focused on punishment than on equality. That is reflected in this bill as well.
In his testimony before committee, retired Colonel Michel Drapeau noted:
...someone accused before a summary trial has no right to appeal either the verdict or the sentence. This is despite the fact that the verdict and sentence are imposed without any regard to the minimum standards of procedural rights in criminal proceedings, such as the right to counsel, the presence of rules of evidence, and the right to appeal.

In Canada, these rights do not exist in summary trials, not even for a decorated veteran, yet a Canadian charged with a summary conviction offence in civilian court... enjoys all of these rights. So does someone appearing in a small claims court or in a traffic court.
He goes on to say:
I find it very odd that those who put their lives at risk to protect the rights of Canadians are themselves deprived of some of these charter rights when facing a quasi-criminal process with the possibility of loss of liberty through detention in a military barracks.
Clear questions of inequality have arisen here. There are problems with the bill that are fundamental to the kind of society we want to have, not just a few tweaks that we could have put into the bill and that the government has not done. This does go down to fundamentally what kind of society we want to have. This kind of inequality is being unfortunately cemented into other bills and other laws brought forward by the Conservative government.
I want to refer to some comments made by my colleague from Mount Royal recently on the occasion of the 31st anniversary of our Charter of Rights and Freedoms.
According to Justice Létourneau, soldiers are citizens and they should enjoy the same constitutional rights guaranteed by the charter as any other citizen.
This is what he said:
"We as a society have forgotten, with harsh consequences for the members of the armed forces, that a soldier is before all a Canadian citizen, a Canadian citizen in uniform."
In other words, they should be able to count on all of the rights and protections that citizens enjoy in our country.
Referring to our Charter of Rights and Freedoms, the member for Mount Royal raised a question of privilege in the House this past March and expressed concern that the government is failing to live up to its own statutory obligation, which is expressed in section 4.1 of the Department of Justice Act.
In law, this is requiring that the government, that the Minister of Justice, examine each and every government bill introduced in the House to ensure it is consistent with the charter. That would seem like a simple step to respect our fundamental constitutional obligations as parliamentarians and as government in law-making and public policy-making.
How often has the government actually done that? How often has the government checked and done a review to ensure that its bills introduced in the House are consistent with the charter and receive the constitutional seal of approval? How often has the government reported any inconsistencies, or otherwise, to the House?
Does anybody have an answer to that question?
Business of Supply April 25th, 2013
Mr. Speaker, this issue is clearly related to health and the well-being of Canadians and people all over the world. It is not just a matter of the economy and the environment. It also plays a key role in the health of our people in the future.
Business of Supply April 25th, 2013
Mr. Speaker, could the member repeat the last part of his question?