Joyce Murray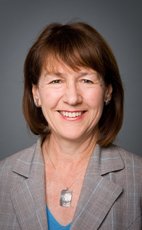 House of Commons photo
Track Joyce
Your Say
Elsewhere
Crucial Fact
Her

favourite word

is military.
Liberal
MP for Vancouver Quadra (B.C.)
Won her last election, in 2011, with 42.20% of the vote.
Statements in the House
Lunar New Year February 19th, 2015
Mr. Speaker, today marks the start of the Chinese New Year, when Chinese and Asian communities around the world will celebrate the Year of the Sheep.
Yesterday, I joined colleagues and the Chinese ambassador at a gala dinner here in Ottawa; and throughout the Greater Toronto Area, our Liberal Party leader is participating in celebratory events with the community. I am personally honoured to host an MP lunar new year reception in Vancouver this weekend; and Vancouver's great parade in Chinatown this Sunday is legendary.
Across our country, Canadians of all ages and cultures will come together to celebrate, and we will reflect on the important role that the Chinese and Asian communities have played in shaping our great nation. On behalf of the Liberal Party of Canada and its entire parliamentary caucus, I extend our warmest good wishes to all Canadians ringing in the lunar new year. Good health, happiness, and prosperity for all.
Gong hey fat choy. Xin nian kuai le.
National Defence February 17th, 2015
Mr. Speaker, the Conservatives refused for four months to provide Canadians with any information at all about the cost of the Iraq mission, so I asked the Parliamentary Budget Officer for help. According to the PBO, they then illegally "refused all PBO requests for specific data" on this mission.
Yesterday, the minister added insult to this secrecy and deception by slapping down a single cost number—no detail, no analysis, just an end run of the PBO's report released today.
Does the minister not believe Canadians have the right to be respected and to have real cost information on this important mission?
Education February 17th, 2015
Mr. Speaker, I am pleased to rise in the House today to offer my congratulations to the Canadian-based charity, Educating Girls of Rural China; their founder, Tien Ching; and her board; and to wish them all the best as they celebrate their 10th anniversary.
Educating Girls of Rural China is dedicated to sponsoring the secondary and post-secondary education of financially challenged young women from rural western China who would otherwise miss out.
Since its establishment in 2005, EGRC has awarded hundreds of high school and university sponsorships to deserving young women. Through the help of its Canadian donors, EGRC has successfully sponsored 247 young women through to graduation, and presently supports 265 women students enrolled in secondary or post-secondary institutions.
As an enthusiastic supporter of the education of girls, of women's economic and social equality, and EGRC, I am delighted to see the continued success of this incredible organization. I believe I speak on behalf of all parliamentarians when I wish them the very best in their work to empower young women in rural China for many decades to come.
National Defence February 16th, 2015
Mr. Speaker, the Conservative government is clipping the wings of Canada's air force, compromising its ability to train and to protect Canadians.
Search and rescue helicopters and most aircraft are spending more and more time grounded in order to pinch pennies. Why? It is because the Conservatives are using defence budget cuts as a giant piggy bank to fund their election tax goodies, like the $2-billion income splitting tax break for the wealthiest Canadians.
Will the minister restore DND funding and stop the broken promises to Canadians and to the women and men in uniform?
Status of Women February 16th, 2015
Mr. Speaker, 48 years ago today, Liberal Prime Minister Lester Pearson officially established the Royal Commission on the Status of Women in Canada, based on the concept of equal opportunity for women and men. The royal commission played a major role in defining the status of women as a legitimate and important social and economic issue, and gave a platform for women's voices.
The commission's groundbreaking recommendations on child care, pay equity, prohibiting gender as grounds for discrimination and other matters sadly remain relevant today. Women's equality has taken a step back under the Conservative government's regressive policies, which have put the brakes on the important momentum to close the gap in Canada.
As we mark this historic anniversary and the progress made by women over the decades, we must remember that there still remains much work to do in order to achieve true equality.
Let us all celebrate how far we have come, but also commit to equality of opportunity for all Canadians.
Veterans Affairs February 2nd, 2015
Mr. Speaker, the new Minister of Veterans Affairs tabled a progress report on government changes to the new veterans charter. It was so lacking, he slipped it out on a Friday night.
He still does not address the benefit clawbacks for the most severely disabled, the unfairness of the lump sum payout, caseworker overloading, nor the unequal treatment of reservists. His solution for the lack of help for spouses of veterans with severe PTSD, like Jenny Migneault, is an online app.
These problems were identified years ago. How much longer will the minister make our injured forces members and our veterans wait?
Business of Supply January 29th, 2015
Mr. Speaker, I appreciate the question from the leader of the Green Party.
Absolutely, we need to make progress on an energy strategy. We can only do that with the kind of collaboration we are talking about in our federation. That is exactly what happens when a prime minister sits down with premiers from all of the provinces and territories.
There are the meetings themselves, but there is also conversation in the hallways, over coffee, and over lunch. The premiers chat together. They find out who is in support and who needs to have more information. They work together to have a solid front, as they achieved on issues like Kelowna and our national child care plan. That is absolutely the only way to go with an issue as complex as the one the member has just raised.
Business of Supply January 29th, 2015
Mr. Speaker, the member for Saint-Laurent—Cartierville is an excellent example of the kind of collaborative work that does address key issues.
I will give one more example, which is with respect to the Clarity Act. The Clarity Act addressed a very difficult challenge across this country. The very unity of our country was a conundrum after a referendum that came within less than a percentage of breaking Canada up, but our colleague from Saint-Laurent—Cartierville was able to consult across the country with premiers and the prime minister of the day and ensure there was support for this concept. The Supreme Court approved the concept, and we now have a very different situation in our country with respect to unity, thanks to the Clarity Act.
Business of Supply January 29th, 2015
Mr. Speaker, I am pleased that I have a few more minutes to participate in this important debate on the first ministers' conference.
I have talked about how those kinds of conferences were essential from a provincial minister's perspective in bringing forward key initiatives to address some of the big challenges, and how in the past they were unfortunately frustrated by a Conservative government that wiped out the Kelowna accord and Canada's national child care plan and essentially neglected the 10-year health accord and other important national initiatives in our federation, such as the national housing strategy of 2005 and the member for Saint-Laurent—Cartierville's Project Green, which was also the product of much consultation with premiers across the country and included work done on a provincial level by ministers and their staff, who all participated in, supported, and created a national approach to reducing greenhouse gas emissions.
This has been an abject failure on the part of the current government. It ties into the current Prime Minister's hubris and refusal to meet with the other premiers from across the country.
In my final minute or so, I would like to touch on some of the key challenges we have that absolutely demand the kind of collaboration that comes out of these meetings with premiers. Premiers can undertake to champion certain issues and can work with the federal government and the Prime Minister to bring colleagues from across the country on board so that we can have a national approach to these national issues.
One is the health and independence of seniors, including support for caregivers. With the changing demographics in Canada, this is a huge concern for Canadians. In its polling, the Canadian Medical Association identified this as a current key issue right across Canada and one that will become more pressing in the years ahead.
We cannot say in good conscience that we are addressing the concerns of Canadians adequately if we fail to come together to collaborate on a new strategy and method of ensuring that the health, independence, and caregiving of seniors can be better supported in the years to come. That is the kind of thing the Prime Minister should be talking about with premiers in an annual meeting. That is just one.
Of course, there is also dealing with the environment and climate change, but that requires leadership—not dictatorship and not autocracy, but actual leadership. That is what we are asking from the Prime Minister. That is what the Liberal Party leader is promising to provide to Canadians should he have the opportunity to do that in the future.
National Defence January 29th, 2015
Mr. Speaker, today at committee the ministers of defence and foreign affairs did a spectacular job of not providing answers or new information to Canadians, who deserve it. They still will not provide a mission cost estimate, as our allied countries have done and as Canada has done in the past.
However, I would like to ask about a next step and would like a real answer for a change. When the Iraqi forces begin to push in earnest to recapture ISIL territory will Canadian Forces continue to accompany them to the front lines in that advance?