Joyce Murray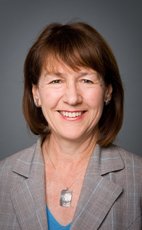 House of Commons photo
Track Joyce
Your Say
Elsewhere
Crucial Fact
Her

favourite word

is military.
Liberal
MP for Vancouver Quadra (B.C.)
Won her last election, in 2011, with 42.20% of the vote.
Statements in the House
Military Contribution Against ISIL October 6th, 2014
Mr. Speaker, I am sorry to hear the member using the same tactic of rhetoric over reasoning in this very important situation. I point out that it is important to learn from past lessons, and apparently the government wants to ignore lessons learned.
In terms of the kind of undermining of the opposition parties for choosing to support a non-combat role, I would like to point out that the member's colleague, the Minister of Foreign Affairs, slammed the opposition parties for a non-combat role stand, saying that the socialist democratic government in Italy was supportive and the socialist democratic coalition in Germany was supportive.
In fact, yes they are supportive of making a contribution, as are the Liberals. However, the minister neglected to mention that neither Germany nor Italy is sending strike fighter planes or taking on a combat role. This is further example of the kinds of dishonesty that undermine the trust of Canadians in this very mission.
Military Contribution Against ISIL October 6th, 2014
Mr. Speaker, I rise to join the debate on the government's decision to take Canada into war in Iraq and possibly Syria. I am proud to note that the Liberal Party leader spoke extensively on the party's position just this past Friday. Regrettably, a combat decision has already been taken and first troops have already deployed.
The Liberal leader and members hold the principle that the case for entering this or any war must be made openly and transparently and must be based on clear and reliable facts. Our men and women in uniform, and all Canadians, deserve no less. If the government's motivations and its actions are to be trusted, that means telling the full truth to Canadians and parliamentarians, but that has simply not happened, and the combat case has simply not been made.
One month ago, the Liberals supported the government's 30-day non-combat advisory mission to help in the fight against the murderous radical group ISIL, because Canada has a role to play in confronting humanitarian crises and security threats in the world. That too is a Liberal principle. ISIL's brutal advance across Iraq into Kurdish territory, murdering opposition and innocent civilians and flaunting the beheadings of western journalists and aid workers, could not be ignored.
Canada's reputation confronting security and humanitarian threats on the world stage has a long history.
Our reputation on the battlefields of the world wars and the Korean war, and as courageous peacekeepers, was hard won. After the Second World War, Canada led the way in building international organizations to reduce violence, promote peace, protect victims of genocide and hold international war criminals to account.
These strong international relations were forged by Nobel Peace Prize winner Lester Pearson, advanced by Pierre Trudeau and Progressive Conservatives Joe Clark and Brian Mulroney, and solidified by Jean Chrétien and Paul Martin. The sacrifices of our Armed Forces members and trainers in Afghanistan helped achieve a historic first in that country: the recent peaceful and democratic transition of its government.
Yes, Canada does have a role to play to confront humanitarian crises and security threats and to help build a better world.
The question on Liberals' minds this last month was this: After the 30-day mission, what will come next? Western interventions in the Iraq war of 2003 and the 2011 bombing of Libya and elsewhere failed. These western interventions created instability that led to the rise of dozens of radical jihadist groups taking over vast swaths of the region today. How will this time be different? How can Canada and the coalition against ISIL contribute without sliding into a long, deadly war and perhaps making things worse? We must ensure that Canadians will not look back on this moment and ask, "How could the government have been so wrong?"
The Conservative government did not even try to make a clear and thoughtful case for going to war in Iraq or to bring all parties on board. Sending women and men into harm's way is something that must never be done lightly, and expressions of outrage are no substitute for considering history's lessons.
Consulting with military and diplomatic experts, examining options, and full and frank caucus discussions resulted in the Liberals recommending non-combat contributions.
Western combat operations in the region will layer onto deep religious rivalries that date back centuries and ethno-sectarian conflict dating back 98 years to the creation of these countries after World War I.
While Canadians are rightly appalled by the brutal acts of murder by the extremely radical Islamists, rhetoric by Canada's Minister of Foreign Affairs that this is simply about "bad people up to bad things" obscures the many geopolitical complexities at play.
The post-Iraq-war Maliki government governed for one religious sect at the expense of the Sunni and Kurds, using basic services, state institutions, distribution of revenues, and even the justice system to repress and disadvantage Sunni Iraqis, among others. This disastrous governance and polarization enabled Sunni ISIL to quickly capture vast terrain and assets. Western combat deployment and civilian deaths could further bind moderate Sunni peoples to their radical brethren and power the jihadi surge.
The International Crisis Group, until last month led by former Canadian Supreme Court Justice Louise Arbour, considers the vital contribution to be addressing the underlying political issues that enabled the insurgents' push.
That is why it is critically important to support an inclusive and even-handed approach by the new government in Baghdad. That means strengthening the new Iraqi government and its armed forces. Let us build humanitarian capacity to protect brutalized populations. Let us strengthen the peshmerga in defending Kurdish peoples in their homes and homelands. Let us train Iraqi security forces so they can defend their state on the ground. Let us engage moderate Sunni tribes so they reject rather than join the terrorists. Let us block ISIL's access to strategic communications and financial assets.
The Liberals believe that when the government deploys our men and women in uniform into combat, there must be a clear mission overall and a clear role for Canada. Until the coalition of 60 diverse nations fighting ISIL has a clear combat role for stopping ISIL, there is no clear combat role for Canada at this time.
Yesterday, General John Allen, head of the global coalition to counter ISIL, said that he would start travelling in the region over the next month for the work of bringing the coalition together, sorting out the kind of effort needed, and start to place each member's unique capabilities within those lines.
No, Canada's combat role and goals are not yet clear, so what should Canada's contribution be?
Secretary of State John Kerry said at the UN,"There's an important role for every country to play in the fight against ISIL". That means each according to their unique capabilities. That is a statesman.
Contrast that with the foreign affairs minister's claim that either Canada takes a combat role or "sits back and lets someone else do the heavy lifting". Go to war or be a free rider, that is small thinking, facile, divisive and unworthy.
A key Liberal principle is that Canada's role reflects the broad scope and uniqueness of Canadian capabilities, financial, humanitarian, diplomatic, democratic, military, so let us not rush into combat without thinking carefully about our best contributions.
What are the significant, non-combat roles Canada can play, military and non-military alike? What is the range of humanitarian aid so desperately needed? Let us consider the signals intelligence, military airlift capability, surveillance, medical support, protection of civilians and aid workers, and forces training that Canada might offer.
Our dedicated men and women who serve in Canada's armed forces are second to none in the world, and there are many ways they can contribute.
Yesterday, General Allen spoke of his intent to use "coalition forces in a very important way to train the existing Iraqi Security Forces". Canada would be uniquely positioned to do just that.
In 2009, crack Canadian troops began an intensive four-year training mission in Afghanistan. Almost 1,000 troops on the ground, with rotations coming in and going out, trained the Afghan National Army, the air force and the national police. This past spring the last of them came home. These military men and women made a tremendous contribution to Afghanistan's stability. They could also so contribute in Iraq.
Canadians are concerned Canada's combat role will escalate. Canada's Chief of the Defence Staff, General Tom Lawson, told the government in November last year:
Without at least maintaining current funding level, we will directly affect the readiness of key fleets of aircraft, ships and army vehicles. This in turn has an overall impact upon training and readiness.
However, the budget cuts and clawbacks have continued. Therefore, how will this new mission be funded?
Finally, to respect the Canadian people's stake in this war and in the interest of trust and accountability, I call on the government to: one, adopt the Manley panel recommendation on Afghanistan requiring the government to provide quarterly mission updates to Parliament; two, adopt the U.S. practice of regular, public military briefings by senior military officials; three, make clear its air strike rules of engagement and whether the U.S. will be in command of targets; four, agree to a parliamentary committee study of the strategic aims of the anti-ISIL campaign; and, five, require the national security advisor to brief the defence committee on the overall use of Canadian intelligence capabilities in the campaign against ISIL.
Transparency and honesty have been lacking. I ask the government to provide it over the critical weeks and months ahead as our brave men and women go forth on this difficult mission.
National Defence October 3rd, 2014
Mr. Speaker, there are a range of issues that need to be debated.
Will the government do more on humanitarian aid and protection? Are CF-18s really the most appropriate military contribution that Canada can make? What alternatives could be considered, including signals intelligence, reconnaissance, airlift capacity, medical support, training? Canadians deserve to have their voices heard and respected in such a very important set of questions.
Will the Prime Minister listen to the alternatives, or will the debate on Monday simply be window dressing?
National Defence October 3rd, 2014
Mr. Speaker, the minister seems to have forgotten that we did not go into Iraq, thanks to a Liberal prime minister.
The Prime Minister will put forward a motion on a combat mission in Iraq today. Media reports indicate that the Prime Minister wants to limit debate on his combat mission to a mere five hours on Monday.
Does the Prime Minister really believe that five hours is sufficient time to debate sending the Canadian Armed Forces to war?
National Defence October 3rd, 2014
Mr. Speaker, today the Prime Minister will be moving his motion on a combat mission in Iraq. According to news reports, the Prime Minister wants to limit debate on his combat mission in Iraq to five hours.
Does the Prime Minister really think that five hours is enough time to debate sending our Canadian Forces to war?
National Defence October 2nd, 2014
Mr. Speaker, this is the minister who just yesterday said that the military budget had not been cut, but in fact the record shows it was cut by $413 million this year.
We are just hours away from the end of the 30-day deployment in Iraq. Beyond broad statements about training and advice, we have actually no idea what the troops are doing on the ground. The only information we get is what the government leaks to the media or the Prime Minister announces in New York.
Why does the government refuse to answer the most basic questions about our critical military role in Iraq? How can the current government be trusted?
National Defence October 2nd, 2014
Mr. Speaker, it is the Prime Minister's job to engage Parliament and Canadians and make the case for the use of the Canadian Armed Forces; and he has completely failed to do so. Canadians know virtually nothing about this initial 30-day deployment in Iraq and even less about the Prime Minister's plans for a combat role. Does the Prime Minister actually expect Canadians and this House to support a new mission if he continues his secrecy and evasiveness about the missions in which we are already involved?
National Defence October 1st, 2014
Mr. Speaker, indeed, every death by suicide is a tragedy. That is why it is so mystifying that the government for years now lists statistics rather than actually acknowledging it is failing our injured men and women in the armed forces. In all the years, almost nine years, it has failed to hire the mental health professionals that were identified as necessary ten years ago. Families are begging for help when a spouse has a mental health challenge being denied. Soldiers are begging not to be released out on to the streets because of their PTSD diagnosis being denied. It is sometimes months before their pension kicks in.
The government has let down the ill and injured soldiers with PTSD. Instead of really addressing this, can a whole government not hire a few hundred mental health professionals? It is denying the problem at the cost of our men and women in uniform and veterans. That is why the government has lost the trust of Canadians.
National Defence October 1st, 2014
Mr. Speaker, the Conservative government is failing members of the Canadian Armed Forces and veterans in a dramatic way, and Canadians are losing trust in the government in terms of its care for members, their families, and veterans. That is a sad tale to have to tell, because every Canadian knows the dedication of our Canadian Armed Forces and the sacrifices its members make on our behalf.
Unfortunately, the Conservative government, while using armed forces members and their equipment for photographs and backdrops to enhance its own image, is not properly caring for members who are ill and injured, nor, with the recent budget cuts, is it providing them with proper equipment or replacing the military ships, planes, and equipment that these soldiers need.
Recently the last soldiers came home from Afghanistan. We Canadians celebrated their courage and dedication in that mission, their professionalism, and the incredible reputation that Canadian Forces members deservedly have on the world stage. Sadly, 158 soldiers died in combat during that mission.
My question is about the 175 armed forces members who died from suicide while serving in the Canadian Armed Forces during the same time period. Almost 20 more died from suicide than from the mission itself.
Why did that happen?
The Liberals have been calling for adequate mental health support for returning soldiers ever since this combat mission started. In fact, under the Liberal government in 2003 it was identified that there would be a need for a great deal more mental health support as soldiers came back from deployments and experienced mental health challenges and injuries such as PTSD.
To this day, the Conservative government has failed to fill those spots with mental health professionals. As a result, we have injured soldiers who have to wait for many months, or in some cases years, to get treatment. Sadly, that is related to the kind of despair that can lead to suicide.
Canadians are losing trust in the government. It has now been almost a decade of deception on all levels, whether it is claiming that the budget would be stable and would be increased and then cutting it terribly or whether it is the portrayal of other governments, when it is the one that is cutting the budget and is providing the lowest level of funding as a percentage of GDP since the 1980s. This has to stop.
For the sake of our armed forces members, their mental health, and their families, the government has to confess to how it is letting them down and begin treating them properly and with respect.
National Defence October 1st, 2014
Mr. Speaker, could the Prime Minister inform the House as to the projected total budget for the current 30-day deployment in Iraq?
Since I have just heard that this money is coming out of the current National Defence budget, could the Prime Minister tell us whether he plans to request supplementary funds from Parliament for this mission or future missions, given the substantial budget cuts to the defence ministry?