Joyce Murray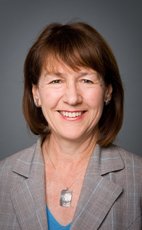 House of Commons photo
Track Joyce
Your Say
Elsewhere
Crucial Fact
Her

favourite word

is conservative.
Liberal
MP for Vancouver Quadra (B.C.)
Won her last election, in 2011, with 42.20% of the vote.
Statements in the House
National Defence May 6th, 2014
Mr. Speaker, Friday's day of honour should be a day to put a spotlight on our troops, present and fallen, who have served in Afghanistan.
They should not be an afterthought: families told to pay their own way, commanders not invited, Legions left out in the cold.
Now we have learned the last Canadian flag in Kabul will not be received in Ottawa by a Canadian Forces member, nor even the Commander-in-Chief, our Governor General. No. The Prime Minister is taking that honour for himself.
Will the government please put the spotlight back on our troops, where it belongs?
National Defence May 5th, 2014
Mr. Speaker, the minister's earlier response regarding Master Corporal Wolowidnyk was simply shameful self-promotion at the expense of a wounded soldier. After attempting suicide over his impending discharge from the forces, the military offered the master corporal more time to transition to civilian life, but suddenly, that option is off the table. It seems like the minute the media spotlight disappeared, so did the government's commitment to him.
Will the government fix this flip-flop and treat Master Corporal Wolowidnyk and service members like him with the respect and the compassion they deserve?
National Defence April 30th, 2014
Mr. Speaker, Conservative mismanagement means our air force is stuck with aging CF-18 jets, while Canadians are stuck with escalating costs, regardless of which replacement is selected.
The government first said the F-35s would cost $9 billion, then it said $16 billion, then $29 billion, then it admitted to $46 billion. Some analysts estimate it risks being tens of billions of dollars more. This project has been an epic failure.
Now the Conservatives are hiding the very report analyzing options for the largest military procurement in Canada's history. When will they be transparent and at least release the supposedly public report?
Canadian Armed Forces April 30th, 2014
Mr. Speaker, this past week, several courageous members and veterans of the Canadian Armed Forces came forward about the sexual assaults they experienced while serving, and the force's disturbing response. We heard accounts of complaints dismissed by the military police, ostracism and harassment, and even rape by superior officers.
In the face of daunting obstacles, these brave men and women came forward to share their ordeals, standing up for other victims of sexual assault. It is an incredible act of bravery from individuals who already give their country so much.
We need a better approach for prevention and stronger safeguards for those who come forward, and we need them now. The system in place is clearly failing.
The defence minister is ultimately responsible for what happens in his department, so I appreciate the planned independent review, and I expect him to oversee strong, clear measures to correct this unacceptable situation.
To the men and women who have come forward, on behalf of my colleagues in the House, I simply want to thank them for their bravery, and we stand with them.
National Defence April 29th, 2014
Mr. Speaker, in March the Department of National Defence sent a letter to the families of fallen soldiers saying they had to pay their own way to the National Day of Honour. When I asked the minister about this in committee, he reversed course. He said that "...we can and will support those individuals".
It turns out he has broken his word. He has now off-loaded the cost to a charity, which is scrambling to raise funds to cover the expense.
Why did the minister mislead the committee, the House, and, most importantly, the grieving families?
Government Response to Petitions April 28th, 2014
Mr. Speaker, I rise to seek the unanimous consent of the House to instruct the government to table the non-classified report on replacement options for the F-35 jets, the public report on the evaluation of options.
National Defence April 28th, 2014
Mr. Speaker, the Conservatives sole-sourced F-35 jets to replace the aging CF-18s without a competition or even an analysis of what Canada might require of its future fleet.
When the Auditor General revealed the true costs had been falsified, the government hit the reset button to deflect the resulting flack.
Now, two years later, a public report has been completed, but again, it is being hidden from the public.
The government's credibility on the F-35s is completely shot so today's vague assurances just do not cut it. Precisely, when will the minister be open with Canadians and release this report?
Infrastructure April 9th, 2014
Mr. Speaker, let us put the new infrastructure funding cut into perspective.
Ten years ago, the federal government committed $500 million for just one investment: the Canada line to Vancouver airport.
However, today, the Conservatives' fund is down to just $200 million for an entire country.
Vancouver's Broadway corridor generates billions in economic activity. However, to grow, it urgently needs rapid transit.
Why are the Conservatives making our cities wait years longer for help with their critical infrastructure investments? Why are they sabotaging them rather than supporting them?
Democratic Reform April 8th, 2014
Mr. Speaker, voter turnout among students and young people is the lowest of all age groups. Last night, student associations testified in Parliament about how Elections Canada had been helping them run educational programs to reverse that trend. Yet, the government's rigged elections act would not only stop Elections Canada from encouraging young voters, it would make it harder for them to vote.
Now, it seems to me to be a good thing to have young people participating in Canada's democracy. Why would the Conservatives want to block them? Is it because they tend to not vote Conservative?
Economic Action Plan 2014 Act, No. 1 April 8th, 2014
Mr. Speaker, I want to thank the member for Vancouver Centre for her eloquent remarks.
I want to address the issue of search and rescue. There is a non-refundable search and rescue tax credit, which implies some commitment to this very important initiative on the part of the government, yet at the same time it has been acknowledged that almost $50 million has been wasted by a set of false alarms that have wasted search and rescue's time and efforts over the last number of years. That situation, which has not been corrected by the government, could pay for the Kitsilano Coast Guard search and rescue base for years.
I would like the member's comments on whether the budget appropriately addresses a search and rescue base for her community of Vancouver Centre.