Joyce Murray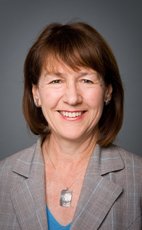 House of Commons photo
Track Joyce
Your Say
Elsewhere
Crucial Fact
Her

favourite word

is conservative.
Liberal
MP for Vancouver Quadra (B.C.)
Won her last election, in 2011, with 42.20% of the vote.
Statements in the House
National Defence May 8th, 2014
Mr. Speaker, I rise to speak about a question that I asked regarding Master Corporal Wolowidnyk and the fact that the government had flip-flopped on its agreement to halt his impending discharge from the forces.
The government offered the master corporal more time to transition to civilian life, but then suddenly pulled that option off the table. Family members of the corporal believed that once the media spotlight was off this member of the armed forces, who is suffering from PTSD and has attempted to take his life, by promising a slower transition to civilian life, the government's would commitment disappeared.
I asked a question about that flip-flop. I asked whether the government would start treating Master Corporal Wolowidnyk and service members like him with the respect and compassion they deserved.
This is a government that has made a practice of promoting an image of being a government that supports our troops, but when it comes to ill and injured soldiers, when it comes to soldiers who have passed away, that support has not been there. We have a number of incidents where families of former members of the Canadian Armed Forces who have passed away have had very disrespectful treatment.
For example, there was a soldier who had passed away and within a couple of weeks the solider's spouse received a letter from the government asking for repayment of the rest of that month's pension because the solider had passed away in the middle of the month and not at the end of it. That was a very hurtful letter, a reminder of the loss and the tragedy.
Another instance was this. Two years after a soldier passed away, the parents received a cheque for 1¢ for the final payout of benefits. That is a pretty painful reminder to a mother and father of the loss of their child.
There have been a number of these kinds of incidents, and the incident with Master Corporal Wolowidnyk is just one more in that series.
It is not just the soldiers who have fallen, who have taken their lives, or who are suffering from PTSD and are no longer with us that I am concerned about. This disrespect and lack of support has equally been for soldiers who are ill and injured.
I contend that the Conservative government has broken the sacred promise to provide troops with the support they deserve when they return from the operational theatre. This sacred promise was made almost a hundred years ago, during the First World War, by Prime Minister Borden.
This Conservative government has not kept that sacred promise made almost 100 years ago with regard to health care for military personnel.
The government has been failing to meet the demand for increased support for troops who were injured in Afghanistan. As we know, there were 40,000 troops deployed to Afghanistan; many of them came back injured and they deserve support for their injuries. However, adequate personnel were never hired to be able to support these groups. The current government has to rectify this situation and provide the support it promised.
Infrastructure May 7th, 2014
Mr. Speaker, nothing in the response tests my assertion, which is that this funding is dropping 87% this year and next year over last year. It is not until 2019 that the funding level will return to what it was last year, so this is years of delay in critical infrastructure.
I note the member is praising the benefits of the gas tax fund, and I would agree with that. This is a program initiated by a previous Liberal government and it was the right thing to do.
He also praises investment in rapid transit. Just to make a point of comparison, the $500 million that was spent for the Canada line to the airport, a very important federal investment, was actually approved and budgeted by a previous Liberal government. That is $500 million for one—
Infrastructure May 7th, 2014
Mr. Speaker, I asked a question in the House about why the Conservative government was cutting infrastructure funding next year. The answer was that despite the Prime Minister's claims, the economy was not his top priority. The main thing the Prime Minister is focused on is being able to go into the next election and say that he has eliminated the very deficit that he created in 2008 in order to gain votes.
Because of this, important federal investments are being delayed until after the next election. This is in spite of the fact that action now would generate economic growth and help middle-class families. We saw this when the Prime Minister delayed, for two years, his recently announced funding to help first nations children's education. That is a tremendously important investment when fewer than four in ten young aboriginal students even graduate from high school if they live on reserve.
However, Mr. Harper felt that was not as important as his balanced budget target date. Therefore, the funding does not flow until after the next election.
The new building Canada fund is no different. It is a 10-year plan, which Liberals were happy to see, but it is heavily back end loaded and extremely light on funding until after the next election. In fact, for the next two years, the fund will have only $210 million of new funding a year. If we compare this with the old building Canada fund commitment for 2013-14, which was $1.7 billion, this has been an 87% cut and it will not be back to last year's level until 2019. That puts projects like the Broadway corridor expansion of SkyTrain at risk.
Mayor Gregor Robertson of Vancouver held a press conference this week to say that the Broadway corridor expansion of SkyTrain must go forward. However, the federal share of this investment may be delayed many years due to the delay in funding for infrastructure by the Conservative government.
Liberal Party members recently passed a resolution calling for major infrastructure investments of up to 1% of GDP. They understand how critically important infrastructure investment is.
UBC generates more than $10 billion in economic activity annually, but the bus-clogged Broadway corridor that goes right through my riding of Vancouver Quadra, is a major impediment to investment in the corridor, according to a KPMG report written recently. A new SkyTrain link from Broadway to Commercial would connect jobs and innovation centres in metro Vancouver, making this one of Canada's most important infrastructure and economic corridors.
As Mayor Gregor Robertson recently said:
We will see companies from all over the world coming to Vancouver if there's good connectivity....The cities we compete with globally in technology are well-connected and are invested in rapid transit, and we need to keep pace. So it will have a nationally significant economic impact.
This expansion just makes good sense. In the short run, the Broadway corridor rapid transit project will create jobs, jobs in construction, transportation and manufacturing. In the long run, public transit in the Broadway corridor will improve the quality of life and of our air, reduce traffic gridlock and stress, shorten commute times and mitigate greenhouse gas emissions. It will increase our productivity and make Canada a more attractive place to invest.
All we need to do is look at the economic benefits of our life sciences and innovation clusters along the Broadway corridor and the important post-secondary institutions, like UBC in Vancouver Quadra, to know that if we act now, we can realize more benefits for greater Vancouver, British Columbia and Canada. Starving the building Canada fund is not the way to do this.
National Defence May 6th, 2014
Mr. Speaker, with respect to military equipment procurement, the government has not one shred of credibility left. There have been eight lost years in which the government has not only made an enormous set of promises without prioritizing them, but it has failed to deliver on any procurement that was a competitive bid at this point. Therefore, we are seeing a failure, whether it is land, sea, or air, in terms of the government providing equipment for troops that they deserve.
In conclusion, this is not a recoverable situation for the government. It has compounded matters by making stealth cuts to National Defence, including $14 billion in lapsed funding, and other budget cuts that are causing the armed forces to scramble just to take care of ill and injured soldiers and veterans. It is failing on that.
I invite the member opposite to consider the eight lost years under the Conservative government that have been all promise and no delivery.
National Defence May 6th, 2014
Mr. Speaker, I am rising to speak about a question I asked in the House concerning the options report for the F-35 jets. This relates to the government's effort two years ago to essentially prorogue the program of the F-35 purchases.
Why did the government want to prorogue that program? It was because the heat got pretty hot. This has been a systemic failure of a procurement project for military equipment of essentially massive proportions, and the government was caught out. It provided information that according to the Auditor General and the Parliamentary Budget Officer was not true and in fact represented a government that was keeping two sets of books, one for internal consumption and one for the public.
To avoid the scrutiny of the House and the media, the government did what it called a reset to re-examine the options for replacing the CF-18s.
This has been an incredible failure to deliver by the government, with example after example in the area of military equipment causing a growing lack of confidence by industry in the government's ability to manage military equipment procurement. It is causing troops to have to use aging equipment, which can be dangerous, as we saw with the Protecteur, a supply ship on the Pacific coast that burst into flames in mid-sea.
Let us go back to the F-35 purchase decision.
First, the government never addressed the question of "Why jets?", not just what jets. It went right to a particular product and went full bore ahead to purchase it. "Why jets?" would be an appropriate question to address and to consult on. What is government's predicted need for defence equipment 10, 20, 30, and 40 years from now, and what kind of equipment would serve that need?
These questions were never asked. There was no statement of requirements that would determine what the replacement for the CF-18s would be required to accomplish. Instead, there was a sole source of a very expensive product called the F-35, which was still under development.
Second, this was based on the misinformation that we, being Canada, were already committed to a contract for the F-35. That was simply not true, even though that was the justification put forward by the Prime Minister himself and the Minister of National Defence.
Third, there was no competition, so there was no opportunity for other providers of potential replacements for the F-35 to demonstrate that their products could meet those requirements that had not actually been articulated.
Last, the cost of this particular program has been zooming into the stratosphere. First it was to be $9 billion, then $16 billion, then $29 billion, then $46 billion, and now two think tanks are telling us that this is still underestimating the true cost.
Why not at least start being transparent and put the report forward, as I asked in my question?
Business of Supply May 6th, 2014
Mr. Speaker, again, with respect for the member, we have outlined a number of actions in our motion, and I hope his party will support this motion.
Essentially, this is a matter of competence and management. This is an important program. There needs to be a review of the problems inherent in the program. We have laid out in our motion some very specific fixes. There has already been a blanket moratorium on some of the low-skilled worker categories. However, a blanket moratorium is not the ultimate solution for this.
The solution is taking seriously that we do not want temporary foreign workers to replace permanent residents and citizens and the pathway to citizenship in our country. It was tried in Europe 20 years ago. It created a generation of problems. We cannot go down the road again. We can learn from European countries that fixed that problem and returned to an appropriate level of temporary foreign workers for their true needs.
Business of Supply May 6th, 2014
Mr. Speaker, I appreciate that question from the member opposite because the answers are right in the motion, and I appreciate his openness to these ideas for which the Liberals are calling. These include the disclosure of labour market opinion applications and approvals for the TFW program, which are not currently disclosed; a tightening of the labour market opinion approval process to ensure that only businesses with legitimate needs are able to access, the program because we have seen how the program has been abused in the enthusiasm to open it up that the current government has had; and implementation of stronger rules requiring that employers applying for the program demonstrate unequivocally that they have exhausted all other avenues to fill the job vacancies.
The member should be aware that even though it has become so much easier to get a permit for temporary foreign workers, the waiting times for actually coming as a potential permanent resident or immigrant have been extended to many times what they used to be. The path to citizenship can take up to eight years. To be reunited with a family member from outside Canada now averages 40 months, up from 5 months just 5 years ago, and on and on. The average processing time for federal skilled workers has gone to up to 34 months whereas in Australia it is 2 months.
Let us focus on opening up those channels, rather than opening up the channels for temporary foreign workers so that it becomes a replacement for immigration.
Business of Supply May 6th, 2014
Mr. Speaker, I am pleased to take part in this debate on an important issue.
The temporary foreign worker program is important because it was originally a solution to a problem that was bedevilling employers in Canada and was costing potential economic opportunities and productivity for our economy. It is a program that, managed well, is very important, not just for employers but also for the entire economy, while providing some benefit to businesses that can otherwise not fill jobs with the skilled people they need to have their businesses be a success.
The program is important to the business community as well, especially small businesses and seasonal businesses.
I want to highlight that, as well as the importance to the people who have come as temporary foreign workers. They are filling a real need that cannot be filled by Canadians. It is a win-win because they develop skills or bring their skills to Canada, and are able to support families. In a way, it is a form of helping countries that are less fortunate than Canada to help with their economy and support families in those countries. It is essentially a positive program.
I will be sharing my time, Mr. Speaker, with the member for Toronto Centre.
This has an important purpose for Canada and for businesses, but unfortunately it has begun to go off the rails. That is simply through mismanagement. It is through sheer incompetence. It is not because this program is not needed. It is not because there are not many businesses that need to partake of it. There are. It is because it has simply been mismanaged.
Unfortunately, this situation has led to a crisis. The government has had to make a heavy-handed response that in some cases exacerbates the situation, rather than actually reviewing the program when the original criticism came out and figuring out how to manage it properly.
To work, the temporary foreign worker program has to be targeted where there really is a need. To do that, the government clearly needs to have information about where there is need. As the minister has said, in broad brush strokes, we do not have a shortage of workers to fill jobs, but in specific areas we do. In specific talents and in the specific pockets of the country there are shortages. That is what the temporary foreign worker program is intended to fill.
How do we know where there are those shortages? That is one of the points of mismanagement. The government simply does not have that data. It has not figured out how it can collect that data. The government has not provided that data as a basis under which the temporary foreign worker program can be targeted where there is a need.
The government, as we have heard a number of times today, was using Kijiji to produce facts and figures as to where there were vacancies. Most economists would say that is a pretty woeful substitution for actual facts and figures. The government's latest labour market report points to a job vacancy rate of 1.5%, dramatically less than the 4% vacancy rate that was mentioned on budget day in February, based on scrolling through Kijiji sites and using that as a basis for analysis. It is a very flawed approach.
As the assistant parliamentary budget officer, Mostafa Askari, has said, Canada lacks reliable job data. Statistics Canada could do this work, but it needs to be made a priority. It needs the resources to do it. It could improve its research on job vacancies normally based on surveys of employers rather than website postings that are completely unreliable. By using false data, it is fumbling blindly to really figure out where this program is needed and how to target it. Therefore, it really has not been targeted. In fact, it has been abused.
The numbers of temporary foreign workers have gone up radically since 2005, from 141,000 to 338,000 in 2012. This program, abused this way, has been costly to employers, to workers, to the temporary foreign workers themselves and to the Canadian unemployed. The bottom line is that the businesses that need these workers pay as well.
To give an example of this ballooning, I have gone to the C.D. Howe Institute report, which is also highly critical of this program for having actually driven up unemployment in my province of British Columbia. According to the C.D. Howe report, unemployment in British Columbia has been driven up by more than 4% based on the flood of temporary foreign workers taking jobs that Canadians would otherwise have taken.
This is the example in the C.D. Howe Institute report. In the pilot project for occupations requiring lower levels of formal training, in British Columbia and Alberta the number in 2005 of those workers was 2,041, but by 2008 it had ballooned to 56,540 workers. Clearly, this has been a program completely out of control. Those were for lower skilled people requiring lower levels of training. Therefore, this program has gone off the rails.
One of the long-term consequences of beginning to replace immigration with temporary foreign workers has been seen in Europe in the years after the guest worker program in Germany, a program that was started because the unemployment rate was very low. However, with the flood of temporary workers beginning to create a two-tier worker system in Germany, that led to other problems, such as entrepreneurs and small businesses being driven out of business because of the competition from lower-priced workers in the temporary worker program and also pressures on social services. Therefore, countries like Germany reversed course and went back toward the kind of targeted, high-skilled workers or a very carefully managed program, like we used to have in Canada and no longer have.
There are many examples, and others have given some, of the kind of abuses of this program, whether it is HD Mining Limited in British Columbia, which required Mandarin as a condition for work and when it was not fulfilled by local very capable miners, temporary foreign workers were brought in to fill those jobs, or a number of other instances. This is simply unacceptable, driving unemployment up and based on faulty information statistically.
The cost to the businesses now is that the allegations of abuse have led to some blanket moratorium by the minister to bring a sledgehammer to this problem, which should have been fixed before, could have been fixed before and was just ignored. Of course, that costs the employers and the businesses that really need these temporary foreign workers.
That is not to speak of the impact of this moratorium on the foreign workers themselves right now. For people who are already in Canada, who are in these jobs and are trying to renew their permits, suddenly there is a great deal of uncertainty. It is creating some chaos in the industry.
All of this was unnecessary had the government listened to the Liberals a year ago when we called for a review of this program. The government has known about the program, because its own reports and HRDC have pointed it out. Therefore, it is now time to no longer procrastinate, support the Liberal Party motion, bring in the Auditor General to review the program, make the other improvements and restore it to the program it used to be and can once again be.
National Defence May 6th, 2014
Mr. Speaker, Friday's day of honour should be a day to put a spotlight on our troops, present and fallen, who have served in Afghanistan.
They should not be an afterthought: families told to pay their own way, commanders not invited, Legions left out in the cold.
Now we have learned the last Canadian flag in Kabul will not be received in Ottawa by a Canadian Forces member, nor even the Commander-in-Chief, our Governor General. No. The Prime Minister is taking that honour for himself.
Will the government please put the spotlight back on our troops, where it belongs?
National Defence May 5th, 2014
Mr. Speaker, the minister's earlier response regarding Master Corporal Wolowidnyk was simply shameful self-promotion at the expense of a wounded soldier. After attempting suicide over his impending discharge from the forces, the military offered the master corporal more time to transition to civilian life, but suddenly, that option is off the table. It seems like the minute the media spotlight disappeared, so did the government's commitment to him.
Will the government fix this flip-flop and treat Master Corporal Wolowidnyk and service members like him with the respect and the compassion they deserve?