Joyce Murray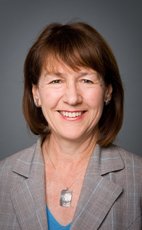 House of Commons photo
Track Joyce
Your Say
Elsewhere
Crucial Fact
Her

favourite word

is conservative.
Liberal
MP for Vancouver Quadra (B.C.)
Won her last election, in 2011, with 42.20% of the vote.
Statements in the House
National Defence October 1st, 2014
Mr. Speaker, could the Prime Minister inform the House as to the projected total budget for the current 30-day deployment in Iraq?
Since I have just heard that this money is coming out of the current National Defence budget, could the Prime Minister tell us whether he plans to request supplementary funds from Parliament for this mission or future missions, given the substantial budget cuts to the defence ministry?
Foreign Affairs September 29th, 2014
Mr. Speaker, Parliament needs to be consulted about sending the Canadian Armed Forces into combat. What is the time period that the government is considering for the deployment of the Canadian Armed Forces?
National Defence September 25th, 2014
Mr. Speaker, Canadians learned about the U.S. request for a larger military role against ISIL from the Prime Minister's comments in New York and not from a statement to Parliament. In the U.K., Prime Minister Cameron recalled Parliament to debate his country's role in the fight against ISIL.
Before extending the 30-day deadline for Canada's mission and before any larger role may be decided, will the Prime Minister inform Parliament of the nature of the U.S. request and will he commit to holding a debate in Parliament?
National Defence September 24th, 2014
Mr. Speaker, the navy trusted the Conservative government's claims that it would replace its aging ships. What a mistake. Now Canada's only naval supply ships are being retired, but replacements the government finally commissioned are way behind schedule and will not be available for years. That means our navy will simply not be functional. Now the government is panicking and it may have to buy old, used American ships instead.
Let us give the parliamentary secretary another chance to level with Canadians. How much will the Conservatives' woeful incompetence cost when they have to cancel their made-in-Canada supply ships that they already commissioned?
National Defence September 23rd, 2014
Mr. Speaker, part of my responsibility as Liberal defence critic is to speak with serving members and see first hand the conditions on bases right across the country. While previous governments always promoted this, I and my colleagues have been repeatedly blocked and denied permission to visit military bases. This is shocking partisanship because Conservative members have been invited onto bases inside and outside of their riding and even attended photo ops and cheque presentations on bases.
Why is there one set of rules for Conservative MPs and another set of rules for everyone else?
National Defence September 22nd, 2014
Mr. Speaker, Canadian Forces members are being forced by the government to hide their health problems to avoid being discharged and losing their pensions. In other words, if they ask for help, they get fired.
As a recently discharged corporal who knows about this said, "...if they speak up, then they lose their ability to keep food on the table." It is unbelievable.
Conservative ministers promised that no injured service member would be released until they were ready and willing. Will the minister take responsibility for the well-being of the troops, stop breaking this promise, and fix this urgent problem?
National Defence September 18th, 2014
Mr. Speaker, this week armed forces members and all Canadians are saddened by the tragedy of yet another military suicide and our thoughts are with the family.
As well, we are reminded of the failure of the defence minister to do what is needed and what he promised to do, which was to make more mental health support available, rather than to make more excuses, as he is doing today. Penny-pinching and budget cuts are the legacy of that minister. Nine months after promising to make this a priority, 40 mental health positions remain empty.
How can the minister delay this hiring when so many are in need?
Princess Patricia's Canadian Light Infantry September 18th, 2014
Mr. Speaker, this year, the Princess Patricia's Canadian Light Infantry celebrates its 100th anniversary.
I was honoured to attend the maple tree planting ceremony this morning at Rideau Hall to recognize this significant milestone.
The Princess Pats, as they are affectionately known, have a long history of serving Canada. The regiment was formed here in Ontario in August 1914 and was renowned for holding the line at Passchendaele at great personal cost.
Following the First World War, the Patricias were formed into a permanent force regiment and are now based in western Canada at Shilo, Manitoba, and Edmonton, Alberta.
Princess Pats' brave men and women have served with distinction in both World Wars, the Korean War, and in Afghanistan and were a critical part of NATO's Canadian Brigade Group in Europe. They have made Canadians proud serving as UN peacekeepers throughout the world.
It is truly an honour to mark this very special occasion. Please join me as we congratulate the Princess Pats.
Situation in Iraq September 16th, 2014
Mr. Speaker, that is the very reason that my colleague from Westmount—Ville-Marie and I have both been very clear about the engagement of parliamentarians with respect to the details of the deployment announced so far. Real clarity as to what the parameters are is very important. Even more important, should there be any changes, Parliament should be engaged, participate, and be briefed fully on that.
We are very clear that scope creep is a dangerous thing. The deployment as it is today is not a combat role. We are supporting what is in front of us while asking for more clarity and for the government to do a full briefing and inclusion, not only on this deployment but on any planned changes.
Situation in Iraq September 16th, 2014
Mr. Speaker, the member for Westmount—Ville-Marie was very clear, as was I. The Liberals support this deployment in Iraq because of the reasons that have been mentioned in our speeches, because of the humanitarian challenges, and because of the unprecedented viciousness of ISIS.
Regarding the past number of years when I have expressed my concern about the withdrawal of funding from the Canadian Armed Forces, I see us, unfortunately, as being in a decade of deception with the Conservative government claiming to support the armed forces and in the meantime having hidden budget cuts and clawbacks that have been very costly. Today in the House there was a discussion about some of the human costs, in terms of suicides, through lack of support by the government.
I would advise the member opposite to consider what she and her colleagues can do to convince the Prime Minister and the minister to fully support the men and women in uniform so these tragedies stop occurring.