Joyce Murray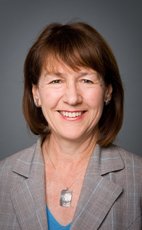 House of Commons photo
Track Joyce
Your Say
Elsewhere
Crucial Fact
Liberal
MP for Vancouver Quadra (B.C.)
Won her last election, in 2011, with 42.20% of the vote.
Statements in the House
National Defence November 28th, 2013
Mr. Speaker, I am sure I speak for all members of this House when I say that ill and injured members of the Canadian Armed Forces deserve the very best care we can possibly provide. The tragic events at CFB Shilo two days ago only underscore the depths of despair and suffering caused by injuries received while serving. The family members have our deepest sympathy.
Would the Minister of National Defence please inform this House of what additional steps he is taking to ensure that every Canadian Forces member has the help that they and their families need?
Ethics November 21st, 2013
Mr. Speaker, we know the Prime Minister's lawyer, Benjamin Perrin, assured Nigel Wright there would be no written evidence of the deal to repay Mike Duffy's fraudulent expenses.
When a lawyer does not want something put on paper, it is because he or she has something to hide. In this case, it was the fraud squad's job to wipe the Prime Minister's fingerprints off the deal.
The Prime Minister can no longer pretend he did not know what all his senior staff were up to. When will he finally tell Canadians the truth, 17 years from now?
Priority Hiring for Injured Veterans Act November 20th, 2013
Mr. Speaker, I would like to congratulate my colleague from Scarborough—Agincourt for his passion and support for veterans and the hard work he has done on this new portfolio.
There have been a number of times that the government and the minister have had the answer that the minister had to my question today, which is that we will look at these issues in the parliamentary committee review that he is initiating. However, we have heard from many veterans organizations, Equitas and other representatives, that an extensive study of the new veterans charter has already taken place and the solutions to some of the things that the hon. member raised have already been analyzed and identified in a previous study.
I would like to ask my colleague whether this may be a delaying tactic, this grab bag answer for any of the concerns of veterans that we will look at it in a parliamentary committee study. Is that adequate, or are there things that could be done now to address concerns of the veteran community?
Priority Hiring for Injured Veterans Act November 20th, 2013
Mr. Speaker, I would like to thank the NDP member for his speech and ask him a question.
I would like to know what the hon. member thinks about the situation of veterans, given what the minister told the public about them, namely, that veterans do not play a special role, that they are just like any other member of society, and that the government and Canadians do not have a sacred duty to treat them differently. Veterans' representatives and veterans themselves were very disappointed to hear that this government had broken this historic promise here in Canada.
Does the hon. member believe that this bill will undo the damage done by government lawyers and the minister himself? They broke this sacred contract between veterans and our country.
Priority Hiring for Injured Veterans Act November 20th, 2013
Mr. Speaker, I appreciate hearing the comments of the minister with regard to looking for ways to support veterans who have been released from the armed forces. He did ask for ideas and input from the members on this side of the House; therefore, my question relates to the release process.
The legislation would actually complicate the release process and would potentially delay the released member's beginning to seek employment and so on, because of additional red tape.
I was recently at the Legion Command for Alberta and Northwest Territories and met with some of the senior executives there. There are deep concerns about the release process already. The poppy fund is being used to bridge the gap when forces members are released, because the processing is so slow that they are not receiving any of the benefits to which they are entitled. They are unable to pay the rent at times, and so the poppy fund is stepping in.
How would the minister ensure that this additional red tape on the release process—a process that already is backlogged, not working and costing our recently released forces members—would not make it worse for all the members who are leaving the armed forces?
National Defence November 18th, 2013
Mr. Speaker, the national shipbuilding plan is completely adrift and the Conservatives are hiding the real costs. This is yet another example of financial and management incompetence by the government.
Has the minister, who has so far refused to answer questions today, learned from the F-35 stealth jet debacle? Or is she keeping two sets of books to mislead the public about the true cost of the ships, just as was done with the jets?
Ethics November 7th, 2013
Mr. Speaker, U.S. President Nixon was forced to resign not because of the Watergate break-in but because of the denials and cover-up that followed. The Prime Minister is in exactly the same boat. The unethical behaviour of the senators and the chief of staff, who he appointed, is shameful, but the real issue is his role in the alleged bribery, corruption, and cover-up.
With the RCMP now knocking on the door of the Prime Minister's Office, will the Prime Minister finally stop evading our questions and tell Canadians the truth?
National Defence November 7th, 2013
Mr. Speaker, our Canadian troops sometimes bear witness to atrocities most people could never begin to imagine. It is estimated that up to 30% of soldiers experience trauma from active combat. There are programs available to heal their bodies. It is often minds and hearts that need care the most. The veterans transition program, headed by Dr. Marvin Westwood and his team of professionals at UBC, helps former members of the Canadian military to come to grips with their trauma, so they can make that difficult transition back to civilian life.
I have met representatives about the problems members face and the wait times they face in getting medically assessed and treated for psychological injury. Post-Afghanistan, their numbers keep increasing. Support services at places like Camp Shilo and other bases simply cannot keep up. That is wrong.
In this week of remembrance, with the Prime Minister's communication budget that has increased by over 7%, why not instead put our troops and veterans first, so they receive the services they need every day of the year?
Business of Supply November 5th, 2013
Mr. Speaker, in fact Liberals are for Senate reform as well.
I would like to say in response that it is not good enough to do a Mayor Ford-like apology that says, "I'm sorry", and when asked what he is sorry for, he says, "I'm sorry. Let's move forward."
For the Prime Minister to go to Peru and say, "I'm angry. Let's move forward" is not an acceptance of personal responsibility and is not being accountable. There certainly has not been honesty from the Prime Minister, and that is what he has an opportunity to correct.
Business of Supply November 5th, 2013
Mr. Speaker, I would like to thank the hon. member for Thunder Bay—Superior North for his deep commitment to democracy and for respectful parliamentary procedures. His comment is in line with that.
Personal accountability, as he pointed out, is critical for the private sector, and in this place ministerial accountability is very much part of that tradition. Ministers take responsibility for problems that happen in their ministries. They step down or step aside—or it used to happen, that is, until the current Conservative government, led by a Prime Minister who is demonstrating a whole other type of lack of ethics in behaviour.
I would like to add to the description that the member just provided. The current government has a principle that the end justifies the means, and that is what has gotten the Prime Minister into trouble. That leads to a downward spiral in terms of democracy. We are to be a model in the world for democracy, yet what is happening is the demeaning and degrading of the very underpinning and principles of our democracy in Canada.
That has to change, and we are going to give the Prime Minister an opportunity to start that change with this motion.