Joyce Murray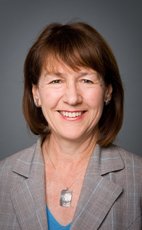 House of Commons photo
Track Joyce
Your Say
Elsewhere
Crucial Fact
Her

favourite word

is conservative.
Liberal
MP for Vancouver Quadra (B.C.)
Won her last election, in 2011, with 42.20% of the vote.
Statements in the House
National Defence October 7th, 2014
Mr. Speaker, two years ago, the Canadian Forces Ombudsman reported that:
...[a] chronic personnel deficit has strained the mental health system and is at the root of its most pressing challenges.
Then, last June, the defence committee learned that the Canadian Forces still have a shortage of mental health professionals for our troops.
In light of a new combat deployment of Canadian troops, what steps is the government taking to address the existing shortage of mental health practitioners?
Military Contribution Against ISIL October 7th, 2014
Mr. Speaker, I was sad, but not surprised, to hear the Minister of Justice continue to promote the false dichotomy that Canada either assumes a combat role of aerial bombing or it is characterized as accepting and tolerating ISIL, standing idly by, complacency, and all of these words that are being used to divide Canadians on this issue.
In fact, Liberals are very clear that we believe Canada can best contribute to other kinds of military roles, non-combat military roles, as well as humanitarian roles. I proposed a training role.
My question is this: Does the minister believe that in the four years when 1,000 Canadian trainers had a non-combat role in Afghanistan, the government was standing idly by and was in a place of complacency and acceptance and tolerance of the Taliban?
Military Contribution Against ISIL October 7th, 2014
Mr. Speaker, I share the view of my colleague from Winnipeg North that there are many of our colleagues would like to speak on this important debate who did not have the chance to go on the trip to Iraq. They have important views to share.
I would ask the Minister of Foreign Affairs to reverse this closure.
I would also like to point out that this really fits into the way he has been positioning this whole issue, which is either that we are for a combat air strike air bombing role or we are free riders. I find it very counterproductive for respected parliamentarians to be making this a divisive issue. In fact, most of our allies have not done that. They have brought their colleagues from all parties in. They have sought to get a consensus on the matter. Very few have gone forward with a combat role. Other countries, like Germany and Italy, which the minister incorrectly claimed were supporting the combat role in the media a few days ago, are not part of a combat role.
In the debate, the minister's very respected colleague from Edmonton Centre said that there are all kinds of important roles for coalition countries to play. Some are combat roles. Some are not. Each of them is an important contribution—
Military Contribution Against ISIL October 6th, 2014
Mr. Speaker, I appreciate the comments of the hon. member across the way, his detailed laying out the case for the dangers from ISIL and his view that a combat role is an appropriate way forward for Canada. What I want to explore in my question is whether he views that as being the only honourable way forward?
The Minister of Foreign Affairs claims that anyone who is not accepting or supporting a combat role is sitting back and letting others do the heavy lifting, or is a free rider. It is very much a positioning of either people are for air strikes or they are losers. Germany, Italy and dozens of our allies are not accepting a combat role.
The member for Edmonton Centre was very thoughtful in saying that this coalition of 60 states had the vast majority of members who were doing constructive military, non-military contributions, all of which were valid.
Which does my colleague believe? Is it either/or, it has to be air strikes or one is a loser, as the foreign affairs minister claims, or does he subscribe to the idea that there are many contributions—
Military Contribution Against ISIL October 6th, 2014
Mr. Speaker, the Minister of Foreign Affairs told the press that Canada's position on the Syrian government of a few years ago was different from that of the United States and the western nations. He said that he was not opposed to the Syrian government or in favour of the opposition, but that is false and the opposite is true.
During the G20 meeting in St. Petersburg, the Prime Minister clearly said that a military strike against the Syrian government was necessary. On September 7, he urged the international community to launch military action against the Syrian government.
Does the minister believe that this dishonesty will weaken Canadians' confidence concerning the combat mission that his government initiated yesterday?
Military Contribution Against ISIL October 6th, 2014
Mr. Speaker, in looking at the amendment, it is not clear whether the NDP is supporting non-combat military activities in general, or simply the one it specifies, which is transportation of weapons.
Could the member clarify this.
First, is it a general support for non-combat military activity such as surveillance, intelligence, training, protecting aid workers and vulnerable women, protecting field hospitals, strategic airlift and the kinds of things the Liberals have been talking about? Is that included, or is it just transporting weapons?
Second, his leader apparently criticized the Liberals for supporting the 30-day combat mission. Was that a slip of the tongue, or was his leader not aware that was a non-combat 30-day mission that the Liberals supported?
National Defence October 6th, 2014
Mr. Speaker, apparently the Conservatives did not think an assessment would be useful in pondering their next step.
The government of Australia has provided information about the expected costs of the mission in Iraq. The Conservatives have refused to provide the House with an estimate of these costs and to say whether they would be absorbed by the steadily diminishing budget of the defence ministry or whether more funding will be provided.
Will the government please answer these basic questions?
National Defence October 6th, 2014
Mr. Speaker, the government said it would assess the results of the original non-combat mission in Iraq after 30 days. Now the 30 days are up. Has that assessment taken place? If so, what are the results? If not, when can we expect to see those results?
Military Contribution Against ISIL October 6th, 2014
Mr. Speaker, we have been pretty clear about our positions, and that is that there needs to be openness and transparency in considering these issues, which there has not been. It is that Canada does respond and take a role in humanitarian crises and security threats. It is that we must find the best and highest contribution for Canadians to make. Those are our positions. Those are the ones that we have been advancing, including advancing through calling for an emergency debate in Parliament on this issue several weeks ago.
Military Contribution Against ISIL October 6th, 2014
Mr. Speaker, I am sorry to hear the member using the same tactic of rhetoric over reasoning in this very important situation. I point out that it is important to learn from past lessons, and apparently the government wants to ignore lessons learned.
In terms of the kind of undermining of the opposition parties for choosing to support a non-combat role, I would like to point out that the member's colleague, the Minister of Foreign Affairs, slammed the opposition parties for a non-combat role stand, saying that the socialist democratic government in Italy was supportive and the socialist democratic coalition in Germany was supportive.
In fact, yes they are supportive of making a contribution, as are the Liberals. However, the minister neglected to mention that neither Germany nor Italy is sending strike fighter planes or taking on a combat role. This is further example of the kinds of dishonesty that undermine the trust of Canadians in this very mission.