Joyce Murray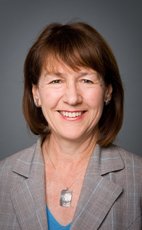 House of Commons photo
Track Joyce
Your Say
Elsewhere
Crucial Fact
Liberal
MP for Vancouver Quadra (B.C.)
Won her last election, in 2011, with 42.20% of the vote.
Statements in the House
Questions Passed as Orders for Returns March 24th, 2014
With regard to briefing documents prepared for all senior associate deputy ministers and associate deputy ministers from April 1, 2013 to present, what are (i) the dates, (ii) the titles or subject matters, (iii) the department's internal tracking number?
National Defence March 6th, 2014
Mr. Speaker, we have just learned that there is not one single uniformed clinical psychologist employed by the Department of National Defence—not one. The minister's gross incompetence has led to a tragic failure in providing mental health services to injured soldiers.
The minister has been forced to apologize for insulting a grieving family, with a one-cent cheque. How many more tragedies and failures must military families endure before this minister listens to his own mental health experts about the needs of armed forces members?
When will he stop making excuses and act?
Questions on the Order Paper March 6th, 2014
With regard to the equipment provided to regular and reserve members of the Canadian Armed Forces, what is the total number of newly enlisted members who have not yet been issued boots since January 1, 2013, broken down by (i) regular or reserve status, (ii) branch of the Canadian Armed Forces, (iii) rank of member, (iv) unit, (v) month of enlistment?
Business of Supply March 5th, 2014
Mr. Speaker, I am pleased to speak to today's motion. I also want to congratulate my colleague the member for Bonavista—Gander—Grand Falls—Windsor for putting the motion forward. This would be an important step forward. I will repeat the text of the motion:
That the House recognize the importance of transparency and accountability in the expenditure of taxpayers' money and also recognize that the majority of parties have already begun disclosing the travel and hospitality expenses of their Members; and therefore call on the Board of Internal Economy to instruct the non-partisan professional administrative staff of the House of Commons to begin posting all travel expenses incurred under the travel point system as well as hospitality expenses of Members to the Parliament of Canada website in a manner similar to the guidelines used by the government for proactive disclosure of ministerial expenses.
Why does that make sense?
Canadians' trust in public office-holders and politicians was seriously eroded in past weeks by the ethics scandal involving the $90,000 payment by the Prime Minister's chief of staff to a sitting legislator and the holier-than-thou attitude of the Conservatives in power.
There are a number of reasons to do this next move in transparency and openness. Canadians have a right to know how their money is spent, and there is significant public concern.
Having said that, I want to touch on the remarks that the member for Burnaby—New Westminster has made in his indignation, calling on us to end the self-policing system. I want to reinforce the calm and practical words of the member for Labrador, a new member to the House, who is very experienced in parliament in her home province and who understands very well, as we all do, that this is not a self-policing system and that in fact there are non-partisan House of Commons administrative employees who process all claims and make payments for the bulk of our expenses, ensuring that they comply with the rules on how budgets can be spent.
To leave the impression that this is a self-policing system adds to the damage we are seeing done to the reputation of parliamentarians in the House of Commons, and I hope that the temperature of this kind of indignation can cool down and that all parties can work together in a spirit of co-operation to support the Liberal motion.
Having noted that a non-partisan House of Commons administrative employee will be the one who processes claims according to the rules, and they are very strict, as my colleague from Labrador has mentioned, more can be done. Why do we need to do more? Clearly, there is a democratic deficit in our country and that is leading to a loss of trust in Parliament and in parliamentarians. There are many reasons for that and I will go into some of those later, but an indication of the lack of trust and erosion of trust in our democracy and in our parliamentary system can be found in some quotes that I will provide.
In an address in 2009 by the President and CEO of the Public Policy Forum, David J. Mitchell, he said that according to EKOS, a polling company, "Canadians' trust in government to do what is right has steadily declined by a total of 30% from 1968 to 2006". That is government, not Parliament, but government is part of the whole institution of our democracy and so that affects the reputation of parliamentarians as well.
Also, according to Mr. Mitchell, who quoted a Gallup poll, confidence in the House of Commons fell 26% from 1979 to 2001, and during that same period, trust in political parties in Canada declined by 17%.
According to Elections Canada studies, there has been a steady increase in negative perceptions of public sector waste, "crookedness", and ethical standards since the 1960s. This is a regrettable decline in confidence in Canada's core democratic systems and institutions.
That is from 2009. How are we doing since then? The Conference Board of Canada recently gave Canada a C and said that we ranked sixth among 16 peer countries and that public confidence in Parliament has declined in most of the peer countries over the last two decades. Therefore, we may be in the middle third of the set of 16 countries; however, confidence in all of those countries has been declining. We know that confidence in the political institutions is crucial for the stability of societies and for the functioning of democracy. Actually, there is research showing that the health of the democracy of a country is directly correlated with the health of its economy; so this ties right into the pocketbooks of Canadians.
In June 2013, The Globe and Mail quoted a former deputy minister of the New Brunswick commission on legislative democracy. David McLaughlin noted that trust in Canada's Parliament and MPs was among the lowest of some 26 countries in a polling survey conducted in 2012. Mr. McLaughlin said another survey last spring found a 20-point drop in democratic satisfaction in Canada in 8 years, to just over half of Canadians being satisfied with their democracy.
That is not good enough, and that is a precipitous drop over the period of this Conservative government.
In 2012, AmericasBarometer claimed its research showed that only 17% of Canadians trust Parliament and only 10% trust political parties. These are different numbers, but they are all about trust and confidence in Parliament. Of course, if questions are asked differently, there will be some difference in the results that are being acquired. However, all of this is not good enough.
Frank Graves of EKOS polling, in 2014, noted this in his analysis. "If we wanted a one-sentence summary of what the polls told us about Canadian democracy in 2013, it would be this: We're losing faith". That is what the Canadian public told EKOS pollsters. When asked, "Which of the following choices best reflects your deepest concerns about the future?", the top choice was "Acute decline of our democratic and public institutions".
I have more statistics along that line, but that is enough to really demonstrate that there is a loss of public confidence in our Parliament, in our government, and in our democracy. We know that is the wrong direction. We need to be moving public confidence in the other direction.
When there is a lack of trust in Parliament, there is a lack of trust in our democracy, and then Canadians limit their participation with democracy; so it can become a downward spiral if they are not engaging with the policies, the laws, and the bills. They are then less likely to support them, and those bills and policies are less likely to reflect their input. This is a downward spiral that we cannot afford in our country.
I was born in a country that did not have democracy during the seven years I lived there. That is South Africa. It is a very personal matter for me to be aware of the health of Canadian democracy and to take the responsibility as a member of Parliament, as most of us do, to build the trust and confidence in our democracy. I have seen the kind of society one has when one does not have a democracy that is working and is trusted.
In South Africa recently, we saw the passing away of Nelson Mandela, who was an absolute hero around the world for the work he did to bring democracy to a country that did not have it for so long, and he did it in a way that brought people together, rather than dividing them. In the spirit of the contributions that Mr. Mandela, Madiba, made to the world, I take it as a personal challenge and responsibility to do what I can, and I know that many of my colleagues feel that way as well in the quest for restoring the democracy of our country.
There are reasons why the trust in democracy is eroding. Over the last eight years, there has been some acceleration of that distrust. I would contend that there are deliberate decisions and policies made by the Conservative government that have contributed to that. I need to mention some of them, even though the motion Liberals are putting forward is one that we are hoping will be supported by all parties in a spirit of co-operation.
It is important to note that some of this erosion of trust in our democracy, institutions, Parliament, and government ties into the abuse of the tool called prorogation. When prorogation is used to avoid accountability, that undermines the public's confidence in the institution. When omnibus bills are tabled that include massive public policy changes on a whole range of issues, and closure on those bills is pushed through, so there is not proper understanding and debate in the chamber, then there is an erosion of the confidence of the public in the process of deliberating and debating on changes in policy and legislation.
The public counts on parliamentarians to do work in committees, to scrutinize bills, and to explore and study issues of concern to Canadians, public policy issues, funding issues, issues of injustice. Committees have been counted on to be independent places where parliamentarians can bring their ideas and voice their concerns about the effectiveness of policies and bills being brought forward by the government or private members. Committees are no longer as effective. Much more committee business is done in secret, so there is a lack of transparency and accountability, and the independence of members on the government side has been curtailed, frankly, so that the instructions from the Prime Minister's Office overcome the individuals' possible concerns about what their own government is doing.
Lastly, what I call the unfair elections act is another tool that is undermining the confidence of the public. Our elections are a very critical part of our democracy. They are how parliamentarians are elected. If the process for electing parliamentarians has become less inclusive and more likely to exclude vulnerable voters and Canadians like the disabled, the elderly, the homeless, and low-income earners, then that is less democratic and less fair. When the leader of the Elections Canada organization is curtailed in his or her ability to talk about the importance of voting, to encourage the public to get out and vote, to ensure that the laws and rules are being followed, and there is no cheating happening, that also undermines confidence in our democracy and the very processes by which our government and Parliament are made up.
What is needed is action. We can talk all we want about transparency and openness, and that is a good start, but we need to see action. I am proud to say that the Liberal Party has taken a number of concrete actions to restore trust in the institution of Parliament and in our democracy.
In fact, not long ago, the leader of the Liberal Party of Canada announced Senate reform. Some people have called this the biggest reform of the Senate that has happened since the Senate was first created. What the leader of the Liberal Party committed to is a change in how senators are appointed. Under a Liberal government, no longer would senators be appointed because they are the best-possible fundraisers for their partisan team and would be doing that on the public's dime. Under the Liberal leader's commitment, there would be an independent, non-partisan, and non-patronage process for appointing senators.
In order to walk that talk today, the Liberal leader released the Liberal senators from needing to be part of the national caucus, thinking through partisan matters as elected members of Parliament, of course, have to do. He released them from taking direction from the Liberal Party leader, released them from the time that had been devoted to those joint discussions, and certainly released them from the kind of following of instructions that we have seen the Conservative senators do, to the detriment of their own party and their own government when it came to the senators allegedly taking instructions from the Prime Minister's Office, allegedly whitewashing Senate reports, and influencing a supposedly neutral audit of senators' expenses. Those kinds of activities are completely unacceptable and undermine the faith and confidence of Canadians in our Parliament and in our government.
Under the Liberal Party leader's Senate reform, Liberal senators are constructively working together. They are focused on public policy, on the well-being of Canadians, on their regions, and on the issues they are advancing and the expertise they are applying to the review of bills and policies. That is as they should be doing and as they would be doing in the future under a potential Liberal government. That is just one key initiative to walk the talk on openness, transparency, and democracy and to begin to restore the public's trust, the trust that has been so badly damaged, as the quotes with which I began my remarks attest.
Co-operation is what we are looking for with this motion, and co-operation is what we are looking for from the parties in this initiative to make more transparent the spending of members of Parliament. The Liberal Party leader led the way with that last summer, by committing to transparent posting every three months of the travel and entertainment expenses, following a very effective proactive disclosure mechanism that was put in place by a previous Liberal prime minister in 2003 to cover the expenses of ministers. That has been in place ever since, and it made a lot of sense to adopt that mechanism for members of Parliament as part of that restoration of trust in our institutions. It was disappointing that, when the Liberal Party put forward a motion that all parties would post their expenses in this proactive disclosure framework used by ministers today, there was one party that blocked that motion, and that was the New Democratic Party.
Who knows what the New Democrats' idea is? I heard some of the comments of the previous speaker, the member for Burnaby—New Westminster, but I certainly did not clearly get why the New Democrats felt their party should not co-operate with a common framework of proactive and transparent disclosure such as the Liberals are doing; followed by the Conservative Party, whose members are also disclosing their information in a way that is transparent and restoring trust.
We are inviting the official opposition to join us in doing this in order to have a framework that is, as I said, managed by the non-partisan officials who are already skilled in ensuring that rules are complied with in terms of how budgets are spent.
It is important that we restore the trust, the confidence, and the spirit of co-operation, which is how we need to move forward to address the big public policy challenges that Canadians care about.
Government Advertising March 5th, 2014
Mr. Speaker, on Monday the defence minister defended wasting tax dollars on Oscar night ads promoting yesterday's programs, but Conservative budget cuts and hiring freezes have left soldiers with PTSD and their families suffering today because they cannot get the help they need, and the Conservative members seem to think that is funny. Just a $100,000 ad could pay to help seven soldiers with PTSD succeed in their transition to civilian life.
Once again, why does the minister choose partisan self-interest over the health of injured soldiers.
Privilege March 4th, 2014
Mr. Speaker, I feel compelled to stand again to respond to the member's justification of his colleague's inaccurate comments on the basis that they were to made restore integrity to our system, when in fact we know that this is the very kind of act that undermines our system.
I would like to go back to my previous question. When the word "apology" is missing, when the words "I am sorry" are missing, when there is no indication of remorse of any kind, no indication of the kind of harm that this may have done to the integrity of the House, when it is basically just a declaration that he had not personally witnessed that activity, does the member actually consider that an apology?
Privilege March 4th, 2014
Mr. Speaker, the member for Cumberland—Colchester—Musquodoboit Valley just made a comment about what is really important, and claimed that it was about this bill and the voting cards. I would contend that what is really important is that Canadians can trust that members of Parliament in the House will not knowingly mislead other members for some ulterior purpose, that they will in fact tell the truth and that when they fail to tell the truth, they will apologize.
The member has claimed that the member for Mississauga—Streetsville apologized. Does he consider an apology to be a statement that does not contain the words "apology" or "apologize" or "I am sorry". I would like to read for the record the statement made by the member of Parliament for Mississauga—Streetsville on February 24, when he rose in this House. He said:
Mr. Speaker, I rise on a point of order with respect to debate that took place on February 6 in this House regarding the fair elections act. I made a statement in the House during the debate that is not accurate. I just want to reflect the fact that I have not personally witnessed individuals retrieving voter notification cards from the garbage cans or from the mailbox areas of apartment buildings. I have not personally witnessed that activity and want the record to properly show that.
I ask the member this: where in that statement is there an apology? And would he like to correct the record where he asserts that the member for Mississauga—Streetsville apologized, because otherwise he himself is showing a challenged relationship with the truth.
National Defence March 3rd, 2014
Mr. Speaker, amid the glamour of last night's Oscars, Canadians were dismayed to see the Conservatives squandering millions on ads promoting programs already around for years, this when soldiers with PTSD and their families suffer today with not enough support thanks to government budget cuts and hiring freezes. The price of just one ad could pay the salary for a PTSD doctor for an entire year.
Why does the government choose partisan self-interest over the health of injured soldiers?
National Defence February 27th, 2014
Mr. Speaker, sadly, last Monday retired sergeant Anderson lost his battle with PTSD and ended his life. I would like to express our deep condolences to his family and friends.
For years the government has failed to hire enough medical experts to treat soldiers with PTSD. In fact, the Conservatives' 2010 hiring freeze ensured 60 positions remained vacant. A month ago, the defence minister finally agreed to lift the freeze and fill the gaps.
Can he now tell us how many of the 60 positions have been filled?
Public Works of Government Services February 26th, 2014
Mr. Speaker, the Conservatives were roundly criticized in a respected defence association report for their abject failure on procurement. Instead of creating thousands of skilled jobs and delivering the planes, ships, and trucks that our troops need, Conservatives have betrayed them.
Last night, aerospace leaders from the west were in Ottawa begging for a better and faster process. Our troops, our industry, and Canadians are paying the price. Could the minister please tell us the price tag for all of their procurement failures, delays, resets, and cancellations over eight lost years?