Joyce Murray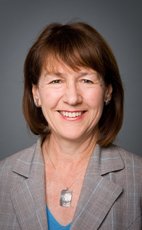 House of Commons photo
Track Joyce
Your Say
Elsewhere
Crucial Fact
Her

favourite word

is military.
Liberal
MP for Vancouver Quadra (B.C.)
Won her last election, in 2011, with 42.20% of the vote.
Statements in the House
National Defence October 2nd, 2014
Mr. Speaker, this is the minister who just yesterday said that the military budget had not been cut, but in fact the record shows it was cut by $413 million this year.
We are just hours away from the end of the 30-day deployment in Iraq. Beyond broad statements about training and advice, we have actually no idea what the troops are doing on the ground. The only information we get is what the government leaks to the media or the Prime Minister announces in New York.
Why does the government refuse to answer the most basic questions about our critical military role in Iraq? How can the current government be trusted?
National Defence October 2nd, 2014
Mr. Speaker, it is the Prime Minister's job to engage Parliament and Canadians and make the case for the use of the Canadian Armed Forces; and he has completely failed to do so. Canadians know virtually nothing about this initial 30-day deployment in Iraq and even less about the Prime Minister's plans for a combat role. Does the Prime Minister actually expect Canadians and this House to support a new mission if he continues his secrecy and evasiveness about the missions in which we are already involved?
National Defence October 1st, 2014
Mr. Speaker, indeed, every death by suicide is a tragedy. That is why it is so mystifying that the government for years now lists statistics rather than actually acknowledging it is failing our injured men and women in the armed forces. In all the years, almost nine years, it has failed to hire the mental health professionals that were identified as necessary ten years ago. Families are begging for help when a spouse has a mental health challenge being denied. Soldiers are begging not to be released out on to the streets because of their PTSD diagnosis being denied. It is sometimes months before their pension kicks in.
The government has let down the ill and injured soldiers with PTSD. Instead of really addressing this, can a whole government not hire a few hundred mental health professionals? It is denying the problem at the cost of our men and women in uniform and veterans. That is why the government has lost the trust of Canadians.
National Defence October 1st, 2014
Mr. Speaker, the Conservative government is failing members of the Canadian Armed Forces and veterans in a dramatic way, and Canadians are losing trust in the government in terms of its care for members, their families, and veterans. That is a sad tale to have to tell, because every Canadian knows the dedication of our Canadian Armed Forces and the sacrifices its members make on our behalf.
Unfortunately, the Conservative government, while using armed forces members and their equipment for photographs and backdrops to enhance its own image, is not properly caring for members who are ill and injured, nor, with the recent budget cuts, is it providing them with proper equipment or replacing the military ships, planes, and equipment that these soldiers need.
Recently the last soldiers came home from Afghanistan. We Canadians celebrated their courage and dedication in that mission, their professionalism, and the incredible reputation that Canadian Forces members deservedly have on the world stage. Sadly, 158 soldiers died in combat during that mission.
My question is about the 175 armed forces members who died from suicide while serving in the Canadian Armed Forces during the same time period. Almost 20 more died from suicide than from the mission itself.
Why did that happen?
The Liberals have been calling for adequate mental health support for returning soldiers ever since this combat mission started. In fact, under the Liberal government in 2003 it was identified that there would be a need for a great deal more mental health support as soldiers came back from deployments and experienced mental health challenges and injuries such as PTSD.
To this day, the Conservative government has failed to fill those spots with mental health professionals. As a result, we have injured soldiers who have to wait for many months, or in some cases years, to get treatment. Sadly, that is related to the kind of despair that can lead to suicide.
Canadians are losing trust in the government. It has now been almost a decade of deception on all levels, whether it is claiming that the budget would be stable and would be increased and then cutting it terribly or whether it is the portrayal of other governments, when it is the one that is cutting the budget and is providing the lowest level of funding as a percentage of GDP since the 1980s. This has to stop.
For the sake of our armed forces members, their mental health, and their families, the government has to confess to how it is letting them down and begin treating them properly and with respect.
National Defence October 1st, 2014
Mr. Speaker, could the Prime Minister inform the House as to the projected total budget for the current 30-day deployment in Iraq?
Since I have just heard that this money is coming out of the current National Defence budget, could the Prime Minister tell us whether he plans to request supplementary funds from Parliament for this mission or future missions, given the substantial budget cuts to the defence ministry?
Foreign Affairs September 29th, 2014
Mr. Speaker, Parliament needs to be consulted about sending the Canadian Armed Forces into combat. What is the time period that the government is considering for the deployment of the Canadian Armed Forces?
National Defence September 25th, 2014
Mr. Speaker, Canadians learned about the U.S. request for a larger military role against ISIL from the Prime Minister's comments in New York and not from a statement to Parliament. In the U.K., Prime Minister Cameron recalled Parliament to debate his country's role in the fight against ISIL.
Before extending the 30-day deadline for Canada's mission and before any larger role may be decided, will the Prime Minister inform Parliament of the nature of the U.S. request and will he commit to holding a debate in Parliament?
National Defence September 24th, 2014
Mr. Speaker, the navy trusted the Conservative government's claims that it would replace its aging ships. What a mistake. Now Canada's only naval supply ships are being retired, but replacements the government finally commissioned are way behind schedule and will not be available for years. That means our navy will simply not be functional. Now the government is panicking and it may have to buy old, used American ships instead.
Let us give the parliamentary secretary another chance to level with Canadians. How much will the Conservatives' woeful incompetence cost when they have to cancel their made-in-Canada supply ships that they already commissioned?
National Defence September 23rd, 2014
Mr. Speaker, part of my responsibility as Liberal defence critic is to speak with serving members and see first hand the conditions on bases right across the country. While previous governments always promoted this, I and my colleagues have been repeatedly blocked and denied permission to visit military bases. This is shocking partisanship because Conservative members have been invited onto bases inside and outside of their riding and even attended photo ops and cheque presentations on bases.
Why is there one set of rules for Conservative MPs and another set of rules for everyone else?
National Defence September 22nd, 2014
Mr. Speaker, Canadian Forces members are being forced by the government to hide their health problems to avoid being discharged and losing their pensions. In other words, if they ask for help, they get fired.
As a recently discharged corporal who knows about this said, "...if they speak up, then they lose their ability to keep food on the table." It is unbelievable.
Conservative ministers promised that no injured service member would be released until they were ready and willing. Will the minister take responsibility for the well-being of the troops, stop breaking this promise, and fix this urgent problem?