Joyce Murray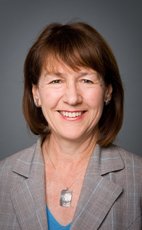 House of Commons photo
Track Joyce
Your Say
Elsewhere
Crucial Fact
Her

favourite word

is conservative.
Liberal
MP for Vancouver Quadra (B.C.)
Won her last election, in 2011, with 42.20% of the vote.
Statements in the House
Business of Supply June 10th, 2014
Mr. Speaker, I welcome this motion on income inequality, a topic that our finance critic and Liberal members have been raising for several years now. It is very important for Canadians. It is very important for the quality of life of people at all income levels, so I thank the member for Parkdale—High Park.
I do note, though, that her party has chosen to add in a comment about recent Liberal governments. Presumably eight and a half years is considered recent. The NDP was not able to stop itself from taking a shot at the Liberal government that introduced so many things to reduce inequality.
I would like to point out the $40-billion health accord, the Kelowna accord to bring the level of accomplishment of first nations up to non-first nation communities, and the national child care program that she herself referred to in her speech. Does she believe that these programs were not directed toward reducing income inequality? Why would the member not at least have made her input to a clear motion that did not include a partisan shot?
Public Works and Government Services June 10th, 2014
Mr. Speaker, after the Auditor General exposed the Conservatives for completely botching the CF-18 jet replacement, they promised a thorough review of the process. We are now learning that the review has been rigged to select the F-35 jets. So was this a seven-point plan, or a seven-point scam?
The panel's report is not classified, but the government is refusing to release it. Why will the Conservatives not table this report? Why can Canadians not know the truth?
Natural Resources June 9th, 2014
Mr. Speaker, the Liberal Party stands firm in opposing the northern gateway pipeline. Rather than listen to the millions of British Columbians who were concerned about the risks of this project, the Prime Minister threatened and bullied them and then weakened environmental laws to clear the way.
Last week, the minister said that the project would only be approved if it was safe for the environment, but hundreds of scientists said that it was not safe, not on land and not on sea. Will the minister finally accept the science and reject this project?
Natural Resources June 5th, 2014
Mr. Speaker, the hon. member can only dream of having the credibility of my colleague.
The Liberals are firmly opposed to the northern gateway pipeline project. As our leader said, while governments may grant permits, only communities can grant permission, but instead of listening to the people, the Conservative government demonized them. It tried to paint schoolchildren, tourism operators, first nations, and B.C. citizens as radicals.
Now hundreds of leading scientists have spoken out against this pipeline. Will the government do what is right and reject this ill-conceived project? When will the Conservative members speak up for their communities?
Economic Action Plan 2014 Act, No. 1 June 4th, 2014
Mr. Speaker, I heard my Conservative colleague congratulate his government for having paid down the debt in the early years of government, when the Conservatives were left with a $13-billion surplus by the previous Liberal government and proceeded to quickly get into a deficit that has lasted seven years.
With regard to those funds that were saved, he was congratulating the government for having money to spend in this budget, but how does he feel about the fact that veterans have had their disability payments, which are payments for pain and suffering, clawed back since 2006 under his government's watch? Some of these clawbacks are being replaced, but only between May 29 and September 30 of 2012. That is it. It is just several months' worth, when it was years—
Economic Action Plan 2014 Act, No. 1 June 4th, 2014
Mr. Speaker, I retract the term and I certainly meant no offence. I was not aware that the word is taken that way, but I appreciate that being pointed out and I retract the word.
Economic Action Plan 2014 Act, No. 1 June 4th, 2014
Mr. Speaker, I listened to the Conservative member's remarks with a great deal of interest, and to her comments about the role veterans have played in the kind of country we enjoy today, the freedom and the respect, and I share those sentiments.
Therefore I was very surprised to hear the member talking about the section in this bill, clauses 102 to 107, which are about the Canadian Forces Members and Veterans Re-establishment and Compensation Act, the War Veterans Allowance Act, and the Civilian War-related Benefits Act, as though that were an adequate and proper measure to reflect the importance of veterans in Canada.
What, in fact, this bill would do is end an unfair clawback that has been happening since 2006 under the current Conservative government. However, instead of making those payments retroactive to the time when the clawback first started, which would be April 1, 2006, this bill would only make those payments retroactive for a few months. So it is a government that has essentially been forcing veterans to take it to court to get the due benefits to which they are entitled. Now they would be gypped out of years of past—
Veterans Affairs June 3rd, 2014
Mr. Speaker, it was painful watching Jenny Migneault, the wife of a retired soldier with PTSD, running after the Minister of Veterans Affairs and pleading for help as he scurried away.
Too many military families share Jenny's experience of shouldering the burden of caring for an injured spouse with too little support. This might actually explain why divorce rates for wounded soldiers are sky-high.
Why does the minister not care? When will the government stop treating injured members and their families with such totally callous disrespect?
Veterans Hiring Act May 16th, 2014
Mr. Speaker, I would like to thank the member for Gaspésie—Îles-de-la-Madeleine for his question.
I would like to point out to him that Jean Chrétien's government is not in power right now. We have had a Conservative government for over eight years now.
Is the Conservative government not at all responsible for the situation of veterans and soldiers today? Why do the NDP not recognize the challenges and issues caused by this government's faults and failures?
This government spent four of its eight years in office making budget cuts in a secret, non-transparent way. That is why there is so much chaos in the armed forces and in veterans offices.
Veterans Hiring Act May 16th, 2014
Mr. Speaker, what I would say about this particular bill is that while it purports to do something positive in terms of employment, it is in fact what I would describe an empty purse, and the member was clear about why that is. With the cuts to civil service, there is not much on offer here.
However, what it really does, from my perspective, is reinforce the concern that the current government has essentially contempt and disrespect for veterans. Where was the consultation with veterans that resulted in the conclusion that what they really wanted was to move up a couple of levels in the priority list for civil service jobs? Where was that their top priority?
What I have been hearing is that their top priority is to address the failures in the new veterans charter, which the government has supposedly been studying. What they have been asking for is pensions that would give them a life above the poverty level and for veterans offices where they can go and talk to a human being.
When the veterans came here to meet us in Parliament, one of them said, "I tried the human resources line. I waited for an hour on the line, and when somebody finally answered, they said, 'Oh, no. Sorry. I can't help you with that.'".
That is the kind of service that the current government wants our veterans to have. Clearly it has not been listening.