Joyce Murray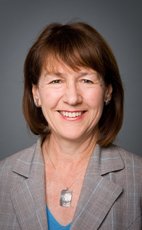 House of Commons photo
Track Joyce
Your Say
Elsewhere
Crucial Fact
Her

favourite word

is conservative.
Liberal
MP for Vancouver Quadra (B.C.)
Won her last election, in 2011, with 42.20% of the vote.
Statements in the House
National Defence October 8th, 2014
Mr. Speaker, it goes without saying that this is a time of great instability in the world. ISIL's murderous reign of terror in an already chaotic Middle East is only one of the many current global crises. Tumultuous periods such as this are why an essential responsibility of the Canadian government is to ensure that this country has the military capacity to defend its borders, as well as respond to major international crises.
This was well expressed in a 2003 report by the Canadian Defence and Foreign Affairs Institute, which stated:
The Canadian Forces are a vital instrument of national defence and sovereignty and a key implement for the achievement of Canadian national goals at home and abroad. A strong and modern military, designed specifically to meet Canada's security and foreign policy needs, will serve Canada's pride and Canada's interests. It is, therefore, incumbent on Canadian governments to ensure that Canada's military forces are well-funded, equipped to the highest standards, and recruited and trained to fight alongside the best, against the best.
The Conservative government has failed in its duty to do this, and failed in its duty to properly equip Canada's military.
Regarding Iraq, as I mentioned in my question, which we are debating tonight, the Liberals proposed a range of non-combat military and humanitarian contributions that Canada could make. We opposed the government's plan to enter a combat air strike mission in Iraq, as the mission and its goals were unclear. The Prime Minister had failed to make the case for taking CF-18s to Iraq and taking Canada into war.
While I have every confidence that our competent and experienced Canadian Armed Forces members will ensure the safety and effectiveness of the equipment used in this mission, the reality is that Canada's CF-18s are coming to the end of their life expectancy. Currently, we have 77 operational CF-18s, all of which date from the 1980s. There were two rounds of upgrade programs between 2001 and 2010, yet another extension is now being planned as the government has neglected to secure replacements for this fleet.
The urgent need to replace Canada's CF-18s was signalled even before Canada's military operation in Libya. In 2008, six years ago, Major Ed Roberds published an article in the Canadian Military Journal, entitled "Stretching the Thin Blue Line: Over-Tasking the CF-18 Hornet". In the article, he noted:
The upgrading of our CF-18s will allow them to operate with other air forces in joint operations. Unfortunately, this upgrade does not fully address the airframe fatigue that is occurring on an aircraft initially intended for retirement in 2002.... ...As the airframe gets older, more repairs are required, and our operational tempo requires a substantial increase in spare parts that must be transported to theatre when the aircraft are deployed. While we are spending a lot of money on a single layer of air defence, we may not have enough fighter resources to achieve the overall defence objectives that the current policy...have established.
Auditor General Ferguson's 2012 report exposed the Prime Minister for having hidden the real cost estimates for the F-35 fighter jets to replace the CF-18s. This is now on hold. We have no idea what the government is planning, and Canada's aerospace industry is paying the price. Moreover, the government cut another $3.1 billion from military procurement in the last federal budget. Its cuts have resulted in a 20% reduction in funds available for spare parts and the maintenance of Canadian Forces equipment.
Sadly, Canada's military capacity is vulnerable. As proud of our troops as we are, the Conservative government's mismanagement of military investment and procurement is creating deep concerns.
National Defence October 7th, 2014
Mr. Speaker, two years ago, the Canadian Forces Ombudsman reported that:
...[a] chronic personnel deficit has strained the mental health system and is at the root of its most pressing challenges.
Then, last June, the defence committee learned that the Canadian Forces still have a shortage of mental health professionals for our troops.
In light of a new combat deployment of Canadian troops, what steps is the government taking to address the existing shortage of mental health practitioners?
Military Contribution Against ISIL October 7th, 2014
Mr. Speaker, I was sad, but not surprised, to hear the Minister of Justice continue to promote the false dichotomy that Canada either assumes a combat role of aerial bombing or it is characterized as accepting and tolerating ISIL, standing idly by, complacency, and all of these words that are being used to divide Canadians on this issue.
In fact, Liberals are very clear that we believe Canada can best contribute to other kinds of military roles, non-combat military roles, as well as humanitarian roles. I proposed a training role.
My question is this: Does the minister believe that in the four years when 1,000 Canadian trainers had a non-combat role in Afghanistan, the government was standing idly by and was in a place of complacency and acceptance and tolerance of the Taliban?
Military Contribution Against ISIL October 7th, 2014
Mr. Speaker, I share the view of my colleague from Winnipeg North that there are many of our colleagues would like to speak on this important debate who did not have the chance to go on the trip to Iraq. They have important views to share.
I would ask the Minister of Foreign Affairs to reverse this closure.
I would also like to point out that this really fits into the way he has been positioning this whole issue, which is either that we are for a combat air strike air bombing role or we are free riders. I find it very counterproductive for respected parliamentarians to be making this a divisive issue. In fact, most of our allies have not done that. They have brought their colleagues from all parties in. They have sought to get a consensus on the matter. Very few have gone forward with a combat role. Other countries, like Germany and Italy, which the minister incorrectly claimed were supporting the combat role in the media a few days ago, are not part of a combat role.
In the debate, the minister's very respected colleague from Edmonton Centre said that there are all kinds of important roles for coalition countries to play. Some are combat roles. Some are not. Each of them is an important contribution—
Military Contribution Against ISIL October 6th, 2014
Mr. Speaker, I appreciate the comments of the hon. member across the way, his detailed laying out the case for the dangers from ISIL and his view that a combat role is an appropriate way forward for Canada. What I want to explore in my question is whether he views that as being the only honourable way forward?
The Minister of Foreign Affairs claims that anyone who is not accepting or supporting a combat role is sitting back and letting others do the heavy lifting, or is a free rider. It is very much a positioning of either people are for air strikes or they are losers. Germany, Italy and dozens of our allies are not accepting a combat role.
The member for Edmonton Centre was very thoughtful in saying that this coalition of 60 states had the vast majority of members who were doing constructive military, non-military contributions, all of which were valid.
Which does my colleague believe? Is it either/or, it has to be air strikes or one is a loser, as the foreign affairs minister claims, or does he subscribe to the idea that there are many contributions—
Military Contribution Against ISIL October 6th, 2014
Mr. Speaker, the Minister of Foreign Affairs told the press that Canada's position on the Syrian government of a few years ago was different from that of the United States and the western nations. He said that he was not opposed to the Syrian government or in favour of the opposition, but that is false and the opposite is true.
During the G20 meeting in St. Petersburg, the Prime Minister clearly said that a military strike against the Syrian government was necessary. On September 7, he urged the international community to launch military action against the Syrian government.
Does the minister believe that this dishonesty will weaken Canadians' confidence concerning the combat mission that his government initiated yesterday?
Military Contribution Against ISIL October 6th, 2014
Mr. Speaker, in looking at the amendment, it is not clear whether the NDP is supporting non-combat military activities in general, or simply the one it specifies, which is transportation of weapons.
Could the member clarify this.
First, is it a general support for non-combat military activity such as surveillance, intelligence, training, protecting aid workers and vulnerable women, protecting field hospitals, strategic airlift and the kinds of things the Liberals have been talking about? Is that included, or is it just transporting weapons?
Second, his leader apparently criticized the Liberals for supporting the 30-day combat mission. Was that a slip of the tongue, or was his leader not aware that was a non-combat 30-day mission that the Liberals supported?
National Defence October 6th, 2014
Mr. Speaker, apparently the Conservatives did not think an assessment would be useful in pondering their next step.
The government of Australia has provided information about the expected costs of the mission in Iraq. The Conservatives have refused to provide the House with an estimate of these costs and to say whether they would be absorbed by the steadily diminishing budget of the defence ministry or whether more funding will be provided.
Will the government please answer these basic questions?
National Defence October 6th, 2014
Mr. Speaker, the government said it would assess the results of the original non-combat mission in Iraq after 30 days. Now the 30 days are up. Has that assessment taken place? If so, what are the results? If not, when can we expect to see those results?
Military Contribution Against ISIL October 6th, 2014
Mr. Speaker, we have been pretty clear about our positions, and that is that there needs to be openness and transparency in considering these issues, which there has not been. It is that Canada does respond and take a role in humanitarian crises and security threats. It is that we must find the best and highest contribution for Canadians to make. Those are our positions. Those are the ones that we have been advancing, including advancing through calling for an emergency debate in Parliament on this issue several weeks ago.