Peter Stoffer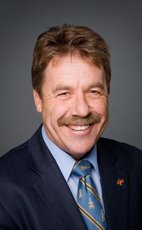 House of Commons photo
Track Peter
Your Say
Elsewhere
Crucial Fact
NDP
MP for Sackville—Eastern Shore (Nova Scotia)
Won his last election, in 2011, with 54.10% of the vote.
Statements in the House
National Defence March 4th, 2014
Mr. Speaker, on this side of the House we appreciate the sentiment of the Minister of National Defence.
However, this is not the very first time something of this insensitive nature has happened to the heroes of our country who unfortunately take their own lives. We just want to make sure the minister fully understands exactly what has transpired here, because that cheque was not sent from the Minister of Defence; it was sent from Public Works and Government Services Canada; so somewhere along the line there is a change here in this issue.
Can the minister now assure us that this will never happen again? Can he assure us, in writing, that he will contact the family—
Veterans February 13th, 2014
Mr. Speaker, in 1995 the Liberal government changed the means test of the Last Post Fund from an entry level of $24,000 in income to $12,000 in income. Unfortunately, 19 years later, the means test is still at $12,000.
Now I thank the government very much for the fact that there is more money in the Last Post Fund. Some modern day veterans may now be eligible. However, if the means test is not changed, many families and their veterans who pass away will not have access to the Last Post Fund.
Will the government now change the means test so that more veterans who pass away and their families will have access to the program?
National Defence February 12th, 2014
Mr. Speaker, the Minister of National Defence knows very well, because I handed him the file, of Corporal Robert MacIvor of Beaver Bank, Nova Scotia. He has served this country with great distinction, and overseas. Unfortunately, because of his service, he suffers from severe psychological wounds.
What does the government do? Instead of helping him, it kicks him out a few months shy of his tenth year, which means he and his family will lose out on hundreds of thousands of dollars in potential benefits.
My question, then, is on behalf of Robert MacIvor and his family. Will the Minister of National Defence now allow Robert to stay in the military a tenth year, or will he stand up and face the camera and tell him why he is kicking him out?
National Defence February 12th, 2014
Mr. Speaker, it is easy to balance a budget when they take away money from disabled veterans and armed forces personnel.
The Minister of National Defence knows very well. He knows the name of Corporal—
Sergeant-at-Arms February 11th, 2014
Mr. Speaker, in a person's lifetime one can come across a person who is an absolutely remarkable gentleman. I am speaking of none other than the great Kevin Vickers, our Sergeant-at-Arms here in the House of Commons.
Kevin Vickers has served 29 years as an RCMP officer. He is now the ninth Sergeant-at-Arms selected to the House of Commons and is now in his eighth year of service.
We want to thank his wife, Ann, and his children, Andrew and Laura, very much for sharing Mr. Vickers with us all.
Whether working with the Sikh community, the Acadian community, the aboriginal community, or the U.S. DEA in a variety of facets over his long and distinguished career, Mr. Vickers truly is one of those great gentlemen in all of Canada.
On behalf of Parliament, I want to say to our Sergeant-at-Arms, our number nine guy here, what a fabulous person and a truly tremendous gentlemen he is. We are all proud to have him serve as our Sergeant-at-Arms. May God bless.
Veterans February 3rd, 2014
Mr. Speaker, let us see. A year ago, the member for Calgary West fell asleep during a veterans committee and then accused the veterans presenting of being friends of Vladimir Putin.
Then, we have a minister who displayed rudeness to veterans who came to the Hill.
The other day, we had the member for Renfrew—Nipissing—Pembroke say, "the stigma that has to be overcome is a stigma within themselves", when referring to our men and women in the military who are prematurely released before their tenth year.
We know that over 200 military personnel were removed from the military because of their post-traumatic stress disorder.
Does the Minister of National Defence agree with the member for Renfrew—Nipissing—Pembroke, or is the stigma within the Conservatives themselves?
Veterans January 30th, 2014
Mr. Speaker, if PSAC is standing up for veterans, then God love the union movement.
My question is very clear. Mr. Roy Lamore, a World War II veteran from Thunder Bay, said that people dealing with DVA on the phone, the 1-866-522-2122 number, should be prepared to bring their lunch. Is this what the Minister of Veterans Affairs means by enhanced services?
It is not too late for the minister to do the right thing. Will he now stand in his place and reverse the decision to cut the further eight bases across Canada?
Business of Supply January 30th, 2014
Mr. Speaker, I want to thank my hon. colleague for mentioning the 25,000 RCMP retired veterans. We have approximately 700,000 military veterans, RCMP veterans, and independent spouses. The DVA has a client base of just over 200,000, so two-thirds of that base is not even being served now. Many military and RCMP veterans simply do not know the benefits they are possibly able to get.
As my colleague from Cape Breton—Canso said, what type of service does the member think these people who are applying for the first time at a Service Canada office should expect in the near future?
Business of Supply January 30th, 2014
Mr. Speaker, I am rising on a point of order. I am sorry to interrupt the debate. I want to clarify something that I said earlier in my speech. I made an error. Actually, Kim and Blair Davis are from Lawrencetown, Nova Scotia, not Eastern Passage. I was thinking of someone else. Also, his service was in Bosnia, not Afghanistan. I want to clarify that for the record.
Business of Supply January 30th, 2014
Mr. Speaker, I want to thank my colleague for the information that the minister now has a dedicated team to finalize these outstanding boards of inquiry. This is something that should have been done an awful long time ago. Therefore, my question to him, with great respect, is why it has taken this long. Some of these inquiries have been outstanding for over five years. I cannot speak for the member, but I think he would agree with me that is way too long.
I am wondering why it has taken so long for this action to happen, although I appreciate the action taken. When will see concrete results for the families of those who have suffered?