Peter Stoffer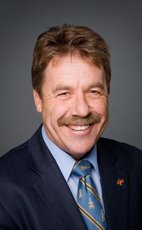 House of Commons photo
Track Peter
Your Say
Elsewhere
Crucial Fact
NDP
MP for Sackville—Eastern Shore (Nova Scotia)
Won his last election, in 2011, with 54.10% of the vote.
Statements in the House
Veterans April 8th, 2014
Mr. Speaker, what utter nonsense. What we are talking about is the earnings loss benefit that was wrongfully clawed back from disabled veterans from April 2006 to just the other day. Two previous Veterans Affairs ministers said very clearly that they would deal with this issue in an honourable way, but in the omnibus legislation, it only went back two years. It should have gone back all the way to 2006.
Why should disabled veterans and their families have to go to the courts to fight the government to get the benefits they so richly deserve?
Fair Rail for Grain Farmers Act March 28th, 2014
Mr. Speaker, I would like my hon. colleague, who gave a great speech on the subject, to elaborate. It is not just the farmers who are going to have a devastating time on this one. It is all those other secondary producers, including the flour mills, the bakers, the restaurants, and the shops across the country and internationally who use those products for us and our daily sustenance on a regular basis.
I would like the member to elaborate on the trickle-down effect of the damage this is going to have on aspects of that economy in all of Canada.
Fair Rail for Grain Farmers Act March 28th, 2014
Mr. Speaker, two members of the opposition from two different parties asked a very straightforward question: is the government willing to accept amendments to a bill that is fundamentally flawed? My colleague from Regina is correct that everyone here wants the exact same thing, to get this valuable product to port in a timely fashion. It is not a very difficult question.
It is not time for arrogance or political gamesmanship. It is a simple question: is the government willing to accept amendments to improve this legislation, yes or no?
Veterans March 28th, 2014
Maybe, Mr. Speaker, it got lost in translation.
My question to the Parliamentary Secretary to the Minister of Veterans Affairs is very clear. These disabled veterans were wrongfully clawed back on the earnings loss benefit from April of 2006 until November of 2012. Two veterans ministers previously said they would promise to fix this problem.
My question is quite clear. For two years now, we and other people have been asking when these disabled veterans will get the money they so rightfully deserve.
Food and Drugs Act March 28th, 2014
Mr. Speaker, I want to thank the hon. gentleman for his tremendous speech. I remember a speech like that a while ago from Mr. Chuck Cadman, when he was here, after the loss of his son. I take to heart the member's speech. I can assure him that nobody on this side of the House would ever accuse him of bias with respect to a bill that would have the potential to save thousands of lives now and in the future.
My question to the member is this. Because these drug companies are all big multinational or international companies and we have trade deals, for example, with NAFTA and others, does he foresee any problems with respect to the bill being challenged on a legal front through areas like Chapter 11 of NAFTA?
Can he also say what other countries, like France, Germany, Britain, Holland, Australia, or the United States, would do in terms of Vanessa's law? Is there anything similar out there that we can mirror as well? It would be interesting to know of his research on what other countries are doing concerning this very important issue.
Veterans Affairs March 25th, 2014
Mr. Speaker, May 9 will be a very good day for veterans and those heroes from Afghanistan and a day of honour, but it will ring a bit hollow when government lawyers are arguing in a court of law that the government has no social or moral obligation to care for those who served in harm's way.
The Minister of Veterans Affairs said the other day that he believed that there is a social contract with the government on behalf of the people of Canada and those who serve in our military. My question to him is if he believes that, why are government lawyers arguing in a court of law that the government has no moral or social obligation to care for the heroes of our country?
Veterans March 7th, 2014
Mr. Speaker, the report goes on to say that there is a risk that the modernization of VAC programs will not be achieved and will not meet the needs of Canadian veterans and their families. That is the government's own report. The Prime Minister said on January 28 in the House, "What is happening here is a significant increase in service". The Prime Minister is saying one thing and the Minister of Veterans Affairs own report is saying something completely different. This is one reason why veterans in this country do not trust the Conservative government.
Could the parliamentary secretary tell me when the government is going to reverse these draconian cuts and give our veterans the services they so rightfully deserve?
National Defence March 4th, 2014
Mr. Speaker, on this side of the House we appreciate the sentiment of the Minister of National Defence.
However, this is not the very first time something of this insensitive nature has happened to the heroes of our country who unfortunately take their own lives. We just want to make sure the minister fully understands exactly what has transpired here, because that cheque was not sent from the Minister of Defence; it was sent from Public Works and Government Services Canada; so somewhere along the line there is a change here in this issue.
Can the minister now assure us that this will never happen again? Can he assure us, in writing, that he will contact the family—
Veterans February 13th, 2014
Mr. Speaker, in 1995 the Liberal government changed the means test of the Last Post Fund from an entry level of $24,000 in income to $12,000 in income. Unfortunately, 19 years later, the means test is still at $12,000.
Now I thank the government very much for the fact that there is more money in the Last Post Fund. Some modern day veterans may now be eligible. However, if the means test is not changed, many families and their veterans who pass away will not have access to the Last Post Fund.
Will the government now change the means test so that more veterans who pass away and their families will have access to the program?
National Defence February 12th, 2014
Mr. Speaker, the Minister of National Defence knows very well, because I handed him the file, of Corporal Robert MacIvor of Beaver Bank, Nova Scotia. He has served this country with great distinction, and overseas. Unfortunately, because of his service, he suffers from severe psychological wounds.
What does the government do? Instead of helping him, it kicks him out a few months shy of his tenth year, which means he and his family will lose out on hundreds of thousands of dollars in potential benefits.
My question, then, is on behalf of Robert MacIvor and his family. Will the Minister of National Defence now allow Robert to stay in the military a tenth year, or will he stand up and face the camera and tell him why he is kicking him out?