Peter Stoffer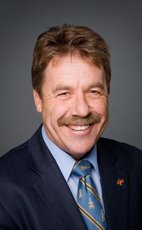 House of Commons photo
Track Peter
Your Say
Elsewhere
Crucial Fact
NDP
MP for Sackville—Eastern Shore (Nova Scotia)
Won his last election, in 2011, with 54.10% of the vote.
Statements in the House
Business of Supply January 30th, 2014
Mr. Speaker, I want to thank my colleague for the information that the minister now has a dedicated team to finalize these outstanding boards of inquiry. This is something that should have been done an awful long time ago. Therefore, my question to him, with great respect, is why it has taken this long. Some of these inquiries have been outstanding for over five years. I cannot speak for the member, but I think he would agree with me that is way too long.
I am wondering why it has taken so long for this action to happen, although I appreciate the action taken. When will see concrete results for the families of those who have suffered?
Business of Supply January 30th, 2014
Mr. Speaker, I want to thank the hon. minister and the previous minister for their kind words of sympathy for the families who have suffered tragic losses as a result of suicide. I want to thank them as well for recognizing what our men and women in uniform do on a regular basis, not just at home but around the world.
I would make one recommendation to the defence minister, which he could do right now, that would change the lives of hundreds of military personnel who serve under his watch. The minute they come forward and admit they have a mental or physical problem, the clock starts ticking on their removal from the military. Many men and women in the service will not come forward, knowing full well that it means the loss of their jobs in the military. A recommendation is to either eliminate the 10-year rule for benefits, or allow the men and women who come forward to stay in the military until they have another proper full-time job, or allow them to get all the proper services and benefits and pensionable amounts they could have for the rest of their natural lives. If the minister did that, he would improve the lives of many who serve under his watch.
Business of Supply January 30th, 2014
Mr. Speaker, the minister said two things that I would like to challenge.
He said that those who have a problem should come forward. That is exactly what he should be saying, so that when men and women who serve their country have a severe problem, they can come forward.
The problem is that when they are serving in the military, the minute they do come forward, the clock starts ticking on their removal from the military. We have had over 200 people last year and again this year who are being removed from the military before their tenth year, which means they will lose out on hundreds of thousands of dollars of future benefits. If these men and women are not deployable, they are not employable.
The minister said that veterans will still continue to get the services they require when they need them. Kim and Blair Davis of Eastern Passage, Nova Scotia, are not getting that service. To the minister, they would like to say they have received an email, and want the minister call them and then provide the service they have been asking for.
Business of Supply January 30th, 2014
Mr. Speaker, the quick answer is to listen to the reports of the ombudsmen of the military and the DVA. Both ombudsmen's reports are very clear: the government must do more to improve the mental health of these individuals.
The reality is that we know there is a string of mental health professionals waiting to be hired. The government says the money is there, yet they have not been hired yet.
How can that be? What bureaucratic chink is stopping these people from being hired? Only the Minister of National Defence can answer that question.
Business of Supply January 30th, 2014
Mr. Speaker, the government is telling everyone that it is closing these offices and providing better services through Service Canada, which is simply not true.
Yesterday I spoke to a veteran who went to a Service Canada office the other day. He said to the young man who was working there, "I understand that as a veteran I have to come here to get help". The response was, "Well, I have a bit of training, but I can give you a 1-800 number, if you'd like".
That is the government's improved services. Then it will say, "Don't worry, we'll come to your house". That is not true. Veterans have to be case managed or severely injured before someone will come to their home. Who determines what a severe injury is? The reality is this. Before they get case managed, it could take two to five business days before someone will get back to them, and it is an "if" as to whether or not someone may show up at their home. Not every veteran will get that service. That is what I find completely unacceptable.
Business of Supply January 30th, 2014
Mr. Speaker, to put it frankly and as politely as I can in parliamentary language, I believe it was not the minister's finest day.
Having said that, I did speak to a 29-year-old Afghanistan veteran and a 92-year-old World War II veteran, from different ends of the spectrum. The 92-year-old said that when veterans call the DVA they need to bring their lunch because it will be take that long before they get through to it. The 29-year-old said he is very Internet savvy and is finding it difficult to access services and forms through that system called My VAC Account.
What they both said, along with the others, is that they knew in their hearts that they might not be able to get the decision reversed, but they wanted the chance to meet with the minister face to face to say that they are very upset, that they do not like what the government is doing, and that they want to be heard.
Only the minister can explain why he was not at that meeting at 5:00. Only the minister can explain his actions in that regard.
Business of Supply January 30th, 2014
Mr. Speaker, before I start I want to answer the question from the Conservative MP. If he honestly believes that a new budgetary framework will come in for Veterans Affairs, then it should be introduced in a government bill like it was with Bill C-55, which we fully supported. In lumping this into an overall budget with thousands of other spending items and cuts and everything else, we would have to express confidence in the government. I can assure members it will be a long day before we in the NDP ever express confidence in the government.
Today we heard him talk about a very important motion brought in by my colleague. It is an honour, and at the same time there is a bit of sadness, that we bring this to the floor of the House of Commons. Veterans should not have to fight and struggle to get the benefits they so rightly deserve. They have already fought for this country. It is their country, regardless of political affiliation, regardless of government or opposition, that owes them the ultimate and unlimited responsibility, because they have the unlimited liability. The military, the RCMP, and their families deserve no less.
Let us go over a bit of the track record of the current government. The reality is that it took a five-year lawsuit to settle the SISIP clawback, the insurance payment clawback that was being deducted from disabled veterans. It took a ruling from Judge Barnes. It forced the government into an $888 million lawsuit. If the Conservatives had listened to us many years ago, it would have been settled; there would have been less angst among the members of the veterans community, and it would have saved the government and the taxpayer a lot of money. However, they did not.
Now what happens? They are now taking RCMP disabled veterans to court on the exact same type of issue. There are over 1,200 people in a class action lawsuit against the government right now. They have been asked by the RCMP and their families, by the Royal Canadian Legion, and by us repeatedly, to stop the court proceedings, work with the legal team and the RCMP veterans and give them the respect, dignity and payment they so rightly deserve. Their answer is that they are going to go to the courts.
There is another lawsuit going on, with Equitas, against the government, over certain aspects of the new veterans charter. What did the crown attorneys presenting the case for the government say in that lawsuit? These are smart lawyers. They get their directions directly from the government. They indicated that there is no fiduciary or social moral responsibility for the veterans community; that only applies to the aboriginal community. I am paraphrasing.
The members of the veterans community were outraged when they heard this. I have asked the minister and the government on six separate occasions whether they do or do not have a moral, legal, social and fiduciary responsibility to care for those they put in harm's way. What do we get? Absolute silence.
We should not have been too surprised when we saw what happened the other day. I know the minister, deep down, probably regrets what happened. I am sure that he does. However, the reality is that it happened. This type of conduct has happened with veterans across the country for sixteen and a half years, through ten different ministers and from two different parties. What I witnessed the other day was the lowest of the low. That is why we had no choice. They brought in the so-called Veterans Bill of Rights, which we knew was toothless because there is no punishment. If they break a certain element of the Veterans Bill of Rights, they just say they are sorry and they move on. However, every single day of the year our veterans, RCMP, and their families, deserve the utmost respect, dignity and courtesy.
It is our job, whether in government or in opposition, to listen to their concerns. We may not like what they are telling us. We may not like the manner in which they are telling us. However, we get paid very well, and ministers get paid even better, to listen to those concerns. It is our responsibility. We could not sit here if it were not for the sacrifice of the men and women who put on the uniform, and their families, and that of the RCMP who serve us in Canada.
Veterans have unlimited liability. That means they are willing to risk their lives so that you and I can be here, Mr. Speaker. We, again, have the ultimate responsibility for their needs and that of their families, all the way to and including their headstones.
A while back the government presented a budget and said it was going to spend millions more dollars on the Last Post Fund. However, it did not change the litmus test of who could qualify for that fund. Service members who make $12,000 or less may qualify for proper burials, but those who make over that limit do not qualify. Even though the government put more money into it, two-thirds of the applicants are still denied and the Conservatives refuse to correct that.
On the issue of the closure of offices, I want to tell the people of Canada and the Conservatives right now that when they are kicked out of office in the next election, we in the NDP will reopen those offices and make them better, so they provide better services to the men and women who serve our country.
There is something else the government is doing, and many people are unaware of this. When the last Korean overseas veteran passes away, all of the contract service beds across this country will be finished, aside from rare exceptions. Right now the Perley, Camp Hill, the Belcher and other hospitals across the country that service veterans are subsidized by the federal government. When the last Korean veteran dies, the modern-day veterans from 1954 onward will no longer have access to those beds paid for by the federal government.
The federal government is downloading this responsibility onto the backs of the provinces. The previous Minister of Veterans Affairs said that health care was a provincial responsibility. I remind the government that the care and treatment of veterans, RCMP members and their families is a federal responsibility, and to download that to the provinces is unacceptable. In Nova Scotia alone, a $41 million download will happen in the near future. It is unacceptable when we see floors of hospitals being closed for veterans and being transferred over to provincial uses.
The men and women who serve our country deserve no less. They deserve to have the best treatment. As Rick Mercer once said, when we take them from heaven on earth, which is Canada, and send them over to hell on earth, we should give them a gold card and make sure we give them platinum service when they come back.
There are many veterans I deal with who are getting very good service from the Department of Veterans Affairs. That is true, and I compliment the workers of the department who are providing that service. However, the problem is that many others are not getting that service. There are approximately 700,000 men and women who retired from the military who have dependant spouses and the DVA has a client base of just over 200,000, so more than two-thirds of that base is not being serviced now. Many of them do not require the services, but they may one day, and many more veterans are coming online.
I want to highlight two of my constituents, Kim and Blair Davis. They have given me permission to do this. The minister's office knows this file very well, because a few months ago I held an open press conference with the Davises. He had a serious brain injury from a LAV rollover accident and explosion that killed a few of his buddies. He has had major operations and is suffering severely from psychological problems, including PTSD and others. He has not asked for the government to give him a Rolex watch or a trip to Florida, but for basic rehabilitation services. He has asked for things like VIP service to help him, his wife and his family.
Several months went by and I got an email from him yesterday saying, "I am at my wit's end with this government. I simply do not know where to turn. Please, please help me and my family". When a press conference is held, the government says it is going to look after the family and do all sorts of things, and two and a half months later I get an email saying it has not done anything yet. This is indicative of a government that simply is not listening.
In my final words, I will implore the Minister of Veterans Affairs and the Minister of National Defence to please stop the cuts to these departments and hire the mental health workers that are required. The government can pump money in, but if there is a bureaucracy delaying the hiring of these mental health workers, it is simply not working. I implore these two fine men to please get off their chairs and do something in a rational, speedy manner so that the men and women who serve our country in the RCMP and the military and their families will get the respect and dignity they so rightfully deserve.
Canadian Forces Superannuation Act January 30th, 2014
moved for leave to introduce Bill C-572, An Act to amend the Canadian Forces Superannuation Act and the Royal Canadian Mounted Police Superannuation Act (deduction of disability pensions).
Mr. Speaker, I thank my hon. colleague from Thunder Bay for seconding the bill.
For members of the RCMP and the military, when they are permanently disabled and medically released from the RCMP or the military, they can apply for Canada pension disability in the event that they can no longer work again. The problem is that, if they receive Canada pension disability, then that is deducted dollar for dollar from any superannuation benefits they receive. Therefore, they ask the question: "Why are we applying for Canada pension disability when we are getting it deducted here?"
We think that is unfair and unconscionable. This bill would correct that deficiency to ensure that the heroes of our country receive all the monies they require in order to get on with their dignified lives.
(Motions deemed adopted, bill read the first time and printed)
Veterans January 29th, 2014
Mr. Speaker, as the member of Parliament for 16 and half years, on my tenth minister, from two different parties, yesterday was the lowest of the low in my advocacy for veterans, RCMP members, and their families across this country.
I guess we should be thankful that the minister did not fall asleep in front of them, as the member for Calgary West did previously.
The Veterans Bill of Rights, which the Conservatives brag about, says our veterans deserve respect and dignity. Yesterday they received neither one. The only thing left to do is to ask the Prime Minister of Canada one very simple question: Will he ask for the Minister of Veterans Affairs' resignation? Yes or no.
National Defence January 27th, 2014
Mr. Speaker, what utter nonsense. The fact is, these offices provide invaluable services to the heroes of our country. Those offices that are closing on Friday will no longer be able to deliver that one-on-one personal care that the heroes of our country so rightfully deserve. The offices are closing on Friday, but the government has a chance to do the right thing. Many veterans are on the Hill this week. Many veterans, RCMP members, and their families across the country are watching the government closely.
Will the government now do the right thing, reverse that decision, and keep these offices open so the heroes of our country can get the valuable service they so rightfully deserve?