Peter Stoffer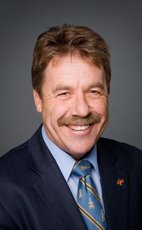 House of Commons photo
Track Peter
Your Say
Elsewhere
Crucial Fact
His

favourite word

is service.
NDP
MP for Sackville—Eastern Shore (Nova Scotia)
Won his last election, in 2011, with 54.10% of the vote.
Statements in the House
Veterans Hiring Act June 2nd, 2014
Mr. Speaker, I was having a nice quiet time in my office today when I was asked to come and speak to this important legislation. I want to point out that we in the NDP will be supporting the legislation, but let us go over a little history of this.
I am probably one of the few members of Parliament in the House who was here in 2004 and 2005 when work on the new veterans charter started. One of the parameters of the new veterans charter was that priority hiring for veterans would be a key aspect of the charter. What happened was that after eight years, DND and DVA were the only two departments hiring. The other departments were simply not. Now the government is forced to bring in legislation to do such a thing.
I already said in my question that the government wants to hire veterans, but on a premise that they have to be qualified. They have to meet the test of whatever it is they applying for. It does not necessarily mean that as veterans they get jobs. It means that as veterans they may apply for a job in the public service.
Let us not forget that 30 veterans were recently released from the Commissionaires out of the Fire Watch Service at Cape Scott, Halifax. Now the government is saying it wants to hire veterans, but DND is saying it is going to lay them off. In addition, many veterans have been laid off because they were last in, first out, with all the cuts the government has made to the public service across the country. Therefore, the Conservatives are saying to all the veterans out there that they should not to worry, that if they exit the military on a medical premise of any kind, if they meet the qualifications, they may get a job with the public service. That is "if, if and may". There is no guarantee that will happen.
However, we hope to improve the legislation because we notice that in all the discussions of the Conservatives over there, they have not once mentioned the RCMP. Why should RCMP veterans who apply for their benefits from DVA be excluded from priority hiring when they become disabled and exit the RCMP? We would like to see RCMP disabled veterans included in the legislation.
By the way, there are a lot of Conservatives over there whom I respect tremendously. Today marks the 17th anniversary of my being elected to the House of Commons. I congratulate all those from the class of 1997. I see there is a Saskatchewan member from the class of 1993, a decent guy.
The hon. member for Durham, whom I respect, served his country very well for 12 years. He said the following, and I am quite offended by this because he is absolutely wrong. I will give him a chance to apologize either publicly or privately. He said this of Michael Blais of the Canadian Veterans Advocacy, "who works out of the member for Sackville—Eastern Shore's office". That is a blatant fabrication. It is an outright lie. Because he is—
Veterans Hiring Act June 2nd, 2014
Mr. Speaker, I would like to stand up and give the hon. member a bit of a compliment, but then he slants the unions in terms of union bosses. There is no such thing as a union boss. That is the first thing he should understand.
A couple of weeks ago I did a press conference in Halifax, where DND is laying off 30 commissionaires, and every single one of them is a veteran. They are being laid off from the fire service, the watch service they have on the dockyard at the Cape Scott yard in Halifax.
I want to let the member know we support the legislation. We hope to improve it at committee. However, that said, how can the government on the one hand stand up and say it is supporting veterans and wants to hire veterans, when on the other hand the Department of National Defence is laying off 30 veterans from Halifax? It is a simple question. How does it hire veterans when at the same time it is laying them off?
Veterans June 2nd, 2014
Mr. Speaker, I asked the minister to put his talking points down and listen to the question. The question is very clear.
Jenifer Migneault is in a desperate situation trying to help her husband who is suffering from post-traumatic stress disorder after serving in Afghanistan. This minister should meet with her in order for her to discuss her concerns so she can in turn help her husband.
The minister's actions the other day were nothing to brag about. Therefore, I give the minister a chance to redeem himself. Will the minister now announce to the House that he will meet with Jenifer at a time that is convenient for both of them so she can have a proper airing of her grievances against the DVA?
Veterans May 26th, 2014
Well, Mr. Speaker, as long as he makes long-term veteran care funding an independent government bill, we may look at that, but the reality is that what is going to happen when the last Korean overseas veteran dies is that all those modern-day veterans, from '54 onwards, an awful lot of them, will be downloaded to the provinces.
The Perley, Camp Hill, the Parkwood, in which beds are already closed, the Ste. Anne's transfer, and many other contract beds across the country will not be available for modern-day veterans, which means a massive financial download to the provinces for the long-term care of veterans.
Will the government reverse its policy and ensure that every single veteran gets the long-term care they desperately need?
Veterans Affairs May 14th, 2014
Mr. Speaker, we have just learned that veterans affairs department found $100,000 to waste on tweets.
This is a government that closes veterans offices and lays off over 1,500 people in the Department of Veterans Affairs. The $100,000 could bury 10 veterans and give them a dignified funeral. It could give 20 veterans a service dog. It could give 40 veterans the VIP service.
Where does the government get off spending $100,000 on tweets, when that money could go to really help veterans? Does the government honestly believe that tweeting away $100,000 is a wise expenditure of taxpayers' dollars?
Offshore Health and Safety Act May 8th, 2014
Mr. Speaker, what a brilliant dissertation from my hon. colleague, a member of Parliament who will be here for many elections, I am sure.
It is very telling that the Prime Minister has never, in his eight years as Prime Minister, had a meeting with all the premiers at the same time. We have to ask ourselves why. However, I can assure members that the hon. leader of the NDP, I can almost guarantee, will have those meetings, not just on a group level but on individual levels to move this country in a forward and positive direction. That is what they are going to get when we form government in 2015.
Offshore Health and Safety Act May 8th, 2014
Mr. Speaker, I thank the member for St. John's East for that important question, but it tends to be the typical Conservative response. The Conservatives do not like the idea of "completely independent from government". They will argue that it is an arm's-length agency, but they still want it to be within reach of them so that they control not only the budget but the messaging from that.
It is critical, from the Wells report and what my hon. colleague said, that we have an independent stand-alone person in this particular regard who is well financed and well equipped. Governments change all the time, but the fact is we want to ensure that this person has the tools to bring out the shortcomings to make everybody aware of what may happen and also make continued recommendations independent of the political world, to ensure the health and safety of all the people in this particular industry.
Offshore Health and Safety Act May 8th, 2014
Mr. Speaker, it is an honour and pleasure to rise to debate Bill C-5.
I wish to thank my hon. colleague from St. John's East and my colleague from Dartmouth—Cole Harbour for the tremendous work they have done in raising the issues with respect to this legislation and bringing the debate forward to the House of Commons.
As someone from the east coast, I am all too familiar with tragedy on our coastline, from ship disasters to the Ocean Ranger disaster off the coast of Newfoundland to the one a few years ago involving a helicopter crash just shy of St. John's where 17 people lost their lives.
This legislation attempts to ensure the safety and protection of not just the natural environment of the east coast but also the workers who work there. If it were done properly in collaboration with the provinces, businesses would get on board and it would be profitable for them.
Allow me to play a little dress-up now and read to the Conservative Party what the bill proposes to do.
Canada, Nova Scotia, and Newfoundland and Labrador agreed to join law reform negotiations in 2001 following the fatality off the shore of Nova Scotia in 1999. The provinces cannot enact the new law without federal agreement to make the same changes. Bill C-5 would provide regulatory boards with the operating authority to disclose relevant occupational and safety information to the public.
The bill would allocate overall responsibility for occupational health and safety to the operator. The employer would play an implementation and coordination role in this regard. Employees are to take all reasonable measures to comply with occupational health and safety measures. This one is a surprise and I do not know why the Conservatives would be against it. Bill C-5 would provide employees with the right to refuse to perform an activity that they have reasonable cause to believe is unsafe. The bill would afford employees protection from reprisals for reporting unsafe conditions.
Bill C-5 is timely legislation as Nova Scotians will see explorations off their coast by Shell and BP for the first time since the 2010 BP oil spill off the Gulf Coast.
Let me make a little sidebar comment.
On April 28, Canada's flags were lowered to half mast to pay homage to all of the people who went to work last year and died. Over 1,000 Canadians went to work and did not go home. Everybody in the House was mournful and very aware of the fact that workplace safety must be paramount in everyone's daily lives. We as members of Parliament and people we work with here are provided with security and the assurance that the House of Commons is safe and has good working conditions. If we notice something unsafe, we have the right to say something and have it corrected.
Why would the Conservatives oppose something that would enhance and protect workplace safety after standing so quietly and mourning the 1,000 Canadians who died in the workplace? We simply do not understand. Hopefully one day one of those Conservative members will explain to the House and to the working people of Canada and their families why they refused a clause of that nature.
Despite the federal government's refusal to implement recommendation 29 of the Wells inquiry, Bill C-5 is a positive and necessary improvement to the current offshore health and safety regime by placing safety practices in legislation.
New Democrats are proud to support Bill C-5. For several years now we have been calling for the regime to be strengthened.
New Democrats will continue to work with Nova Scotia and Newfoundland and Labrador to further strengthen worker health and safety by working toward the creation of an independent, stand-alone safety regulator. The NDP also supports the collaborative efforts of the provincial and federal governments that produced Bill C-5. Unfortunately, the Conservative government does not collaborate often enough with the provincial and territorial governments to produce measures that would move our country forward.
We encourage the Conservatives to get into the game on this one and understand the importance of this legislation. We urge them to work with the provinces to get this done.
We would all like to see employment and growth in all sectors, including offshore or terrestrial areas.
We must do this with the highest standards of workplace safety and with the highest standards of environmental regulations.
I could not help but notice recently that the categorization of a certain whale off the west coast was changed. Why? It seems so timely before the possible approval of a pipeline in that area.
Why would someone change the classification of an endangered species? It could only be to make it more feasible or easier for an application to be processed.
I know these companies. They are not evil. They obviously want to make profits, grow their industry, and create jobs, and that is good, but at the same time, I am sure that a lot of these companies would like to have the highest of environment standards as well.
All that Canadians and those good folks in my former province of British Columbia are asking for is input. They want to be at the table. They want to have their voices heard honestly and fairly. They do not like to go to meetings to find a decision has already been made and they are just there for show, or in my case eye candy, but we will talk about that later.
The reality is that we cannot ignore the wishes and desires of the Canadian people. They are the ones who put us here. It is our job, and the regulator's job, to have proper and fair consultation and input with these folks before these major projects go on.
At the end of the day, I am not an expert on pilot whales, nor would I ever say I was, but I am very concerned about the environment. A lot of my friends work in the oil patch sector, and they are also concerned. They love what they do, and they make very good money at what they do. They leave their families for long, extended periods of time to work in the oil fields and then they come back. They also have children, and they are also concerned about the natural environment.
They are also concerned when a helicopter coming back from a rig crashes into the water. We found out that one of the aspects of the helicopter was that it did not have a 30-minute run-dry capacity. Recommendations came forward, but we still have not seen compliance on those yet. In fact, we may be purchasing helicopters for our military that may not have that capability.
I do not know why we would do this. We already had a tragedy, and in a small province like Newfoundland and Labrador, a tragedy of that nature affects everyone, and it affects all Canadians. These things do happen, but we can learn from those mistakes and make sure they do not happen again.
Government and the opposition should be working together to ensure the highest standards of safety and that protocols are in place to make sure that never happens again.
If it does happen again, who is ultimately responsible? Is it the company, is it the regulator, or is it the governments? It is probably all three, but explain that to a grieving widow or grieving children who have lost a loved one. Those are conversations we do not want to have.
If we can do it in advance, if we can move the safety issue forward in collaboration with the provinces and then again with industry, then we can exploit the resources we have on both coasts in a proper and environmentally friendly manner so that traditional fishing grounds, for example, can still be exploited, as well as other opportunities for future growth in our economy.
We cannot do that if we risk the environmental aspect of our terrestrial and aquatic systems. We simply cannot do that. We share the planet with the others.
In this I pay tribute to the late Farley Mowat, a great veteran, a great Canadian, and a great novelist who passed away today. He always said to all the politicians that we have to understand that although we are the human race, we share this planet with others. Those others do not have a voice, and those others—the whales, the birds, the fish, the trees, the plants—also share this planet with us as well. We need to ensure that just as importantly as we address workplace health and safety, we address these environmental issues properly.
We encourage the Conservatives to please get on board with Bill C-5 and pass it unanimously.
Veterans April 8th, 2014
Mr. Speaker, what utter nonsense. What we are talking about is the earnings loss benefit that was wrongfully clawed back from disabled veterans from April 2006 to just the other day. Two previous Veterans Affairs ministers said very clearly that they would deal with this issue in an honourable way, but in the omnibus legislation, it only went back two years. It should have gone back all the way to 2006.
Why should disabled veterans and their families have to go to the courts to fight the government to get the benefits they so richly deserve?
Fair Rail for Grain Farmers Act March 28th, 2014
Mr. Speaker, I would like my hon. colleague, who gave a great speech on the subject, to elaborate. It is not just the farmers who are going to have a devastating time on this one. It is all those other secondary producers, including the flour mills, the bakers, the restaurants, and the shops across the country and internationally who use those products for us and our daily sustenance on a regular basis.
I would like the member to elaborate on the trickle-down effect of the damage this is going to have on aspects of that economy in all of Canada.