Peter Stoffer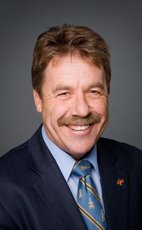 House of Commons photo
Track Peter
Your Say
Elsewhere
Crucial Fact
NDP
MP for Sackville—Eastern Shore (Nova Scotia)
Won his last election, in 2011, with 54.10% of the vote.
Statements in the House
Enhancing Royal Canadian Mounted Police Accountability Act February 28th, 2013
Mr. Speaker, a while ago there was a justice bill going through this House, and our hon. learned colleague for Mount Royal proposed about eight to ten amendments. Every single one of those amendments was refused at committee, absolutely refused. However, when the bill came to third reading here in the House of Commons, the government realized it should have taken those amendments. The bill then went to the Senate, where a senator introduced almost the exact same amendments to the bill.
The NDP proposed some very proper and straightforward amendments to Bill C-42 that would fix the bill and address some of the concerns that my hon. colleague has outlined. Again, in typical Conservative Party fashion, the Conservatives refused any of the amendments, which is a huge mistake.
I would like my hon. colleague to comment on that, please.
100th Birthday Congratulations February 25th, 2013
Mr. Speaker, it is not every day that one not only gets to meet a 100-year-old citizen of Canada but also a 100-year-old World War II veteran who helped liberate my parents in the liberation of the Netherlands. Not only that, but Mr. Jim Broomfield, of Galt, Ontario, spent eight months as a prisoner of war, sacrificing his time in his youth for the liberation of the Netherlands and the free world by serving Canada in his country.
Mr. Broomfield will be honoured later on this year in the Cambridge Sports Hall of Fame for being an 80-year member of the Galt Curling Club. He is an outstanding human being. At 100 years old, he gets around a lot better than all of us.
I have to say, on behalf of my late father, my mother and all the Dutch people in Canada and the world that he and the veterans liberated, it is an honour, once again, to see him here. We greatly appreciate his tremendous efforts. He is a fantastic veteran, but most of all, he is a great Canadian.
He says that the secret to longevity is Dr. Jim Gowing and good scotch. God bless him.
Veterans Affairs February 14th, 2013
Mr. Speaker, what we oppose and New Democrats will oppose every single time is closure of Veterans Affairs offices, $250 million cut from the DVA, and now we oppose the Conservative government's action against the 1,000 disabled RCMP veterans who it is now dragging through the courts once again.
It is bad enough that it drags disabled military veterans through the courts; now it is dragging disabled RCMP veterans and their families through the courts.
Will the government now do the right thing for these veterans and the taxpayers: stop these legal proceedings, sit down with the RCMP veterans and negotiate a fair settlement so they can get on with their lives?
Veterans Affairs February 14th, 2013
Mr. Speaker, those kinds of comments also make us reverse our lunch when we hear stuff like that, because it was the government and the Prime Minister that forced 7,500 disabled heroes and their families through the courts when they were advised repeatedly in 2006 and 2007 to stop the legal proceedings because not one plug nickel should go to any legal fees. This should have been settled out of court many, many years ago.
Will the Prime Minister of Canada please stand on his feet and apologize to those 7,500 heroes and their families for dragging them through the courts in the first place?
Canadian Forces Members and Veterans Re-establishment and Compensation Act February 11th, 2013
moved for leave to introduce Bill C-472, An Act to amend the Canadian Forces Members and Veterans Re-establishment and Compensation Act (death benefit for parents).
Mr. Speaker, the reason for the introduction of this bill is that, if we take Afghanistan as an example, 158 individuals passed away, giving their lives to the service of Canada. The immediate spouses of those who were married were entitled to the supplementary death benefit of, I believe, more than $270,000. However, for those individuals who were not married, the estate received nothing.
It is time that on the battlefield we recognize that, whether a soldier is married or not married, it should not matter to the estate where the supplementary death benefit goes. This legislation would change that. It would basically make all of our men and women in the services who die in the line of duty for their country equal under the compensation benefit to ensure that their estate would receive the supplementary death benefit.
(Motions deemed adopted, bill read the first time and printed)
Veterans February 6th, 2013
Mr. Speaker, when we become the government, we will show veterans how they should be treated in this House.
The reality is that these veterans had to go before a politically appointed board with information the adjudicators have but that they do not have. What fairness is that?
The ombudsman was very clear. He said that the department must make it fair so that the veterans, when they appeal for their benefits, have all their documents in advance so that there can be a level playing field when the discussions take place.
Will the minister now commit to this House, to the people of Canada and to the veterans community that when veterans appeal for benefits, they will get all the documents they so richly—
Royal Canadian Mounted Police January 30th, 2013
Mr. Speaker, it is typical to hear that minister talk about taxpayers' money.
A court case costs $68 million in legal fees, $82 million in accrued interest, for a total of $150 million, which was wasted fighting disabled veterans in this country. Shame on the government. Shame on the minister. Did the government learn its lesson? No. Now it is attacking disabled RCMP veterans.
The government could solve this problem right now, save taxpayers some money and show RCMP veterans and their families the respect they deserve. The government could settle this out of court and give RCMP members the dignity and the income support they so richly deserve.
Jobs and Growth Act, 2012 December 3rd, 2012
Mr. Speaker, before I ask a question of my hon. colleague from Calgary, I must say that my colleague from Winnipeg needs to take a little history lesson. In fairness to him, the fact is that it was the Liberal Party, through confidence votes, that kept the Conservative government alive for 100 votes. He is the last person who should be talking about supporting the Conservative Party.
What the Minister of State for Finance is saying is incorrect. If there are urgent aspects in the bill that need to be done by January 1, the government could easily take those aspects out of the omnibus bill, seek consent from the House, especially from the official opposition, and move those aspects of the bill quite quickly, like we did with the pension reform legislation. The problem is that by lumping all of these aspects into a massive bill, which even he has not read and I doubt anyone in the House has read, there will be mistakes and errors.
Why does the government not just take out those aspects that the member says are so critical, seek unanimous consent, see if they can be moved rather quickly and allow proper debate on the rest of the bill?
Tribute to Veterans November 7th, 2012
Mr. Speaker, I personally want to thank the Minister of Veterans Affairs on behalf of the official opposition for a very fine speech and kind words to Canada's veterans and the heroes of our nation.
I would like to share with members some of the names of so many of our heroes, over two and a half million Canadians, who donned the uniform of Canada: people like William Hall, an African Nova Scotian who received the Victoria Cross in Lucknow, India; John MacRae who served in the Boer War and in World War I and who gave us that famous poem In Flanders Fields; Smokey Smith from British Columbia who fought bravely in Italy and earned the Victoria Cross; and Tommy Prince, a brave first nations aboriginal with the Devil's Brigade in World War II. We must not forget that the first nations people in Canada were exempt from going to war but they went anyway to serve their country.
There are people like Jack Ford of Newfoundland and Labrador, the last surviving individual from the Nagasaki nuclear bombing. He was in the shipyards at the time and if it were not for the hole that he was in he would not have survived. He is a brave hero from the province of Newfoundland and Labrador.
Who could forget August 9, 1974, that terrible tragedy where nine Canadian peacekeepers were killed over Syria when a missile brought down their Canadian Forces Buffalo aircraft? August 9, 1974 is etched in the memory of all our peacekeepers for their brave service in peacekeeping missions around the world.
Ed Carter-Edwards, my personal friend from Ontario, served so bravely with the air force. Unfortunately, he was betrayed and was brought into the Buchenwald war camp. He survived and is still with us today. It is an honour that he is with us to share his story of what happened. Ed Carter-Edwards and many others of that generation deserve our undying gratitude for the tremendous work that they have done and the sacrifice they have made for our country.
I also cannot forget one of the bravest people I have ever read about, Captain Nichola Goddard. She bravely gave her life in Afghanistan for the peace, freedom and democratic principles that we hold so dearly so that the great people of Afghanistan could have what we have in Canada. Unfortunately, she gave up her life for those principles, but she did it so bravely. She would be honoured to know that she was the first woman killed in combat from Canada.
The reality is that she, like all other women who have served our country over the years, is a shining example of what happens when Canadians are willing to put their life forward so that we in this country can maintain the principles of peace, freedom and democracy and share those democratic principles around the world. I know for a fact that when Canadian soldiers, peacekeepers and veterans go around the world there are people in other countries looking up to our brave Canadian heroes and imagining what kind of country they come from.
What kind of individuals lie about their age, get into a uniform and sacrifice their young life in the fields of Europe or elsewhere? I will tell the world that those people are Canadians who sacrificed so much so that people like my family from the Netherlands could be free. The Netherlands today is a prosperous democratic country. Why is that? It is because Canada and her allies, the Polish brigades, the Americans, the British and many others went over there to fight against tyranny so that people like my family could be free. As my father said, "If they have a military like that, imagine what kind of country they come from".
I am very proud as a Dutch-born Canadian to call Canada my home. I am very proud of the fact that over 5,700 Canadians paid the ultimate sacrifice and are buried in the soil of the Netherlands so that many of us could be free.
The sacrifices do not stop here. Many Canadians in uniform are serving around the world showing the world what it can be when one lives in a country of peace, freedom and democracy and the principles of the rule of law. This is what the men and women who wear the uniform do day in and day out.
I also pay a special tribute to the RCMP officers, firefighters, police officers and those people who serve our country internally to protect our citizens on a daily basis. These are the true heroes of our nation. Even though Remembrance Day comes but once a year, for those people who serve our country, Remembrance Day is every day for them and their families.
At the going down of the sun and in the morning, let us say, "We will remember them and god bless all their memories".
Veterans November 7th, 2012
Mr. Speaker, my 90-year-old mother who was born in Holland, now living in Richmond, B.C., is very upset that many of her heroes who liberated her, my father and her fellow Dutchmen in the Netherlands may not get a proper funeral and burial service when they pass on. Trust me, Mr. Speaker, you do not want to upset my mom.
Why is the Minister of Veterans Affairs upsetting my mother and why is it that so many veterans in the country cannot get a proper funeral and burial service after the services they gave to us? They liberated Europe. They gave their very best to our country. Will the government now ensure that all veterans in our country get a proper funeral and burial?