Philip Mayfield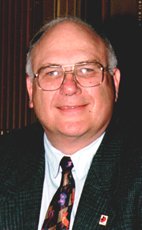 House of Commons photo
Elsewhere
Crucial Fact
His

favourite word

was money.
Last in Parliament May 2004, as

Canadian Alliance
MP for Cariboo—Chilcotin (B.C.)
Won his last election, in 2000, with 60% of the vote.
Statements in the House
Petitions May 5th, 2004
Madam Speaker, the second petition draws to the attention of Parliament that Parliament voted to preserve the traditional definition of marriage, and that a recent court decision has redefined marriage contrary to the wishes of Parliament. The petitioners are concerned that this is not a way for democracy to be reflected in Canada.
They call upon Parliament to immediately hold a renewed debate on the definition of marriage to reaffirm, as it did in 1999, its commitment to all necessary steps to preserve marriage as the union of one man and one woman to the exclusion of all others.
Petitions May 5th, 2004
Madam Speaker, I have two petitions from citizens of Cariboo—Chilcotin in the city of Williams Lake and surrounding communities.
The first petition draws attention to the House that the creation and use of child pornography is condemned by a clear majority of Canadians and that the courts have not applied the current child pornography law in a way which makes it clear that such exploitation of children will met with swift punishment.
Therefore the petitioners call upon Parliament to protect our children by taking all necessary steps to ensure that all materials which promote or glorify pedophilia or sado-masochistic activities involving children are outlawed.
Petitions March 24th, 2004
Mr. Speaker, I am pleased to present a petition on behalf of some of the residents of Lone Butte and 100 Mile House in my vast constituency of Cariboo—Chilcotin in central British Columbia.
These citizens call upon Parliament to remember that marriage is the best foundation for families and raising children; that the institution of marriage as being between a man and a woman is being challenged; that the House passed in June 1999 a motion calling for marriage to continue to be recognized as the union of one man and one woman to the exclusion of all others; and that marriage is the exclusive jurisdiction of Parliament.
They therefore call upon Parliament to pass legislation recognizing the institution of marriage in federal law as being a lifelong union between one man and one woman to the exclusion of all others.
Supply February 26th, 2004
Mr. Speaker, I was pleased to hear the minister commenting on the government taking measures to assist farmers.
I come from an area in British Columbia where many of my constituents are cattle producers. It is most disheartening to hear these people tell me that the cost of selling their cattle is higher than the return they get from the sale. Some of these people are hanging on and wondering if they will make it through to the season when they sell their cattle, probably in the fall of the year.
First, could the minister tell the House how many farmers are on the threshold of financial failure because of current market conditions?
Second, could the minister tell us how many of those farmers facing loss will be saved because of the measures the government is putting in place?
Supply February 19th, 2004
Madam Speaker, I rise on a point of order. I must object to the member saying there is no official opposition. There is opposition and at this time we happen to be opposing her point of view.
Supply February 19th, 2004
Mr. Speaker, I am somewhat alarmed when I hear comments such as the ones I just heard. Historically we have always had shivers when the United States has talked about its need for isolation and to close its borders against other countries. Usually we are thinking in economic terms and the disaster it would be for Canada if the U.S. were to adopt that kind of isolationist policy again.
It seems to me that the two parties supporting the motion are advocating the same kind of isolationism for Canada in such an important area of our life, and that is the defence of our nation.
I cannot believe that they would say that we should not talk, that we should not meet and that we should have nothing to do with those people. That kind of thinking just isolates us and gives us no influence anywhere at all. I think that isolation should be damned from the beginning and I am prepared to stand with those who do it.
Supply February 19th, 2004
Mr. Speaker, I was pleased to hear the former minister of defence make his comments.
I think about the need that our country has to have a secure defensive position and I am concerned that we are not even in a position to defend ourselves if we need to. For example, our Coast Guard has been starved. There is not even a capability of adequate search and rescue in some instances, let alone the kinds of patrols that are necessary. Our aerial patrols have been diminished over the years, all for lack of money.
I heard the former minister say that we do not have money for this, but perhaps we have some money for administration. It seems to me that if we are going to be a country with some strength even at the bargaining table we must have some strength in our defensive position. I am wondering why the government is not thinking about putting money into this--
Petitions February 16th, 2004
Mr. Speaker, hundreds of citizens from Cariboo—Chilcotin have petitioned Parliament to immediately hold a renewed debate on the definition of marriage and to reaffirm, as it did in 1999, its commitment to take all necessary steps to preserve marriage as the union of one man and one woman to the exclusion of all others.
Points of Order February 16th, 2004
Mr. Speaker, for the first time parliamentary secretaries have been sworn in as privy councillors and are thereby sitting at the cabinet table. The very scandal the public accounts committee is charged with investigating involves members of the cabinet, both past and present.
I wish to argue before you, Mr. Speaker, that it is inappropriate for any cabinet minister to sit on the public accounts committee due to the very serious and obvious conflict of interest.
There are not one nor two, but three parliamentary secretaries on the public accounts committee looking into the sponsorship program scandal. Unlike in the past, these parliamentary secretaries have a place around the cabinet table if invited to do so.
While there are no rules precluding cabinet ministers from sitting on committees, established practice has precluded them from holding membership in recent years. Marleau and Montpetit states on pages 819 and 820:
While no rule prevents any Member from being named to a committee, current practice normally excludes certain Members who have other parliamentary functions--
On that list of exclusion are cabinet ministers. The last minister to be named to a committee was Allan MacEachen who served on a striking committee from 1976-77.
In the early years of Confederation, ministers being named to standing committees were more common; however, this practice died along with the practice of a government member chairing the Standing Committee on Public Accounts in the mid-1980s.
In the mid-1980s the McGrath committee recommended that parliamentary secretaries--and we are not talking about the hybrid parliamentary secretaries/cabinet ministers of today--not participate on standing committees. The reason for the exclusion of parliamentary secretaries was for greater independence. Greater independence is also be the theme of the government's latest proposal, an action plan for democratic reform. Of course, that document was tabled before the sponsorship program corruption scandal.
I am asking you, Mr. Speaker, to rule whether there is enough precedent existing in our modern day practice to prevent parliamentary secretaries, who sit at the cabinet table, to continue on the public accounts committee, particularly as the committee undertakes a study into abuses of cabinet regarding the sponsorship program. It is a clear conflict of interest that needs to be addressed.
I think the Speaker and Canadians will agree that those privy councillors on the committee must be removed if the public accounts committee is to have any credibility during this inquiry.
On April 14, 1987, on page 5121 of Hansard , Speaker Fraser said:
When interpreting the rules of procedure, the Speaker must take account not only of their letter but of their spirit and be guided by the most basic rule of all, that of common sense
On page 219 of Marleau and Montpetit, it states:
The Standing Orders, though a vital reference, constitute a comparatively small part of the much larger body of House of Commons procedure and practice that the Speaker will consult in preparing a ruling.
It also states that there is "the fine balancing act that is often involved in adapting old rules to new situations".
The Prime Minister has created a new procedural situation with these hybrid cabinet ministers and has created an ethical dilemma by placing three of them on the very committee that will conduct a study into a government scandal where cabinet members are actually implicated.
Petitions November 4th, 2003
Mr. Speaker, I have petitions from my constituency, particularly Williams Lake. The petitioners are asking Parliament, particularly the Standing Committee on Health, to fully examine and study a report of Parliament on whether or not abortions are medically necessary for the purpose of maintaining health, preventing disease, or diagnosing or treating an injury, illness or disability in accordance with the Canada Health Act, and the health risks for women undergoing abortions compared to women carrying their babies to full term.