Sophia Leung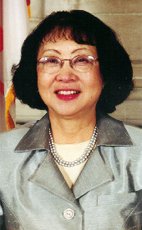 House of Commons photo
Elsewhere
Crucial Fact
Her

favourite word

was ccra.
Last in Parliament May 2004, as

Liberal
MP for Vancouver Kingsway (B.C.)
Won her last election, in 2000, with 43% of the vote.
Statements in the House
Excise Tax Act May 12th, 2004
Mr. Speaker, I am pleased to speak to private member's Bill C-456, which asks Parliament to amend the Excise Tax Act to exempt cloth and disposable diapers for children from the goods and service tax, the GST.
The government recognizes that my colleague's intent of the bill is to assist low income families with young children. I am pleased to hear that she has two young children now. I remember when she was expecting her first child. I am sure she is very busy.
Canadian society is one of caring and compassion and it is up to the government to reflect that attitude in its legislation. In that regard, the federal government has introduced many measures in recent budgets to help Canadians who need it the most, in particular families with children.
I trust my colleagues would agree that while tax reduction must ultimately benefit all Canadians, it must primarily benefit those who need it the most, middle and low income earners, especially families with children. The best way to help these families is to provide targeted tax relief. That has been a priority of this government ever since we achieved a balanced budget in 1998.
Personal income tax cuts can be better targeted to low and middle income families rather than providing GST relief on specific items, such as diapers, that may be purchased by both low and high income individuals.
Let me explain. As a general principle, it is better to tax a broad base of goods and services rather than to exclude a certain GST base. The broad base of the GST allows the tax rate to be set at a relatively low rate, while still ensuring an adequate level of revenue. Moreover, value added taxes such as the GST are more efficient when applied to a wide range of goods and services consumed in Canada.
It is also important to mention here that removing certain items from the GST base could, over time, erode the tax base, hampering the government's ability to keep the GST at a relatively low rate.
To return to the issue of targeted tax relief, for individuals and families, GST relief is provided through the GST credit. The government provides approximately $3 billion a year through the GST credit to help low income families and individuals with the sales tax they paid during the year. The credit has proven to be an effective means of targeting and delivering tax relief, particularly to low income families. This is the fairest and the most efficient means of providing targeted relief from the GST.
As well as the GST, targeted tax relief is provided by way of the $100 billion five year tax reduction plan. This plan was introduced in 2000, and it continues to provide tax relief to low and middle income Canadians. The plan has reduced federal personal income taxes by 21% on average and for families with children, that figure is 27%.
This year's budget builds on prior actions for families with children by helping them accumulate savings for their children's post-secondary education.
Our economy must be powered by ideas, imagination and innovation. Knowledge is the key not only to individual opportunity but also to economic success.
In previous budgets we improved assistance to students, created the Canada study grants, supported lifelong learning, enhanced the education tax credit and added the Canada education savings grant, CESG, to registered education savings plans.
The 2004 budget announced a broad package of measures aimed at promoting learning at every stage of life, including the very young. This budget commits additional resources to the multilateral framework on early learning and child care so more children will be better prepared to learn at school and succeed in life.
The government will also provide increased resources to understanding the early years, a pilot project which will identify children with learning disabilities. The program will be extended to 100 more communities.
Family saving is very hard for low income families who struggle just to make ends meet. To help these families, the government currently provides support through the Canada child tax benefit, in particular the national child benefit supplement. All in all, the annual federal investment in Canadian children and youth through the Canada child tax benefit is about $10 billion, making it one of the nation's most important social programs after medicare.
Too many Canadians from low and middle income families cannot have a college education because the cost is too high. To further assist those families to save for their children's education, the 2004 budget announced three important new measures.
First, beginning this year the government will introduce a learning bond in the amount of $500 which will be available to every child born after 2003 to families earning less than $35,000. Each year thereafter, for 15 years, the Government of Canada will contribute an additional $100 bond for children in low income families. This will provide up to $2,000 for post-secondary education. Even with no additional contributions by parents or others, when placed in an RESP, these funds could grow to nearly $3,000 by the time the child reaches 18, providing a foundation for higher education and a better future. The learning bond will benefit for than 120,000 newborn children this year alone.
Second, for families earning less than $35,000, we will double the Canada education savings grant from 20% to 40% on the first $500 of contributions each year. The means that for every $5 that a low income family contributes to an RESP, the Government of Canada will add $2. As a result, families receiving the learning bond and contributing as little as $5 a week to an RESP could have close to $12,000 by the time their children ready for a college education.
Third, we will provide some 20,000 students from low income families with new grants worth up to $3,000 to cover a portion of the first year of tuition.
Furthermore, for families earning between $35,000 and $70,000, the CESG will increase from 20% to 30% on the $500 of contributions each year. This could benefit more than two million children in middle income families.
Each year the Canada student loan program provides financial support for almost half of the full time students in post-secondary education. Students across Canada will have told the government--
Member for Vancouver Kingsway May 12th, 2004
Mr. Speaker, I have had the honour to serve two terms as the member of Parliament for Vancouver Kingsway. It has been a special privilege for me to work closely with many colleagues here.
For the past seven years I have travelled between Ottawa and Vancouver weekly. I have gained many Aeroplan points while gaining many pounds.
My life has been completely controlled by House duties, meetings, voting bells and junk food, but it has been a most rewarding and challenging experience for me. I would not have traded it for anything else.
Above all, I want to thank my son, Ken, and my many supporters and friends for their support. I also thank members for their friendship and support and salute them all for their commitment and dedication to this land, the nation and the people of Canada.
[Editor's Note: Member spoke in Chinese]
Asian Heritage Month May 5th, 2004
Mr. Speaker, the strength of diversity has become the strength of our country. We now celebrate our diversity on many occasions. May is Asian Heritage Month in Canada.
In December 2001, a motion was introduced by Senator Vivienne Poy and passed by the Senate of Canada. Throughout the month of May we will celebrate and honour the heritage of Canadians of Asian descent.
Asian Canadians have made and are making a huge contribution to every aspect of Canadian life, in arts and culture, in science, in medicine, in business, in education and in politics.
It is my hope that through Asian Heritage Month activities, members of all communities across Canada will continue to develop a deeper insight into Asian cultures and a greater appreciation for our rich multicultural heritage and for one another.
Multiculturalism May 3rd, 2004
Mr. Speaker, my question is for the Minister of State for the Status of Women and Multiculturalism.
This month is Asian Heritage Month which we observe every year. According to Statistics Canada, we have around a 10% population of Asian descent in Canada. Indeed Asians have enriched our diversity. How has the Government of Canada chosen to recognize Asian Heritage Month this month?
Canada National Parks Act May 3rd, 2004
Mr. Speaker, it gives me great pleasure to rise today to speak to third reading of Bill C-28, an act to amend the Canada National Parks Act. This legislation would remove lands from the Pacific Rim National Park reserve and the Riding Mountain National Park for Indian reserve purposes.
Other hon. members have spoken to the specifics of this bill and about Parks Canada's national parks program and its celebration of our natural heritage. I would like to take a moment to speak about Parks Canada's cultural heritage program, the National Historic Site Program.
Based on its "National Historic Sites of Canada System Plan 2000", Parks Canada will continue to mark the historic achievements of Canadians, in particular aboriginal peoples, women and ethnocultural communities. Parks Canada's goal is to bring about 135 new designations of national historic significance within a five year window, including 55 destinations specifically commemorating the history of aboriginal people, ethnocultural communities and women.
It should be understood that while the Minister of the Environment and Parks Canada are responsible for officially honouring the designated places or people, the actual choice of designations is made by the minister on the advice of the independent Historic Sites and Monuments Board of Canada. Any Canadian individual, group or government can make a formal submission to the board. This is a very thoughtful process we have created.
That said, it takes time, effort and extensive know-how to learn about the process and to complete the requisite submission. The process is rigorous because Canadians expect any national historic recognition to have deep meaning and importance. Parks Canada has launched major efforts in the past few years to ensure that more Canadians know how to initiate and complete a submission.
A good example is a major outreach program to ethnocultural communities launched last year. The program consisted of both information meetings and user-friendly education material. Parks Canada is going to communities and asking for their participation rather than waiting for communities to come to it.
The agency's recent efforts have ensured that sufficient nominations have been submitted to the Historic Sites and Monuments Board to meet its overall goal of an annual average of 27 new designations. Parks Canada is confident that it will achieve its targeted goal of 11 new designations a year specifically related to the achievement of ethnocultural communities, women and aboriginal peoples.
To achieve the three strategic designation priorities--women, aboriginal and ethnocultural communities--identified in the system plan, Parks Canada will maintain its focus on partnership efforts with aboriginal people, build awareness of the commemoration program, expand its work with ethnocultural communities, and strengthen its planning related to the history of women. The target for designations will be reviewed annually with the aim to ensure that historic achievements of Canadians of both genders and from all backgrounds are appropriately honoured by the nation.
As it moves forward with its system plan, Parks Canada can take pride in the achievements to date in celebrating aboriginal people's history through commemoration of significant people, places and events.
Let us look at a number of these sites in more detail. Kay-Nah-Chi-Wah-Nung National Historic Site, also known as Manitou Mounds, is near Fort Frances, Ontario. Parks Canada's partnership with the Rainy River first nation will ensure that this site, an important aboriginal religious and ceremonial ground for 2,000 years, is conserved and presented to all Canadians.
Chiefswood National Historic Site on the Six Nations Grand River reserve in southwestern Ontario is the birthplace of famed poet-performer Pauline Johnson. Chiefswood is being developed as a museum by the Six Nations Council in partnership with Parks Canada. Pauline Johnson has also been designated a person of national historic significance.
Kejimkujik National Park in Nova Scotia is now also commemorated as a national historic site, recognizing first nations use and occupation of the land. The earliest inhabitants of this park were Maritime Archaic Indians about 4,500 years ago. They were followed by the nomadic Woodland Indians who set up seasonal campsites along Kejimkujik's rivers and lake shores.
The Mi'kmaq, descendants of these people, have called this area home for the last 2,000 years. It is they who have produced the park's famous petroglyphs that represent the lifestyle, art and observations of the Mi'kmaq people in the 18th and 19th centuries. The park is administered by Parks Canada for all Canadians, but a Mi'kmaq network has been established to provide Parks Canada with advice on Kejimkujik from band members, elders, and political and spiritual organizations.
Head-Smashed-In Buffalo Jump was designated a national historic site in 1968. It is one of the world's oldest, largest and best preserved buffalo jumps known to exist. In 1981 it was designated as a UNESCO World Heritage Site. Head-Smashed-In Buffalo Jump has been used continuously by aboriginal peoples of the plains for more than 5,500 years and is known around the world as a remarkable testimony to pre-contact life. As a world heritage site, the jump is among such other world attractions as the Egyptian pyramids, Stonehenge and the Galapagos Islands.
Parks Canada is only one of the circle of friends that has provided support for a first nations-owned national historic site in Saskatchewan. Wanuskewin Heritage Park was created to be both a heritage park and a first nations centre. Wanuskewin became a reality in June 1992 and hundreds of thousands of people have visited this model of cross cultural partnership since opening day. Over 14,000 school children participate in cultural and educational programs at Wanuskewin each year.
Batoche was declared a national historic site in 1923. Its commemoration initially focused on the armed conflict between the Canadian government and the Métis provisional government in 1885. Today, Batoche also commemorates the history of the Métis community and is the home of Métis culture and heritage.
Surviving portions of the Carlton Trail and river-lot system and the roles of first nations in the Northwest Rebellion resistance are also commemorated. Administered by Parks Canada, the site benefits from a formally established shared management board with the Métis Nation of Saskatchewan.
Among persons of national historic significance, we might mention Mokwina, not a single man but several who held the name as a hereditary title given to the chiefs of the Mowachaht First Nation confederacy in British Columbia.
Nagwichoonjik national historic site is in the Northwest Territories. It covers that part of the Mackenzie River between Thunder River and Point Separation. It is of national historic significance due to its prominent position within the Gwichya Gwich'in cultural landscape. The Mackenzie River flows through Gwichya Gwich'in traditional homeland and is culturally, socially and spiritually significant to the people. Gwichya Gwich'in express the importance of the river through their oral histories, which trace important events from the beginning of the land to the present.
Gwichya Gwich'in history is told through names given along the river, the history and stories associated with these areas, and the experience drawn from these stories. The river acted as a transportation route, allowing Gwichya Gwich'in to gather in large numbers to dance, feast and play games during the summer. Archaeological evidence supports Gwichya Gwich'in oral histories concerning the importance of the Mackenzie River. Sites along the river show extensive pre-contact fisheries and stone quarries, which have ensured Gwichya Gwich'in survival through the centuries.
Canada's national historic sites are part of a larger family of special heritage places which include national parks and national marine conservation areas. They stretch from coast to coast to coast, from the Arctic to the Great Lakes and from the Pacific to the Atlantic. Together, the national parks, national historic sites and national marine conservation areas tell the story of Canada, with each one contributing its own unique story and sense of place and time. These special places have been set aside for the benefit of all Canadians.
Protecting our heritage is a national enterprise and can only be achieved through collaborative relationships. Just as aboriginal people help Parks Canada advance its mandate, Parks Canada endeavours to assist aboriginal communities. Bill C-28 is a good example of just such an initiative and I ask all members of the House to give speedy passage to Bill C-28.
Labour April 23rd, 2004
Mr. Speaker, my question is for the Minister of Labour.
I understand that the Council of Marine Carriers and the Canadian Merchant Service Guild reached an impasse yesterday in their collective bargaining negotiations to end the labour dispute that is affecting shipping in British Columbia.
What is the Minister of Labour doing to help the parties conclude a settlement and restore normal shipping service to the west coast of Canada?
Vancouver Kingsway Constituency April 23rd, 2004
Mr. Speaker, I have had the honour to serve as the member of Parliament for Vancouver Kingsway for the past seven years. I want to congratulate all the residents in my riding, which is enriched by all the vibrant cultures in the world.
It has been a special privilege for me to work closely with many members of the community and various community organizations.
As their federal representative, I was able to seek government support in the areas of health, education, affordable housing, along with social support for families and senior citizens.
I was also able to seek government infrastructure money to build the Millennium Sports Facility and to rebuild the South Vancouver Neighbourhood House. Every summer I worked with HRDC to create 78 summer jobs for high school and college students.
Congratulations to the residents of Vancouver Kingsway for their efforts in making positive progress in their community.
Member for Thornhill April 21st, 2004
Mr. Speaker, over 25 year ago, the hon. member for Thornhill saw a need to improve her community. Being a woman of action, she made a public commitment to her family and neighbours and was elected to the North York municipal council in 1978.
The hon. member was elected to represent the people of Oriole in the Ontario legislature between 1985 to 1997. As a member of a provincial parliament, she became the first Jewish woman to become a minister in Canada.
In 1997 the hon. member was elected in the newly created riding of Thornhill. For seven years she has spoken with passion and conviction, representing the views of her constituents here in the House of Commons.
In 1999 the hon. member for Thornhill became the first Jewish woman to serve as a federal cabinet minister when she was named Minister of Citizenship and Immigration, and was appointed to cabinet a second time in 2002 as Minister of National Revenue.
For 25 years she has been a strong voice for her community and her--
Avian Flu April 20th, 2004
Madam Speaker, I am pleased to take part in this debate on the avian flu. As the member for Vancouver Kingsway in B.C., I know that this problem has deeply affected the farmers in the Fraser Valley. I have deep concerns for their suffering and loss.
We all are worried about the avian flu, which is contagious and infectious to all species of birds. However, it is important to remember it can spread to humans only in rare occasions.
We would also like to ask one very important question. What strain of bird flu is in B.C.? I understand that low and high pathogenic strains of H7N3 have been discovered in B.C. This is not the same virus that is causing the human illness in Asia. It is also different from the strain of bird flu found in the United States.
When we refer to the bird flu, its pathogenicity varies in different degrees of the surface proteins on the influenza virus by H and N type. The Canadian Food Inspection Agency, CFIA, in consultation with Health Canada and the local medical officer of health, has taken extensive precautions to protect the health of workers in B.C.
Currently, personal protective equipment, such as masks, goggles and clothing, antiviral drugs and vaccinations with the current season's flu vaccine are required for workers when they are in contact with high risk flocks.
In our communities we always wonder if it is safe to eat poultry from areas affected by the bird flu. Health Canada advises that poultry products and eggs from outbreak areas do not pose a risk to human health for bird flu. We also know that there is no public health risk associated in the eating of cooked poultry meat or eggs.
The CFIA has now detected avian flu on 31 commercial farms and 10 smaller premises. The CFIA has depopulated all of those premises to stop the spread of infection. The CFIA will also assess on a case by case basis. Efforts will be made to eliminate the highest risk birds as quickly as possible so we will see less and less cases of infection in the targeted areas. Tests will be conducted on birds from all flocks being depopulated. We can fully understand that depopulation is very difficult for all affected bird owners, especially those with small flocks and some kept as pets.
The decision to depopulate was made after consultation with agriculture minister John van Dongen of B.C. and the poultry industry, and it also was recommended by the CFIA. This action can ensure it will stop further spread of infection. It is very encouraging to see that federal and provincial government officials are in close and ongoing contact with the industry. They will continue to monitor the situation and assess its impact.
Under the Health of Animals Act, poultry farmers will be eligible for compensation at market value for birds destroyed. The federal government understands that the suffering and losses of B.C. farmers must be met with appropriate compensation.
I have confidence that the federal government will make the best effort to work with the affected farmers in the Fraser Valley area. We have to provide intervention to stop the infection. Meanwhile, farmers can continue to safely supply the poultry meat and eggs for public consumption.
The CFIA will continue to work closely with Health Canada, the B.C. Centre for Disease Control, the B.C. Ministry of Health Services and local health officials throughout the depopulation efforts, and work to protect the health of farmers and local inhabitants.
I want to express my concern and support for the affected poultry farmers in the Fraser Valley. I share with them their suffering and losses. In Ottawa, we will seek ways to help and support them
Multiculturalism March 26th, 2004
Mr. Speaker, my question is to the Minister of State for Multiculturalism and Status of Women.
Over the past few years racial profiling has emerged as one of the primary issues facing African, Asian, Arabian and Muslim Canadians and the aboriginal communities, in cities across the country.
How does the Government of Canada address this concern surrounding racial profiling?