John English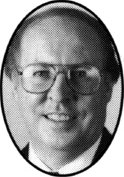 House of Commons photo
Crucial Fact
His

favourite word

was quebec.
Last in Parliament April 1997, as

Liberal
MP for Kitchener (Ontario)
Won his last election, in 1993, with 51% of the vote.
Statements in the House
Member For Beaver River March 21st, 1997
Mr. Speaker, on Thursday evening the member for Beaver River attacked the Prime Minister's efforts to promote gender equality in the House. Women, she declared, are biologically disqualified from achieving political equality in the country. She cheapened the role of our Liberal female candidates by calling them "poor girls at a grade eight sock hop waiting to be asked to dance".
Liberal candidate, Elinor Kaplan, is no poor grade eight girl at a sock hop. She was dancing in public life long before the member for Beaver River learned to creep. In the 1970s Elinor Kaplan founded the North York Business Association. In the 1980s she chaired the Management Board of Cabinet in Ontario. In the 1990s she was deputy house leader and chief opposition whip in the Ontario legislature.
In 1997 she will become a member of the House of Commons, one of dozens of new female members of Parliament who benefit from our Prime Minister's efforts to achieve a full role for women in Canadian public life.
The Budget March 18th, 1997
Mr. Speaker, the question has many parts. To deal with the first part, in my speech I pointed out that the government's actions in regard to students would greatly increase the amount of income available to students during the time they are at university or in a post-secondary program. Second, I pointed out that under the changed RESP program, parents will have a greater opportunity to contribute to the education of children and will be encouraged to do so. Third, I pointed out that the deferral period will be expanded from 18 to 30 months.
I agree with the hon. member that student debt has been rising at an alarmingly high rate. However, student debt is undertaken largely by students who graduate from university. The hon. member talked about the poor. The working poor and the poor who do not work are overwhelmingly persons who do not have higher education.
Statistics, whether in Quebec or in the rest of Canada, point out that those with post-secondary education have an advantage. They have a much lower rate of unemployment and they are much more likely to contribute through loans. In terms of loan repayment it seems to be a way in which those who do gain the benefit of higher education in some ways pay for their own education.
The hon. member beside me told me that it took him 10 years to repay his student loan, and today he has a job. This case indicates that those with higher education gain benefits within society, so the point being made by the hon. member is not well taken.
The Budget March 18th, 1997
Mr. Speaker, I am pleased to rise today to speak on the 1997 budget so appropriately entitled "Building the Future for Canadians".
Canadians elected a Liberal government in 1993. Our government inherited a massive deficit that to most Canadians seemed out of control and would likely leave Canada and its citizens with limited prospects for personal much less national improvement.
Instead of sitting back and opting for short term policies that lacked vision, the government took the initiative and put in place a policy of deficit reduction that has become a model for the developed world. Alone among the G-7 nations we will have a budgetary surplus before the year 2000. Others are now talking about the Canadian miracle.
Having exceeded its deficit targets in previous budgets the government has once again come in well ahead of its 1997 target, placing the deficit at $19 billion and substantially bettering its commitment to reduce it to $24 billion or 3 per cent of GDP.
What has this meant for Canadians? This dramatic change over the last three years has reduced the cost of borrowing money for all Canadians. There is less competition for money. The confidence of international markets have driven Canadian short term interest rates to their lowest level in 35 years. This dramatic turnaround in our fiscal situation will contribute to the creation of jobs by making it less expensive for businesses to operate and by increasing consumer demand for purchases like houses and cars. It means, for example, that someone borrowing to buy a $15,000 car will make approximately $500 less a year in car payments.
Our success in bringing the deficit under control is beyond question. Within two years the government will be able to finance its operations and service its debts internally without borrowing a single new dollar. We will be self-reliant in a way that we have not been for almost 30 years.
However the budget and the government's vision do not stop there. For my constituents and for the average Canadian fiscal stability is important but there are also tangible and immediate results from the budget.
I am particularly pleased by the budget's direction and its intention of addressing those issues closely linked to the constituency level like the new student assistance package, strengthening our social assistance programs and supplying jobs through the Canada infrastructure works program.
With the renewal of the Canada infrastructure works program $425 million in new federal money, along with provincial and municipal contributions, will support $1.8 billion of infrastructure projects in 1997-98 and beyond. Canada infrastructure works has helped create over 100,000 short and longer term jobs. In Ontario this has meant updating and improving community infrastructures through 5,085 projects with an investment of $2.3 billion and creating 39,000 jobs.
I am very pleased with the infrastructure renewal since it has contributed in the past well over $2 million to my riding of Kitchener. This has been most welcome news for the area.
Something of particular importance and an issue close to my heart is the priority given to younger people in the budget. It is we all agree unacceptable that the rate of youth unemployment is double the national average. It is a waste of talent and enthusiasm. It mortgages our future.
For this reason I am encouraged to see in the budget a new youth employment strategy incorporated into program spending which will give assistance for well over 140,000 young people each year. It will supply experience for them in summer jobs and internships. Some $255 million in funding will give way to career summer placements and internship programs with private, voluntary and government sectors.
Last week in my riding of Kitchener I was involved in opening the Lutherwood Youth Employment Centre which had received a $96,000 federal grant through Youth Services Canada. This opening was conducted by unemployed young people who were finding positions under the program.
I recall very well the comments many of them made to me in their very excellent presentations. One said: "These kinds of programs have given me a chance". Another one said: "It picked me up from the floor".
Another pointed to a youth entrepreneurship program that had been funded in our area by the federal government. This program has 10 students at any one time for the past couple of years. Sixty per cent of the students of this program now operate their own businesses. This is a success story for Kitchener, for Canada and for small business.
We often hear the story from youth: "We have no experience and therefore we cannot find a job". We will give them that experience and I am sure the jobs will come. The budget addresses these problems in an imaginative way.
Closely linked to this is the issue of education. Clearly students are facing increased fiscal pressures associated with post-secondary education. They hear talk of globalization and global competitiveness. They are frightened about what this might mean for their own futures. At the same time they perhaps hesitate to pursue higher education because of rising tuition fees.
Other costs associated with university are rising as well. As my the member for Waterloo knows so well with two notable universities in his riding, universities offer so much for a community and their students. They enliven the community, bring consumer spending to the community and in general contribute so much to the development of the region.
In talking to many of the students in our area I realize many of them are now working in part time jobs that occupy a crucial time that they might devote to studying. With additional pressures at home and with additional fiscal pressures it is clear that we had to help out our student population.
Therefore in the budget we invested in the young and in students. I note specifically measures such as doubling the post-secondary education credit over two years and the opportunity to carry forward the unused portions of credits for application against future incomes.
This results in a combined federal-provincial tax assistance to an average student of up to $1,200. This represents an increase of approximately 30 per cent. Moreover, there will be assistance to students in their effort to repay loans. The deferral period for those facing difficulties in paying loans will be extended from 18 to 30
months. This combined with a grace period of six months after graduation means students will have up to three years with help in managing their student loans.
Parents saving for their children's education through the registered education savings plan will have the annual contribution rate doubled to $4,000.
More can, more will and more should be done, but it is clear the a government is committed to higher education, to youth and to the future. On the issue of strengthening our social assistance programs the government is proud of the way it has addressed the needs of society's most vulnerable, its children. In particular I wish to note the national child benefit system.
For years Canadians have agonized over the problem of child poverty. The government, in partnership with provincial governments, is doing something about it. This is a historic undertaking with two levels of government committing to a new cross Canada child benefit system, with the foundation being the Canada child tax benefit announced in the budget. Helping low income working families has always been a priority for Liberal governments past and present.
It is no surprise that the government has succeeded in working out a deal with the provinces to bring a new level of financial relief to Canada's families. Over 1.4 million families with 2.5 million children will see an increase in federal child benefit payments by July 1998. This means that families with incomes under $25,921 will receive higher federal benefits while those with incomes over this amount will continue receiving benefits at the current levels. The greatest benefit, and rightly so, will go to those with incomes under $20,000.
We want to provide more assistance to low income families with children and help those families escape the welfare trap. Currently families on social assistance lose money and many valuable benefits when the parents find work. This is an intolerable situation. The children of families would actually be better off if the family stayed on social assistance.
The new Canada child tax benefit will go to all eligible families, those working and those on welfare. It will also allow provincial governments to take some of the money they currently spend on welfare and redirect it to services and programs for working poor families, such as child care and drug and dental benefits.
We have come a long way since 1993. Sacrifices have been made at every step. Some decisions, while not universally popular, have been made so that the greater benefit of all is preserved for the future.
As a Liberal and a committed member of the government, I am proud of what we have done and the budget is a sign for the future. I applaud the Minister of Finance for his determined work and I look forward with confidence as the Prime Minister leads the country into the 21st century.
The Budget February 20th, 1997
Mr. Speaker, I have a question for the member for Mississauga West. She has often commented on the GST. Could she comment on the Ontario provincial government's attitude and her own attitude toward the question of the GST?
Mathieu Da Costa Award February 20th, 1997
Mr. Speaker, I rise today to pay tribute to a constituent in my riding of Kitchener, Ontario, Marie France Paré.
Miss Paré, from École Cardinal-Léger, had the honour of receiving the Mathieu Da Costa award for elementary French writing. This award is relatively new and honours young people who have illustrated through the arts the cultural diversity in our society.
Miss Paré was recognized for her essay on Harriet Tubman. Her essay brings to light this heroic individual and her contributions to society. It also identifies the many cultures that are part of our Canadian history.
Her writing skill coupled with her insightfulness brings to our attention the diverse beginnings of Canadian society.
Like Mathieu Da Costa, Miss Paré illustrates the significant impact people from all cultures have had and will have on this country. I commend her and all the award recipients for bringing to light the contributions of all cultures to our nation.
I wish to congratulate Miss Paré for this special award and wish her all the best in her future endeavours.
Committees Of The House February 20th, 1997
Mr. Speaker, I have the honour to present in both official languages the fifth report of the Standing Committee on Foreign Affairs and International Trade. This is the first report of the subcommittee on sustainable human development entitled: "Ending Child Labour Exploitation: A Canadian Agenda for Action on Global Challenges".
I would also like to thank the witnesses who appeared before the committee as well as the members of Parliament for their work on this committee. This is a very important report that I think will guide the government in its approach to this very significant question.
Interparliamentary Delegations February 14th, 1997
Mr. Speaker, pursuant to Standing Order 34(1) I have the honour to present to the House, in both official languages, the report of the Canada-Europe Parliamentary Association on the meeting of the Standing Committee on the Parliamentary Assembly of the OSCE held in Vienna, Austria, January 16 and 17, 1997.
Edward James February 14th, 1997
Mr. Speaker, I rise today to pay tribute to a constituent in my riding of Kitchener, Mr. Edward James.
Yesterday, Mr. James had the honour of receiving the Prime Minister's award for teaching excellence in science, technology and mathematics. His dedication and enduring commitment to the teaching profession is truly admirable.
Mr. James was recognized for his particular attention devoted to the challenges facing young women interested in science. Among his many accomplishments, he organized a math and science program for young women at Eastwood Collegiate and helped prepared learning materials for the women inventors project.
His work to introduce more young women to science and encourage them along the way stretches back 10 years. This commitment has resulted in a significant number of women graduating with backgrounds in mathematics and science.
I wish to congratulate Mr. James for this special award. He is truly a leader in his community.
Committees Of The House December 11th, 1996
Mr. Speaker, I have the honour to present, in both official languages, the fourth report of the Standing Committee on Foreign Affairs and International Trade.
As the previous speaker mentioned, this represents the first report of the subcommittee on trade disputes which was conducted jointly with the subcommittee of the finance committee on the review of the Special Import Measures Act.
Central Africa November 28th, 1996
Mr. Speaker, my question is for the Minister of Foreign Affairs.
All Canadians are pleased to see some positive developments in the great lakes region of Africa, notably the presence of General Baril in Zaire. We are also aware that the minister has participated in intensive consultations on this subject. Could he please tell the House the results of those consultations and what Canada can do to resolve this tragic situation in Africa?