Jim Jordan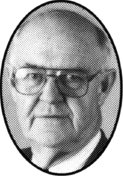 House of Commons photo
Crucial Fact
His

favourite word

was petition.
Last in Parliament April 1997, as

Liberal
MP for Leeds—Grenville (Ontario)
Won his last election, in 1993, with 52% of the vote.
Statements in the House
Kemptville '73S April 23rd, 1997
Mr. Speaker, it is a great pleasure to make what may be my last statement in the House of Commons on a high note.
The town of Kemptville is in my riding of Leeds-Grenville not far from here. Its Junior "B" hockey team has gone through the 1996-97 regular season undefeated. The team's record is 38 zero and four. In the seven game playoffs, which the team won four games to three, it won the final game four to three in double overtime.
I do not know whether any other team in Canadian hockey history can match that record but it is a record of which we are all very proud. Head coach Paul Sheard and assistant coach Derek Rintoul are proud.
Congratulations to the Kemptville '73s. All of eastern Ontario is very proud of them.
Petitions February 20th, 1997
Mr. Speaker, I have a petition from citizens in my riding, places like Merrickville, Brockville and North Augusta.
The petitioners request that Parliament support the immediate initiation and conclusion by the year 2000 of an international convention which will set out a binding timetable for the abolition of all nuclear weapons.
Petitions February 17th, 1997
Mr. Speaker, I have a petition to present from constituents in places like Prescott, Brockville and surrounding areas.
The petitioners ask that the Prime Minister and the Parliament of Canada declare and confirm immediately that Canada is indivisible and that the boundaries of Canada, its provinces, territories and territorial waters may be modified only by (a), a free vote of all Canadian citizens as guaranteed by the Canadian charter or (b), through the amending formula as stipulated in the Canadian Constitution.
Supply February 13th, 1997
Mr. Speaker, I thank my hon. friend for the question. We do need to develop a trust when we are embarking on something different. We have dabbled a little bit in the private-public way of doing things, particularly with road construction.
I am pleased, assuming the member speaks for his party, that it will support this private-public membership for highway construction. If I misunderstood that, I apologize.
I have some difficulty with the simplistic way Reform is looking at it. The hon. member is saying that two cents a litre is collected as a tax on gasoline, why not take the two cents and put it back into road construction? However, how far do we want to go?
Where would the money for health care be generated if everything is designated? What is out there in the marketplace that is generating money which could be designated to health or education? That is the difficulty with the argument. I heard it when we travelled with the committee. It sounds like a very simplistic way of doing it but there is nothing wrong with that if it would work.
The difficulty I have is projecting it a bit and asking how far we want to go with it. Do we want every dollar collected by the government to be directed into a specific area? If we do that the government's hands would be tied. It would have no money for the services Canadians demand and want for which there is no money being generated. Would the hon. member propose to use the money generated for highways and for no other purpose? This is the problem I have with the member's position.
Supply February 13th, 1997
Mr. Speaker, it is a pleasure for me to speak to the opposition motion today. I am going to speak to one aspect of the motion, the reference to the national highway system. The motion suggests that the government should be condemned for its continued neglect of Canada's national highway system.
Yesterday the Standing Committee on Transport tabled a report in the House which made several recommendations for the federal government to consider with respect to the renewal of our national highway system. It is a coincidence that we were talking about
those recommendations yesterday and today the third party is condemning us for not taking any action.
I want to congratulate my colleagues on the transport committee for coming forth with the recommendations in the report. Indeed, I want to congratulate the hon. member for Kootenay West-Revelstoke. He is a well valued member of the transport committee. I have enjoyed working with him under the chairmanship of the hon. member for Winnipeg South.
When the Minister of Transport met in Charlottetown last October with the provincial transport ministers, he received unanimous support for the idea that the federal government would participate in a study in which all transport ministers would get together to see if something could be done to address the deteriorating condition of Canada's national highway system. He received tremendous support for the idea of moving forward with the study. We have been encouraged by the kind of inspiration and attitude shown by the provinces.
The federal government is concerned with the national highway system. It must be adequately maintained and properly expanded to meet growing Canadian demands. Trade is associated with a good transportation system. The highway system is also important to the Canadian tourism industry.
The federal government has a long history of supporting the provinces and territories in developing the TransCanada highway system and other highways. The first federal contribution to highways occurred back in 1919. Ever since that time succeeding federal governments have provided an uninterrupted level of support for highway construction and maintenance.
That should not surprise anyone. I believe we are open enough to realize the importance of a highway system. It is too important to say that it is a provincial matter and therefore we should not become involved. That is not the attitude I have sensed in the years I have sat on the transport committee. Of course, there is all-party participation on that committee.
Highway transportation accounts for almost 95 per cent of intercity passenger trips and about 75 per cent of all freight that moves in this country. That is how important it is to all Canadians. I personally think it is too important to be left exclusively to the provinces.
Most of Canada's interprovincial trade moves by highway, as do 60 per cent of Canada's exports and 80 per cent of Canada's imports. There is no question about the need for a national commitment to something that involves our lives to that degree. About two-thirds of the 25 million U.S. tourists who come into Canada each year use the highways.
The federal government already spends a significant amount of money on highways with an expenditure of $292 million on highway development under the federal-provincial agreement's 1996-97 commitment. In addition, approximately $100 million is spent each year on federally owned bridges and roads.
Within just a few miles of here in the last year the government has committed $42 million to construct a highway in which I have particular interest since it goes through my riding. It connects the nation's capital with the 401, the busiest highway in Canada. I have been here for a few years and people may have thought that this is all I have been concerned with.
Indeed, a good deal of my energy has gone into that project because I can see the need for it. I can see the need for the federal government to get involved because a good deal of the traffic on that highway is there because this is the capital of Canada. Most of us would be fairly embarrassed if the old highway were the best we could do. Most Canadians would feel very embarrassed if a visitor to Canada from another country had to travel on highway 16, which hopefully will be highway 416.
It is not just a question of congestion. Highway 16 has a horrid record. Three weeks ago there was another fatal crash. A father and his son were killed. Dozens of people have been killed on that highway in the past six years. I am not speaking of that loosely. When travelling that highway I have had some personal experiences of accidents that have occurred. We speak very often of those who were killed. Usually if an accident is serious enough to kill people, there will also be injured people.
Notwithstanding the federal contribution, it has been clear for some time that a massive and focused effort will be required to maintain and upgrade the national highway system. Analyses conducted by Transport Canada in co-operation with the provinces and territories showed that Canada's highway infrastructure is aging. It is thought that the age of a highway is 30 years. Over half of Canada's major highways are approaching the maximum age limit for highways. It is a very serious problem.
Highway infrastructure requires increased financial resources to maintain them because we have more traffic on our highways now than we did 30 years ago. It is no more complicated than that. Highway infrastructure is experiencing growing congestion in certain parts of our nation. My colleague mentioned in and around some of the western cities. My colleague from the Reform Party was interested in that aspect of it too. We all know there is more volume on our highways today and of course that will reduce the age in which the highways can be of service to the Canadian people.
Despite the identification of highways by several premiers at the conference I mentioned earlier, there are still some provinces that have not regarded highway construction as a pressing economic need. We all have an understanding of the reason for that but we
still think as a nation that all provinces should come together under the guise of the federal government to carry on with the massive reconstruction of our highways.
Someone has said that instead of the weather being the major topic of conversation among Canadians, now it is the condition of our highways about which we initiate conversations. I believe that more and more. Nearly everyone is commenting on the condition of Canada's national highway system.
The hon. member who introduced the motion before us today takes great umbrage with the focus of the standing committee's report on private-public partnerships for highway infrastructure. I want to draw the attention of the House to the committee's own conclusion that there is widespread agreement among the users and builders of the highways that we must get into public-private financing on a partnership basis if we are ever going to see any real and meaningful reconstruction of our national highway system.
It is not my recollection that the transportation committee in its investigation of the relationship that existed between transportation, trade and tourism, decided to focus on the paramount need to renew the national highway system. I thought that was what all committee members agreed to do. Indeed, throughout our discussions over the past several months, I thought even the member from the third party was on board in relation to that.
I know my time is coming to a close, but I want to mention that there is no more basic, fundamental way, in my view, to reach our goal for the future growth of this country than to start immediately with the very pressing problems associated with the deteriorating conditions of our highways nationally.
The government is aware that this will have to be a major financial commitment. Although it is largely a provincial matter, the government is willing to work with the provinces and others to try and correct the network that is in need of immediate attention. It is a massive undertaking but we must address the problem. So much of our economy depends on an adequate transportation system.
Excise Tax Act February 10th, 1997
Mr. Speaker, I have been asking for the government to give some consideration for some time now to a gun amnesty bill for the nation. I am back again now to encourage the government to move on. I was led to believe there was some provision in the new gun control bill for an amnesty.
It would be rather simple to do. I would not require any new legislation. There is already a provision there for a gun amnesty. It would not require a lot of funding. Indeed, it might save some money. It would save considerable money for people who have guns they do not need and who would like to see them disposed of in a systematic way.
A couple of experiences we have had in this country would support the wisdom of a gun amnesty law at this time. Back in the period of November 1 to December 15 in 1992 the minister of justice announced a gun amnesty and 30,000 firearms, both handguns and long guns, were surrendered in Canada.
A little later there was another gun amnesty. This quotation from the Globe and Mail , which is always very accurate and precise. On April 18, 1994 that paper reported the success of a gun amnesty in metro Toronto. According to the Globe and Mail police said at that time that most of the people turning in weapons were just average Joes. They were people who just wanted to get rid of their guns, the guns that were in their basements, behind kitchen doors and in the attacks of their homes. They had some fear at that time, and the situation would be prevalent today, that these guns might at some point be stolen or misplaced or might fall into the wrong hands.
Gun amnesty has been very successful in this country and I would like to see this government proceed with a national gun amnesty. It is no good to announce that amnesties are permitted. We need the government to put some national focus on gun amnesty instead of depending on municipalities to do it independently of one another. That would give the project some thrust. They could suggest through various forms of media that there was a national gun amnesty. If we got a few thousand more guns out of our society we would have a safer society. It would be a mark of progress to us as a society and as a culture to make this effort.
I am looking forward to the government response on this matter. I know that municipalities could go ahead and do it, but that is not what I am asking for. I am asking for a national focus and a national thrust to this because of the successes we had when gun amnesties were declared on a smaller scale.
That was my question to the minister several weeks ago. I am back again at the late show tonight to emphasize it. I am committed to this. Indeed, I will be the first one to turn in guns. I have guns which I no longer have a use for and I would be glad to be the first one to contribute a couple of rifles to a national gun amnesty.
Saguenay Flood February 4th, 1997
Mr. Speaker, recently in my riding of Leeds-Grenville we had an excellent example of the generosity that some Canadians have for other Canadians in difficulty.
The mayor of Brockville, accompanied by a group of local residents, travelled to the flood stricken Saguenay region of Quebec to deliver a cheque for $40,000 to the residents of Chicoutimi. The purpose of this donation was to assist the community's recovery from the July flood.
The money was collected from citizens and companies in the Brockville area, most of whom have never visited the Saguenay region. The drive for funds originated with a local businessman, Mr. Joe Hudson, who saw it as a great opportunity to show concern for fellow Canadians, regardless of where they live or the language they speak.
I want to congratulate the Hudson family and all the citizens of the Brockville area who gave generously to the plight of other Canadians in their time of need.
National Gun Amnesty December 11th, 1996
Mr. Speaker, my question is to the Minister of Justice.
Last Friday, December 6, 1996 Canadians everywhere held vigils and church services to commemorate the 14 lives lost in the Montreal massacre.
Is the Minister of Justice planning a national gun amnesty program for Canada, a program with a national focus and a national thrust, and will the details be released soon so that all interested Canadians can co-operate and participate?
Employment December 9th, 1996
Mr. Speaker, in these days when opportunities for work are not what we would like them to be, a friend of mine, Heather Howard, has struck upon a plan which is unique and for which I think she deserves credit.
Heather owns the Thousand Island tax and duty free store at the Thousand Island bridge in my riding. She has instituted a plan to allow every full time employee one working day per month with pay to do volunteer work with a community organization. This allows Heather to recall a laid off worker for some part time work until that person can come back full time.
I would like to congratulate Heather on her initiative and her generosity toward her employees. It is an interesting model in work sharing and one which other employers across Canada should be encouraged to examine.
Committees Of The House December 3rd, 1996
Mr. Speaker, I have the honour to present, in both official languages, the fourth report of the Standing Committee on Transport with respect to Bill C-43, better known as the Railway Safety Act.
This fourth report on the bill represents a lengthy process of debate and hearings by members of the all-party Standing Committee on Transport which is chaired by my colleague from Winnipeg South.
It is rewarding to see this important bill take another step forward toward becoming law.